Scott Disick is a somewhat polarizing public figure. Some people love him for his larger-than-life personality and constant bemusement at the Kardashian/Jenner antics, while others find him to be a rude egomaniac with too much money and little-to-no actual talent.
And while Disick is no stranger to controversy, he's made the headlines unintentionally this time after he posted a very controversial photograph to his Instagram.
Keep scrolling to see the post in question...
Scott Disick is not one to stay out of controversy.
Keeping Up With The Kardashians, you've seen firsthand the type of trouble that his wild hi-jinks have gotten him into.
There was that time he shoved a hundred dollar bill into a waiter's mouth.
This infamous 2010 episode of KUWTK included a scene that's difficult to forget: A ridiculously drunk Disick getting deliberate with an innocent waiter for unknown reasons and then proceeded to shove a wadded up $100 bill down his throat. Classy!
Or the time he punched a mirror in Miami...
During a disagreement with then-girlfriend Kourtney about smoking pot in their apartment, Disick's anger got the best of him and he smashed a mirror to pieces. The incident was featured on Kourtney and Khloe Take Miami, leaving many fans to wonder about Scott having an anger problem.
Remember the time he called Kourtney "fat?"
This incident happened shortly after Kourtney gave birth to their daughter Penelope. He decided it would be a good idea to go on about how she looked when they first met, and how different she looks now with the added baby weight. The remarks later made Kourt cry.
Oh, and let's not forget the countless times he cheated on Kourtney, the mother of his children.
One of the most notable infidelities was in 2015 when he ran off to France with his ex-girlfriend, Chloe Bartoli. All while Kourtney stayed back in Calabasas taking care of their kids.
He also gave his underage girlfriend alcohol...
Not only is it totally gross that a then-thirty-three-year-old man would date a teenager (she was 19 at the time), but Scott also thought it would be a good idea to fly Bella Thorne to France for the sole purpose of getting wasted.
And remember that time he invited a random woman on the family vacation?
The Kardashians invited Scott on their family vacation even though he and Kourtney had broken up in order to make him feel included. But he invited a mysterious woman named "Chelsea" to come without consulting anyone else.
Then he also forgot his daughter's birthday...
Okay, this one is just plain sad. In July of 2016, Scott's adorable daughter Penelope turned 4 years old. She celebrated in typical 4-year-old fashion, with a giant party in the Bahamas. But there was one important person missing from the festivities – Scott Disick,  who also failed to post anything on social media about the day.
He hasn't had a good relationship with Instagram, either.
Until now, of course...
That part wasn't the issue...
completely... Read on to see the reason why his fans are actually outraged.
He captioned the post: "Earth day at its finest on my @juicedbikes."

While some were angry that he was flaunting his money, as Juiced Bikes aren't cheap, others couldn't help but focus on the setting...
Because he was at the beach, people accused him of being "selfish."

Little did they know, he and his family weren't trying to cause harm with the post.
And other users just emphasized how nice it must be "being rich" during quarantine.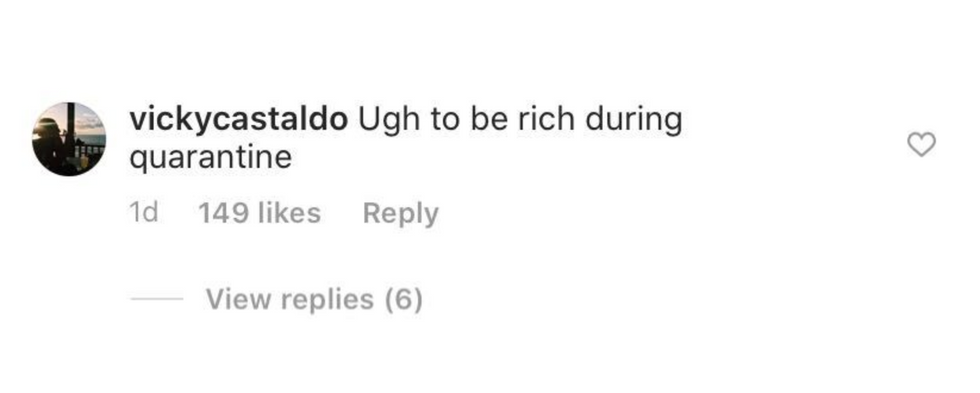 "Scott there are people that are dying," another person wrote under the post.
But when a user decided to call him out for disobeying the rules, he bit back...
He later posted this photograph of himself to try and smother the flames.
But that didn't help his case too much as the hate kept rolling in...
The pair have been quarantining together during the pandemic.
Life & Style
that it's been a nice change for the couple and it has dramatically improved their relationship.
They elaborated, saying:
Here's the photograph that started all the drama...