White House Press Secretary Sean Spicer speaks to reporters during an off-camera briefing in the Brady Press Briefing Room at the White House July 17, 2017 in Washington, DC.
SPICEY OUT!
On the morning of July 21, The New York Times reported that Sean Spicer has officially resigned as White House Press Secretary. Apparently, he was so upset about President Trump's appointment of Anthony Scaramucci, a financier from New York, as communications director, that he up and left the job he already hadn't been doing for months.
We were only afforded six quick months with Spicer behind the podium, but they were life-changing. The American public developed an affection for the little guy. He did so much...for comedians on Twitter. Spicer stumbled his way through his tenure as press secretary with such beautifully choreographed clumsiness; he's truly the Buster Keaton of White House staff members, and he will be missed.
Here, we've gathered his finest moments. And by finest, we mean the opposite.
Sean Spicer has gifted us a veritable deluge of priceless comedic material in his time as White House Press Secretary.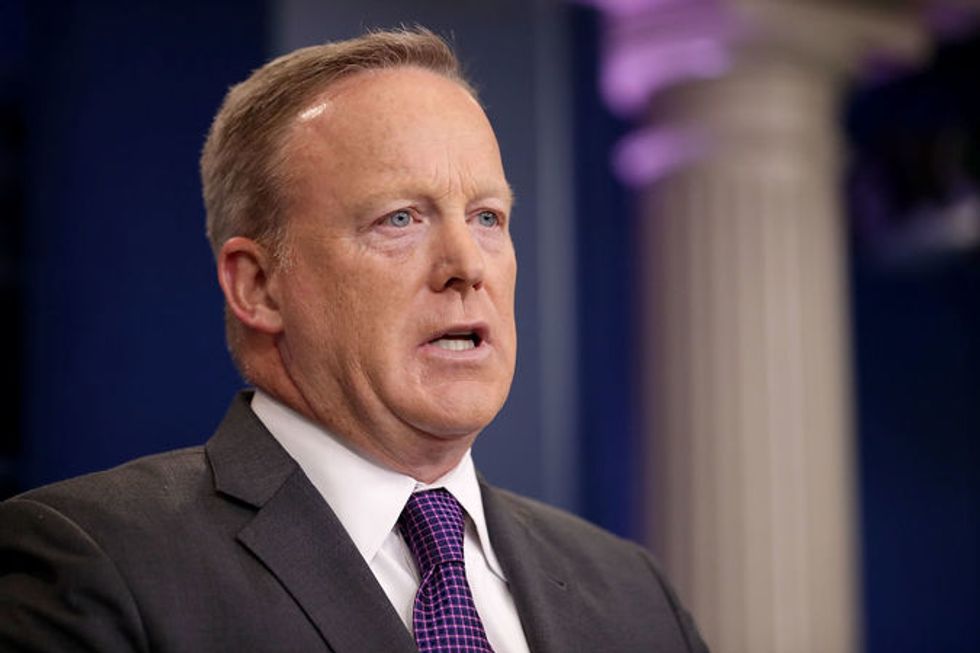 via: Getty Images
Let's take a walk down Spicey memory lane. Shall we?
#SpicerFacts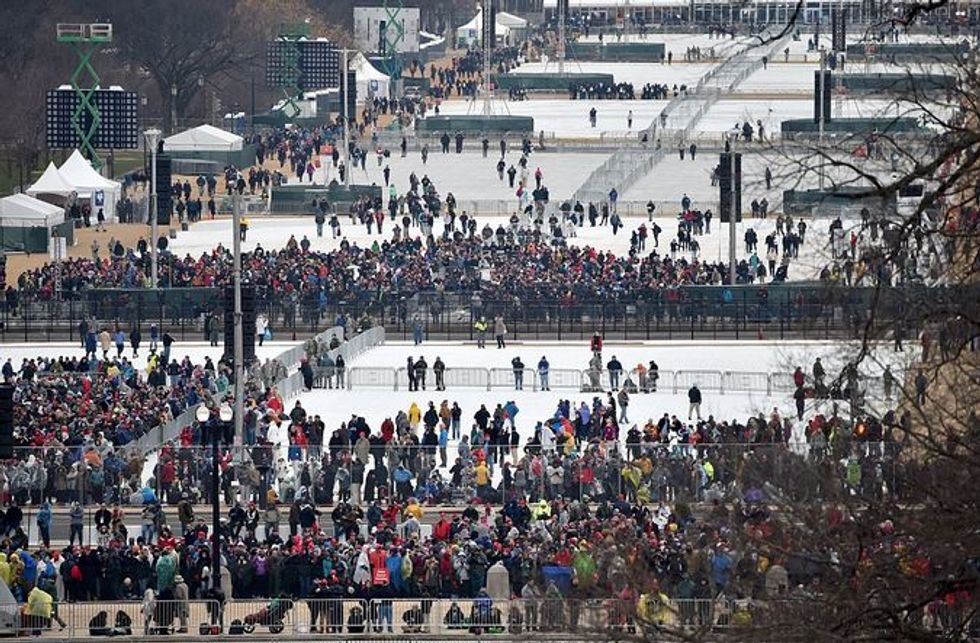 via: Getty Images
Spicer-Man's first gaffe came mere hours after Donald Trump was sworn in as President of the United States. Spicer ripped the plastic off his minty-fresh press secretary podium, then
launched into a tirade
refuting reports that the size of the crowds at Trump's inauguration paled in comparison to those from Obama's. He looked the American public in the eye and told us the pictures we were seeing of patchy ground and empty streets were false.
He actually said
that Donald Trump drew "the largest audience ever to witness an inauguration, period, both in person and around the globe." How adorable! This inspired the now-classic hashtag #SpicerFacts, and for that, we will be forever grateful.
The Hitler Oopsie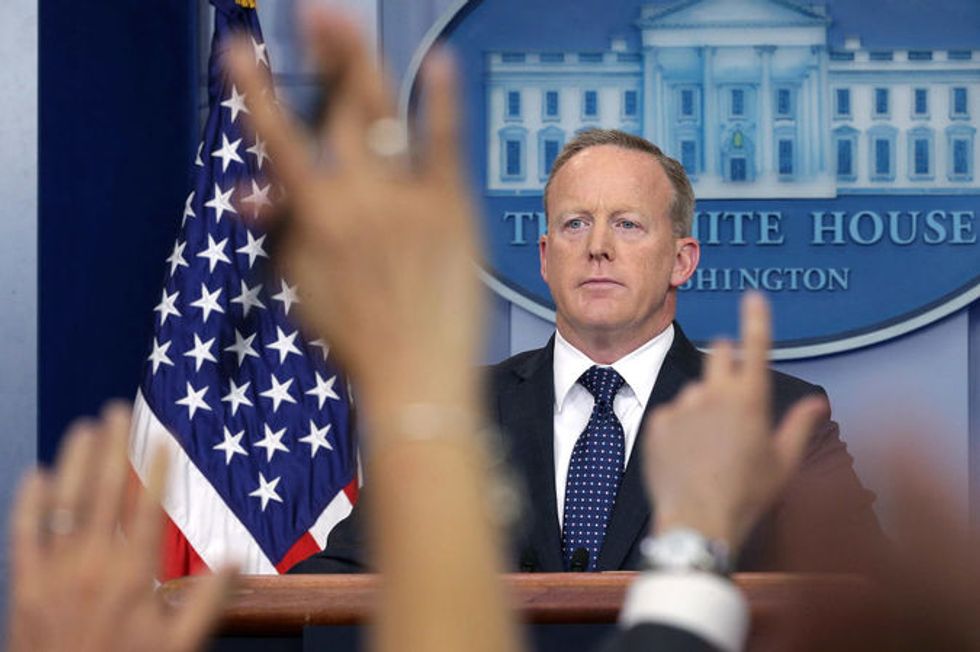 via: Getty Images
Remember when Dude Spice
invoked Hitler
(who everyone knows is like number one on the list of peeps you do not make comparisons to) to call out the seriousness of the actions of Syrian President Bashar al-Assad? But then he made a real oopsie and said that Hitler never used chemical weapons?* What a guy! *Hitler totally used chemical weapons. Loved them. Might have been his favorite type of weapon.
Accidental Distress Signal
Then there was that time Chai Spice Latté showed up at a press conference wearing his American flag pin upside-down, which,
according to the U.S. Department of Veteran Affairs
, is a "signal of distress." I'll say! Maybe he was trying to send us a message. And we failed him. He also managed to (jokingly) get called out for plagiarism by Beau Willimon, creator of the Netflix series, 
House of Cards
, which uses the upside-down flag as their logo.
Password Not Protected
Spice Spice Baby was at it again when he seemingly tweeted out his password...twice. Needless to say, Twitter had a field day. We rolled around in these tweets like a dog in a pile of some other dog's poop. Thanks, Sean.
The Onion Retweet
Sir Spice-A-Lot and Twitter go together like peanut butter and jelly, like bacon and eggs, like liver and onions. The Onion to be exact. In this tweet, Sean Spicer reposts a video from America's number one satirical news source that claims that "@SeanSpicer's role in the Trump administration will be to provide the American public with robust and clearly articulated misinformation." Misinformation!!!! And Vanilla Spice's comment is, "You nailed it. Period!" I don't think a greater performance artist has ever lived.
Spice In the Bush
In May 2017, the White House Press Secretary,
Really
Scary Spice, wasn't quite sure how to explain Trump's firing of FBI director James Comey. So he hid in the bushes.
Literally
. Spicer reportedly "wrapped up his brief interview with Fox Business...then disappeared into the shadows, huddling with his staff near a clump of bushes and then behind a tall hedge." American politics simply will never get better than this, folks. We've reached the pinnacle.
Mismatched Shoe Day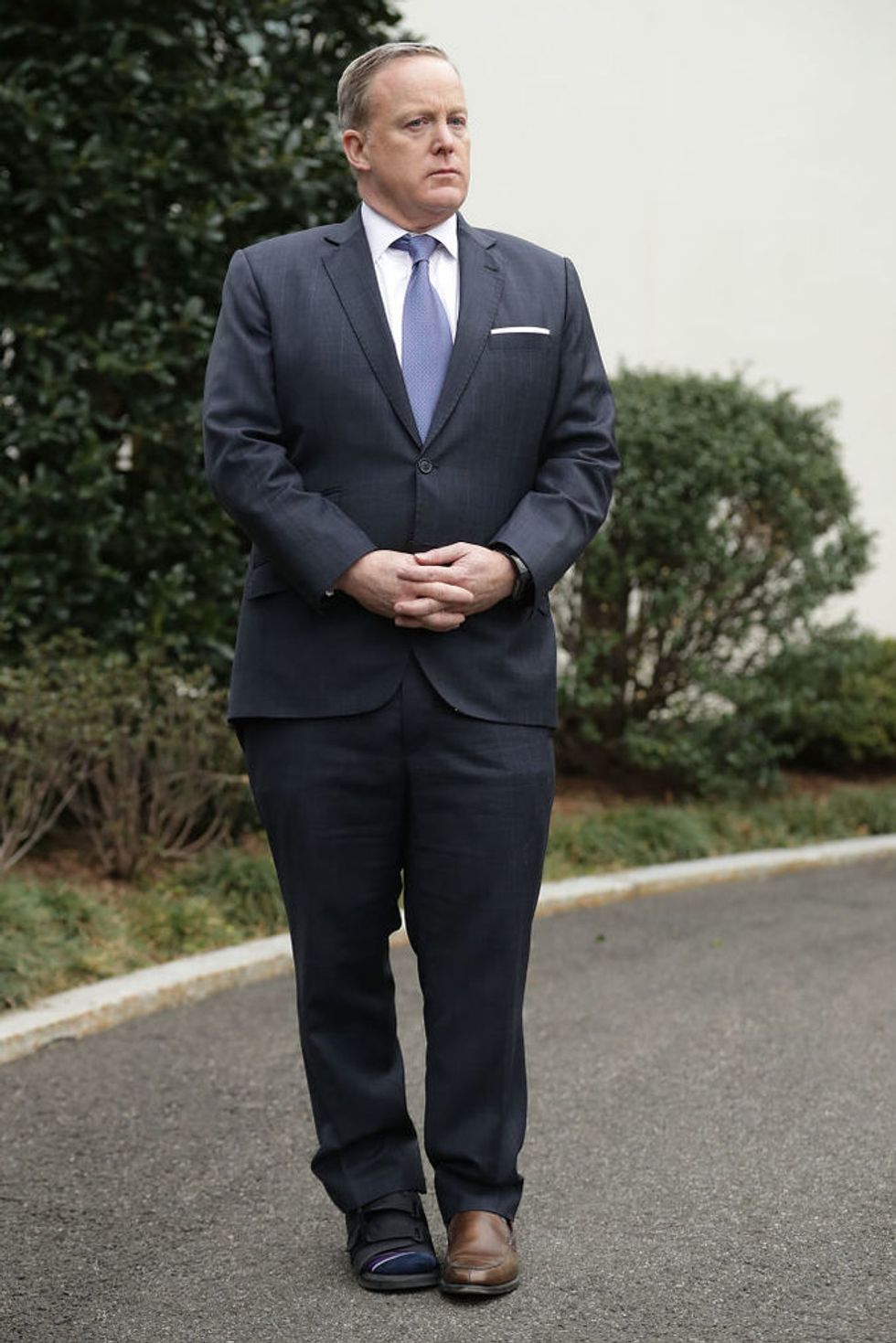 via: Getty Images
The Spice-inator truly was the gift that kept on giving. On March 13, 2017, Spicer pulled focus from a discussion about the CBO's analysis of the AHCA with his seemingly
mismatched shoes
. While it did end up being a medical boot, Twitter had its way with their BFF Spicer before the truth came out. It also didn't help that he stood pigeon-toed like a sad orphan in a Charles Dickens novel.
Green Day
We knew things were really starting to fall apart when 2 Fast 2 Spicey held an entire press conference with a
green thingy stuck in his teeth
. Poor guy. No one told him. Again, Twitter lit up like the sky on the Fourth of July. Sean Spicer, baby, you're a firework.
McCarthyism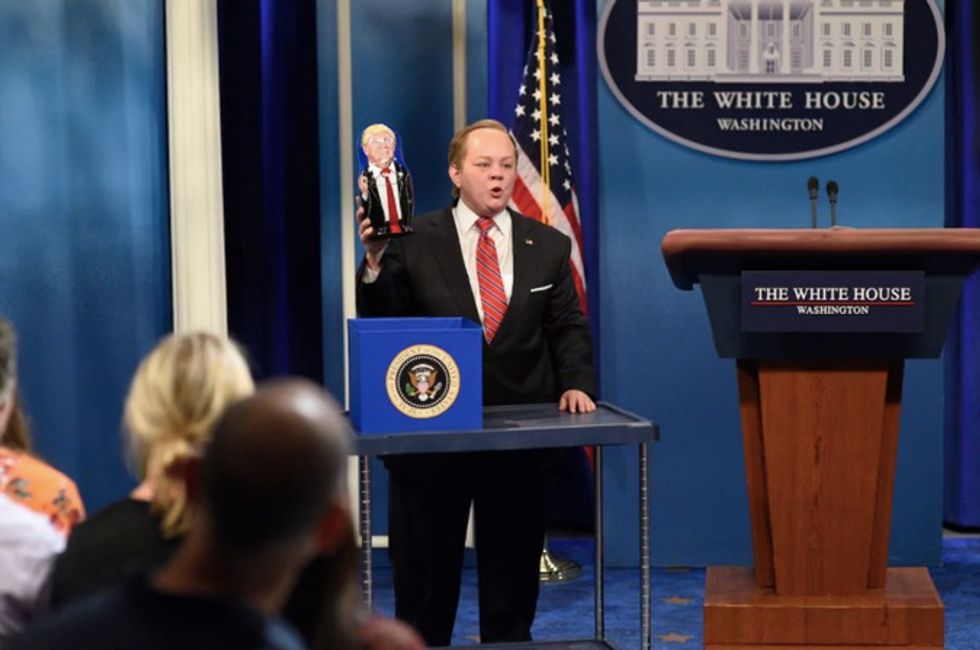 via: NBC/Will Heath
Perhaps the greatest memory we'll have of ol' Spice Rack is the unforgettable impression he inspired in
Melissa McCarthy
. It's truly one for the history books. From choking on giant wads of gum to riding a podium-Segway through the streets of New York, McCarthy's Spicer impersonation will live on in the hearts and minds of us all for eons to come. So thank you, Sean Spicer, for bringing some levity to the last six months. We needed it. And we'll miss you. I hope you get to lie on a beach with a big drink in your hand and cameras far, far, far, far away.