The AMAs red carpet is always a great place to see celebrity outfits, both great and terrible. The fun atmosphere of the awards ceremony means stars tend to get a bit more experimental in their style - with some successful, and some (unintentionally) hilarious results.
But one star went for a pretty controversial look - complete with a giant new inking right on her thigh. Keep scrolling to see why Selena Gomez's look had everyone on the internet talking.
But let's start with a rundown of the most talked-about red carpet looks.
40. Billy Porter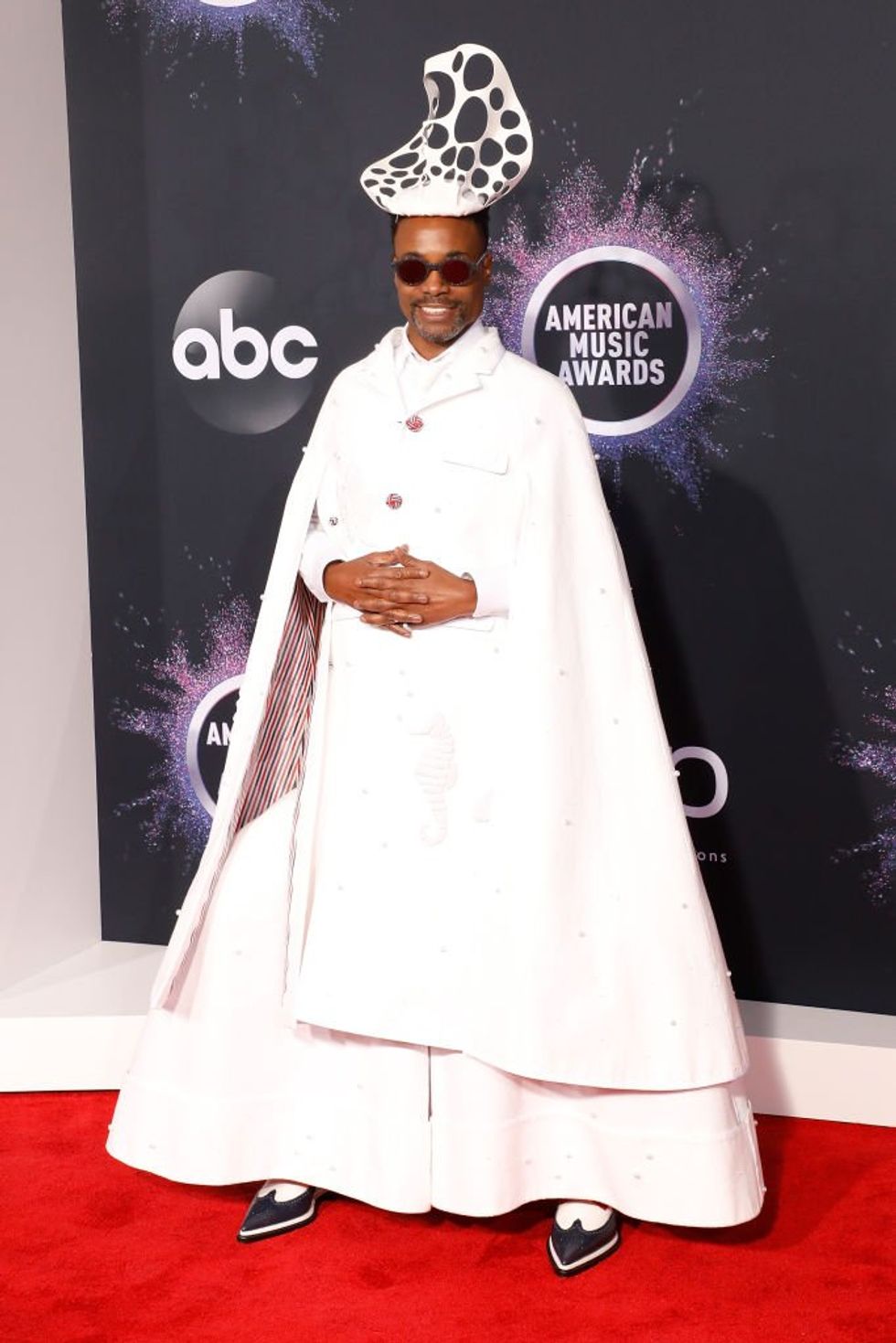 Looking very saintly in a floor-length white cape by Thom Browne and an incredible headdress by Stephen Jones Millinery.
39. Lizzo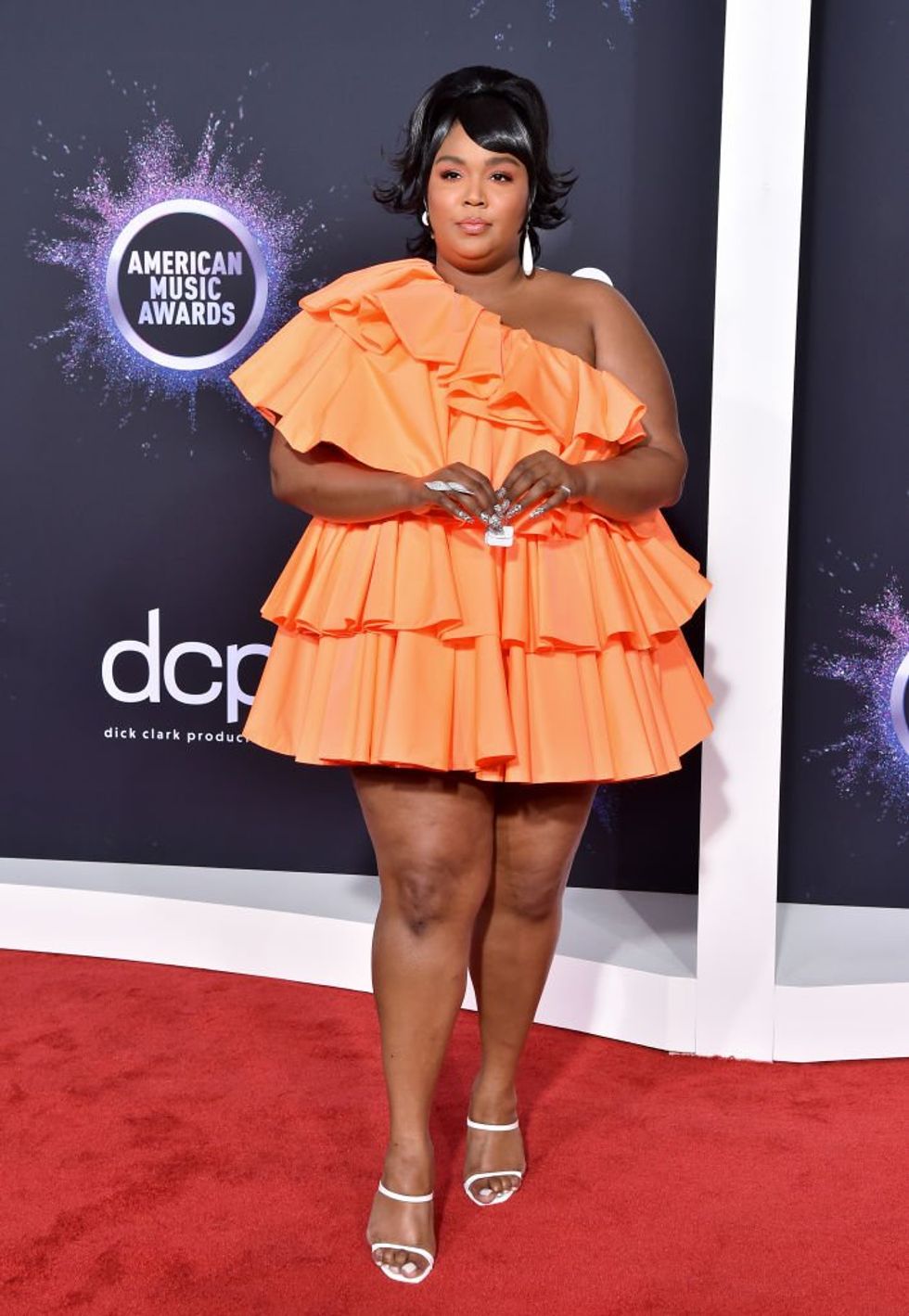 She never fails to look incredible, and this adorable Valentino number is no exception.
38. Dua Lipa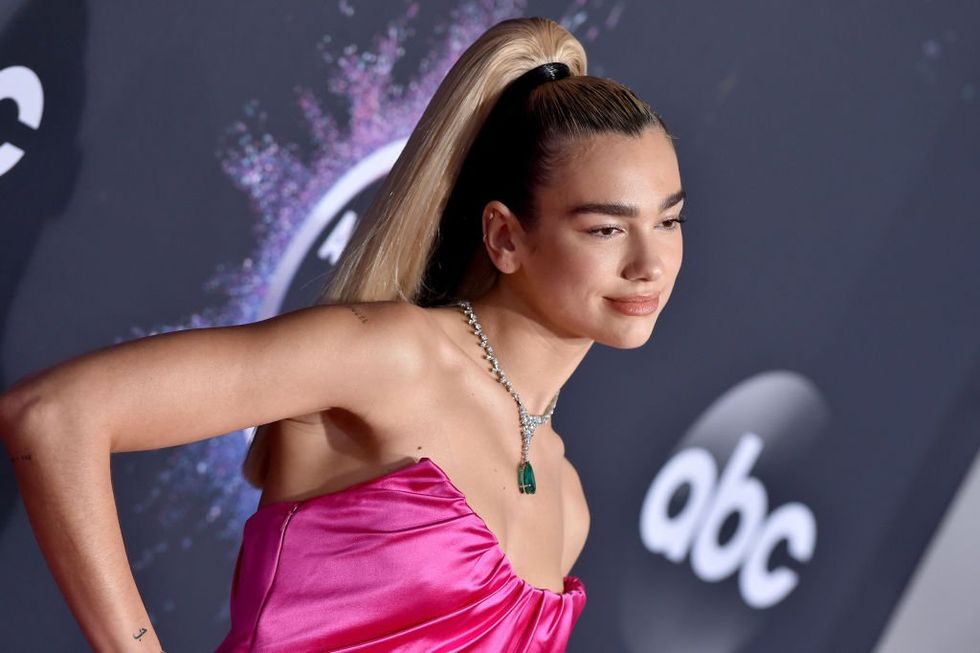 This pink Miu Miu gown is a little basic, but there's no denying she looks stunning.
37. Sofia Carson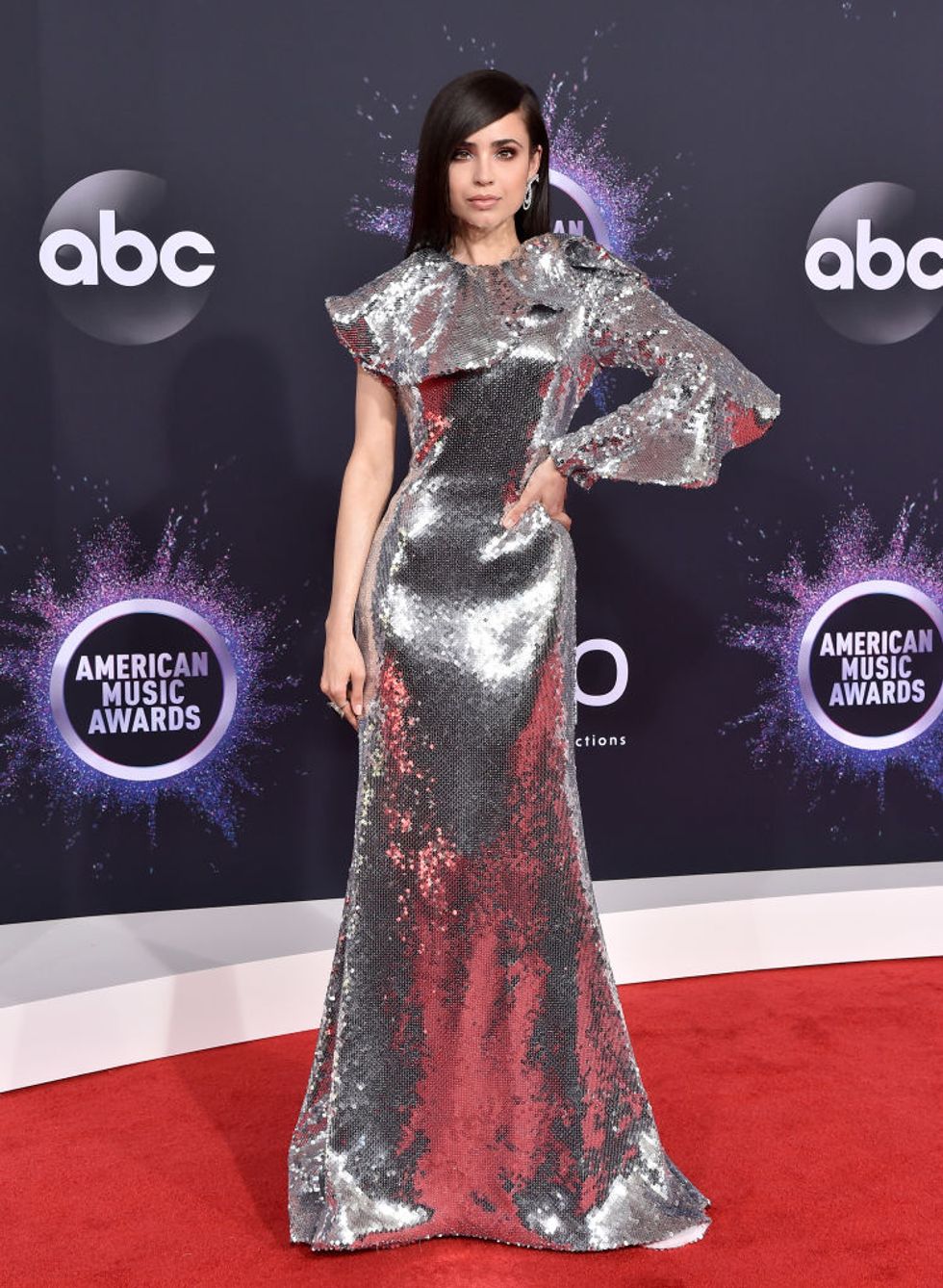 This Francesco Scognamiglio reflective dress is just editorial enough, while still looking uber-glam.
36. Ciara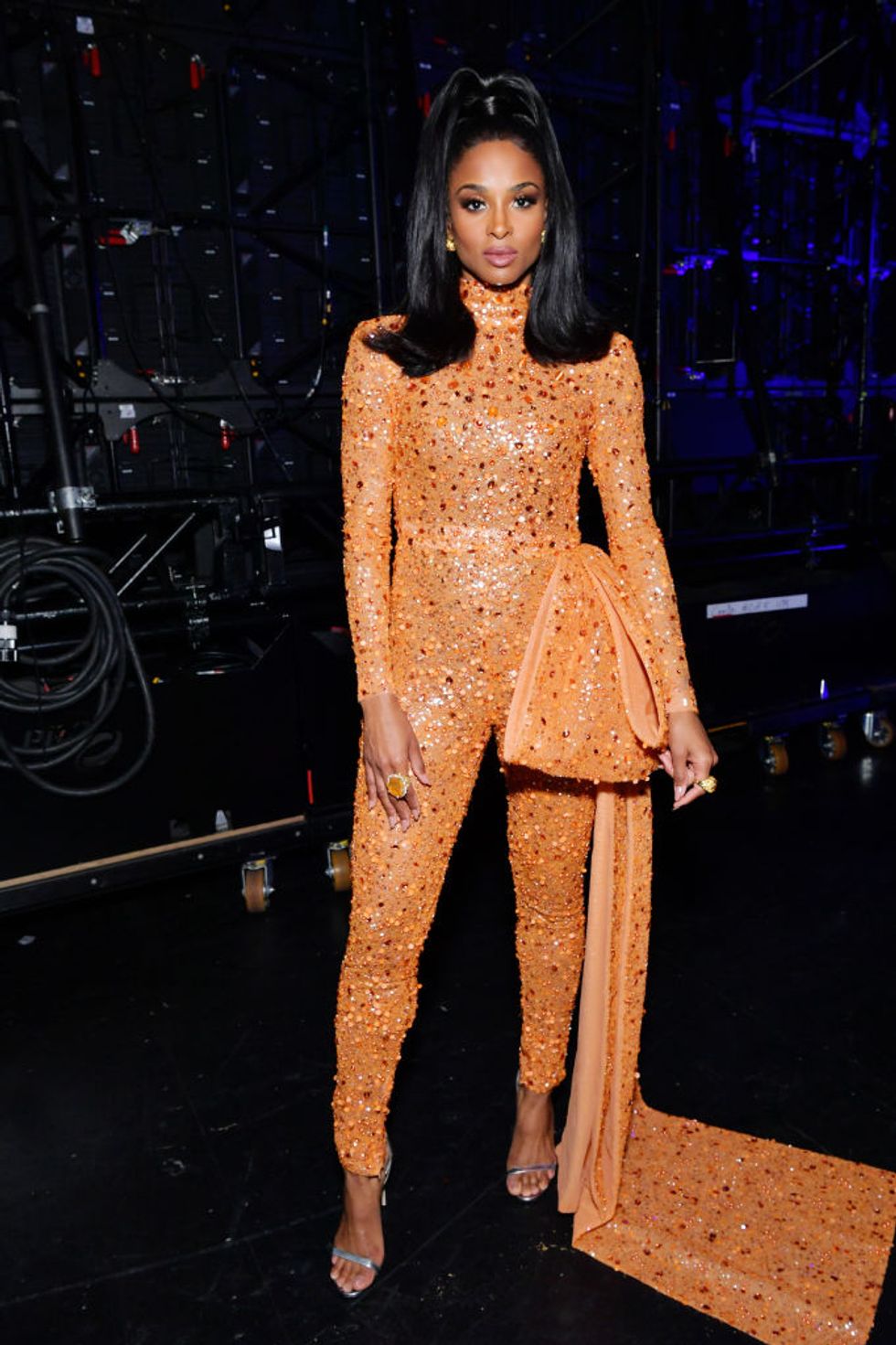 If this was a dress, it might be a little too dull - but the fact it's a catsuit totally elevates the look.
35. Lil Nas X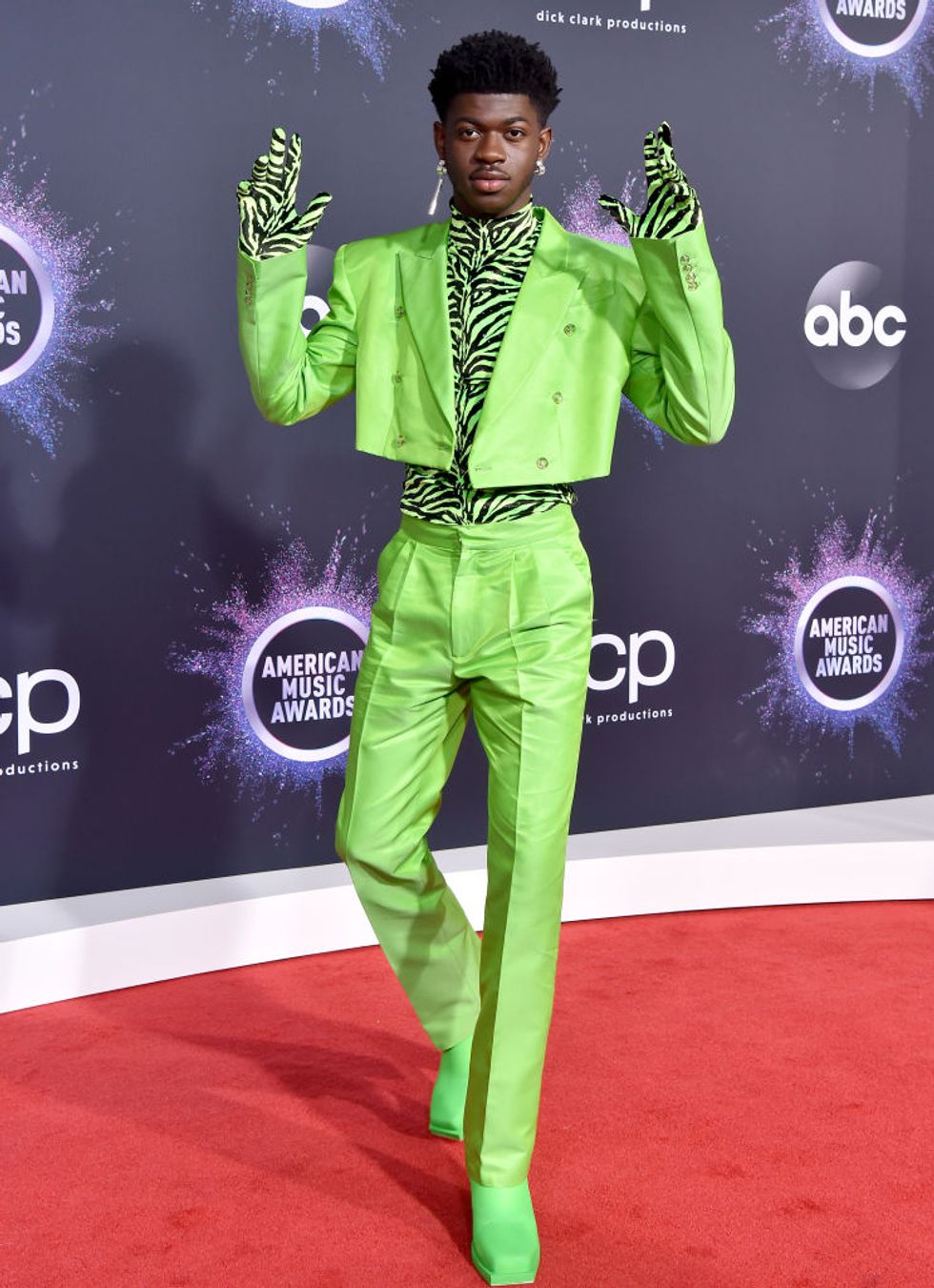 The epitome of "shouldn't work, but it does."
34. Ciara (again)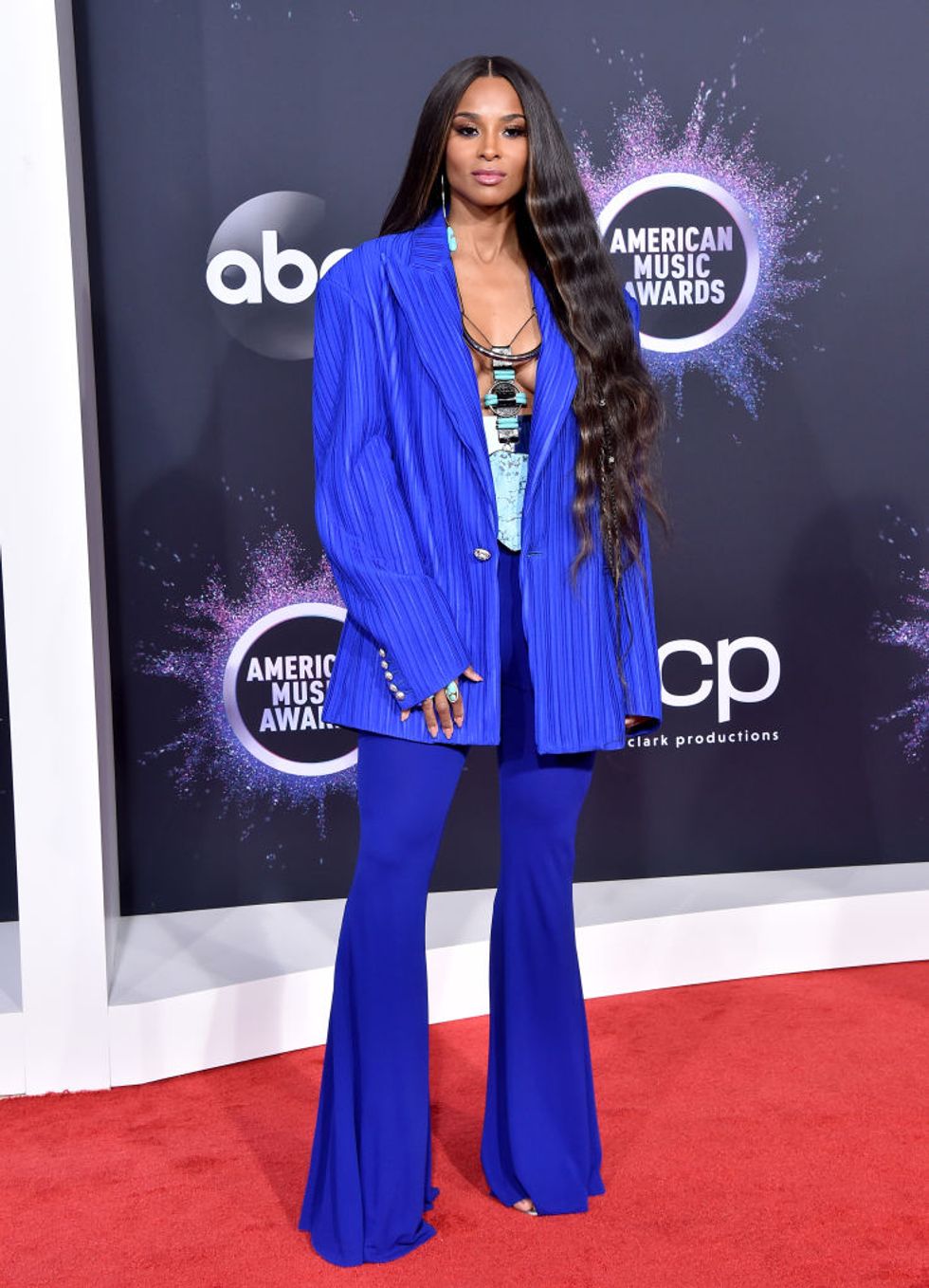 Our only double appearance on the list has to go to this stunning oversized royal blue suit.
33. Maya Hawke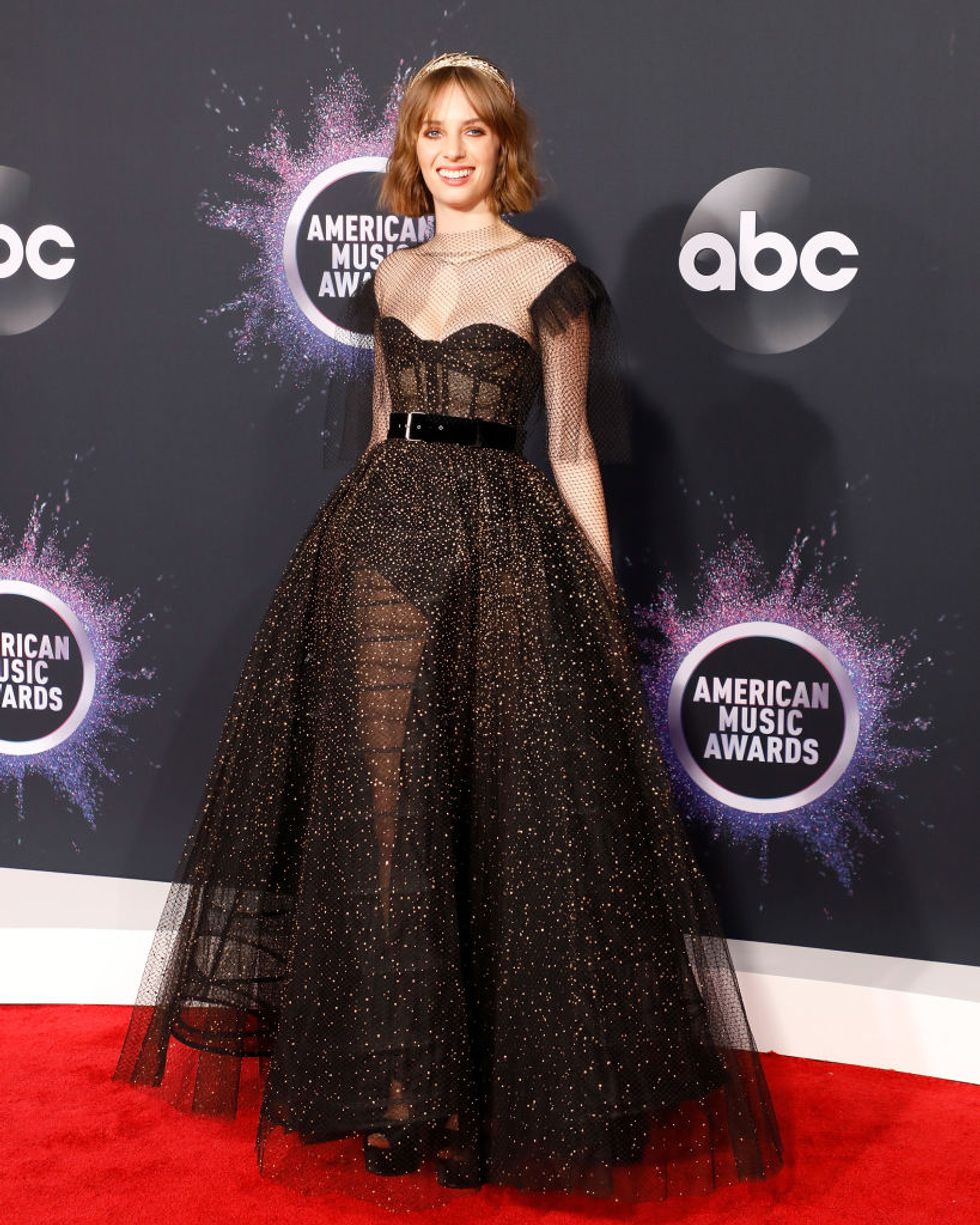 This Dior gown is the perfect blend of gothic and princessy.
32. Katherine Langford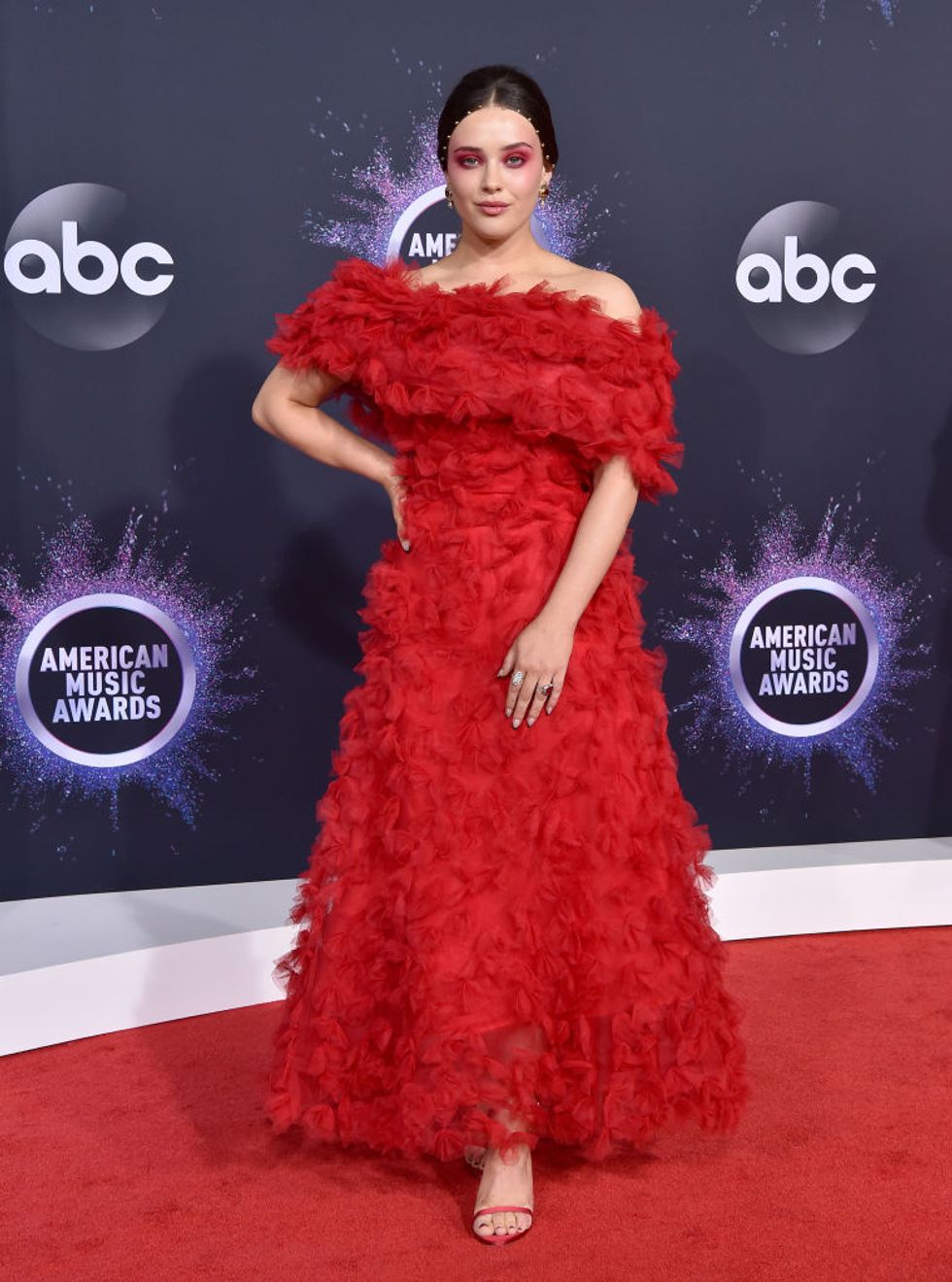 The star stepped outside the box in this Rodarte gown. We particularly love her bejeweled hairline.
31. Jenna Dewan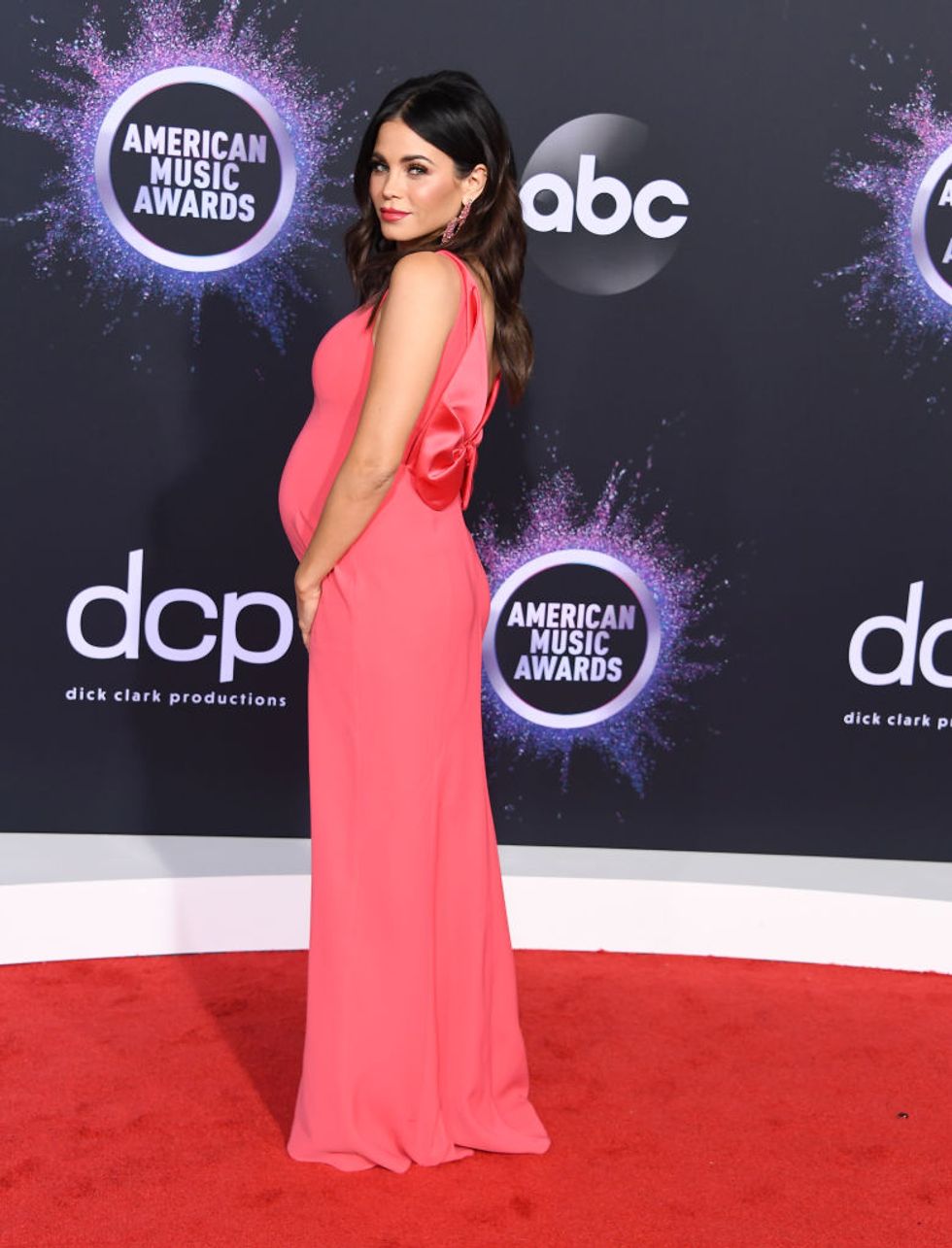 Pregnancy red carpet dressing done 
right.
30. Halsey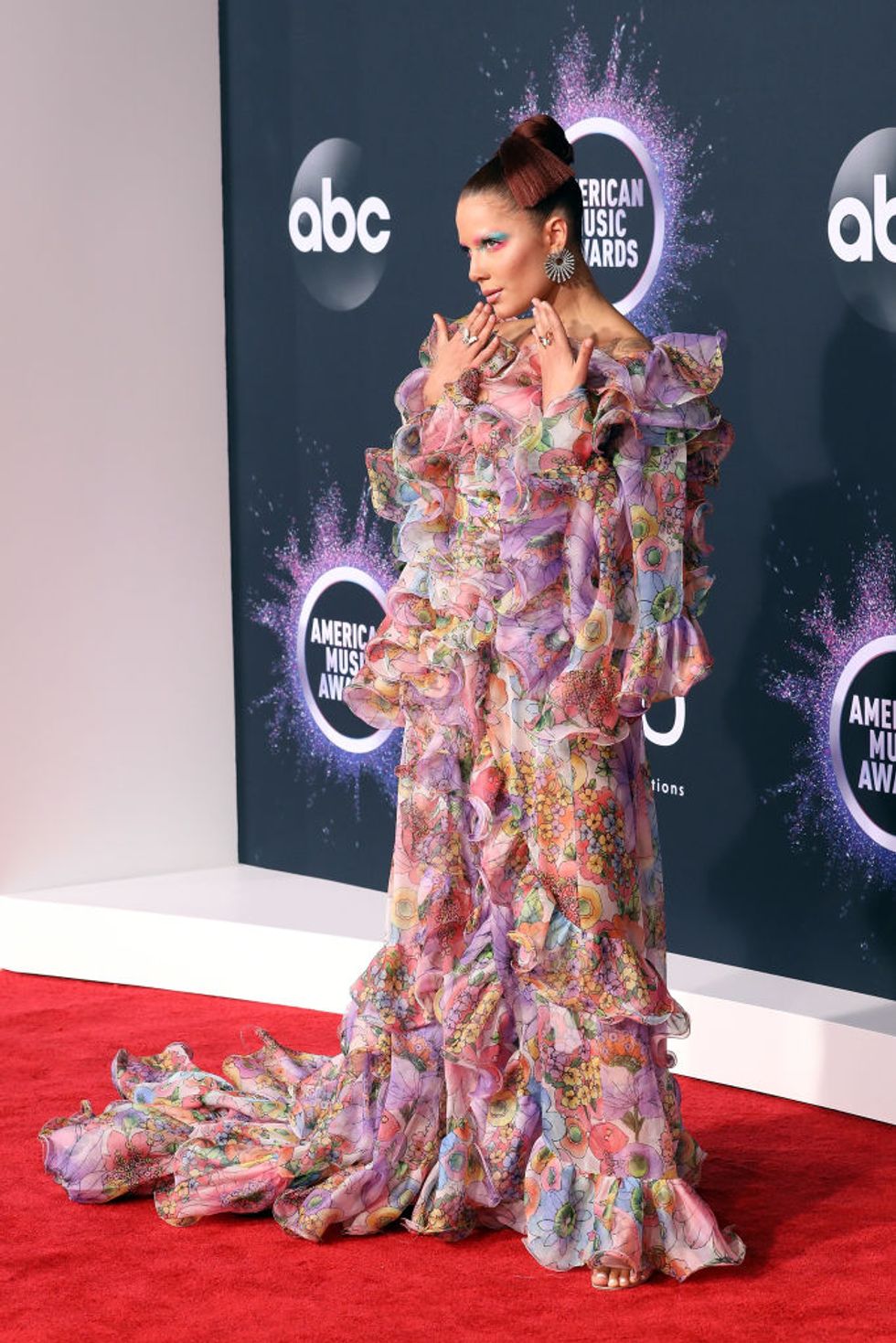 This is honestly one of the most beautiful looks we've ever seen.
29. Diplo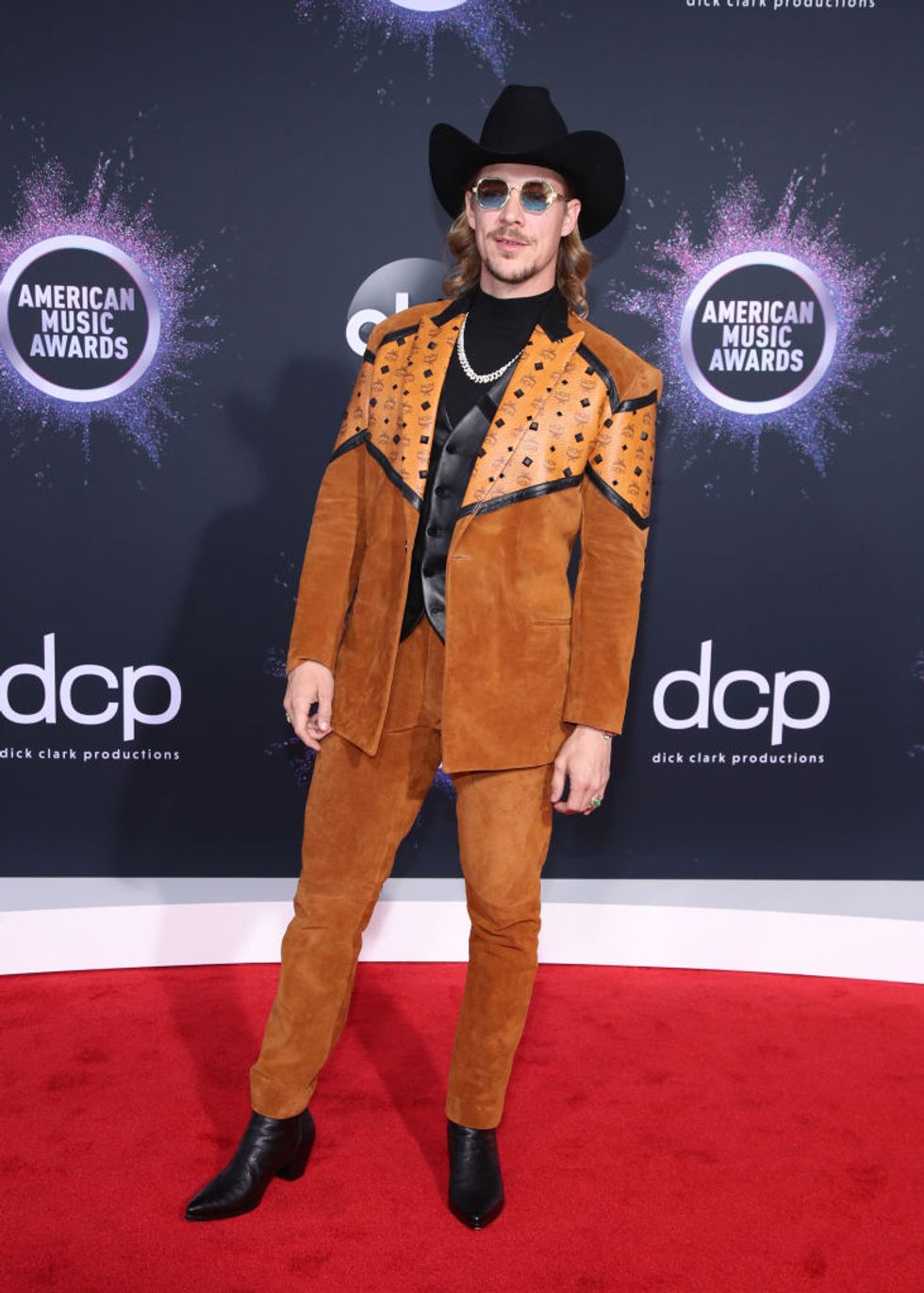 You've got to respect a man who knows his
personal style.
28. Shawn Mendes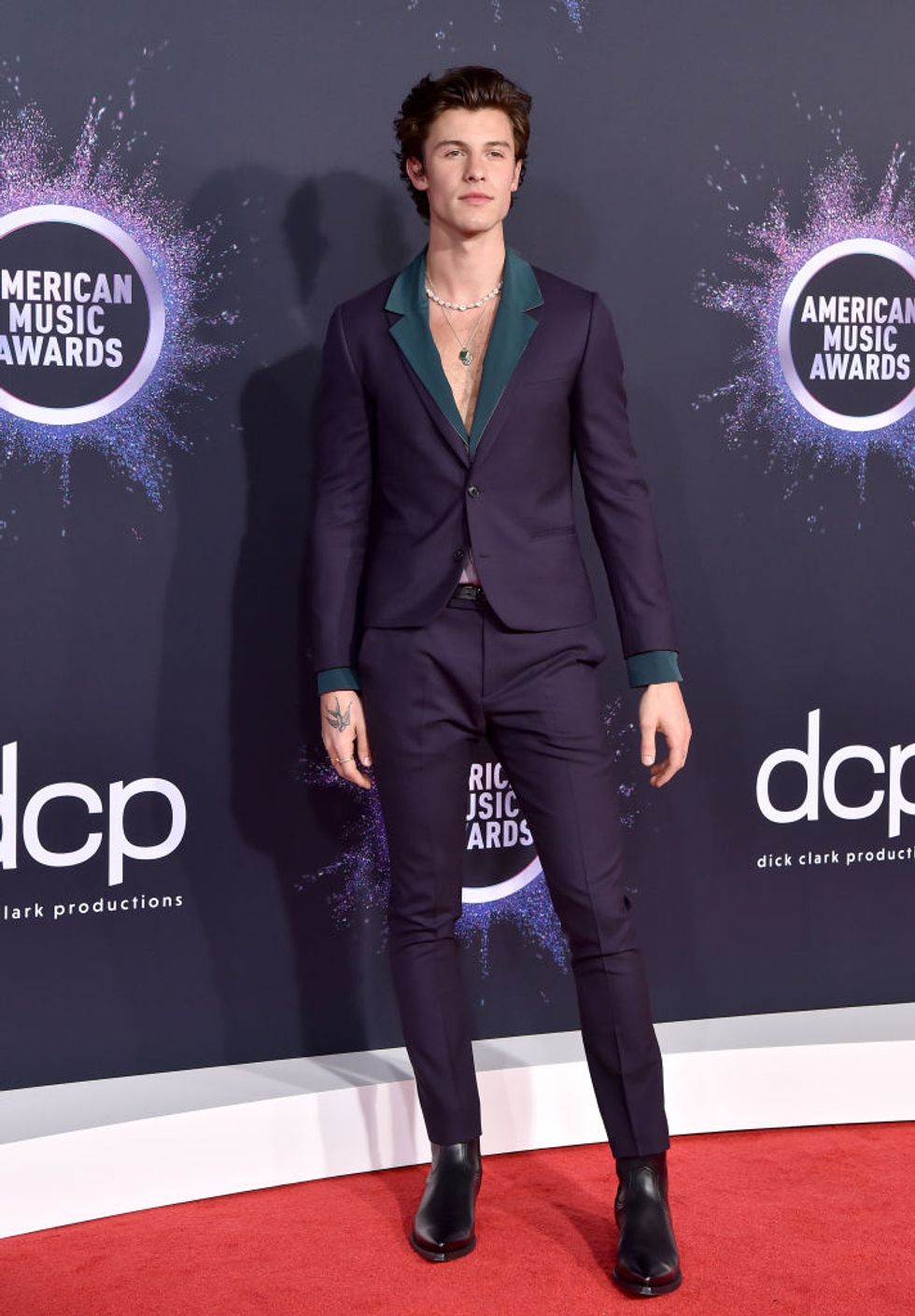 He sure knows how to stop basics being boring.
27. Lauren Jauregui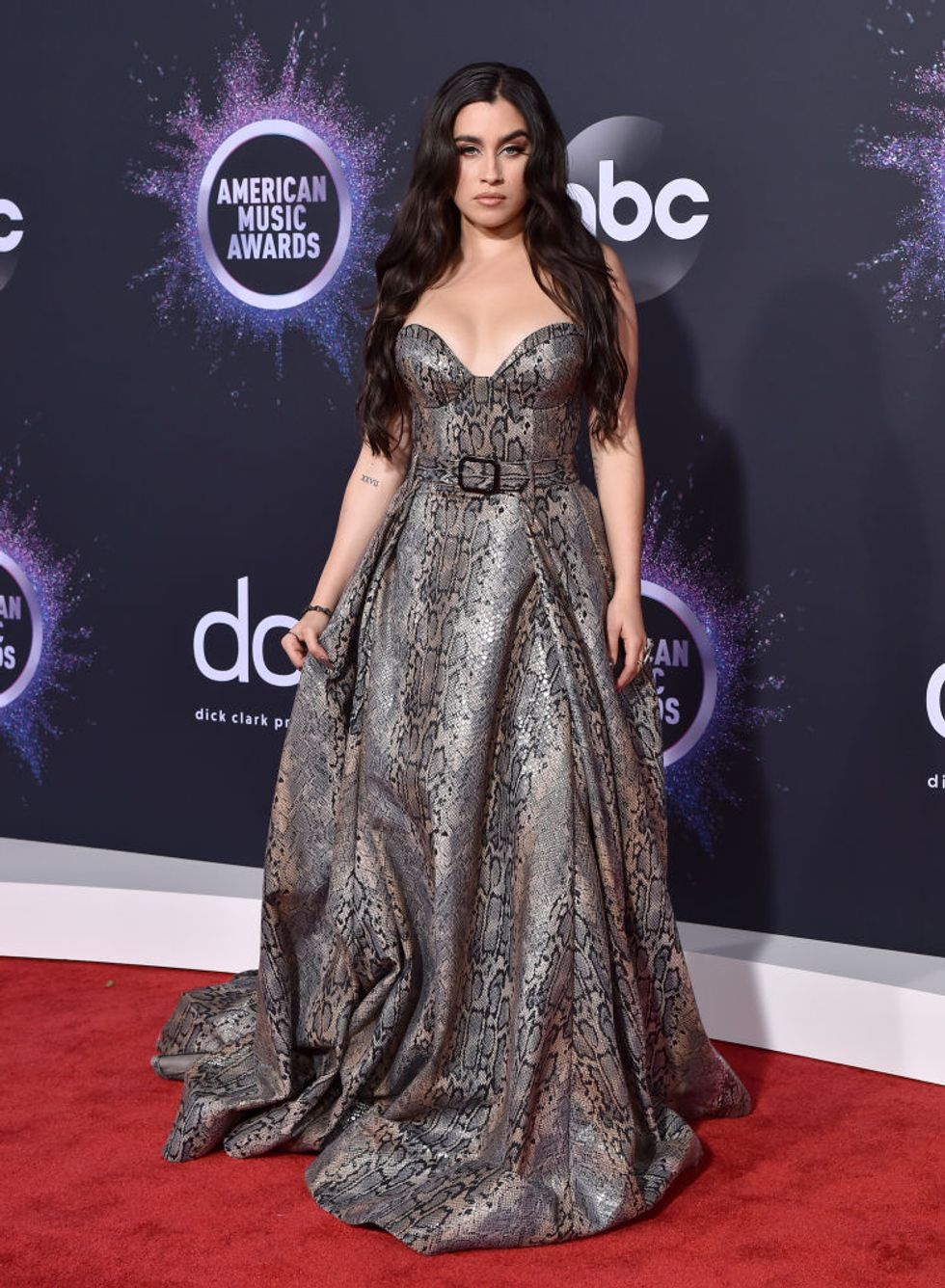 This snakeskin ballgown is the perfect blend of high class and trash.
26. Jamie Lee Curtis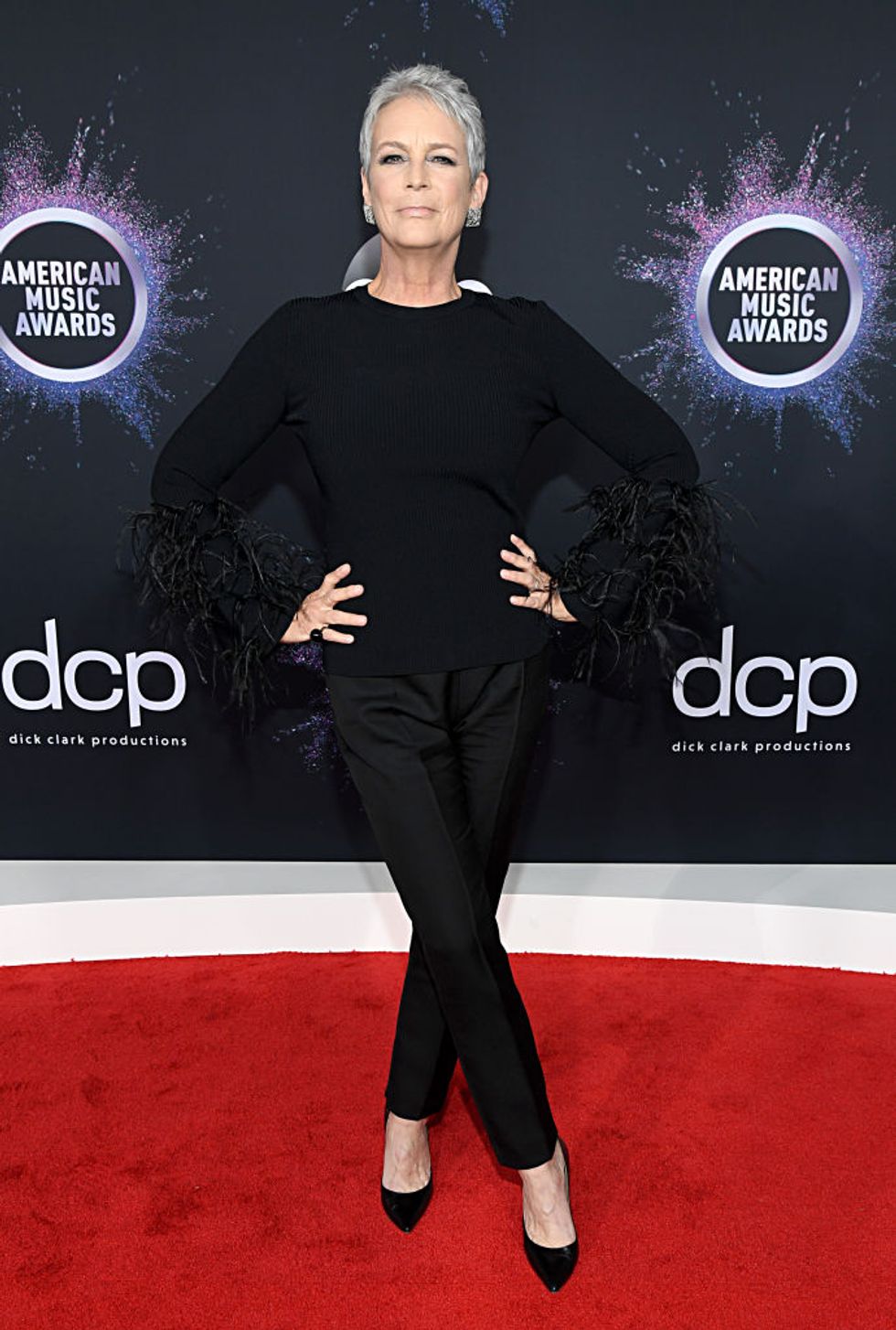 Simple (and perhaps a
tiny 
bit boring) but undeniably effective.
25. Camila Cabello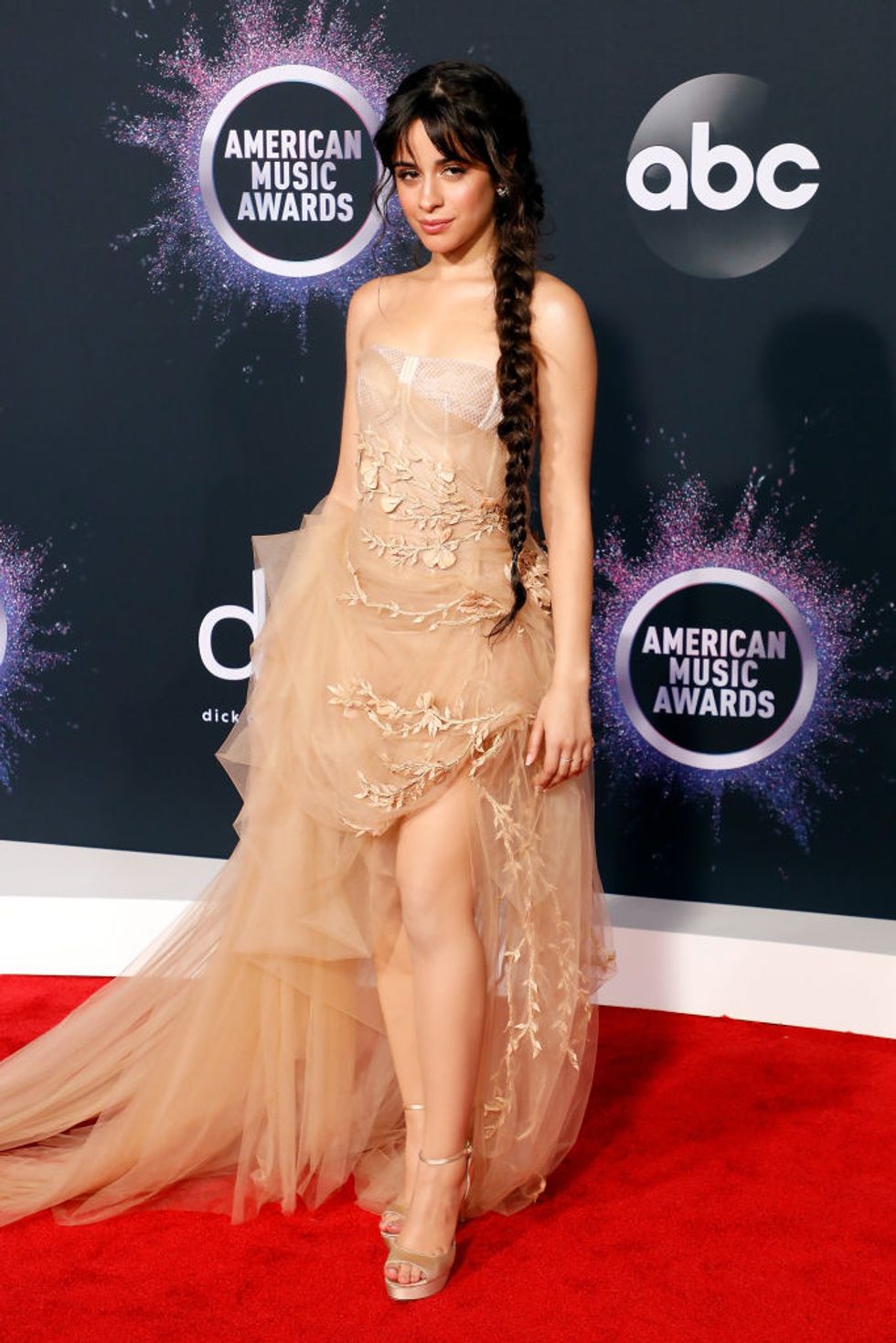 A slightly predictable, but undeniably super pretty choice.
24. Meg Donnelly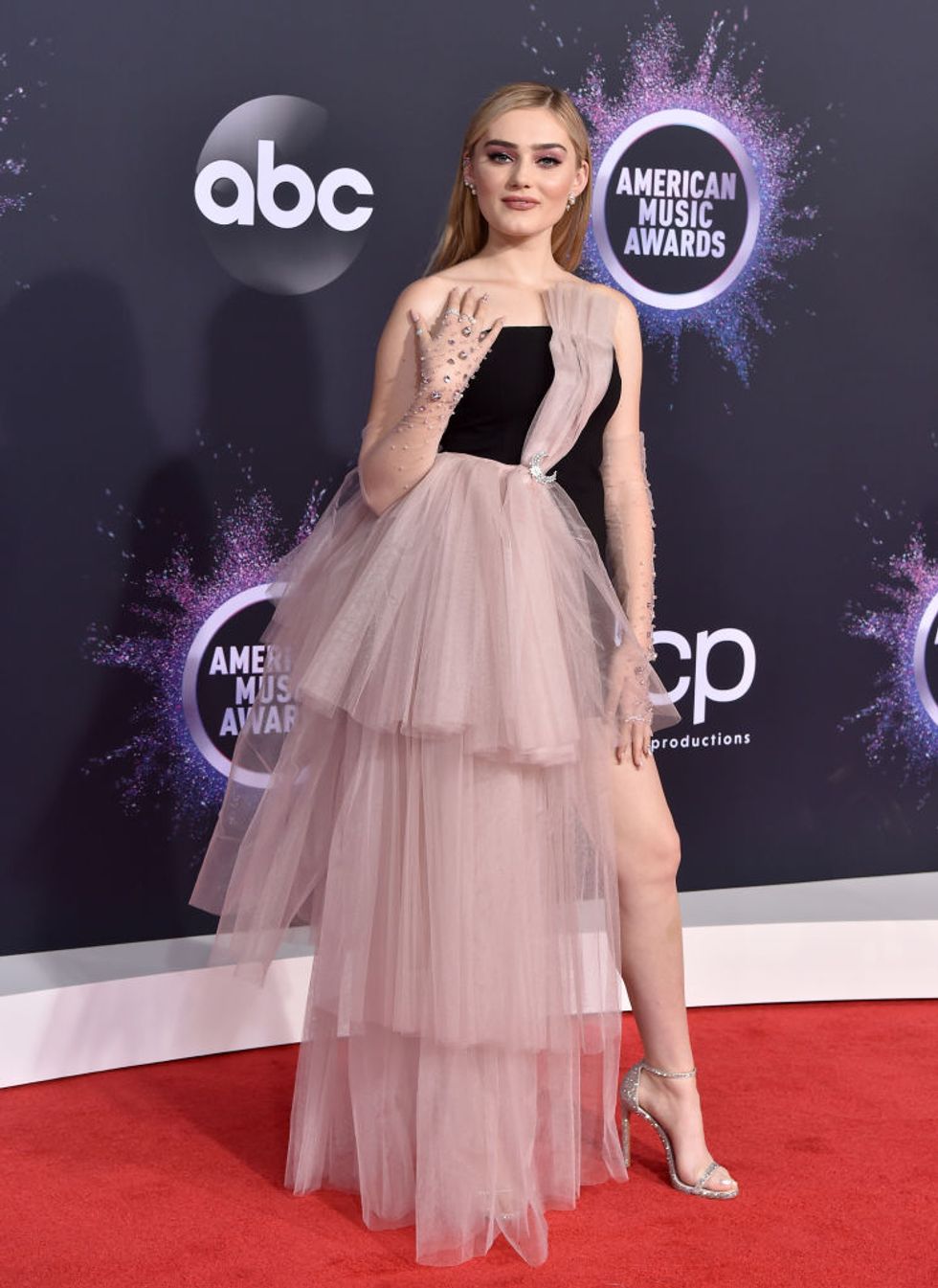 The contrasting materials, beautiful tiers, and bejeweled gloves elevate this look.
23. Carrie Underwood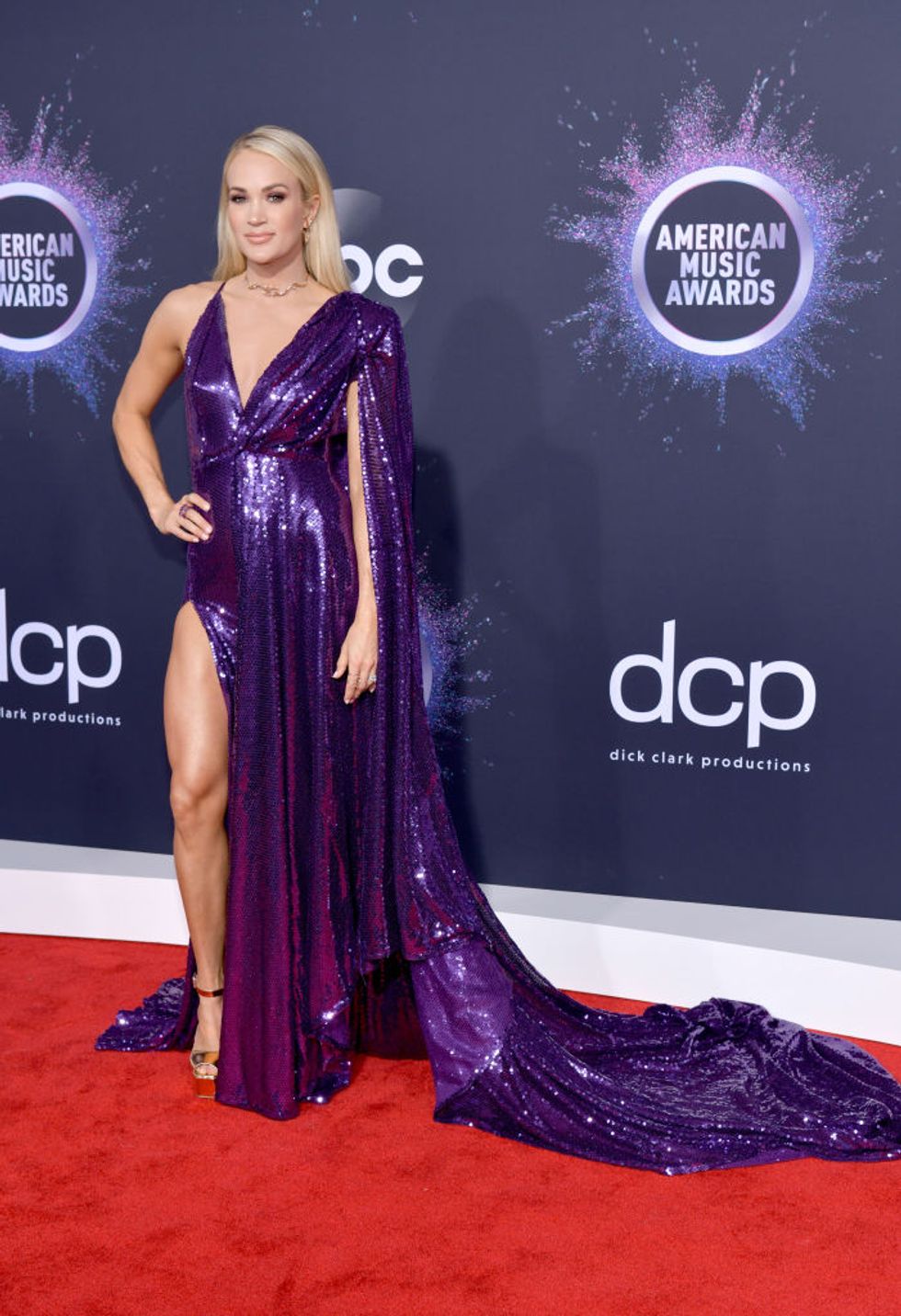 Purple sequins fit for a country music queen - after scooping both Best Country Female Artist 
and 
Best Country Album.
22. Alyson Stoner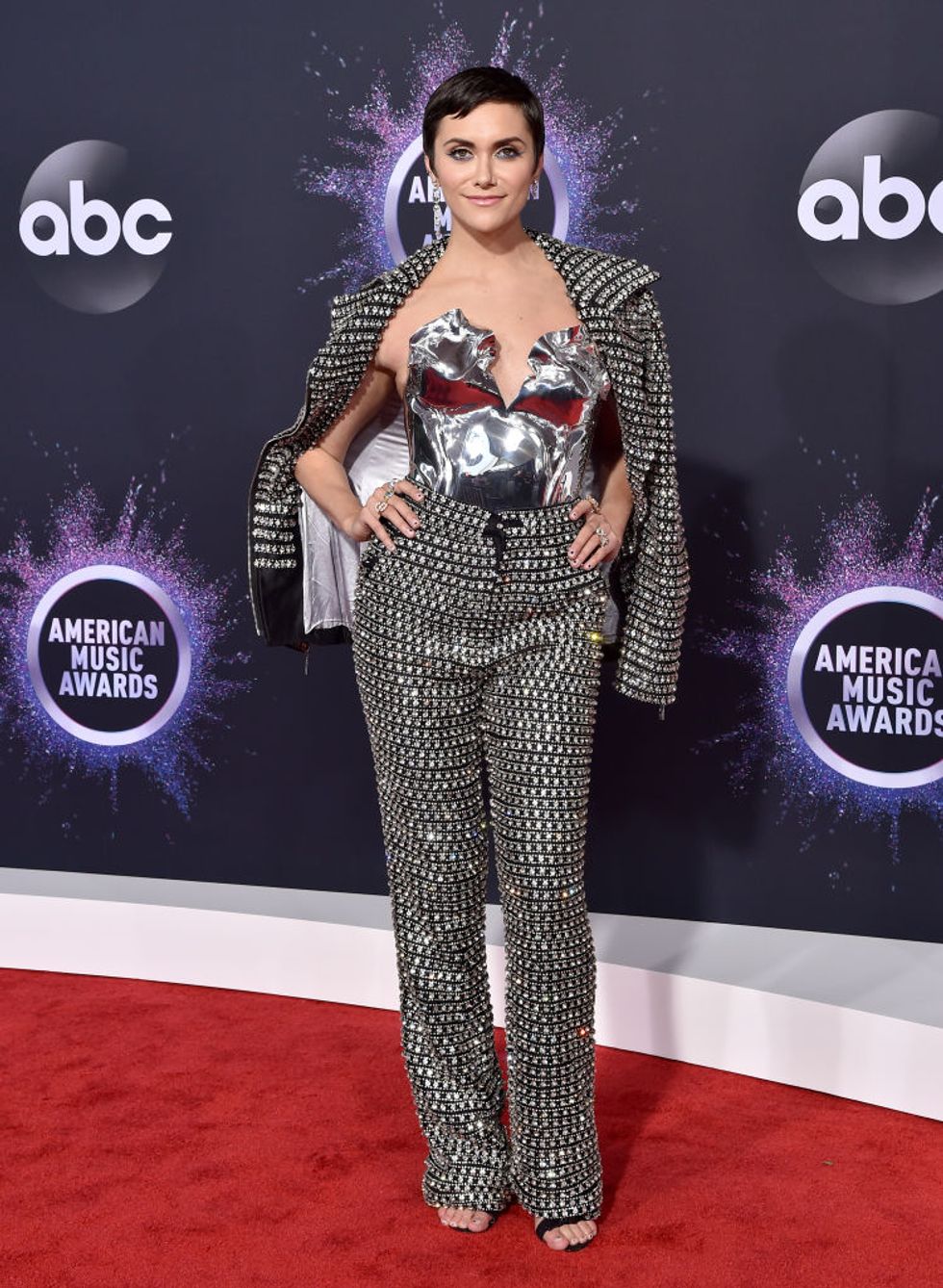 Props to the Disney Channel star for thinking outside the box!
21. Kane Brown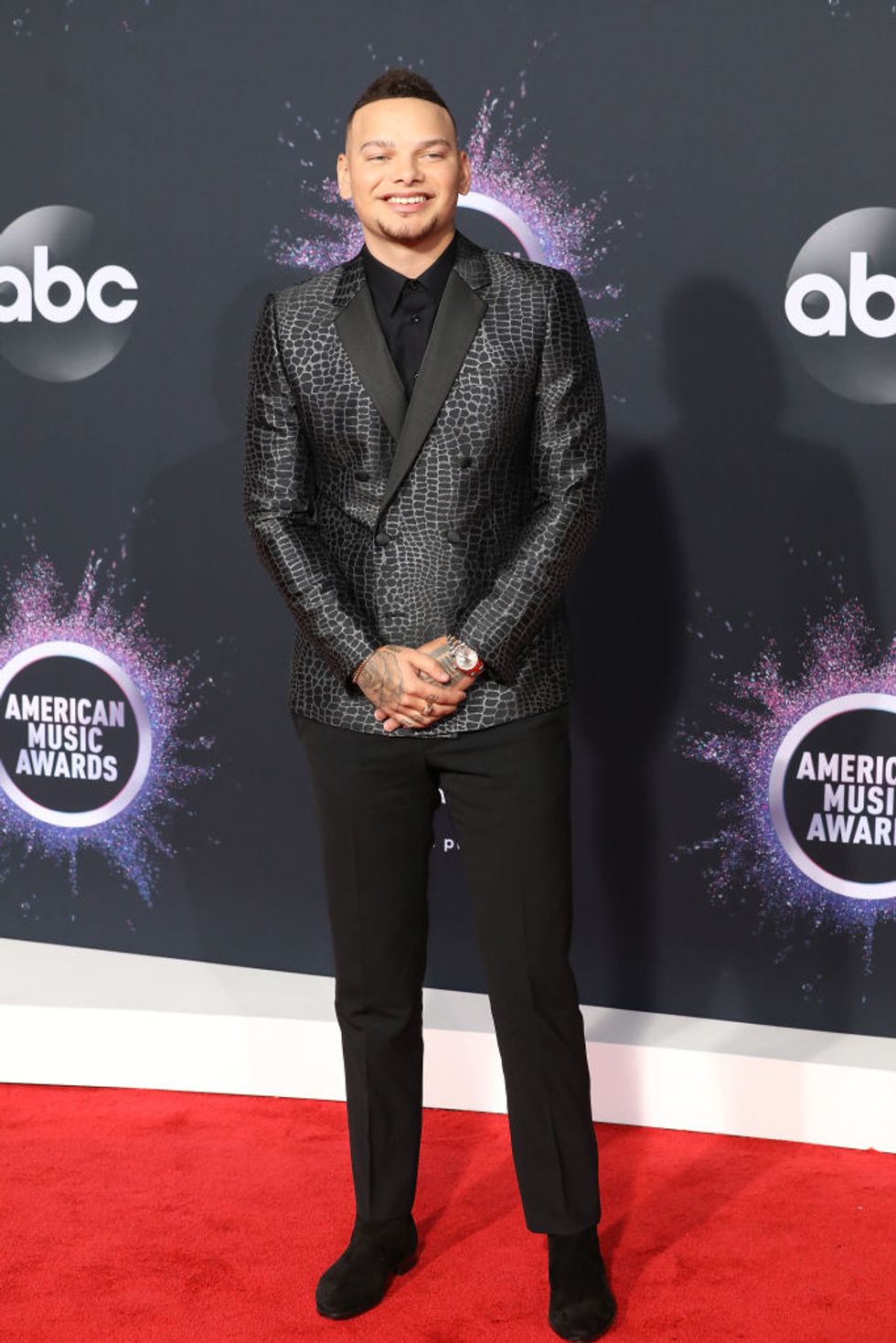 The power suit is simple, but the subtle print adds a layer of interest.
20. Paula Abdul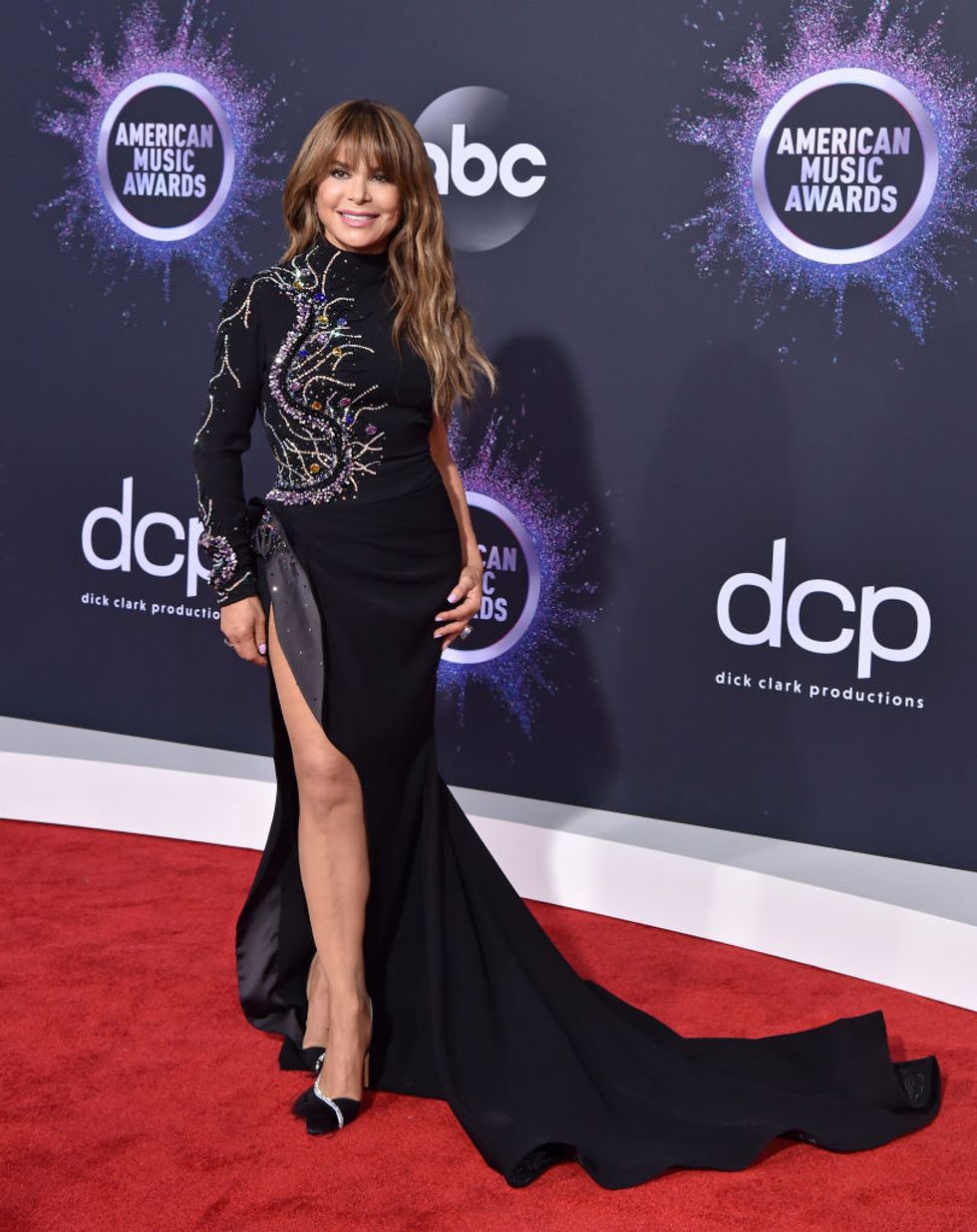 Sure, 
we 
wouldn't wear this - but it's perfect for Paula Abdul's inner showgirl.
19. Constance Wu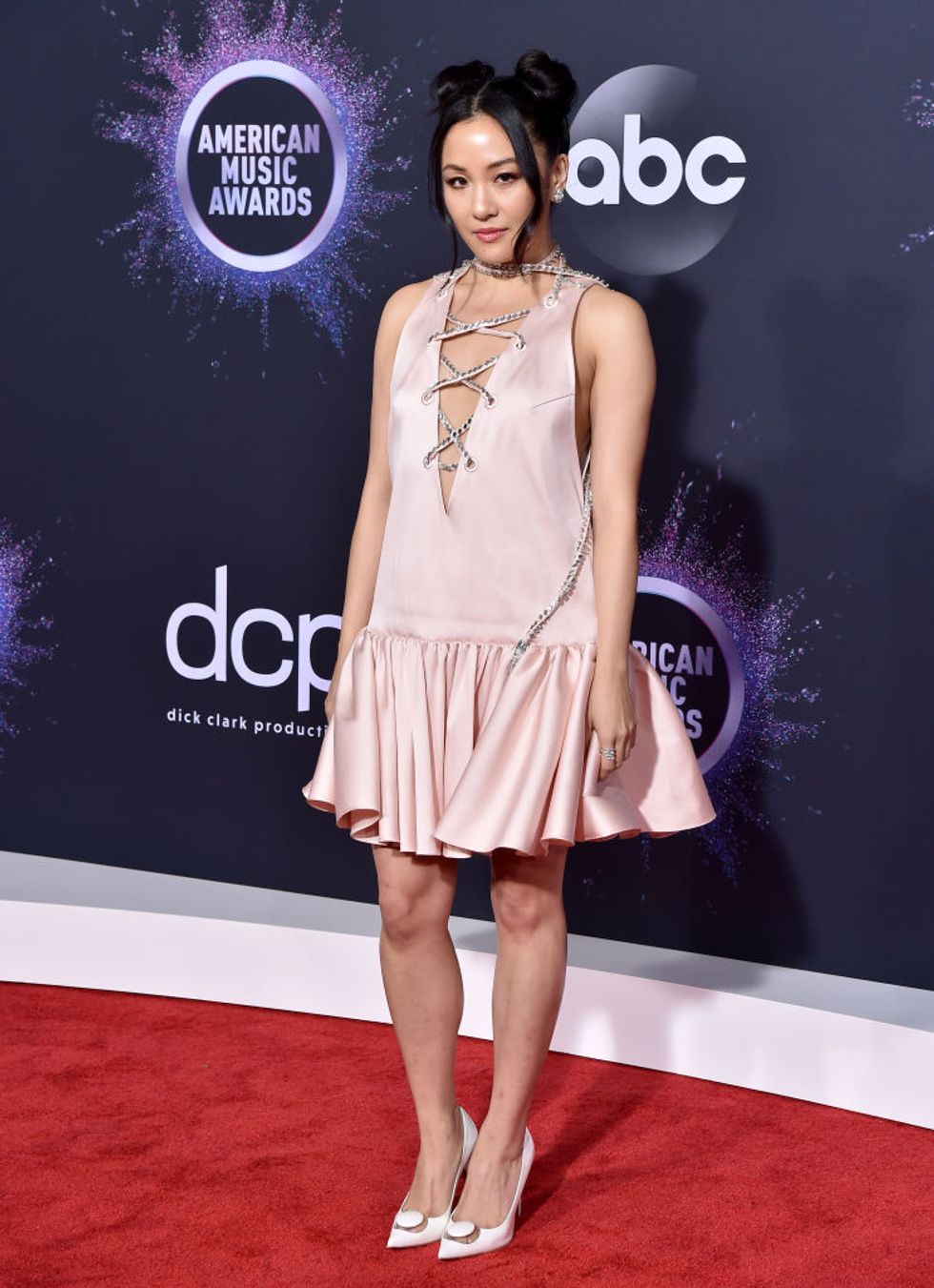 We're absolutely 
obsessed 
with this adorable babydoll dress and space buns combo.
18. Pia Mia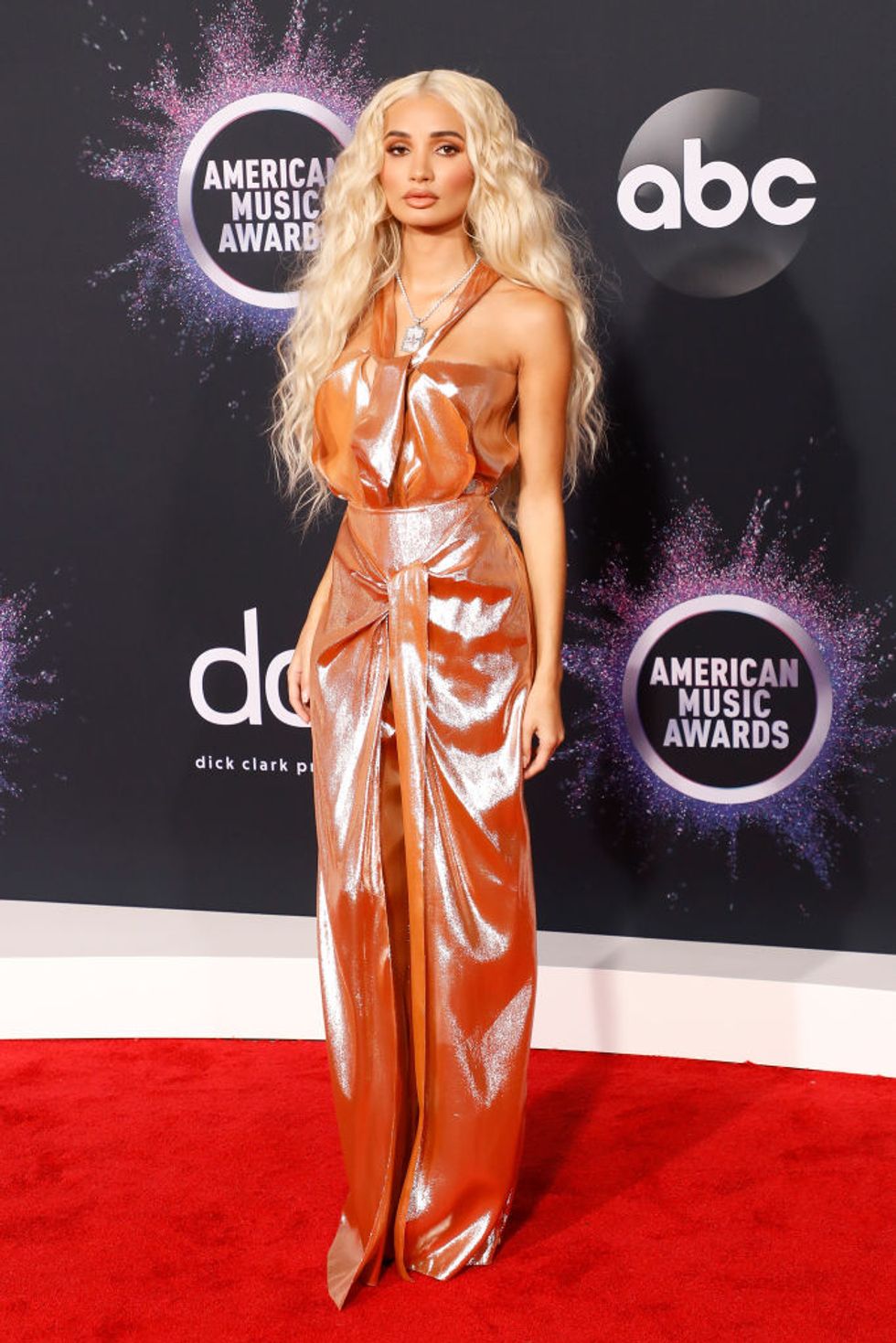 The iridescent orange fabric appeals to our inner magpie.
17. Heidi Klum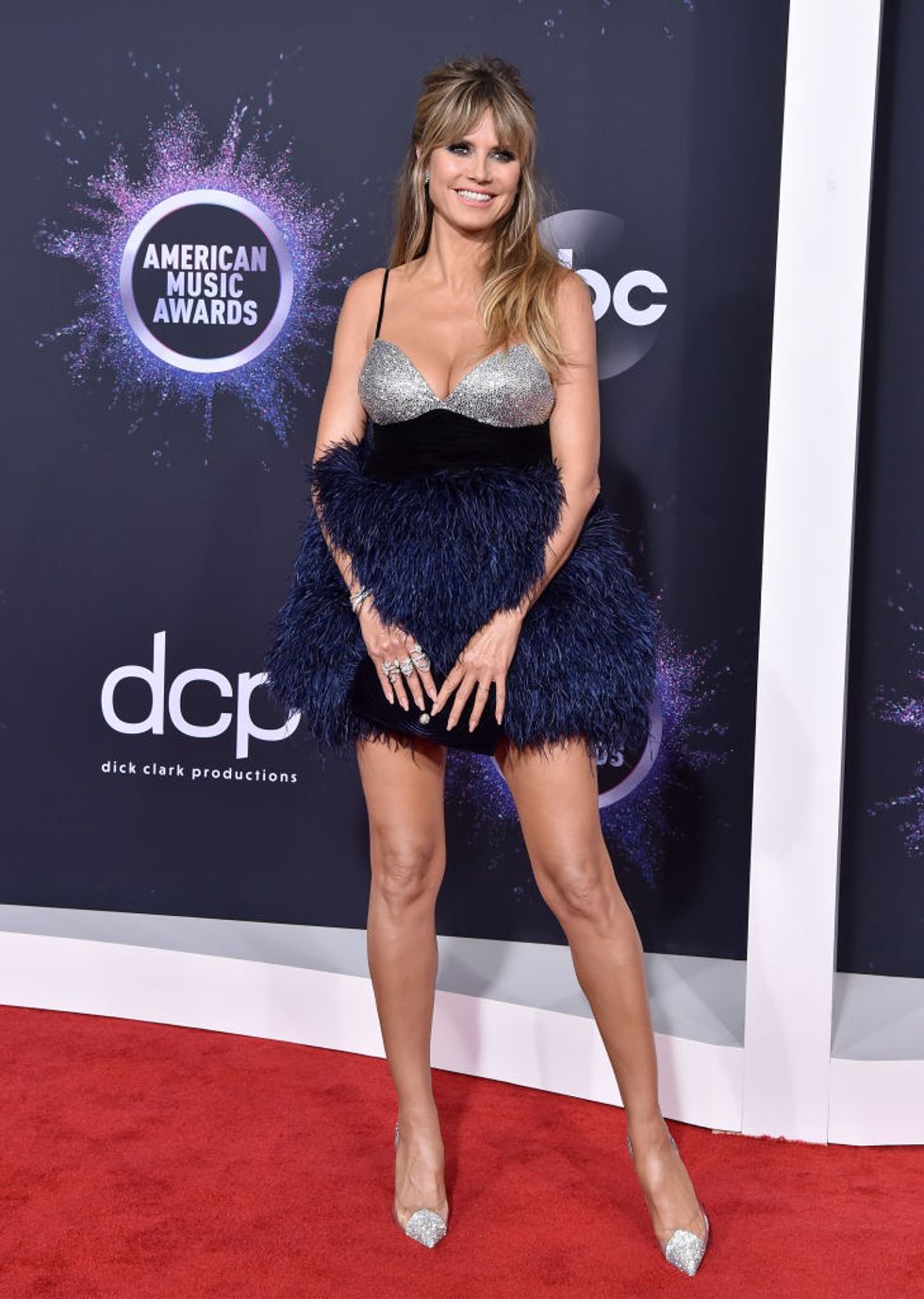 The '60s negligee-dress wouldn't be out of a place in a Bond film.
16. Green Day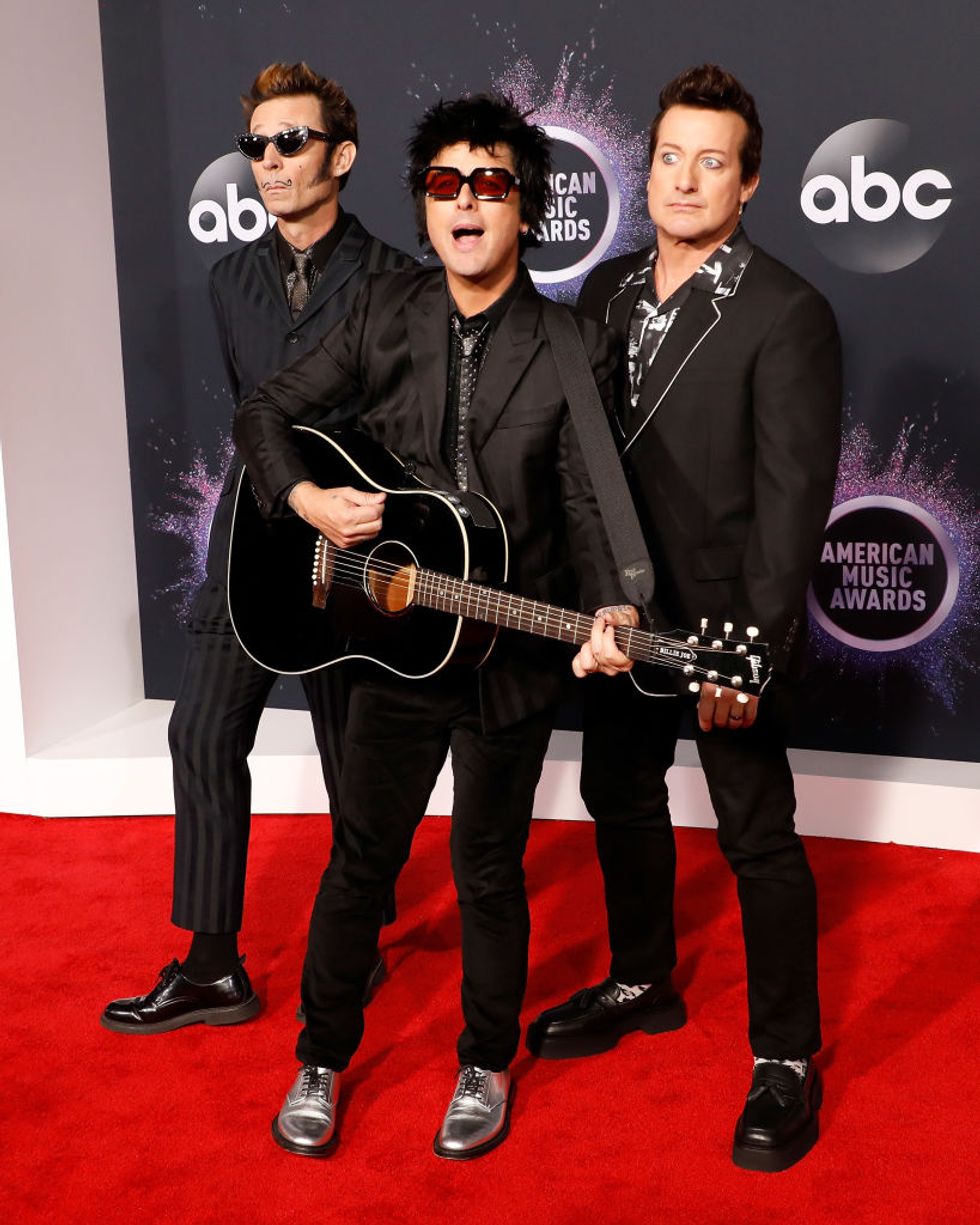 You can't go wrong with classic black - although carrying an acoustic guitar is kind of unacceptable. Loving the drawn-on mustache, though!
15. Angez Mo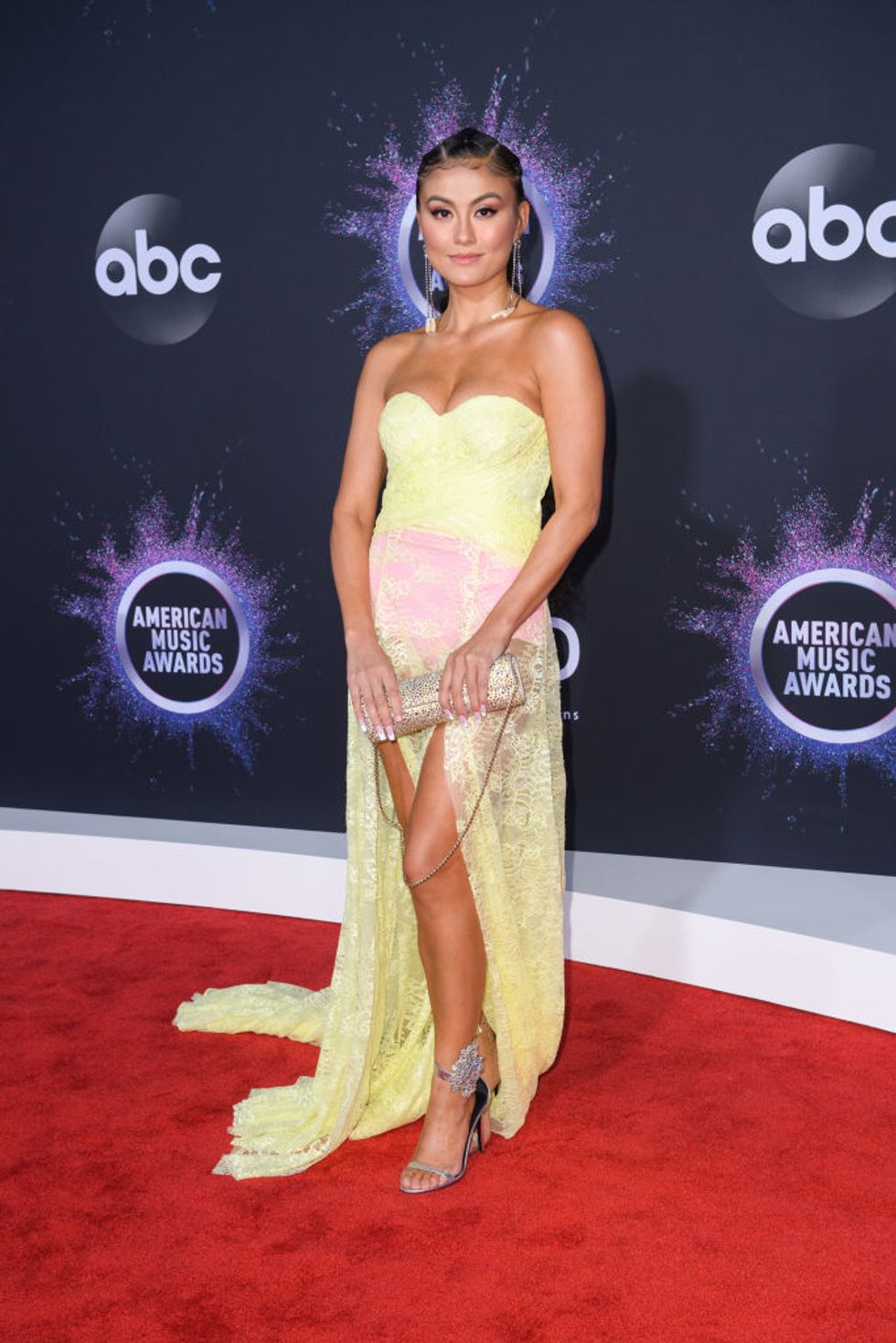 These candy colors look good enough to eat.
14. Kelly Osborne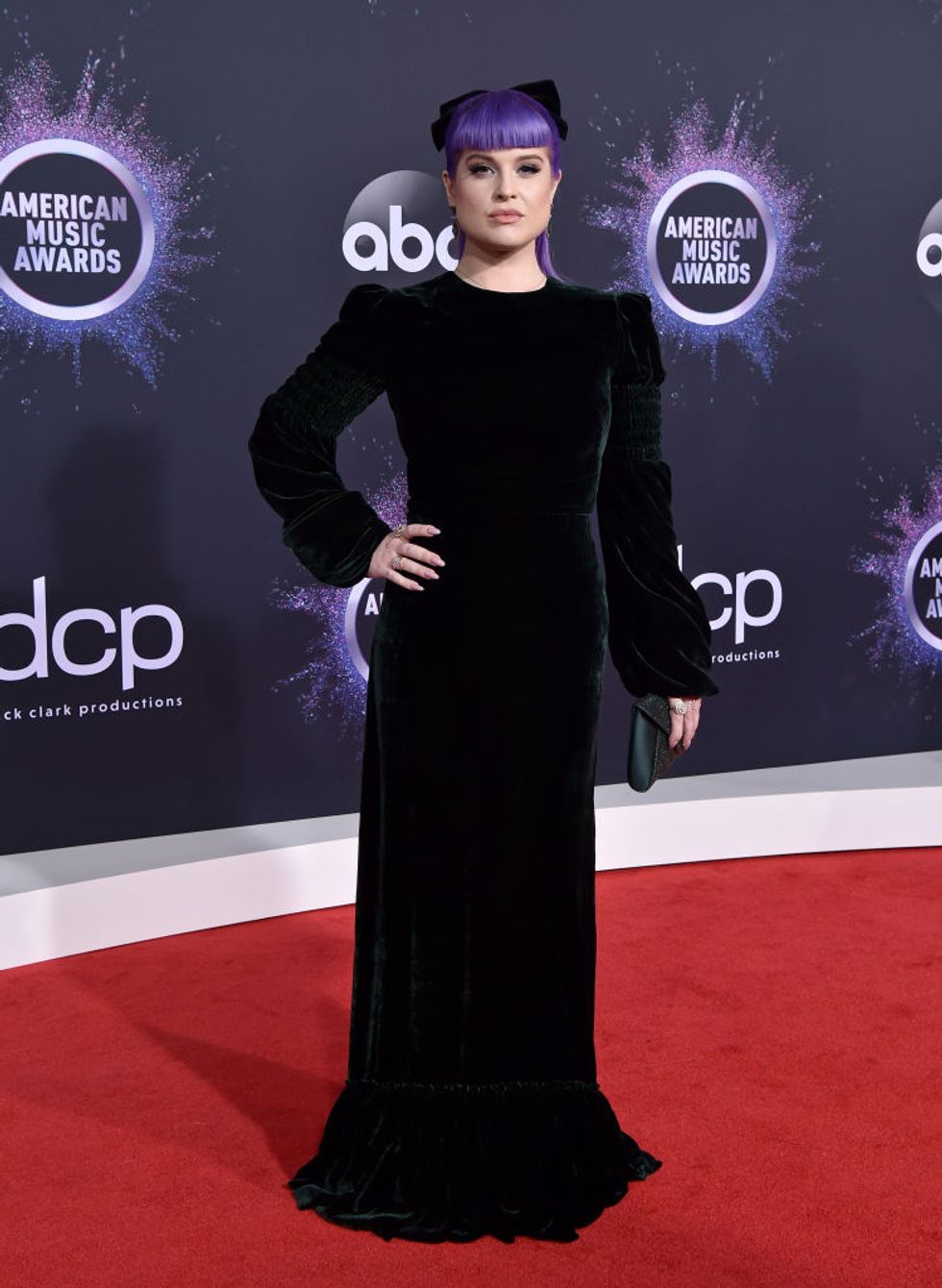 This simple black dress is elevated by her beautiful purple hairdo.
13. Nick Viall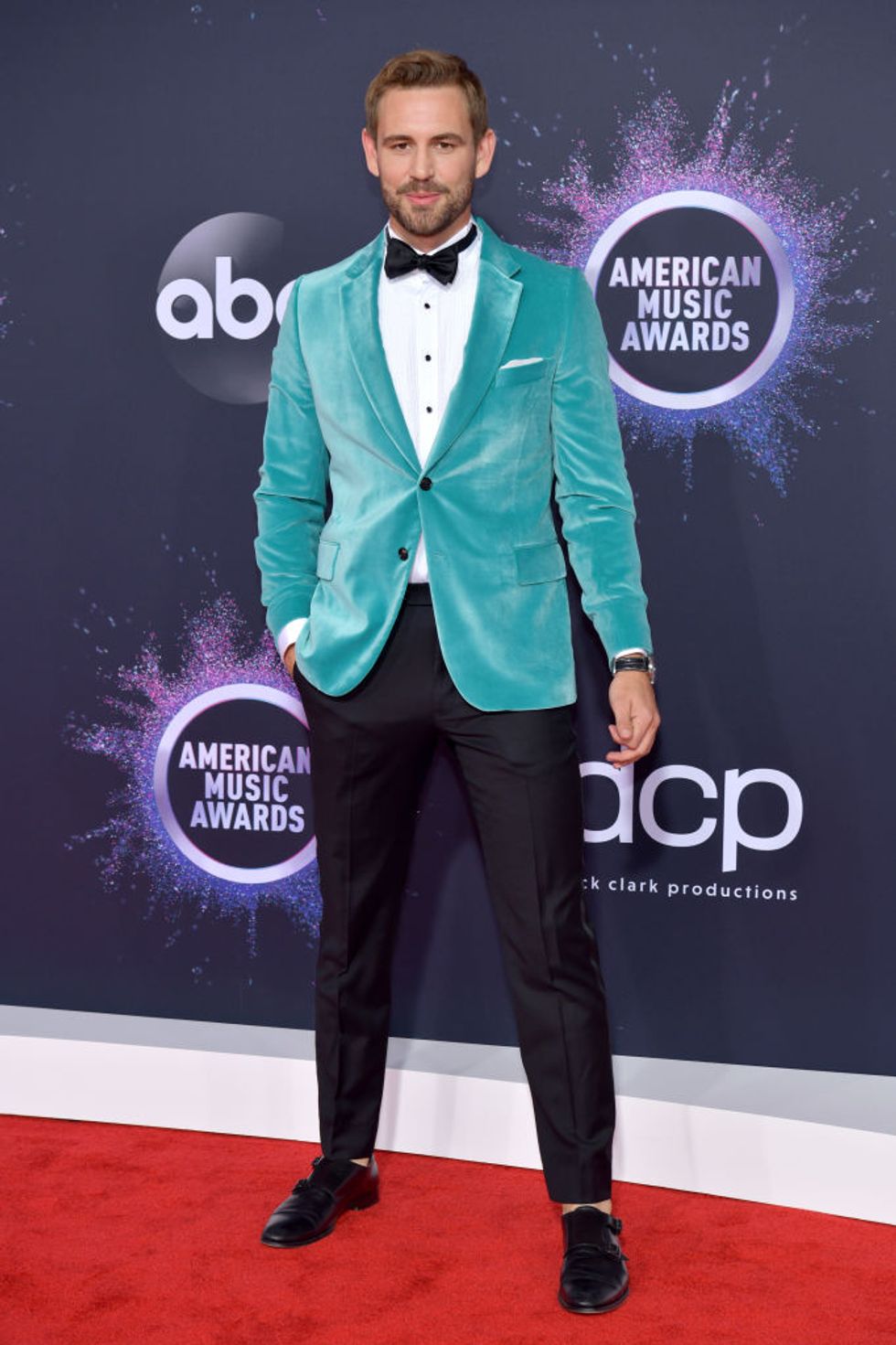 It's a 
little bit 
corny - but we can't help but like this turquoise velvet blazer.
12.Post Malone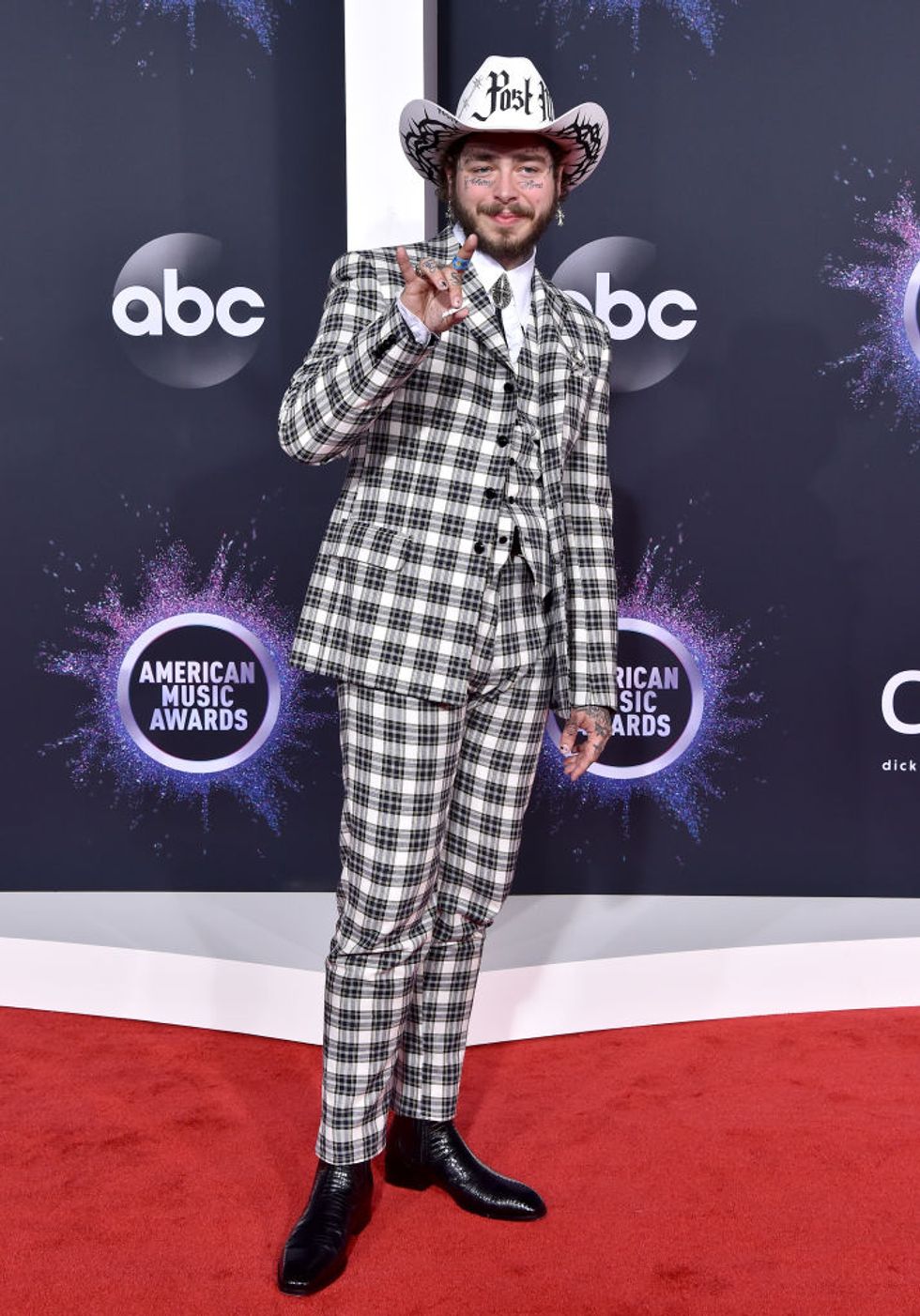 How 
does this man pull off such objectively ugly outfits?
11. Ella Mai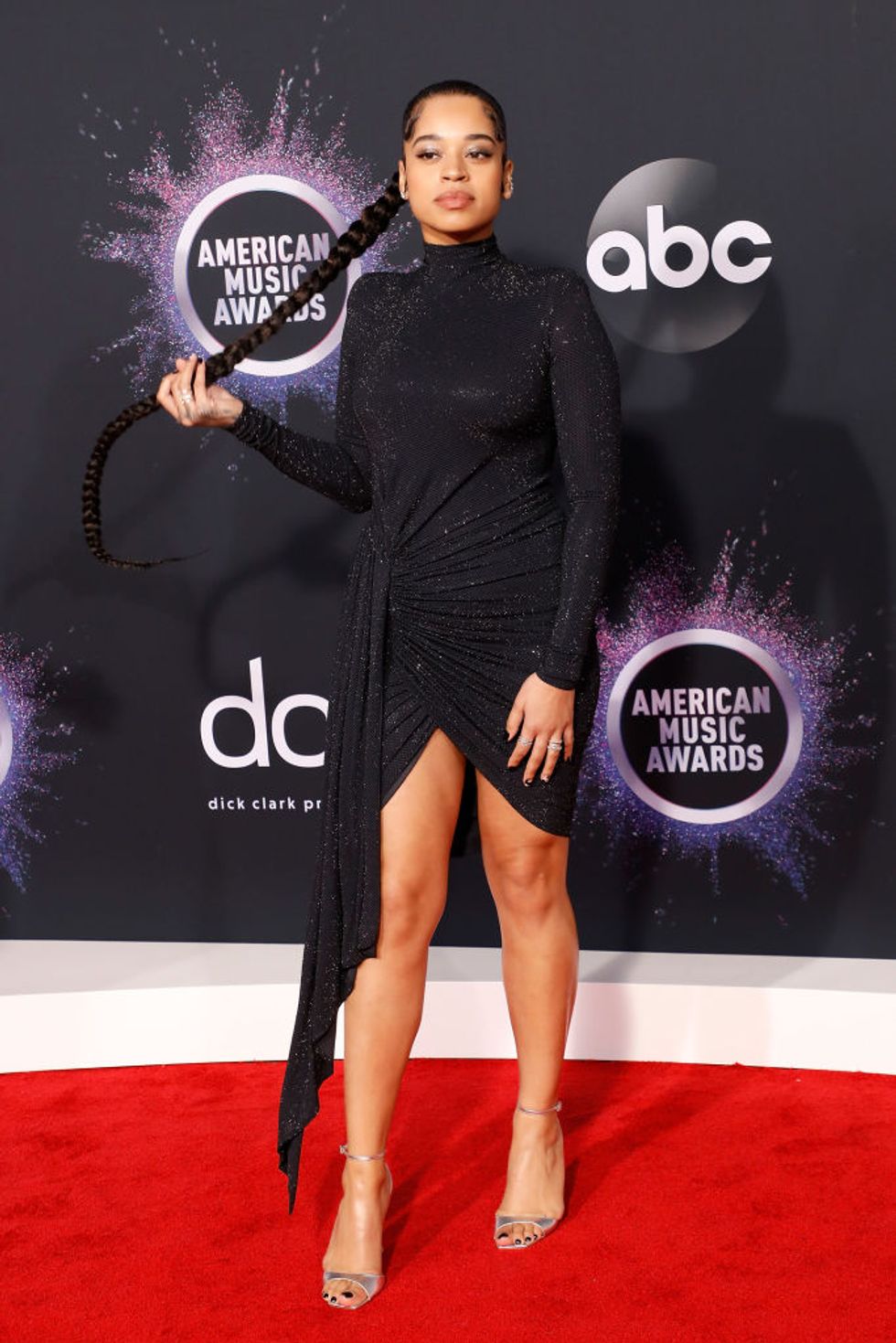 The long power braid makes it.
10. Misty Copeland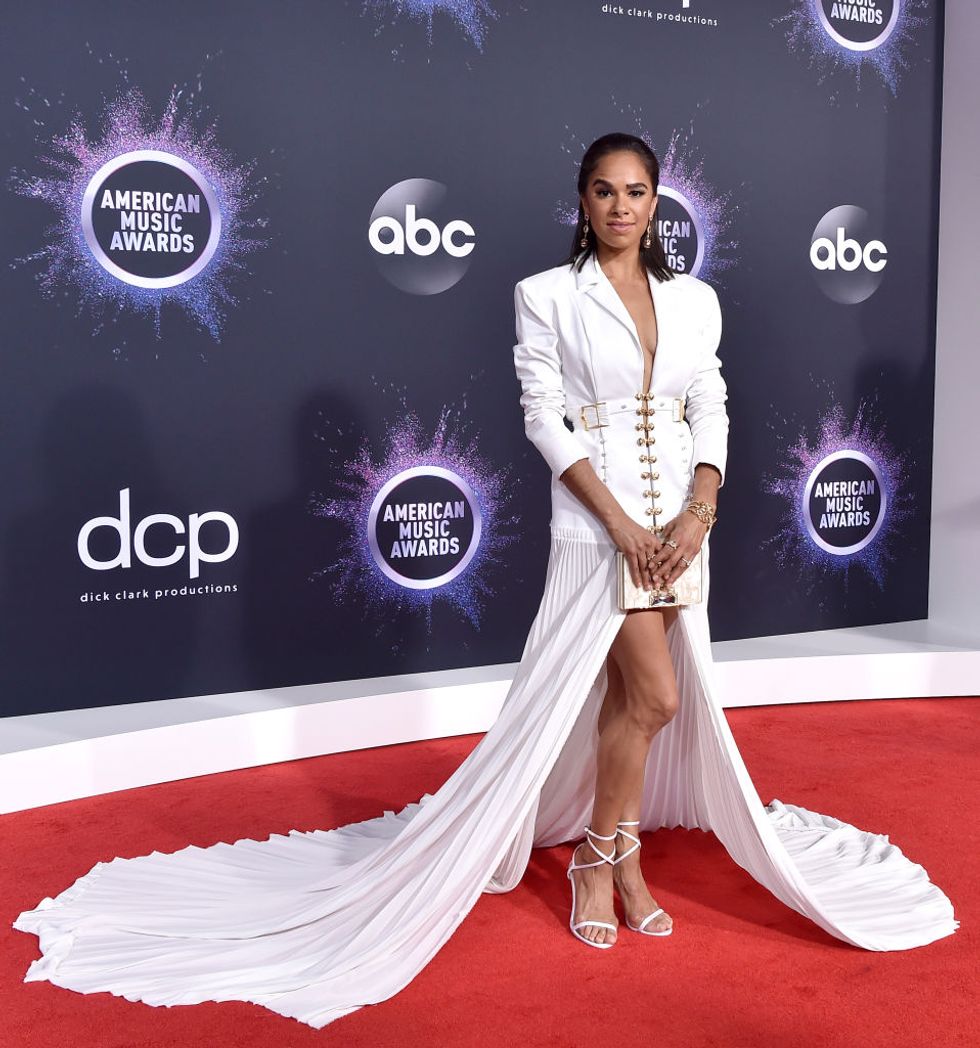 You wouldn't expect anything less than full glamour from this ballet star, right?
9. Dan Levy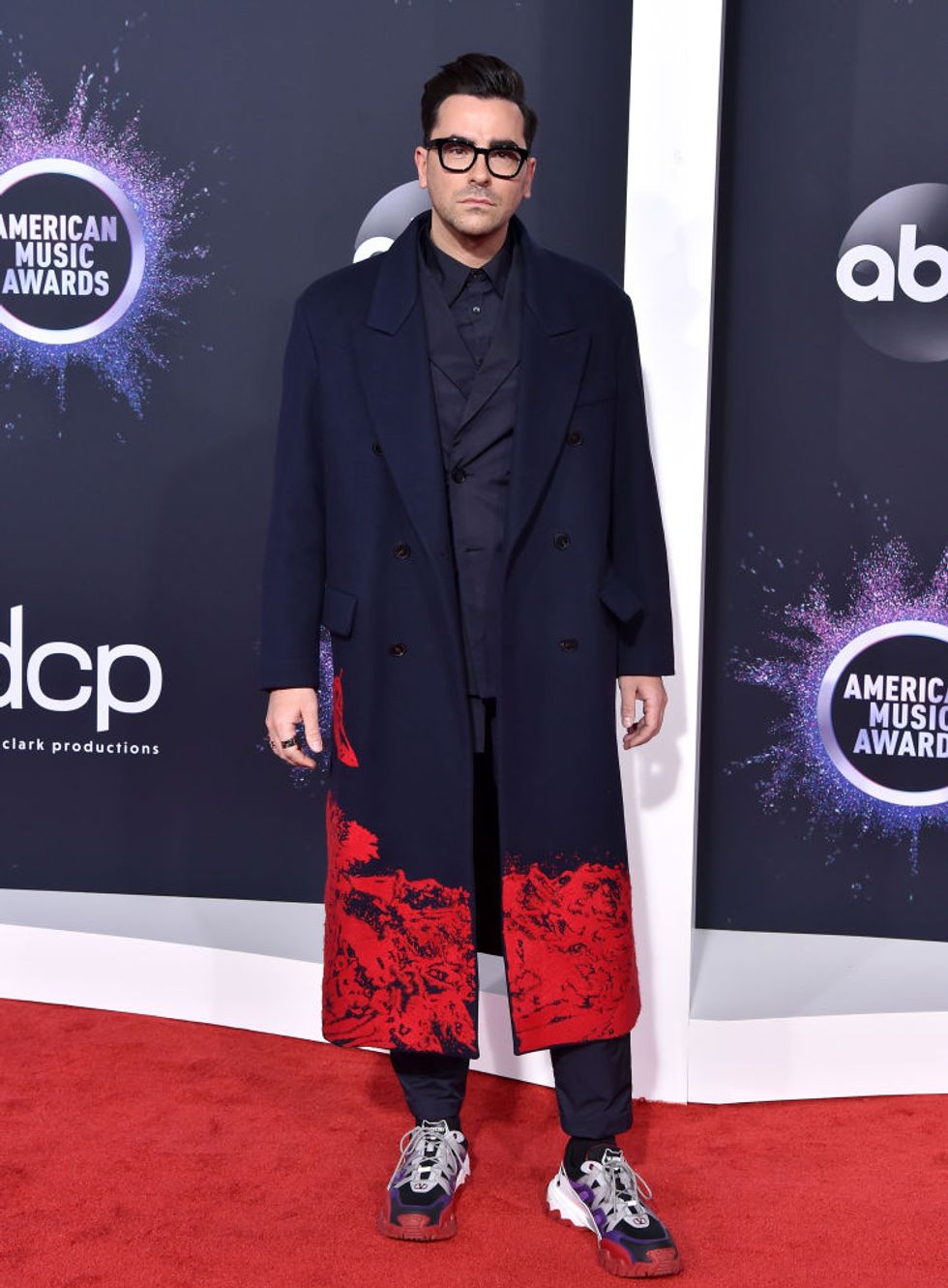 Matching his sneakers to his coat is a truly ingenious touch.
8. Megan Thee Stallion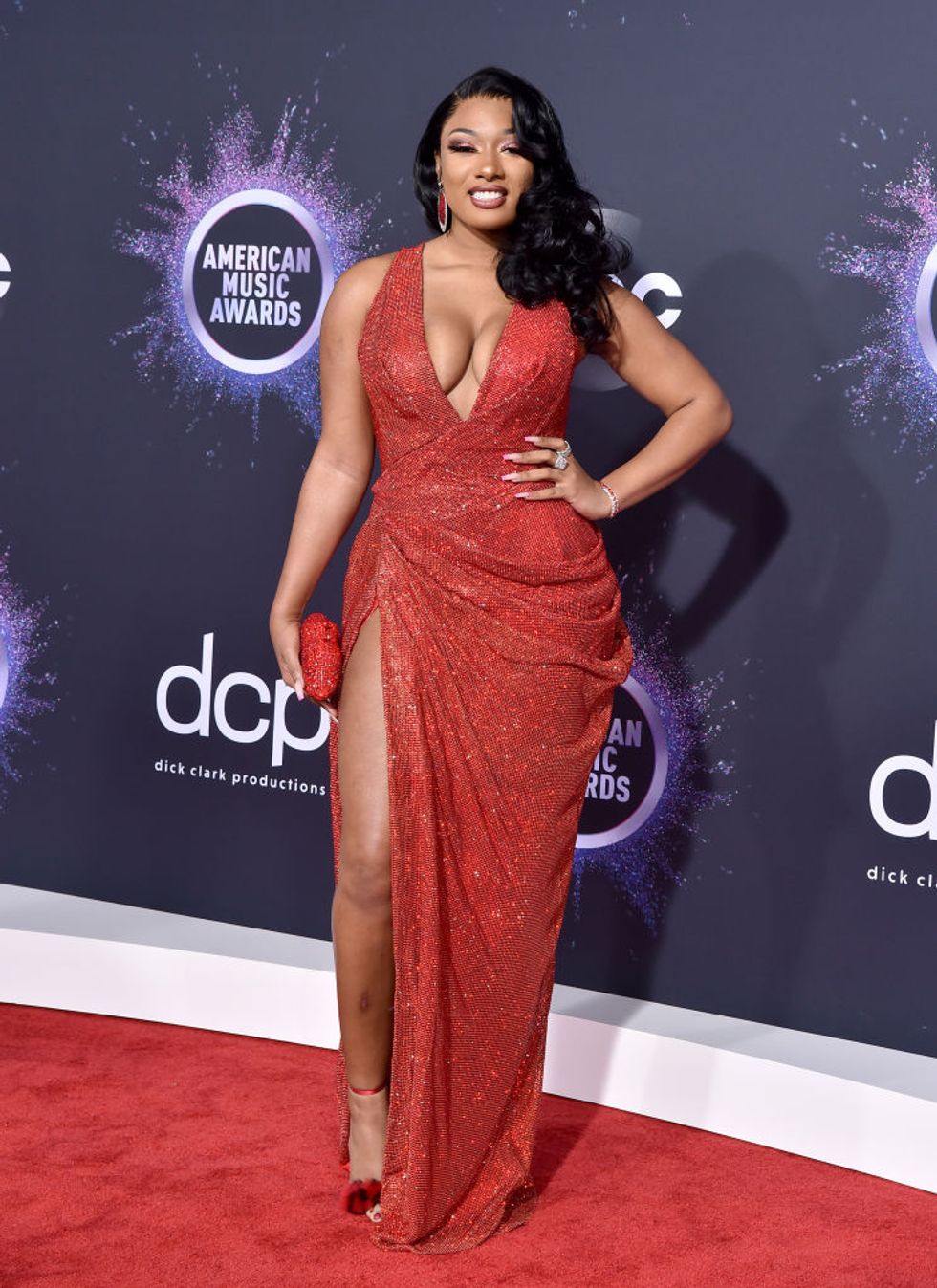 Although honestly, she could rock up in a paper bag and still make the list.
7. Patrick Starr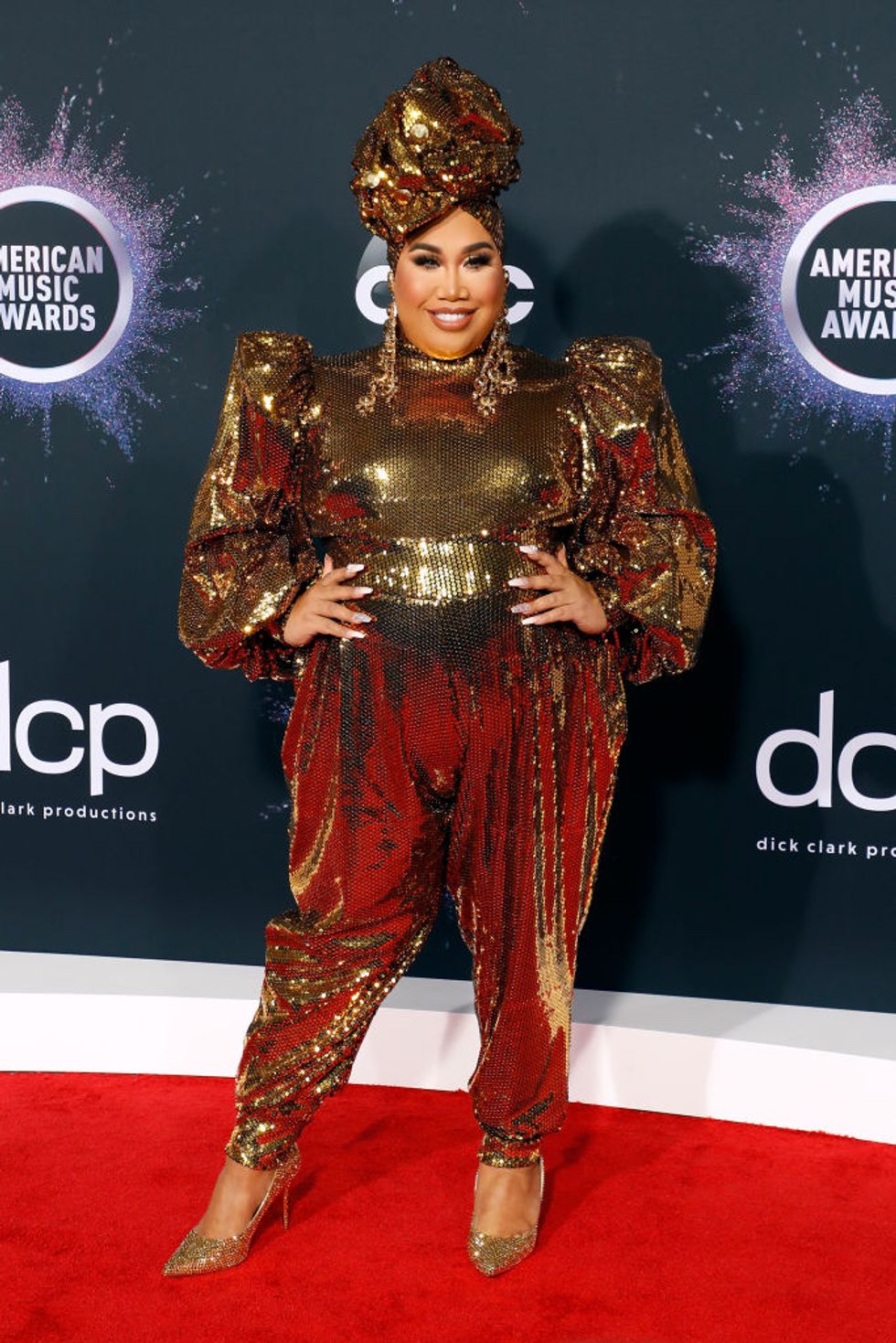 Love him or hate him, you can't ever accuse Starr of not making the effort.
6. Kelsea Ballerini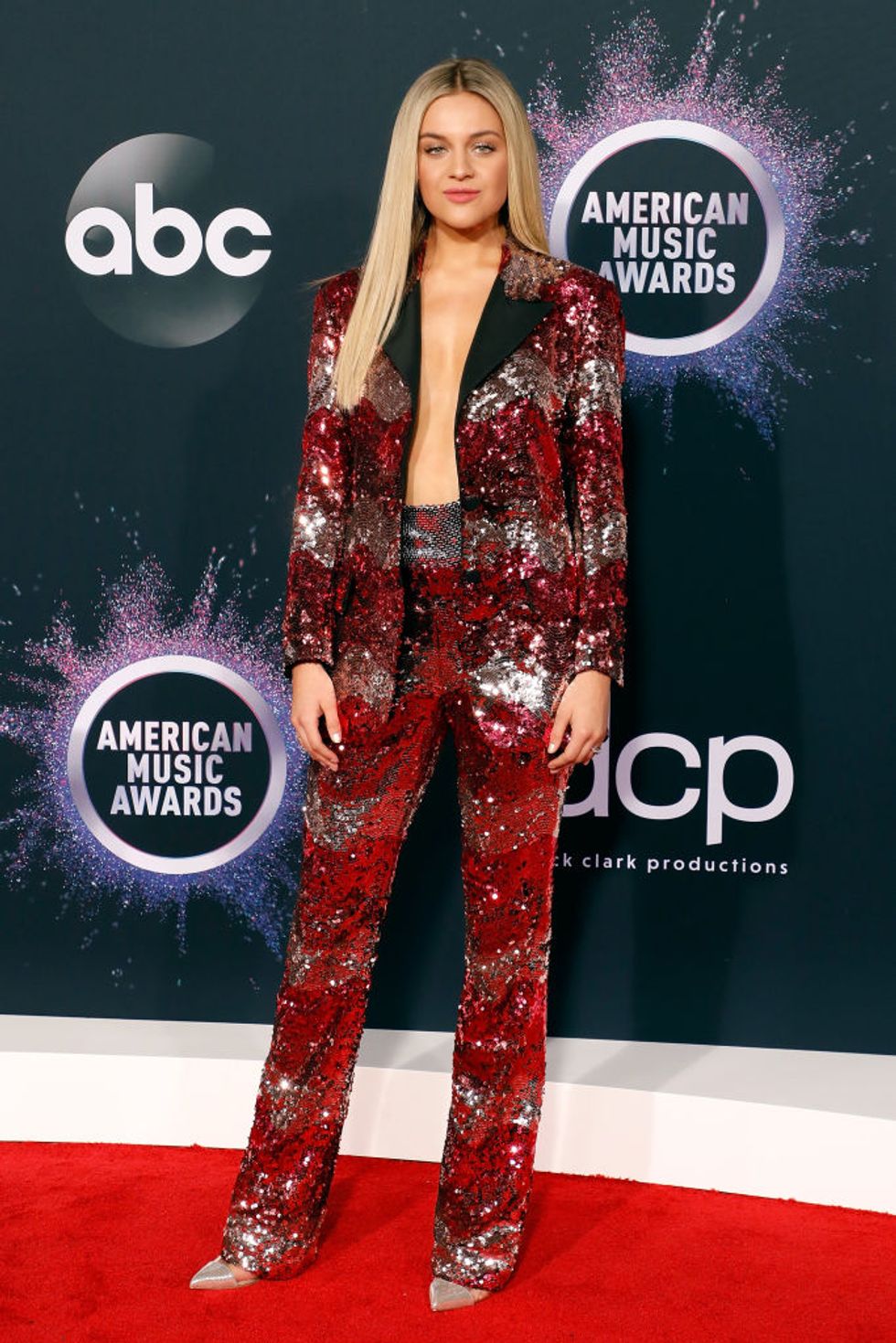 Proving that suits don't have to just be for the boys.
5. Thomas Rhett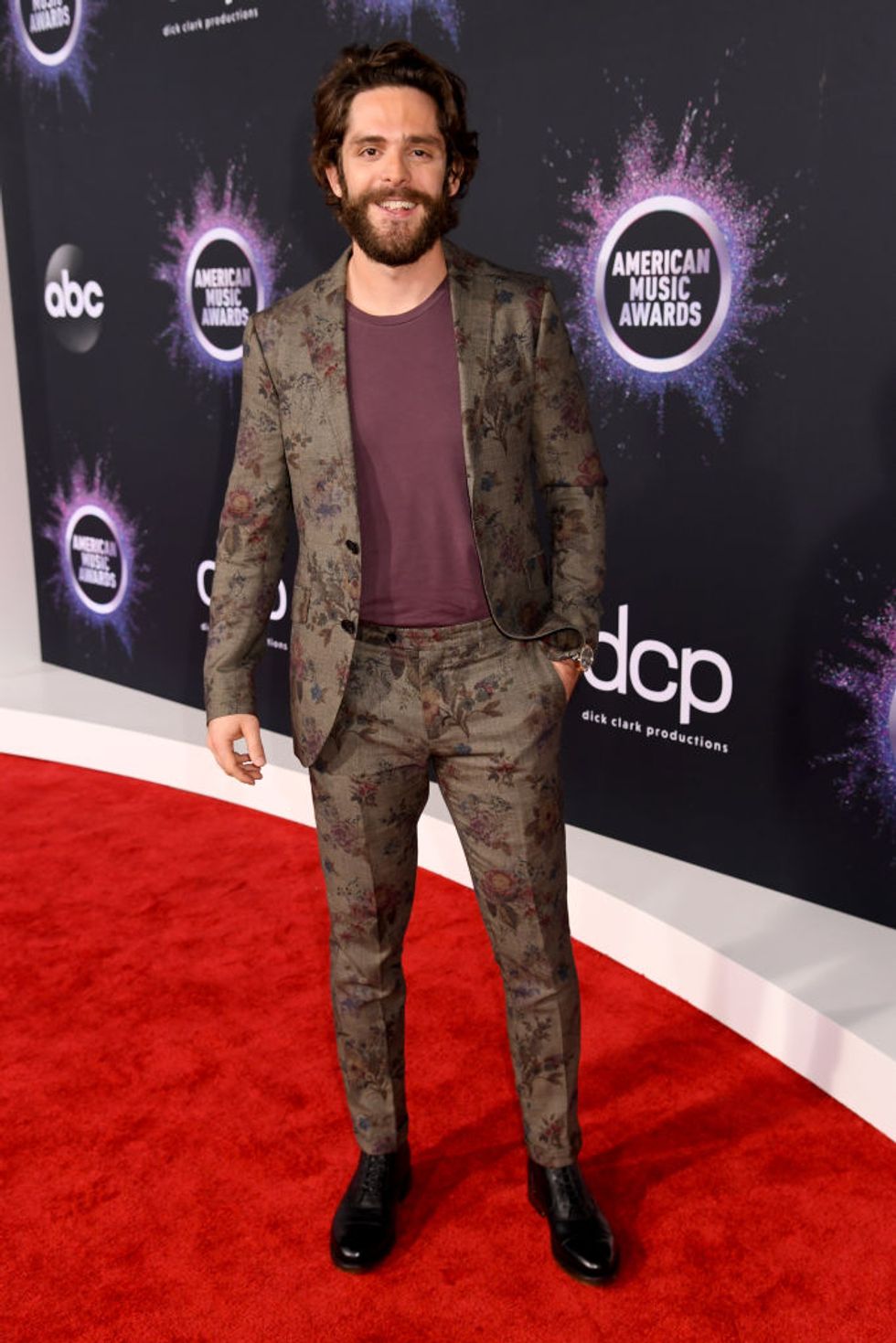 This faded floral print is pretty without being too over-the-top.
4. Julissa Bermudez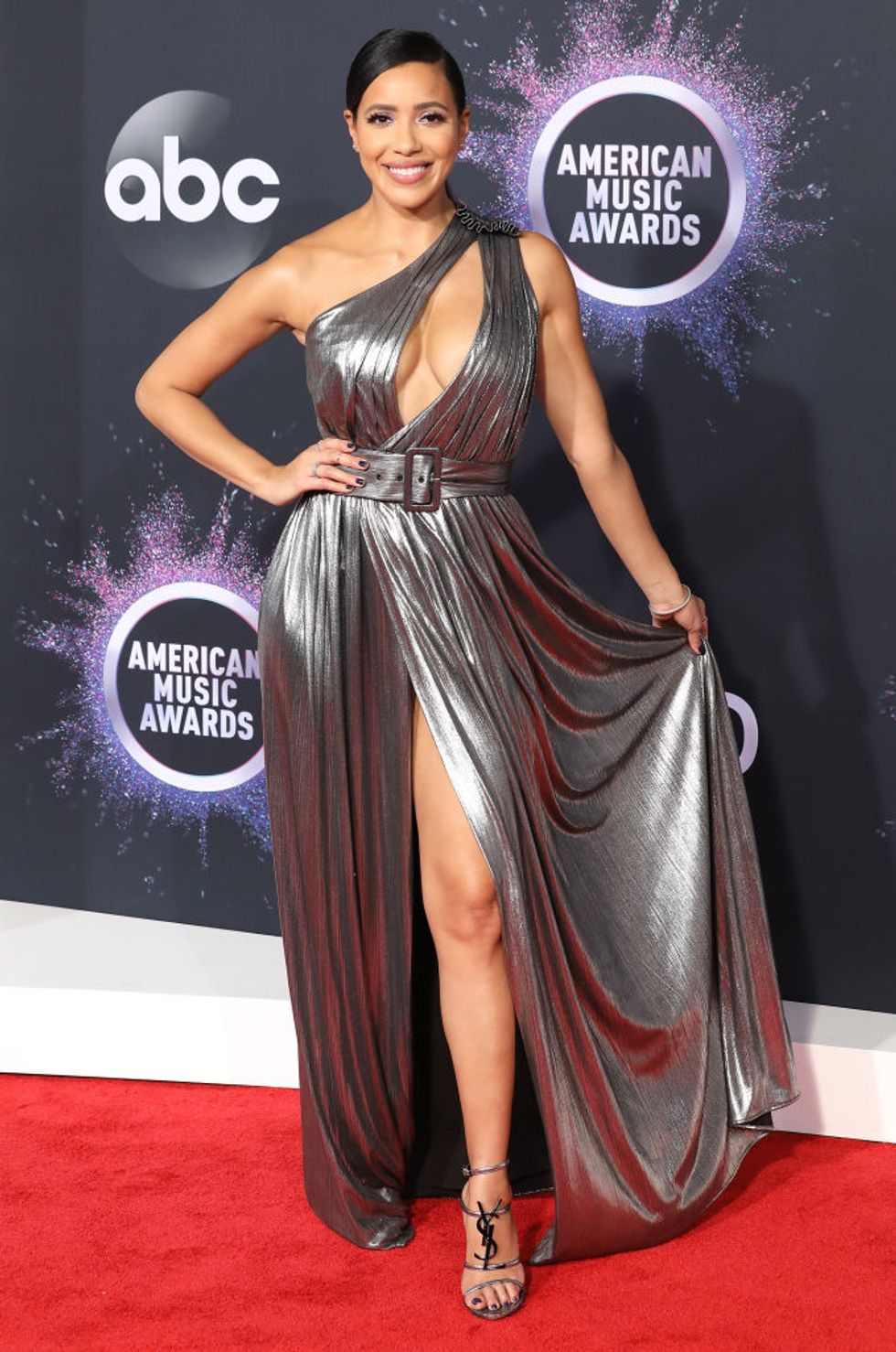 Because really, silver draped gowns with cut-out cleavages are what the AMAs are all about.
3. Patrick Schwarzenegger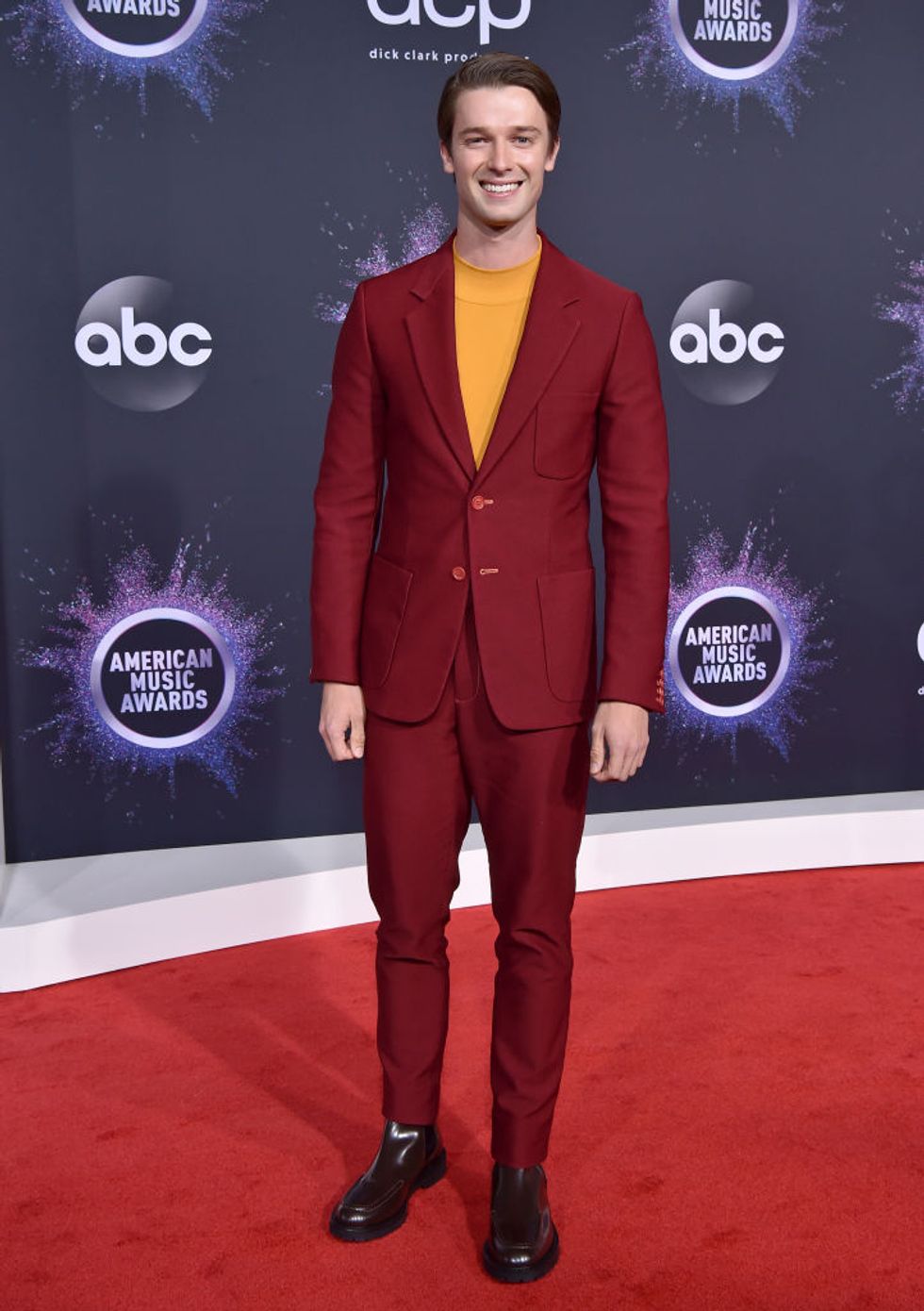 We're loving this slightly cartoony take on the classic suit.
2. Taylor Swift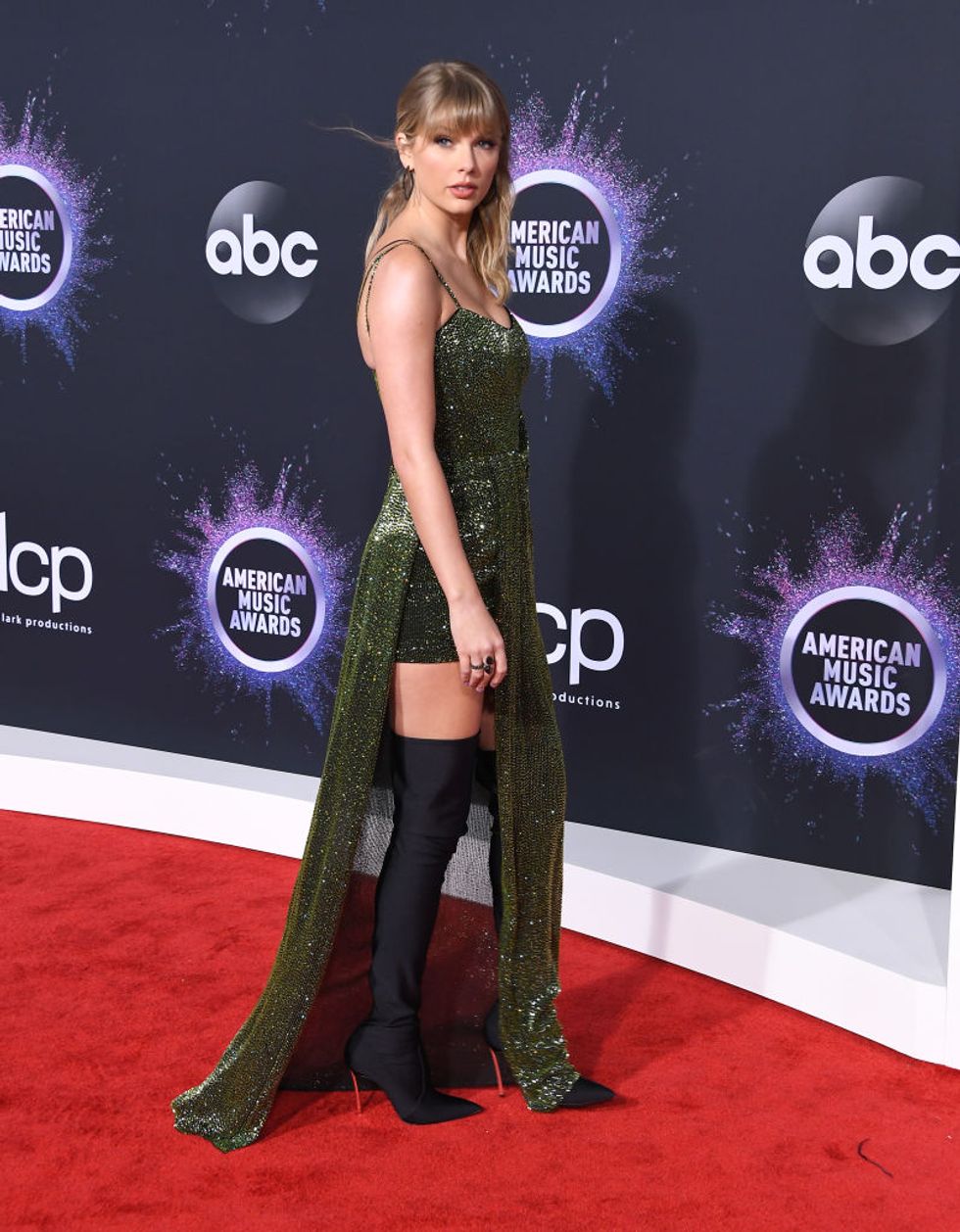 The spangly golden-green layered dress was the perfect look for the undisputed star of the night.
1. Selena Gomez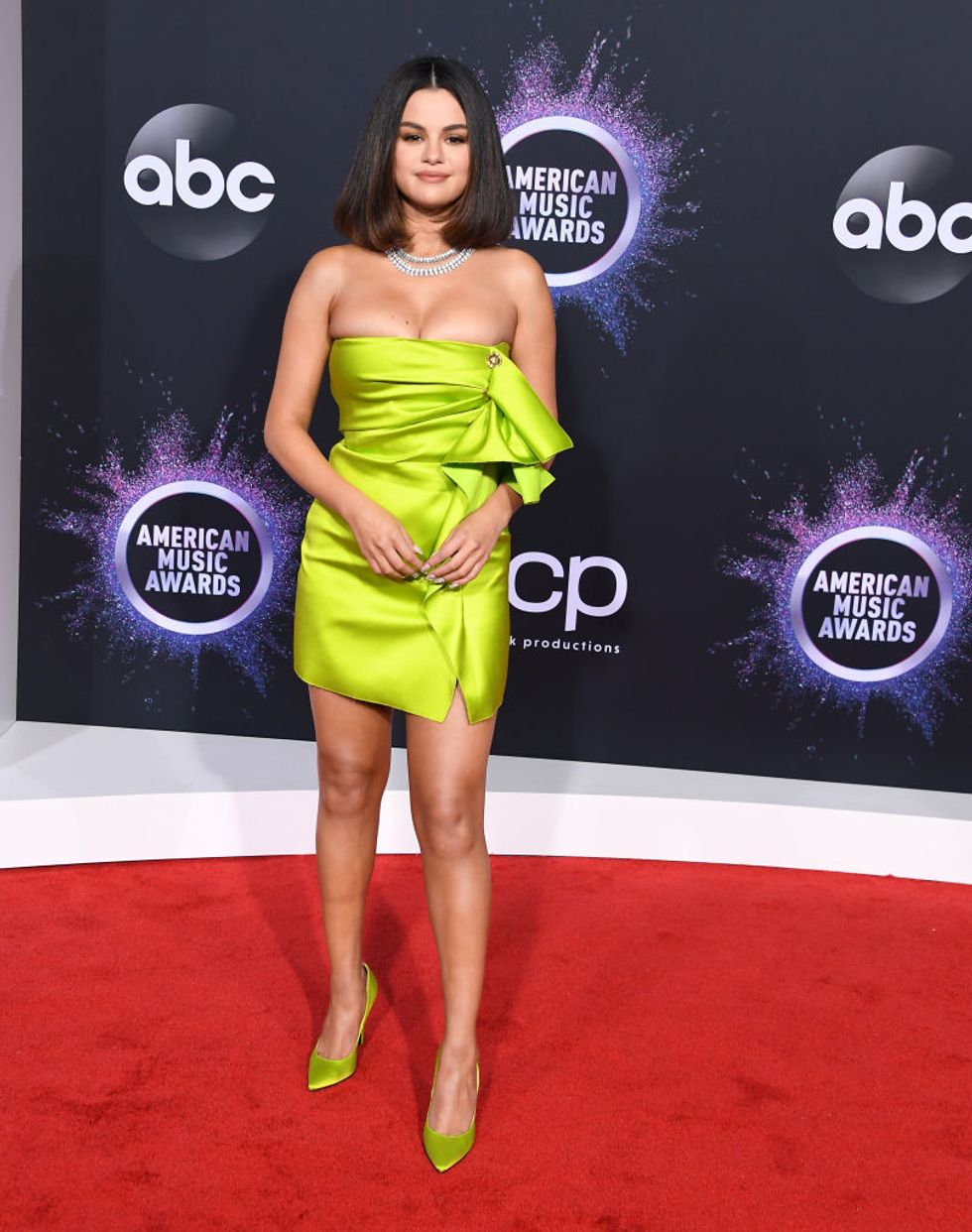 This eye-popping chartreuse mini-dress is totally gorgeous. But that's not the only reason 
everyone 
was talking about Gomez's red carpet look.
Because just prior to the red carpet ...
Gomez shared a controversial snap on her Instagram that got 
everyone's 
attention.
Gomez posted a bunch of polaroids, but one, in particular, showed off her latest inking.
And I do have to admit I like Selena Gomez is praying hands cross Rosary beads tattoo https://t.co/QLCKVYtTUB

— robert kostman (@robert kostman)1574653810.0
And this one is pretty hard to miss, thanks to both its size and its placement.
But in spite of its rather extreme nature...
It seems fans are loving her new tatt - and her incredible AMAs performance, too!
Here's her Instagram post.
And after the year she's had...
\\ Okay but I loved Selena's new tattoo

— Selena |Parody| (@Selena |Parody|)1574658845.0
We'd probably want to commemorate with a sentimental inking, too. Want to hear more about Selena's online spat with ex Justin Bieber's new wife Hailey? Keep scrolling for all the dirt.