Ah to be a celebrity. Having everything you've ever wanted, millions of fans, and a seemingly perfect life. Sounds amazing, right?
Well, we all know that there's also a massive downside to fame and fortune - like being hounded by paps, for instance. But being in the spotlight also means having your every move scrutinized by thousands of internet users. And if you're really unlucky, the internet detectives will dig up any problematic thing that you've ever done in the past.
It seems like superstar, Shawn Mendes, is the latest celeb to be "exposed" after old, racially insensitive posts came to light.
During a tour Q&A session, the Canadian singer-songwriter was put on the spot when asked about the tweets in a question by a fan. But it seems like some people are less than impressed with what the star had to say for himself.
Keep scrolling to find out what the star said and how he's responded...
Candian popstar, Shawn Mendes, has taken the music world by storm.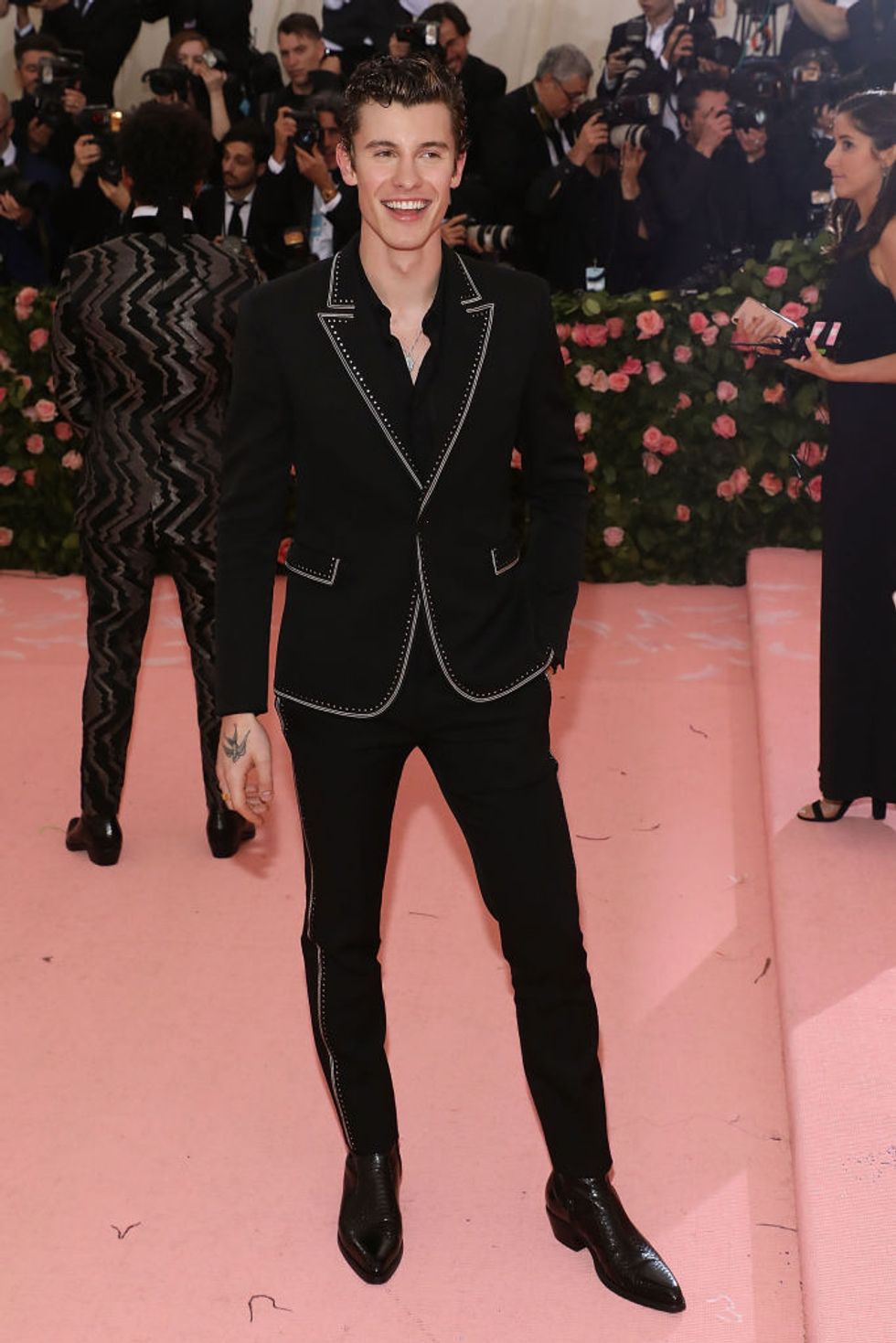 The twenty-one-year-old from Toronto, Canada, has carved out quite an impressive musical career for himself, with countless hits under his belt, including the popular singles  "Stitches" and "There's Nothing Holdin' Me Back."
Fun fact: Mendes taught himself how to play guitar.
The Telegraph.
"I taught myself these chords and slowly started to get the hang. I was obsessed with it. Every day I'd play and think, I'm not good enough yet; I need to get better. Then I'd play for hours and hours."
He has video platform, Vine, to thank for his stardom.
Mendes began his music journey by uploading covers to the since shut-down platform, Vine, in 2012, before sharing his videos to various other social media outlets.
He quickly earnt a dedicated following.
Whether it was his teen-heartthrob vibe, impressive vocals, or all-around aura, the aspiring musician garnered a fairly substantial fanbase. So much so, that, by August 2014, he was the third most-followed musician on Vine alone.
It didn't take long for him to sign to a record label.
Shortly after signing, the singer made his chart-breaking debut.
Mendes released his first-ever official piece of music, The Shawn Mendes EP, under the record label, which instantly climbed to number 5 in the music charts.
The following year, it was album time for the star...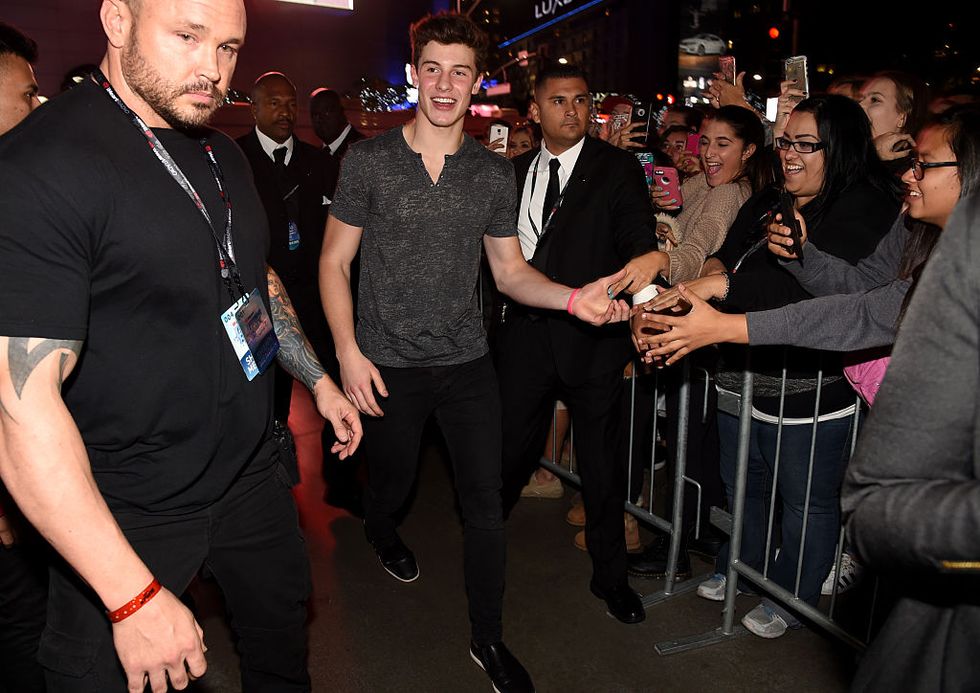 His full-length debut album,
Handwritten, 
which gave us the global number 1 hit single,
Stitches
, came out on top at number 1 in both the U.S. and Canada.
His career has gone from strength to strength.
Illuminate in 2016, and most recently, his self-titled album last year.
The internet went into a full-blown meltdown after the campaign launched.
Okay @CalvinKlein you trying to put me into cardiac arrest with these new ads? First @ShawnMendes, now @noahcent. https://t.co/lo8U8IRHxk

— Samantha (@Samantha)1550593493.0
People fully lost their cool
and
their minds after seeing the topless snaps.
But fans haven't taken so well to some particularly offensive comments from Mendes.
His tour stop Q&A's have become quite the hub for some hard-hitting questions.
Q: What inspired you to write Señorita? Shawn: I love you guys have a great time! *Leaves* #ShawnMendesTheTourTampa https://t.co/qIB9q7ENl8

— Shawn Mendes Updates (@Shawn Mendes Updates)1564266293.0
Although, most of the time, he will answer fans without hesitation, some of the remarks clearly made him squirm a little. Back in July, he awkwardly 
avoided a question
about his relationship with singer, Camila Cabello, and then, a few days later, appeared to walk out of a session after being asked by a fan about the inspirations behind the song "Señorita."
He later apologized for this...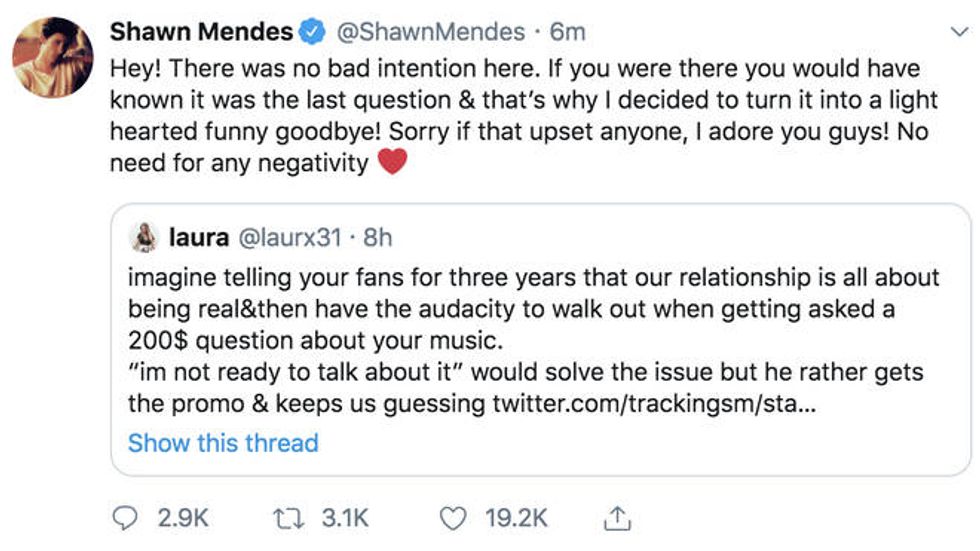 In a since-deleted tweet, the star addressed the criticism, writing: "Hey! There was no bad intention here. If you were there you would have known it was the last question & that's why I decided to turn it into a light-hearted funny goodbye! Sorry if that upset anyone, I adore you guys! No need for any negativity."
But he's ended up in the firing line again after his problematic tweets were recently brought up by a fan.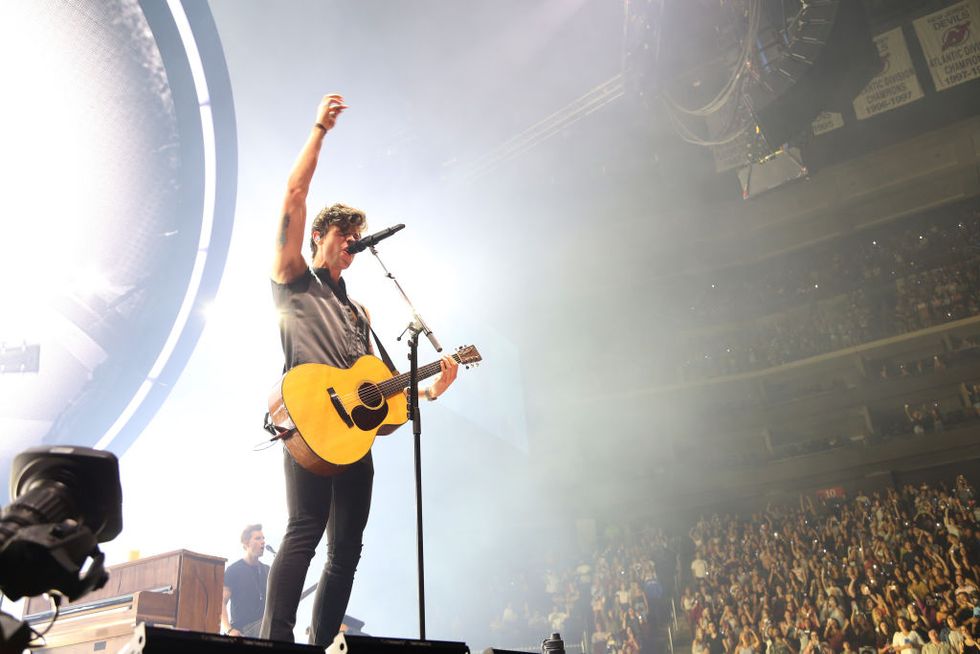 "Ok, so this is kind of a hard question and I don't want you to take any offense to it at all," the fan explained in a recording that was shared on social media. "I just kinda wanted to do it for black Twitter, black Shawn stans everywhere out there."
The fan then proceeded to confront Mendes about his "ignorant" tweets that he has failed to address.
The fan is referring to a number of offensive tweets written by the singer...
Pop Buzz
, one of them allegedly read: "i can see the black coming out in you lauren!" in response to a friend who was ranting on his timeline. It was also alledged that he posted an Instagram snap back in 2012 of his friend, with a caption containing the N-word.
After listening to the fan's question, the singer had this to say...
Fan asks Shawn Mendes why he hasn't addressed old racially insensitive posts: "A lot of things I think need to be… https://t.co/QL2sMwVdtS

— Pop Crave (@Pop Crave)1566331501.0
"I just think that a lot of things need to be moved on from, but also I had friends when I was like 14 who would like take my phone and post things of them and they thought it was funny that I had like 2 thousand followers," he explained. "At the time I was not thinking about it," he continued. "I had no idea I was going to have 50 million followers - which doesn't make it any better."
He then apologized for his actions.
His explanation has been met with mixed reactions from fans.
@PopCrave "a lot of things i think need to be moved on from" seems to always be a trend in excuses when being ignor… https://t.co/2t6U2UtU1A

— megan thee stallion's boobie sweat. (@megan thee stallion's boobie sweat.)1566331960.0
While some people believe that he should be able to move on and better himself, others thought that his apology was half-hearted.
Others slammed the star for passing the blame onto others.
Many believe that he should have taken full accountability for his past comments, rather than passing on the blame to friends. Another A-lister whose past has come back to bite them is Gwen Stefani, who's been accused of having a long legacy of "cultural appropriation." Keep scrolling to reveal the true extent of the singer's problematic past and why fans are now deeming her "canceled."