As the colder weather grips certain parts of the US, one image has gone viral - and caused a massive internet debate. The picture in question? It shows a dog in the back of a pick-up truck, covered in a blanket of snow.
Many believe this image is a clear signifier of animal cruelty - though certain others are claiming that for certain species, it's fine to be outside in the snow.
Every year, season follows season.
And yet somehow, every year, we seem to be surprised by the change in month - and all that comes with it.
And we're firmly in the latter part of the year.
And with the winter months come many different things.
One is pretty obvious.
As we move towards the end of the year, is it too early to start getting excited for Christmas?
But there is a downside to winter.
It's a time of year where the weather takes a rather unpleasant turn. Shivering is basically a wintertime requirement.
And it's not just us humans who are affected.
When the weather takes an unpleasant turn, it's important to also think about our pets - as this story proves.
Because dogs also need to take care in colder temperatures.
Not just in terms of comfort - but in terms of safety, too!
Sure, dogs sometimes enjoy winter weather.
The numerous YouTube videos of dogs in snow prove they do have a penchant for the cold stuff.
It's a whole new sensation for them.
Hey, if we were covered in fur, we may well enjoy jumping into a snowbank from time to time.
There's nothing wrong with a quick play.
Letting dogs explore different weather conditions is an important way to ensure they stay stimulated and gain fun and useful experiences.
But it's important to keep this in moderation.
Allowing your pooch to get too cold isn't just a little bit mean on man's best friend - but can also end up putting them at serious risk.
This week, many places in the US have felt the chill.
Cold temperatures and snowstorms have hot many areas of the USA - and one animal, in particular, has gotten a lot of internet attention.
The location?
via: Pinterest
Parker, Colorado - where this Thursday morning, heavy snowfall and temperatures of minus sixteen let everyone know winter was coming.
People have been struggling with the adverse conditions.
But one dog also appeared to be suffering from the change in temperature, in one shocking photo which has gone viral.
Here's the pic which got the whole internet talking.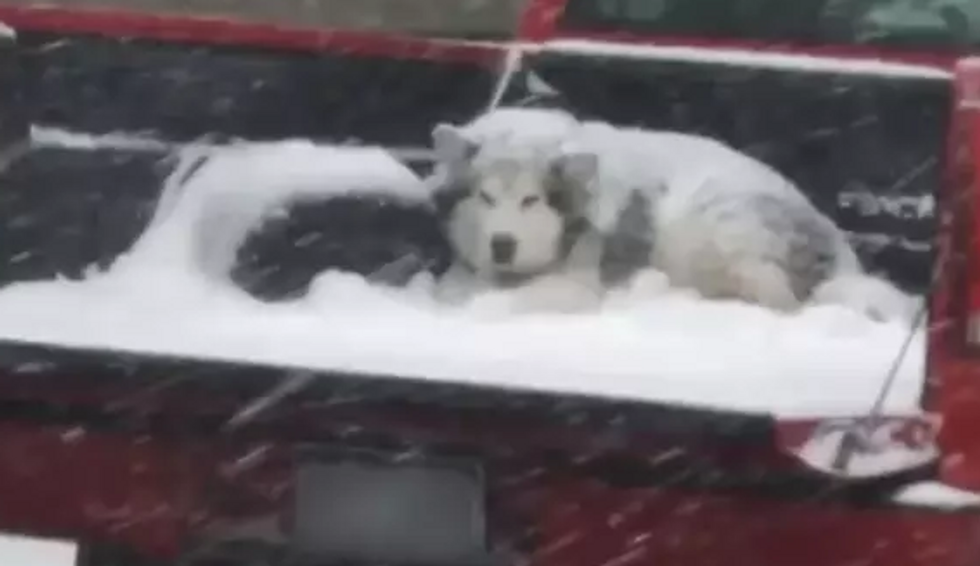 via: Fox
It shows a Malamute in the back of a moving pick-up truck - and it seems to be covered in a thick blanket of snow.
It's hard not to have an immediate reaction.
The image is kind of shocking - as we can't help but imagine how cold we'd feel in that same situation.
Many thought the pic was pretty cruel.
"It's animal cruelty - no question about it. They need to find this person and get the dog away from him immediately," wrote one Twitter user.
Although others were somewhat skeptical.
@MetroUK Hmm thats a malamute and they are made for cold conditions. I have two and that weather wouldn't bother them at all.

— Matty (@Matty)1570835361.0
Another Twitter user also agreed, writing, "This dog is in his element! Need to close the tailgate though."
However, things are not quite as black and white as the internet believed.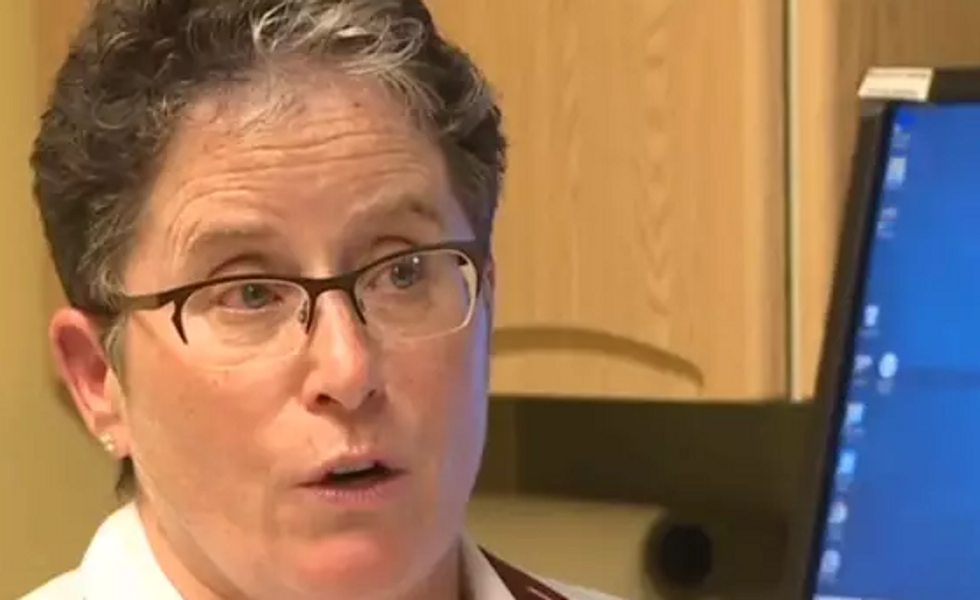 via: Fox
Vet
Dr Missy 
Tasky
, of the Gentle Touch Animal Hospital, told Fox News that although the coat offered a lot of protection, long periods of exposure to low temperatures could result in frostbite.
"That's just a recipe for disaster."
"That breed of dog can withstand extreme temperatures, extreme cold better than the average dog. But in general, just like for people, they can get frostbite.
It's just not an ideal situation for that guy. In that situation, where there's nowhere for him to go, it could be very problematic."
Although some had other worries.
@MetroUK Hmmm. He is probably warmer than the guy driving the truck.

—  Octavia  (@ Octavia )1570867160.0
Sure, the dog might be a bit chilly - but the driver was also probably absolutely freezing, too! Want to keep your pooch warm in an adorable way? Scroll on to learn about the latest (and cutest) trend in doggy sweaters.