With Miley Cyrus and Liam Hemsworth's short-lived nuptials still fresh in the air, why don't we look back at some of the shortest celeb marriages of all time?
Celebrities sure do like a good old trip to Vegas, but why they think that it's a laugh to get their finances in a pickle through the act of getting wed, I'll never know. Celebrity divorce lawyers probably finance half of the chapels in Vegas, I bet!
Of course, not all short-lived marriages are down to spur of the moment nuptials. Sometimes, people just realize a little late that the person that they walked down the aisle with isn't the one that they want to spend the rest of their lives with.
Some of the marriages on this list were so short that you might not have even realized that the hitched stars had ever been together.
If you're thinking of getting married, maybe have a read of this list first and have a real hard think about whether you think that you can last longer than Lisa Marie Presley and any of her husbands. It's important to do your homework, after all!
30. Carmen Electra and Dennis Rodman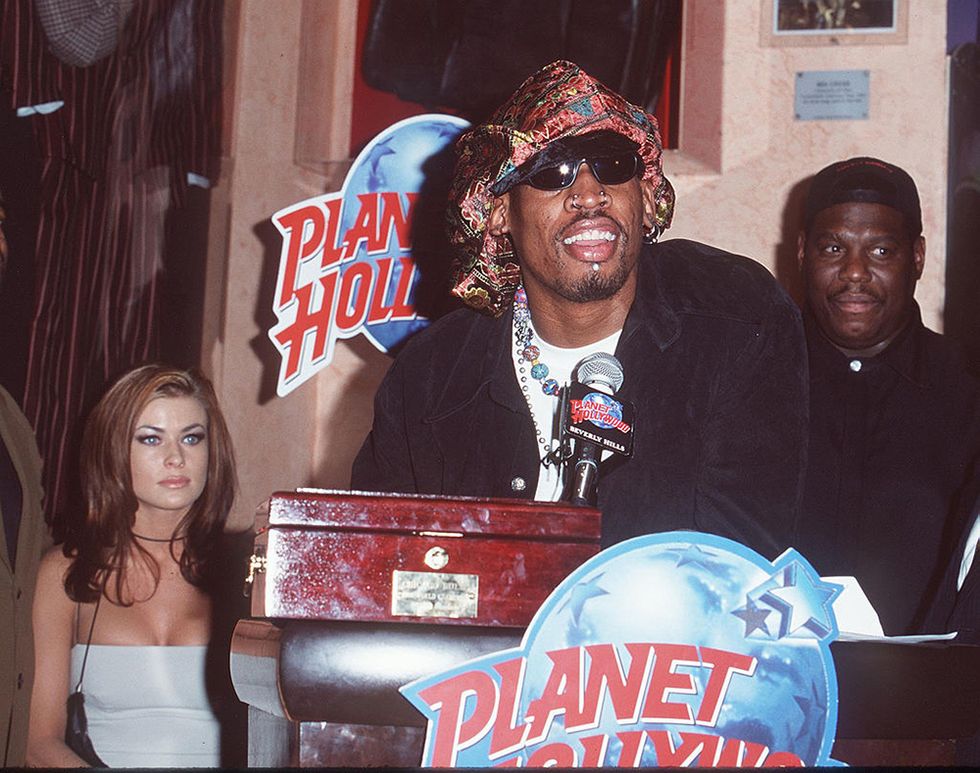 When two giant personalities — one of the most beautiful fashion models and one of the most flamboyant basketball players — you can expect a volatile relationship. Carmen Electra and Dennis Rodman got married in Vegas after a bit of a bender. Carmen would later say of the relationship, "
when it was good it was amazing, and when it was bad it was the worst
."
They had the marriage annulled two weeks later.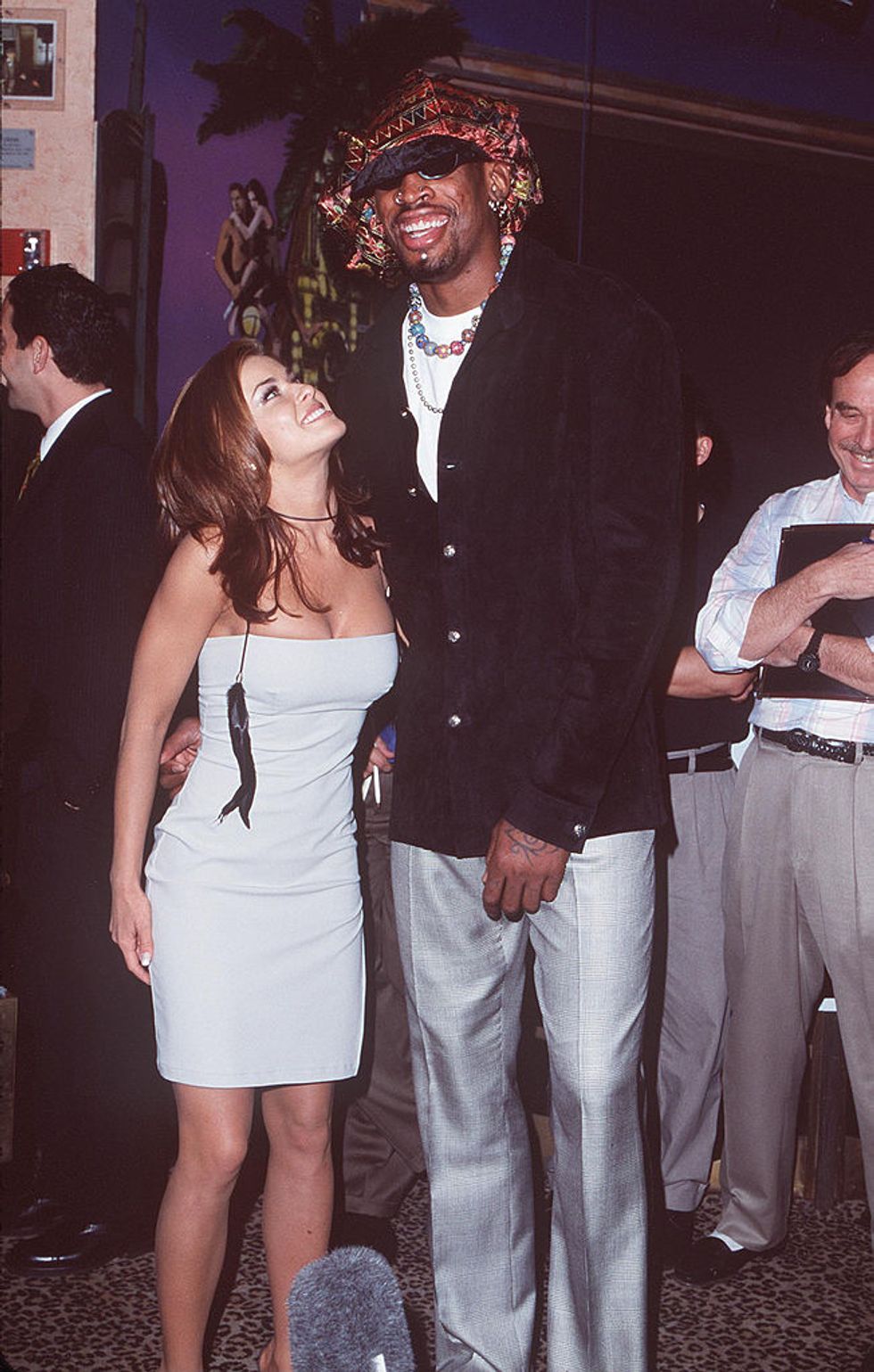 Which is par for the course of Las Vegas mid-party weddings. But
according to Dennis
, the two would continue — start? — dating after they had their marriage eradicated.
29. Renee Zellweger and Kenny Chesney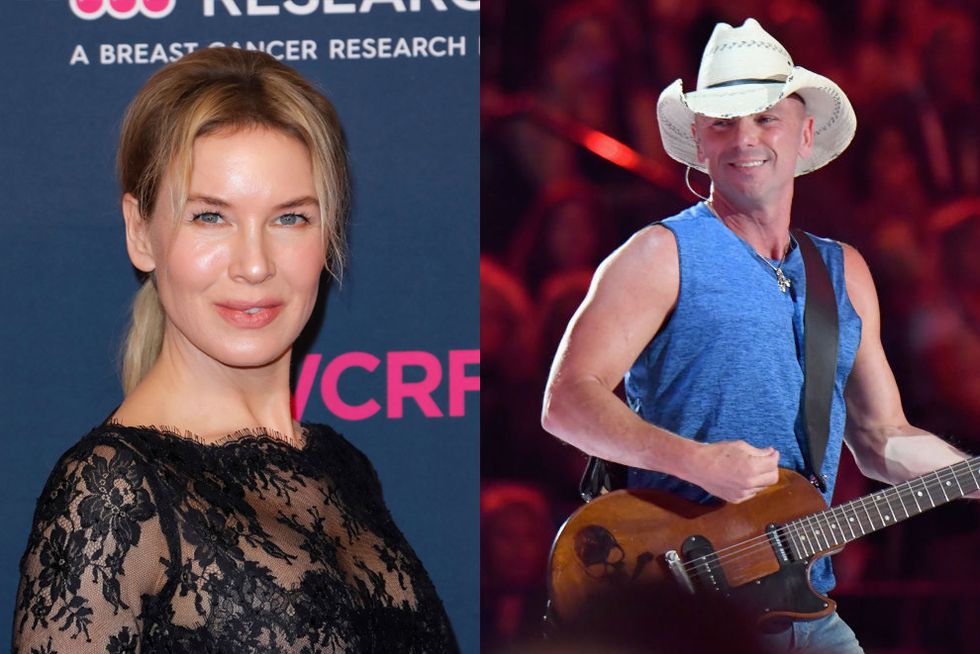 During one of those big NBC multi-celebrity gatherings/concerts/PR events in 2005, actress Renee Zellweger tried o slip a note to country superstar Kenny Chesney. And then somehow a week later they were married?? That's not a great omen for a successful life-long partnership.
The two split up after 255 days... with a rather intriguing reason given in their annulment papers.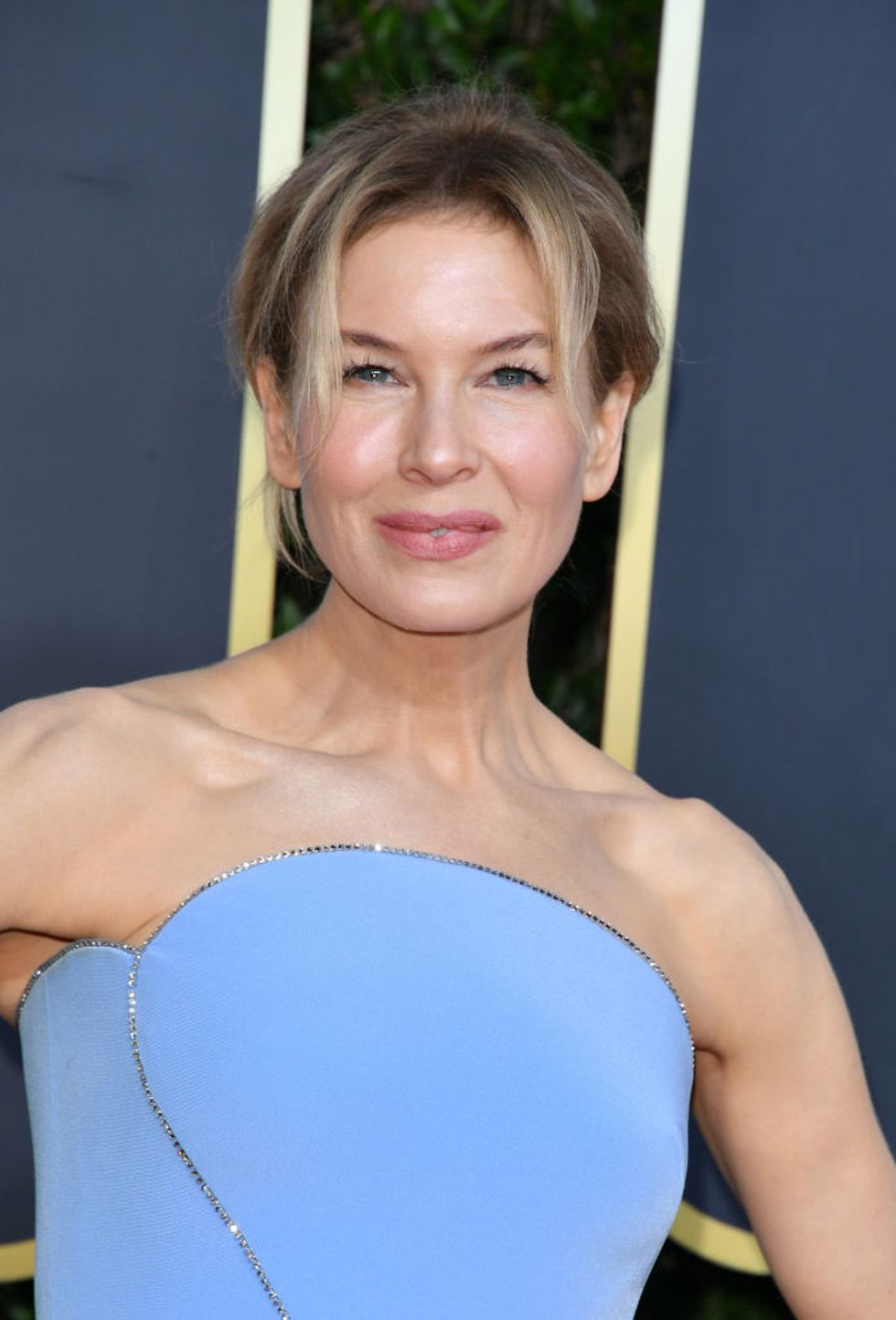 When Zellweger and Chesney decided to call off their marriage, the legal documents stated the reason for the annulment was "fraud." Now, that could mean a
lot
of things — was Zellweger just looking to funnel some of that sweet, sweet country cash out of Chesney's bank account and into her own? Unfortunately, the public took it to mean that Chesney was perpetrating a "fraud" on Zellweger by not telling her he was gay before they were married. Both Zellweger and Chesney have come out to say that a) that wasn't the reason — they just had to put
something
down on the annulment papers, and b) it sucks that people would think of being gay as a "fraud," and that it's wildly unacceptable to use that as a pejorative.
28. Cher and Greg Allman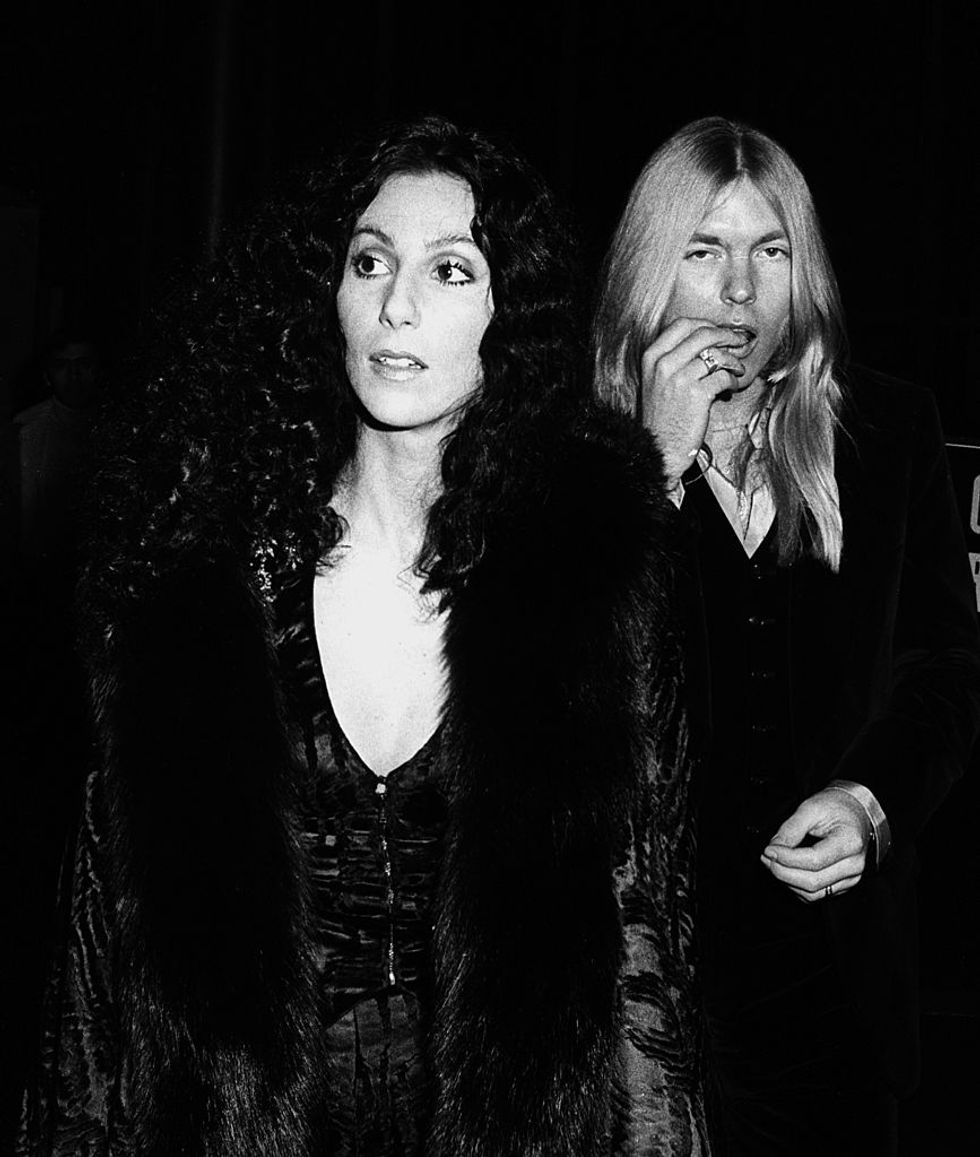 In what seems like a very likely union between two '70s music superstars, Cher and Greg Allman were married in 1975, a mere three days after Cher had finalized her divorce with Sonny Bono. The marriage was, well, rocky, mainly due to Allman's heroin addiction.
Cher tried to dissolve the marriage after just nine days.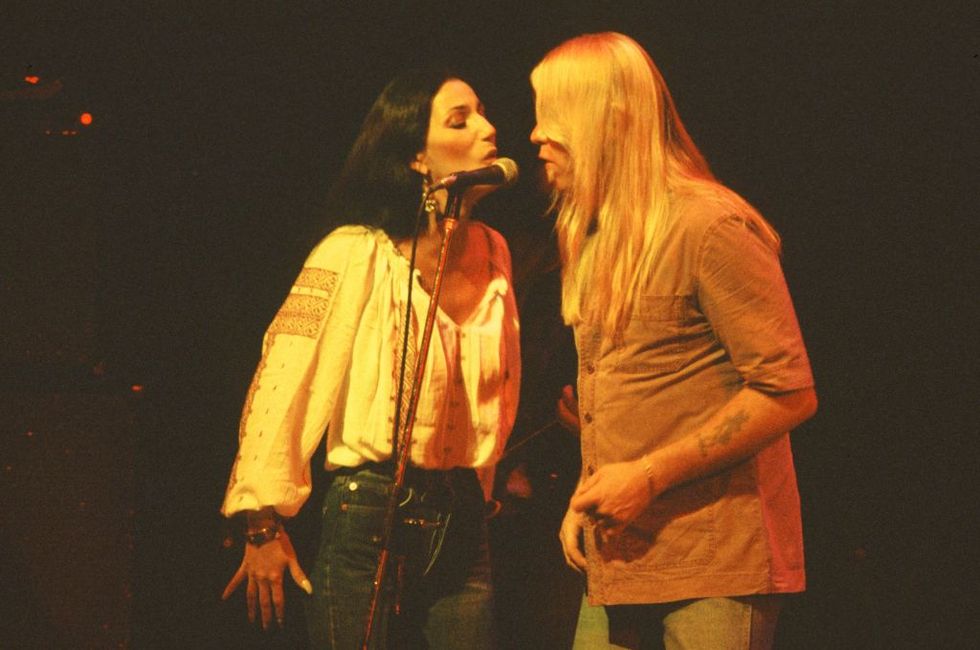 The couple worked through that spat, but then, in 1976, Cher decided to get the band back together and put together a new
Sonny and Cher Show
. Allman couldn't handle that (imagine seeing your wife with her ex-husband on TV having just the most obvious chemistry), so
he
filed for divorce. This back-and-forth would continue until 1979, when the pair finally split for good.
27. Helen Hunt and Hank Azaria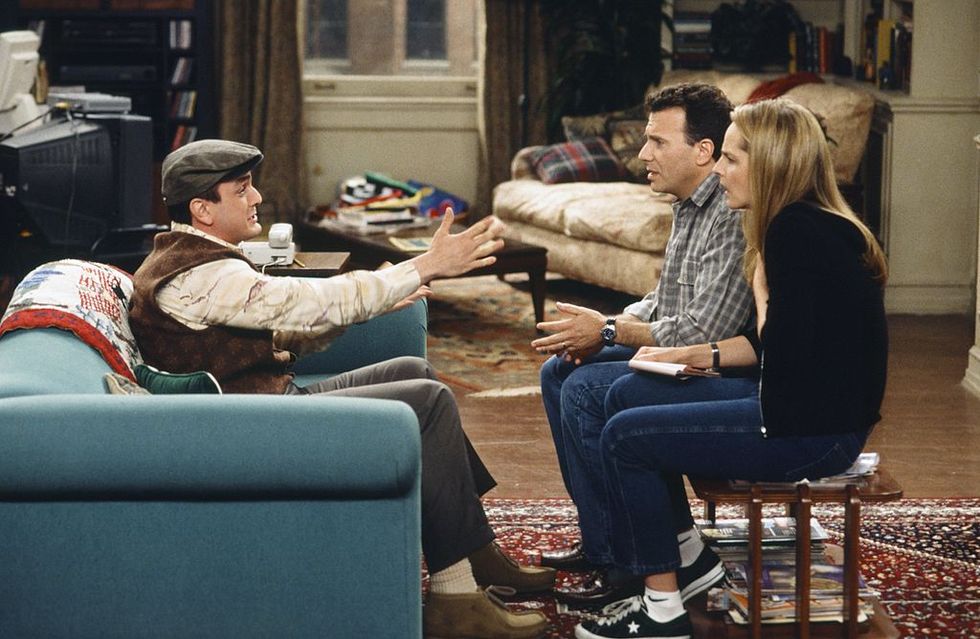 The Simpsons
' MVV (Most Valuable Voice), Hank Azaria, married Helen Hunt in 1999 after making an appearance on her show,
Mad About You
.
They lasted just over a year.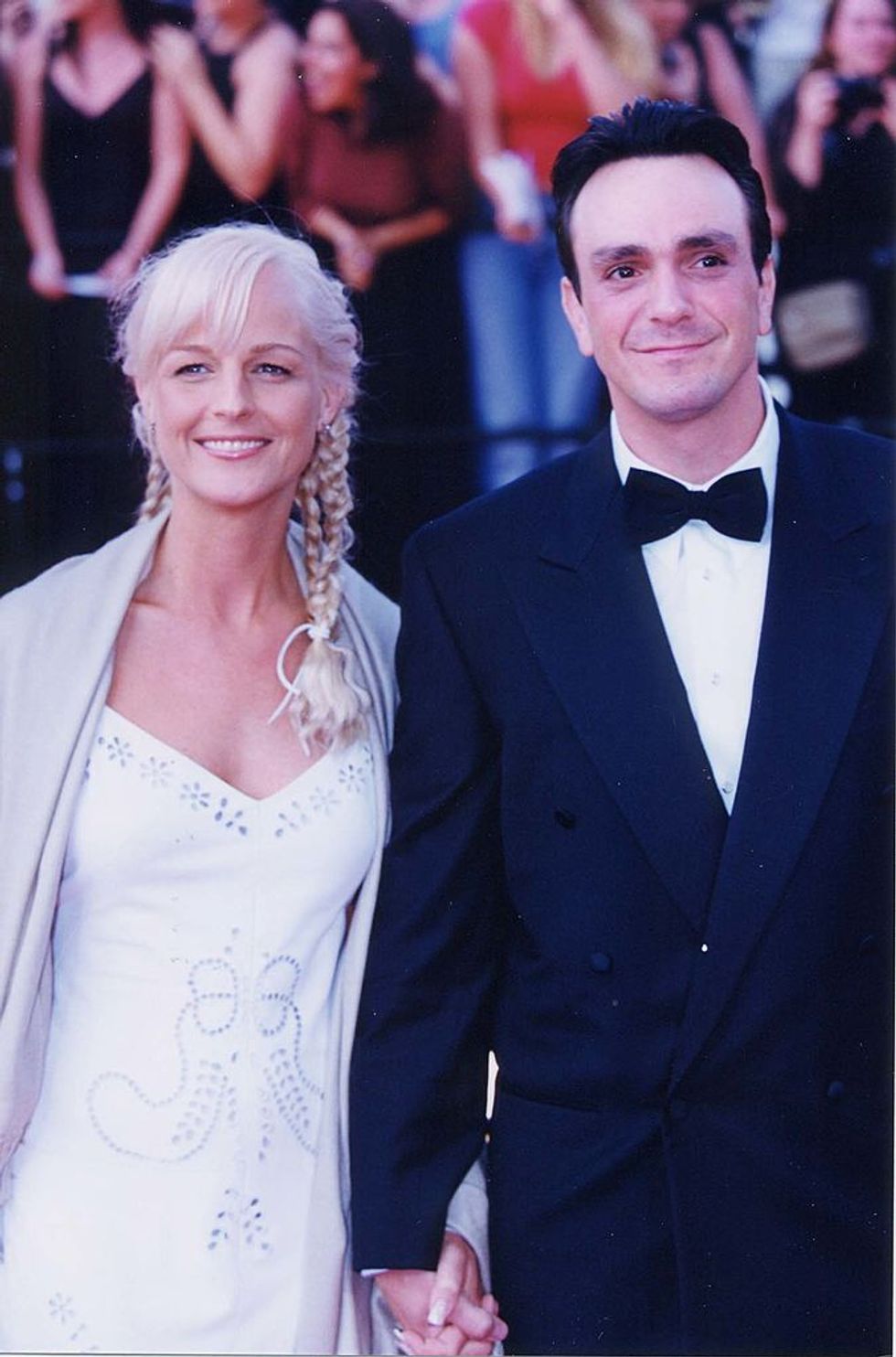 It doesn't make sense — both Helen hunt and Hank Azaria seem so nice! And now that their marriage is over, Azaria says they're on great terms, so maybe it was just a wrong place, wrong time-sort of thing.
26. Elisabeth Moss and Fred Armisen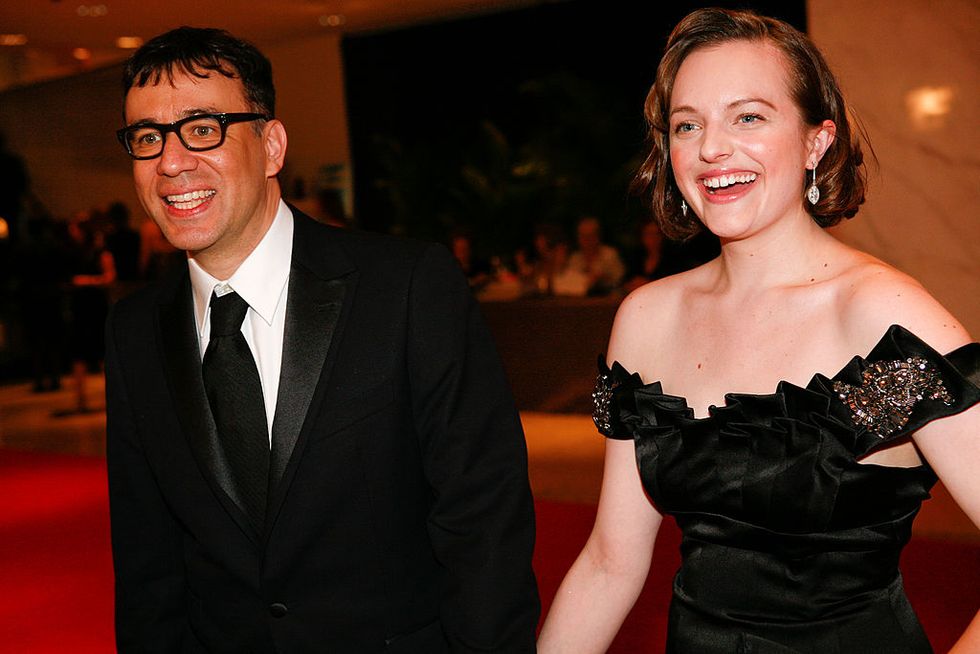 Fred Armissen has spent the last decade in sketch comedy, both on
SNL
and in
Portlandia
. Meanwhile, Elizabeth Moss has commanded the prestige drama TV scene, in both
Mad Men
and
The Handmaid's Tale
. The pair were married in 2009, which asks the question — can a funny guy and serious gal make it work?
In general, probably. But in this specific case? Not so much.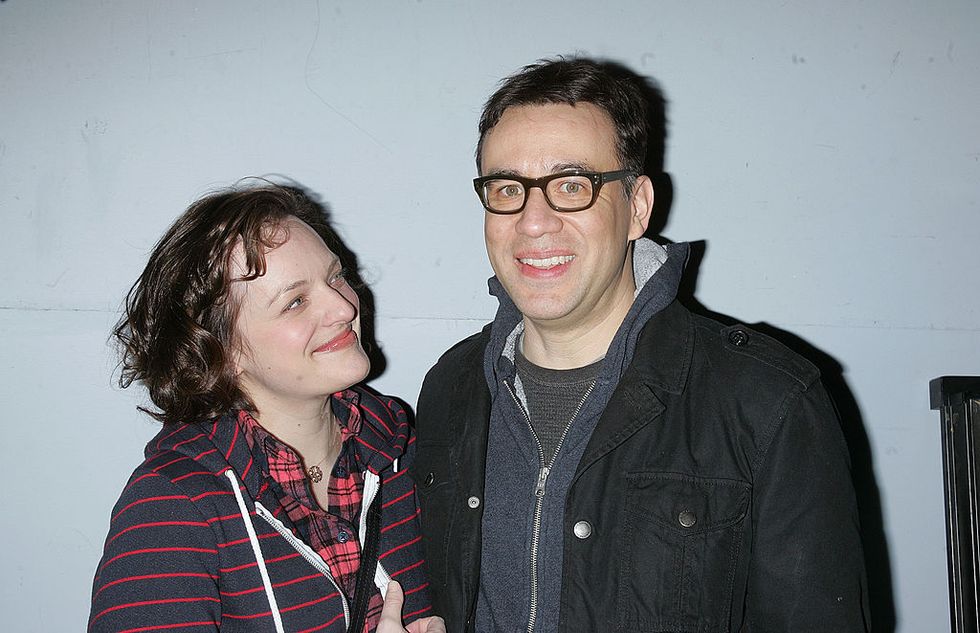 The Elisabeth Moss and Fred Armisen marriage lasted only eight months. Armisen took the blame on
The Howard Stern Show
, saying 'I think I was a terrible husband."
25. Jim Carrey and Lauren Holly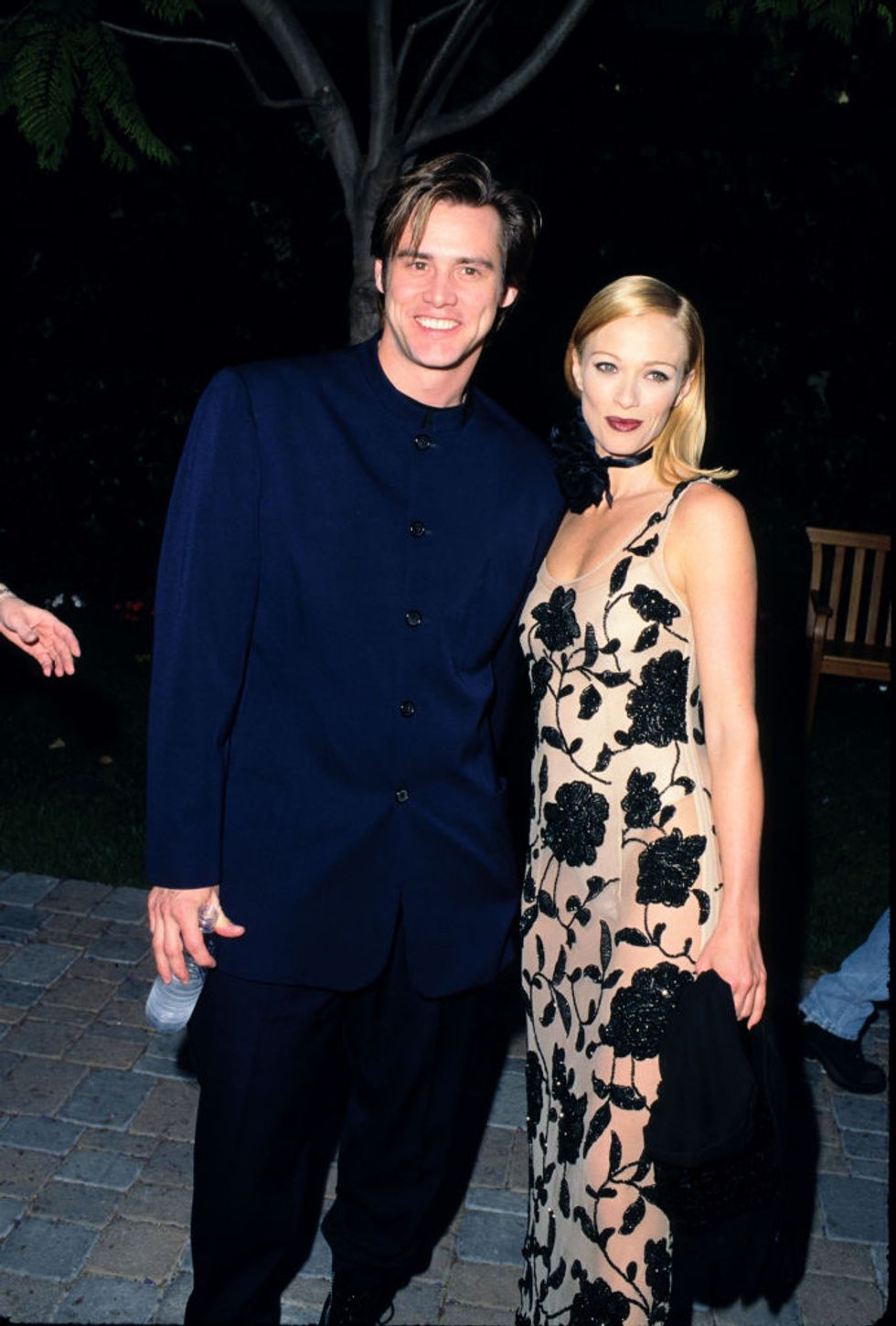 Actress Lauren Holly met Jim Carrey first while auditioning for
Ace Ventura: Pet Detective
, and then got to know him while starring alongside him in
Dumb & Dumber
. They got married in September of 1996.
And they got divorced in 1997.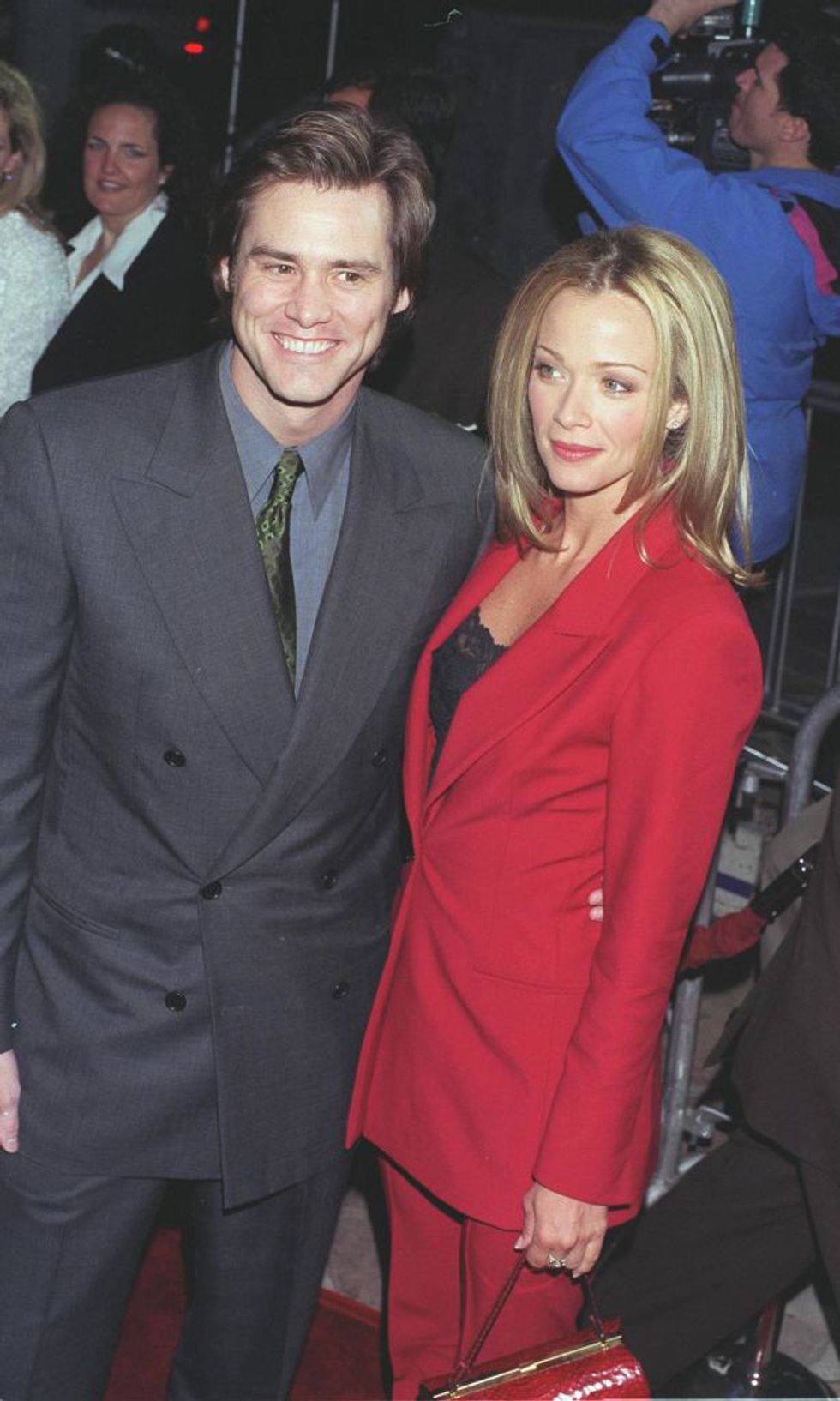 Married for a total of nine months, Lauren Holly and Jim Carrey lasted until June of 1997. No one knows exactly what caused the break-up, but Lauren is still fond of Jim, telling
Closer
, "I only have the best memories of working with him because we were boyfriend and girlfriend. We just laughed and laughed – he's constant entertainment."
24. Elizabeth Taylor and Conrad "Nicky" Hilton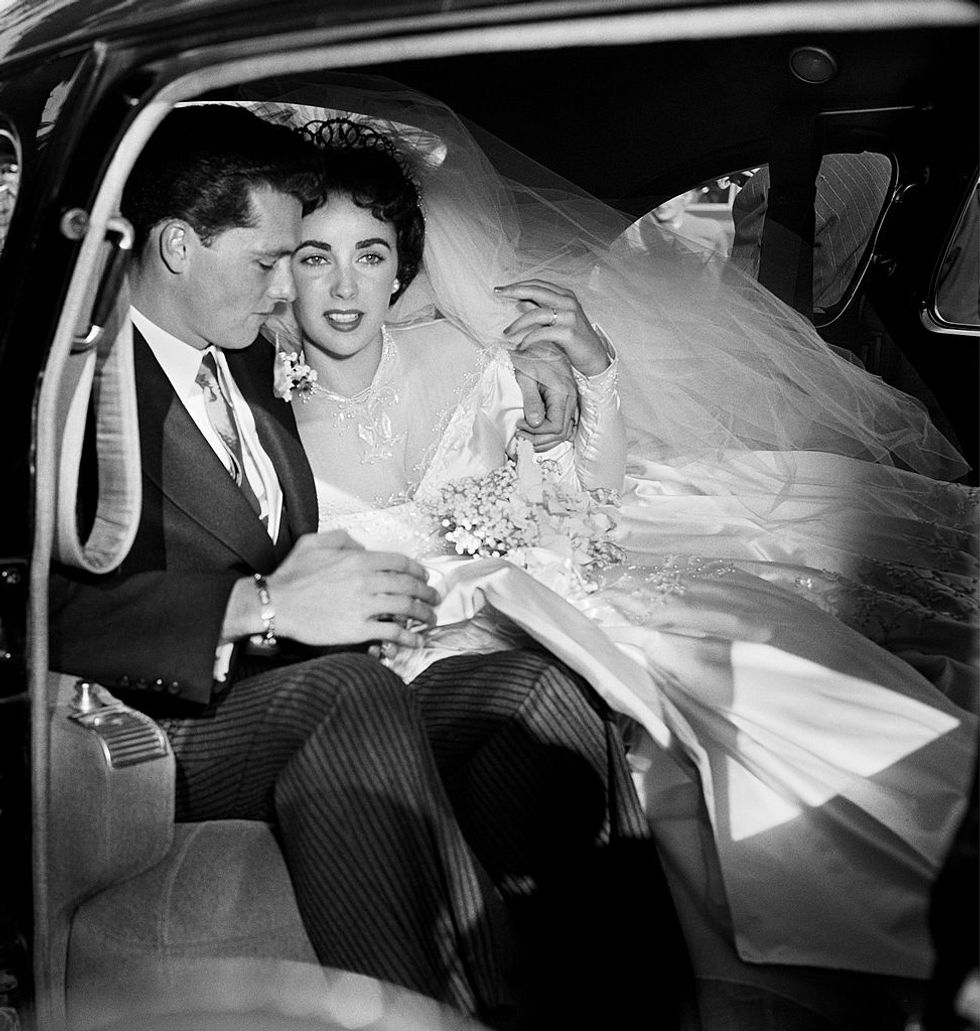 Elizabeth Taylor was probably Hollywood's most famous actress in the late '40s and early '50s, and Conrad "Nicky" Hilton was the heir to the Hilton hotel fortune. They seemed perfect for each other (if the only thing that mattered in a marriage was status and wealth).
The two were married for only eight months.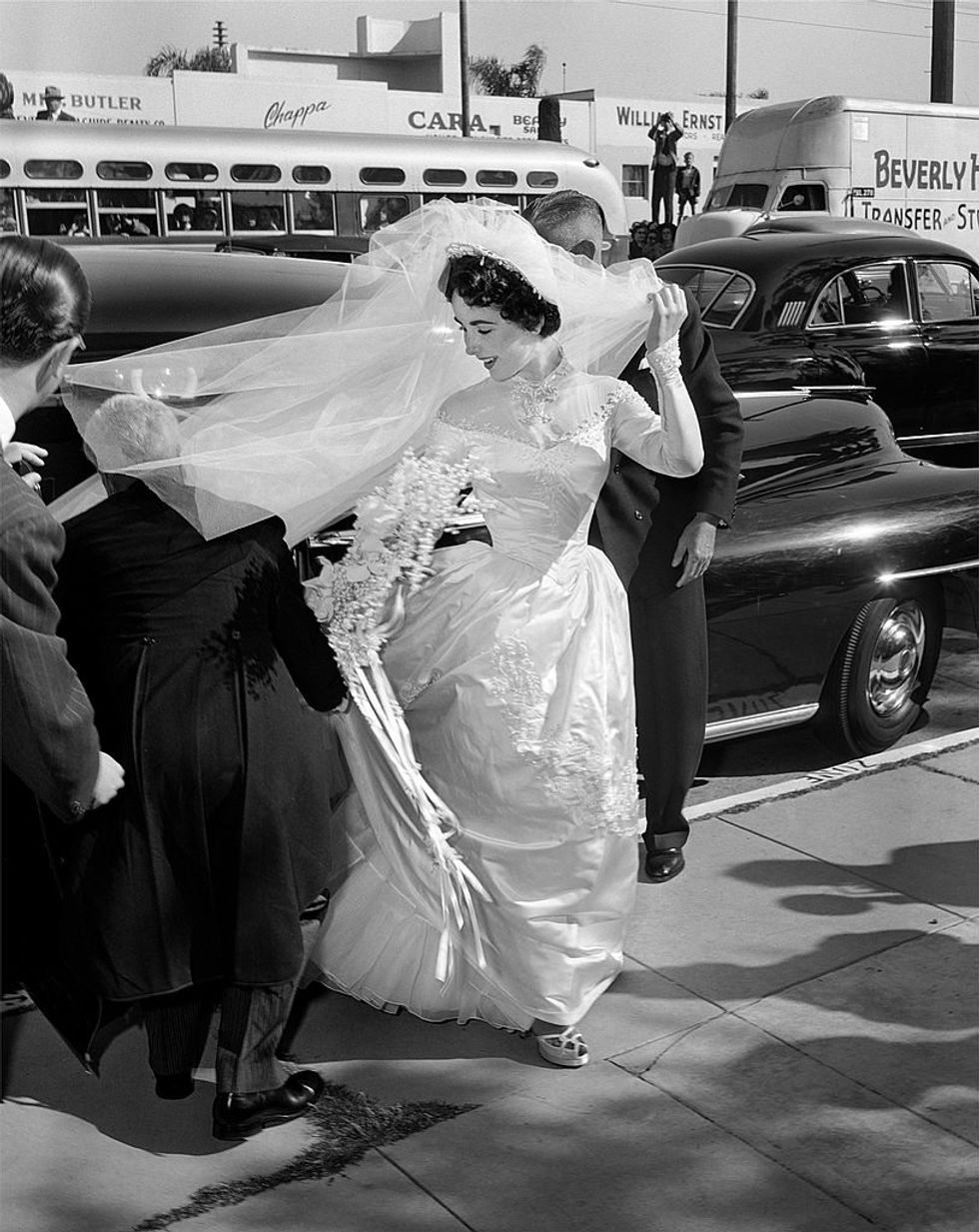 Elizabeth Taylor would cite Hilton's alcoholism as the reason for the split, but it wouldn't be the only time Elizabeth Taylor would tie the knot. Conrad Hilton was her second of
eight
marriages. I think if she'd been married one more time, the 10th one would've been free.
23. Chad Michael Murray and Sophia Bush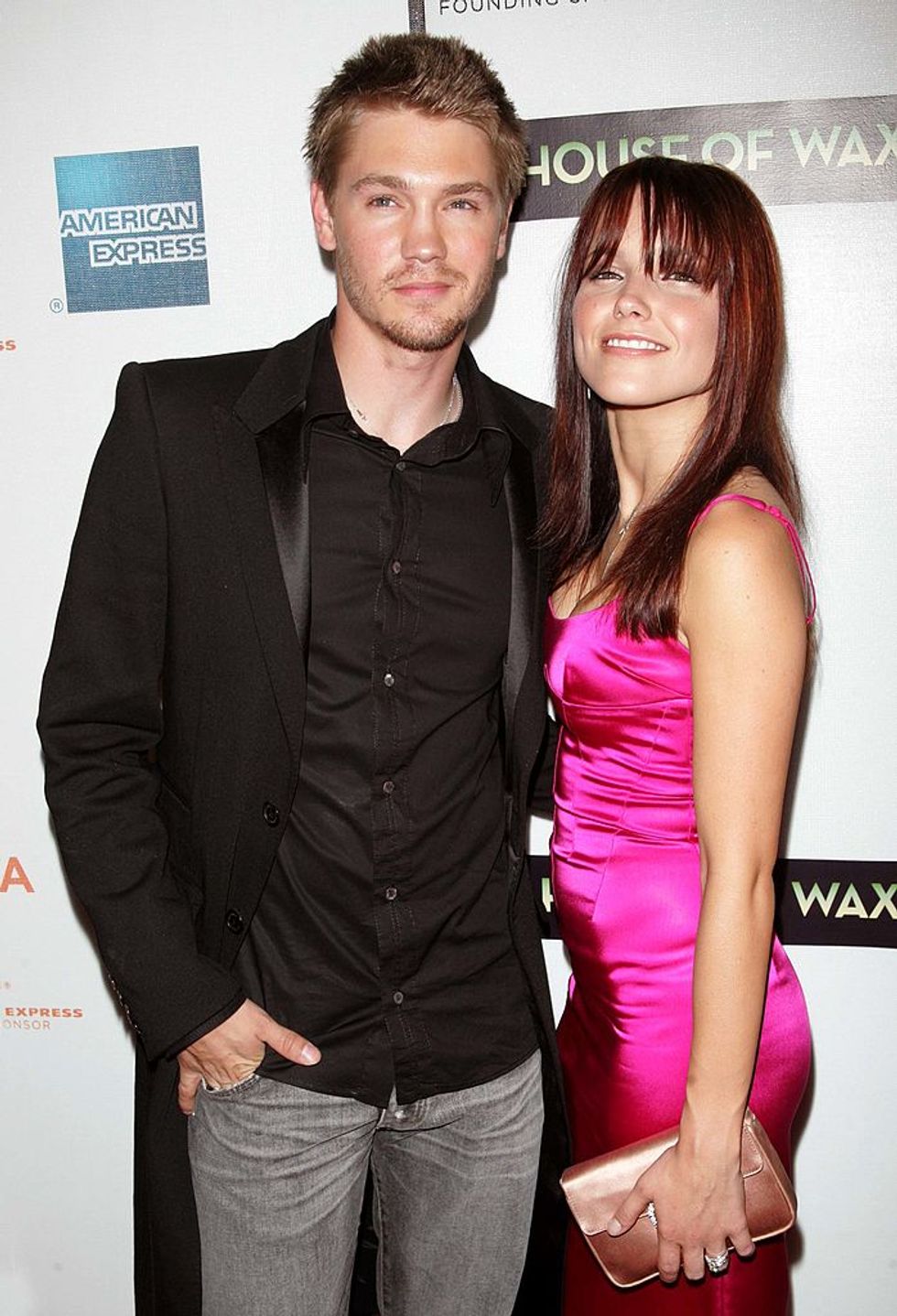 CW teen-soap
One Tree Hill
brought many of us to tears, but it also brought two people... together. In 2005, two of the show's stars, Chad Michael Murray and Sophia Bush, got married in real life.
But it didn't last long.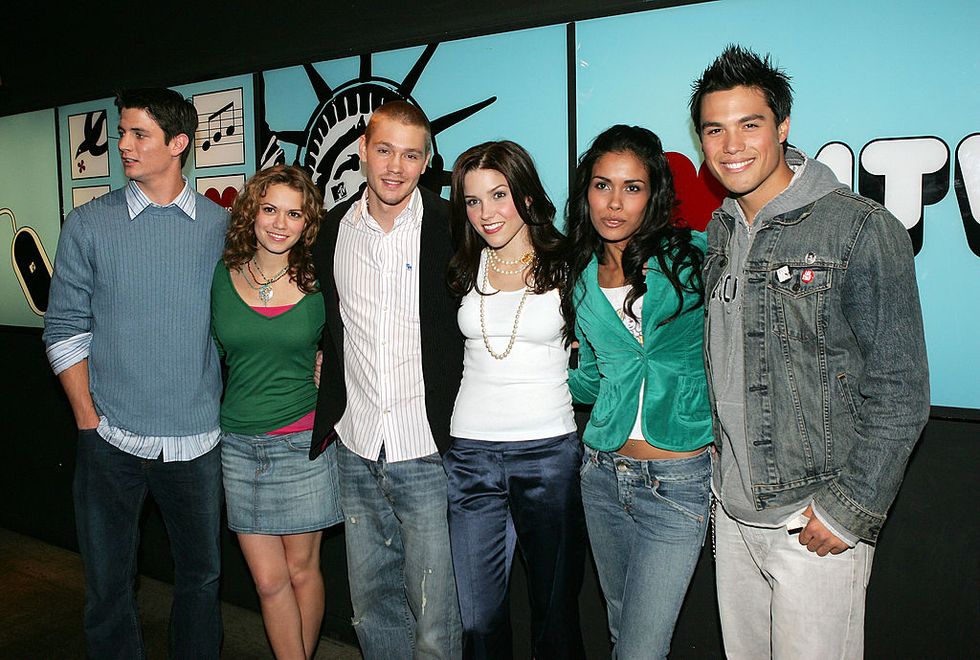 Chad Michael Murray and Sophia Bush were divorced just five months after they were married, which you have to imagine shattered the hearts of some
One Tree Hill
fans. See folks, this is why we don't
actually
want the actors who play Jim and Pam to get married in real life (even though, deep down in our heart of hearts, we absolutely want the actors who play Jim and Pam to get married in real life).
22. Katy Perry and Russell Brand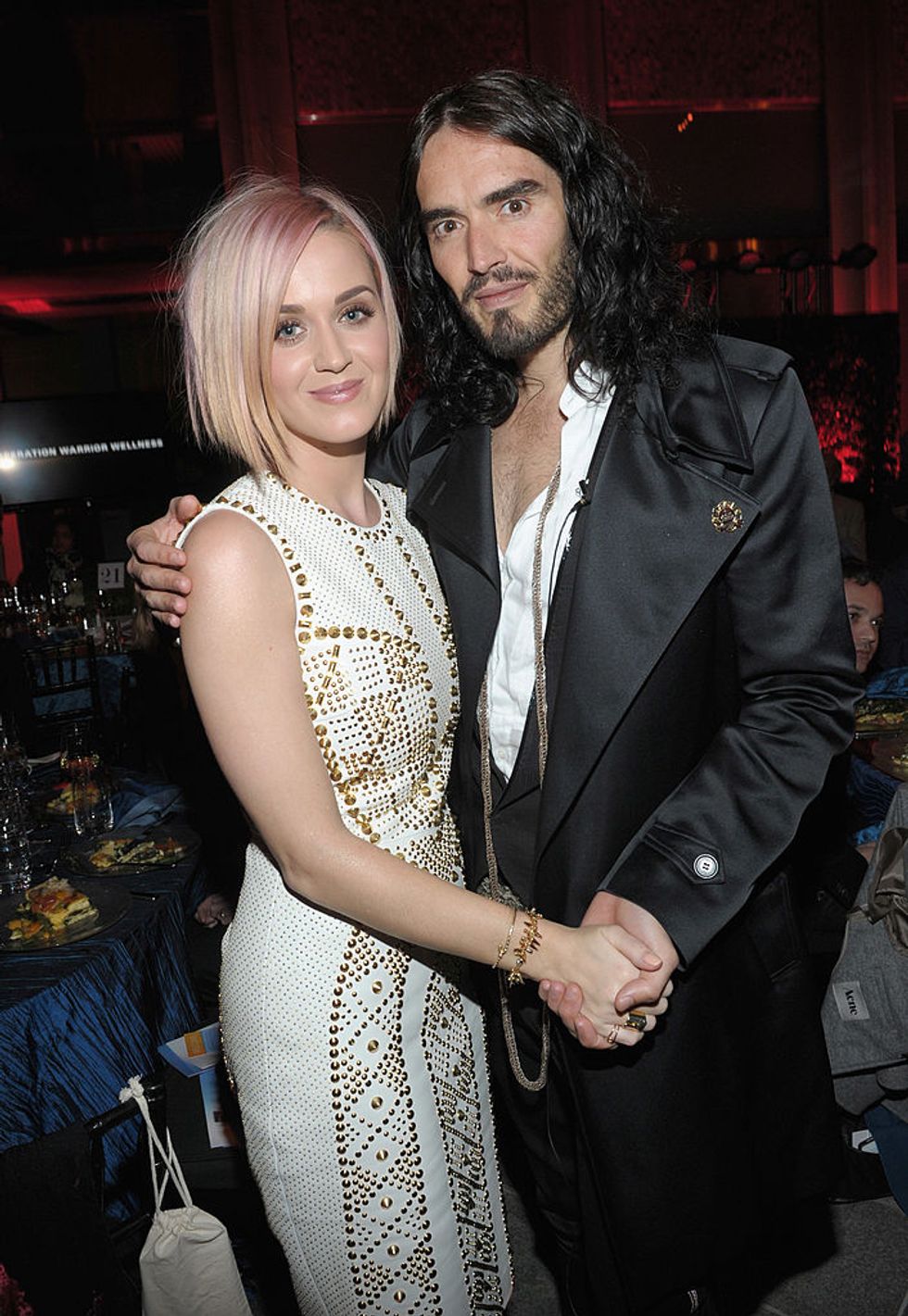 A couple who met in the most romantic of venues, the MTV VMAs, singer Katy Perry and comedian/activist Russell Brand somehow felt like the
right fit
for each other, you know? They were both entertainers, both in the zeitgeist, both just, like, stupidly attractive. They got married in 2010 in a lavish ceremony complete with tigers and elephants.
But alas, Katy and Russell were not to be.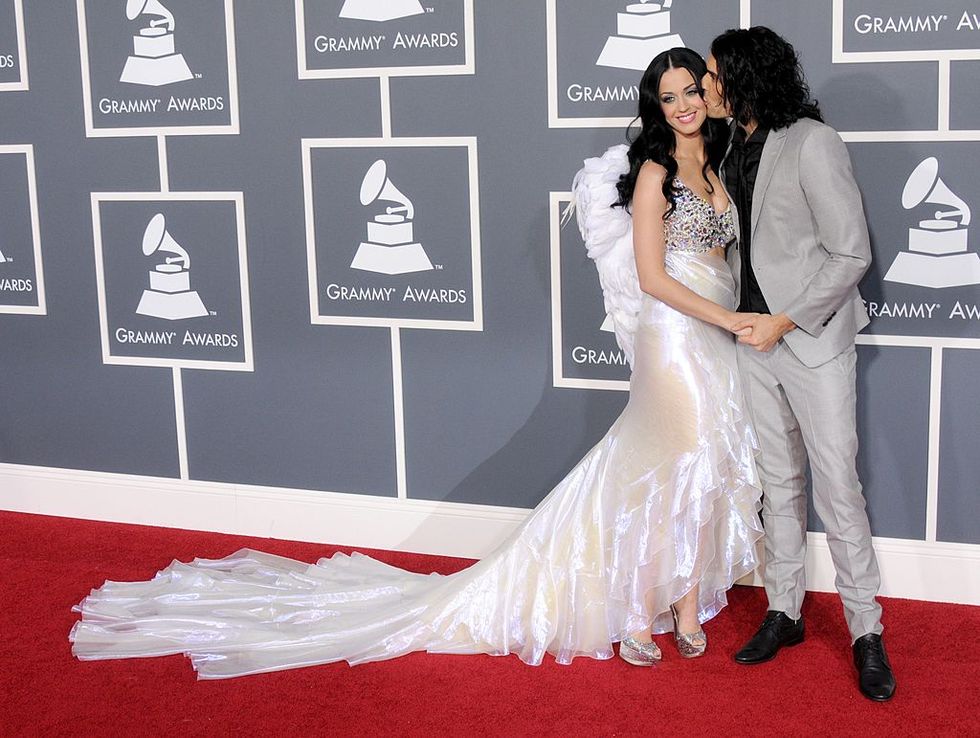 Lasting just 14 months, Russell Brand and Katy Perry divorced in early 2012. And man, it could not have ended worse. According to Katy, Russell sent Katy a damn
text
saying he wanted a divorce. Crummy move, dude.
21. Eminem and Kim Mathers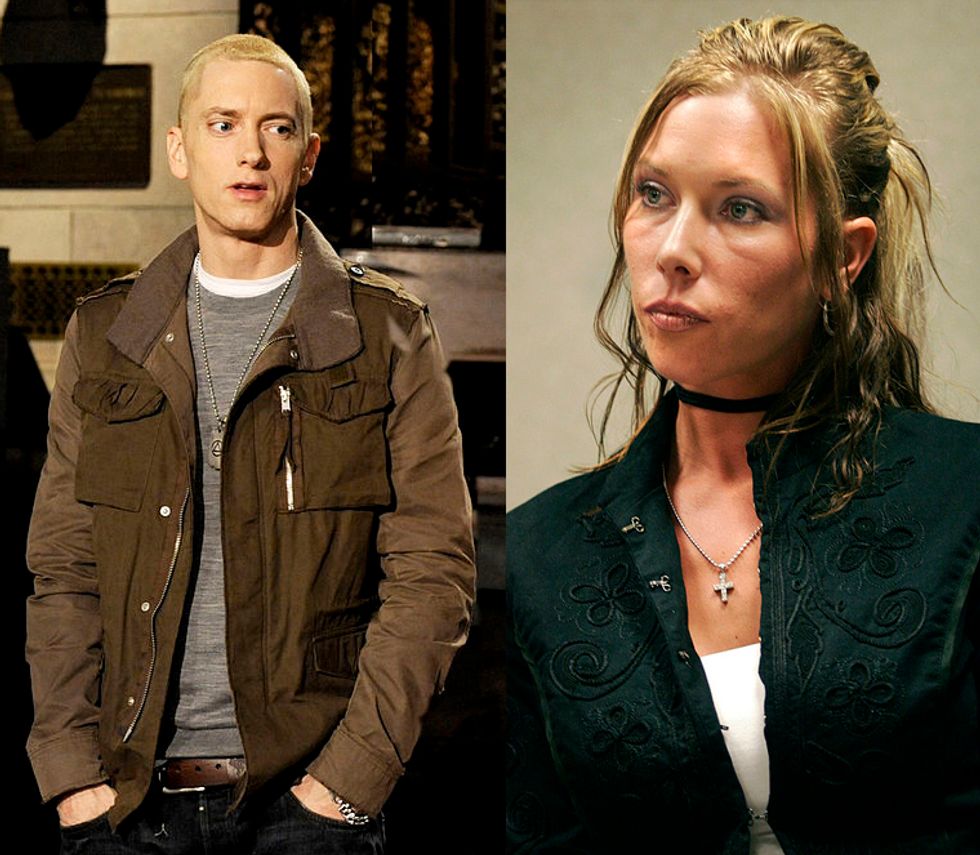 They say that love is very close to hate, and that's made apparent when you look at the marriage of Marshall and Kim Mathers. The two grew up together in Detroit and had a daughter together before Marshall blew up and became Eminem. And since a huge part of Eminem's early career was rapping about beating and murdering Kim, so when they got remarried in 2006, you can't imagine anyone felt
great
about it.
And of course they didn't last.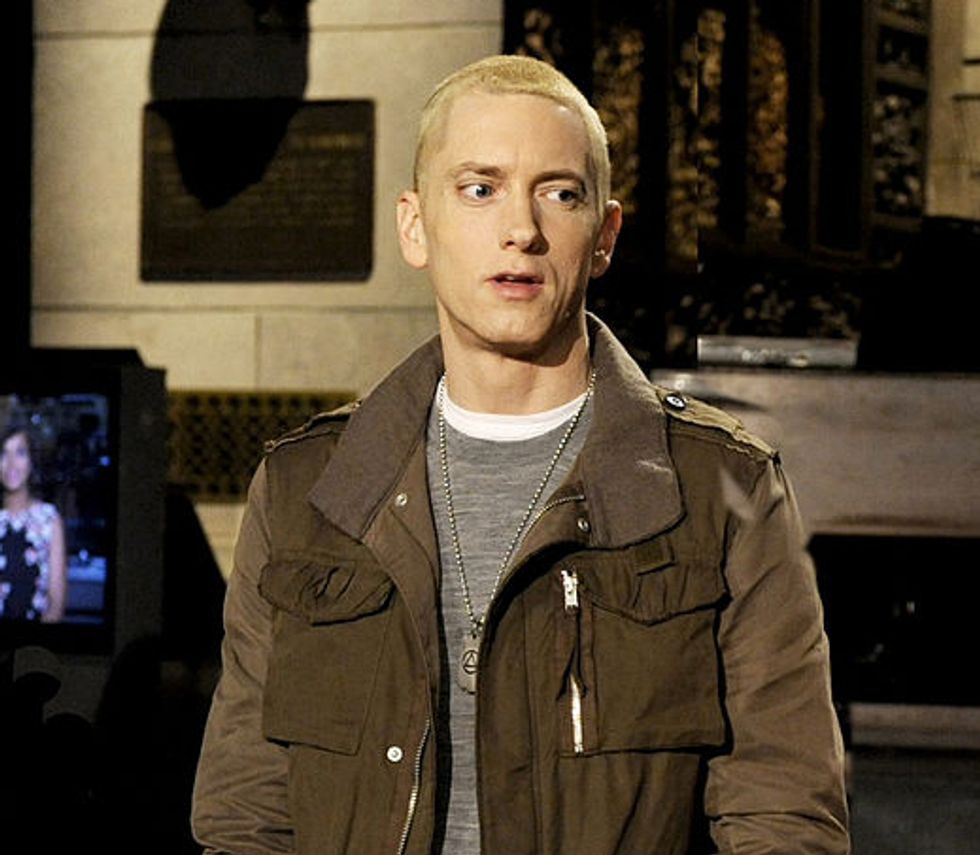 The marriage would last only three months, which makes you wonder why they even tried to rekindle their, er, romance. The only thing I can think of is that they did it for their daughter Hailey. For all his faults, Eminem has always put Hailey above everything. If that's what happened, then, hey, good on them for trying? I don't know, this relationship makes me feel so bad. I have the opposite of whatever feeling you get after watching a romcom.
20. Avril Lavigne and Chad Kroeger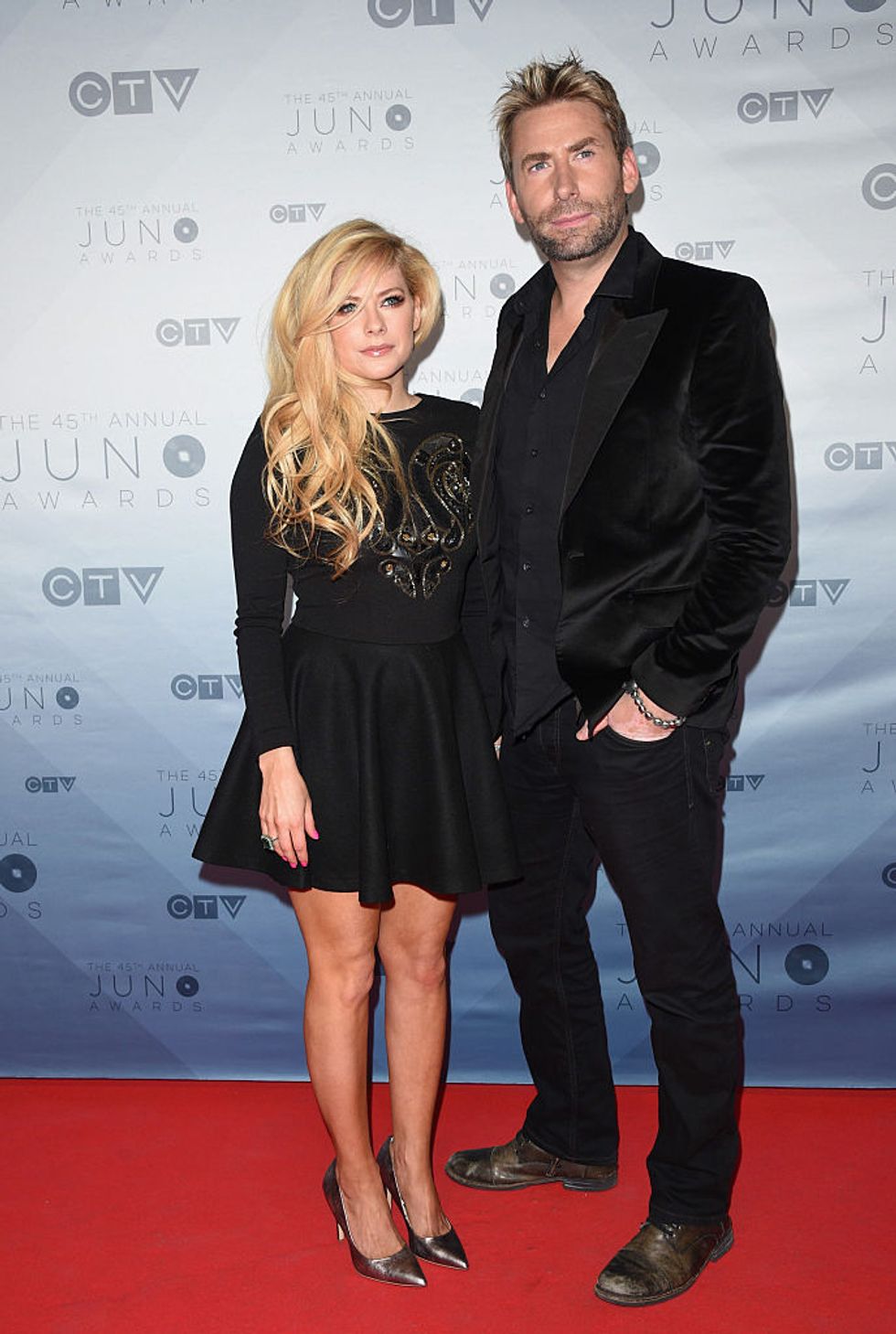 Two Canadian music icons — Avril Lavigne and Nickelback's Chad Kroeger — were married in 2013.... and divorced by 2015.
And yet, somehow, Avril and Chad are still really, really close?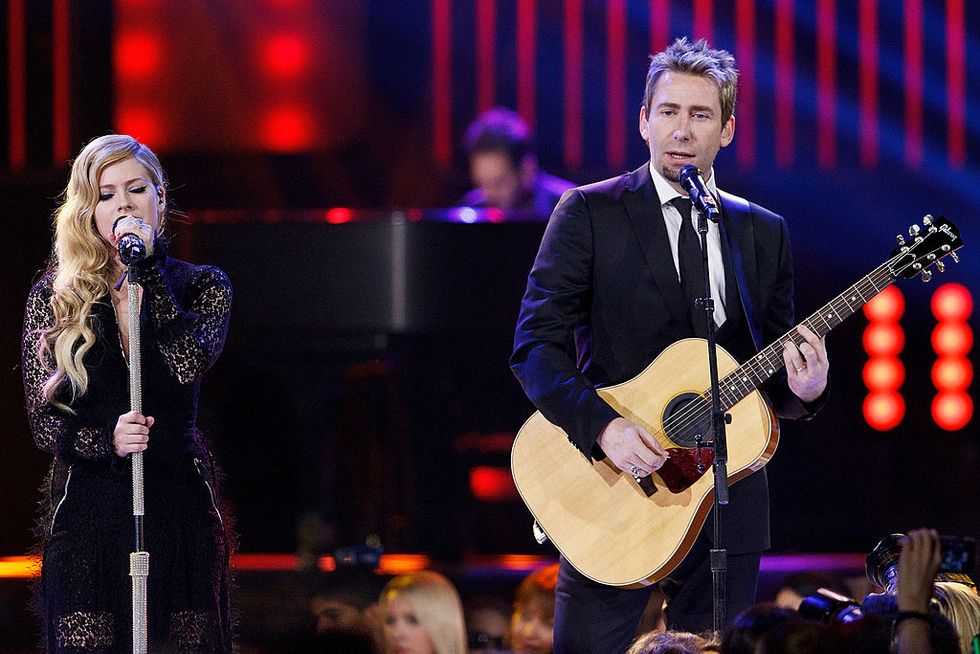 They still make music together, and attend events together, and support each other in their respective personal lives. It might be... the perfect divorce? At this point, it would almost be a shame to see two people who so clearly love each other get back together. They are a beacon of hope for divorced people everywhere.
19. Kaley Cuoco and Ryan Sweeting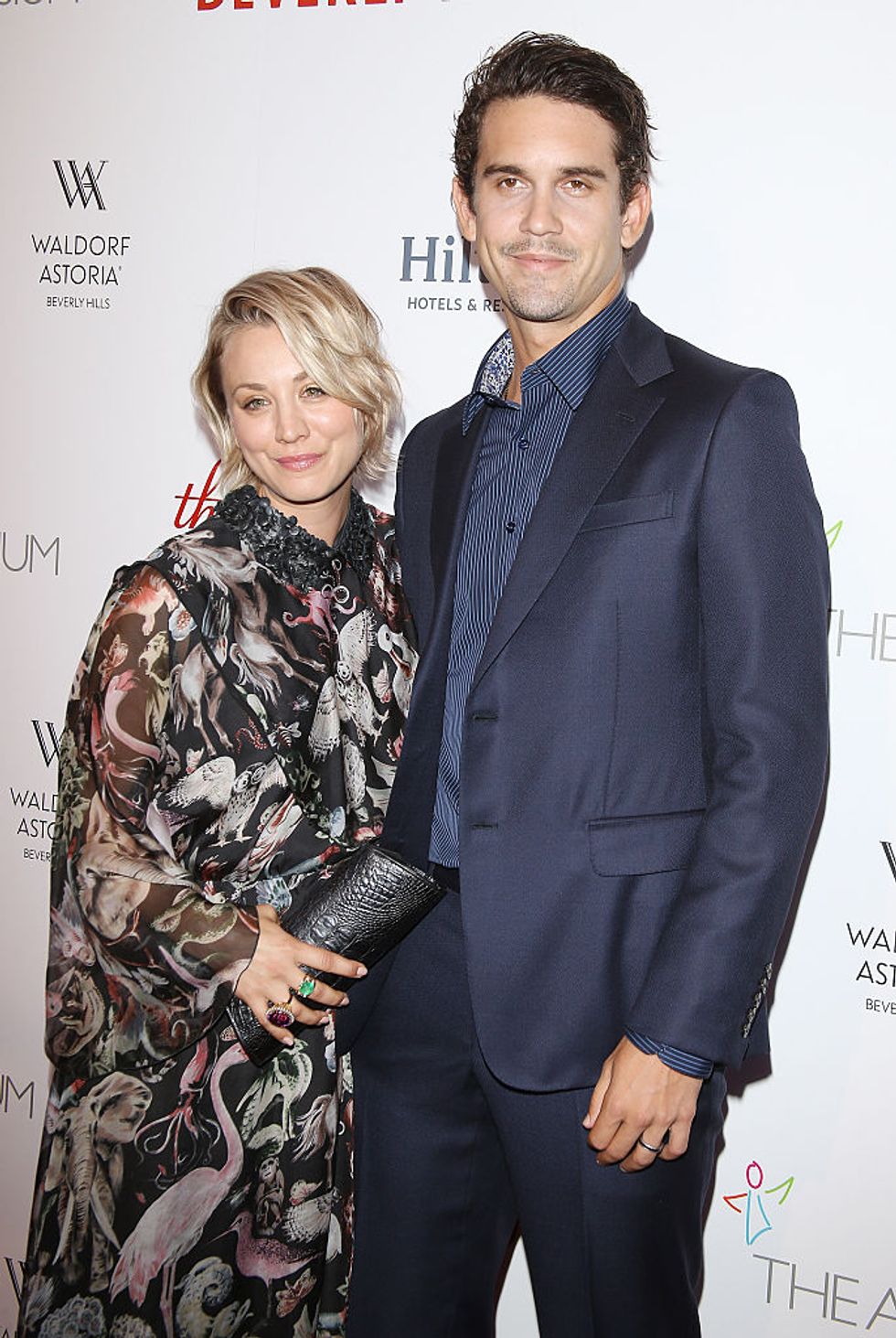 In 2013,
Big Bang Theory
star Kaley Cuoco married tennis star Ryan Sweeting on the most romantic and hopeful of days — New Year's Eve. Since Ryan is obviously a jock and Kaley played the one non-nerd on
Big Bang
and is therefore a jock herself, you'd think it'd be smooth sailing. That was... not the case.
They divorced in 2015.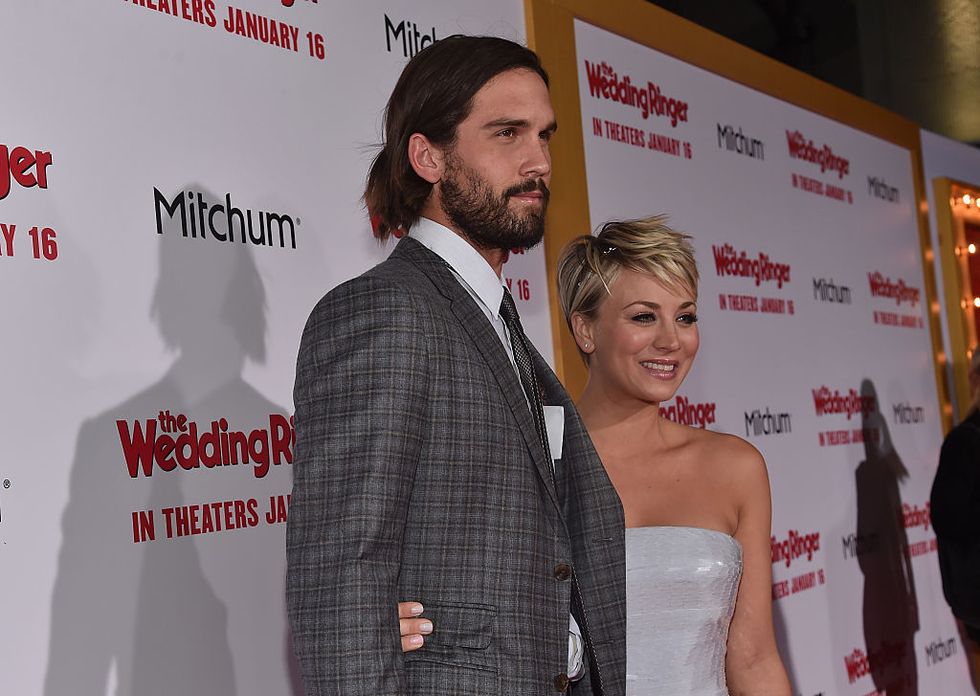 Kaley said of Ryan in
Cosmopolitan
, "the person I ended up with was not the person I originally met." And, to be fair, they only dated for three months. So really, she hadn't met him at all — I know I always wait until at least five months before I show my worst qualities (excessive video game-playing and fear of bridges) to whomever I'm dating.
18. Brody Jenner and Kaitlynn Carter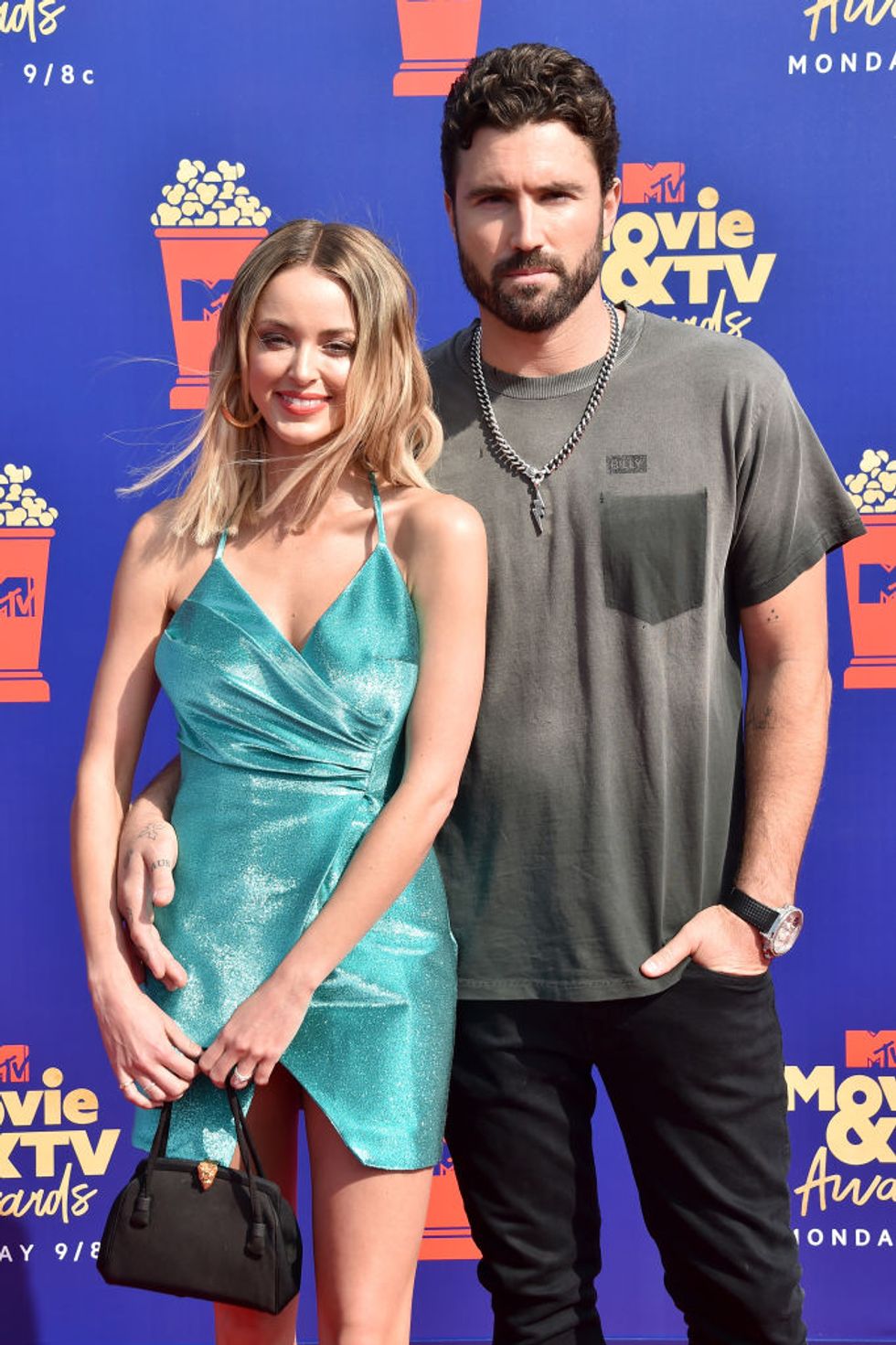 When two people star on a reality show together, you
know
their marriage is meant to last.
The Hills: New Beginnings
stars Brody Jenner and Kaitlynn Carter were married in 2018 in this big, lavish Indonesian ceremony.
But they split just one year later.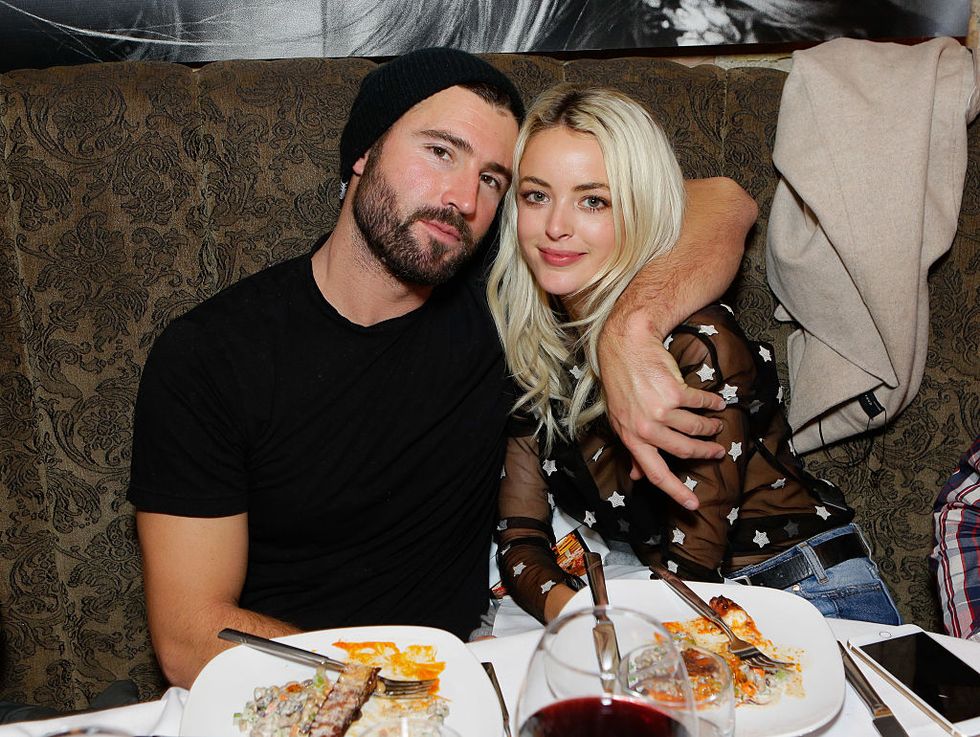 It sounds like Kaitlynn wanted to start a family while Brody wanted to... not do that at all, even a little bit. They're on good terms though! Kaitlynn told
People
, "We see each other regularly. We have dogs we share, you know, and I'm close with his mom and family, so it's all good."
17. Axl Rose and Erin Everly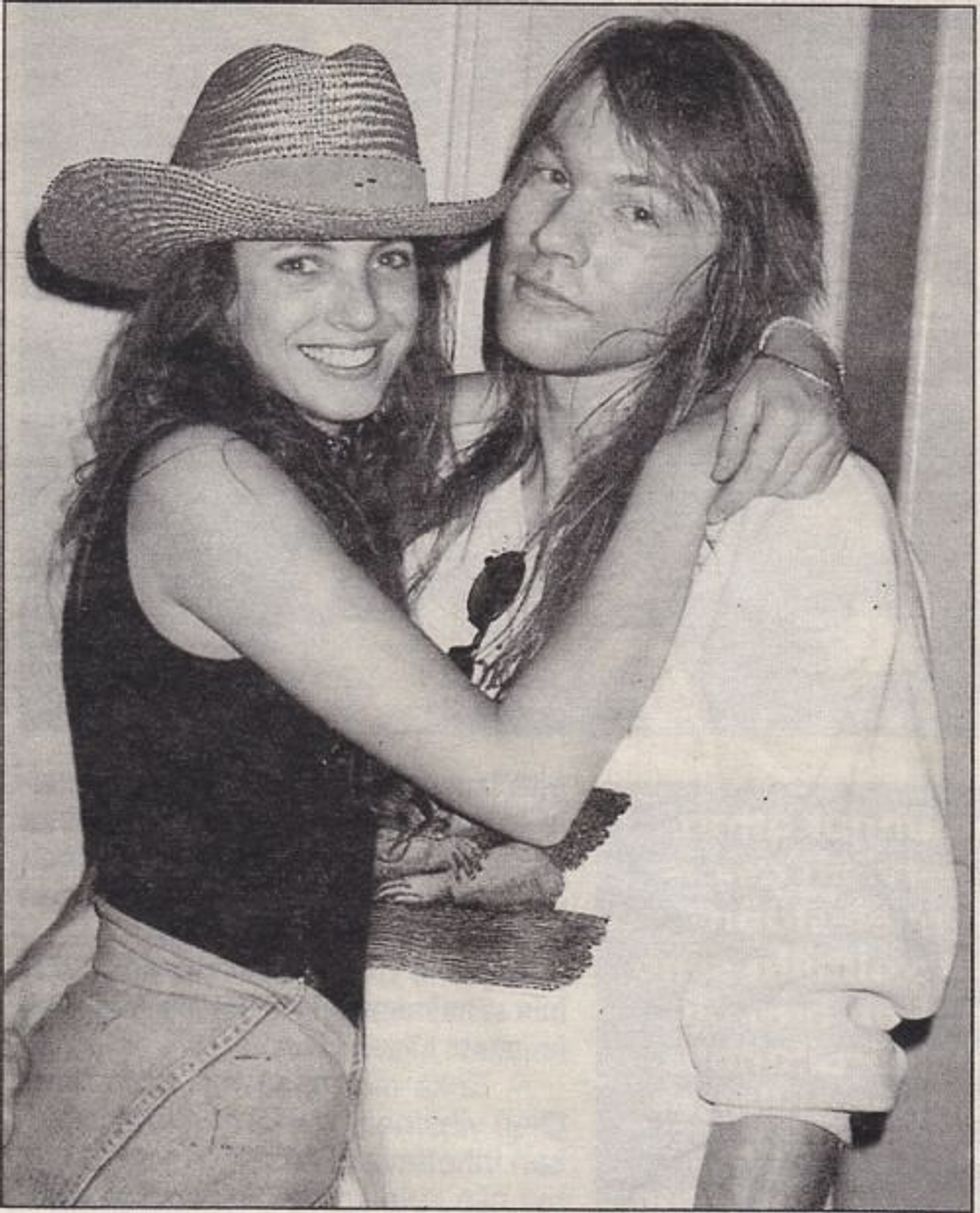 Listen, Axl Rose is the lead singer of Guns N' Roses and he wrote "Sweet Child O' Mine" for Erin Everly and since that song
rules
I want them to be married and happy together forever! And for a minute, they
were
married after a Las Vegas wedding in 1990.
But come on, you've been reading this list. You know that wasn't going to last.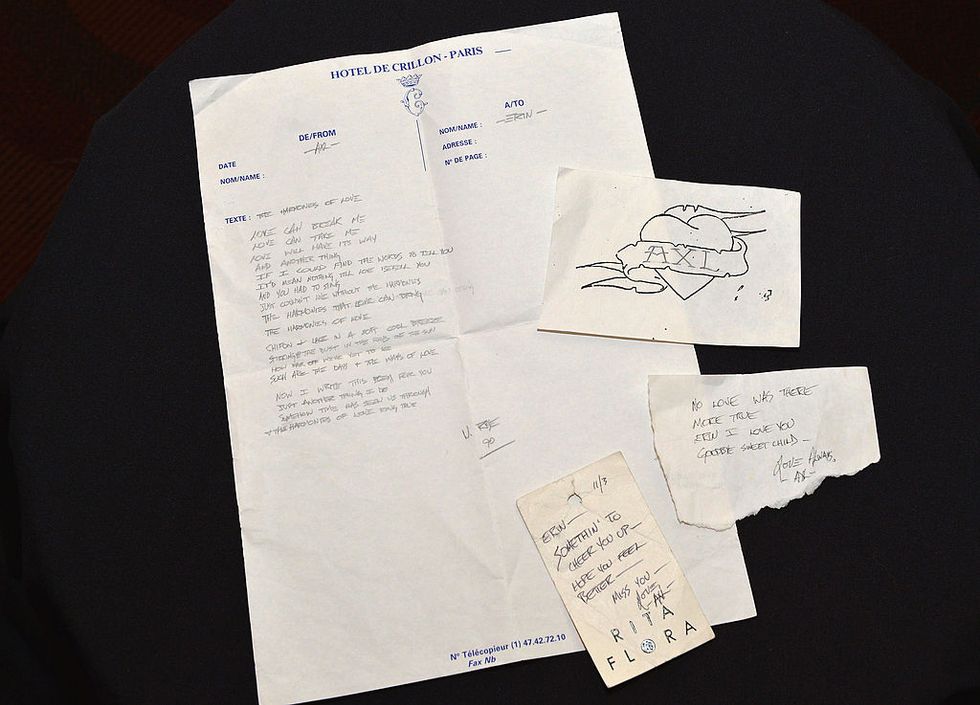 But this marriage was especially short — Rose and Everly broke up after only a month together. (And yet somehow, their love notes ended up in the Rock and Roll Hall of Fame.) They were off-and-on for the rest of that year, before having their marriage officially annulled in 1991. Oh well. At least we'll always have the rockin' guitar intro to "Sweet Child O' Mine." You can't get a divorce from
music
.
16. Colin Farrell and Amelia Warner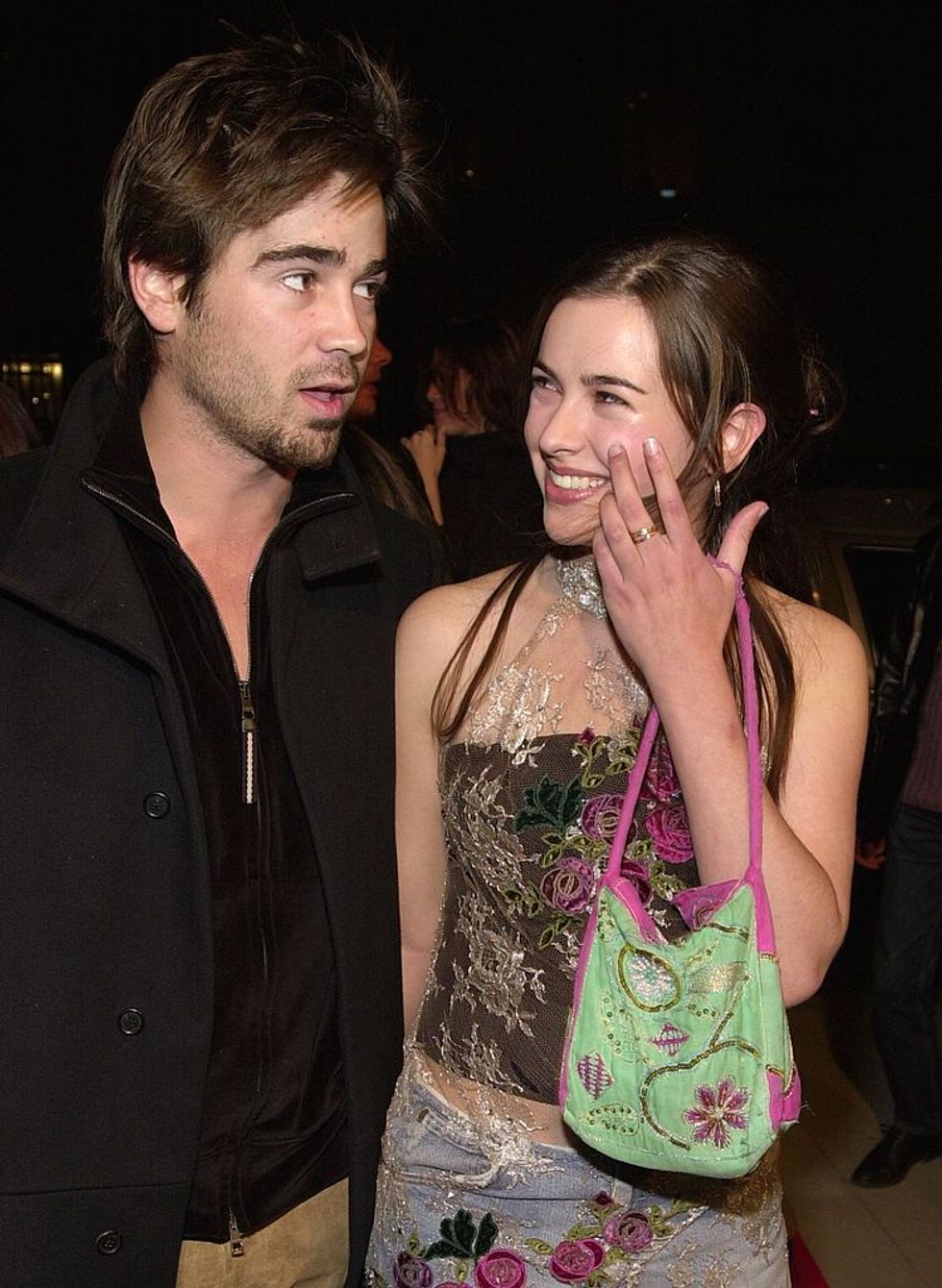 When Colin Farrel was just on the up-and-up, starring in movies like
Tigerland
and
Lara Croft: Tomb raider
, he was dating actress Amelia Warner. They were married in 2001, when Colin had a full head of hair. (Seem like an innocuous detail? Maybe it is. I hope it is. But maybe not...)
The marriage lasted for only four months.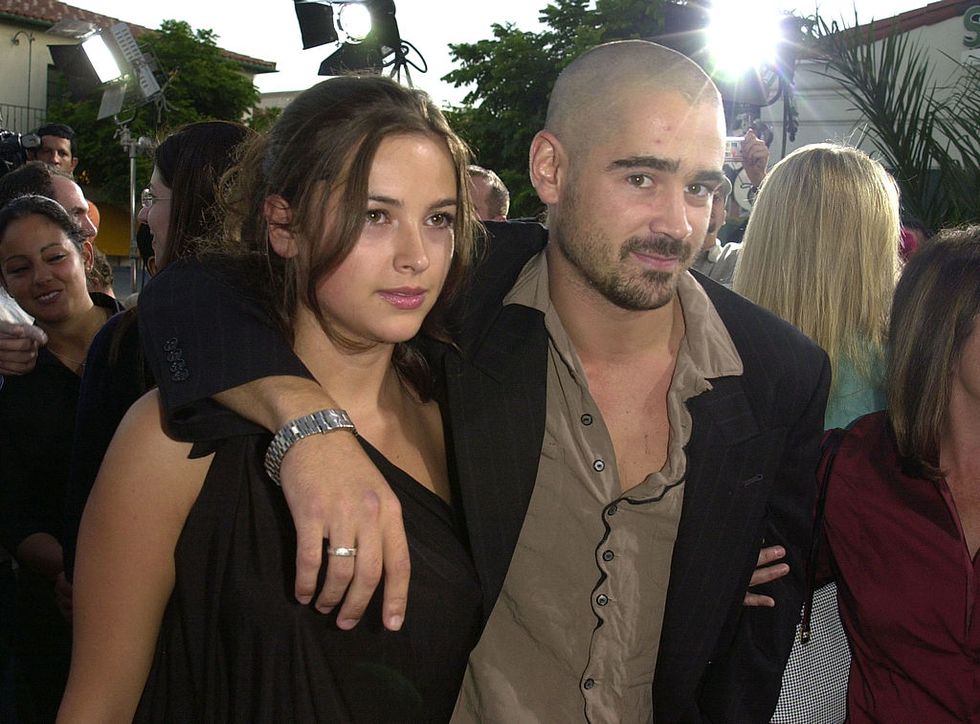 While Farrell told
People
that the relationship ended because they went "too fast," that they were "too young," I
strongly
believe it was because he shaved his head. I am
not
saying Amelia Warner is shallow! I
am
saying that Colin Farrell shaved his head to play Bullseye in that Ben Affleck
Daredevil
movie, and
yikes
. Did you see that movie? I would've left Colin Farrell too.
15. Jenifer Lopez and Chris Judd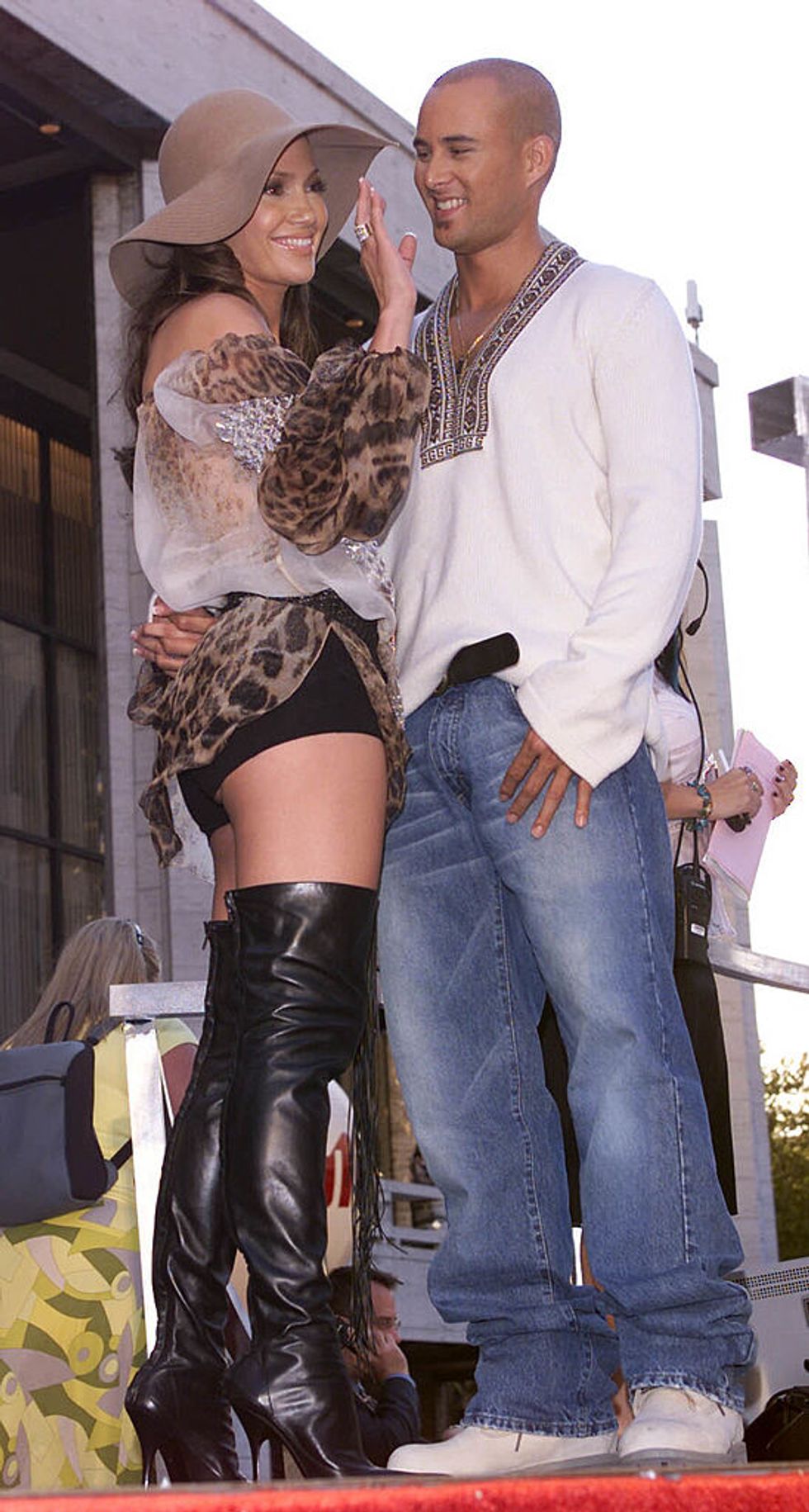 Choreographer and dancer, Chris Judd, met J-lo in late 2000 when he was hired to direct the music video for her song "Love Don't Cost a Thing." I guess their short-lived romance probably proved that love
does
cost a thing...
The marriage lasted only 8 months.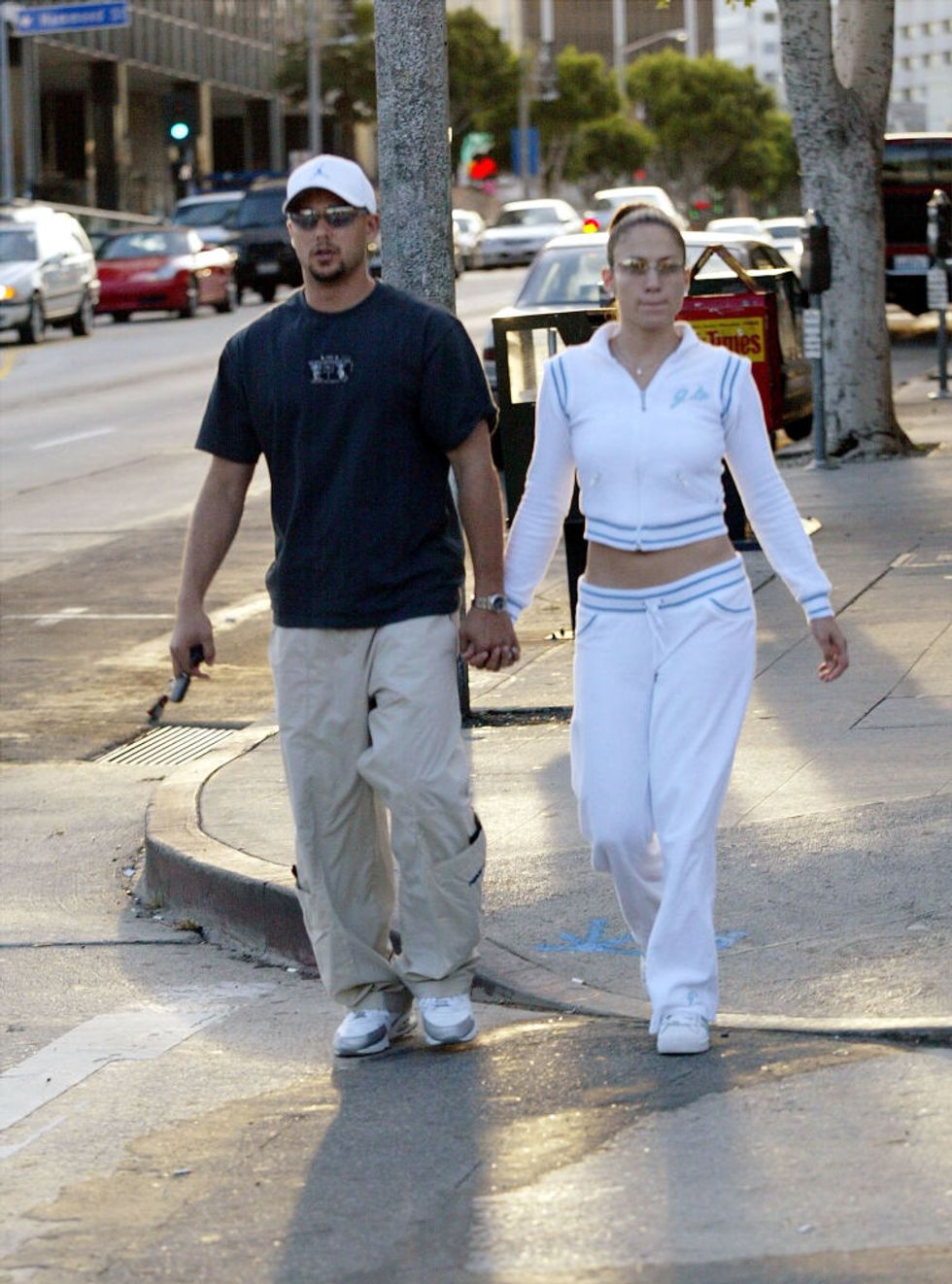 The pair were wed on September 29, 2001, but split after eight-months. The divorce was finalized in 2003 and J-lo cited "irrecoverable differences" on the papers. Classic.
14. Miley Cyrus and Liam Hemsworth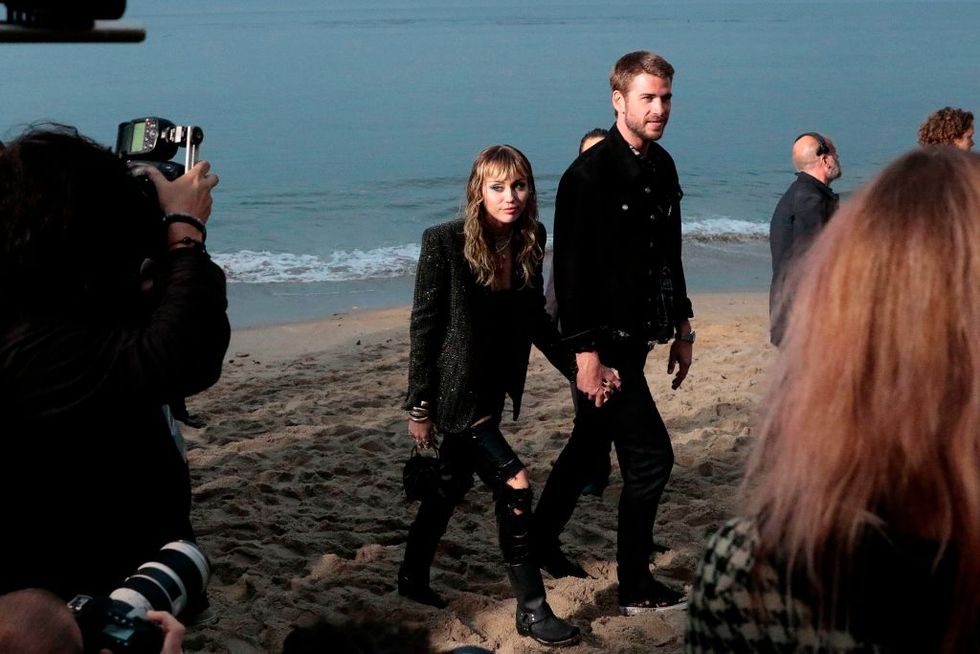 After first meeting on the set of
The Last Song
in 2009, Miley and Liam got engaged in 2012 but broke up a year later.
The pair got back together in 2016.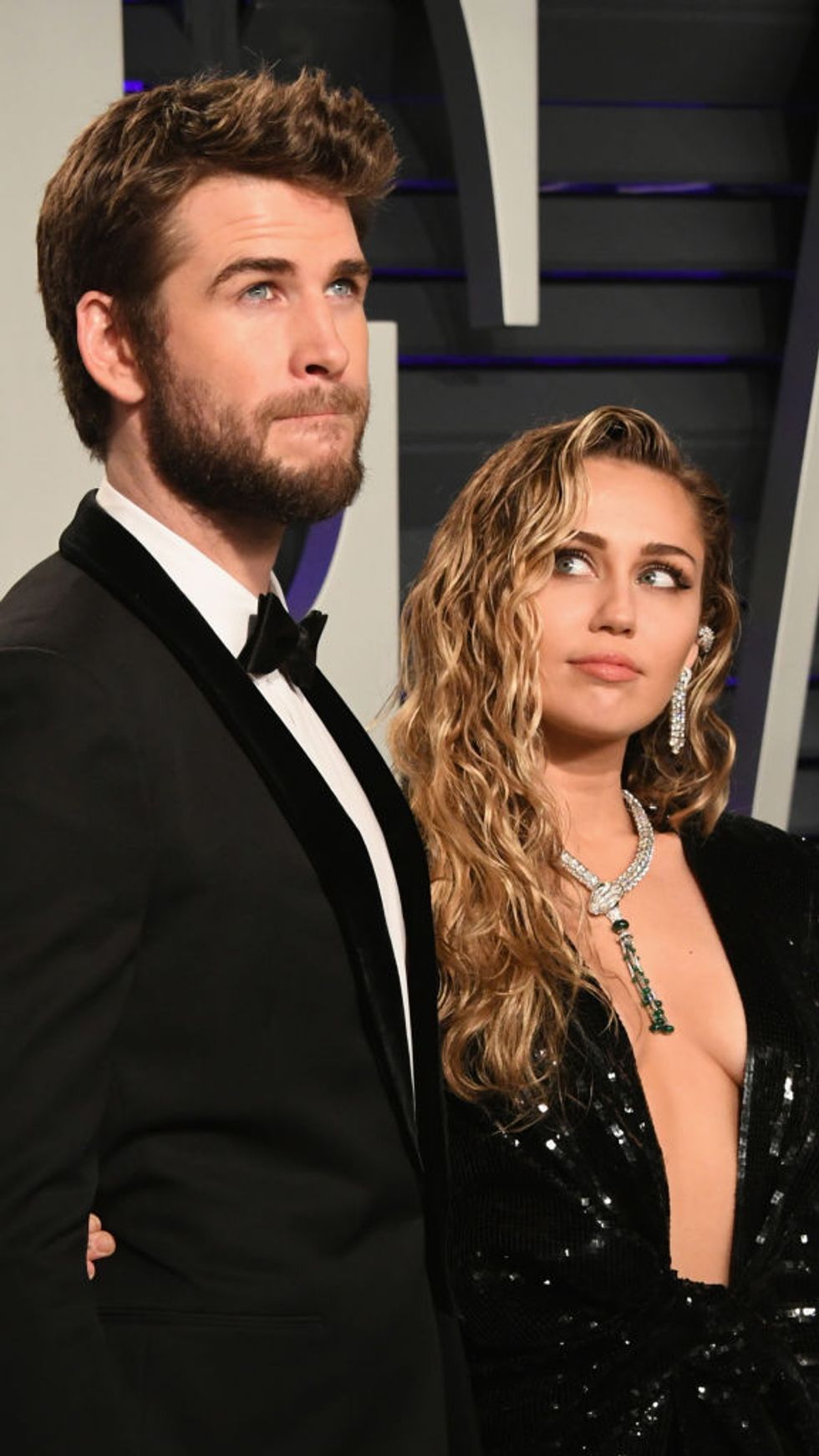 After months of speculation and rumors, Miley confirmed that the couple had gotten back together and announced that were engaged once more when appearing on
The Ellen Degeneres Show
in November 2016. While the couple were on and off for ten years, news this week that the marriage was off mean that they still make the list - their (we're assuming) happy marriage lasted only 7-months.
13. Drew Barrymore and Tom Green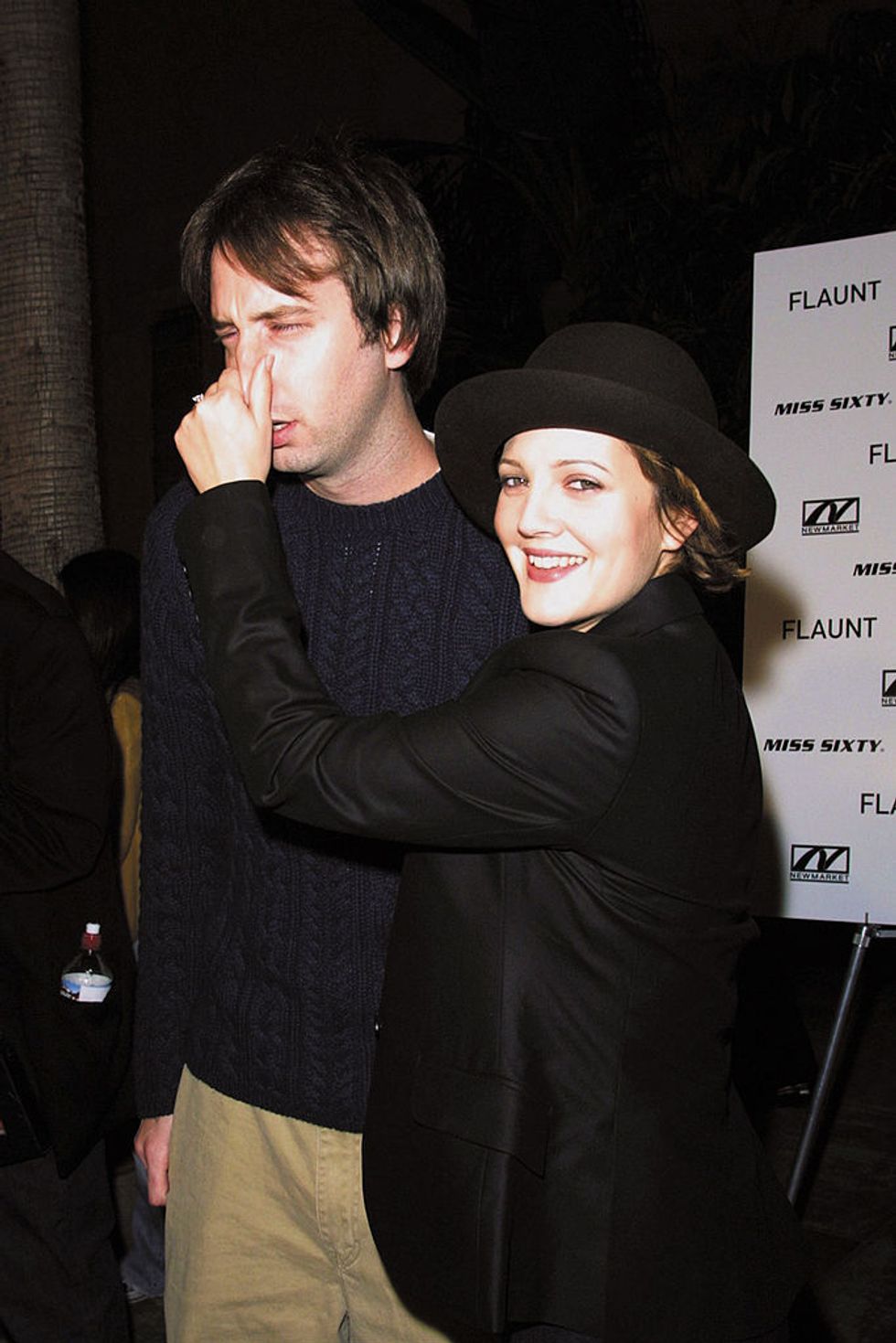 Drew Barrymore actually makes this list twice, but we'll start with her ill-fated marriage to comedian, actor, and filmmaker, Tom Green. The pair were engaged in July 2000. In his book,
Hollywood Causes Cancer
, Green wrote: "We lived together for a year before we were engaged, and we were engaged for a year before we got married."
The marriage only lasted five months.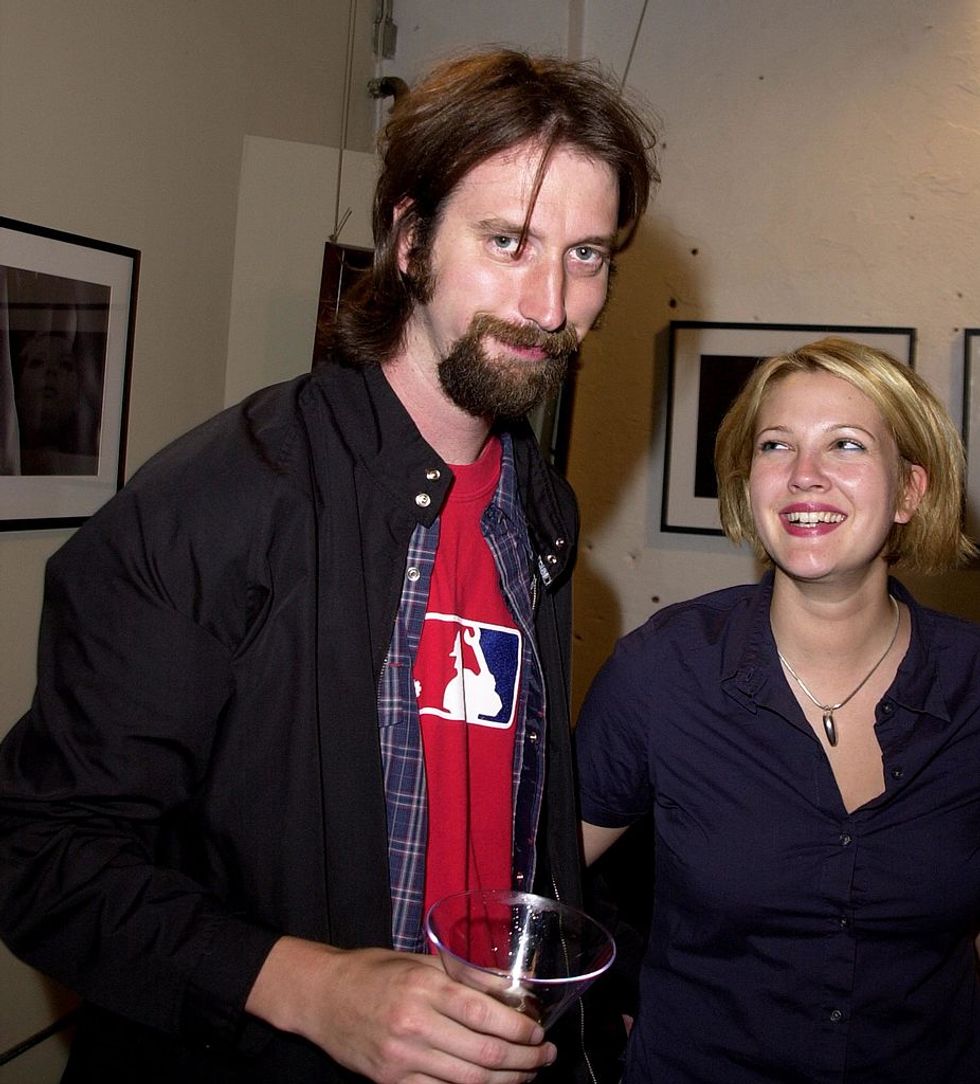 The couple filed for divorce on December 17, 2001, and cited the old favorite: "irreconcilable differences." It doesn't seem as though the pair ended on bad terms though. Following the divorce, Green released a statement
saying:
"I love her very much — I wish our marriage could have worked out. I wish her much happiness."
12. Charlie Sheen and Donna Peele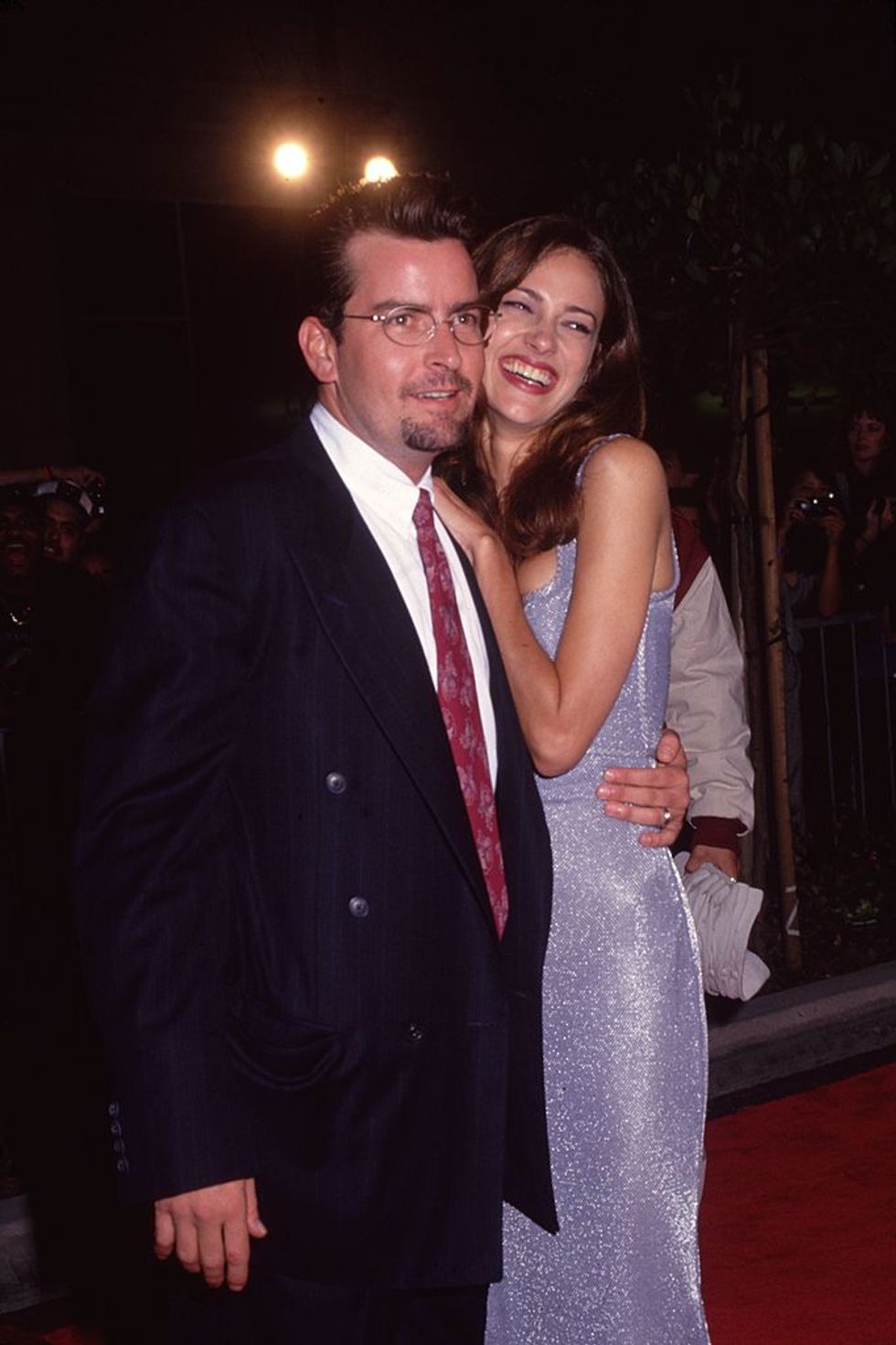 Charlie Sheen married model and actress, Donna Peele, on September 3rd, 1995. The couple had only met six weeks earlier while filming a commercial.
The pair were only married for four months and twenty-four days.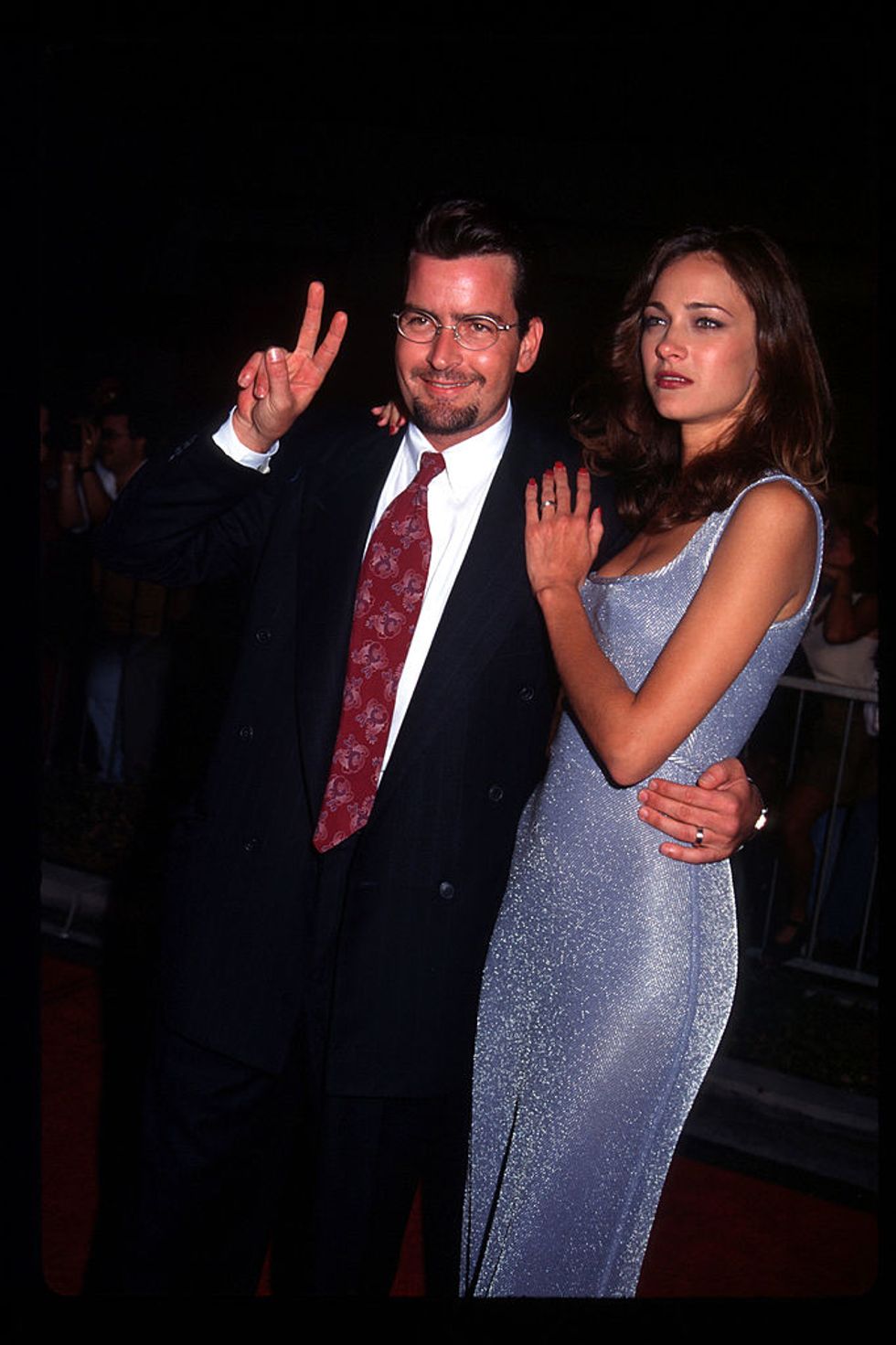 After claiming that the marriage was suffocating him, Charlie filed for divorce. Peele left Hollywood following the break-up and has kept a low profile ever since.
11. Bradley Cooper and Jennifer Esposito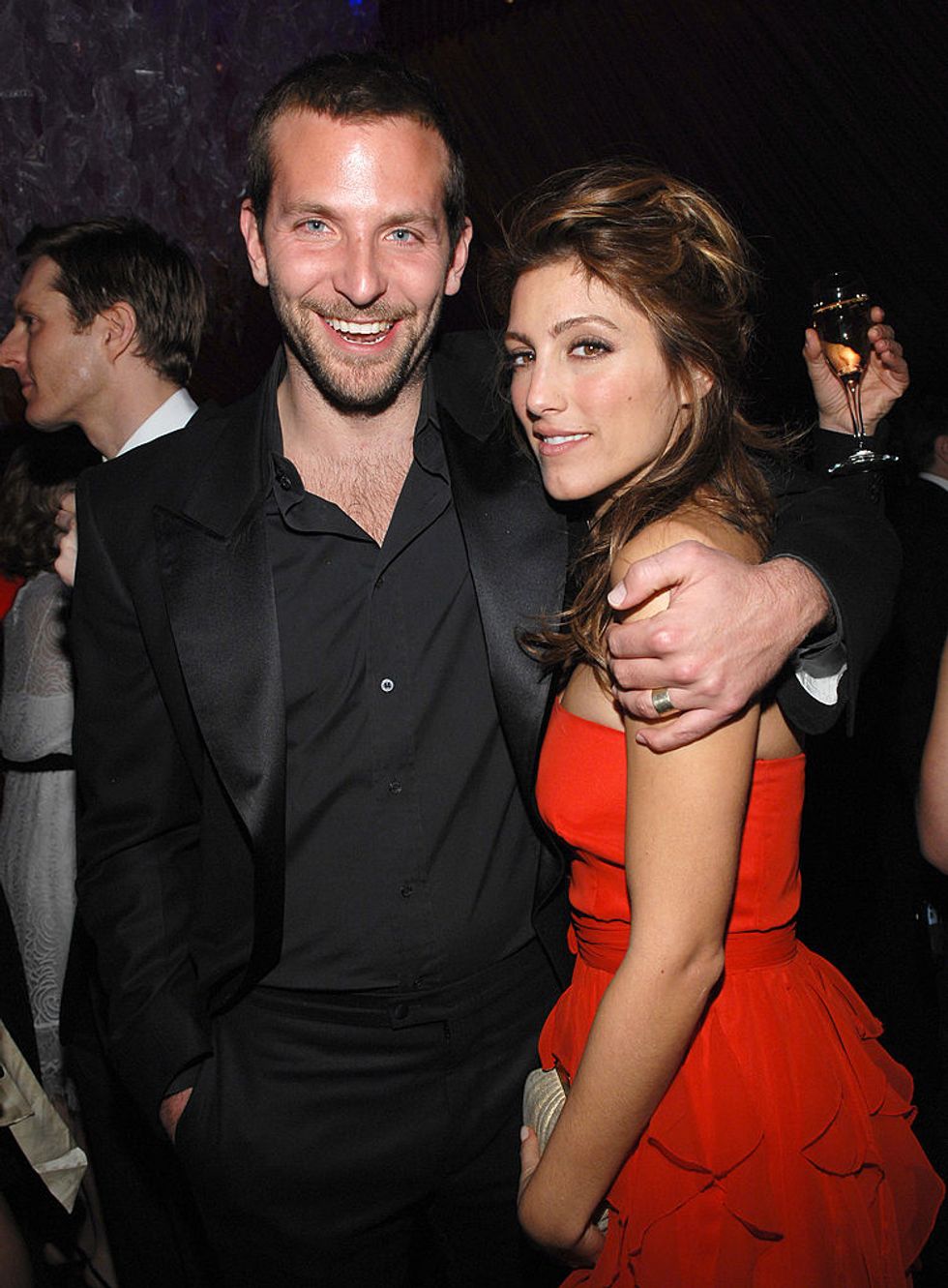 When Cooper and Esposito got together back in 2006, it was Jenifer who was the bigger star. Having just done
Crash
, which won an Oscar for Best Picture, Cooper, who was only really known for
Alias
and
Wedding Crashers,
was much less well-known.
"Just something that happened."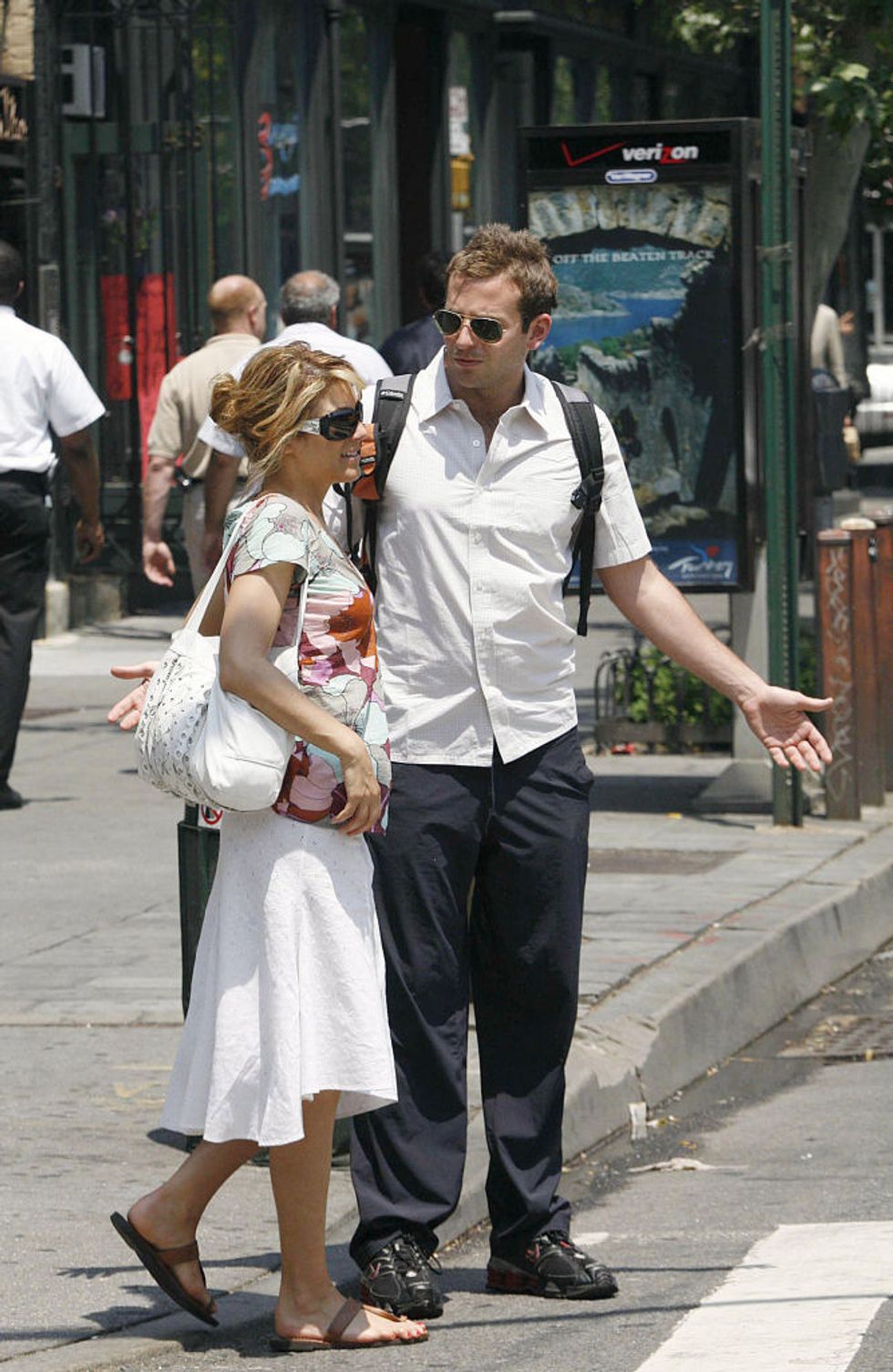 After a whirlwind romance, the couple got married on December, 21st, 2006. After just four months, the couple broke it off and Esposito filed for divorce. While Cooper has shrugged the marriage off as "just something that happened," Esposito has
revealed
that the marriage was pretty toxic. In her 2014 book,
Jennifer's Way,
she claims that she ignored "entire marching band squad of red flags" when they first met and described the
The Hangover
actor as being "cocky, arrogant, and a master manipulator." Yikes.
10. Pamela Anderson and Kid Rock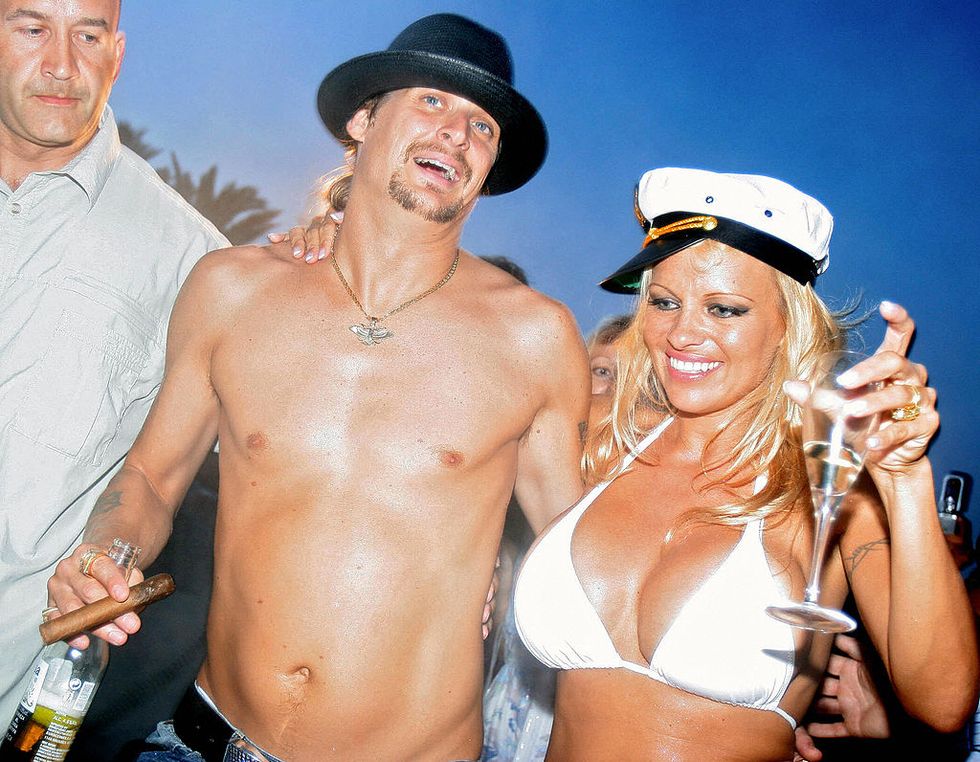 Baywatch
actress and model, Pamela Anderson, got married to singer, Kid Rock, on the 3rd of August 2006.
Apparently, Kid Rock filed for divorce because of... Borat...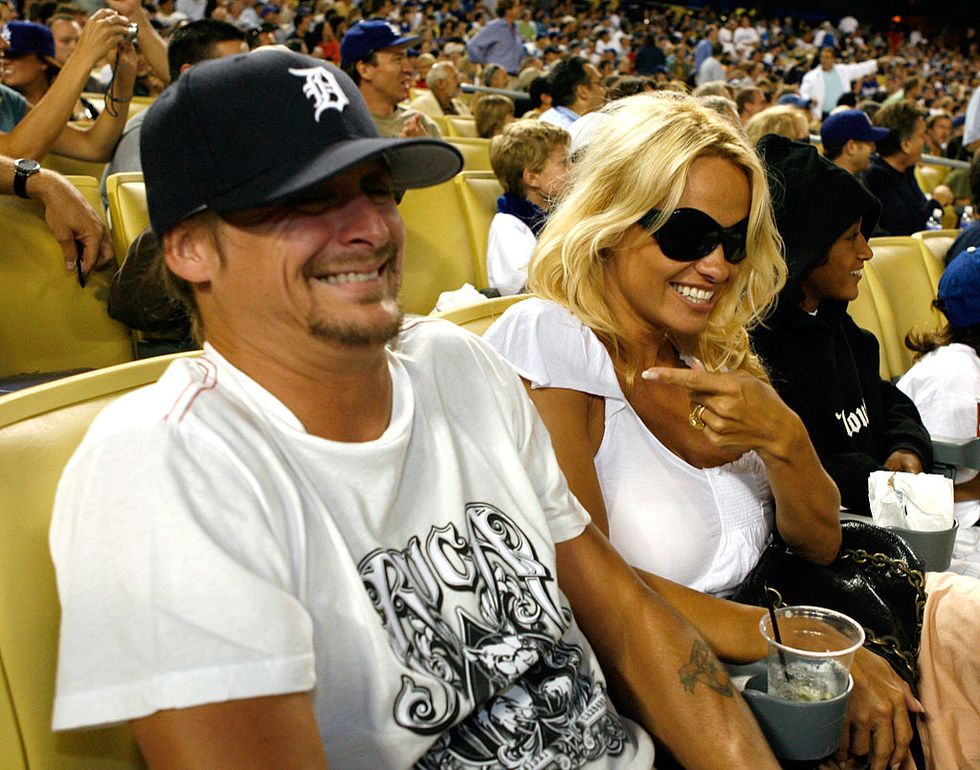 Sacha Baron Cohen has
claimed
in an interview with The Daily Beast's
The Last Laugh
podcast that, after
Borat
was released, he texted Anderson to ask what her husband thought of it. She reportedly texted back saying: "He's getting divorced." Cohen thought that she was joking at first but "then a few weeks later they got divorced and they put as a reason for divorce: '
Borat
.'" The story holds up in that Universal Studio chief, Ron Meyer, reportedly had a screening of the movie at his home and Kid Rock, who was there, hated the movie so much that he "had a freak-out and ruined the night." Weird, right?
9. Lisa Marie Presley and Nicholas Cage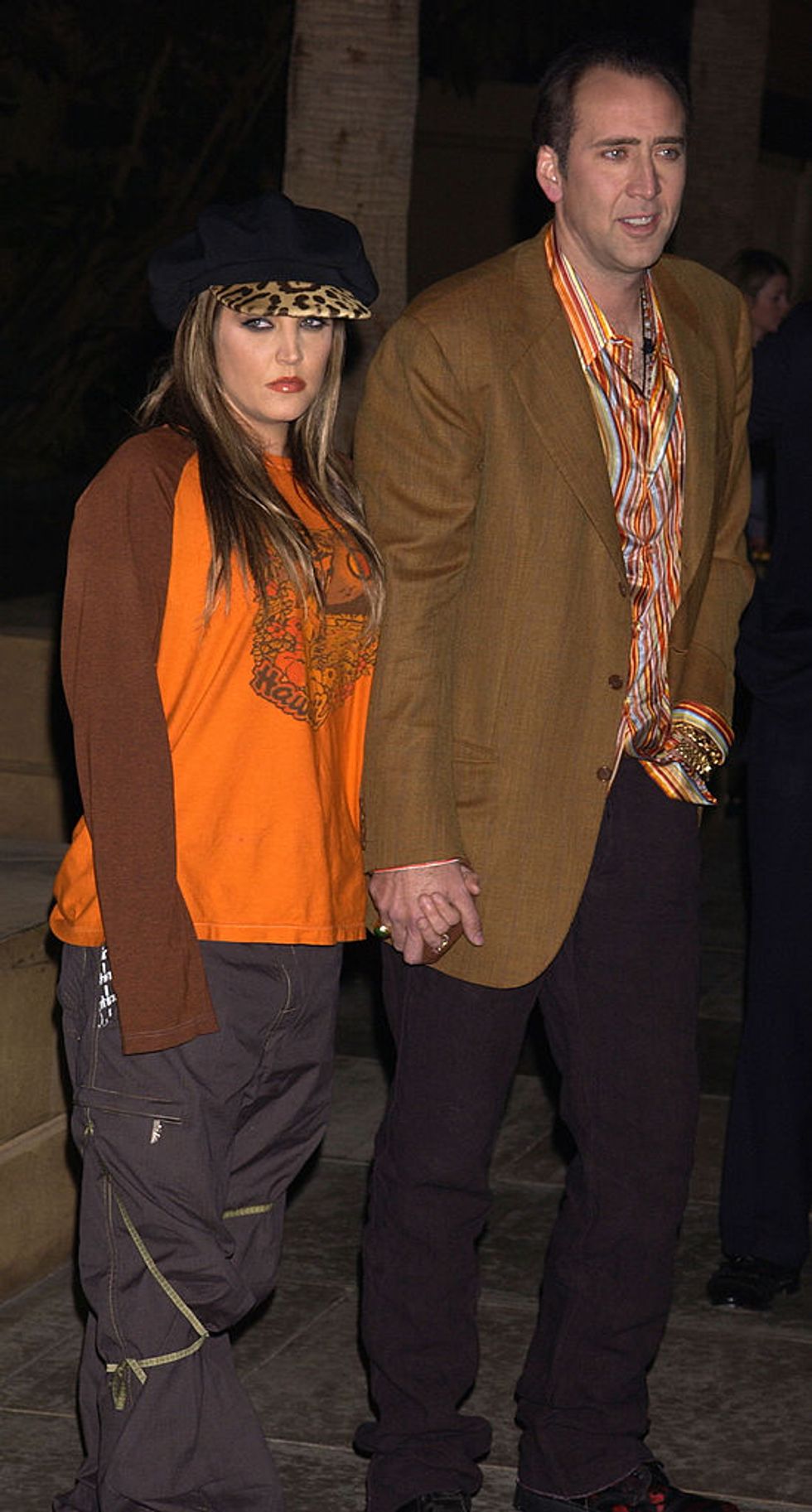 What's weirder? Lisa Marie Presley's outfit choice for the screening of
Adaptation
in 2002 or the fact that she was briefly married to Nicholas Cage? Apparently, Nicholas is famous for proposing to women in the spur of the moment. He supposedly proposed to Patricia Arquette the day that he met her. Lisa and Nicholas wed ten-days after the initial proposal.
Nicholas Cage is a big Elvis fan.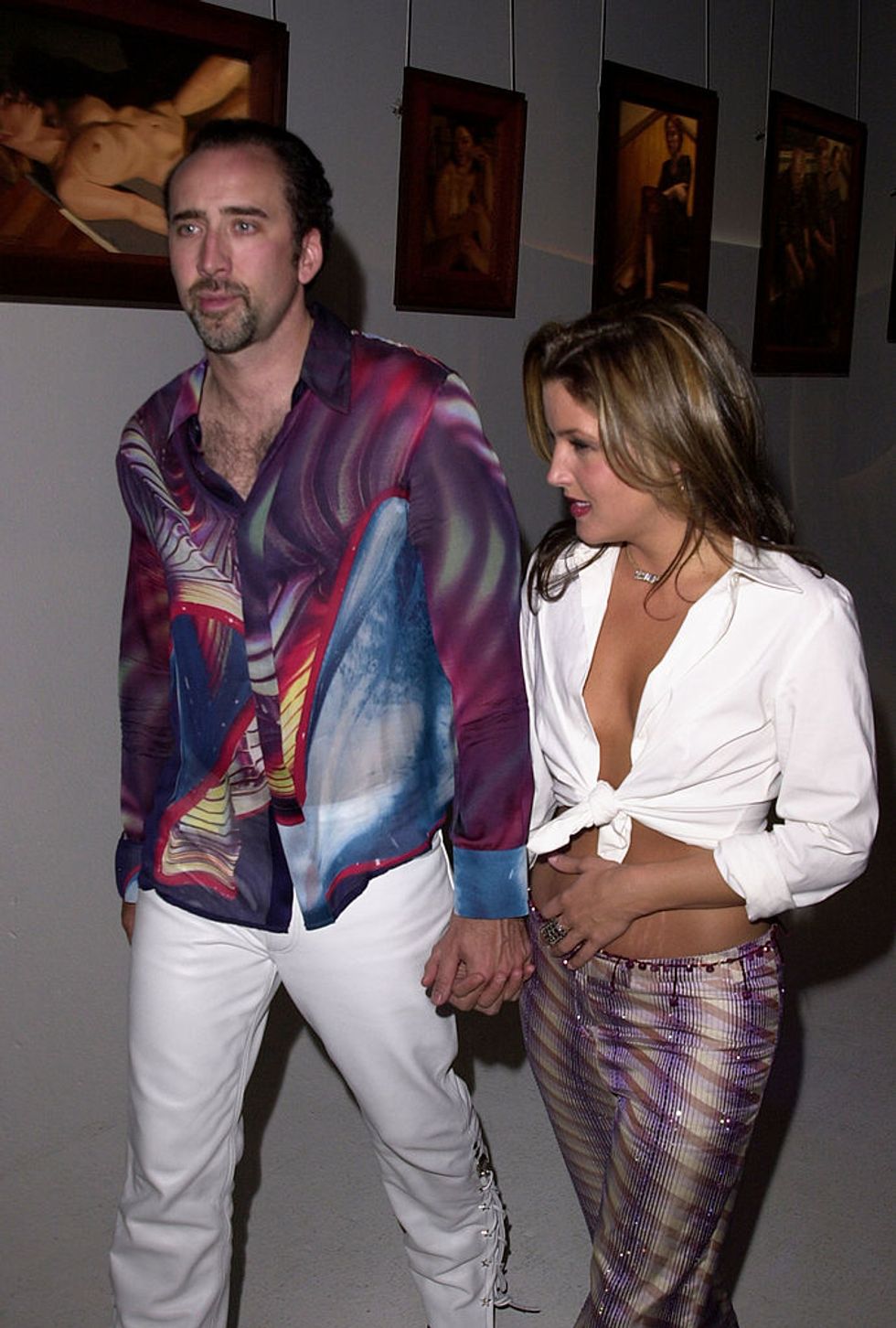 The pair married in Hawaii on August 10th, 2002. After constant quarreling, Presley filed for divorce. The marriage lasted a measly three months and fifteen days. But Hawaii must have been nice, right?
8. Lisa Marie Presley and Michael Jackson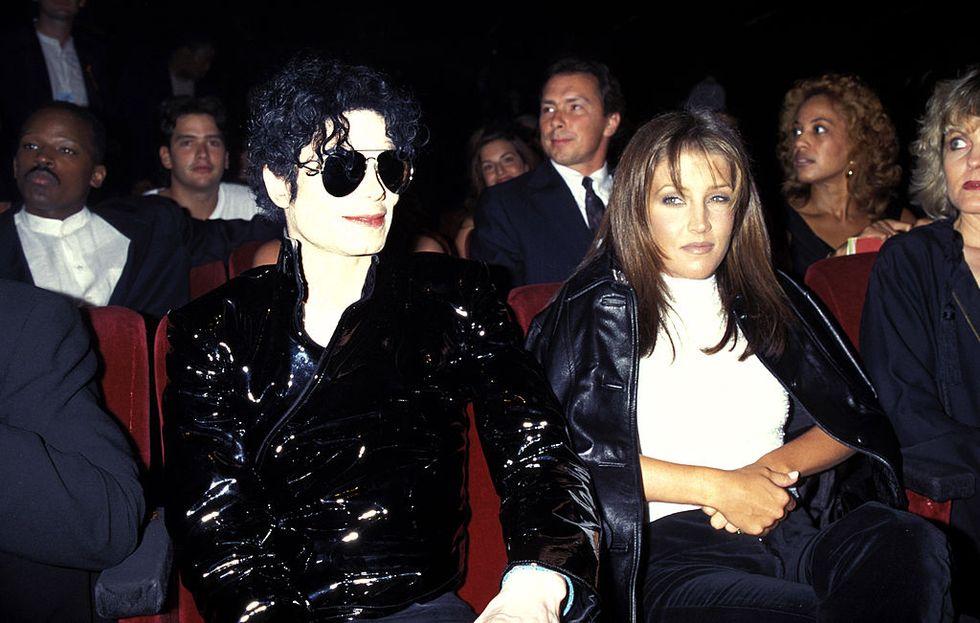 Presley was also famously married to Michael Jackson for a brief period.
Presley filed for divorce just fifteen months into the marriage.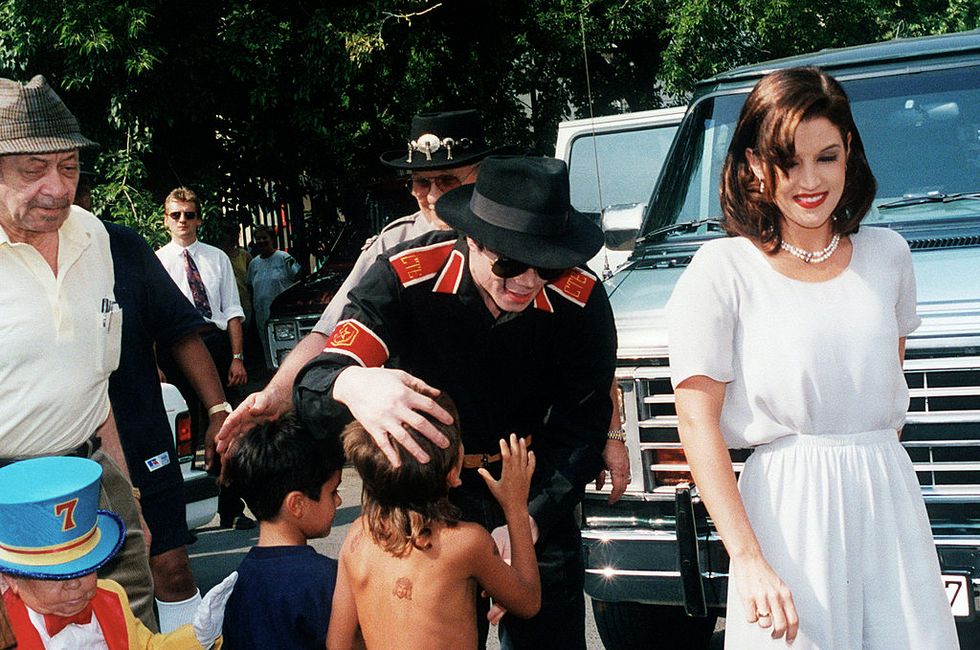 The pair lived separately and,
according
to one of Jackson's maids, when Presley did stay-over, she "never even stayed over in his room that I can remember; Michael always made her stay in the guest unit or Rose Room." Of course, since the divorce, information has come to light that means that these claims
kind of make sense. 
7. Kim Kardashian and Kris Humphries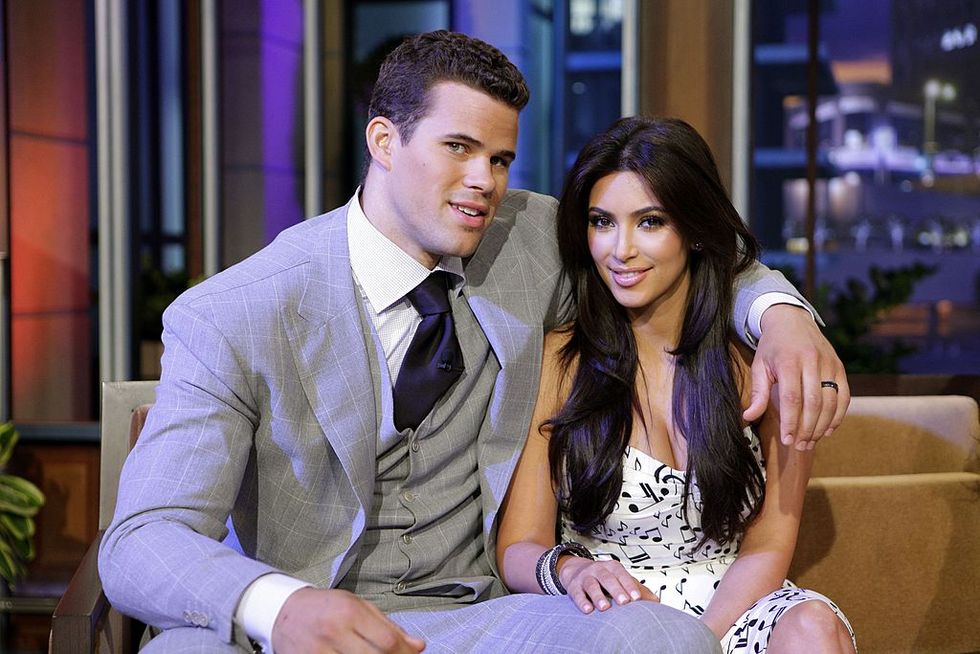 One celebrity marriage that many have suggested was a scam was the 2011 nuptials of Kim Kardashian and pro basketball player, Kris Humphries. Whether the marriage was real or not, it sure cost a helluva lot.
The marriage has gone down in history as the most-expensive short-lived wedding of all time.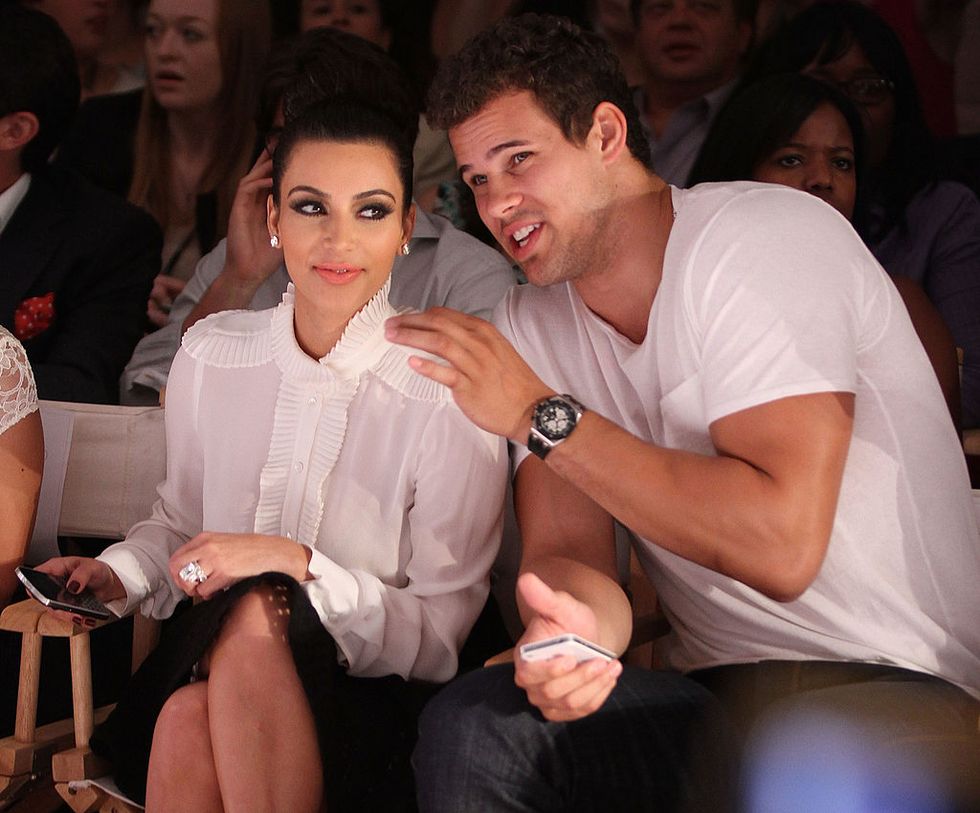 Costing a pretty healthy $10 million dollars, the marriage itself only lasted seventy-two days. Which means that every hour of their marriage cost about $5787. I'm sure that it was worth every second...
6. Pamela Anderson and Rick Salomon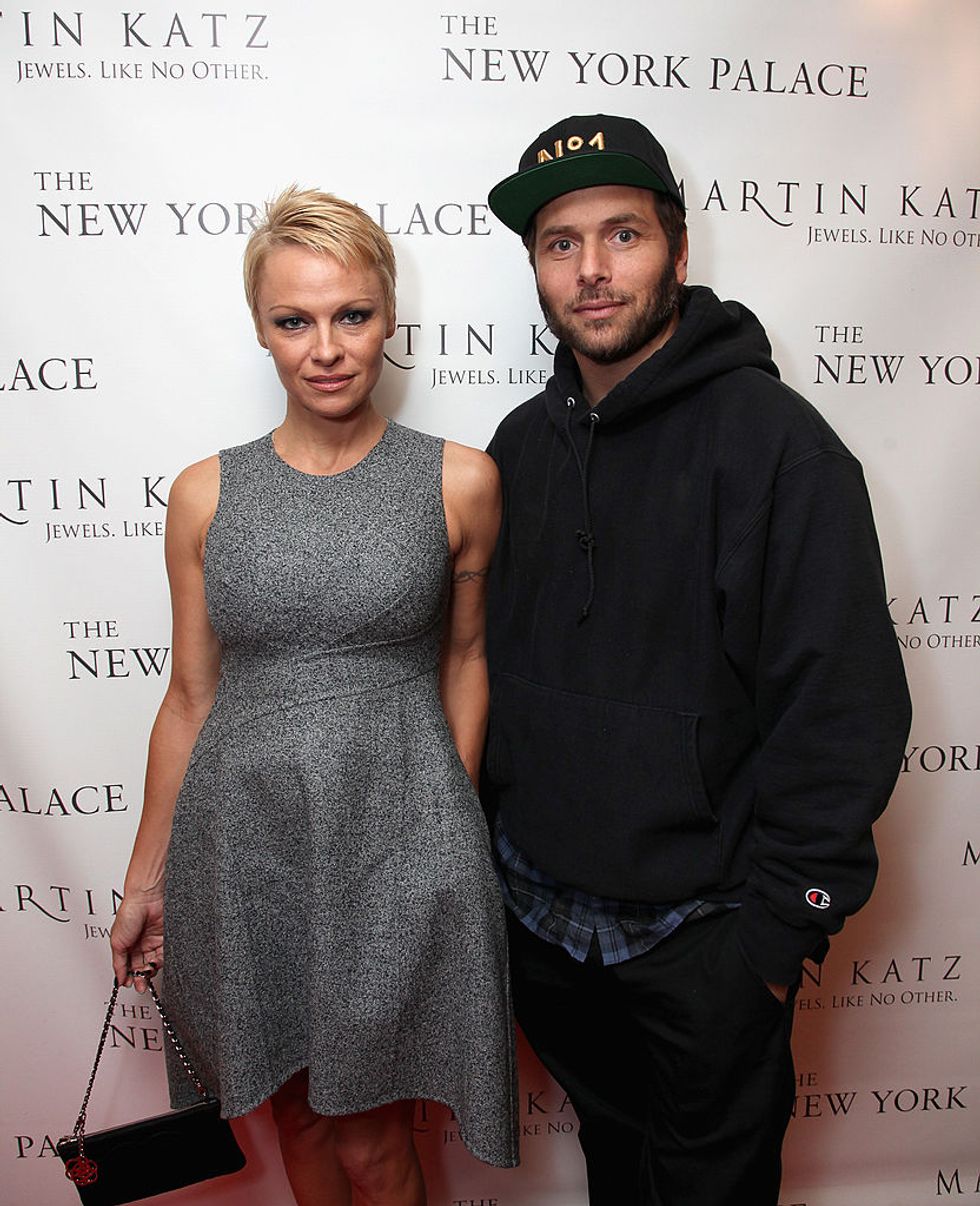 Anderson makes the list again. This time, her short-lived marriage did not end because of a cameo that she did in a Sasha Baron Cohen movie... Saying that, this marriage did not last as long as her marriage to Kid Rock. Anderson and famous poker player, Rick Salomon, had a whirlwind marriage lasting only sixty days.
The couple actually got married, divorced, then married again, and divorced again.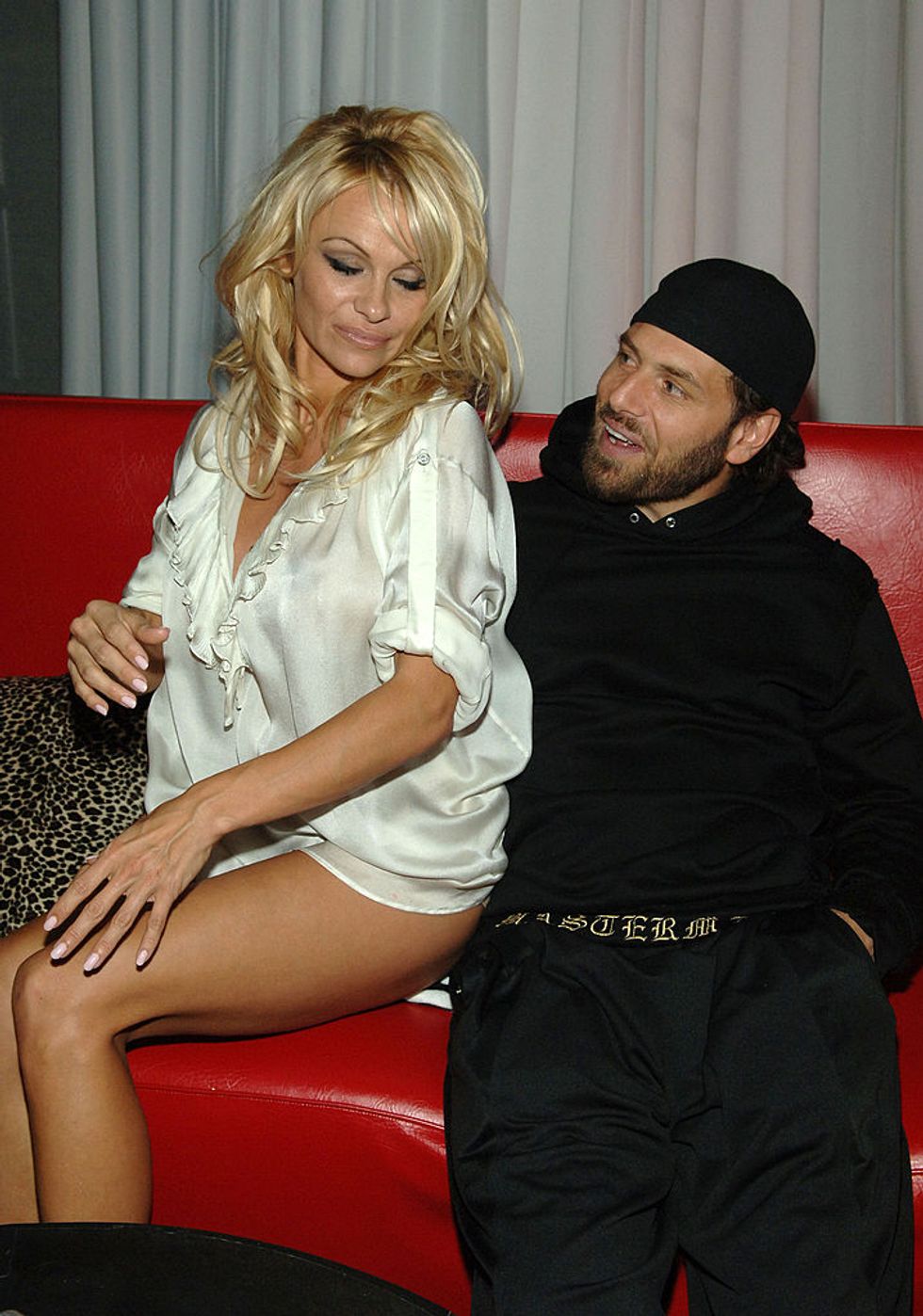 Both short-lived marriages happened while Anderson was working in Vegas. They first wed in the casino resort, The Mirage, in between her shows in October 2007 and the union lasted only sixty days. Anderson cited "fraud" in the divorce papers. The second marriage happened sometime in January 2014, but, again, Anderson filed for a divorce. This time, the marriage lasted a little longer, with Anderson filing the papers in February 2015.
5. Drew Barrymore and Jeremy Thomas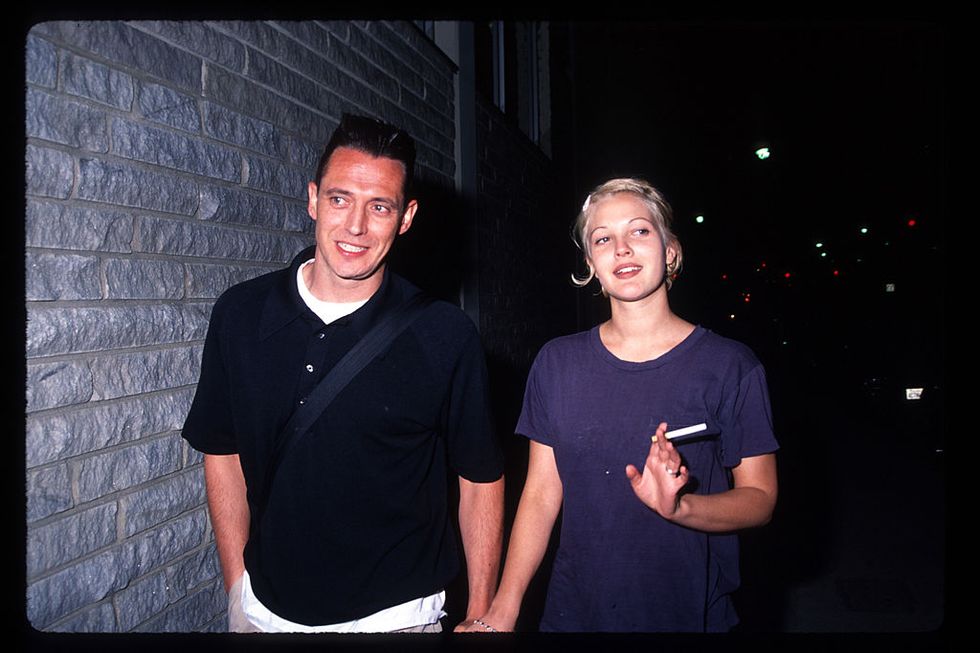 Not again, Drew! That's right, everyone's favorite Barrymore makes the list a second time for her short-lived marriage. This was actually Drew's first time down the aisle. Young and naive, nineteen-year-old Drew fell for thirty-one-year-old Welsh bar owner, Jeremy Thomas, in 1994.
The couple got engaged after only six weeks of dating.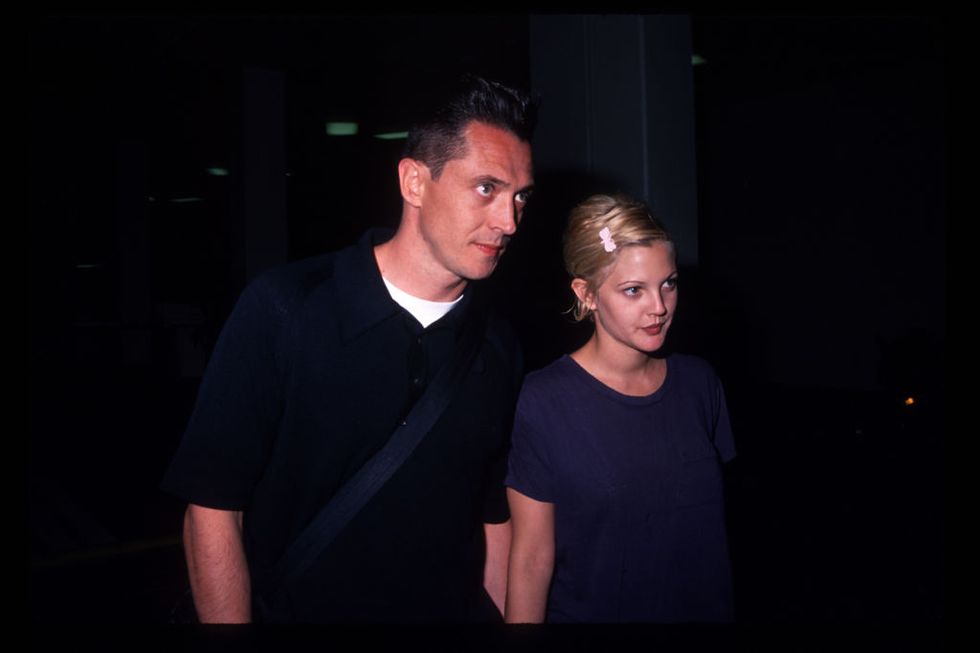 And the marriage itself? That lasted a little under two months. The wedding actually happened inside a bar, and, talking to
People
about the "big day," Barrymore recalled that the dial-a-minster had said: "You have definitely known each other in a previous life." I mean, that's good seeing as, in this life, they'd only met six weeks earlier. To be fair, the spontaneous wedding did sound pretty cute and, according to friends of Thomas, he was "real stable, sincere. The kind of guy you'd want as your best friend." It's a shame that it never worked out.
4. Sinead O'Connor and Barry Herridge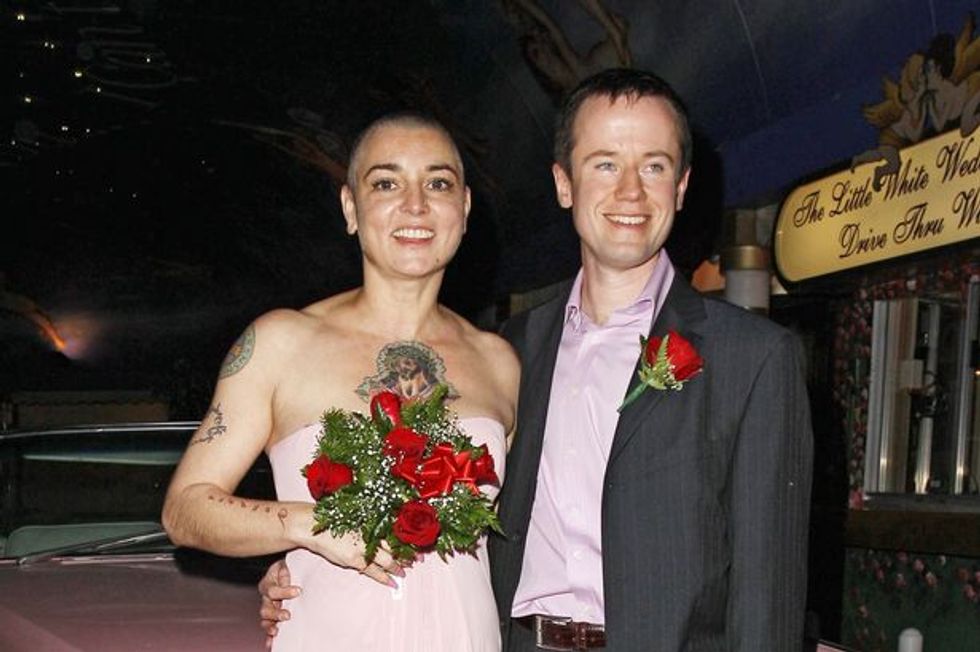 The "Nothing Compares 2 U" hitmaker met her future spouse, like many in the modern world, online. After posting on her blog about being "sex-starved" in 2011, O'Connor received a message from Herridge. She recalled to
The Irish Times
: "Barry sent me this wonderful email, which just took my heart away."
The marriage lasted sixteen days.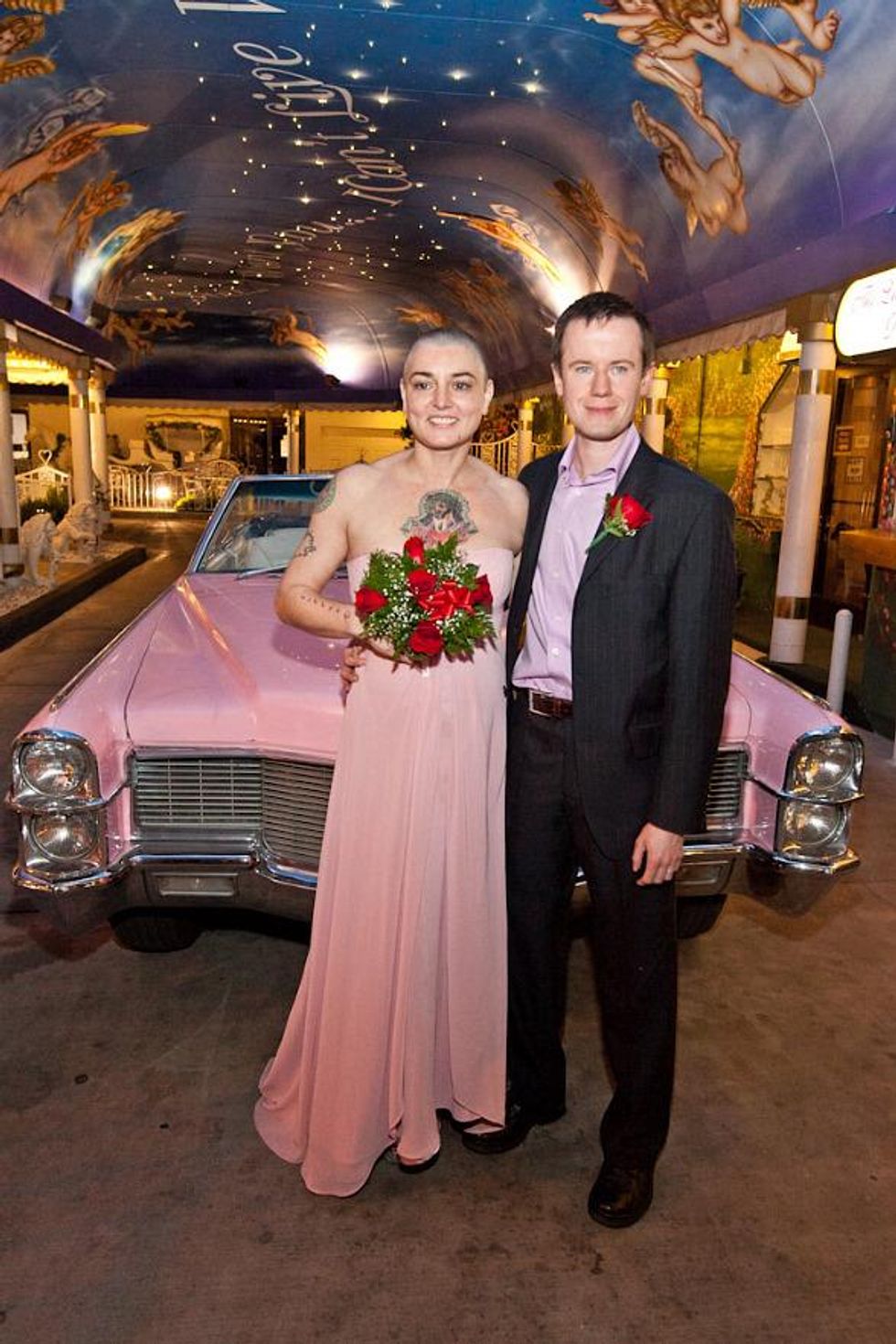 According to a post that O'Connor submitted to her website, announcing the split, the marriage was over even sooner. She wrote: "Within 3 hours of the ceremony being over the marriage was kyboshed by the behavior of certain people in my husband's life." It is unclear what exactly happened at the Vegas wedding, but O'Connor also cited "that being with [her] was not going to serve him positively, career-wise or any otherwise" and that he was "too nice to trap." What a palaver, eh!
3. Mario Lopez and Ali Landry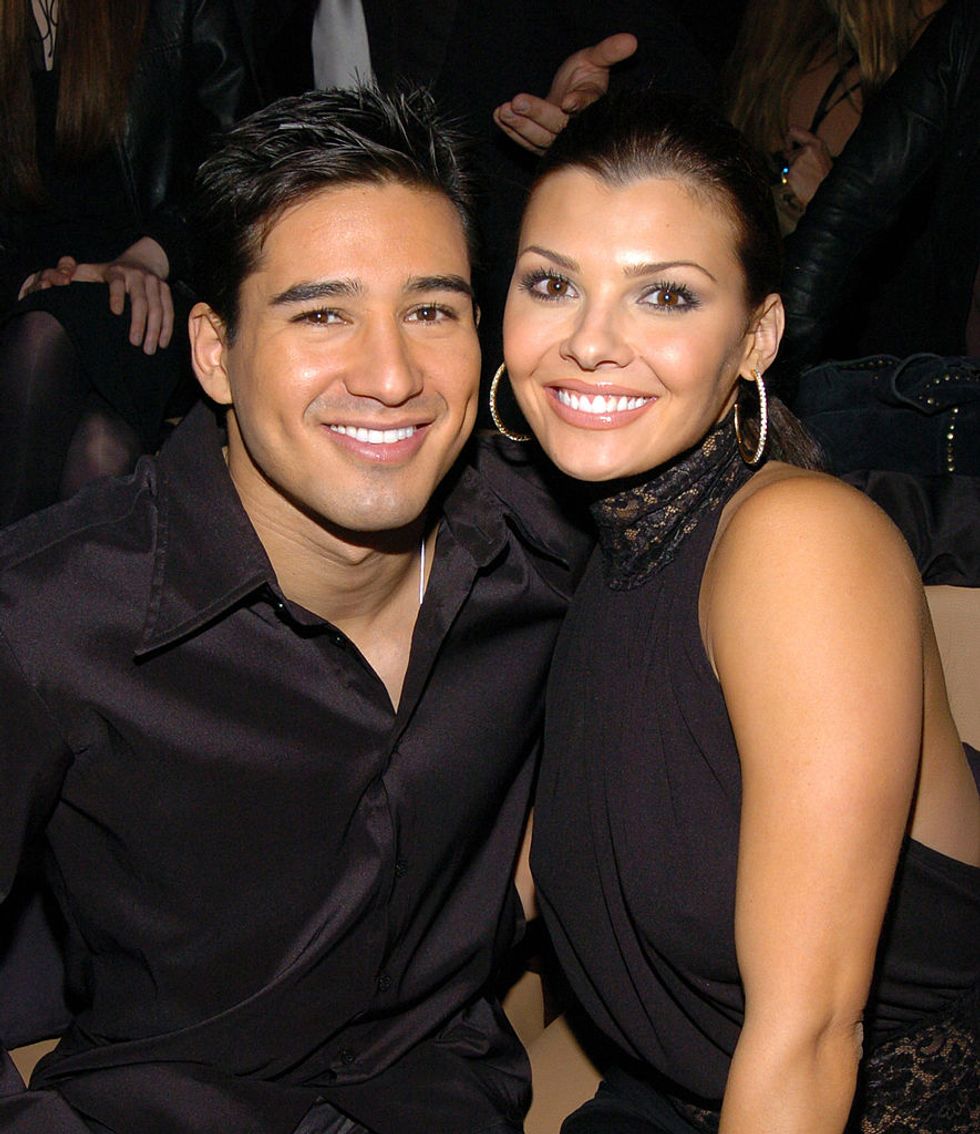 The
Saved By The Bell
star,
Mario Lopez
, had a very short-lived marriage to actress, Ali Landry. The marriage was annulled after only two weeks.
"I had heard something right before the wedding. [Mario] swore that it was not true, but I had that feeling in my gut."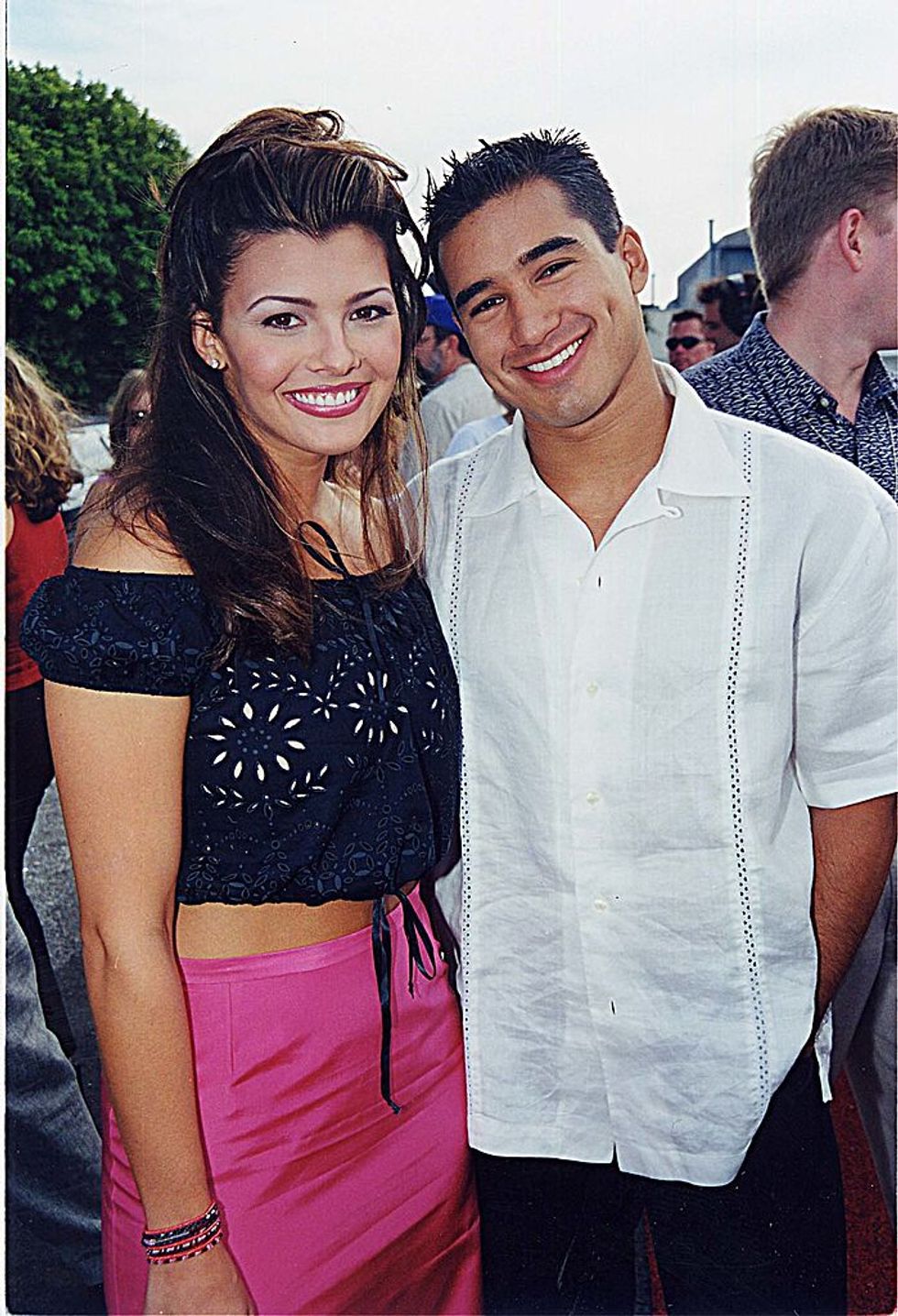 Speaking
to Wendy Williams, years later, Landry revealed what exactly went down. Apparently, the night before the wedding, in 2004, Landry was told by someone that Mario had cheated. He denied it and the marriage went ahead. With the trust between them broken, Landry tapped his phone on the honeymoon and "started getting phone calls from these girls." Ouch.
2. Dennis Hopper and Michelle Philips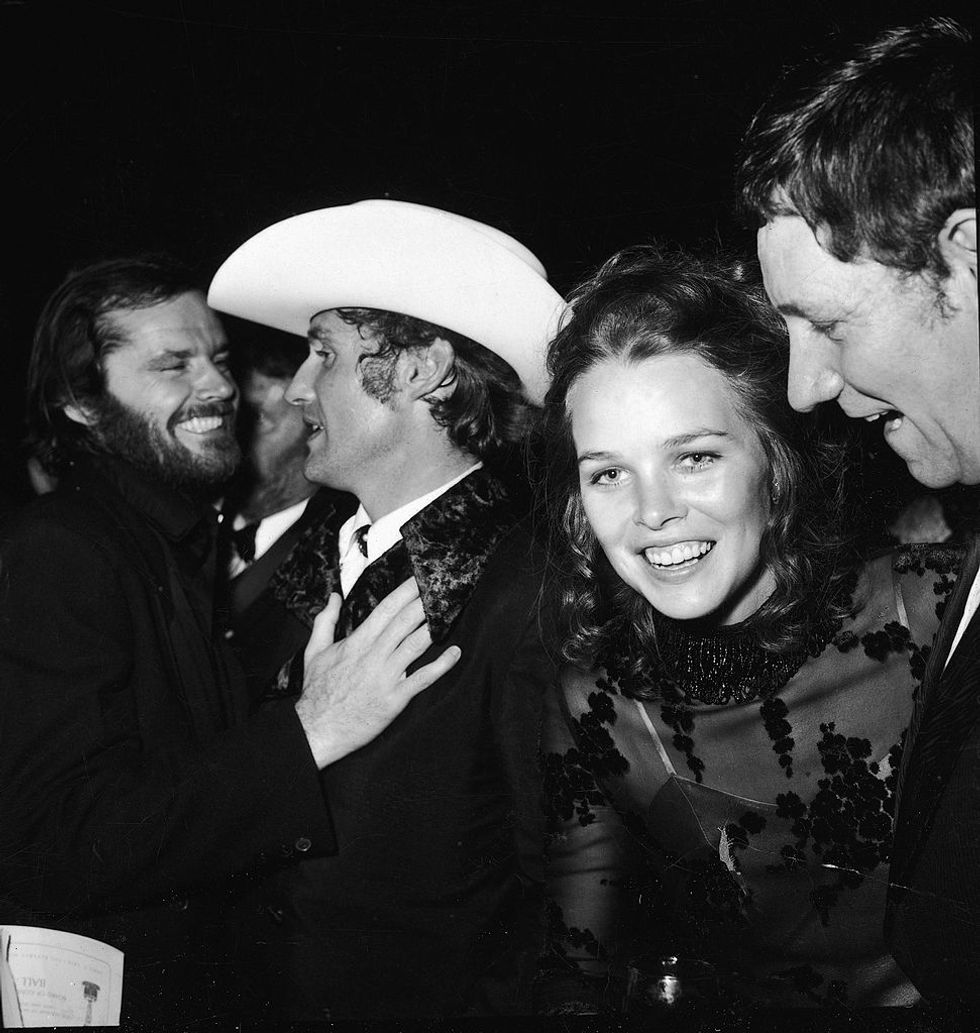 Now, this one is a bit of a throwback. In 1970, Wild West actor, Dennis Hopper, met Mamas and Papas singer, Michelle Phillips, when she came to visit his ranch. After a bit of a heavy night, the two decided, quite impulsively, to get married.
The next morning, Hopper reportedly did not recognize his wife.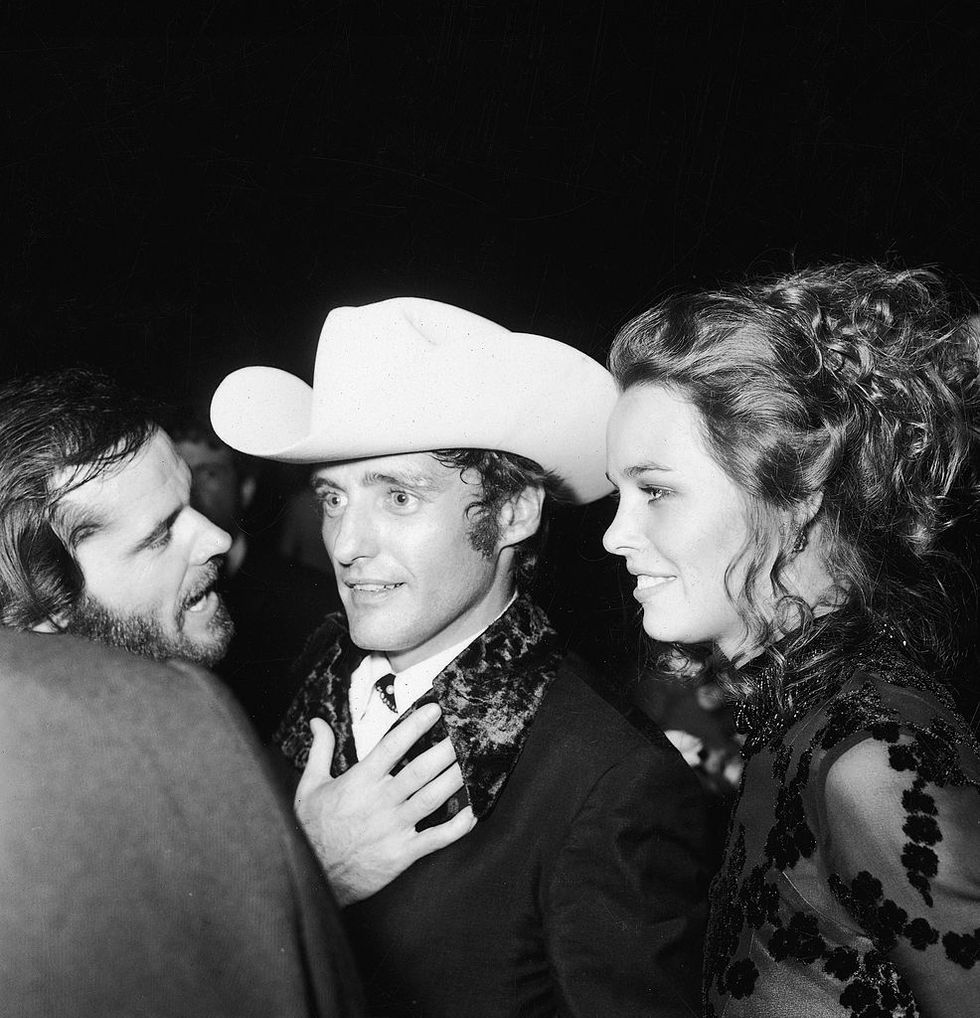 That's never a good sign, is it? The couple ended things eight days later and Phillips
cited
"unnatural sexual demands" as the reason for divorce. There's been plenty of rumors as to what this meant, but most widely circulated is a tale about handcuffs...
1. Britney Spears and Jason Alexander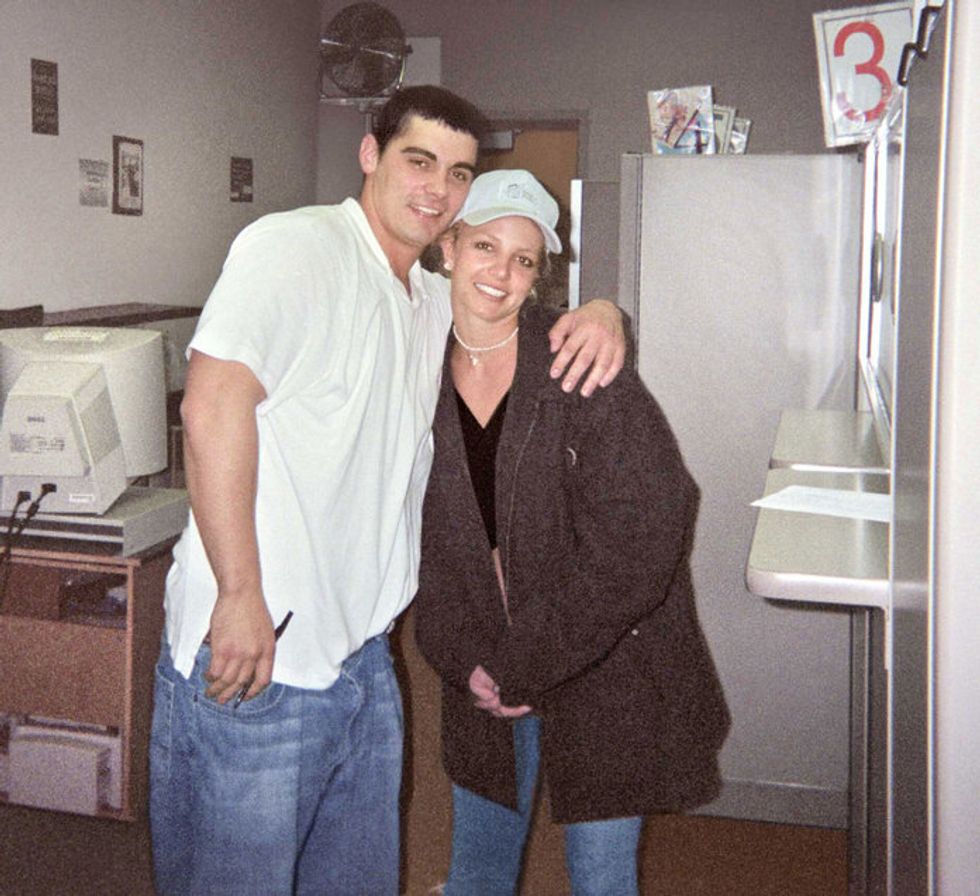 Top of the list and the shortest of all of the celebrity marriages that I unearthed goes to Britney Spears and her childhood friend, Jason Alexander.
The short-lived marriage lasted an impressive fifty-five hours.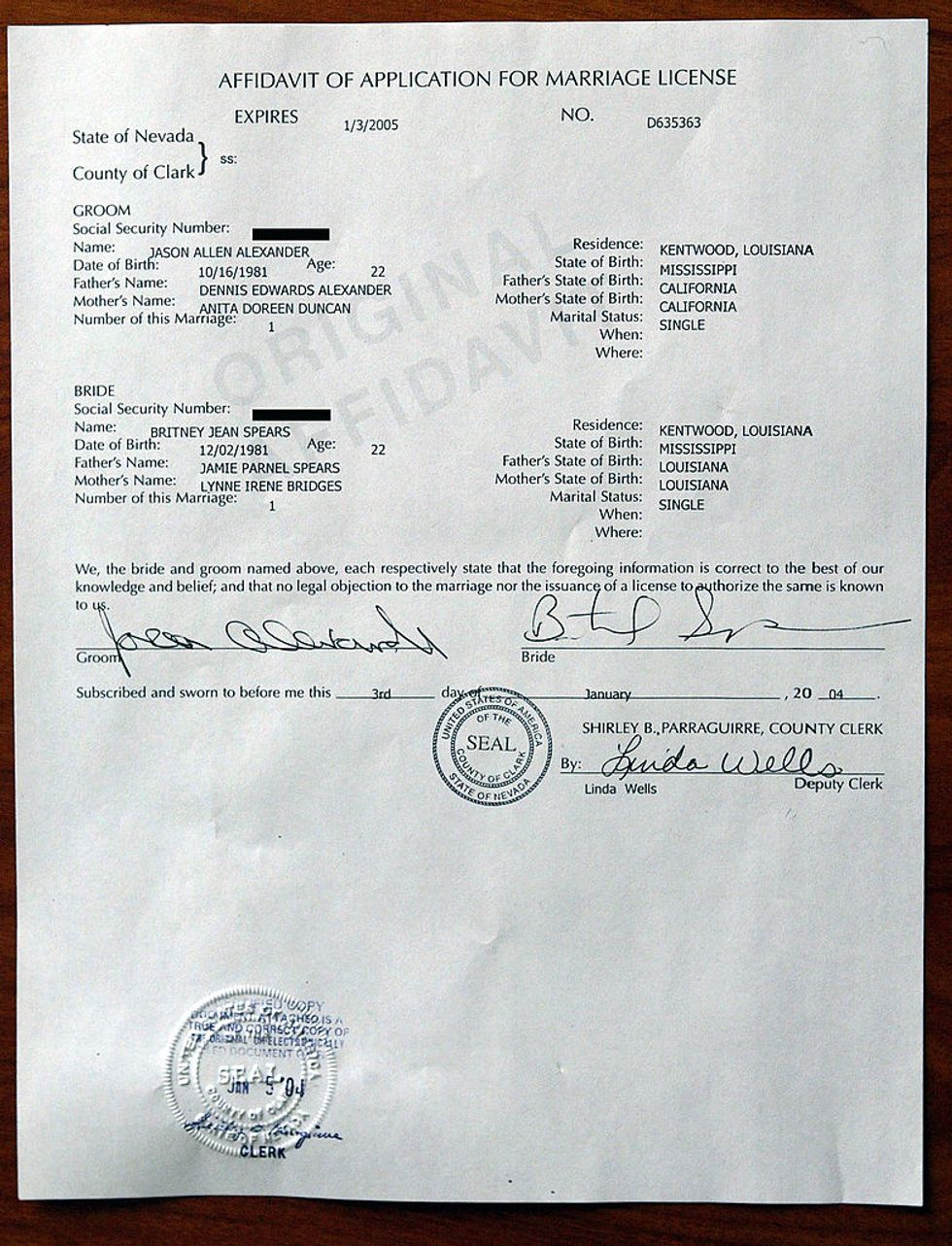 In classic Las Vegas-style, Britney wed her childhood friend, Jason, on New Years Day in 2004. Her family went mad when they found out as there was no prenup. They hastily had the marriage annulled - much to Mr. Alexander's disappointment, who claimed that he signed the annulment because he was a nice guy, but that the break-up hurt and that, in retrospect, he
considered:
"Nice guys finish last. Look out for yourself. If you are going to really get involved into a relationship with a celebrity and you are just an average Joe, make sure you are thinking business!" Well, you heard Jason Alexander, folks. Next time Nicholas Cage asks you for your hand in marriage, make sure that you don't sign a prenup!