Ugh, the internet is the worst sometimes. Simone Biles, gold medal winning gymnast, New York Times bestselling author, and all around national treasure posted a photo of herself doing something pretty cool this week: Cheerleading!
According to her Instagram, the gymnast seems to have taken up a new hobby and good for her! It's not like she wasn't already doing enough, but hey, sometimes you just need a change.
But of course, because we can't have nice things, some people on the internet found means things to say about her cheerleading pics.
Simone Biles competed in the 2016 Rio Olympics.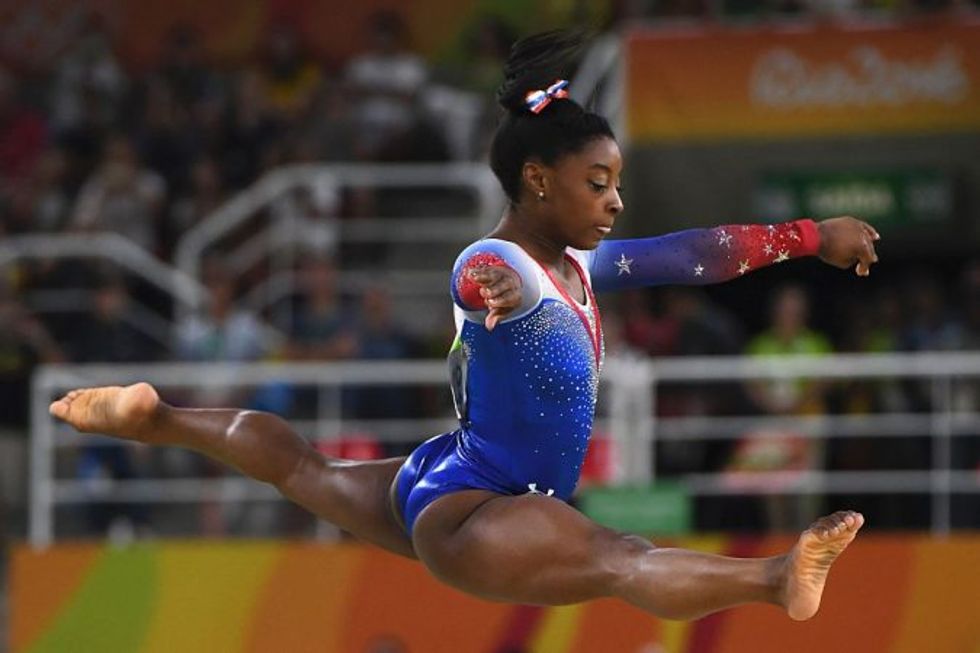 via: Getty Images
At just 4 foot 8 inches, small-but-fierce Simone Biles was the most decorated member of the 2016 women's gymnastic team. She won a gold medal in the
individual all-around, vault and floor events. She's basically amazing.
Along with Gabby Douglas, Laurie Hernandez, Madison Kocian and Aly Raisman Biles was part of the Olympic gymnastic team known as the "Final five."
Together, the team won the gold medal. Individually, Biles set a record for most gold medals earned in a single Olympics by a gymnast. No big deal but she won four gold medals.
She also competed on Dancing with the Stars.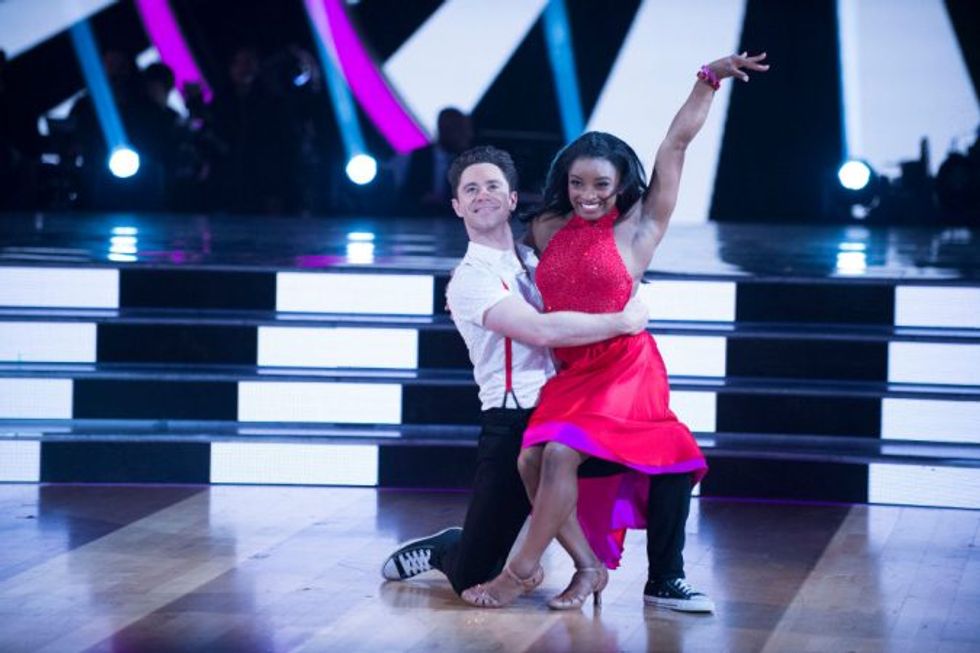 via: Getty Images
In 2017 she competed on the TV show and won 4th place!
What can't Simone do? Basically nothing, she's a superstar.
She also wrote a book.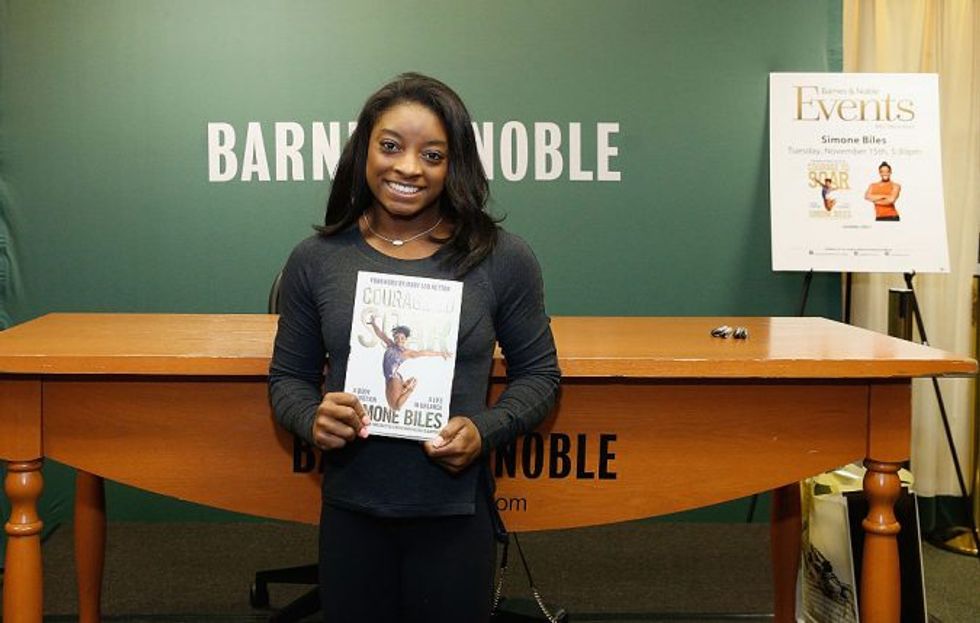 via: Getty Images
Her memoir Courage to Soar: A Body in Motion, A Life in Balance is a New York Times Best Seller. Seriously, there is nothing this woman can't do.
This week she posted on Instagram that she was trying something new.
Cheerleading! Why not? It's kind of like gymnastics but with more pom poms and enthusiastic smiling. Plus easier access to stadium nachos.
Biles cheered with the Houston Texans cheerleaders this week.
She's adorable and wow look at that six pack! Someone get us her workout routine. (Just kidding, we know it's "being an Olympic gymnast" and that sounds hard.)
But some people had a problem with her look.
People started commenting that her hair looked bad. Which is ridiculous because she's at cheerleading practice! Presumably she is sweating, jumping up and down, and throwing her head around. All things that will for sure mess up your hair.
One person in particular tweeted "you need some black friends."
Implying that someone needed to help her do her hair so it looked better. The tweet got over 48,000 likes. Rude. Maybe she didn't have her hair done because she was busy doing LITERALLY EVERYTHING. 
Biles responded with the perfect clap back.
I have 1 question to everyone commenting about my hair when I genuinely look happy in the photo.. Do you look perf… https://t.co/EmPNfwG681

— Simone Biles (@Simone Biles)1513048493.0
She looks happy and like she's having fun. So what if her hair isn't 100% photoshoot ready?
Really, it's nobody business how Biles' hair looks but hers.
She is a freaking Olympic gold medalist, she might have other priorities than having styled hair.
Plus she had just gotten out of a 4 hour practice!
@ThatsSymphoni just came straight from a 4 hour practice w/ my hair in a bun🤪 excuse my hair ... hahah

— Simone Biles (@Simone Biles)1512953286.0
FOUR HOURS of cheerleading practice. It's amazing she can even smile!
Social media makes us feel like we have to look perfect all the time.
You're basically supposed to look like a model who just left a weeklong spa vacation pretty much 100% of the time. It's too much pressure! And not real life.
Luckily Simone's fans backed her up.
@Simone_Biles You won a gold medal. You set an Olympic record. You fill us with pride. And your hair looks GREAT. #endofstory

— Jennifer Neal (She/Her 🏳️‍🌈) (@Jennifer Neal (She/Her 🏳️‍🌈))1513082052.0
People were not having the trash-talk.
And look how cute her hair looked a mere 24 hours later.
Simone Biles is a GEM. She really can do it all!