In October last year, Sinead O'Connor made headlines when she announced that she had converted to Islam.
The Irish singer-songwriter swiftly changed her name to Shuhada Davitt following her shock conversion and has since dedicated her Twitter account to preaching the teachings of her newly-founded faith.
However, she sparked outrage last November when she stated that she "never wants to spend time with white people again," and branded all white people as "disgusting." Her racist attack didn't go unnoticed and many people condemned the singer for her unjust words.
But now, nearly a year on from her hate-filled Twitter rant, Sinead has publicly apologized for what she said and has now given a full explanation for her bizarre outburst.
Sinead O'Connor suddenly converted to Islam last October.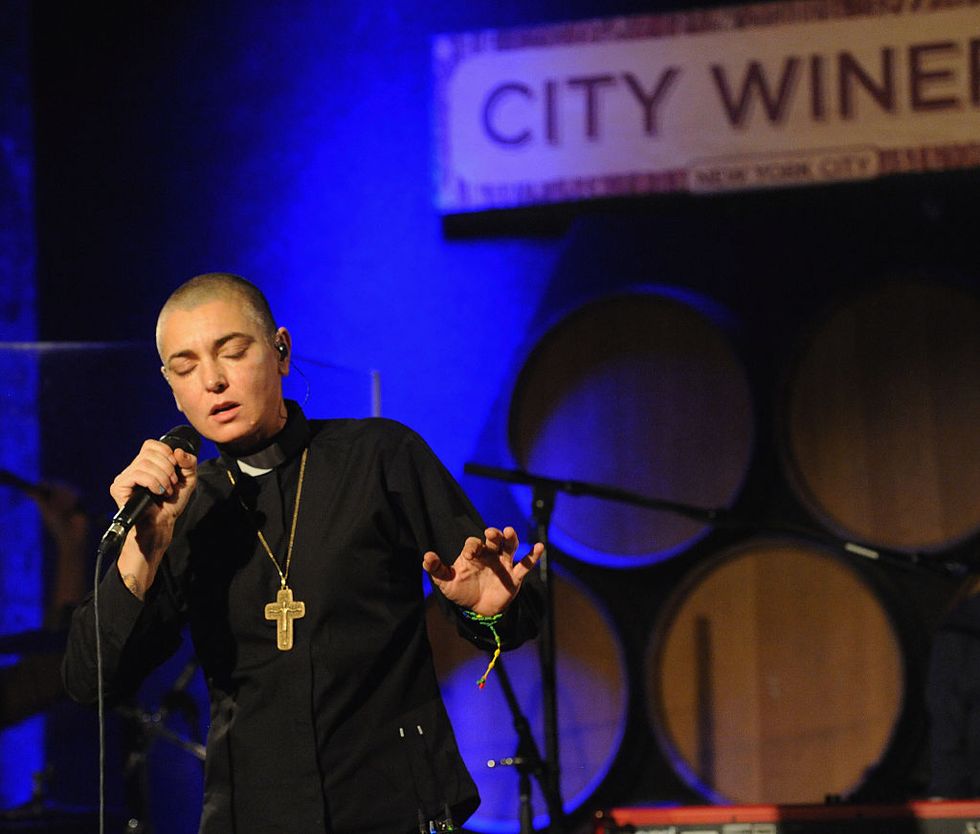 via: Getty
The Irish musician, who is best known for the song, "Nothing Compares 2U
,"
shocked the world when she announced that she had joined the Islamic faith.
The singer has famously battled with mental health issues for years.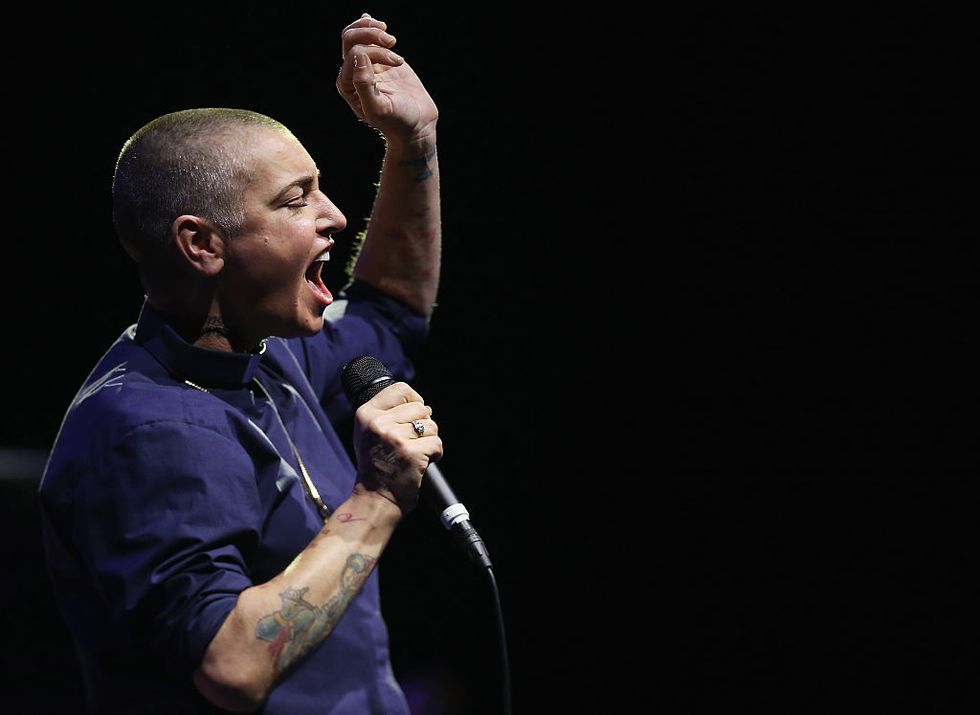 via: Getty
And she has been open about her turbulent childhood, which she claims involved a lot of physical and sexual abuse from her mother, who died in a car crash when Sinead was only nineteen.
And she worried many fans back in 2017...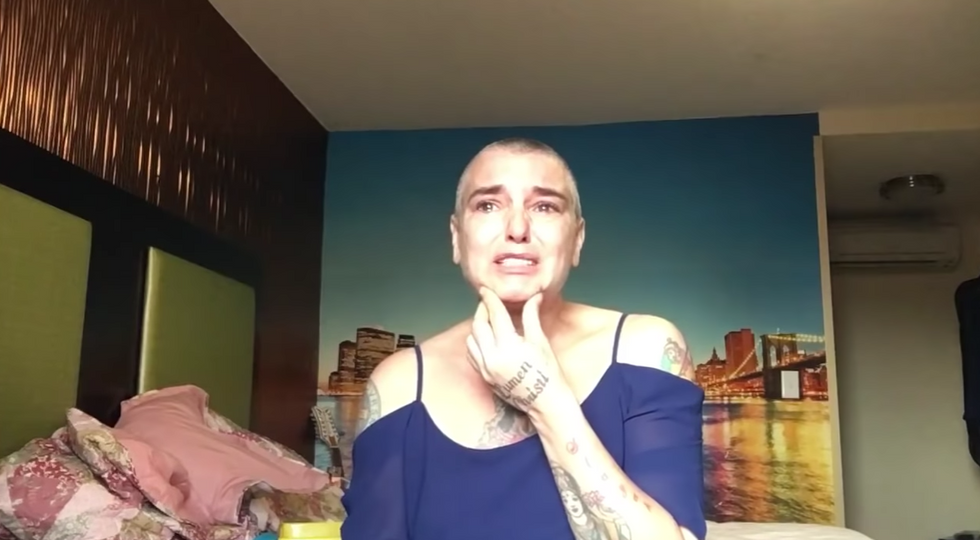 via: Youtube
When she posted an unsettling video to her Facebook page, in which the emotionally shaken singer spoke about her ongoing battle with
mental illness
.
She has admitted to attempting suicide on several different occasions.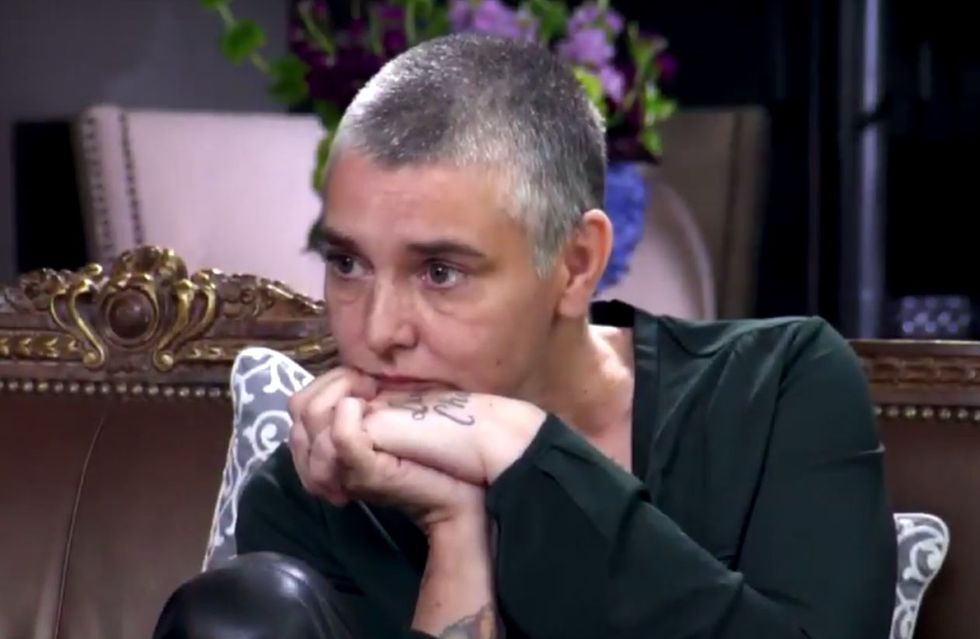 A few months following on from her Facebook video, Sinead sat down on the
Dr. Phil 
show for a personal interview, because she was "fed up of being defined as the crazy person." During the appearance, O'Connor spoke frankly about struggling with imposter syndrome during her early success, being a victim of childhood abuse, and her multiple suicide attempts. When Dr. Phil asked if she had really tried to kill herself 8 times in 1 year, she simply nodded silently.
But now, she seems to have found her solace in the Islamic faith.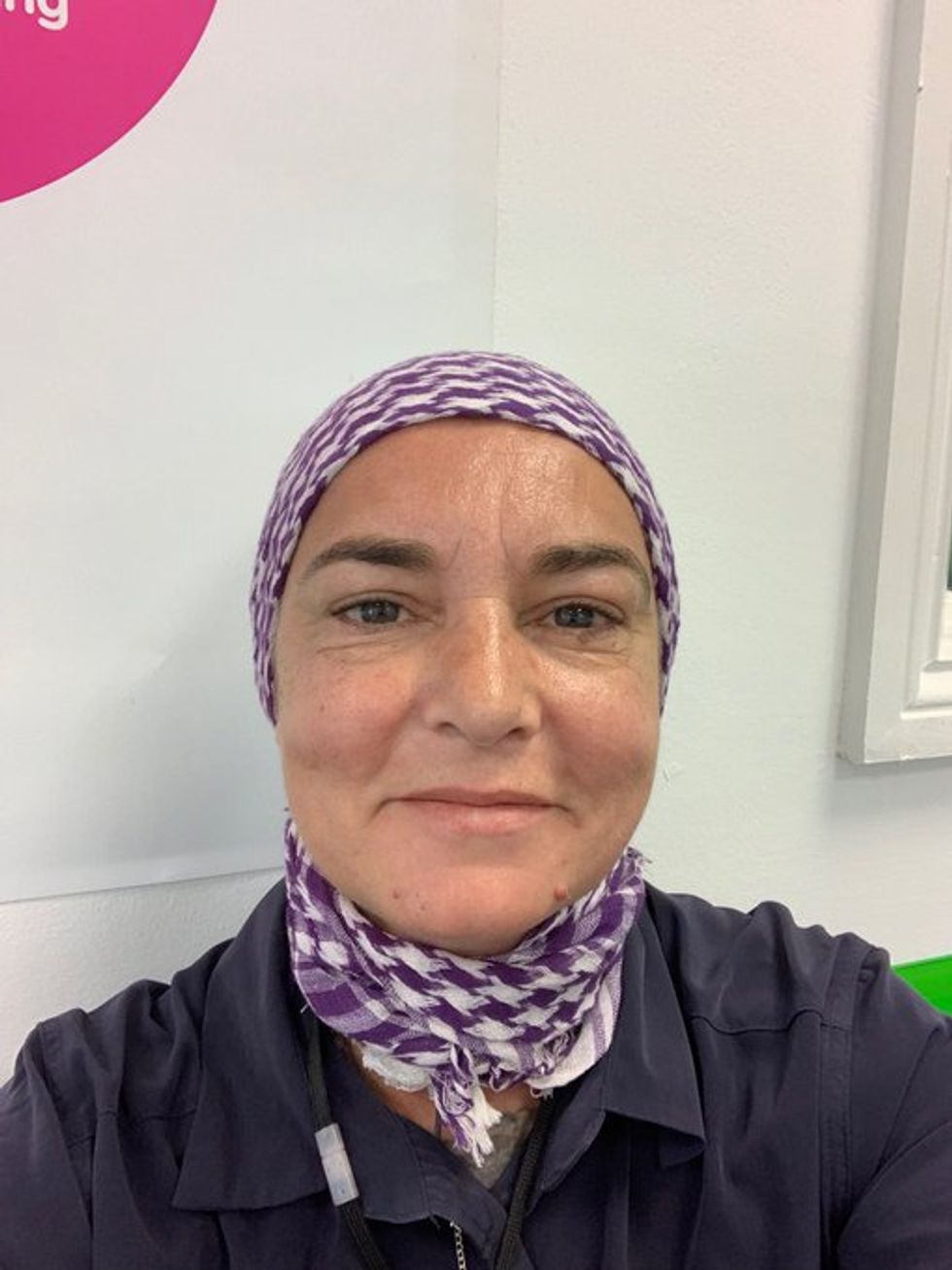 After converting to the faith, she gave her first interview to Eddie Redzovic, the American YouTube star and Muslim convert who hosts a weekly interview show. When asked why she picked up the religion, Sinead replied, "I felt that I didn't want to as it was a private decision, and… I didn't want to justify it to people. I felt like I don't have to explain why I became a
Muslim
…I feel passionately about Islam and passionate about defending it against stigma."
She insists that she has always been a Muslim.
World renowned singer Shuhada Davitt @MagdaDavitt77 (#SineadOConnor) has proclaimed the #Shahadah with me in… https://t.co/T2E3TrrJHm

— Shaykh Dr Umar Al-Qadri (@Shaykh Dr Umar Al-Qadri)1540497869.0
She just didn't know it until now. And she stands by the belief that she didn't convert, she
reverted
. "Revert is the right word. I was always, always a Muslim and I didn't even know it."
She is now relishing in her new-found faith.
And regularly posts videos and selfies on her Twitter page, where she has evidently ditched pop music to practice her Arabic.
However, Sinead was Catholic for many years.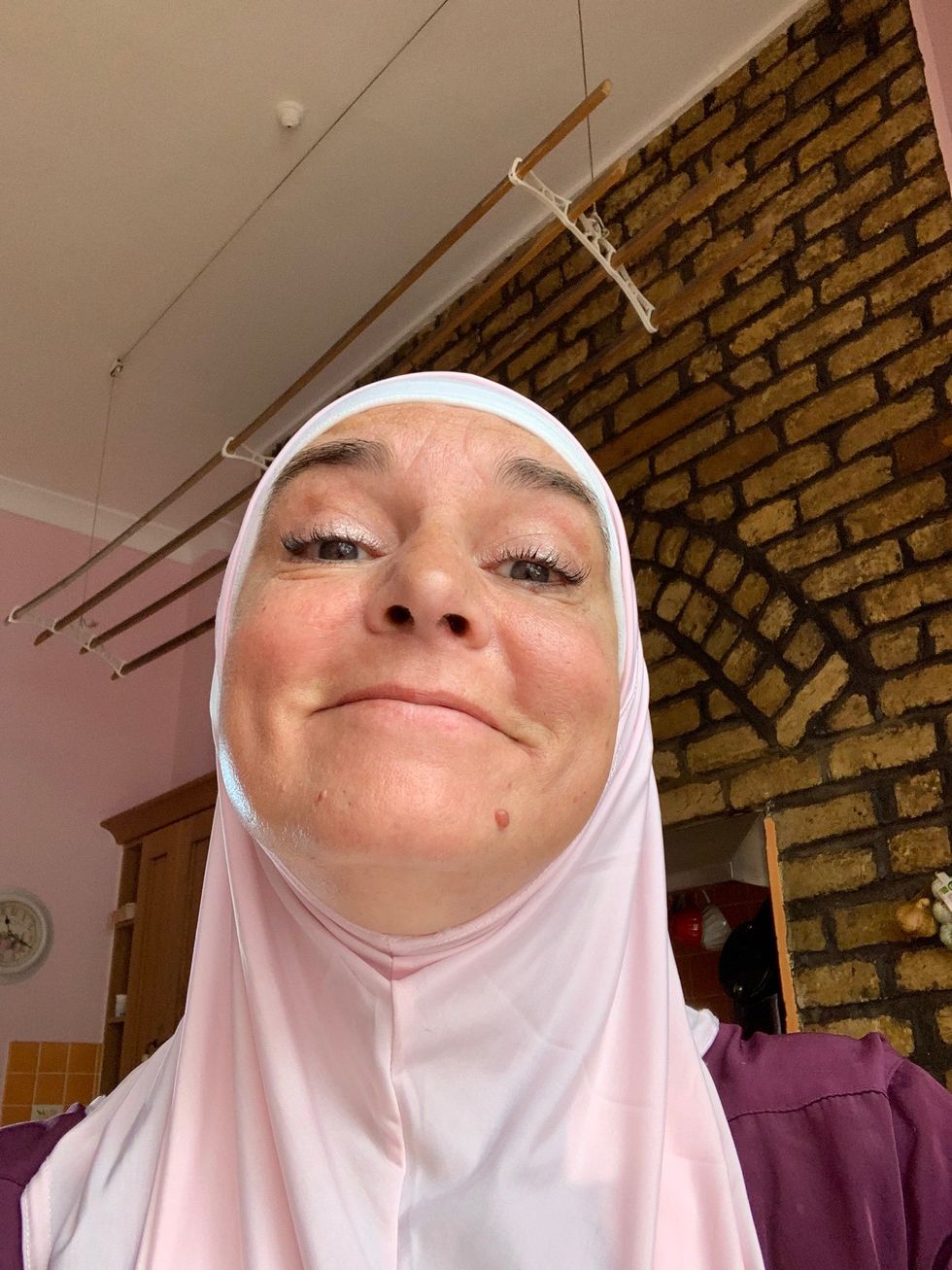 But she wanted no part of it after all of the sexual abuse scandals came out. She even credits that for her decision to revert to Islam, and insists that more and more Irish Catholics are turning to the faith as she did: "That's why people like me are reverting. We can see completely and utterly through it because of what's happened in our own church, the scandals…everything that people have been discovering. The lies, the horrible smell of oppression of the most vulnerable."
Sinead had previously spoken out against the Catholic faith amidst sexual abuse claims against the church.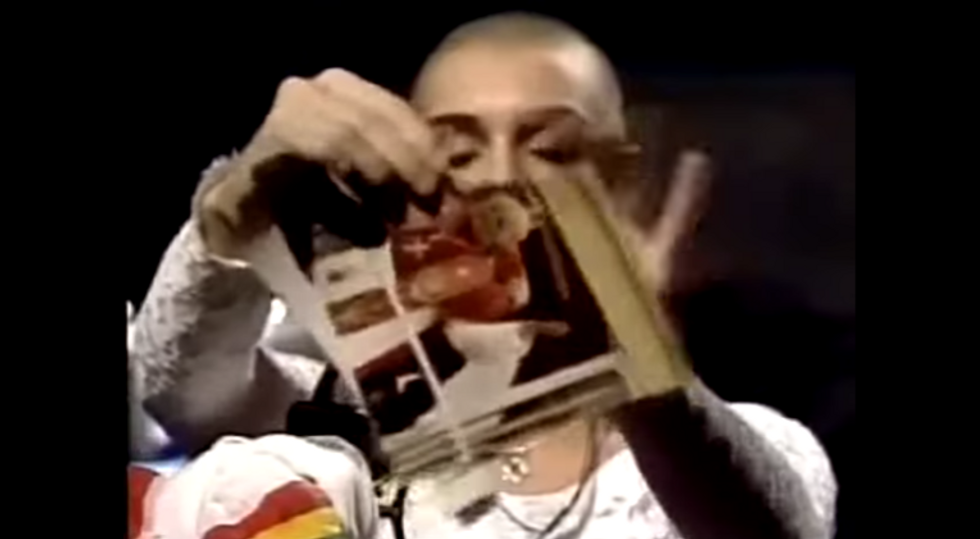 Sinead was ordained as a priest by the Irish Orthodox Catholic and Apostolic Church in the late 1990s and practiced Christianity for years. However, in 1992, she famously ripped up a picture of Pope John Paul II and said "fight the real enemy" during a performance on
Saturday Night Live
, in protest of sexual abuse in the Catholic Church.
Though she has admitted that she never imagined that she would join another religion.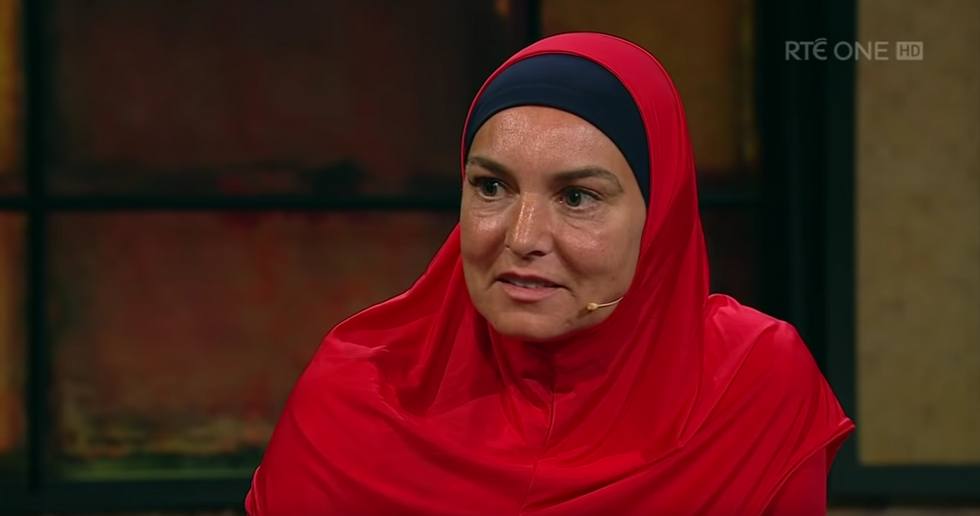 via: Youtube
And she spoke about initially having a prejudice against the faith. Talking about discovering Islam during her recent
Late Late Show
appearance, Sinead said: "I never thought I'd join another religion. I left Islam till last as I had so much prejudice about Islam, you know."
She spent the interview passionately discussing her newly-founded faith.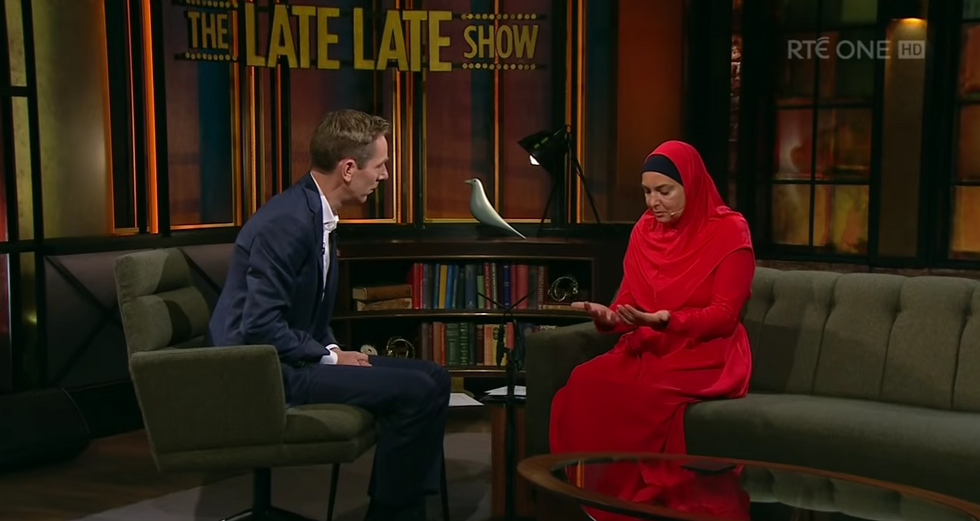 via: Youtube
"I read chapter two of the Qu'ran and I realized I'm home, and that I've been a Muslim all my life. There's a way of thinking. You can be a Muslim without actually being a Muslim as it's a headset." "A Muslim is someone who believes nothing should be worshipped except God."
But she had a major apology to make.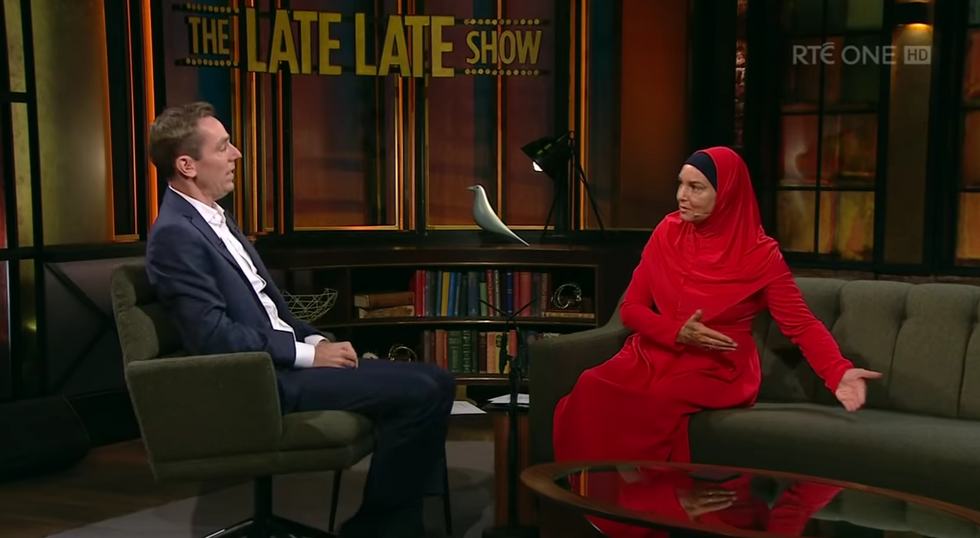 via: Youtube
You will probably remember, but last October, Sinead sparked outrage with some highly problematic tweets aimed at white people and "non-muslims."
She randomly launched an attack on all non-Muslims.
Where she announced that she didn't want to spend time with white people again, going on to brand them all as "disgusting".
She followed up her angry outburst with a Trump reference...
Interesting to see if Twitter bans this when it allows people like Trump and Milbank spew the satanic filth upon ev… https://t.co/1E6lfJ5qKr

— Sinead O'Connor (AKA Shuhada Sadaqat) (@Sinead O'Connor (AKA Shuhada Sadaqat))1541498672.0
And hinted that President Trump could have had something to do with her angry rant.
And she signed off with a sarcastic apology...
Forgive me. Sometimes the Lord needs dirty workers ; ) #NotAsFuckinCrazyAsSheLooks ; ) #TrustMeIAMaSoldier

— Sinead O'Connor (AKA Shuhada Sadaqat) (@Sinead O'Connor (AKA Shuhada Sadaqat))1541499128.0
Stating that "sometimes the Lord needs dirty workers" with a winking face.
People were quite understandably confused by her words.
@MagdaDavitt77 You may want to sit down. I have some really bad news. It may come as a shock but I'll try to break… https://t.co/yKRWBghGxI

— Redlion (@Redlion)1541964056.0
Because, despite her religion, Sinead is white. There is no other way around it.
And other people pointed out how her blatant racism goes against the Muslim faith.
@MagdaDavitt77 Miss Shuhada . Non muslim doesn't mean only white people. There is a lot non-muslim from other races… https://t.co/lpwpKM1AsZ

— lady syafinaz 🐯🇲🇾🌺 (@lady syafinaz 🐯🇲🇾🌺)1541587780.0
And reminded her how Islam teaches respect and love for all religions and races.
And, now, nearly a year on from her Twitter explosion, Sinead has apologized.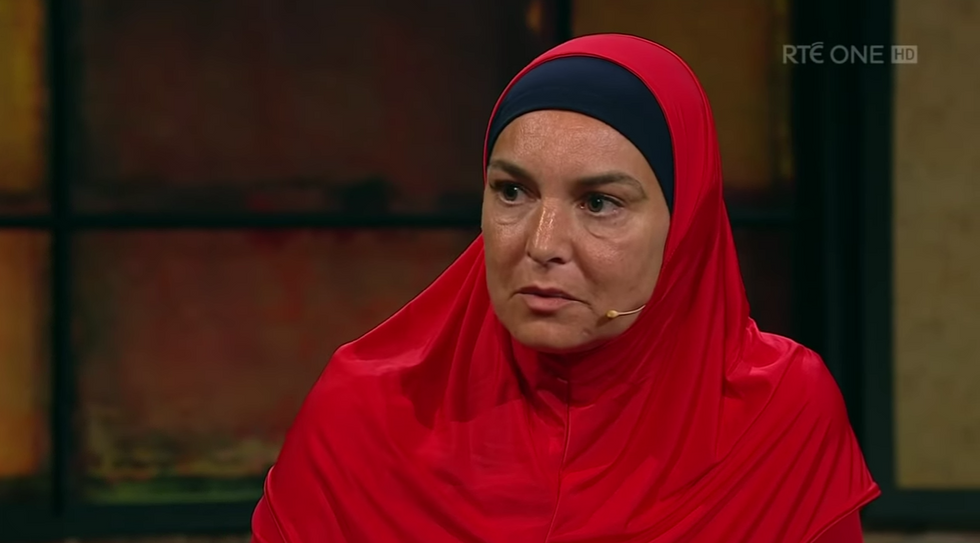 The singer took to Twitter (again) to apologize for her words of hurt.
She insists that she was unwell at the time of her tweets.
As regards to remarks I made while angry and unwell, about white people... they were not true at the time and they… https://t.co/qfbx7baYBC

— Sinead O'Connor (AKA Shuhada Sadaqat) (@Sinead O'Connor (AKA Shuhada Sadaqat))1567929715.0
"As regards to remarks I made while angry and unwell, about white people… they were not true at the time and they are not true now,' she wrote on Twitter on Sunday morning. 'I was triggered as a result of islamophobia dumped on me. I apologize for hurt caused. That was one of many crazy tweets Lord knows."
And her fans have rallied to support her.
@MagdaDavitt77 God bless you. Many of us have reacted in anger and pain to how we have been treated and regret it.… https://t.co/lqL2kuj7IH

— Dr. Ingrid Mattson (@Dr. Ingrid Mattson)1567966160.0
One supporter wrote: "You were unwell. All is forgiven and you are still loved." Another echoed those same sentiments as they replied: "Good to see you back on track. We all struggle! Keep on singing x." Sinead has been through a lot and it's great to see that she is finding peace in her new-found religion... angry twitter outbursts or not.