Snoop Dogg - We love you, but there's certainly a time and a place for you.
We've all kicked back and listened to a bit of Snoop every now and again, whether it be at a friend's house or on a particularly dirty night out. However, if there's one place that isn't quite fitting for Snoop and his antics, it's a family-friendly college basketball match.
Well, the University of Kansas clearly missed this memo, as they hired Snoop to perform at their thirty-fifth annual Late Night event. And, in classic Snoop fashion, the performance was an eye-opener, with pole dancers, money guns, and explicit lyrics galore.
The University has since been forced to issue an apology for the raunchy performance, which left many parents and youngsters offended.
Keep scrolling to read the full story, and to see Snoop's inappropriate, yet amazing show.
Anyone who is anyone knows who Snoop Dogg is.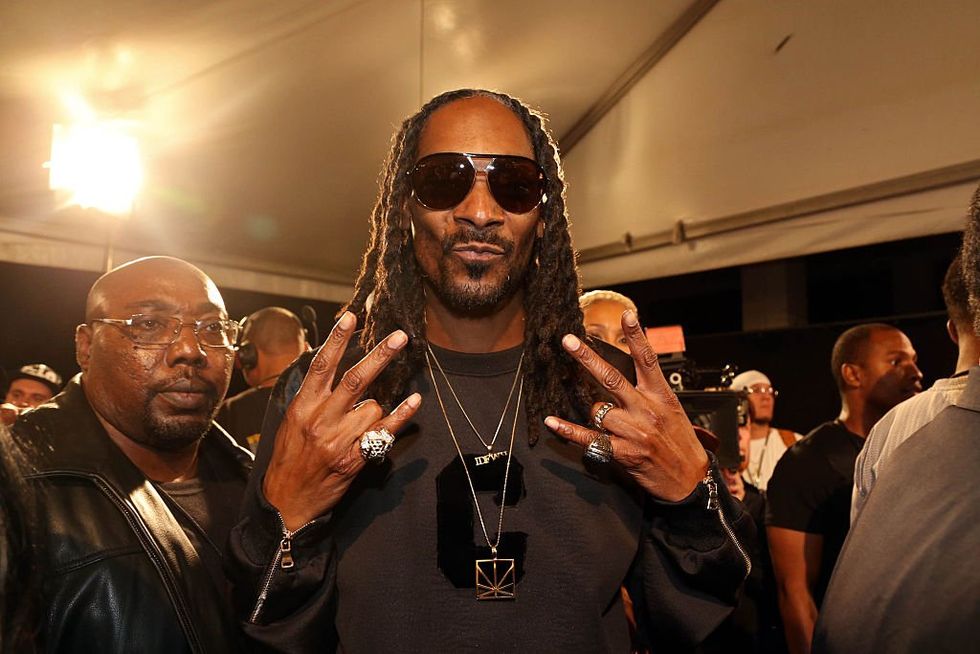 via: Getty
The California-born rapper and songwriter rose to fame as one of the best-known figures in gangsta rap in the 1990s and was, for many, the epitome of West Coast hip-hop culture.
And, believe it or not...
Snoop isn't his real name. Would you believe it?! The rapper was actually born as Cordozar Calvin Broadus Jr. on October 20, 1971. It is thought that his "Snoop Dogg" nickname came from his mother because she thought he looked like Snoopy from the Peanuts cartoon. Throughout the years, he has been known as "Snoop Doggy Dogg" and "Snoop Lion."
He was first put on the map after Dr. Dre discovered the budding young musician.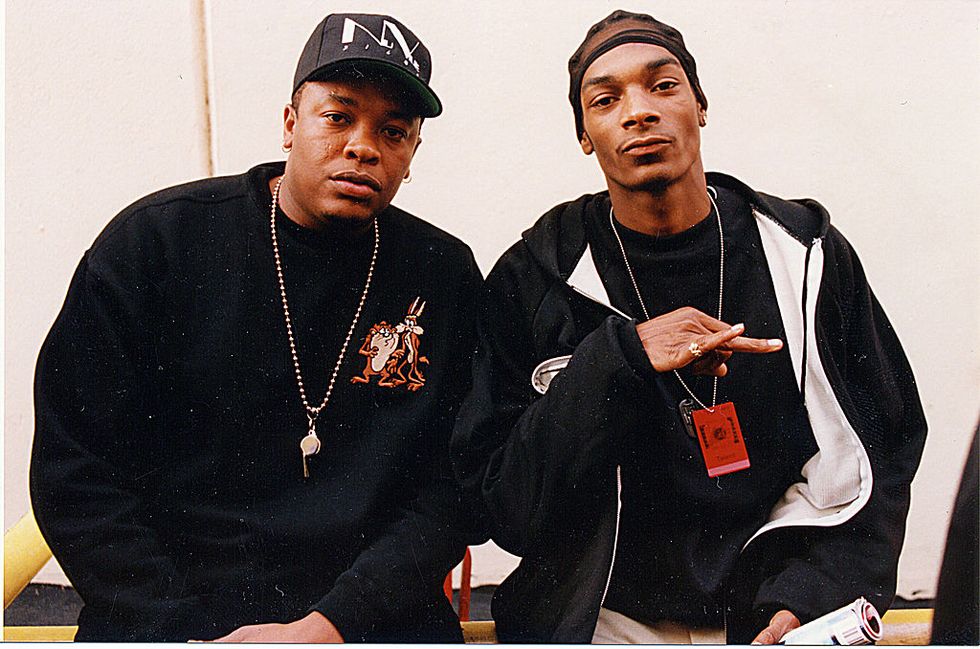 He first came to the attention of producer-rapper Dr. Dre, who featured him on his single
Deep Cover
and on his landmark album "The Chronic" in 1992. Snoop's prominent vocals on the hit singles
Dre Day
and
Nuthin' but a 'G' Thang
fueled his rapid ascent to stardom.
It was onwards and upwards from there.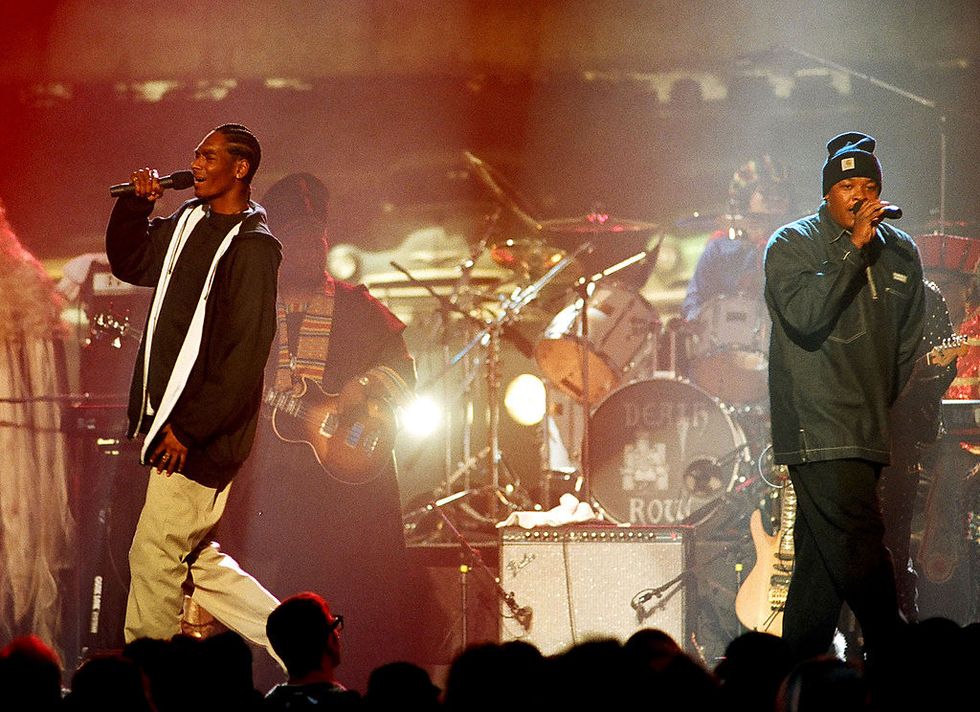 Snoop's first album, the Dre-produced "Doggystyle" in 1993, climbed its way to the No. 1 spot on Billboard's hip-hop and Top 200 charts, based in part on the success of the singles
Who Am I (What's My Name)?
 and
Gin and Juice.
Yet, despite all his success...
Snoop has never been a stranger to criticism.
Snoop's lyrics have often been slammed as sexist...
And many have branded the rapper as being offensive, misogynistic, and degrading towards women.
And he has been open about his past as a pimp...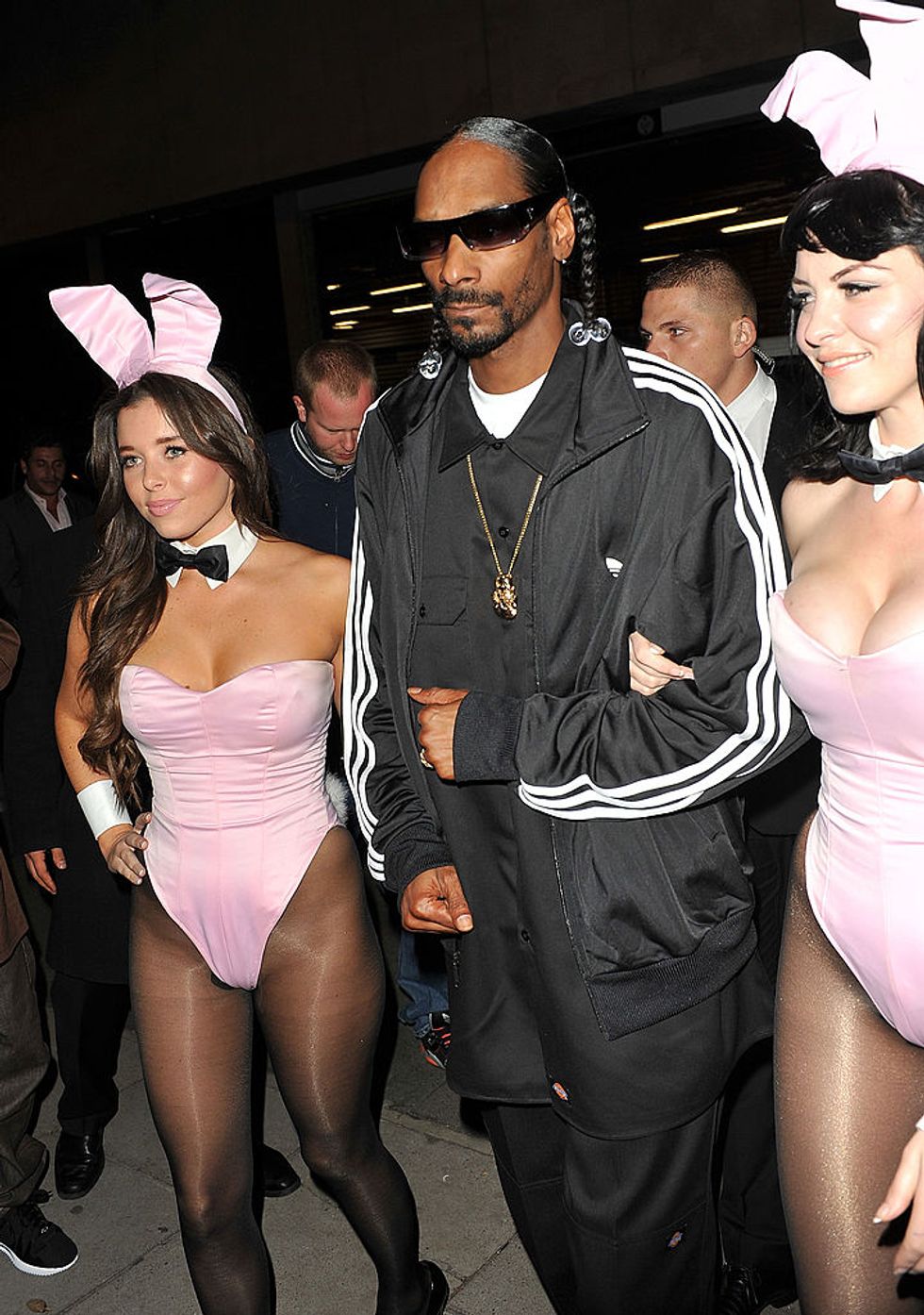 In May 2013, the rapper told
Rolling Stone
that he had been a pimp in the early days of his career. "As a kid, I dreamed of being a pimp, I dreamed of having cars and clothes and b*tches to match. I said, '**** it - I'm finna do it.' I put an organization together," he said. "I did a Playboy tour, and I had a bus follow me with ten b*tches on it. I could fire a bitch, **** a bitch, get a new ho: It was my program."
Oh, and he loves pot.
If it isn't his somewhat offensive music, Snoop is perhaps the most famous for his love of marijuana.
Snoop is a strong advocate for the green stuff...
To cut a long story short...
Snoop's drug and pimp oriented music doesn't make him the best contender for family-friendly events. Well, to most places it doesn't...
Because the University of Kansas obviously thought differently.
The university hired Snoop Dogg last week to perform at their thirty-fifth annual Late Night event, a pre-season college basketball celebration.
Over the years, this event has become a star-studded occasion.
And they regularly feature famous performers, with their
previous events including rappers
Tech N9ne, Lil 
Yaghty,
and 2 
Chainz
.
But it has always remained appropriate for all members of the family...
Snoop Dogg really out here in Kansas. 🤣🤣🤣 (via @mswain97) https://t.co/tmSrnO4S3i

— House of Highlights (@House of Highlights)1570249724.0
Until now. In the latest event, Snoop Dogg took to the basketball court to perform a thirty-five-minute long set to excited college students and their families.
However, it wasn't the most family-friendly performance...
Because, if there's one thing Snoop Dogg is known for, it's for his particularly un-family-friendly music.
His performance was a raunchy one...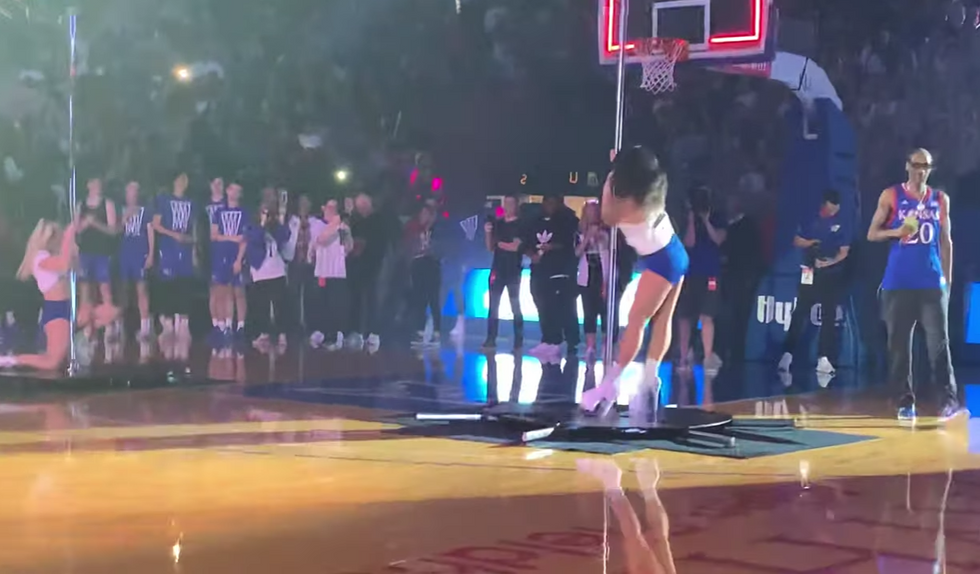 via: Youtube
Snoop, who took the court sporting a
blue No. 20 Kansas jersey, was joined by a number of pole dancers, all clad in skimpy hotpants and vests. He performed a number of his famous tracks... All unedited and very explicit, of course. 
There was even a money-gun, which fired fake dollar bills emblazoned with his face into the stunned crowd.
His performance fell short of the event's usual "family atmosphere."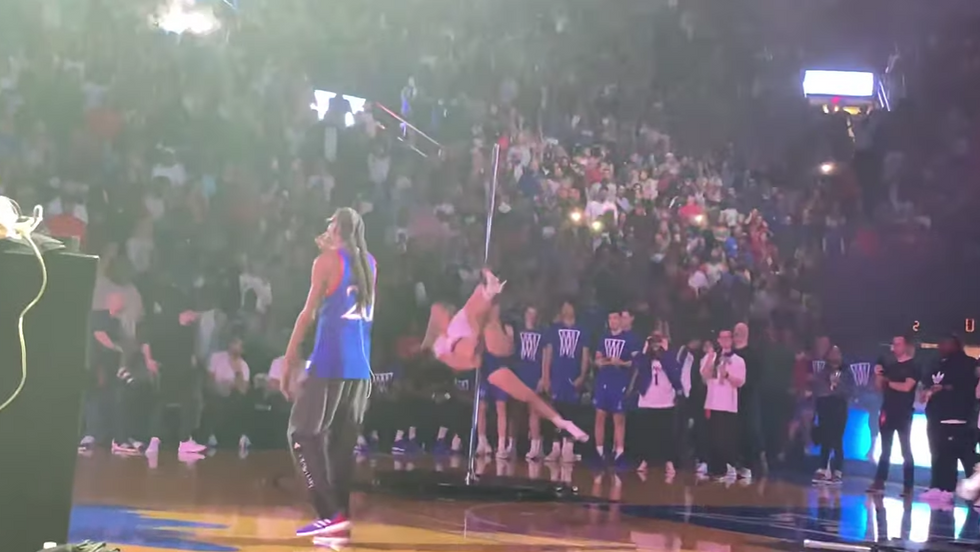 via: Youtube
And the university has insisted that they didn't plan for the show to take that kind of tone. Kansas University men's basketball coach, Bill Self spoke to reporters about what had happened.
He said, "I didn't know that there was going to be anything like that.
I was told this was radio-edited and everything else... But no, that's not the direction that anybody at our school would want that to go at all."
The university have now issued a formal apology.
It's actually happening. Snoop Dogg is actually at Allen Fieldhouse #kubball https://t.co/V76w7PyOLa

— 580 Sports Talk (@580 Sports Talk)1570240573.0
Jeff Long, the University of Kansas' Director of Athletics,
admitted that the event had not been properly vetted.
He said, "We apologize to anyone who was offended by the Snoop Dogg performance at Late Night.
We made it clear to the entertainers' managers that we expected a clean version of the show and took additional steps to communicate to our fans, including moving the artist to the final act of the evening, to ensure that no basketball activities would be missed if anyone did not want to stay for his show."
He has acknowledged his mistake.
@BentonASmith It seems like Kansas is promoting moral decline for their student-athletes. This is a major blow for… https://t.co/vKhs65aFJN

— Myron Guillory (@Myron Guillory)1570314566.0
And many people have noted that the carelessness of this decision will impact the future-athletes enrolled in the program.
Long continued: "I take full responsibility for not thoroughly vetting all the details of the performance and offer my personal apology to those who were offended.
We strive to create a family atmosphere at Kansas and fell short of that this evening."
People have found the whole thing laughable.
So Kansas paid Snoop Dogg 6 figures to perform and had no clue what kind of show he was going to do? https://t.co/CAabFX590j

— Carrington Harrison (@Carrington Harrison)1570245805.0
Because come on... What did they expect?!
And many chortled at Long's apology.
I'm dead at Kansas thinking they were booking Snoop Dogg for a clean, family-friendly show and dead at "acrobatic d… https://t.co/Mk53JsNALQ

— Eric Fawcett (@Eric Fawcett)1570249957.0
Especially when he described the pole dancers as "acrobatic dancers." You've got a lot of learning to do, Jeff...
Though some people aren't convinced.
As this Twitter user pointed out, he must have known what the show would entail. You can't sneak stripper poles into a basketball court very discreetly, after all.
Seriously...
Kansas: "Let's put on a Snoop Dogg concert!" Kansas: *Gets a Snoop Dogg Concert* Kansas: https://t.co/OhTh2rJuC2

— Joan Clayton Is a Villain (@Joan Clayton Is a Villain)1570295322.0
Even those who aren't fans of Snoop Dogg should have a general idea of what the rapper's all about.
Surely?
I'm just going to leave this one here...
Kansas more upset about paying Snoop Dogg for a performance than about voting for Donald Trump to be President

— Marcus H. Johnson (@Marcus H. Johnson)1570293761.0
This guy kind of has a point...
Though some defended the University's decision...
In defense of Kansas, Snoop Dogg just won a BET Award for GOSPEL. This was an honest mistake. They paid for Gospel… https://t.co/P95UHTVmbb

— Roy Wood Jr- Ex Jedi (@Roy Wood Jr- Ex Jedi)1570294440.0
Maybe they just wanted Gospel Snoop all this time?
You can watch his full performance here.
And you can decide for yourself whether it's inappropriate, or whether Snoop is acceptable in any scenario... Because come on, who doesn't love a bit of Snoop?! Keep scrolling to read more about Snoop Dogg, and about his recent, and heartbreaking family tragedy...