Snoop Dogg has evidently grown bored of sippin' on his gin and juice because, now, in a rather shocking career move, the rapper has delved into the world of fine wine...
Anyone who is anyone knows who Snoop Dogg is.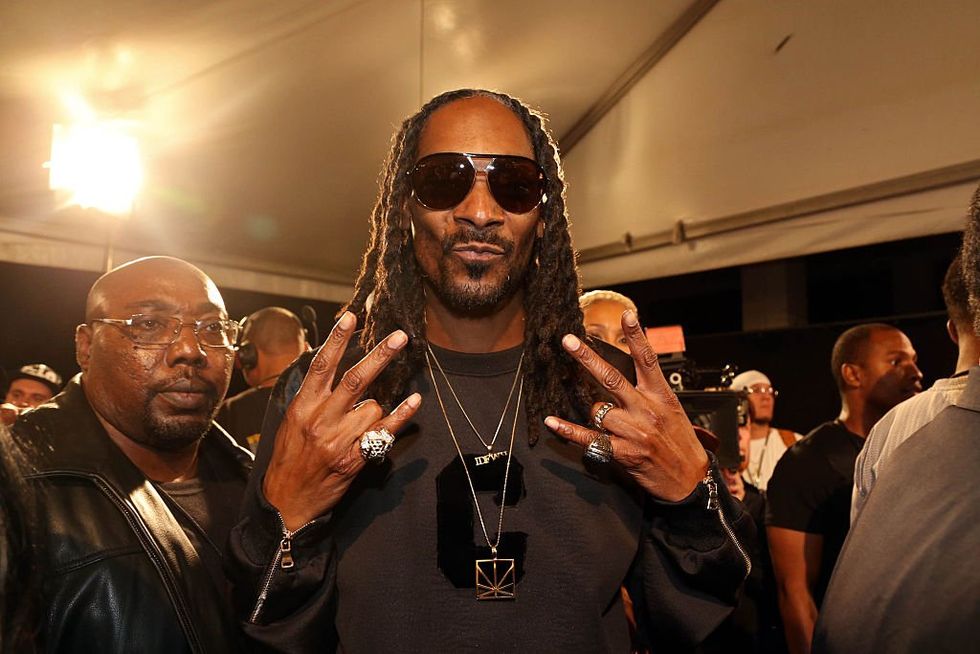 via: Getty
The California-born rapper and songwriter rose to fame as one of the best-known figures in gangsta rap in the 1990s and was, for many, the epitome of West Coast hip-hop culture.
And, believe it or not...
Snoop isn't his real name. Would you believe it?! The rapper was actually born as Cordozar Calvin Broadus Jr. on October 20, 1971. It is thought that his "Snoop Dogg" nickname came from his mother because she thought he looked like Snoopy from the Peanuts cartoon.
He was first put on the map after Dr. Dre discovered the budding young musician.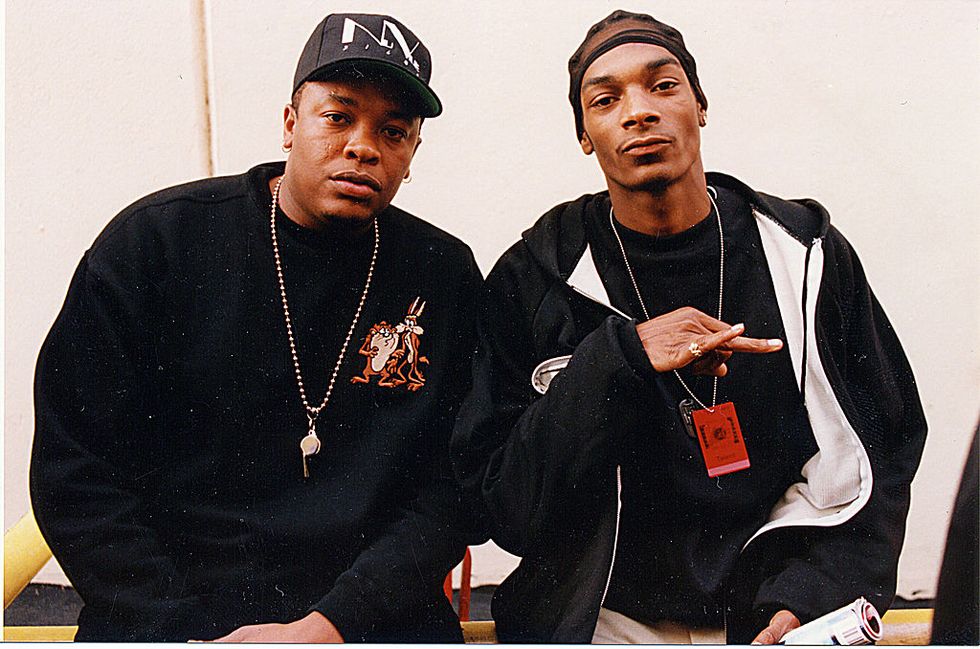 He first came to the attention of producer-rapper Dr. Dre, who featured him on his single
Deep Cover
and on his landmark album "The Chronic" in 1992. Snoop's prominent vocals on the hit singles
Dre Day
and
Nuthin' but a 'G' Thang
fueled his rapid ascent to stardom.
It was onwards and upwards from there.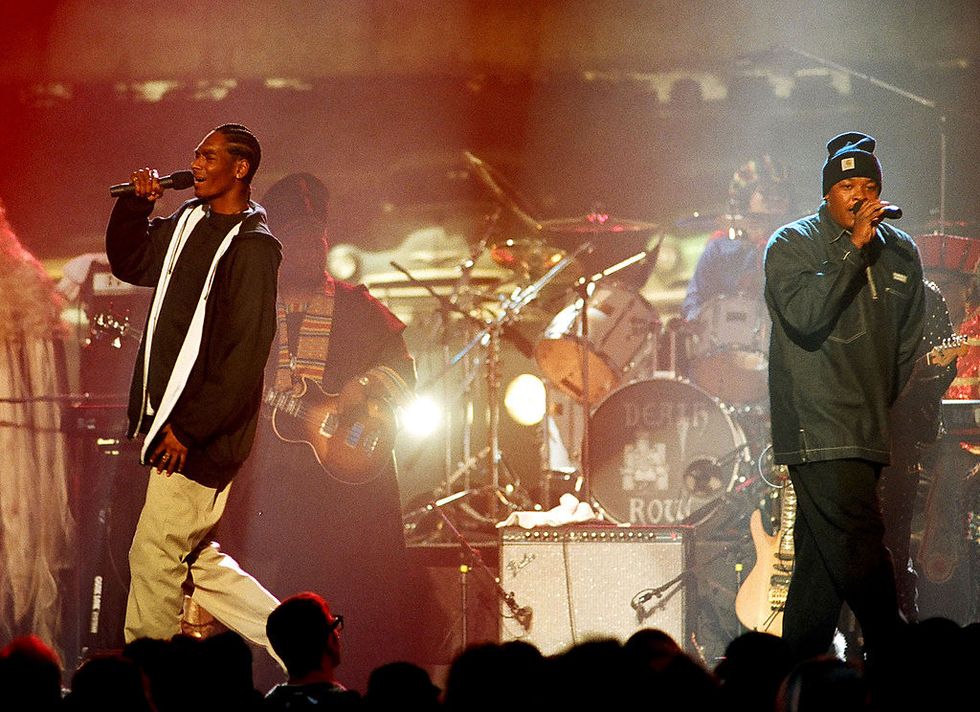 Snoop's first album, the Dre-produced "Doggystyle" in 1993, climbed its way to the No. 1 spot on Billboard's hip-hop and Top 200 charts, based in part on the success of the singles
Who Am I (What's My Name)?
 and
Gin and Juice.
Yet, despite all his success...
Snoop has never been a stranger to criticism.
Snoop's lyrics have often been slammed as sexist...
And many have branded the rapper as being offensive, misogynistic, and degrading towards women.
And he has been open about his past as a pimp...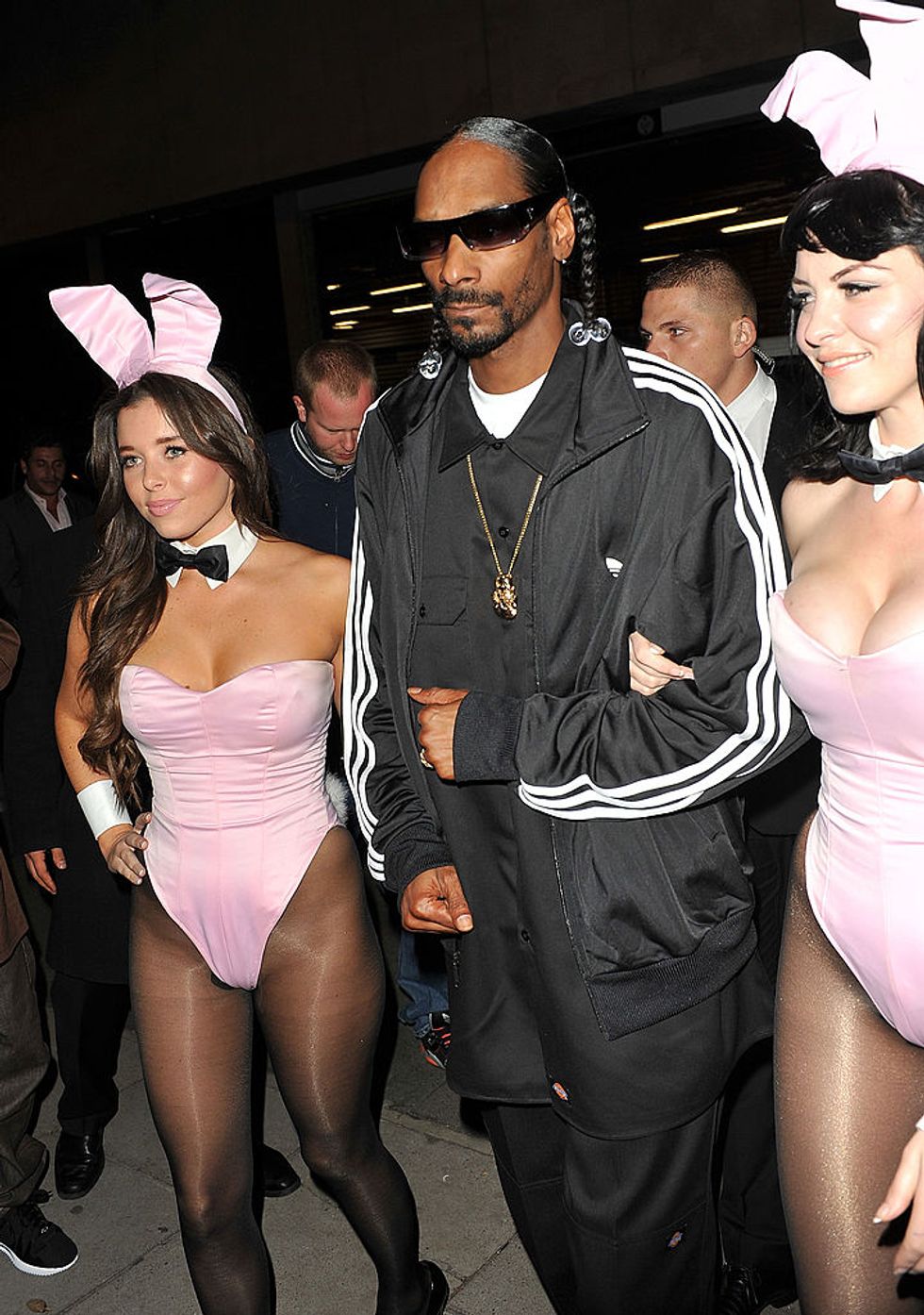 In May 2013, the rapper told
Rolling Stone
that he had been a pimp in the early days of his career. "As a kid, I dreamed of being a pimp, I dreamed of having cars and clothes and b*tches to match. I said, '**** it - I'm finna do it.' I put an organization together," he said. "I did a Playboy tour, and I had a bus follow me with ten b*tches on it. I could fire a b*tch, **** a b*tch, get a new ho: It was my program."
Oh, and he loves pot.
If it isn't his somewhat offensive music and controversial past with his treatment of women, Snoop is perhaps most famous for his love of marijuana.
Snoop is a strong advocate for the green stuff...
And, all this excessive pot smoking must have given Snoop the serious munchies...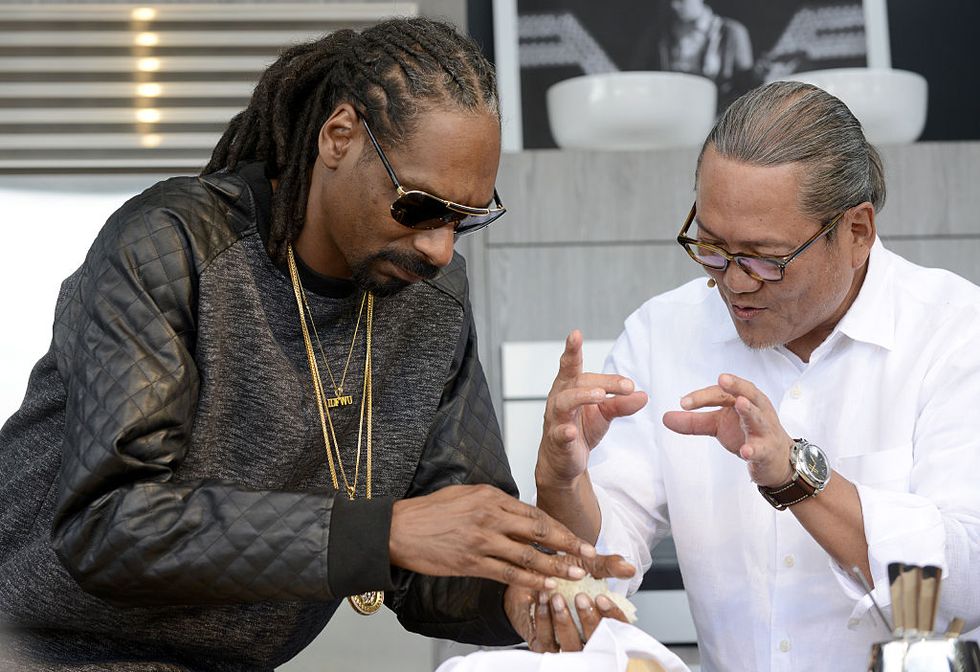 via: Getty
Because it turns out that the rapper is also a hugely passionate cook.
In the last couple of years, Snoop has been really immersing himself in the world of cooking.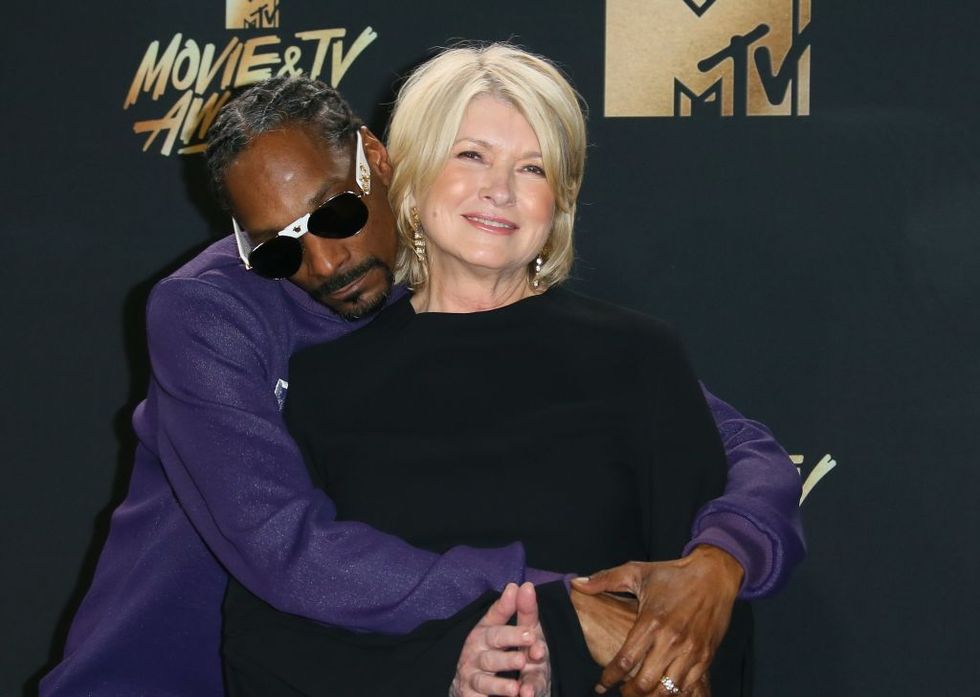 via: Getty
From co-hosting cooking shows and dinner parties with
his unlikely friend, Martha Stewart
, to collaborating with Dunkin' to create the plant-based breakfast sandwich, the Beyond D-O-Double G, Snoop's hands are certainly in all kinds of pies these days.
And, last year, he even released his own cookbook.
From Crook to Cook, hit the shelves.
In his book, the rapper shares an array of his favorite recipes...
And now, Snoop has set his horizons on the world of fine wine.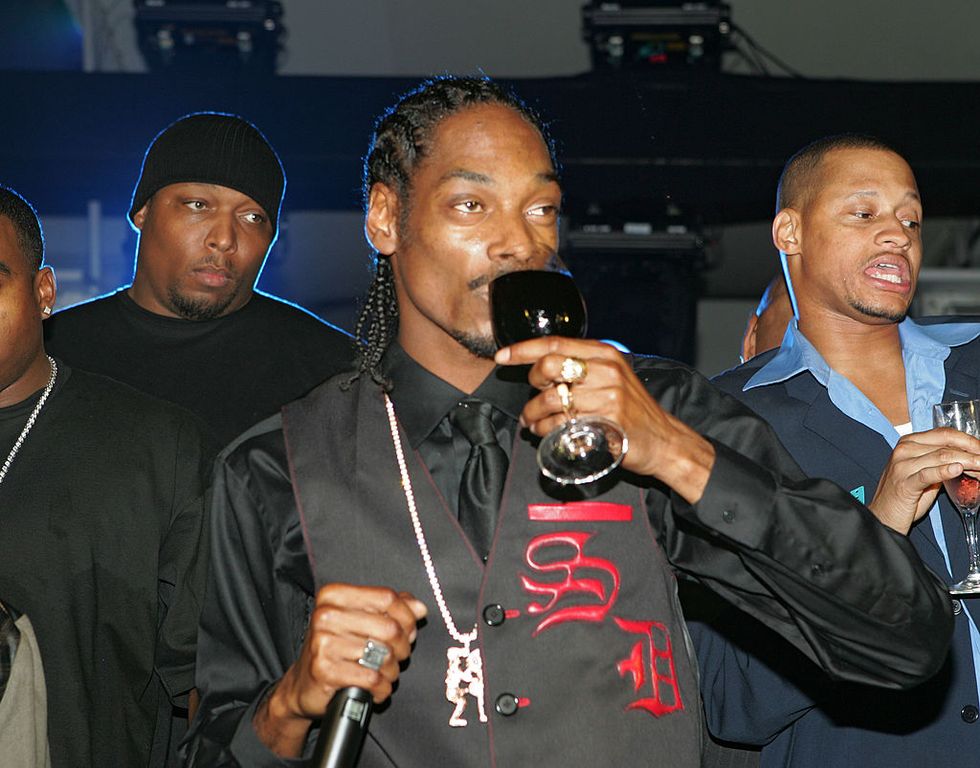 via: Getty
Now, we all know that Snoop enjoys a tipple every now and again, but
none
of us were expecting this.
But the rapper is indeed releasing his own brand of wine.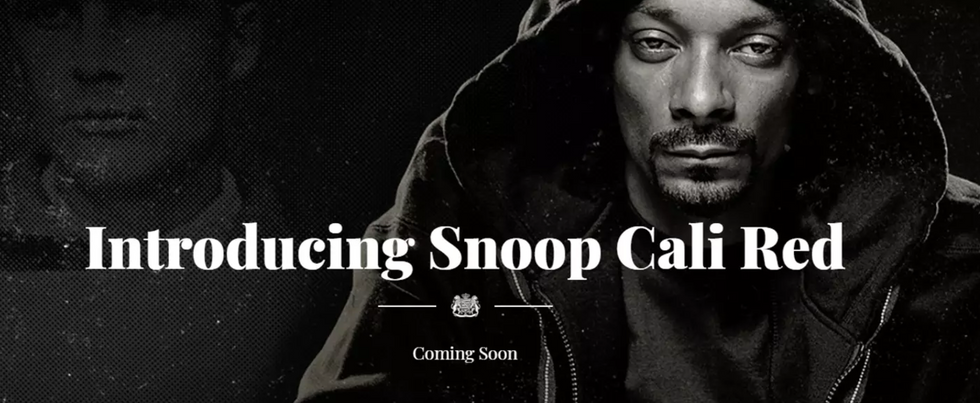 It sounds like a match made in heaven to me.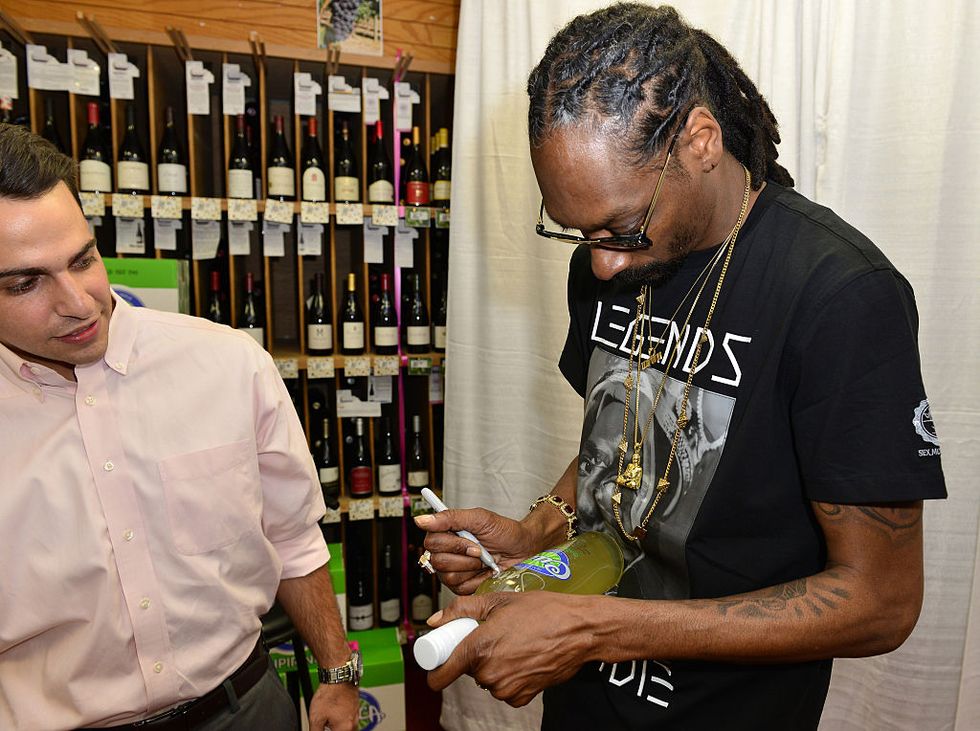 via: Getty
And John Wardley, the Treasury Wine Estates Marketing Vice President, clearly thinks so too, as he stated on the partnership: "Snoop Dogg, an entertainment and California icon, is the perfect partner for 19 Crimes Snoop Cali Red. Snoop embodies the spirit of 19 Crimes – rule-breaking, culture creating and overcoming adversity. We are truly excited to partner with Snoop and welcome him to the 19 Crimes family."
For all you wine fanatics out there, Snoop's debut vino is a rich blend of 3 different red grapes...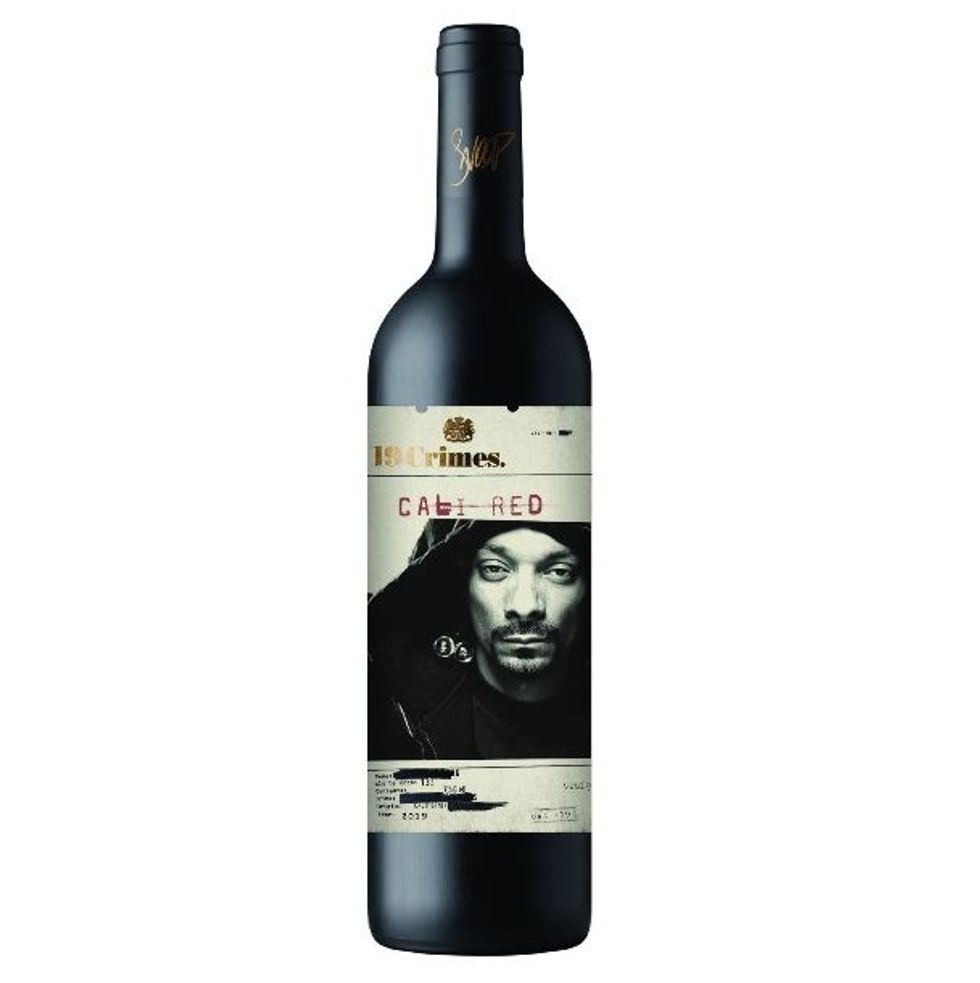 biggest
selling point is that it's priced at an incredible $12 per bottle. Bargain!
The wine will be available to buy this summer...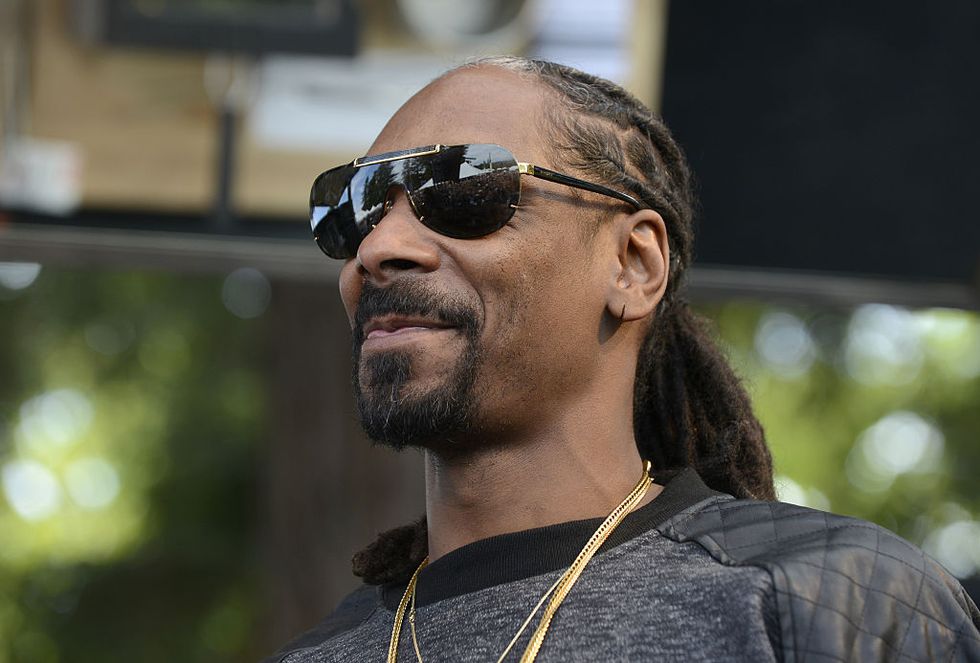 via: Getty
On his new project, the rapper
said
: "I've been a fan of this wine and I'm excited to unveil my 'Snoop Cali Red' this summer and share the experience with all my fans. It's one of the most successful brands in the market, so I'm more than eager to bring this collaboration to the world!"
Obviously, people are very excited for Snoop's vino to be released...
Snoop Dogg is coming out with his own line of wine and omfg I'm not ready 🍷

— ciciclair ⁶𓅓 (@ciciclair ⁶𓅓)1587343161.0
I for one
never
thought I'd be living in a world where Snoop Dogg is a wine connoisseur. Not that I'm complaining...
Though some have pointed out the obvious...
Snoop Dogg is releasing his brand of wine called 'Snoop Cali Red' Whoever decided not to call it 'Cabernizzle Sauv… https://t.co/GVSuUi7TTq

— Toby Tarrant (@Toby Tarrant)1587984571.0
They
really
missed an opportunity to do something amazing, didn't they? But, when Snoop isn't in the headlines for making wine, he's in them for offending families with his raunchy shows. Keep scrolling to read about his disastrous performance at a basketball game, and his hilarious response to the backlash...