If there's one thing that Snoop Dogg is known for, it's his... Music? Excessive pot smoking? Daring lyrics regarding women?
Or his highly publicized feuds with other celebrities? Yeah, maybe that one.
Anyway, Snoop has gone off on one again, and this time his ammunition has been aimed at fellow rapper, Kanye West. Kim Kardashian recently revealed the new Yeezy sandals and, well... They didn't go down too well with Snoop, who compared the monstrous footwear to prison slippers.
Not the best feedback in the world, is it Kanye?
Keep scrolling for the full story, and to see Snoop's savage message about the ghastly shoes... Oh, and if you're really in the mood for Snoop drama, we have all the goss on his raunchy performance at the University of Kanas - trust us, you're going to want to read all about that; it caused quite a drama.
Anyone who is anyone knows who Snoop Dogg is.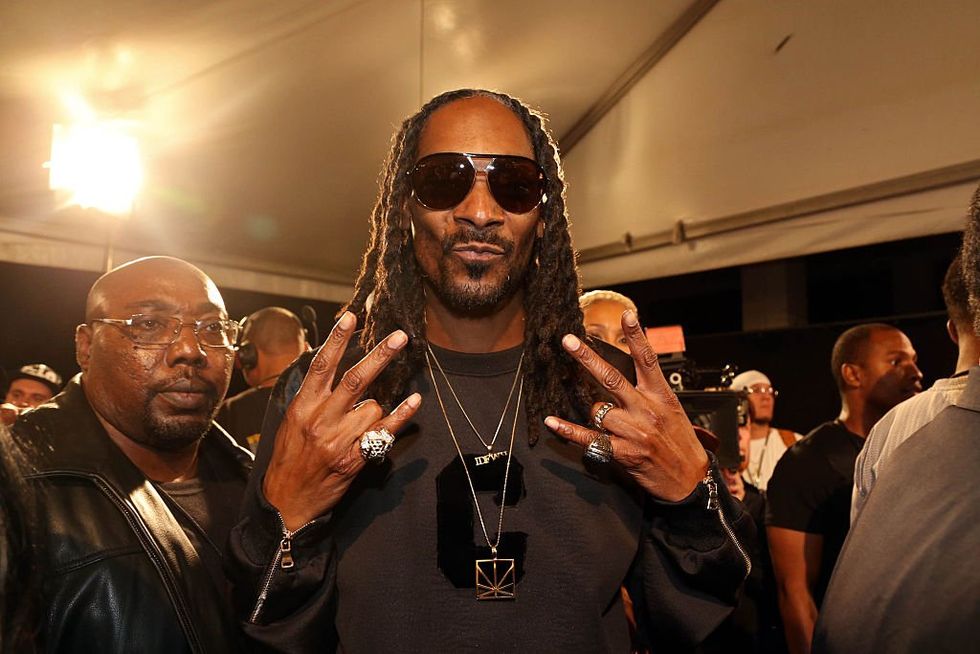 via: Getty
The California-born rapper and songwriter rose to fame as one of the best-known figures in gangsta rap in the 1990s and was, for many, the epitome of West Coast hip-hop culture.
And, believe it or not...
Snoop isn't his real name. Would you believe it?! The rapper was actually born as Cordozar Calvin Broadus Jr. on October 20, 1971. It is thought that his "Snoop Dogg" nickname came from his mother because she thought he looked like Snoopy from the Peanuts cartoon. Throughout the years, he has been known as "Snoop Doggy Dogg" and "Snoop Lion."
He was first put on the map after Dr. Dre discovered the budding young musician.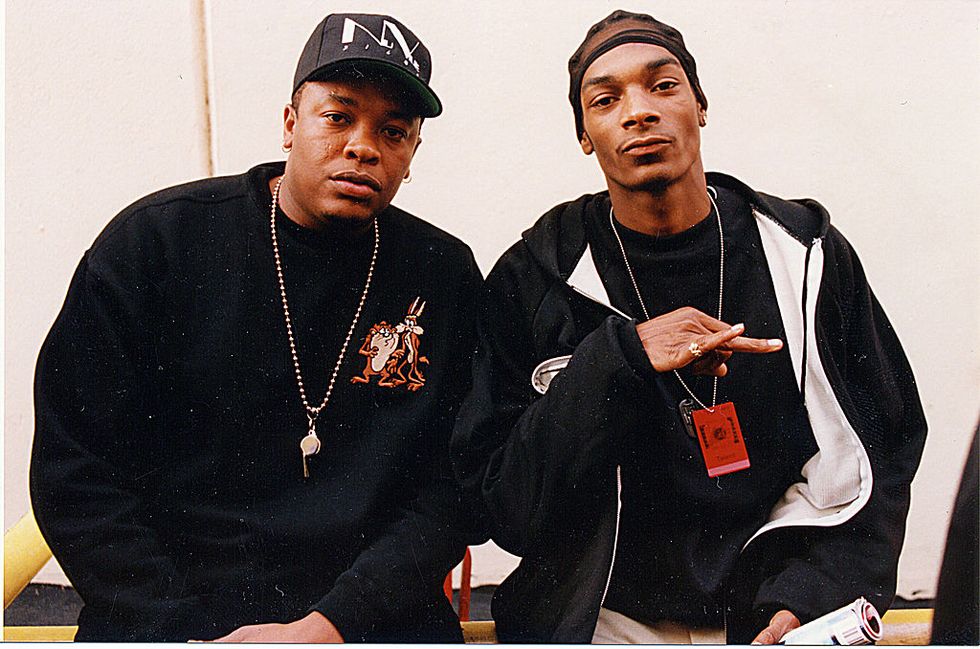 He first came to the attention of producer-rapper Dr. Dre, who featured him on his single
Deep Cover
and on his landmark album "The Chronic" in 1992. Snoop's prominent vocals on the hit singles
Dre Day
and
Nuthin' but a 'G' Thang
fueled his rapid ascent to stardom.
It was onwards and upwards from there.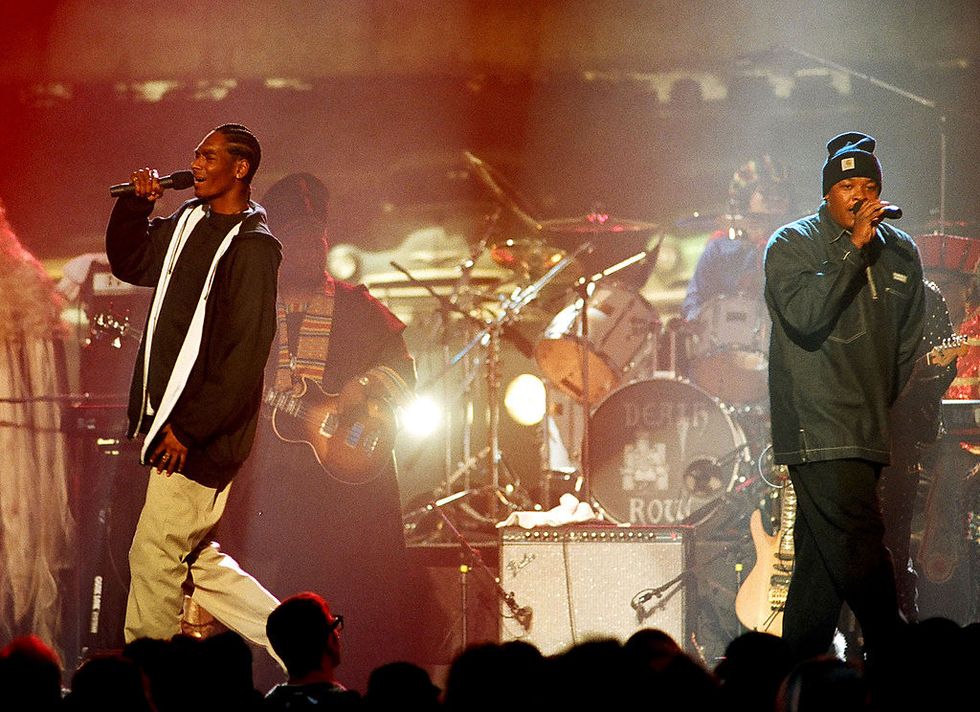 Snoop's first album, the Dre-produced "Doggystyle" in 1993, climbed its way to the No. 1 spot on Billboard's hip-hop and Top 200 charts, based in part on the success of the singles
Who Am I (What's My Name)?
 and
Gin and Juice.
Yet, despite all his success...
Snoop has never been a stranger to criticism.
Snoop's lyrics have often been slammed as sexist...
And many have branded the rapper as being offensive, misogynistic, and degrading towards women.
And he has been open about his past as a pimp...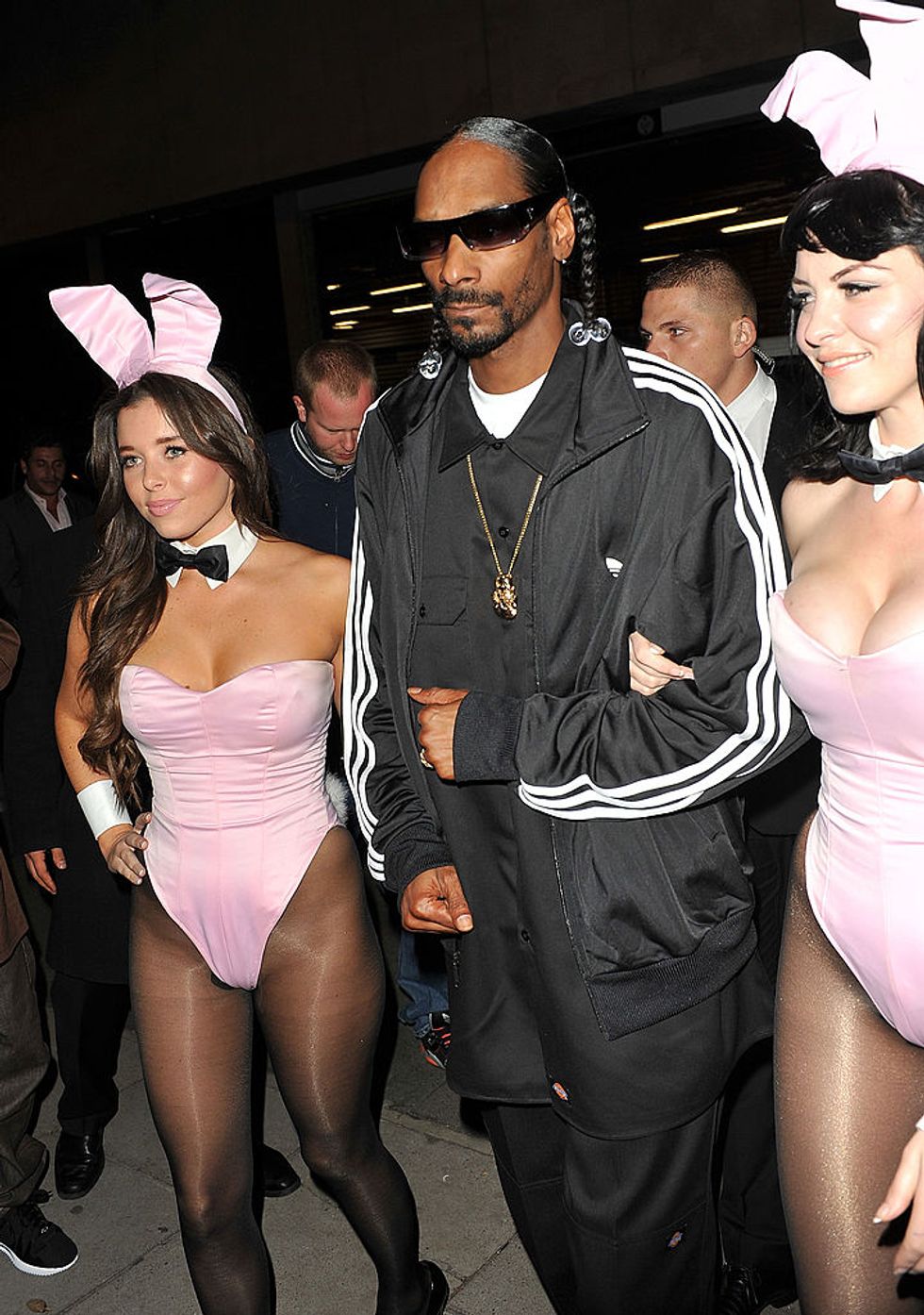 In May 2013, the rapper told
Rolling Stone
that he had been a pimp in the early days of his career. "As a kid, I dreamed of being a pimp, I dreamed of having cars and clothes and b*tches to match. I said, '**** it - I'm finna do it.' I put an organization together," he said. "I did a Playboy tour, and I had a bus follow me with ten b*tches on it. I could fire a bitch, **** a bitch, get a new ho: It was my program."
Oh, and he loves pot.
If it isn't his somewhat offensive music, Snoop is perhaps the most famous for his love of marijuana.
Snoop is a strong advocate for the green stuff...
And he isn't shy of a little controversy.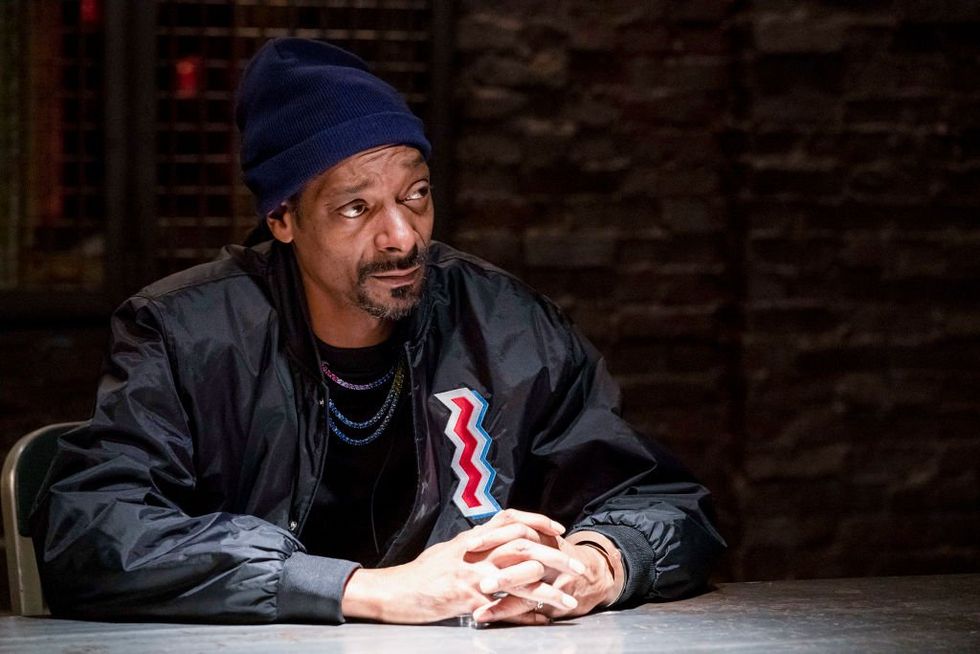 via: Getty
Snoop has never been one to keep his mouth shut, and if he doesn't like something, he'll
say it. 
He's been hilariously vocal on the whole Takeshi 6ix9ine situation...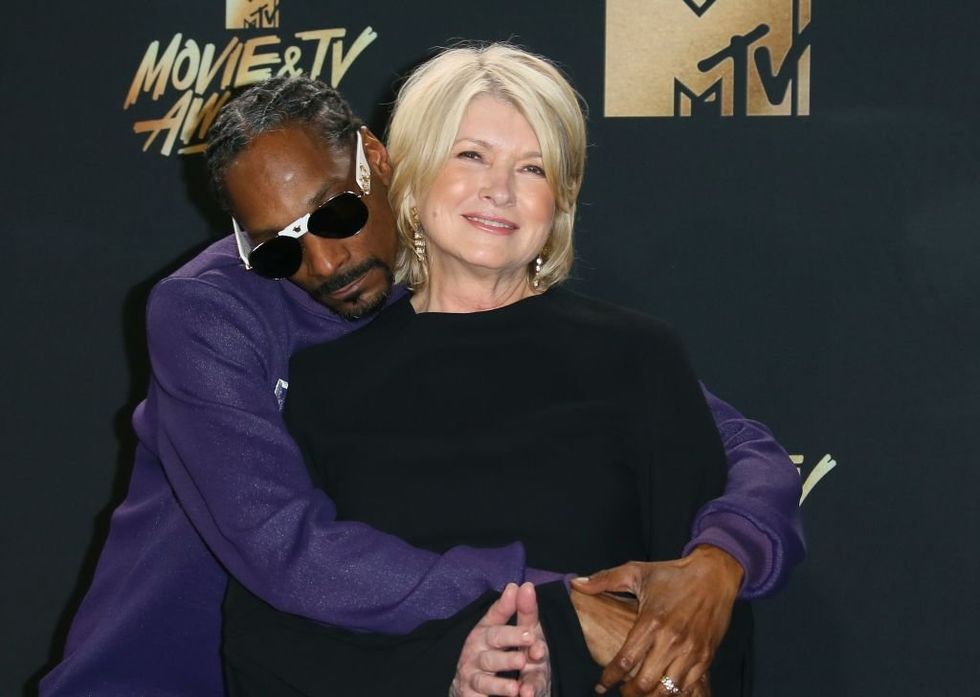 In March 2004, Snoop's unlikely friend, Martha Stewart was found guilty of felony charges of conspiracy, obstruction of an agency proceeding, and making false statements to federal investigators. Throughout the whole thing, the seventy-eight-year-old didn't 
once
 snitch on 
anyone.
And Snoop decided to remind everyone of this...
And Snoop's most recent target?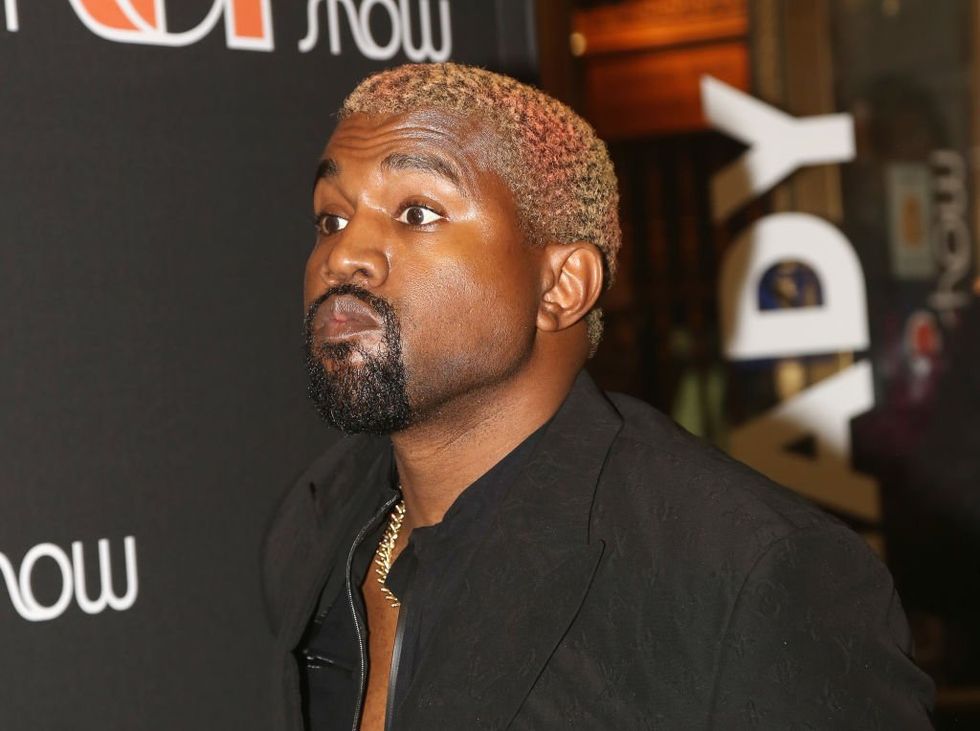 via: Getty
None other than fellow rapper, Kanye West.
Kanye hasn't been in Snoop's good books for a while...
He had a lot to say about Kanye's political stance.
And now, Snoop's annoyed at one more thing...
Kanye's fashion line, Yeezy.
Snoop isn't the biggest fan of the new Yeezy Slides.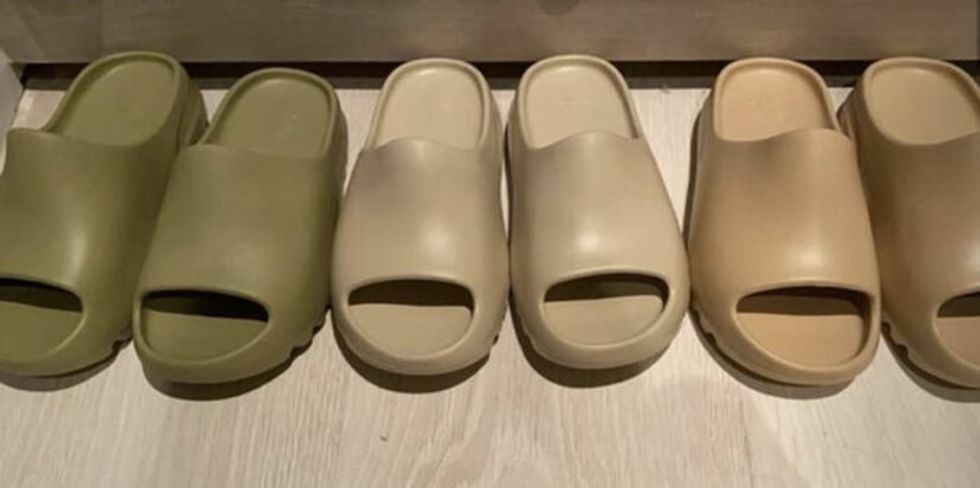 Kim Kardashian had raved about the latest addition to the collection of Yeezy footwear on her Instagram Stories, saying, "New Yeezy slides for Kids OMG. They are so cute, so fresh. They're like rubbery and so comfy."
But Snoop isn't so keen.
Sorry, Kanye. But these slides are quite revolting.
Those Yeezy slides look like the same ones I had to wear when I was locked up smh

— niagra (@niagra)1571282647.0
And fans have certainly been loving all the celebrity tea being spilled over these admittedly Marmite shoes. Many agreed that they look like prison shoes, with one Twitter user writing, "I'm sorry are we helping prepare our kids for jail?" Or am I the only one who thinks they look like a futuristic version of
Crocs
? Did you hear about Snoop's... um... 
explicit
performance at the University of Kansas? The school was forced to apologize to the families that attended the event and Snoop's response to the whole thing was
incredible
. Keep reading for more on that!