Nowadays, it seems that most of the latest ventures in the fashion industry have been an absolute disaster. I can't seem to fathom how someone agreed to go ahead with clear, plastic shorts or socks with crocs, but, ladies and gentlemen, these two abominations actually exist.
However, this new invention is different from the rest, because it might actually be practical as well as stylish... keep scrolling to read all about Aftersocks and how they have become a revolutionary product for women everywhere.
We've all been there...
You've got the perfect pair of heels for a night out but you've not quite broken them in yet.
Regardless, you still choose to wear them, because "why not?"
Rookie mistake. Half an hour into the night, the regret sinks in and you're already complaining about how much your feet are hurting.
Well, ladies, and some gentlemen, I may have the solution to all your problems.
A fashion start-up has come up with a product that will provide you with relief whenever you get yourself into a messy situation on a night out. No, not that one. I was referring to the one I mentioned above.
Let me introduce you to Aftersocks.
Aftersocks is a brand of socks with extra cushioned soles so that you can take your heels off and slip them on when your feet have had enough of enduring the pain of walking in heels.
"While foot pain can be a way to flirt, walking home barefoot is never fun, nor safe."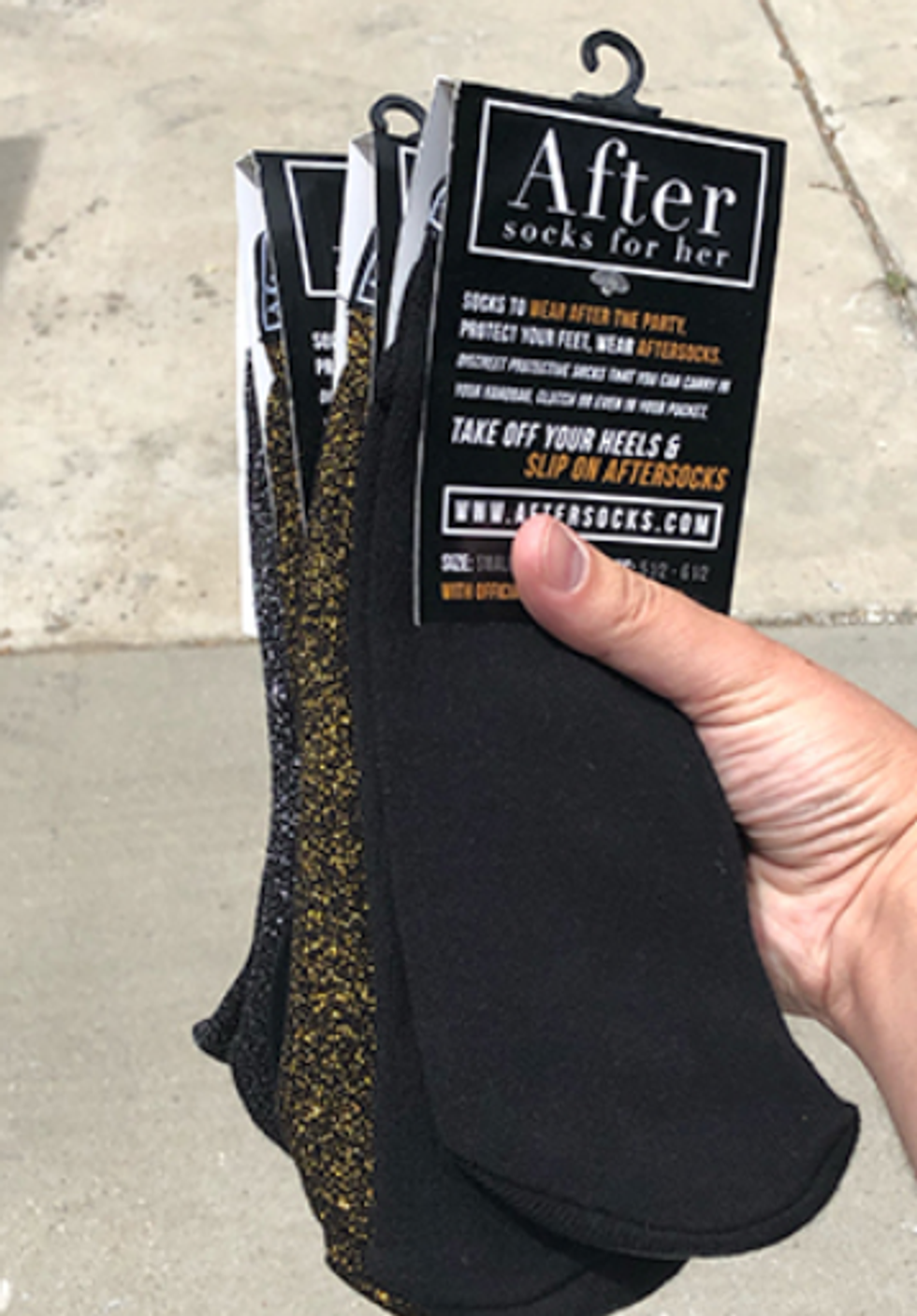 via: Aftersocks
So Aftersocks have you back when the going gets tough... or flat.
And it seems as if these designers have had first-hand experience of this.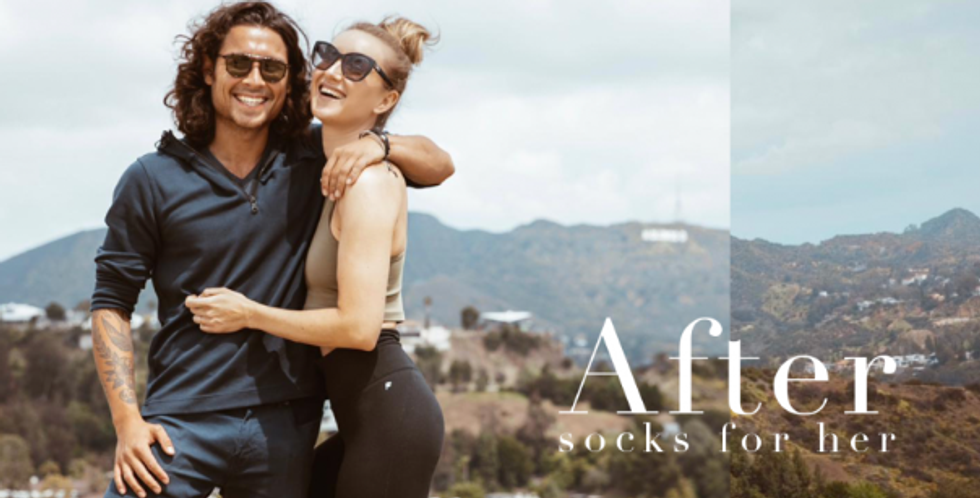 via: Aftersocks
Founded by Monika Trojanowska and Joel Bijlmer, the product claims to solve "a dilemma that many have faced, but for which none have found a satisfactory solution… until now."
The invention came about after a wild night out, of course.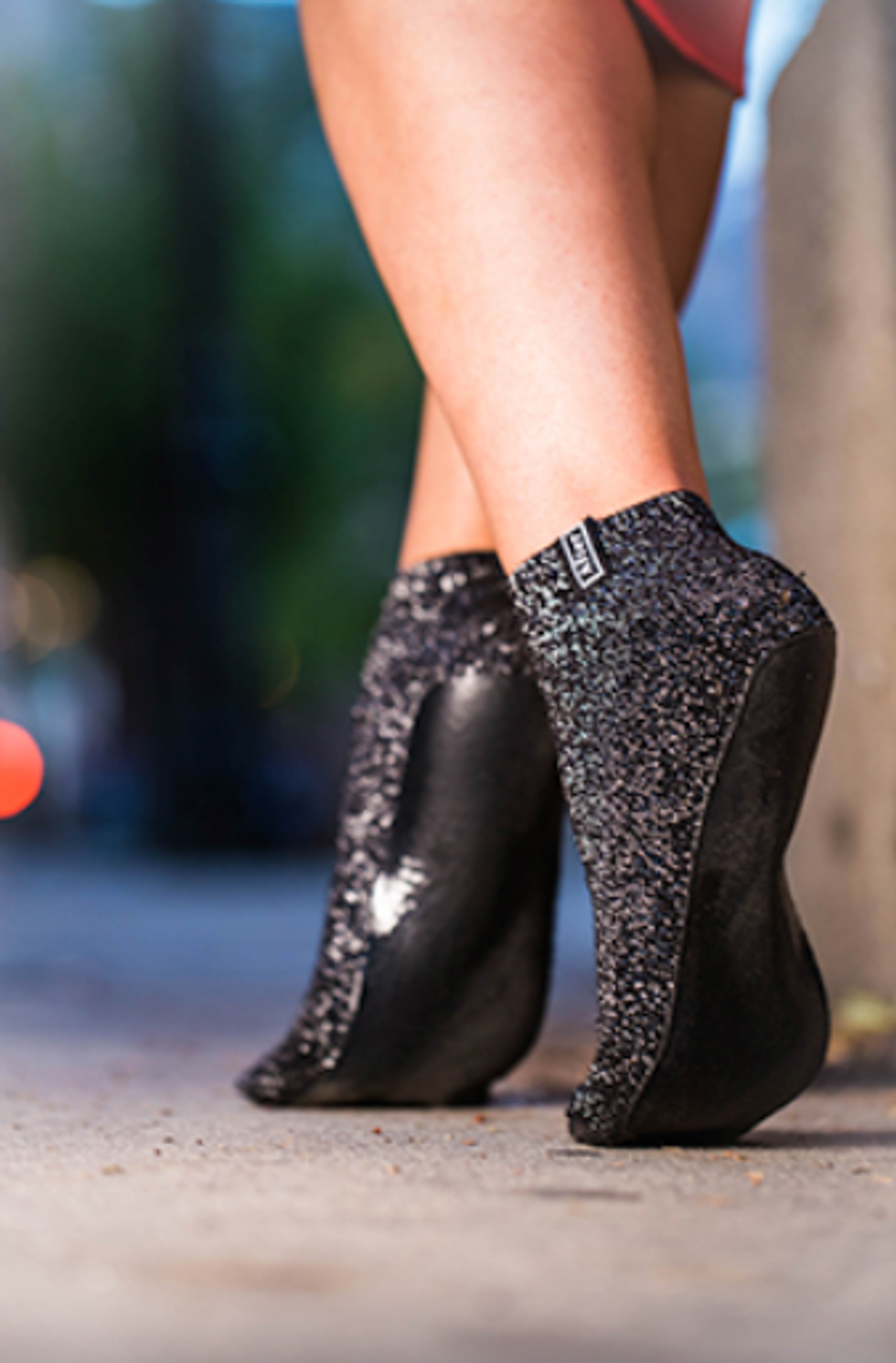 via: Aftersocks
"Like most good stories, ours started after a wild night out. After leaving the club Monika's feet were hurting and she wanted to take off her high-heels. "Of course, this was not something new... unfortunately, this time Joel had just twisted his back in the gym and could not offer a back-ride to the taxi this time."
"You never know what's on the ground..."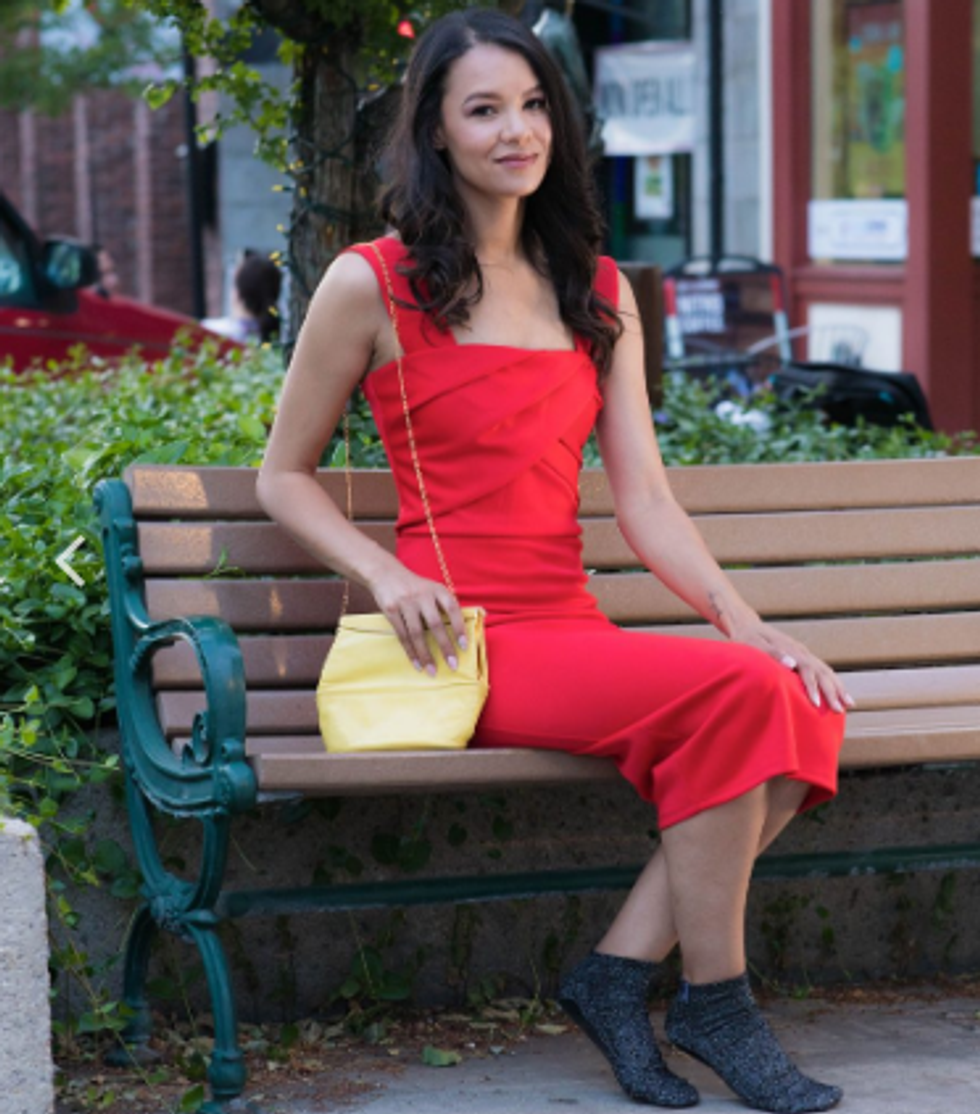 via: Aftersocks
"So Joel didn't want Monika to take off her high-heels and walk bare-feet. Neither did she have any backup shoes, cause she only had a small purse with her." The classic scenario. We've all been there, done that.
So, the next morning, the pair started thinking...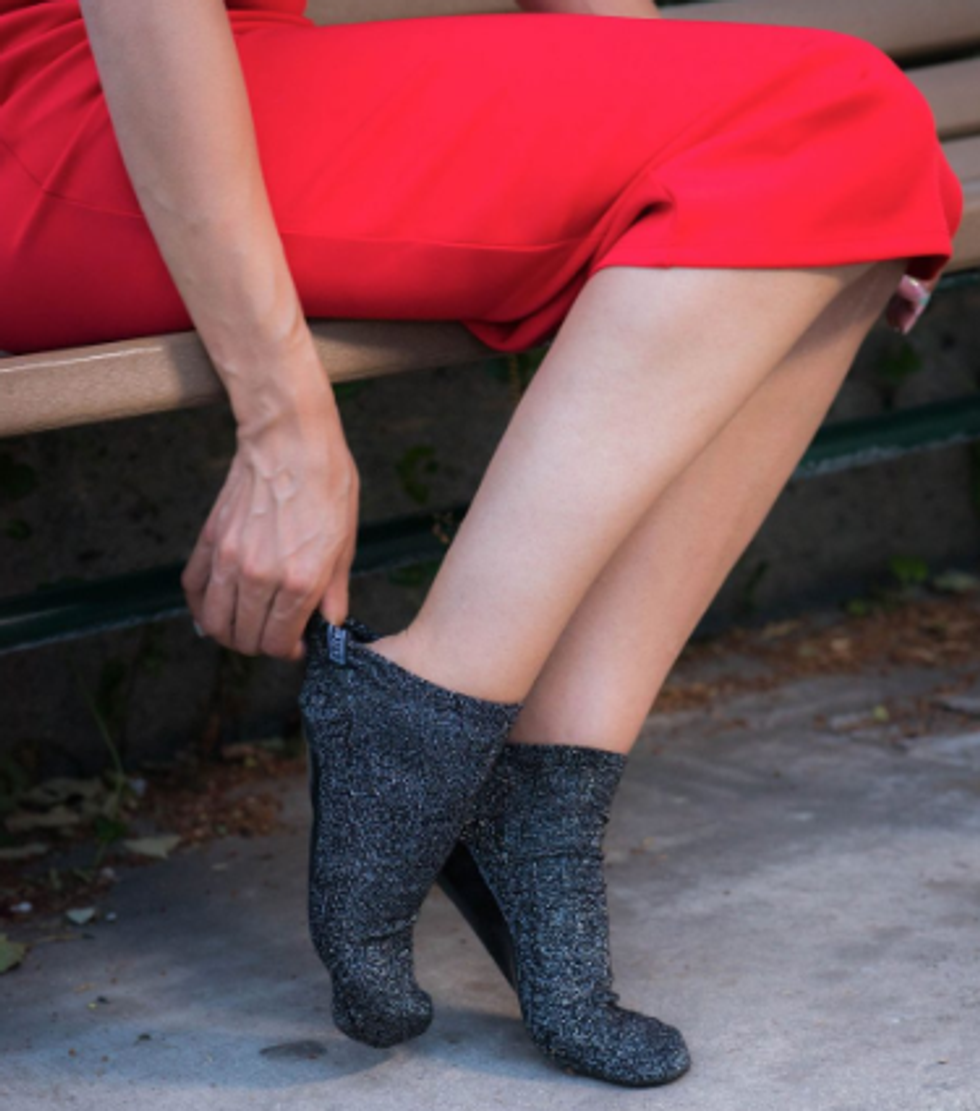 via: Aftersocks
"We figured out that it had to be useful, portable, and stylish at the same time. After 9 months of developing, going back and forth with different solutions and designs, we finally created Aftersocks." And so this mind-blowing invention was born.
I know what you're thinking, because I was thinking the same thing when I first heard about these...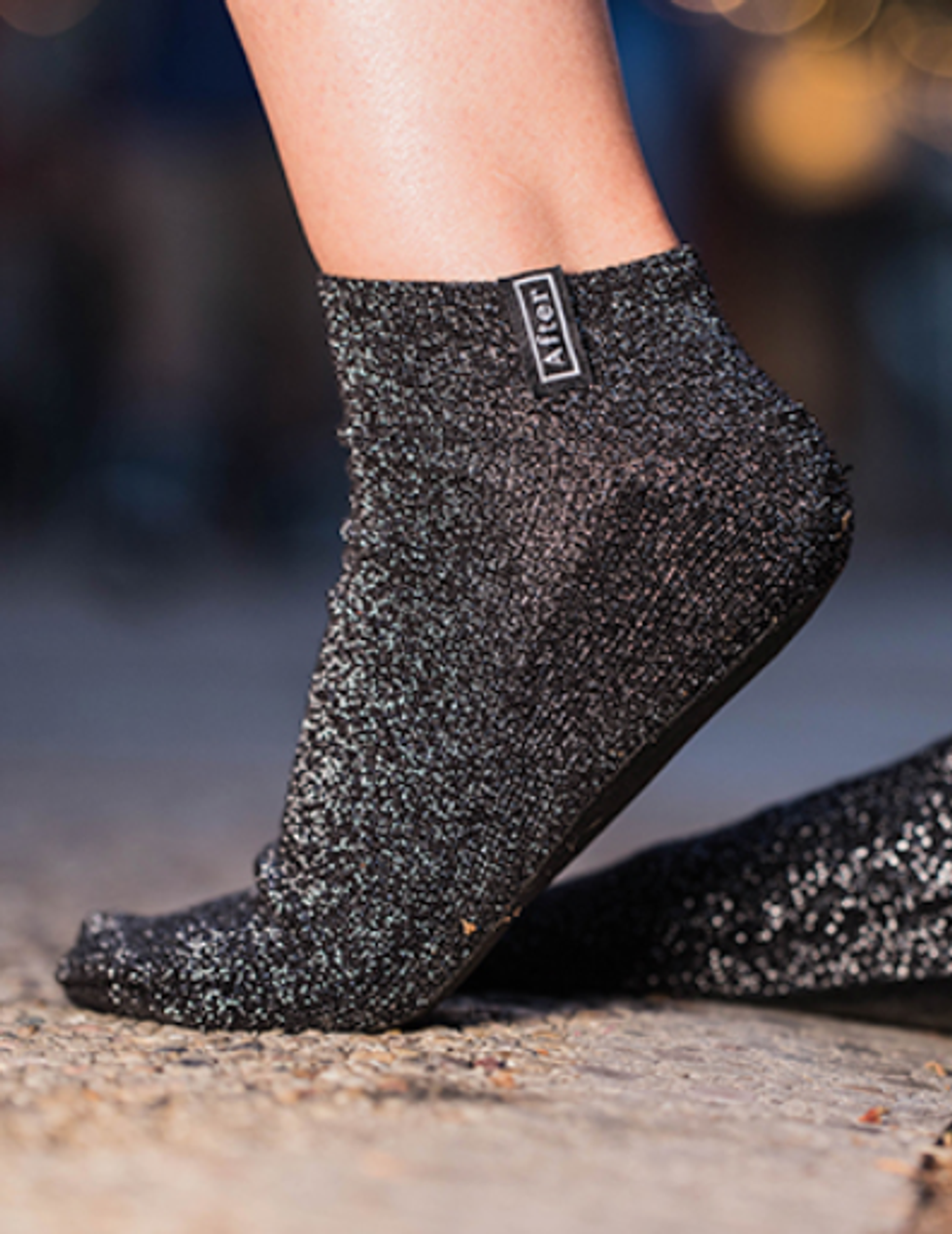 via: Aftersocks
How can you
possibly
walk on the ground with
socks
? Surely, you're
bound
to tread on something unpleasant. Let me take you through the technical side of things.
According to the website, the socks contain "special aftersole technology."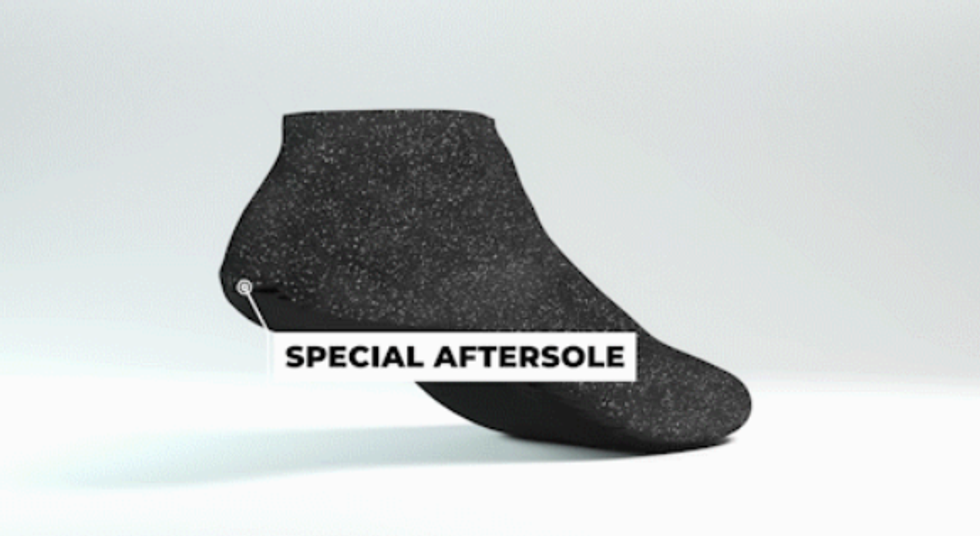 via: Aftersocks
Due to the PVC and added extra soft cushioning, you should be able to walk on the sidewalk in a pair of these to your next destination.
The socks are also super light, so you can take them off and slip them into your purse whenever you want.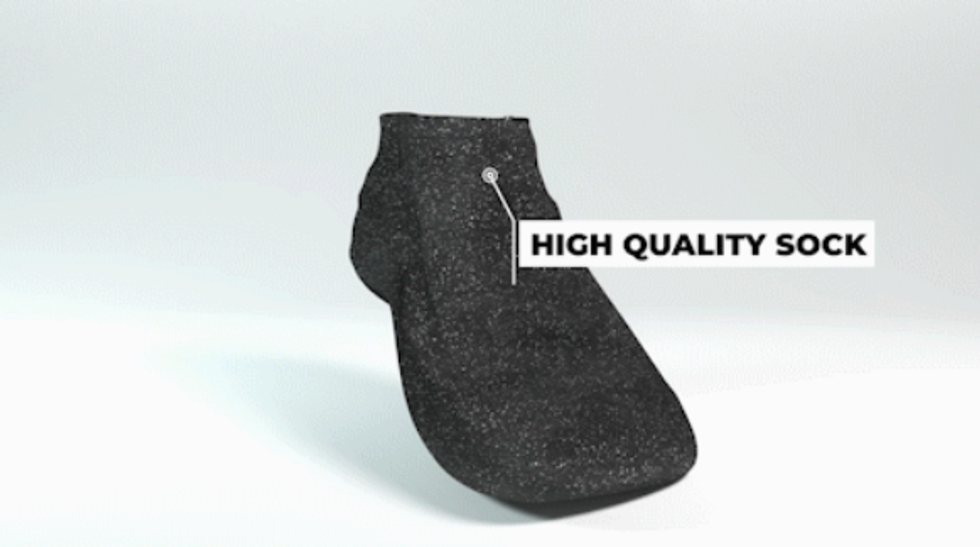 via: Aftersocks
"You won't even notice that you took [them] with you."
And what makes it even better is that you can buy them in three stylish designs.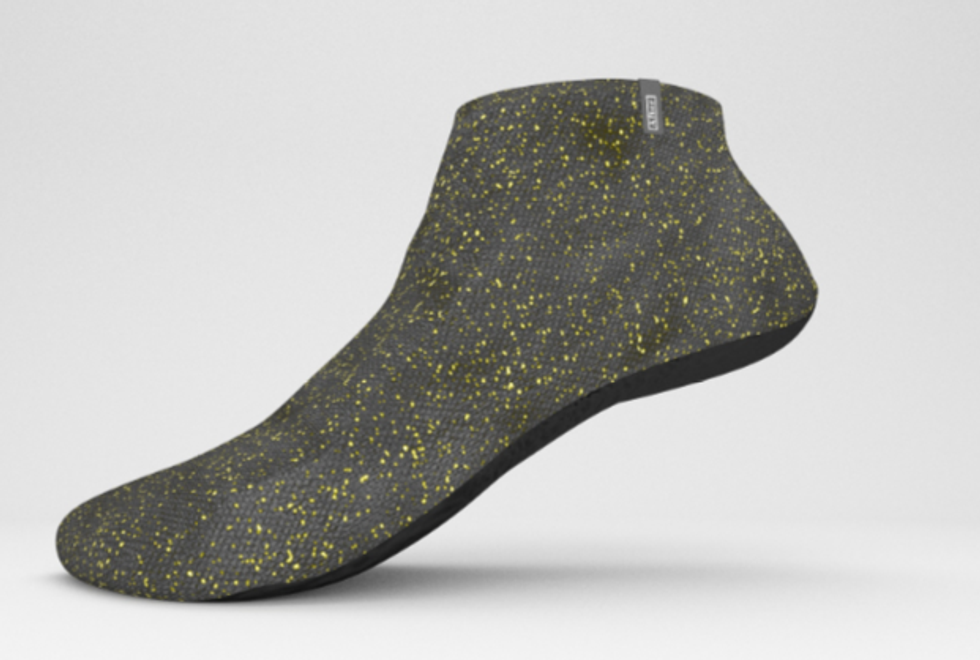 via: Aftersocks
Black, to match all colors, or gold or silver to add that little bit of sparkle to any outfit.
It seems as if people are loving this new invention!

I mean, if you're anything like me, you get tired of wearing heels almost as soon as you put them on. This handy pair of socks is probably the best alternative to carrying a heavy pair of flats around.
Compared to this amazing invention, most others seem to be more on the bizarre side...
Remember the clear, plastic shorts that I mentioned earlier? I wasn't lying about them. They are actually a thing. Keep scrolling if you want to see the weird and slightly disturbing promo shots of them in all their transparent glory! This is one trend that I will not be buying into...