Everyone wonders what they'd do if they were caught on the jumbotron. Are you the type of person who would eat up the attention and bust out a cool dance move? Would you be one of those people who shriek in terror and hides behind your sister until the cameras move away? Or would you be the infuriating person who somehow doesn't notice their face is being projected on a giant screen to the entire stadium for literal minutes while everyone around you points and yells to try and get your attention?
There's no way to know what kind of Jumbotron Personality type you have until you take this 45 step quiz...just kidding this article is about 23-year-old Game of Thrones star Sophie Turner who knew exactly what to do when the cameras turned her way this week when she was attending a Rangers game: chug her whole glass of wine. Stars! They're just like us!
Stars know they run the risk of appearing on the jumbotron whenever they go to a sports game.
There's nothing the crowd loves more (after seeing two people refuse to kiss on the Kiss Cam) than seeing what celebs are at the same sports game as them and what they're doing.
It's probably a lot of pressure.
There's a big difference between being on TV as part of your job and being on TV unexpectedly because some cameraperson spotted you chowing down on a giant pretzel.
But Sophie Turner not only handled the situation well, but she also inspired us all.
When she was unexpectedly caught on the jumbotron, she leaned all the way in.
Just in case you've been living under a rock: Sophie Turner plays Sansa Stark on Game of Thrones.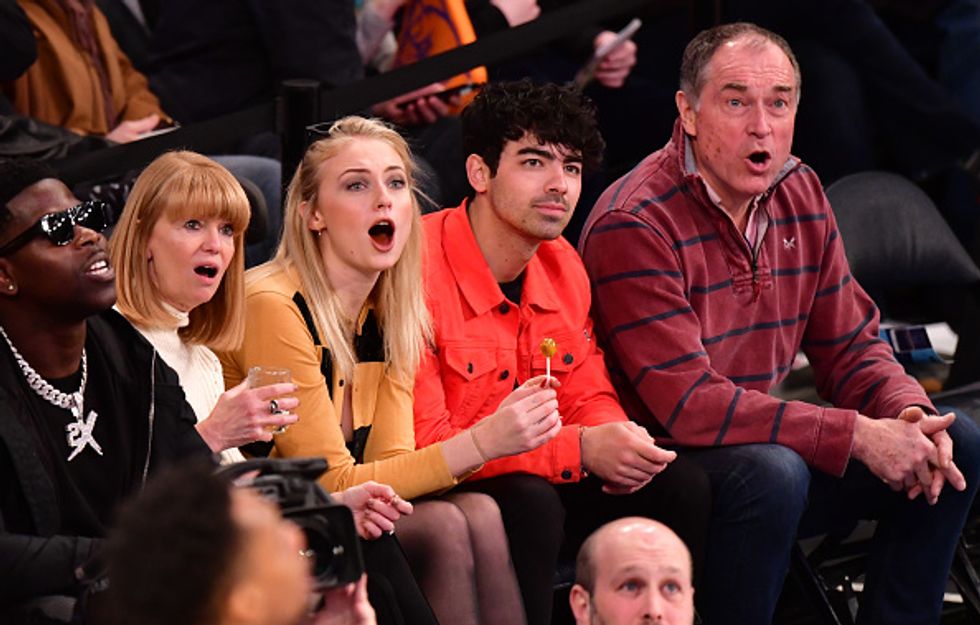 via: Getty Images
She's also engaged to Jonas brother band member, Joe.
They are very cute together.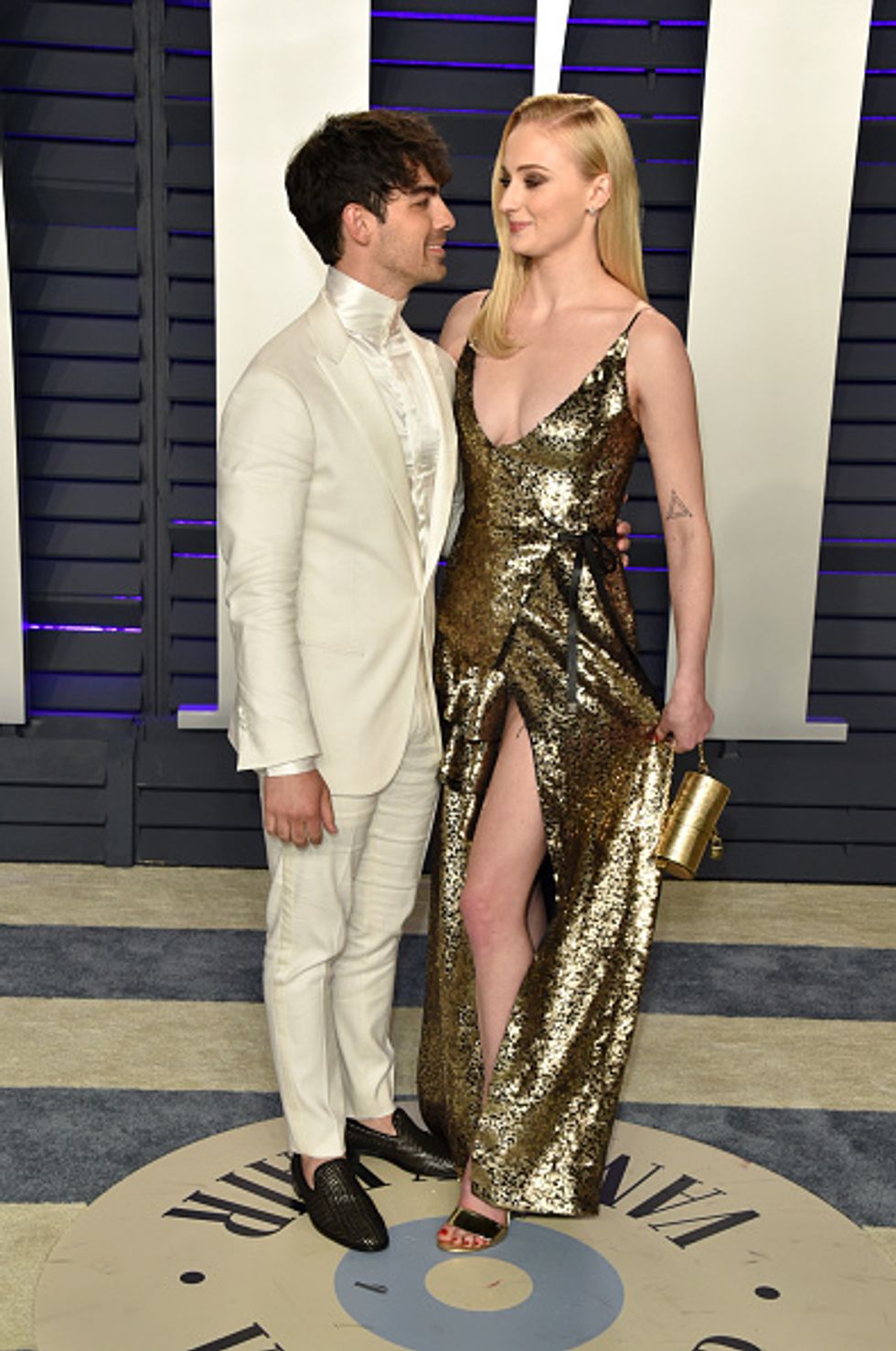 via: Getty Images
Just look.
This week she was at the Ranger's game with Joe Jonas, when the jumbotron found her.
She could have given a polite wave.
A peace sign perhaps?
But instead of balking under pressure: Sophie went the extra mile.
With no hesitation with chugged her whole glass of wine.
First, she does a dab.
Then, she puts her arm in the air and just chugs her entire glass of wine.
Like, her entire glass of wine.
In one, long chug.
Look at that form!
Just straight down the hatch.
It's truly one of the most impressive things I've seen in my life.
She chugs that wine down like it's chocolate milk.
Have you ever tried to chug a glass of wine?
It's not pleasant.
But Sophie knew what she needed to do and she went for it.
Delighting us all.
The crowd went wild for her wine chug!
Meanwhile when the cameras were pointed at Joe, he basically just smiled.
I guess only one person in a relationship can be a jumbotron god.
Not both.
People are obsessed with this.
As they should be.
Joe looked so proud.
Well I would say get a guy that looks as proud as @joejonas does when their girl is chugging wine but get you a gir… https://t.co/dKqJmStIwj

— Z O E (@Z O E)1553084861.0
She's obviously done this before.
I didn't even notice the Juul!
@SophieT chuggin wine with a juul in her hand at a rangers game is my permanent mood until death https://t.co/CN1DdMUoMe

— Zach Lathouris (@Zach Lathouris)1553102024.0
She's living her best life right now.
It's literally all anyone cares about anymore.
tbh all i care about is @SophieT power chugging her wine at the rangers game. QUEEN OF THE NORTH 🍷✊🏻 https://t.co/7RVUghW8XJ

— sam_therefore_i_am (@sam_therefore_i_am)1553189558.0
We all wish we could be that cool on a jumbotron.
She's even getting new fans from this.
Was at a hockey game the other night and Sophie Turner from GOT was there and they put the Jumbotron on her and she… https://t.co/ezgGblxzuH

— grandma tsunade (@grandma tsunade)1553185564.0
Her greatest moment to date.
We always need a Big Mood inspiration.
BIG MOOD: Sophie Turner chugging her wine on the jumbotron

— emz 🖤 (@emz 🖤)1553147665.0
This week, it was Sophie.
Also, did you notice she was wearing the 90s fashion staple butterfly clips?
@SophieT just brought butterfly clips back

— 𝖕𝖔𝖕-𝖕𝖚𝖓𝖐 𝖕𝖗𝖎𝖓𝖈𝖊𝖘𝖘 (@𝖕𝖔𝖕-𝖕𝖚𝖓𝖐 𝖕𝖗𝖎𝖓𝖈𝖊𝖘𝖘)1553187574.0
Are they back?!?!?!
Yes, this is so important!!
I can appreciate a good wine chug but @sophieT single-handedly bringing back the 1995 butterfly clip hairstyle here… https://t.co/PhGaFpVL8a

— Mandy Mayfield (@Mandy Mayfield)1553201367.0
We need to know.
Remember these?
Or, if you weren't born in the 90s: these are butterfly clips and they were HUGE.
Personally, I would be excited if they came back.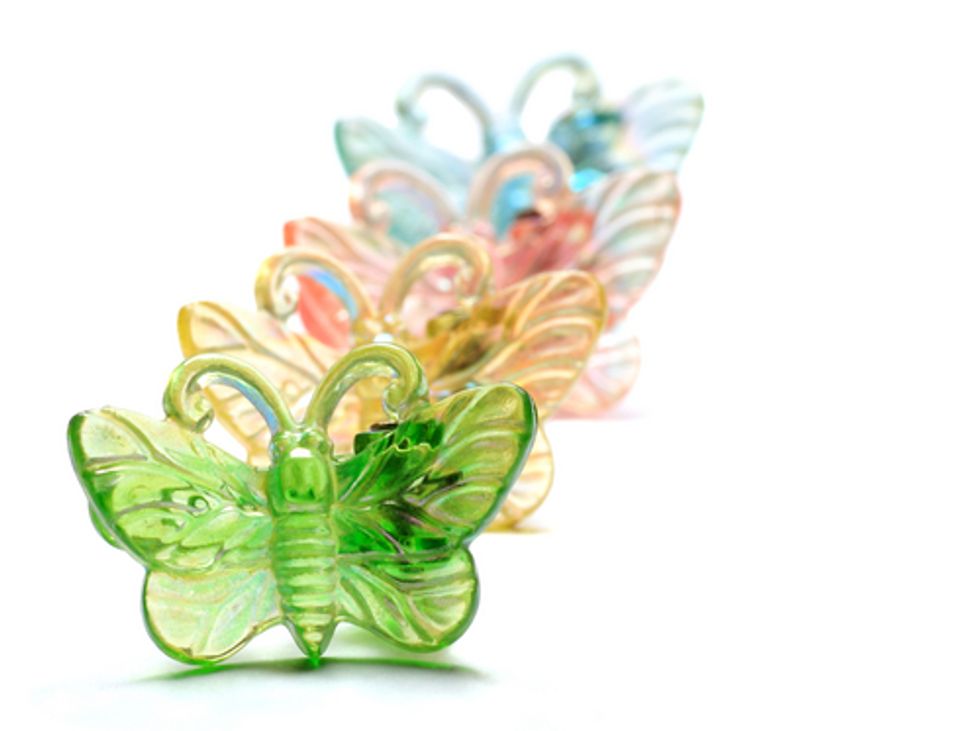 via: Shutterstock
I think I have the head for it.
Sophie not only has the confidence to chug an entire glass of wine on a jumbotron, but the confidence to bring back at 20-year-old hair accessory?
Truly a queen.
Thank you, Sophie, for inspiring us all.
A toast in your honor.