When one woman tried to shame a Starbucks employee, it majorly backfired and she gained a whole lot of negative viral attention as a result.
But now, she's trying to unbelievably claim a cut of the $105,000 raised for the unfortunate barista she abused, and her reasoning behind the move is nothing short of outrageous...
Over recent months, the world has been facing a very turbulent time.
A pandemic has taken over.
With almost everywhere shutting down...
From shops to restaurants to schools.
Though, in the past few weeks, little bits of normality have been appearing again...
With certain establishments gradually beginning to open their doors once more.
It really feels like we can start to see some light at the end of the tunnel...
Months in lockdown has certainly taken its toll on everyone's mental health.
But, as things begin to get back to normal, we must still take precautions.
It's common sense,
right
?
In fact, certain precautions are becoming mandatory in some places.
Including here in the US.
In some states, it has become mandatory to wear a face mask on certain occasions.
For example in some retail stores like Costco, customers are required to wear one.
It's the safe thing to do.
If they aren't used correctly, they are said to be fairly ineffective. In fact, many people who are healthy are being told that they
don't even need to wear a mask
unless they are around someone presenting symptoms. Seems like some major mixed-signals going on here.
But a big issue is that many people have discovered how uncomfortable face masks can be.
Particularly
when they are worn for a long period of time.
Whilst most of us have been wearing masks and following the rules...
Tonight I heard on the news- If 90% of us wore masks we would save 30k lives by Oct.

— Toby Berry (@Toby Berry)1593060890.0
There are
always
those people who simply feel that they can do whatever they want.
Just like this one "Karen", who recently tried to shame a Starbucks barista.
But she found that her efforts had well and truly backfired.
When Amber Lynn Gilles went on a recent visit to a Starbucks in California, she found herself being refused entry...
And it was all because she wasn't wearing a face mask.
Amber took to Facebook to blast the barista, but she didn't receive the support she had initially expected.
On June 22nd, she wrote: "Meet Lenen from Starbucks who refused to serve me cause I'm not wearing a mask."
"Next time I will wait for cops and bring a medical exemption."
She also tagged the Starbucks branch in the post. F.Y.I... In California, Governor Gavin Newsom's mandate currently requires people to wear a mask, unless they can provide a medical reason, which could explain Ambers's line on her post.
Since being posted, it has gone viral, with over 47,000 shares...
But most have completely slammed her post, with many telling her to "get a grip."
Starbucks also released a statement regarding the matter.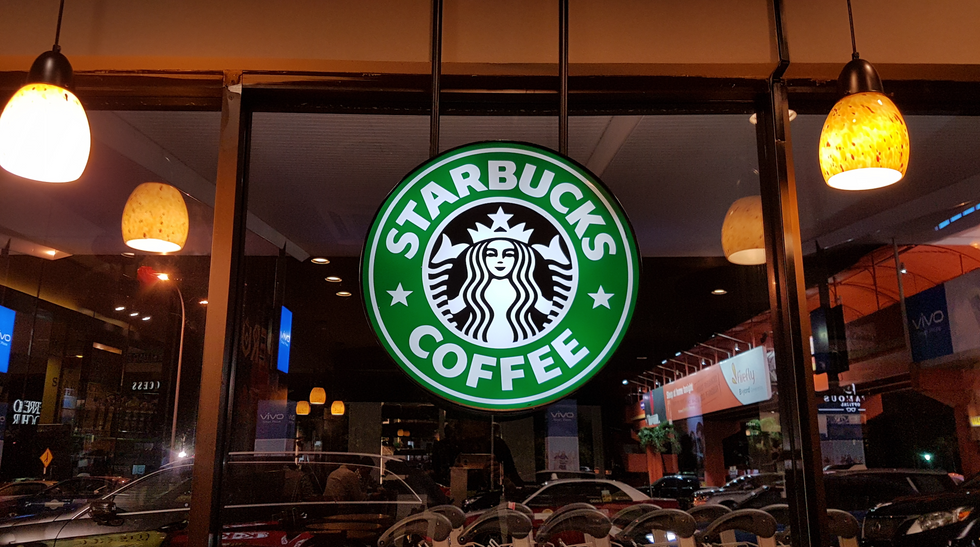 The statement to
CBS 8
read: "We want everyone to feel welcome in our stores. We respectfully request customers to follow social distancing and safety protocols recommended by public health officials, including wearing a facial covering when visiting our stores."
And that isn't the only unexpected turn from the post...
Matt Cowan decided to establish a GoFundMe page for the barista, Lenin Gutierrez. The fundraiser was set up on Tuesday last week with the title, "Tips for Lenin Standing Up To A San Diego Karen." Already, in that short space of time, it has raised $105,450 at the time of writing.
Lenin is aware of the page and has been sending Matt updates to thank those who have been donating.
In one video thanking everyone, Lenin says: "I just want to remind everyone to be kind to one another and to love each other. And always remember to wear a mask."
But, on Tuesday, Amber posted once again on Facebook.
She wrote defiantly: "I am not scared or bothered by your ignorant fraud a**'s, not so sorry you losers got nothing better to do. Thanks for the ratings you all act like the terrorist organization you are."
And now...
Amber has decided to speak out
yet again
over the incident.
"I never threatened him."
"I just called him out on his actions," she explained in a video posted to Twitter. "And now I receive death threats! I was denied and discriminated against, I didn't harass anyone... I'm not perfect but I sure as heck didn't threaten anyone.
Amber claims the money is being raised off of her name...
@ArtieNBCSD She's threatening to sue if she doesn't get some of that go fund me money? And she's posting as if she'… https://t.co/zueRPVqwQh

— Daynanananana (@Daynanananana)1593149661.0
And, to dig herself an even deeper hole, she is reportedly looking at suing.
She wants a share of the money raised.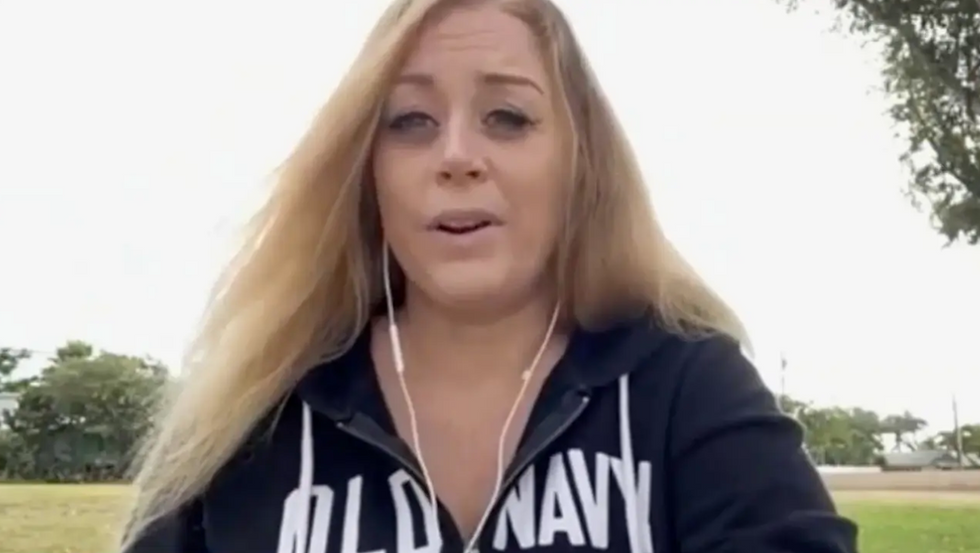 Amber this week
told KGTV
, that she'd been speaking with lawyers about pursuing a lawsuit to get half of the money raised for Lenin.
It's all in the name of discrimination...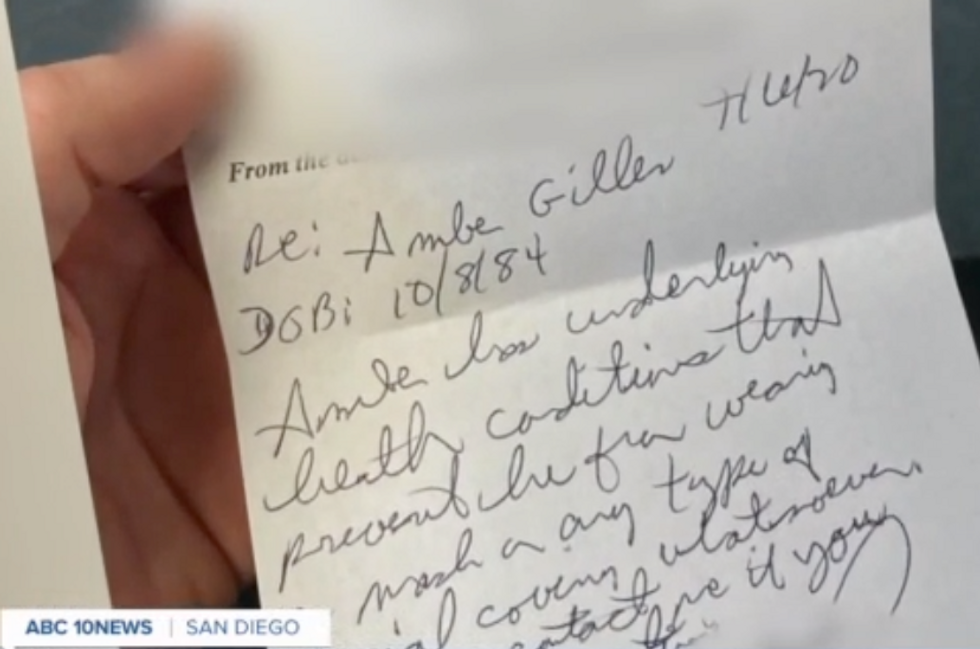 She has this week provided ABC 10News with 2 handwritten notes from her doctors that proves she is exempt from wearing any form of facial covering. One of the notes read: "Amber has underlying breath conditions that prevent her from wearing a mask or any type of facial covering whatsoever. Please contact me if have any questions."
She described the symptoms these face masks cause her...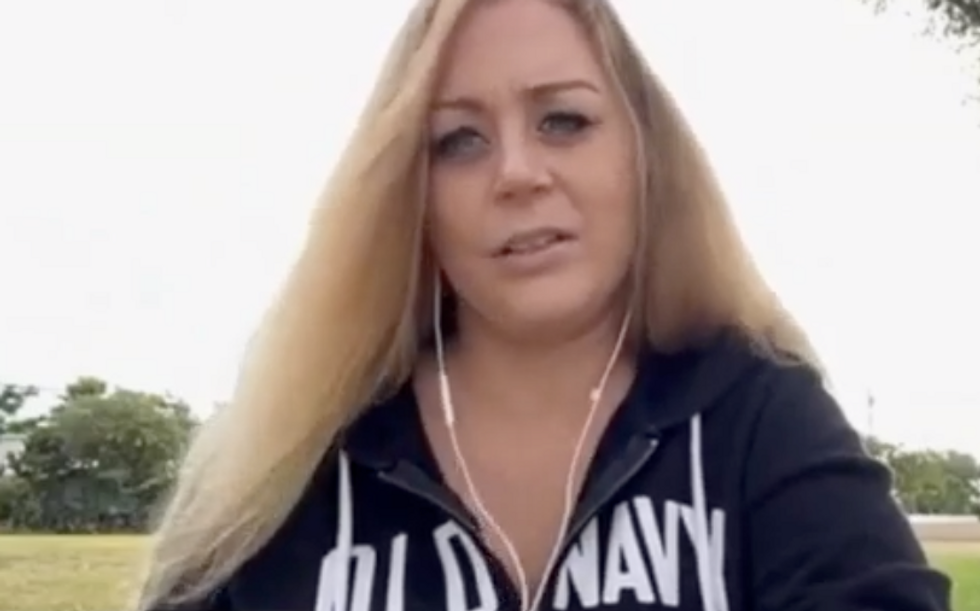 "One of them I get shortness of breath, dizziness and it messes with the heartbeat. And I do have asthma as well, and I do get mask-acne. So there's several things going on and not only that but it doesn't even work."
So, obviously, she wants half of the $105,000 raised.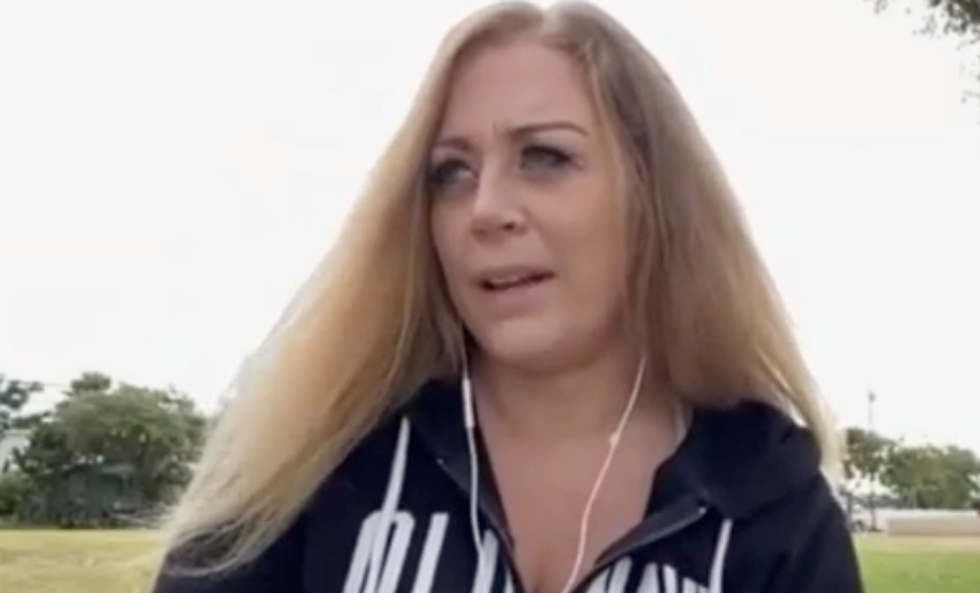 "It was discrimination and everybody is okay with it and enabling and rewarding that behavior."
Of course, people are furious over Amber's plans...
@notcapnamerica Pardon? She's suing to get HIS earnings that were donated to HIM? Okay, gotta read the legal justi… https://t.co/cl39lKP1qT

— Out of Spoons, Only Have Knives #BlackLivesMatter (@Out of Spoons, Only Have Knives #BlackLivesMatter)1593660523.0
And they are simply baffled over the fact that this woman thinks that she is in the right.
Whether she will be able to claim any sort of compensation from this situation, only time will tell.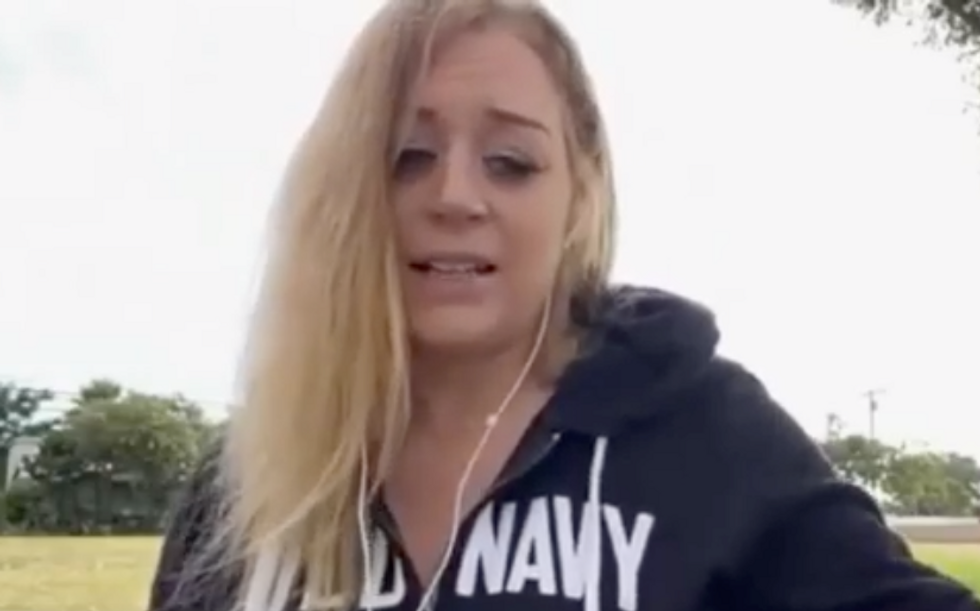 Sadly, angry and unreasonable "Karens" have been on the rise. Keep scrolling to read more about the "Karen" deliberately coughing on a bagel when a worker asked her to put on a mask...