Earlier this year, the statue of the British slave trader, Edward Colston, was vandalized, torn down, and thrown in a river - and quite rightly so.
But now, the controversial monument has been replaced with a statue of something else entirely...
2020 is the year of change.
The Black Lives Matter movement is more prominent than ever before as people
finally
take a stand against the blatant racism occurring all over the world.
And one of the most popular methods of getting the message across?
Well, it's tearing down statues and monuments of historically racist figures, of course!
Tearing down the statues of slave traders and other controversial figures is the latest trend of 2020...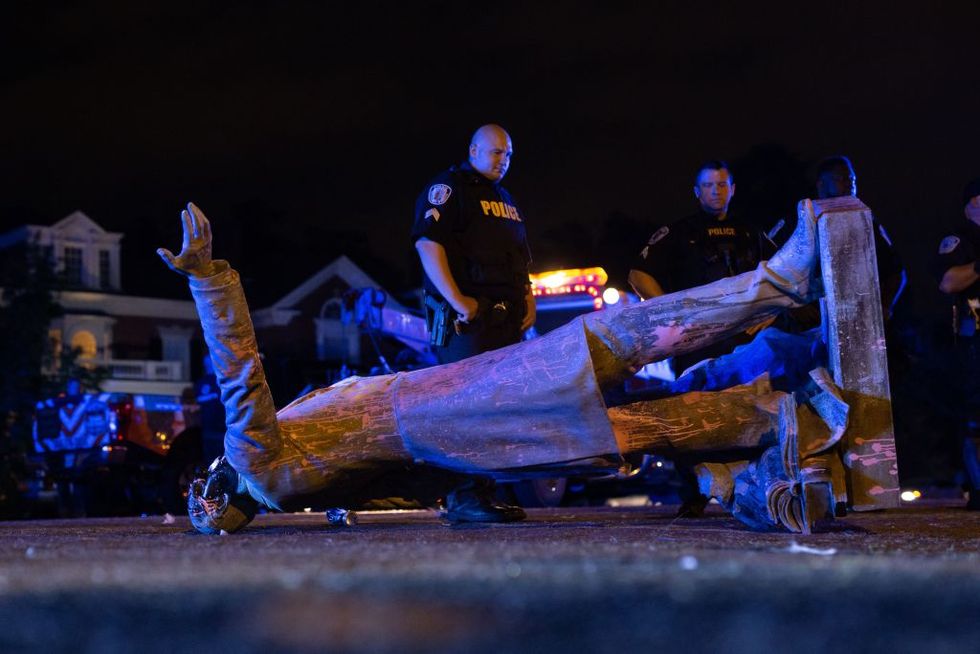 And boy, is it long overdue. Keep scrolling to see the best examples of racist figures
finally
being recognized for what they were...
One of the first instances was the vandalism of a statue of former Prime Minister, Winston Churchill, in London, England.
Despite Churchill being celebrated for the role he played in carrying his country through World War Two, his history with racism is incredibly problematic, and he is credited for the death of millions of Kenyans and Indians.
And it didn't take long for the trend to reach the United States...
A statue of Christopher Columbus in Virginia was suddenly torn down and defaced - the monument was ninety-three years old and had been standing there to commemorate the Italian explorer.
Controversy has surrounded Columbus' name for many years now...
His transatlantic voyages unlocked an entire continent for European colonization and turned the Italian explorer into a modern symbol of conquest and violence for native Americans.
Protestors completely dislodged the statue...
And this is when things turned ugly.
The statue was set on fire and covered in graffiti...
And protesters then dumped it in Richmond's Fountain lake as a final demand for justice.
Over in Portland, George Washington was then ripped from his stand and set on fire.
Protesters in Virginia tore down a statue of Christopher Columbus, setting it on fire and throwing it into a lake.… https://t.co/jbzu9TlMjs

— AJ+ (@AJ+)1591791136.0
In images captured by Garrison Davis, you can see the old statue has been defaced and vandalized before being set on fire along with a burning flag. In the end, the statue was dragged into a lake and left there to sink.
The American Museum of Natural History then announced the removal of a prominent monument of theirs...
The statue of the former president, Theodore Roosevelt, who has been embroiled in controversy for decades.
The majority of people online have spoken in favor of this movement...
And many believe that all statues of anyone affiliated with slavery and racism in any form should be torn down permanently.
But now, the movement has been taken one step further...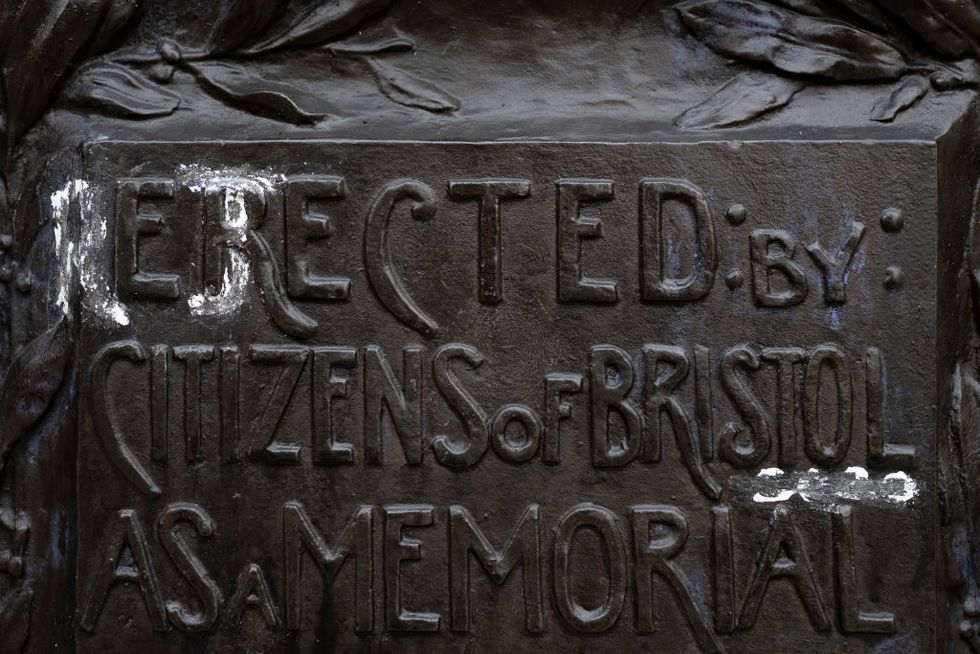 A
new
statue has been erected in the place of a racist slave trader... And it is the most beautiful symbol of the entire BLM movement.
A video from Bristol, England, went viral earlier this year after protesters tore down a statue of 17th Century slave trader, Edward Colston...
Historic scenes in Bristol as protesters kneel on the neck of the toppled statue of Edward Colston for eight minute… https://t.co/p7VVmxHW7n

— Martin Booth (@Martin Booth)1591539194.0
Before throwing it into a nearby river.
Colston was a slave trader...
The moment a statue of slave trader Edward Colston toppled into Bristol's harbour. 'It's what he deserves. I've bee… https://t.co/xzJLp90l6r

— Sarah Turnnidge (@Sarah Turnnidge)1591542295.0
And he is thought to have trafficked as many as 84,000 African men, women, and children, with an estimated 19,000 dying on their journey to the Caribbean and America.
So, the vandalism of this statue was a long time coming...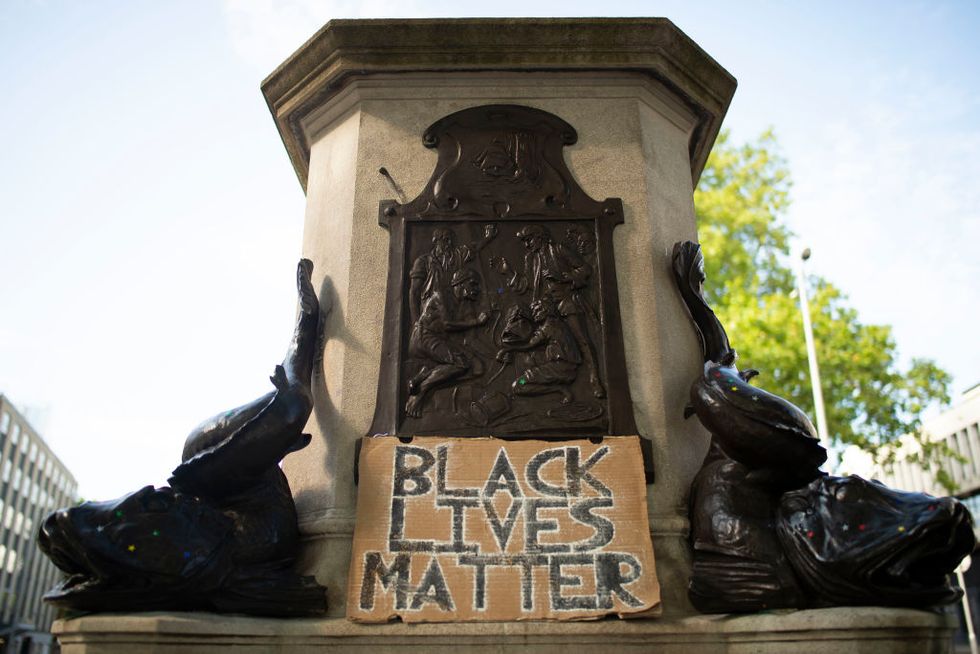 And now, it has been replaced with something completely breathtaking.
Introducing Bristol's latest statue - A Surge of Power.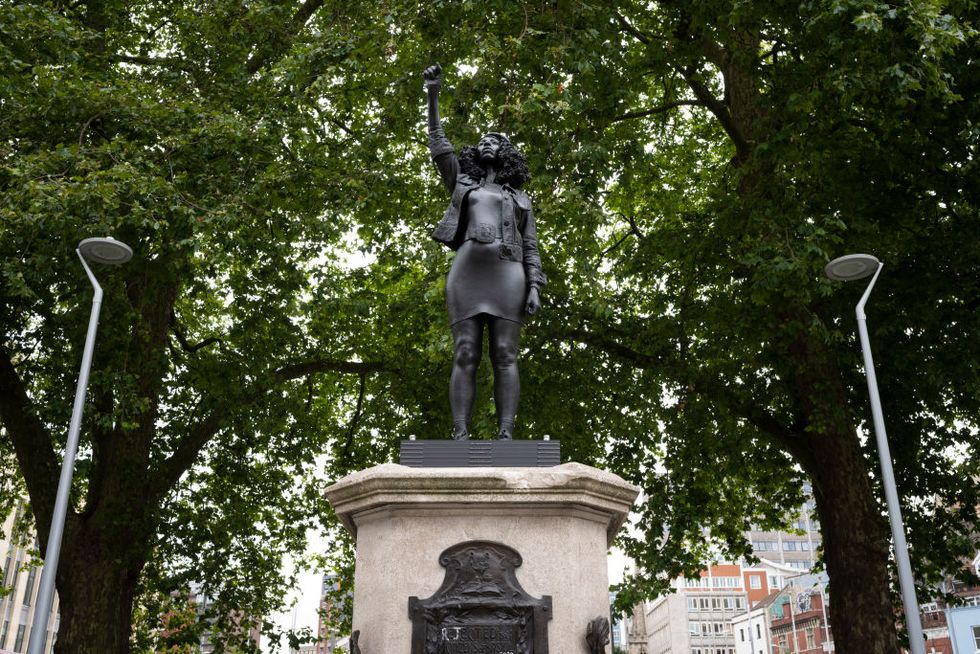 A sculpture of BLM protester, Jen Reid, was erected early on Wednesday morning in Bristol's city center, directly where the Colston statue was pulled down last month.
Reid had been photographed standing on the empty plinth after the Colston statue was toppled during the march...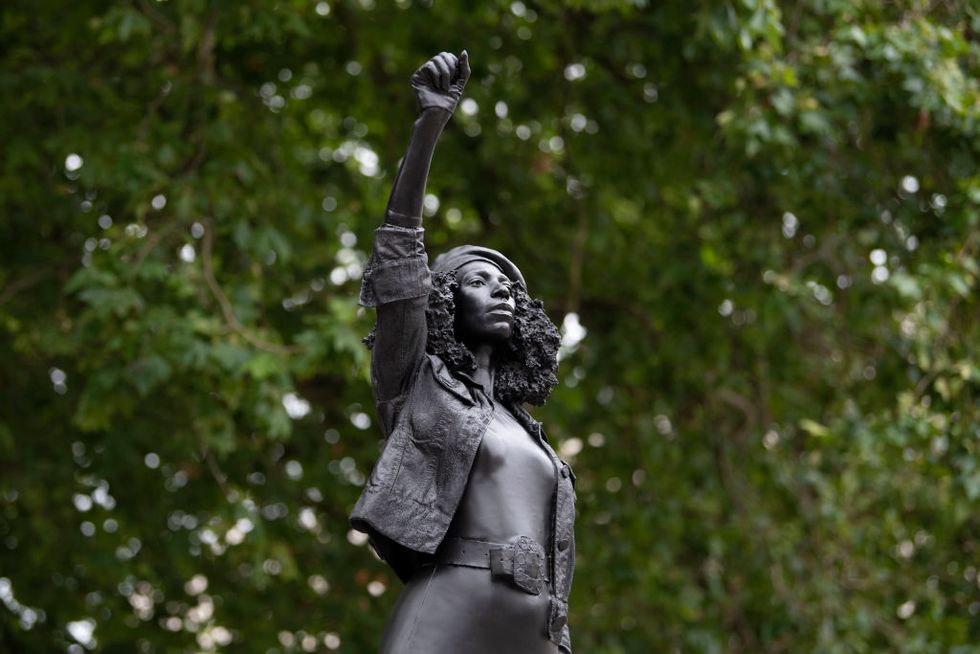 And the statue's artist, Marc Quinn, felt inspired to make a monument out of the powerful photograph.
He contacted Reid on social media and, together, they worked on moulding and erecting the statue.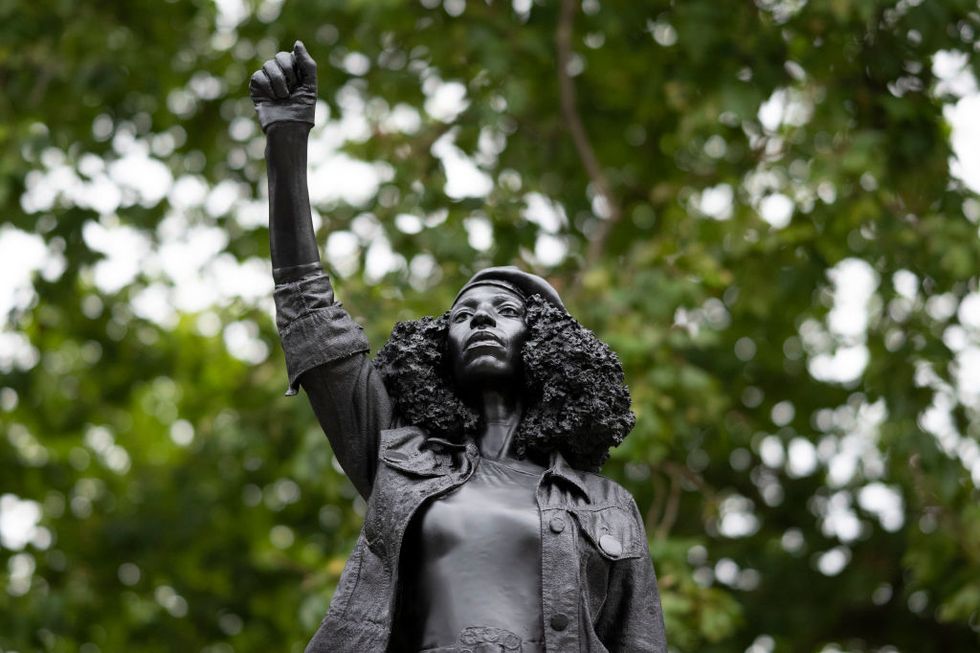 As per the
BBC
, Quinn said on the project: "I saw pictures of Jen on the plinth and she spontaneously made this gesture and I thought this is amazing. She's made an extraordinary artwork just by doing that and it needs to be crystalized into an object and put back on to the plinth. It had to be in that public realm and I wanted to put it in that charged spot where Edward Colston had been before."
As for Reid, she has said that the sculpture was important because it helped "keep the journey towards racial justice and equality moving."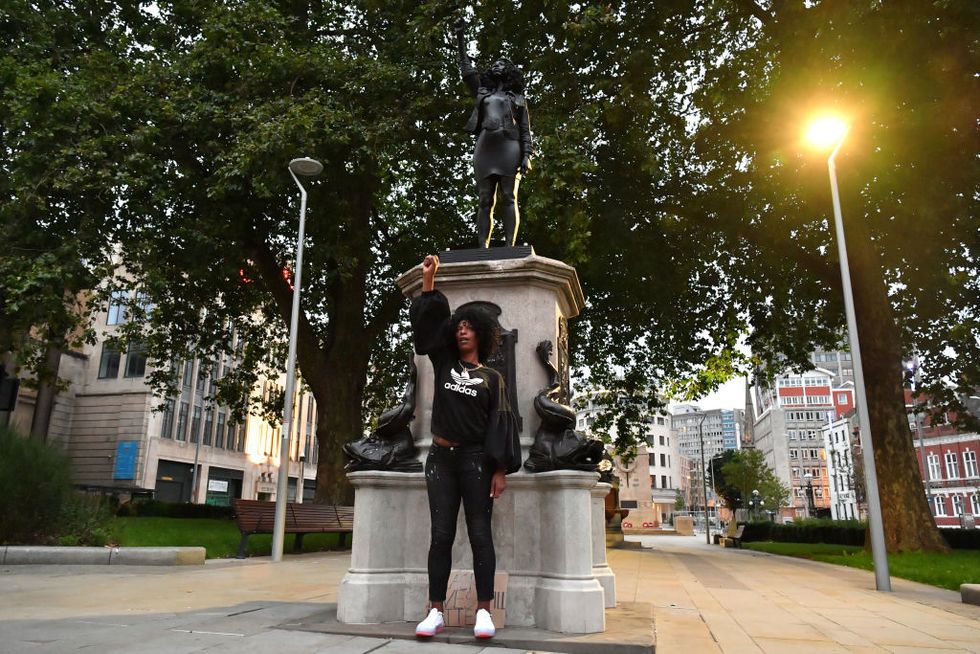 "This sculpture is about making a stand for my mother, for my daughter, for black people like me."
However, the future of the statue is uncertain.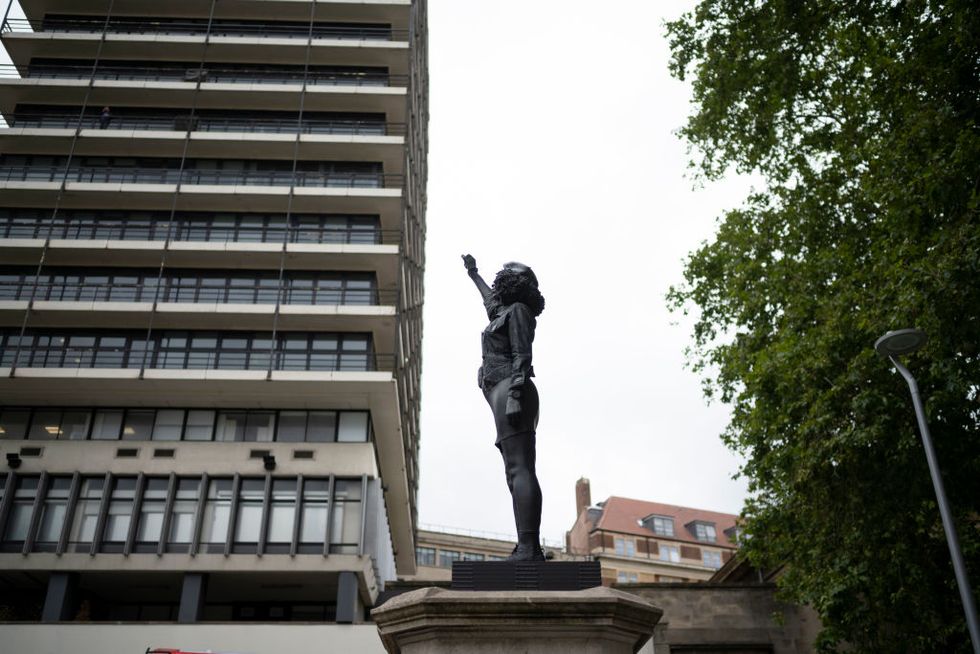 The Mayor of Bristol, Marvin Rees, who had previously called the statue of Colston "an affront", said the new sculpture "was not requested and permission was not given for it to be installed".
"The future of the plinth and what is installed on it must be decided by the people of Bristol."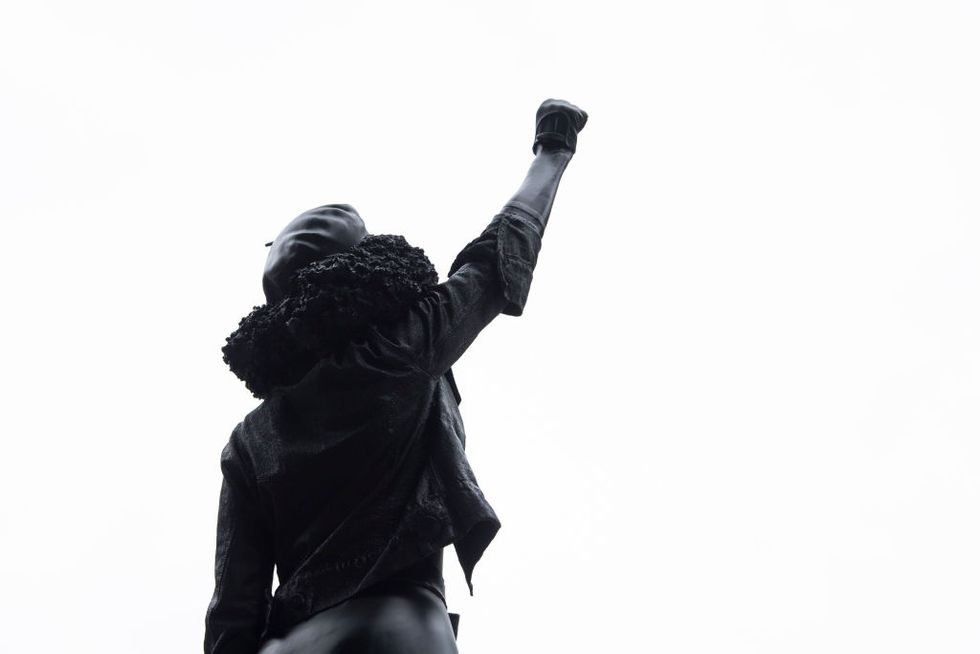 We can only hope that the monument will continue to stand in the place of the notorious slave trader as a powerful symbol of the Black Lives Matter movement. For more on the importance movement, keep scrolling to read people's reactions upon finding out that Beethoven was actually black...