Parenting is hard. Don't get me wrong; being a parent is one of the most rewarding things a person can do. But all parents will be sleepless and covered in spit-up and snot for a few years. At least.
One stay at home mom has come up with the best parenting hack to help you save money.
Keep scrolling to find out the ultimate parenting hacks...
Cardboard Box Creativity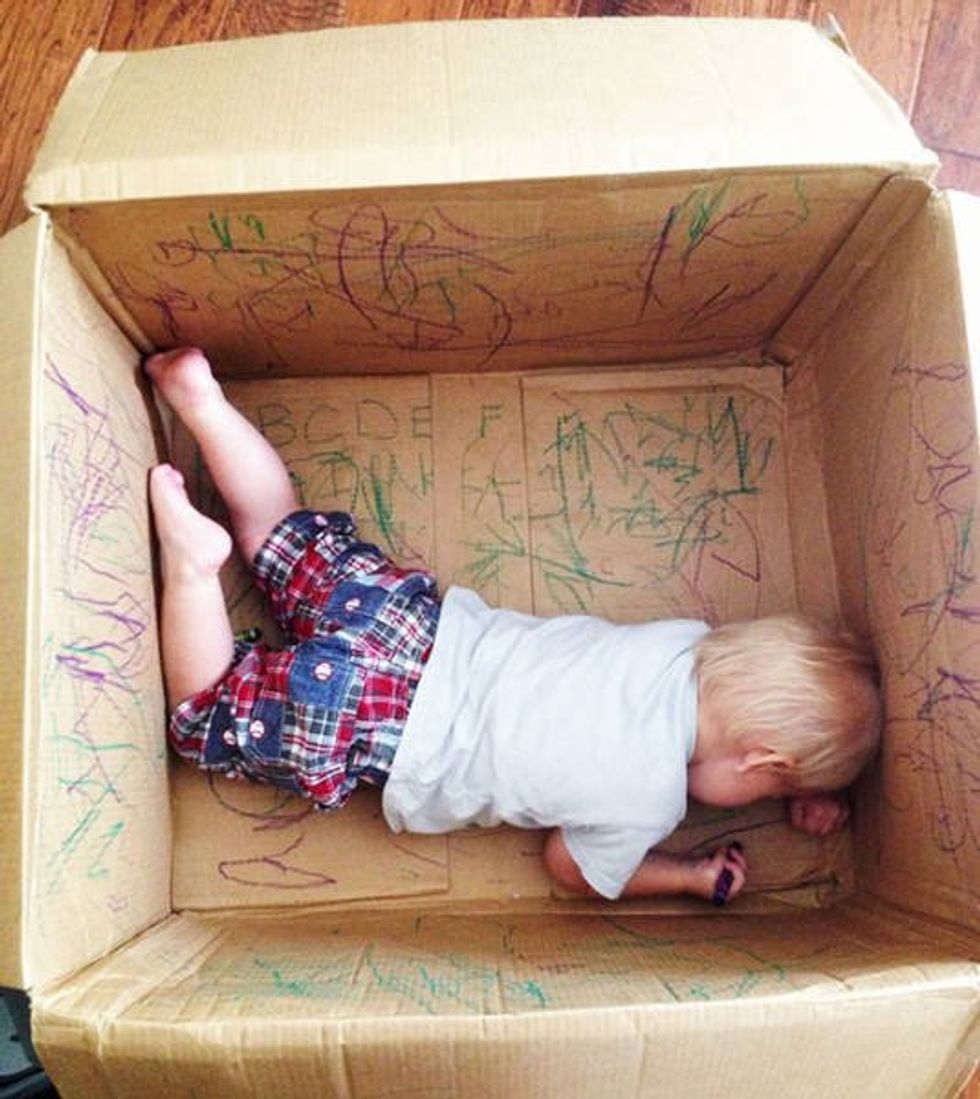 Need an easy way to keep your kid from writing on the walls? Need an easy way to keep track of where your kid is? Well, this strategy will kill both problems with one hack. Put him in a cardboard box, hand him some crayons, and you're golden for hours.
Shoe Stickers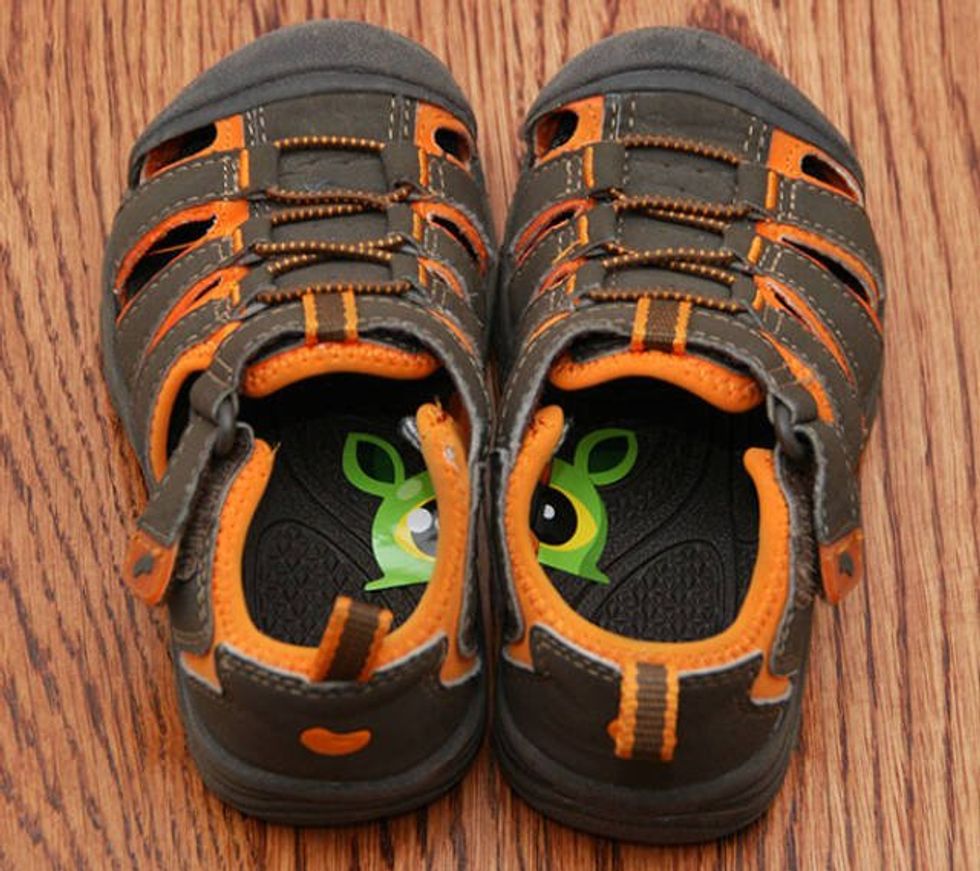 Cut a sticker in half and place each half in one of your child's shoes to help them keep pairs together and know which one goes on which foot! She may never learn the difference between left and right, but it'll save you some time, and that's what this is really about.
Paint the Fence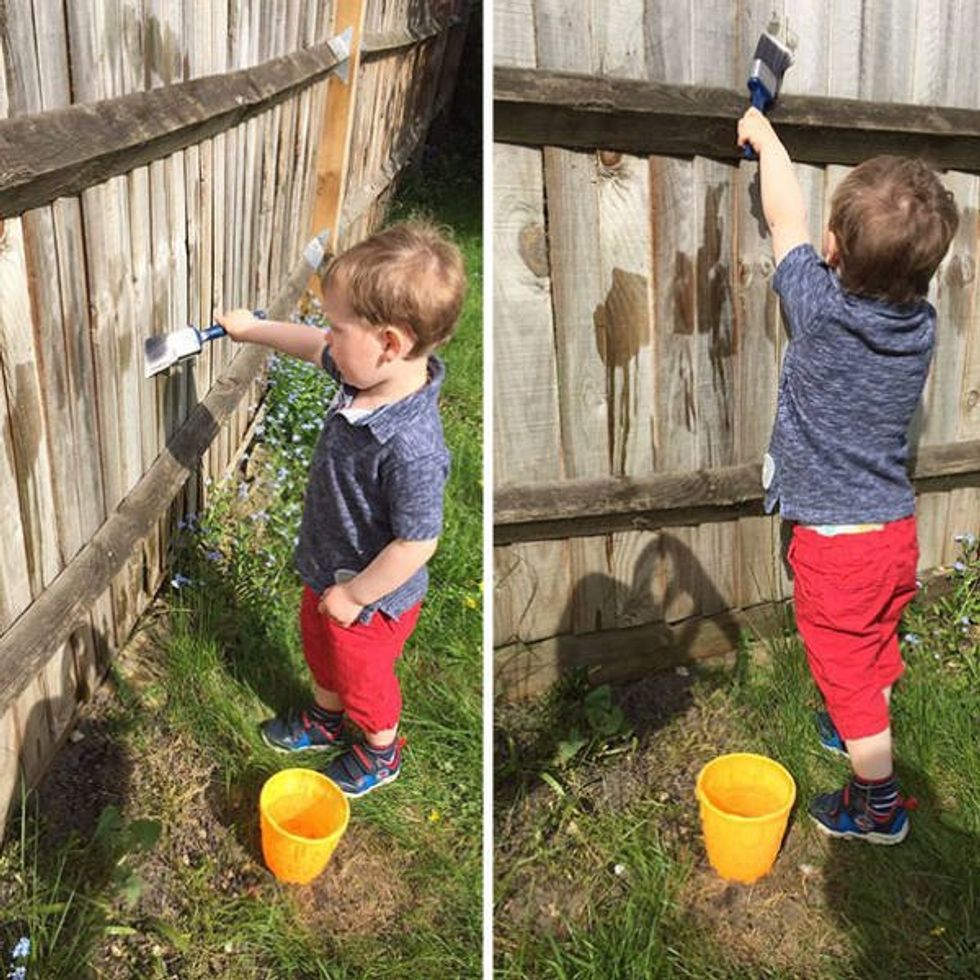 Keep your kid occupied for hours with a little white lie. Tell him you need the fence painted, then give him a pail of water and a brush. He'll feel like he's helping!
Find the Keys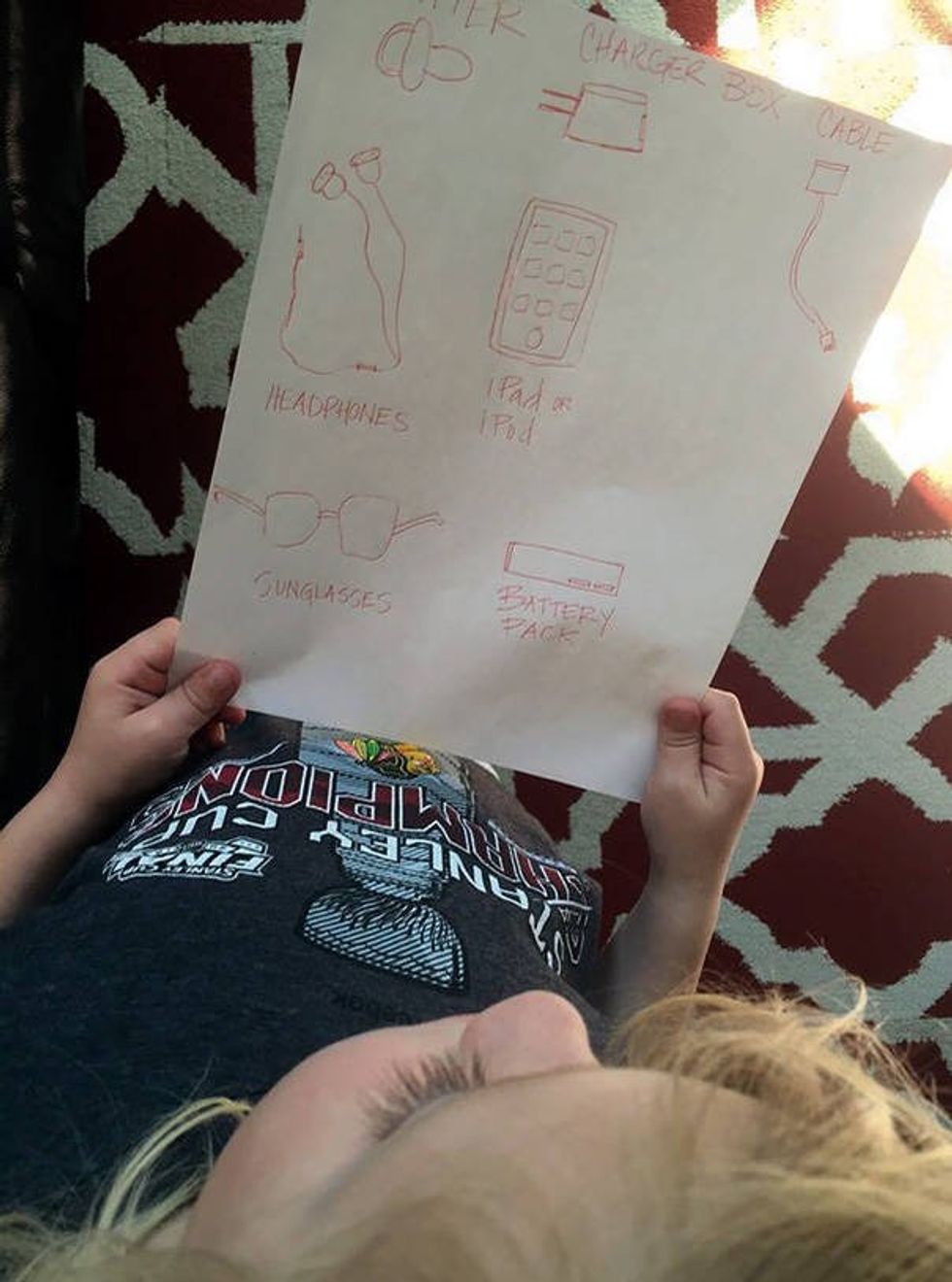 If you can't find your car keys or your sunglasses, don't stress yourself out looking for them all by yourself! Employ your small army of free slaves* to help you look. Make it a game. Whoever finds the missing object(s) gets a prize (assuming you can keep track of it). *children
Portable Partitions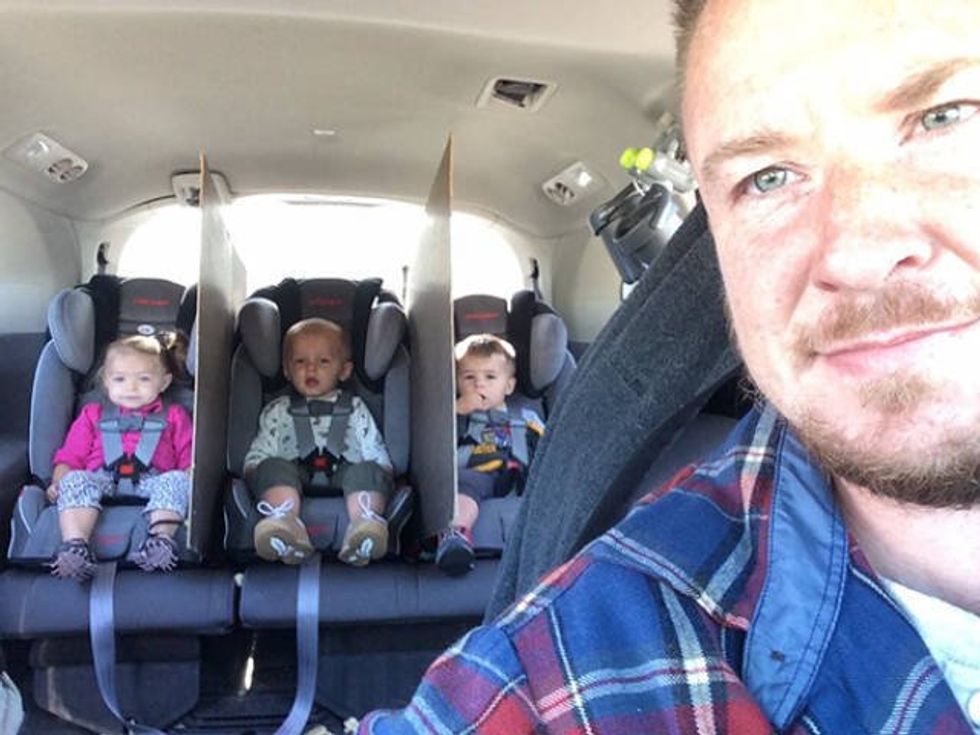 If you have multiple little ones, back-seat fighting is a real issue. If it's out of control, use foam or cardboard dividers to keep the peace.
Monster Spray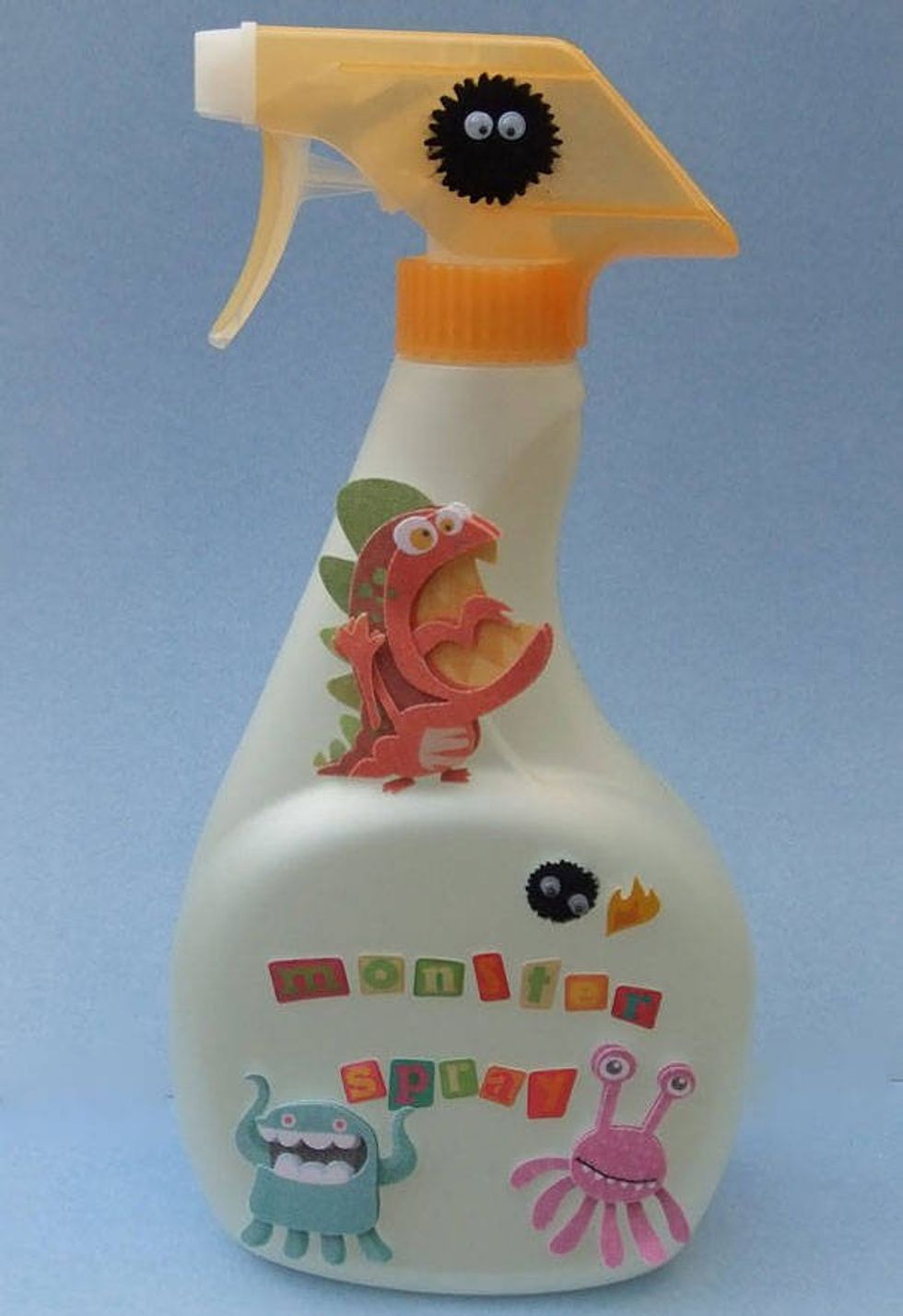 Monster spray really works. Fill a spray bottle with water (or Febreze!) and slap a fun label on it. Monsters will no longer haunt the closets or under-beds of your little ones. (Also maybe don't let them watch 
Monsters, Inc.
until they're over this little phase.)
A Fan of Forts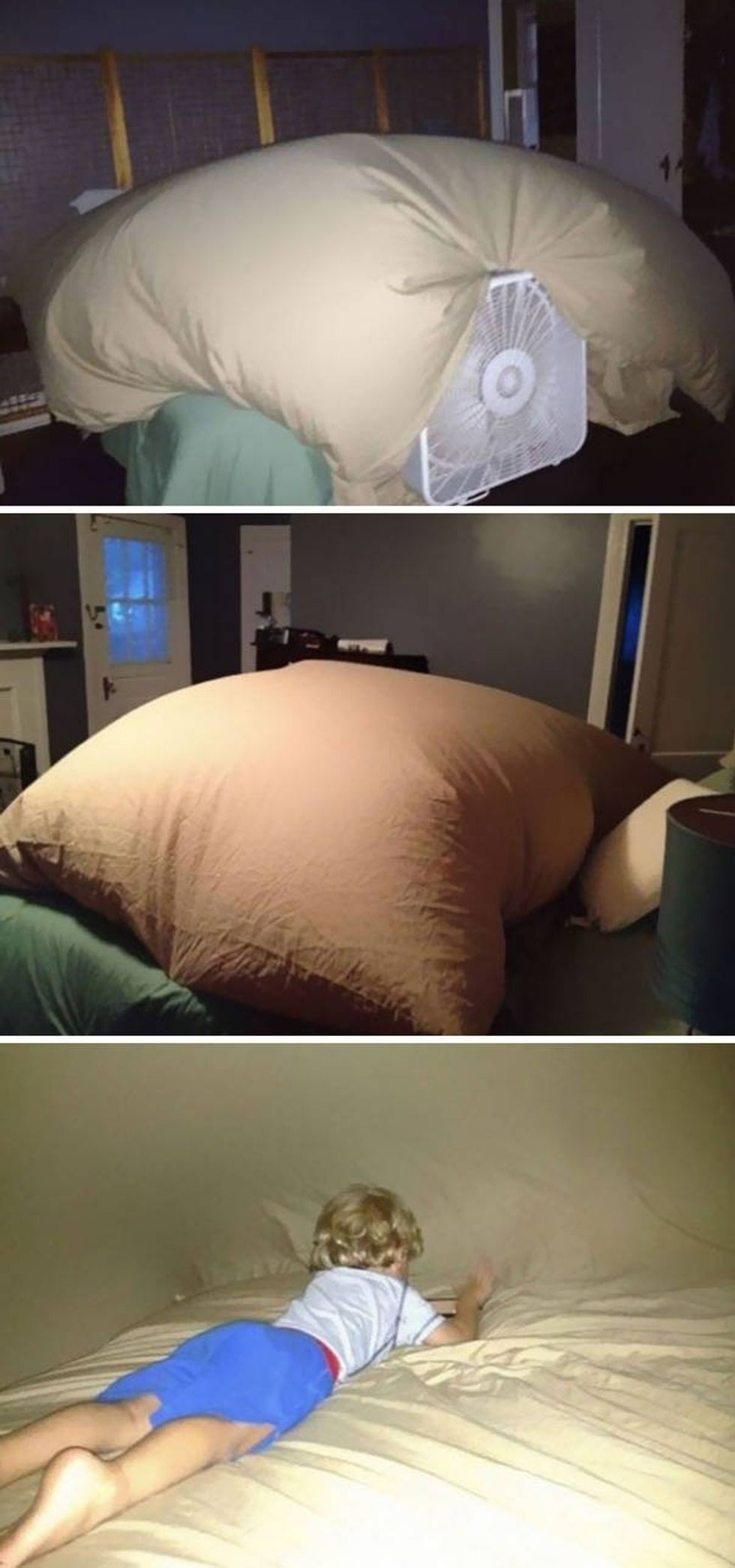 Make a fort with a fitted sheet and a fan! It's a bubble of fun! Plus, it's really 
cool. 
What Time Is It?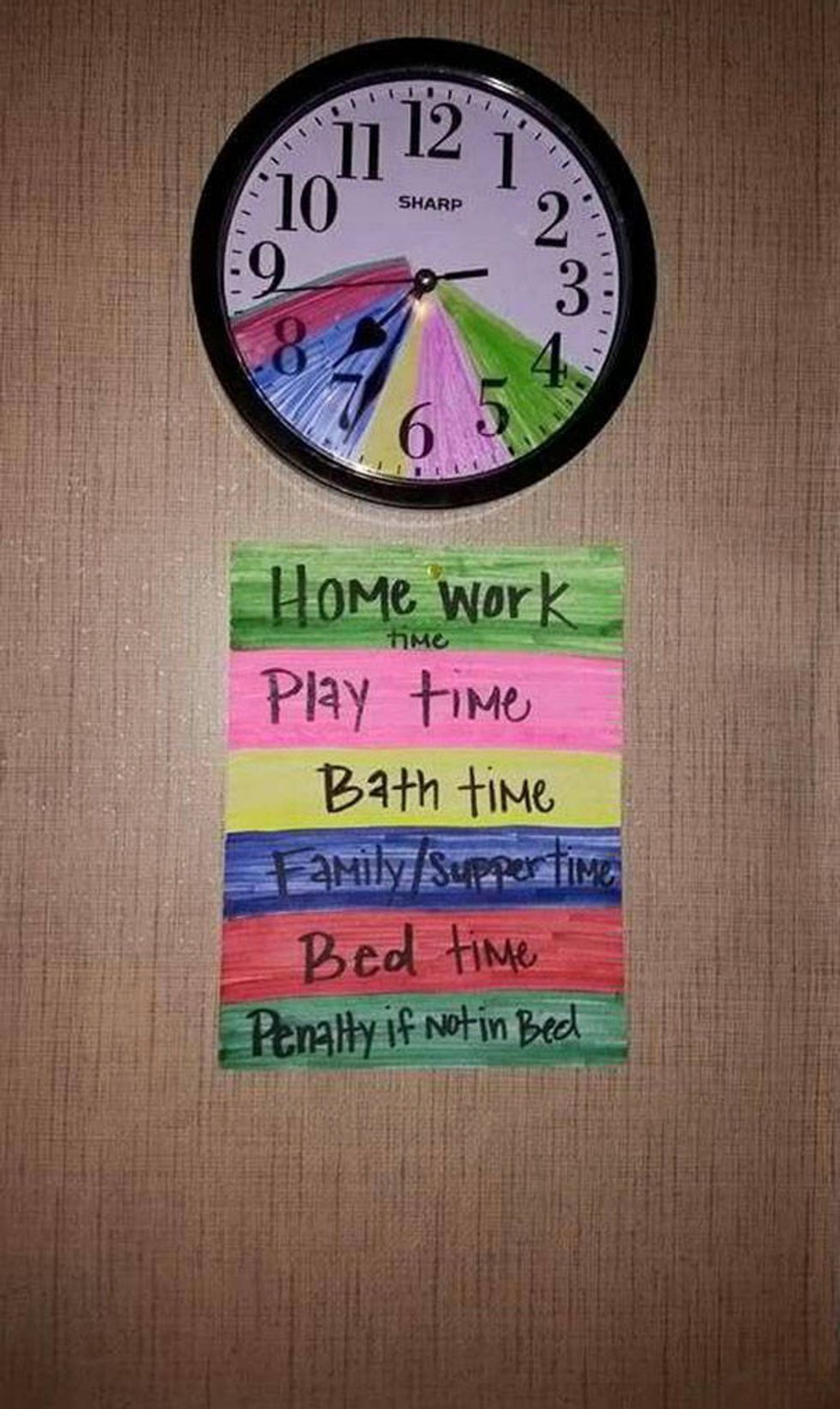 Use a color-coded clock to help your kids learn time management skills. Like many other hacks on this list, I know a few adults who could use this themselves.
Extend-A-Sink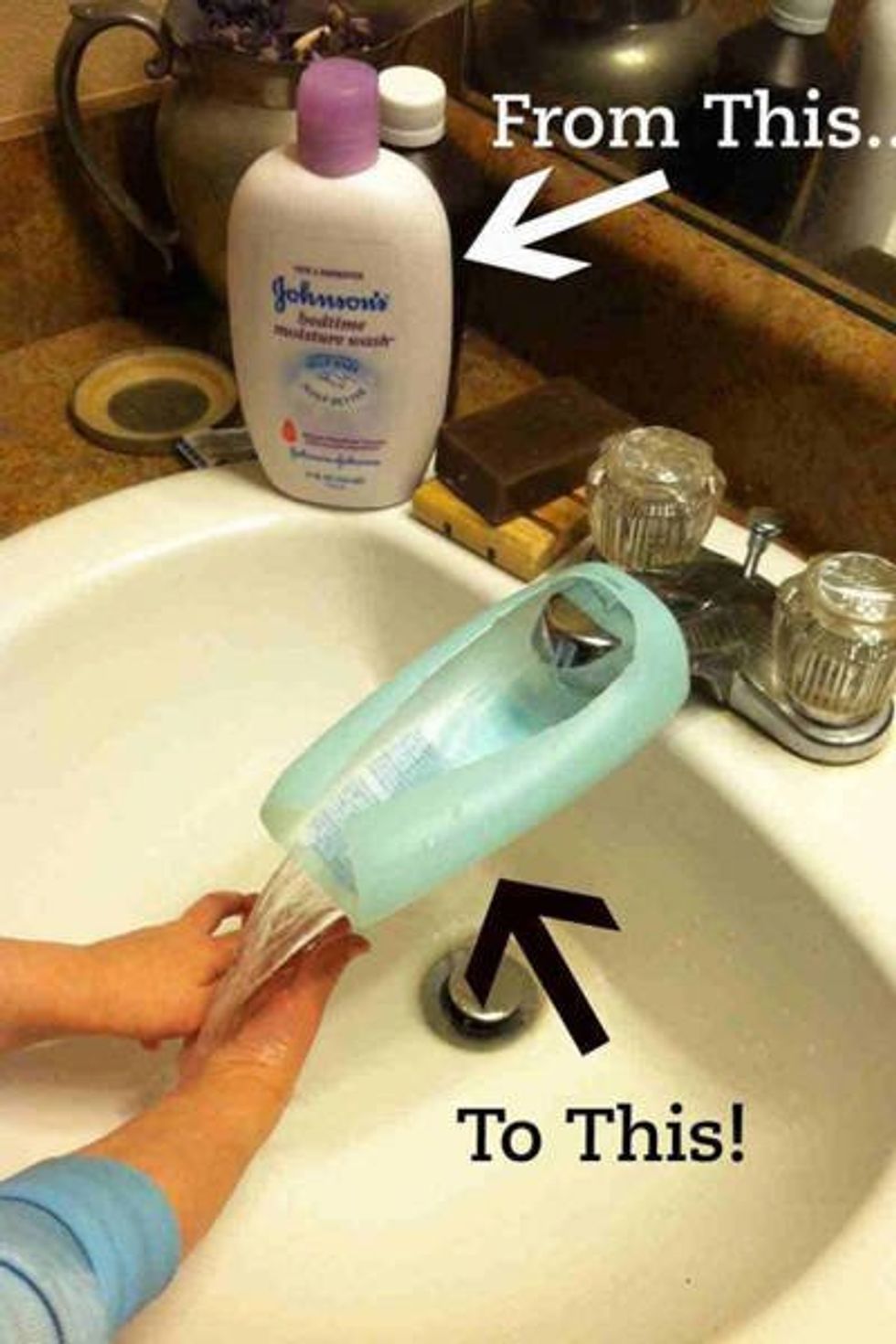 Don't throw away that empty lotion bottle! Cut out the bottom and side and use it as a sink extender. No more reaching on tippy toes or falling off step stools for your little girl or guy.
Baby Eye Shower Cap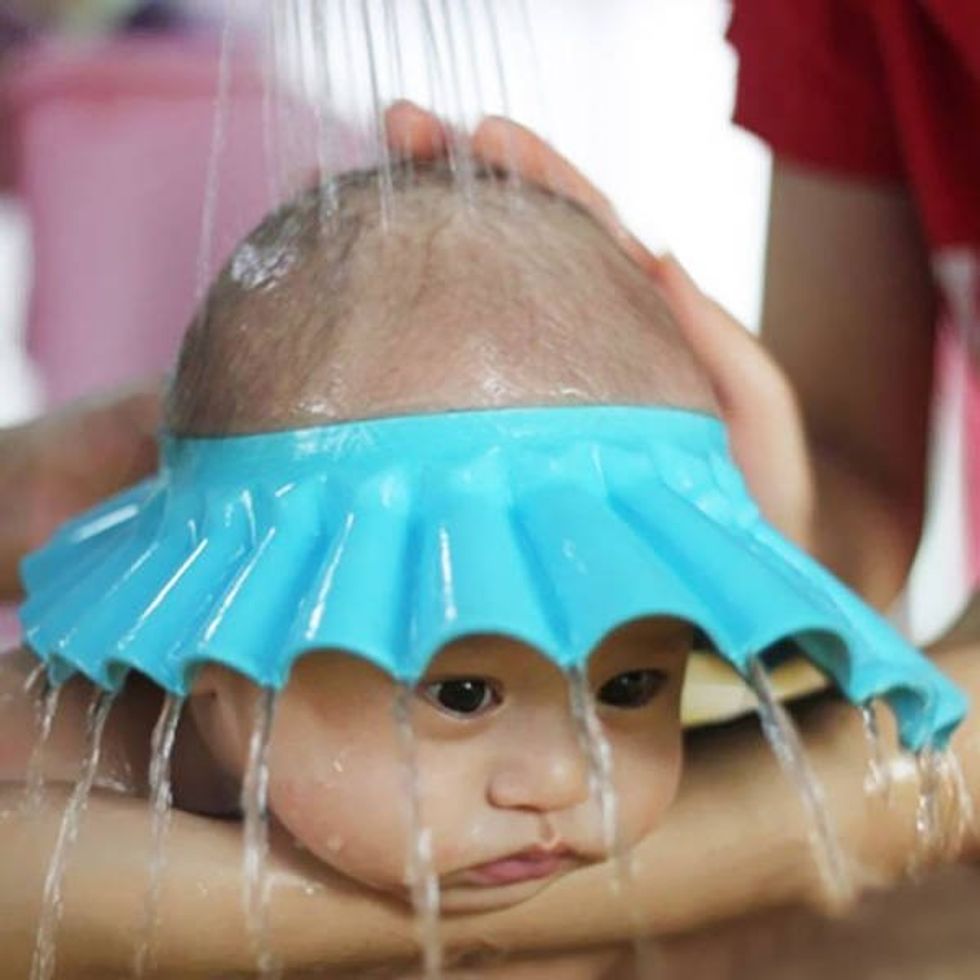 This little shower cap is the perfect way to keep water out of your baby's eyes during bath time. Not to mention it's super adorable.
Sand Sheet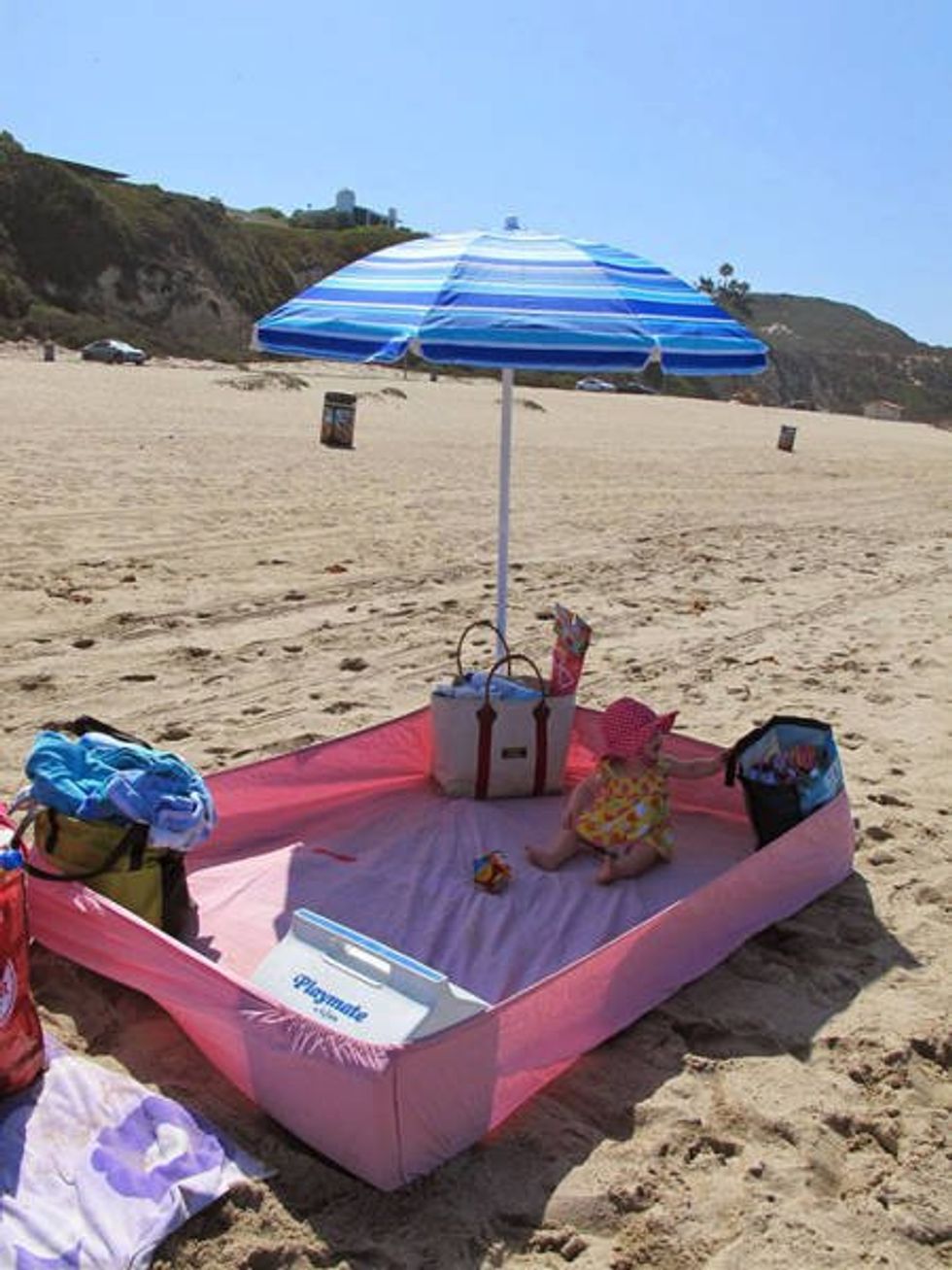 A fitted sheet creates a perfect sand-free zone on beach days! All you need are some heavy objects to anchor each corner, and with all your new-parent supplies, that shouldn't be a problem.
Sweeping Game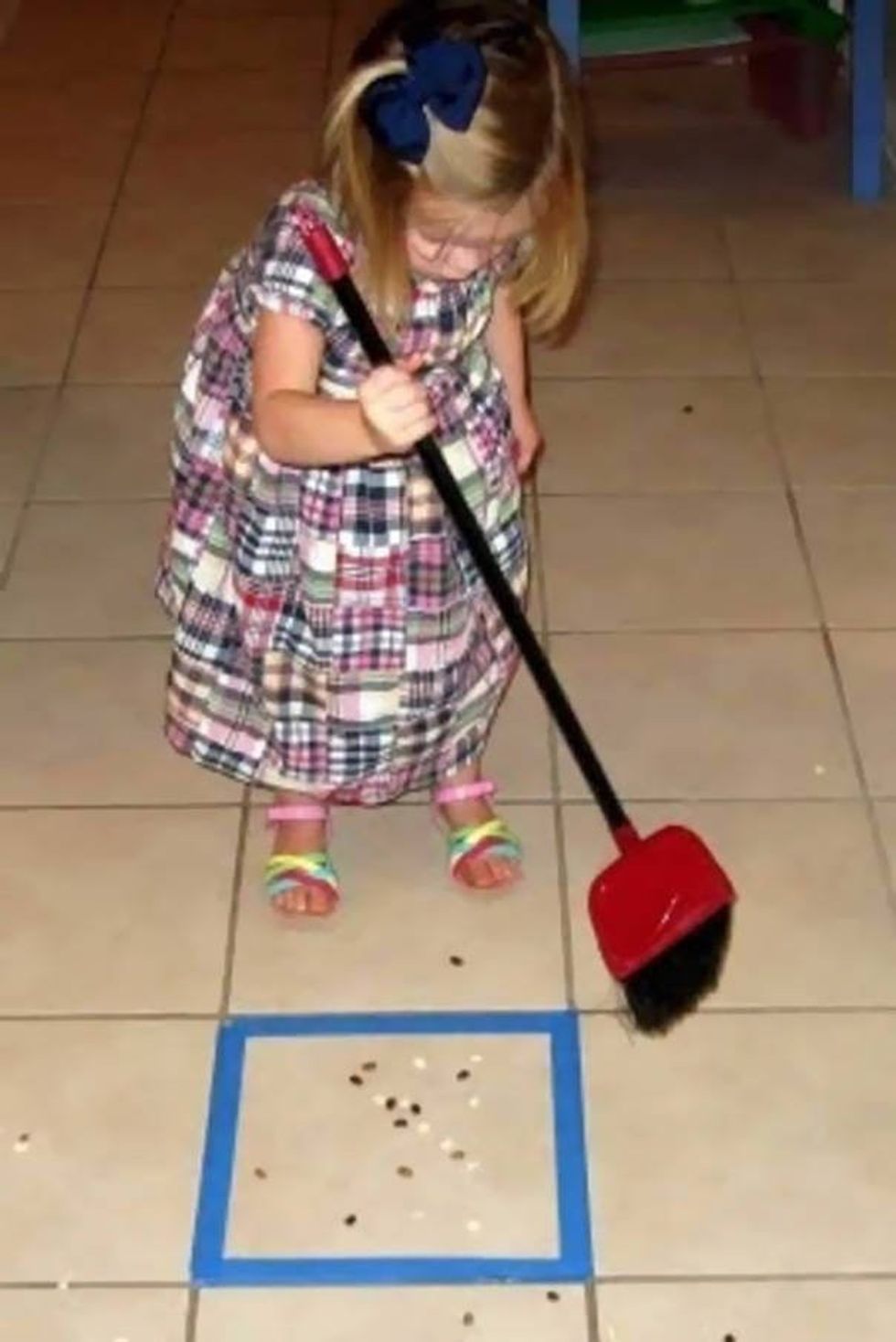 Chores can be fun if they're disguised as games. Tape a square to the floor for sweeping or see who can pick up their toys the fastest. Trickery is totally acceptable if it's for the good of the household.
Homemade Slide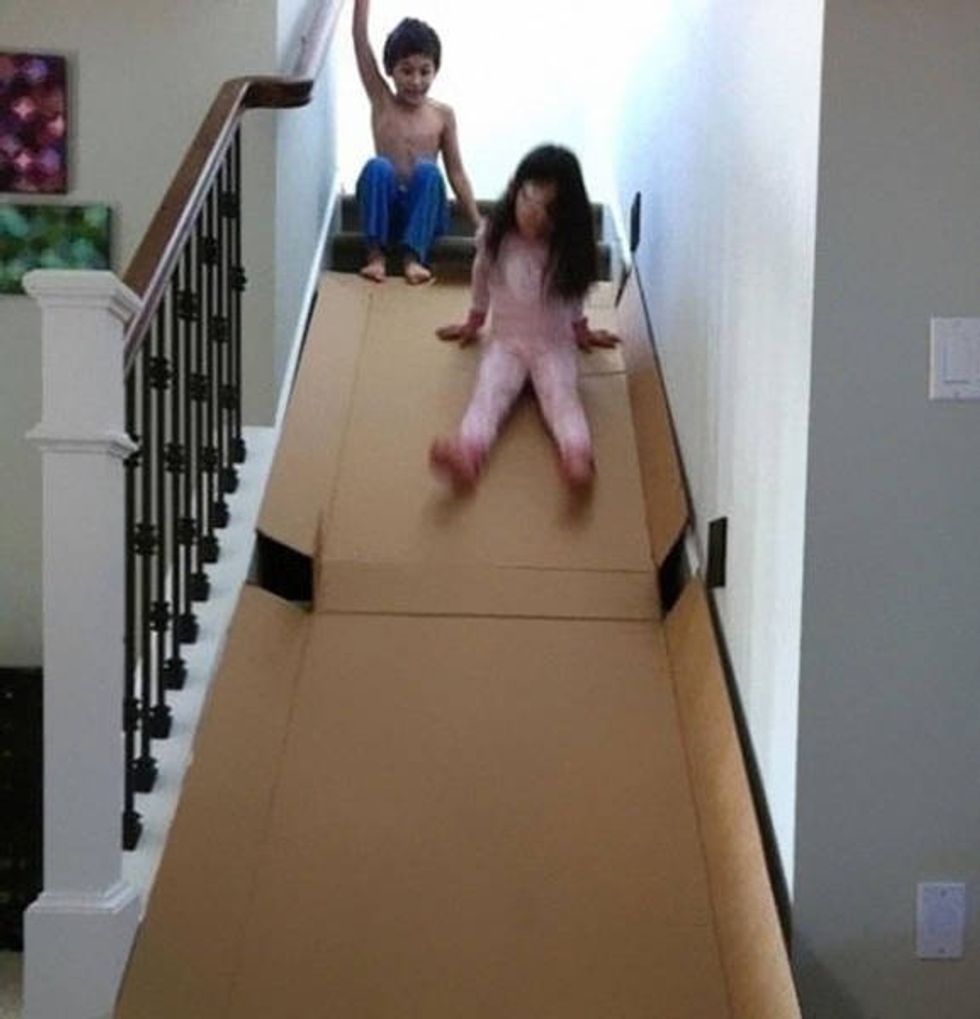 On cold or rainy days when a trip to the park isn't possible, use cardboard boxes to convert your staircase into a slide! You might want to fortify the bottom with pillows and blankets to prevent injuries.
Lollipop Saver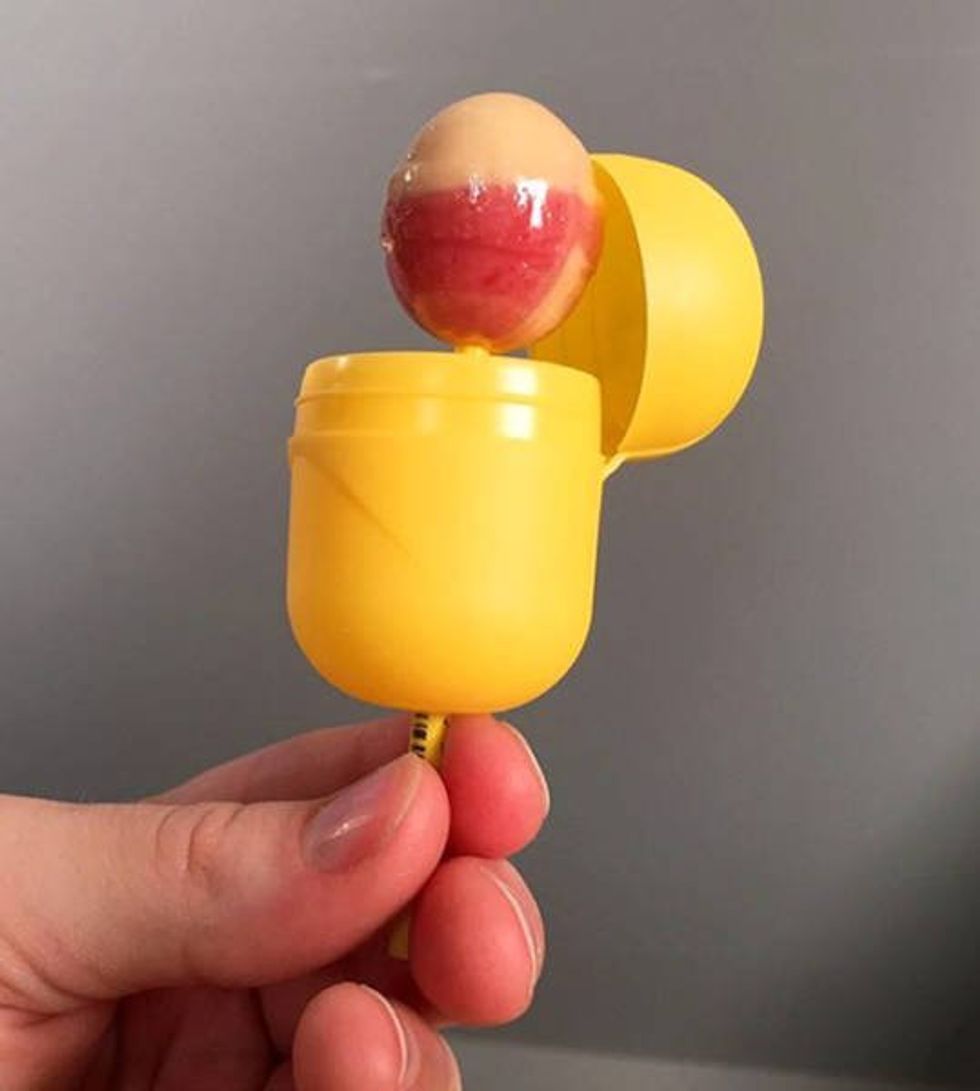 If there's one truth about kids, it's that they can never seem to finish lollipops! Use that plastic egg from that vending machine toy as a lollipop saver and you'll never find a fuzzy leftover pop melted onto the floor of your car again.
"I'm Lost" Temporary Tattoos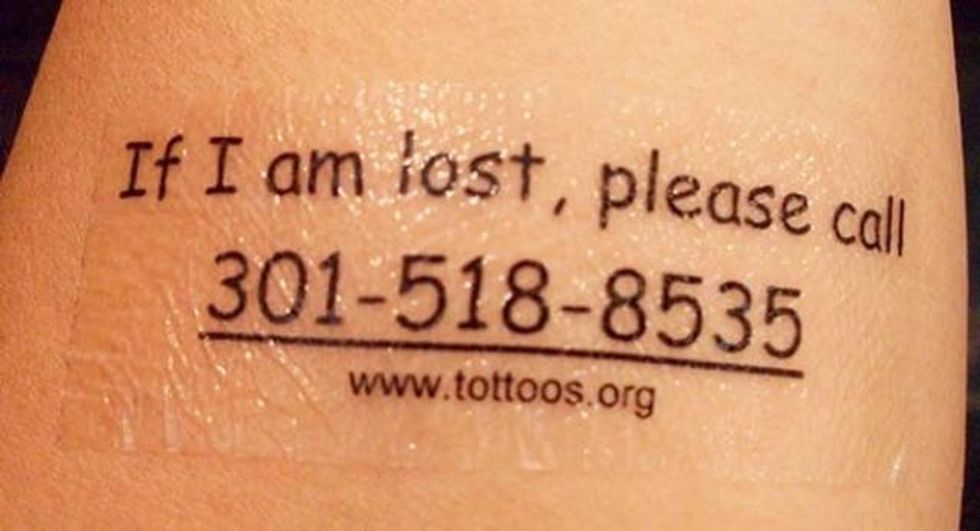 Now this is genius. If you're going to be out all day, stamp your kids with temporary tattoos that have your phone number on them. If they get lost, they won't be for long! For the kid who's known to wander off, you might want to put the tattoo on their forehead.
But one stay at home mom has shared her own hack, that is absolutely genius.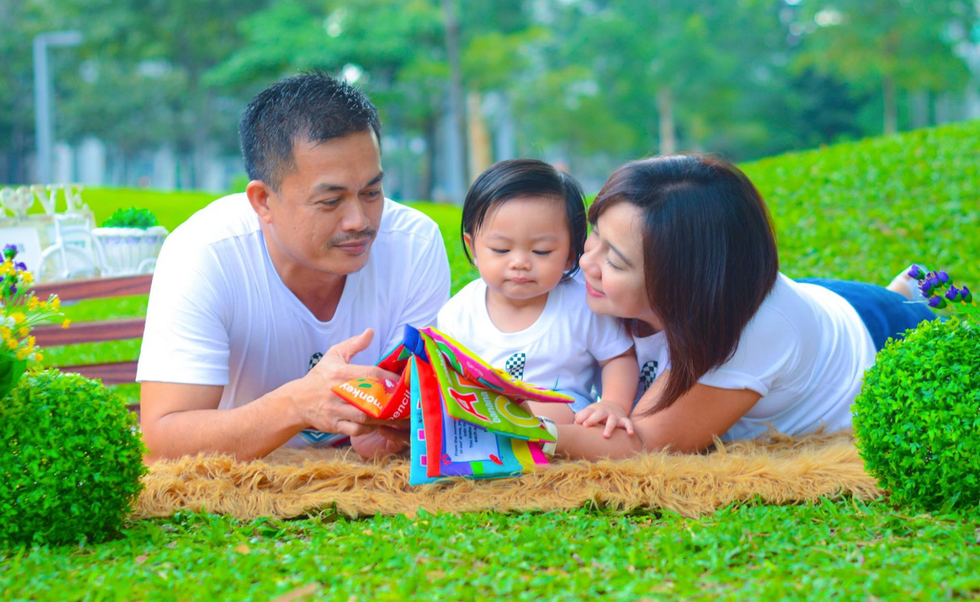 It's her own way of helping her husband with their expenses.
Budgeting is always hard.
But when you're in a single income household, it makes things extra tight.
That doesn't always mean you can't be in control.
Having a stricter budget can make you more open to finding clever ways to save money.
It's always a good idea to keep track of what you spend.
Especially as a parent. As we all know, those diaper costs can get out of hand!
A Facebook group has come to the rescue.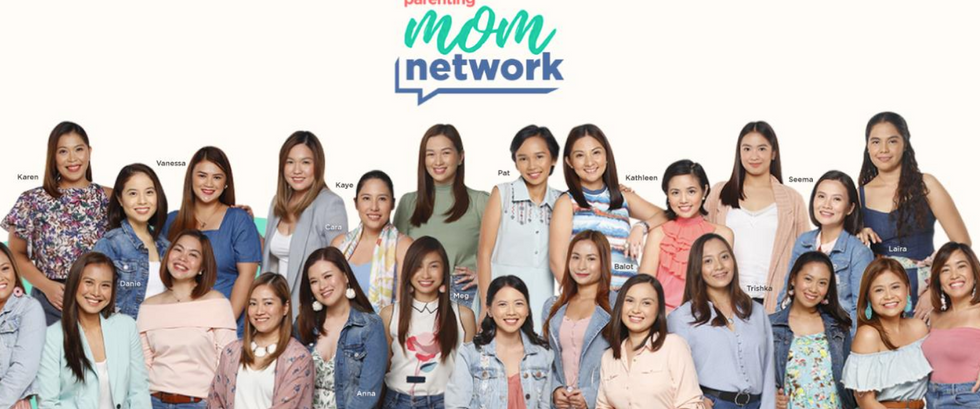 A stay at home mom is part of the group Smart Parenting Village where parents come together and share their helpful parenting hacks.
Madeline Ellado shared her simple hack.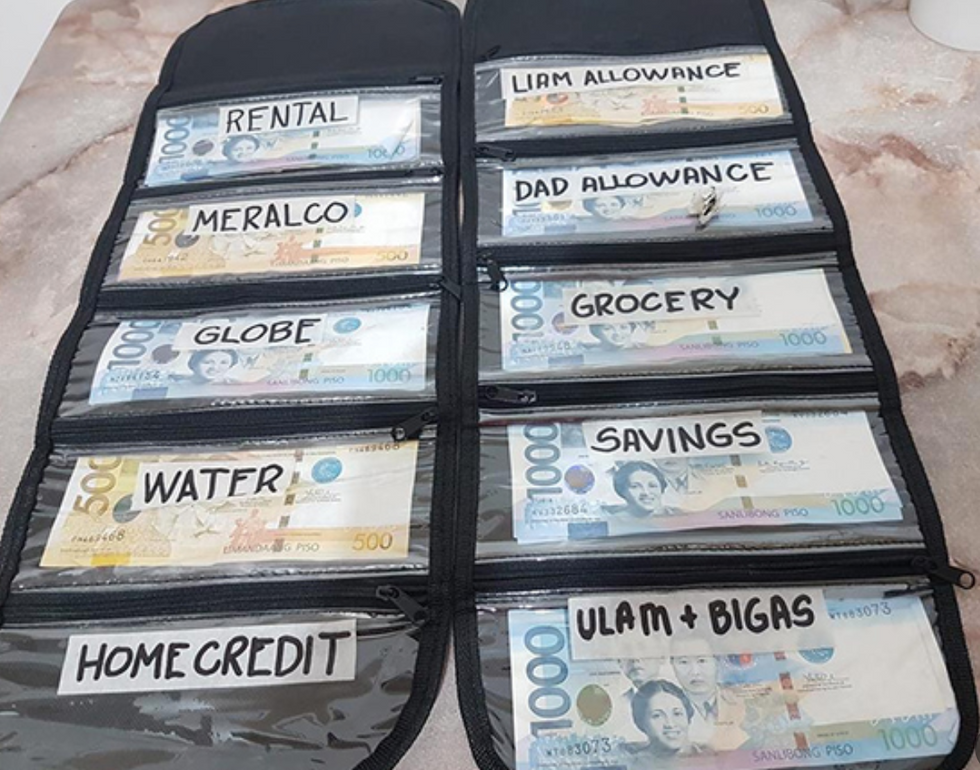 She keeps her family's expenses in order by using a money organizer, from Lazada.
The bills are all kept separate, and labeled accordingly.
Ellado comments: "This is our budget for 15 days. It includes our bills, including groceries and other expenses. I deposit the savings into a bank account."
She said the idea started when her son was 2.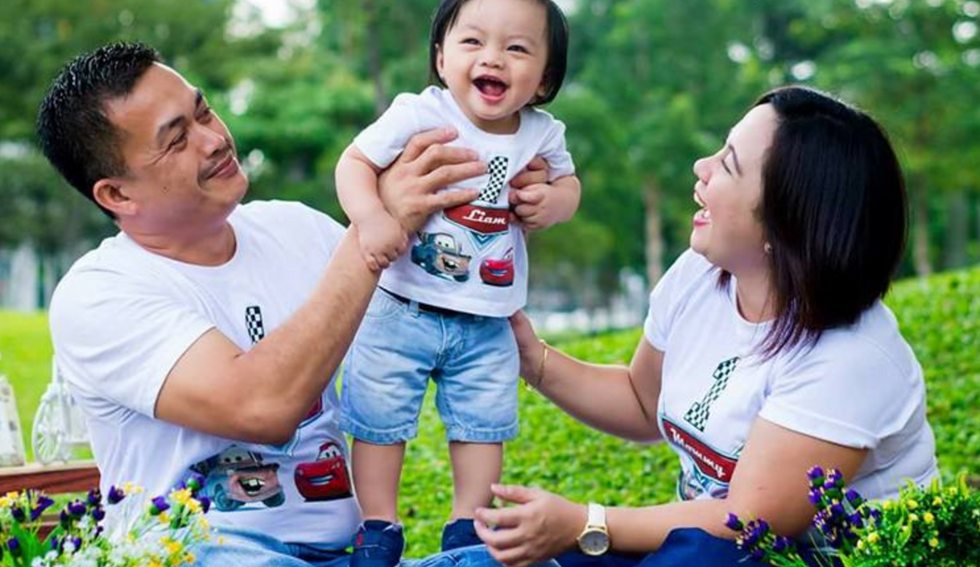 It wasn't just a way of helping her husband out, but also keeping up with the expenses of raising a small child after the couple found themselves spending an excessive amount on milk and diapers.
Ellado explained why she started organizing their money.
"I'm a full-time housewife and I can't help my husband with the expenses. Budgeting is my way of helping him, so we know where his salary goes."
She breaks the budget up into 9 parts.
And each budget lasts for fifteen days. Liam's needs - $69 Daddy's allowance - $40 Groceries - $59 Meals - $59 Rent - $147 Electricity - $24 Water - $10 Phone bill - $26 Home credit - $45 Savings - $39
Her husband fully supports the budget.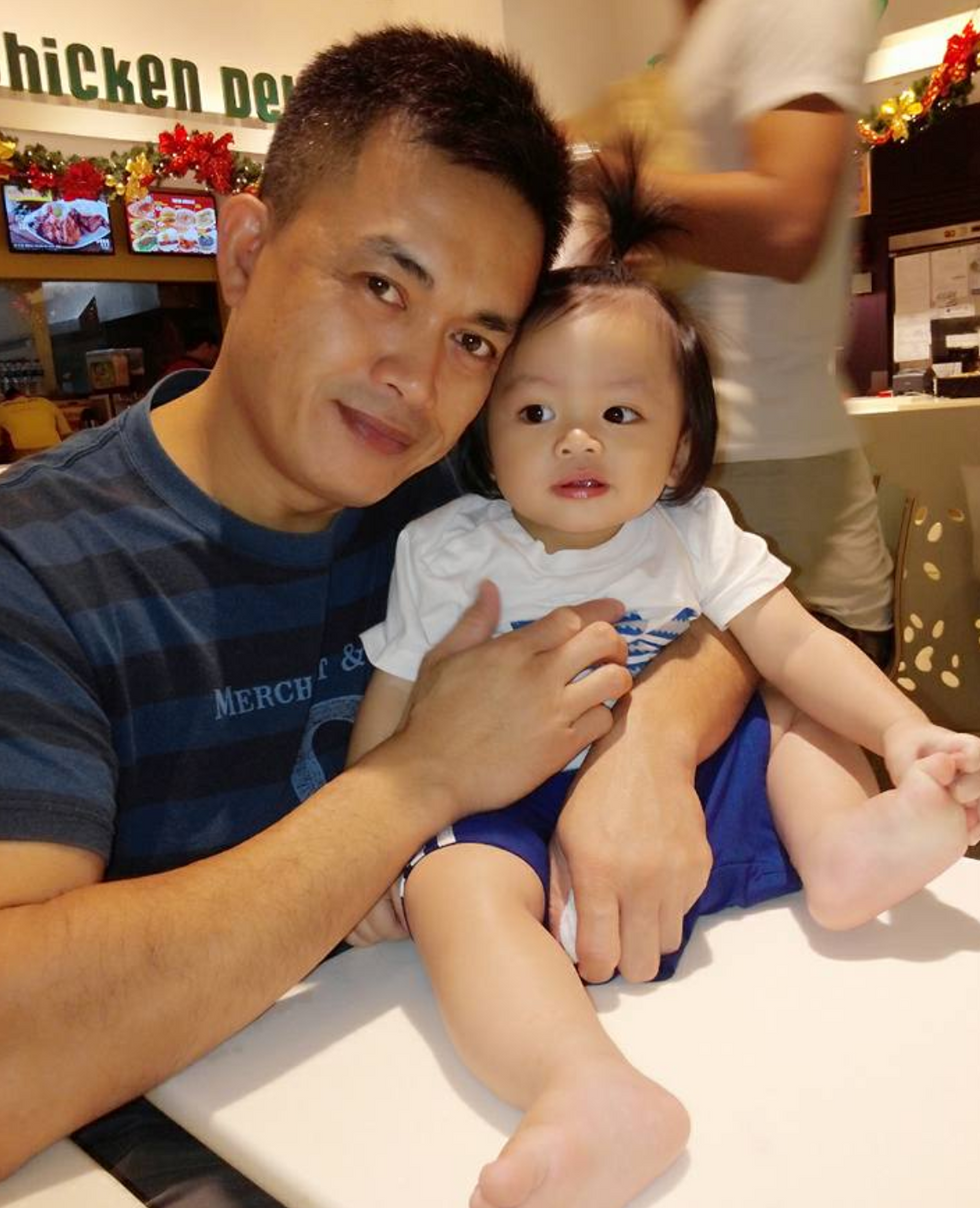 Most of their bills fall on the fifteenth of every month, so whatever they have left goes to paying off anything remaining at the end of the month. She also tries to save an extra $40-$60 for her son's savers account.