There are many reasons for the huge success of Netflix's Stranger Things. But one which can't be denied is the attention to detail of the characters' costumes. The sense that we really are in a 1980s small-town lends the fantastical sci-fi an element of reality that's essential to us suspending our disbelief when it comes to the upside-down. And one essential element of this? The characters' hair.
But while taking a break between filming for the show's fourth season, actor, Joe Keery, who plays beloved jock, Steve Harrington, has taken a deviation from his usual look. He's switched out his signature '80s mullet for a shorter look with some particularly controversial bangs – and the internet isn't too pleased.
Since its launch in 2016, Stranger Things has been a Netflix favorite.
The show begins with the disappearance of a young boy in a small Indiana town – but as his friends hunt for him, things quickly start to become more complicated than ever imagined.

While the show is, in many ways, kind of heartwarming and funny, it's also filled with terrifying monsters and incredibly sad situations.

The setting of the show in 1980s small-town America gives it a really fun aesthetic feel – and for many viewers, is comfortingly nostalgic.

There has been one character who was an absolute fan-favorite. Loveable jock, Steve Harrington, began series one as something of a fool but has grown in popularity over the show's three seasons.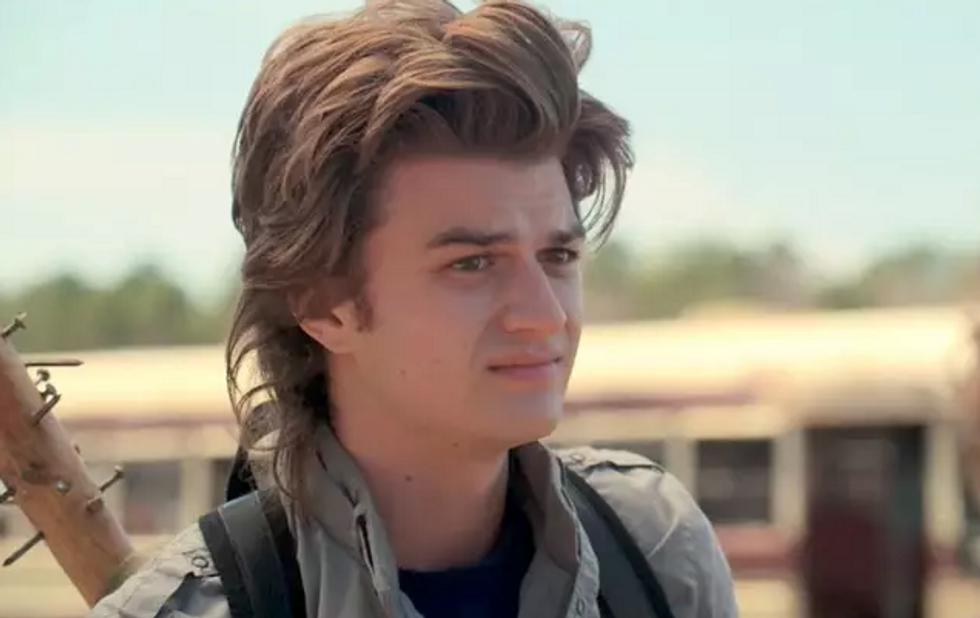 His incredibly authentic, 1980s style mullet has long been a huge part of the Stranger Things landscape – and, for many, it's an essential part of the viewing experience.


When interviewed by Esquire in 2017, Keery said, "Well, the cut's good. And if the haircut is good, that's half the job. It's just a blow-dry with stuff in the back. Sarah Hindsgaul, who is the head of hair, is totally killer. She's the best."


"I think they've actually discontinued [Farrah Fawcett's Fabergé Organics]. You can probably find it on eBay or something. Prices will probably jack up in the next week or two. Or maybe Netflix will reissue it."

Because Steve Harrington's hair has garnered a legion of its very own fans outside of those who care about Steve himself.

As the series has gone on, and Steve's character has developed, his hair has grown larger and more powerful.

There's absolutely no way that Steve (or Stranger Things generally) would be the same without his signature '80s hairdo.

Actor, Joe Keery, has kept up his impressive hairstyle in real life, too – here seen at the GQ Men of the Year Gala in 2018 with Maika Monroe.

It's never too far from the slicked back, lightly quiffed, voluminous look that made his character famous.

Then it's with another aspect of his appearance – like this slightly oddball mustache that he sported at the Salvatore Ferragamo Dinner Party on February 23, 2019.

It's nothing compared to Keery's latest makeover. Because the star has cut off Harrington's infamous locks – and the internet is not pleased.

At the Chanel Dinner to celebrate the launch of their newest beauty line, Keery stepped out looking basically unrecognizable.

That's the problem with haircuts, right? Once you make an error, it takes time to get things back on track.

It takes a pretty strong person (or kitten) to pull off a bowl cut, after all.

Keery could hardly be described as being in good company. This side by side is a little too close for comfort.

Fear. It's hard not to imagine this creepy figure standing over you in a nightmare, right?

Some are feeling more angry than anything else. Seeing what eye-candy we've lost does raise our heckles slightly.

Keery debuted his new haircut on September 12th – meaning many of woke up on Friday the 13th with one very frightening image to confront us.

Like the iconic TikTok kombucha girl, used to perfect effect here.

Who created this monstrosity – and even more importantly: why??

We can only apologize. This is a very hard time for everyone who was a fan of the mullet, and we hope they're taking adequate time to grieve.

As Joe Keery cuts off his beautiful long hair, it's almost like he removed himself further from Steve Harrington – and now Steve only exists on our Netflix screens.

And what's worse, there doesn't seem to be a helpful outlet for their feelings. The only way to feel better? To vent on social media, of course!

It's so bad that it almost looks like a mistake. In fact, Keery's sheepish facial expression seems to lend even more to this theory.

The change in hairdo hasn't just changed the way Keery's hair looks. It seems to have altered his entire face.

Sure, this haircut has made Joe Keery look less like Steve Harrington. But it has made him look way more like a different Stranger Things character.

If you weren't sure if the reason we'd all collectively fallen for Steve was his hair… well, at least we know. Curious as to whether there's any celebrity who can pull off a bowl cut? Keep scrolling for a surprise hit in the hard-to-pull-off trend.