It's a painful time for many around the world as it's just been the fifteenth-anniversary of the death of the legendary Steve Irwin, and Irwin's producer has opened up about the animal lover's last words in the final moments of his life…
Steve Irwin was many things; A father, a husband, and a friend, but he was known most popularly for his attachment to animals…
The sensation, nicknamed the Crocodile Hunter, after his famous 1996 series, grew up around crocodiles, and other wonderful reptiles, and was educated by his father Bob Irwin.
His father, who had a passion for animals, built sheds, houses, and was also a successful plumber in Melbourne, Australia. But, Bob and his family grew up around an array of reptiles, varying from joey kangaroos and sugar gliders, to ringtail or brushtail possums, koala joeys, and baby birds.

And eventually, Bob decided that his plumber days were over…
Moving his family from Essendon to Queensland, he turned his love for animals into a career, building the Beerwah Reptile Park, opening the Australian zoo in 1970, and eventually handing his legacy onto his son, Steve Irwin, leaving him to inspire the entire world.

Now, it's been an awfully quiet fifteen years without Steve Irwin.
His handling of dangerous animals like saltwater crocodiles and venomous snakes shocked many people across the world – but his main goal was to educate his audience and to show them how we can live peacefully alongside these formidable animals.

He did so much for wildlife conservation.
Steve founded the Wildlife Warriors Worldwide foundation, which protects habitats and wildlife, creates breeding and rescue programs for endangered species, and leads scientific research to aid conservation.
And by owning Australia Zoo, the reptile park his father had built, he explored new techniques and strategies in the conservation of endangered and extinct wildlife.

Fellow wildlife guru and overall living legend, Sir David Attenborough, has been vocal in the past about his admiration of the late Steve Irwin. The British TV veteran spoke of his thoughts on Irwin in an interview a few years ago: "Steve Irwin spent a lot of his time and money in nature protection and calling people's attention to the danger the natural world is in, so all credit to him. "He did it in a way that I wouldn't do it, in fact, he did it in a way that I couldn't do it."

So his untimely death in 2006 hit hard.
While filming for the documentary, Oceans Deadliest, in Batt Reef, just off the coast of Queensland in Australia, Steve was stabbed in the chest by a stingray.

Though stingray fatalities are extremely rare, the stingray's barb struck the star directly in the heart.

And Steve wasn't actually filming for his Oceans Deadliest show when the tragic incident occurred.
Although Irwin was set to film for Oceans Deadliest, it was called off as a result of the weather.
So, because he was bored, he decided to get some footage, with both his cameraman and director, of stingrays, for his daughter's show Bindi the Jungle Girl.

The stingray was 220lb's and 2.4 meters wide.
And it aggressively stabbed Irwin 100's of times in a matter of seconds.
But Justin Lyons, Irwin's cameraman, didn't realize at first. He continued to film until of course, he saw something had gone tragically wrong.

Now, stingrays are actually shy and gentle creatures.
So, once Justin had realized Irwin had been struck, it came as a surprise as the sea creature usually reserves its venom for predators such as sharks, only attacking people when they've been threatened, or if they've been stepped on.
"I panned with the camera as the stingray swam away. I didn't even know it had caused any damage," Justin recalled. "It wasn't until I panned the camera back and Steve was standing in a huge pool of blood that I realized something had gone wrong."

And so, Justin, as well as other members of the camera crew, began to rush Steve back to shore.
But, it became heartbreakingly clear that Steve Irwin was struggling for his life.

"He was having trouble breathing," Justin said.
"Even if we'd been able to get him into an emergency ward at that moment we probably wouldn't have been able to save him, because the damage to his heart was massive."

After an hour of trying to perform mouth-to-mouth on Irwin, paramedics pronounced him dead.
And his last words were sorrowful.

Steve's wife, Terri, was left to raise their 2 children, Bindi and Robert, single-handedly. In an emotional interview on the Australian TV show, Ahn's Brush With Fame, Terri recalled the last time that she saw her husband: "I remember him at the airstrip waving goodbye. That was the last time we saw him."

And It's most certainly what Steve would have wanted. So, in spite of the hole in the family's heart, they continued to honor Steve Irwin.

To this day, the trio continues his work at Australia Zoo, and have all devoted their lives to animal conservation and bringing awareness to the causes that were close to Steve's heart.

Fast-forward fifteen years and Bindi and Robert have followed in their dad's footsteps, becoming eager wildlife conservationists themselves.

Bindi, who is now twenty-three years old, and Robert, who is seventeen, have kept Steve's memory alive in the best possible way – through their love and passion for animals and wildlife conservation.

We all remember the time Robert appeared on the Jimmy Fallon Show…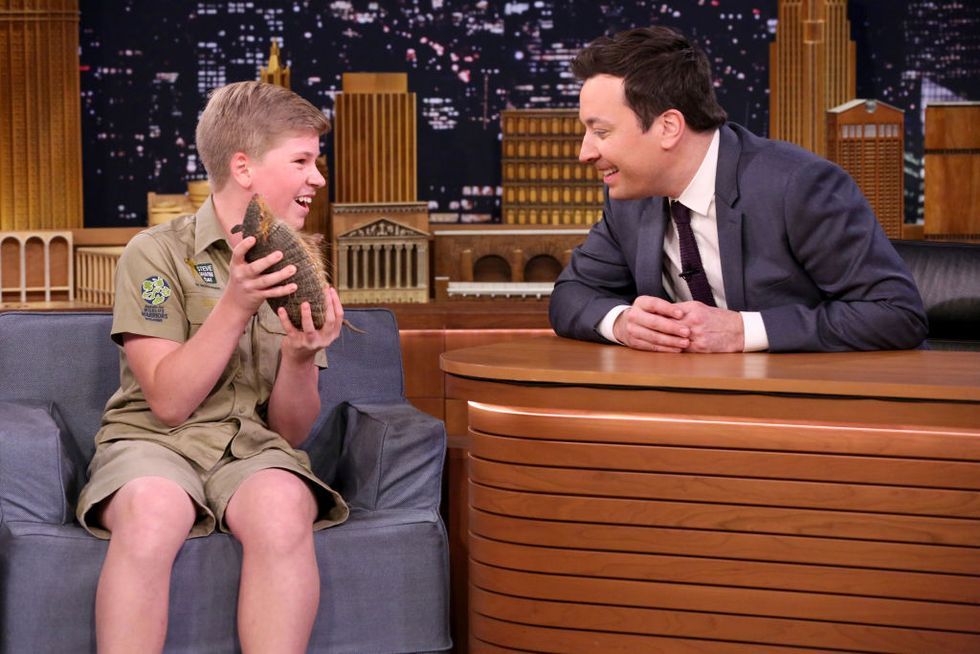 I may or may not have cried while watching this episode. It was so heartwarming to watch a then fourteen-year-old Robert educate Jimmy and the audience on an array of different animals, just like his dad had once done.

Robert's appearance on the show really took us back to Steve's guest appearance on The Tonight Show with Jay Leno – he effortlessly replicated his dad's body language and overall charisma.

Last year, Robert shared these contrasting photos of he and his dad feeding the same crocodile fifteen years apart. He captioned the post: "Dad and me feeding Murray… same place, same croc."

So, both Robert and Bindi have done an incredible job at keeping their dad's legacy alive.
And his camera crew still hold the memories of Steve's death close to their hearts.

As stated earlier, Steve's director, and cameraman, were present when he was tragically stabbed by a stingray.
And as they rushed the wildlife warrior to the main boat, he uttered his very last words.

Even though Justin and other members of the camera crew were frantically asking Steve to hang on…
Steve knew in his heart that he wasn't going to make it.

And his wife Terri Irwin had said after his death, that Steve always knew he wouldn't grow old…
Steve always had a certain intuitive feeling that he wouldn't make it past a certain age, but took the risks nevertheless, to inspire the entire world, and create a legacy that will live on forever.

And it especially inspired his family…
In a video posted by Robert Irwin and created by the Australia Zoo crew, celebrating not-so-little Robert's birthday last year, his dad is seen and heard talking about the very thing that will make him proud.

​"At that very moment I saw the light," Steve says in the video, looking at his newborn son.
​"The whole time you're here, you're like, I'm catching crocs, I'm saving wildlife, I'm doing this, and I'm doing that, but when Bindi was born, I had the same sensation there with little Bob. This is why I was put here because I could be dead tomorrow," Steve continued in the voiceover.

"When they're ready to run up our mission, I will gladly step aside."
​"Then and only then will I know that I have achieved my ultimate goal, and my job will be done, and I guarantee you it will be the proudest moment of my entire life," he finished.

Now, although he's not with us anymore…
He's definitely left a sensational mark, and his family have certainly made him proud.

And moments before his fatal death, Steve's last words broke hearts around the world.
As cameraman Justin continues to recall the fatal incident, rushing Steve to an emergency medic, he said: "He just calmly looked up at me and said, 'I'm dying.' And that was the last thing he said."

And these heartbreaking last words crushed the world…
But, even though his last words broke the hearts of everyone around the world, and he's no longer with us…
He most certainly left a legacy that will live on forever.
The world will forever cherish you Steve Irwin. Rest in peace.