In 2006, the world lost one of its kindest and most compassionate human beings - Animal enthusiast, Steve Irwin.
Steve Irwin was perhaps the best thing to ever come out of Australia. His passion and enthusiasm for nature and animal conservation had the whole world hooked, and he consistently stressed the importance of respecting our planet and the animals that we share it with.
Since his tragic death, his legacy has been continued. Steve left behind his wife and 2 children but, in true Irwin fashion, they have worked to make sure that Steve's work isn't forgotten. His son, Robert, in particular, has grown to become a mini-me version of Steve and has recently caused waves online with a touching tribute post to his dad.
Steve Irwin was an inspiration to everyone who watched him.
via: Getty
Steve Irwin, often dubbed "The Crocodile Hunter," was an Australian zookeeper, conservationist, and TV personality. He rose to fame with his many wildlife documentaries, including
The Crocodile Hunter
and
The Croc Files
.
Irwin introduced many of us to the natural world.
via: Getty
Steve had a passion and enthusiasm for wildlife and nature like no other. His handling of dangerous animals like saltwater crocodiles (it's a no from me...) and snakes shocked many people across the world. But his main goal was to educate his audience and to show them how we can live peacefully alongside these formidable animals.
He has done so much for wildlife conservation.
Steve founded the Wildlife Warriors Worldwide foundation, which protects habitats and wildlife, creates breeding and rescue programs for endangered species, and leads scientific research to aid conservation. He also owned Australia Zoo in Queensland, which explored new techniques and strategies in the conservation of endangered and extinct wildlife.
His remarkable work has even been recognized by the greats...
Fellow wildlife guru and overall living legend, Sir David Attenborough, has been vocal in the past about his admiration of the late Steve Irwin. The British TV veteran spoke of his thoughts on Irwin in an
interview
a few years ago: "Steve Irwin spent a lot of his time and money in nature protection and calling people's attention to the danger the natural world is in, so all credit to him." "He did it in a way that I wouldn't do it, in fact, he did it in a way that I couldn't do it."
Steve's way with animals was unique and, quite simply, mesmerizing to watch.
So his untimely death in 2006 hit hard. The world went into mourning when the news came in about Steve's tragic death. While filming for the documentary,
Oceans Deadliest
, in Batt Reef, just off the coast of Queensland in Australia, Steve was stabbed in the chest by a stingray.
The ray struck him several times.
via: Good News Network
Though stingray fatalities are extremely rare, the stingray's barb struck Irwin directly in the heart. The crew reportedly got him back onto the boat and sailed back to shore, but Steve's injuries were too great, and he subsequently bled the death at the scene.
He left behind a wife and 2 children.
via: Getty
Steve's wife, Terri Irwin, was left to raise their 2 children, Bindi and Robert Irwin, single-handedly. In an emotional interview on the Australian TV show,
Ahn's Brush With Fame
, Terri recalled the last time that she saw her husband: "I remember him at the airstrip waving goodbye. That was the last time we saw him."
Terri decided to carry on his legacy.
via: Getty
It's what Steve would have wanted. The surviving Irwins found a way to channel their pain into a perpetual memorial for the husband and father. All 3 of them, to this day, still continue his work at Australia Zoo, and have all devoted their lives to animal conservation and bringing awareness to the causes that were close to Steve's heart.
And his kids really are a chip off the old block.
Their likeness to their dad is simply uncanny. 
Their continued work even earnt their dad a star on the Hollywood Walk of Fame.
I'll remember today forever. Such an emotional moment and beautiful chapter in our lives❤️ https://t.co/J8liezjFJl

— Bindi Irwin (@Bindi Irwin)1524782468.0
In April 2018, the late Steve Irwin was honored with a star on the Hollywood Walk of Fame. Terri, Bindi, and Robert attended the ceremony while clad in the signature Irwin khaki safari shirts. And, in true Irwin fashion, they brought along their 4-foot long pet Anaconda snake, Angelica, to join in the festivities.
Robert's handling of the snake was remarkably similar to his fathers.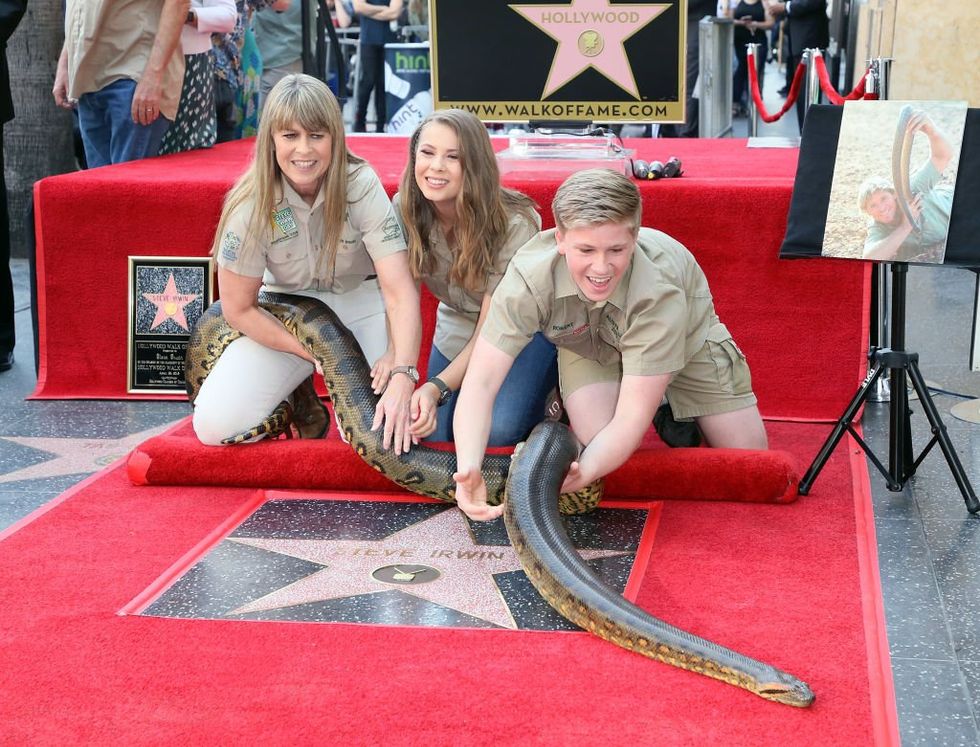 via: Getty
While on the Walk of Fame, Robert was seemingly in charge of keeping Angelica under control. Though both his children resemble him in a variety of ways, Robert has really grown up to resemble his father in both looks and attitude.
Robert was only 2-years-old when his dad passed away.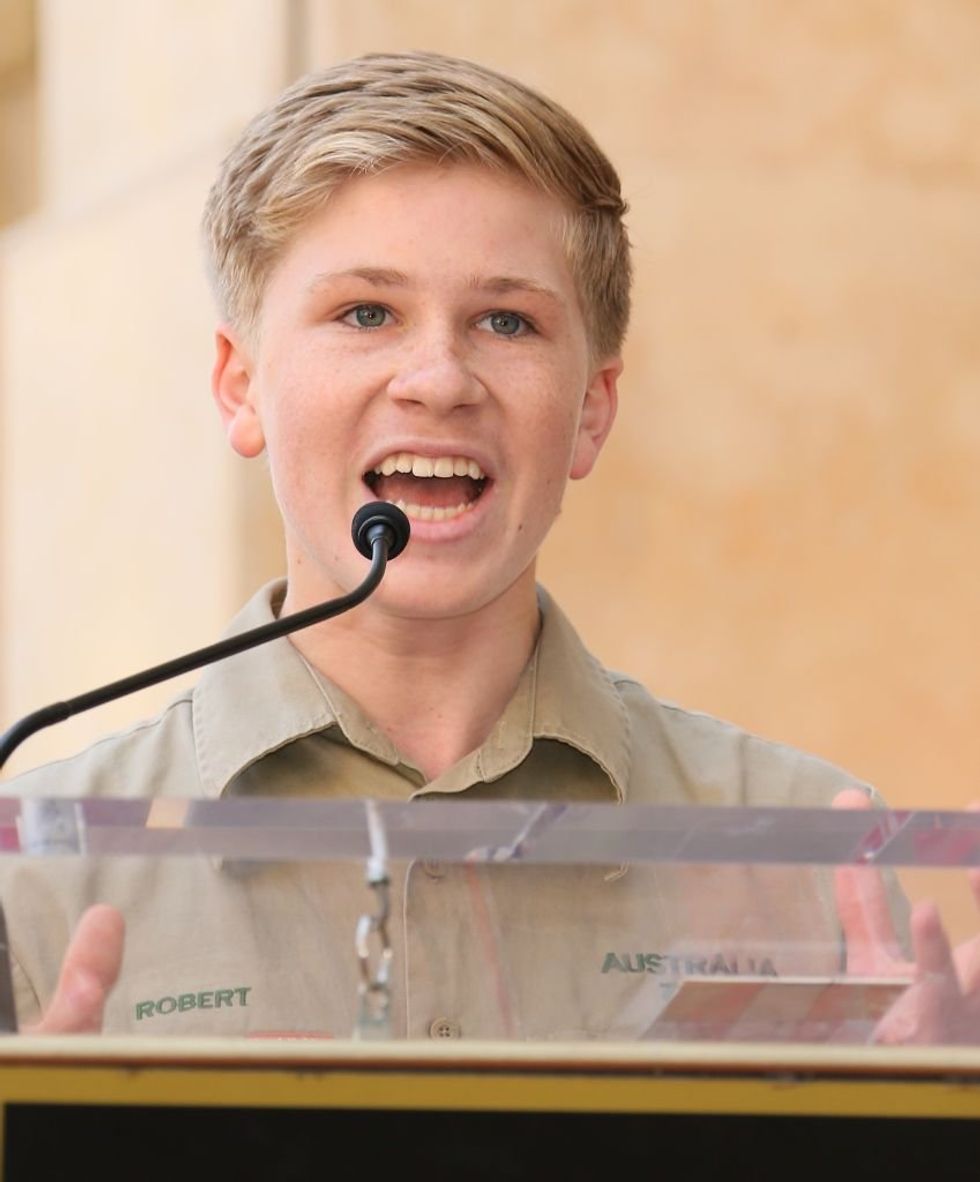 Yet, despite spending the majority of his life without his father around, Robert has gone on to, not only become the spitting image of Steve, but to also mirror his charisma and passion for wildlife and nature.
We all remember the time that he appeared on the Jimmy Fallon Show...
I may or may not have cried while watching this episode... Though it was
so
heartwarming to watch Robert educate Jimmy and the audience on an array of different animals, just like his dad had once done.
The resemblance was simply uncanny.
via: Getty
Robert's appearance on the show really took us back to Steve's guest appearance on
The Tonight Show
with Jay Leno - He effortlessly replicated his dad's body language and overall charisma.
Robert is now a wildlife photographer.
He regularly shares posts dedicated to his dad.
And his latest one is beautiful.
same croc, fifteen years on. He captioned the post: "Dad and me feeding Murray... same place, same croc - two photos 15 years apart."
I'm not crying, you're crying...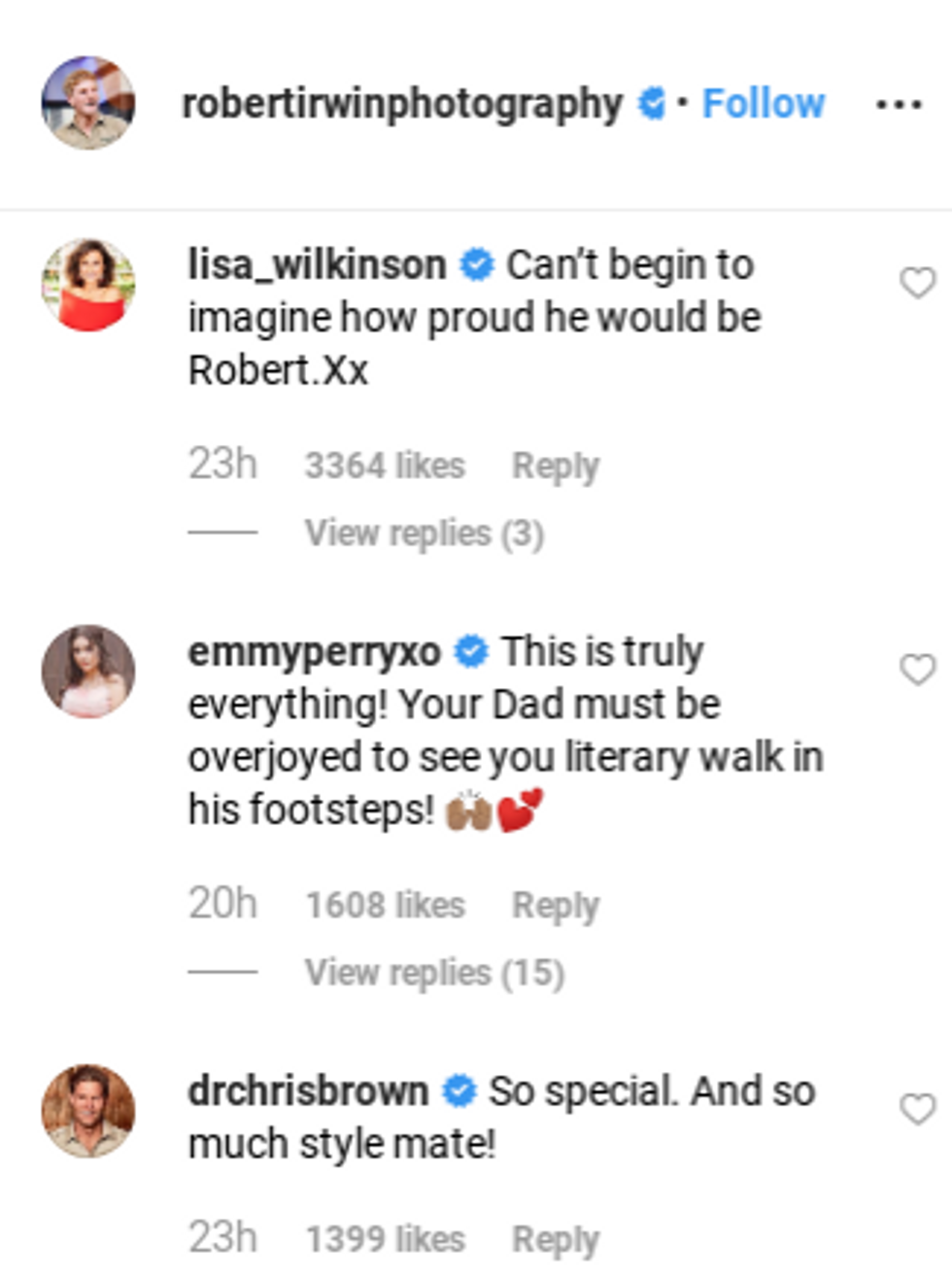 via: Instagram
People were quick to shower the teen with compliments, noting just how similar he is to his father. One user even wrote, "Okay well I didn't expect to cry at 7:30 on a Wednesday morning but here we are." I relate to that.
Steve's legacy has been continued in the best way.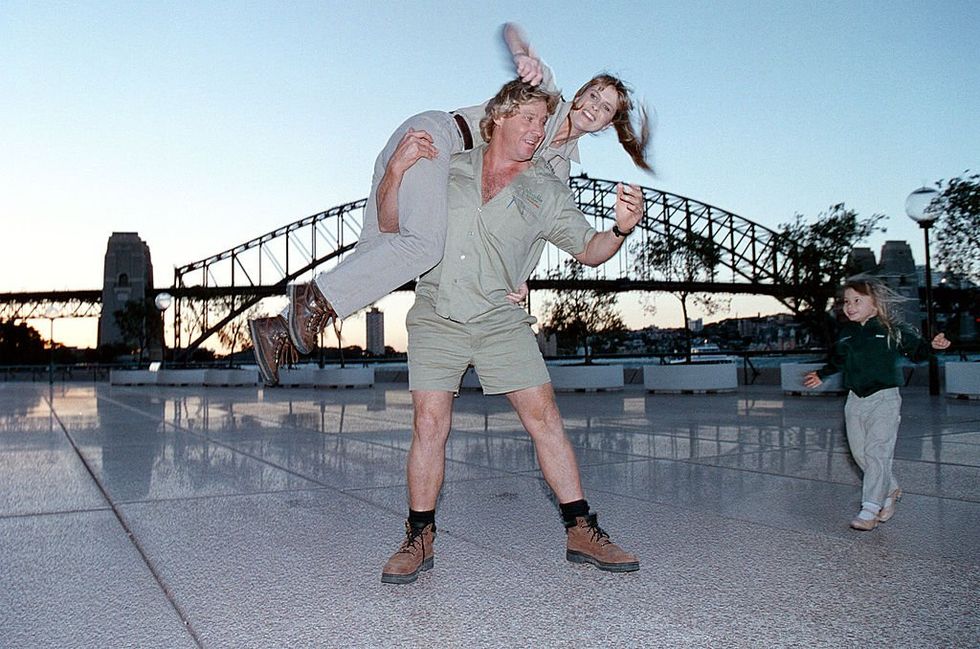 The Irwins now star in their own reality show,
Crickey! It's The Irwins
, which follows the family as they live and work at the Australia Zoo. It's needless to say, Steve's impact on both people's lives and our planet was a huge one. And it is simply beautiful to see his work and his memory be continued and lived on through his wife and children.