Celeb sightings are pretty rare, even if you live in Los Angeles (take it from me), so when you come across a famous person in their natural habitat, sometimes you just have to ask for a picture. That's exactly what happened when this family happened to spot Matthew Broderick while they were on vacation in Montauk.
Montauk! Not necessarily a celebrity hub. Thankfully, Mr. Broderick was kind enough to take a photo, but that's not where this story ends. It's what's in the background of the photo that will knock your socks off.
"The Matthew Broderick Story" starts out like many others...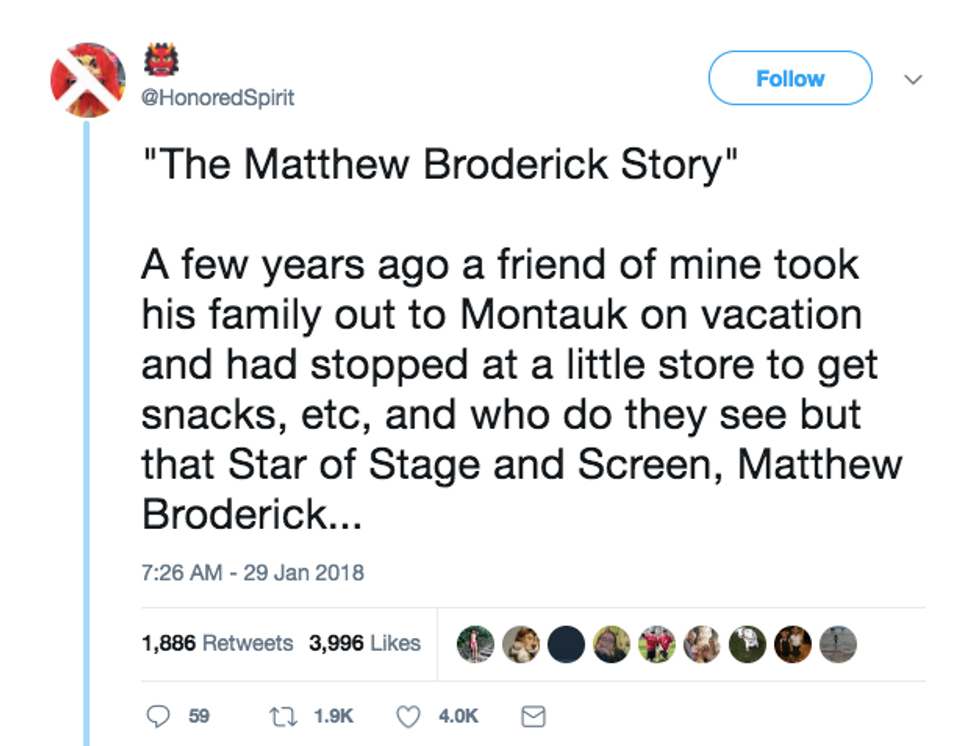 via: Twitter
A family. A vacation. An unexpected celebrity sighting.
What are you supposed to do when you see Ferris Bueller in real life?
Are you just supposed to ignore Adult Simba? Say "Hello!" to Mr. Sarah Jessica Parker and then just move on with your day?! I think not.
Obviously, you have to ask for a picture.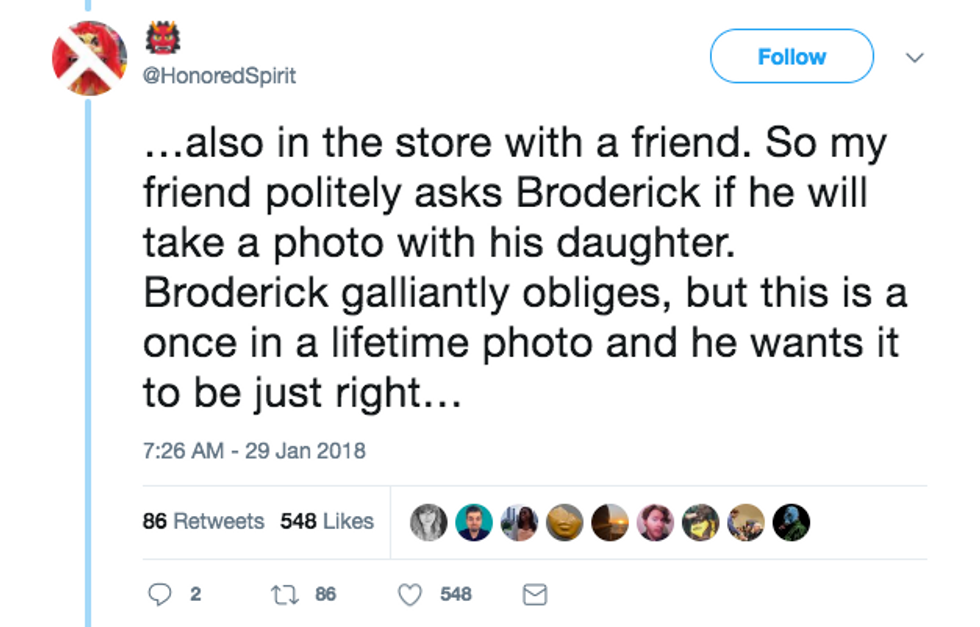 via: Twitter
Broderick took time out of his shopping trip with his friend to take a photo with a fan. That's a gracious famous person if I ever did see one.
Only Broderick's friend was kind of in the way.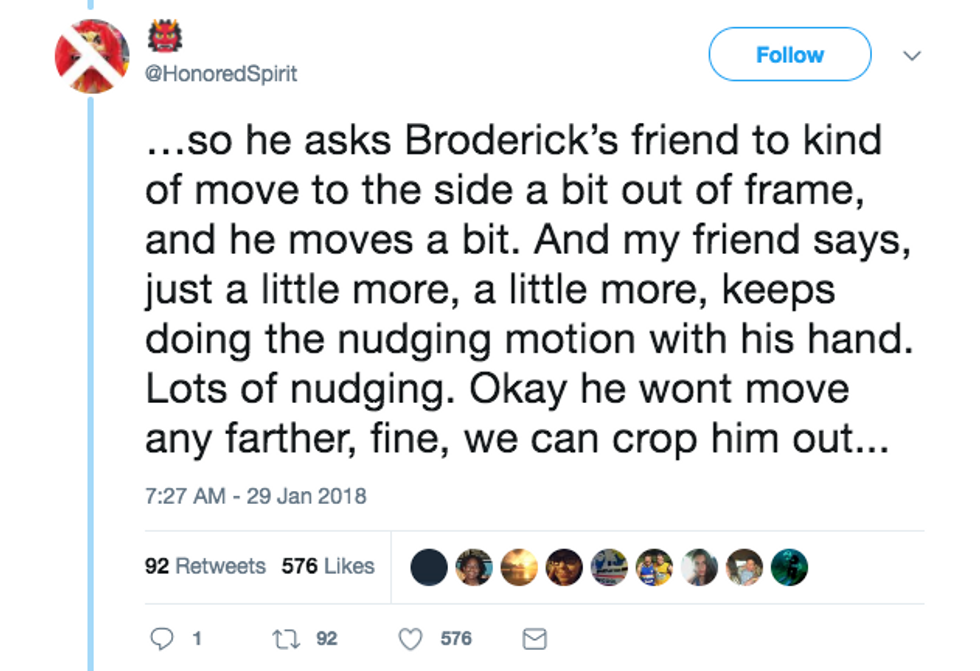 via: Twitter
And no matter how far this guy asked the friend to move, he wasn't leaving the frame of the picture. You can only ask a random friend of Matthew Broderick's to do so much.
So the picture was taken with Broderick's friend in the background. And that's where this gets interesting, folks...
Here's the photo that was snapped: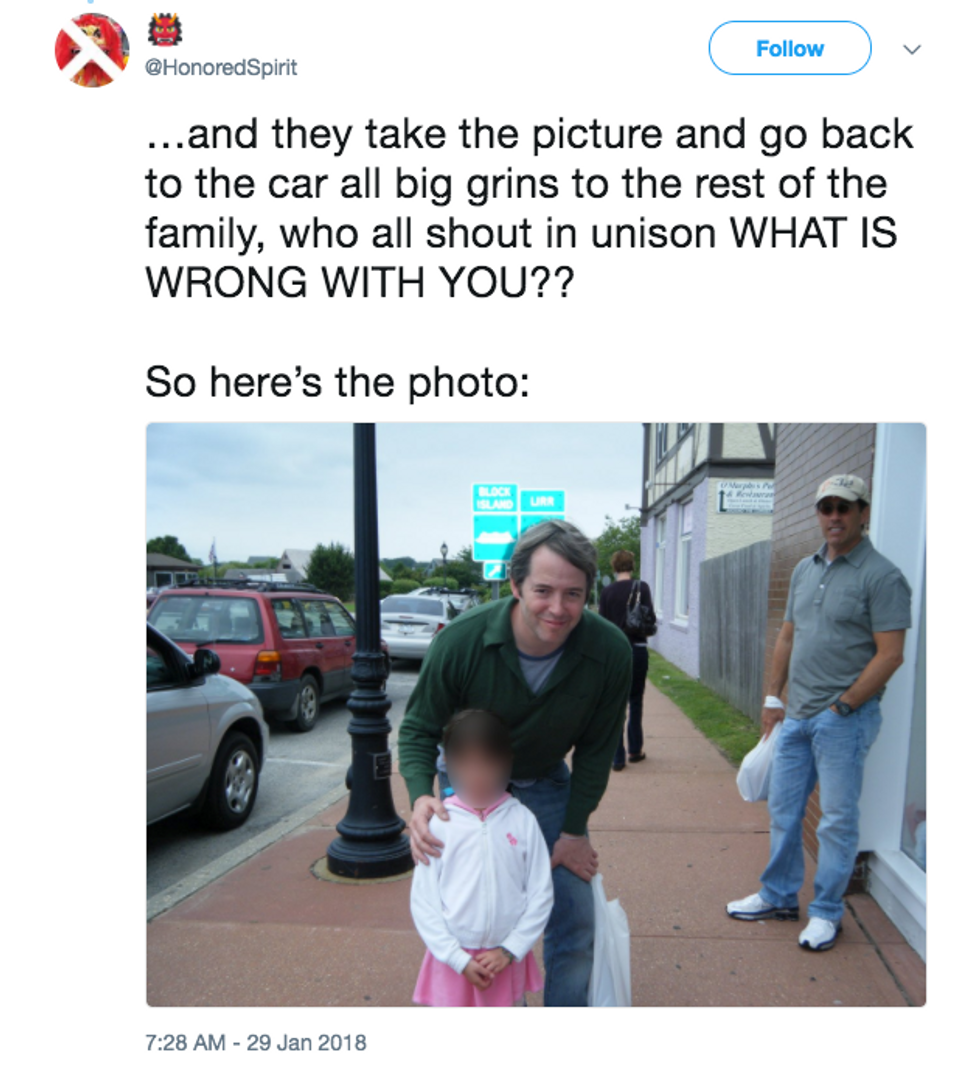 via: Twitter
You know, the one with Matthew Broderick's dumb friend hanging out in the background. The guy that couldn't be bothered to move all the way out of the frame.
Let's take a closer look at the picture for a moment.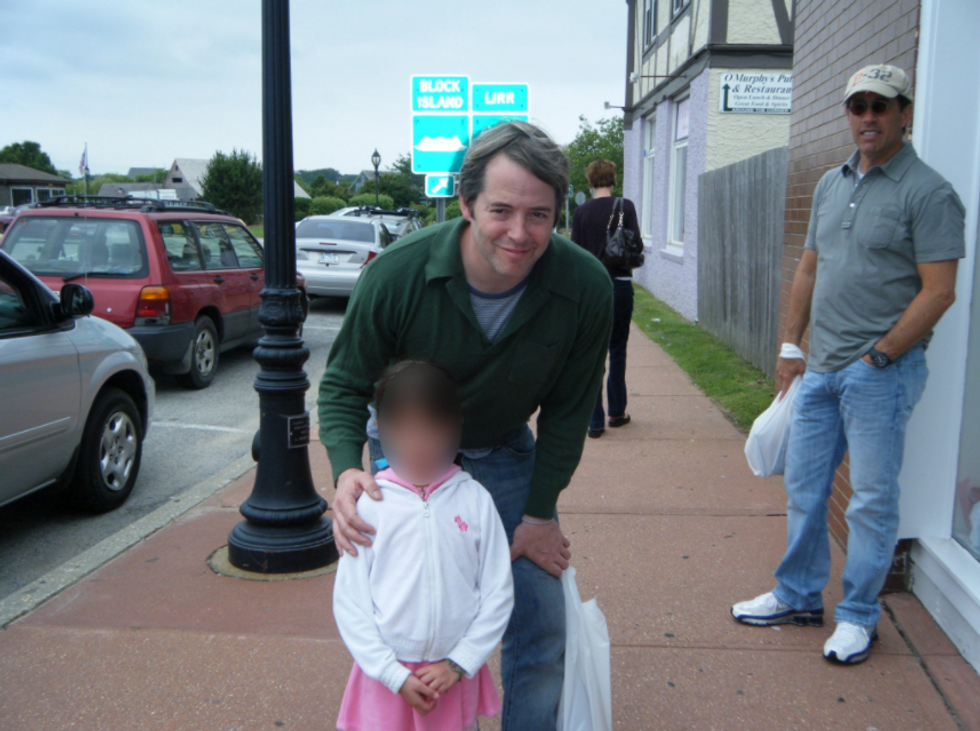 via: Twitter
Broderick looks appropriately reluctant to take the pic. The little girl is so little she probably has no idea who Broderick is. And the actor's friend in the background...
Hold on — let's take a closer look at that.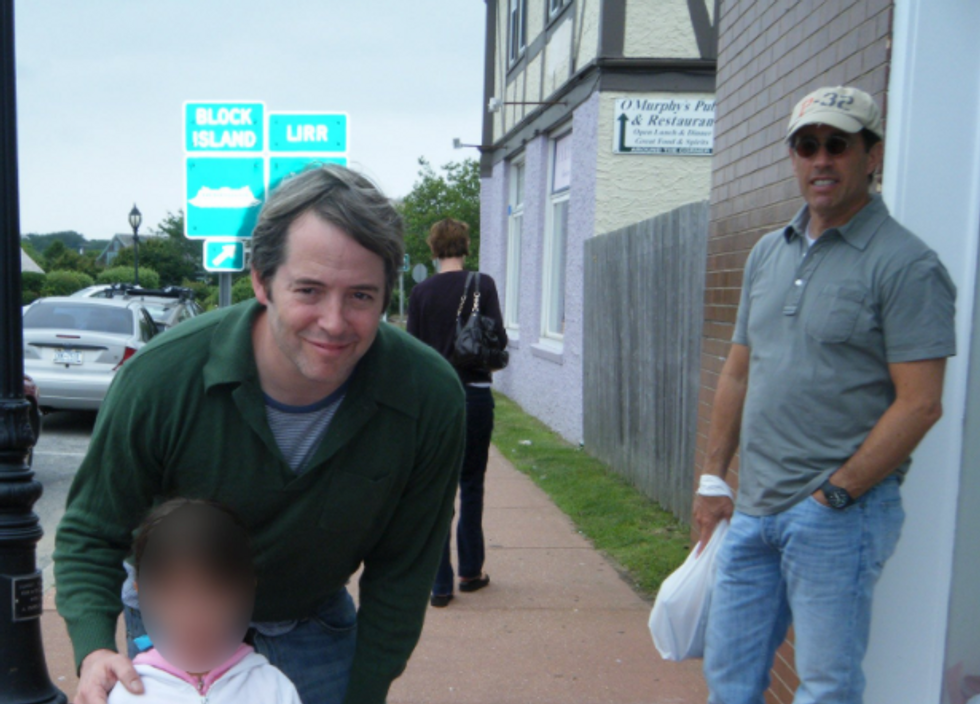 via: Twitter
The friend, that background guy... He looks kind of familiar, doesn't he?
Oh yeah, that's because it's Jerry Seinfeld.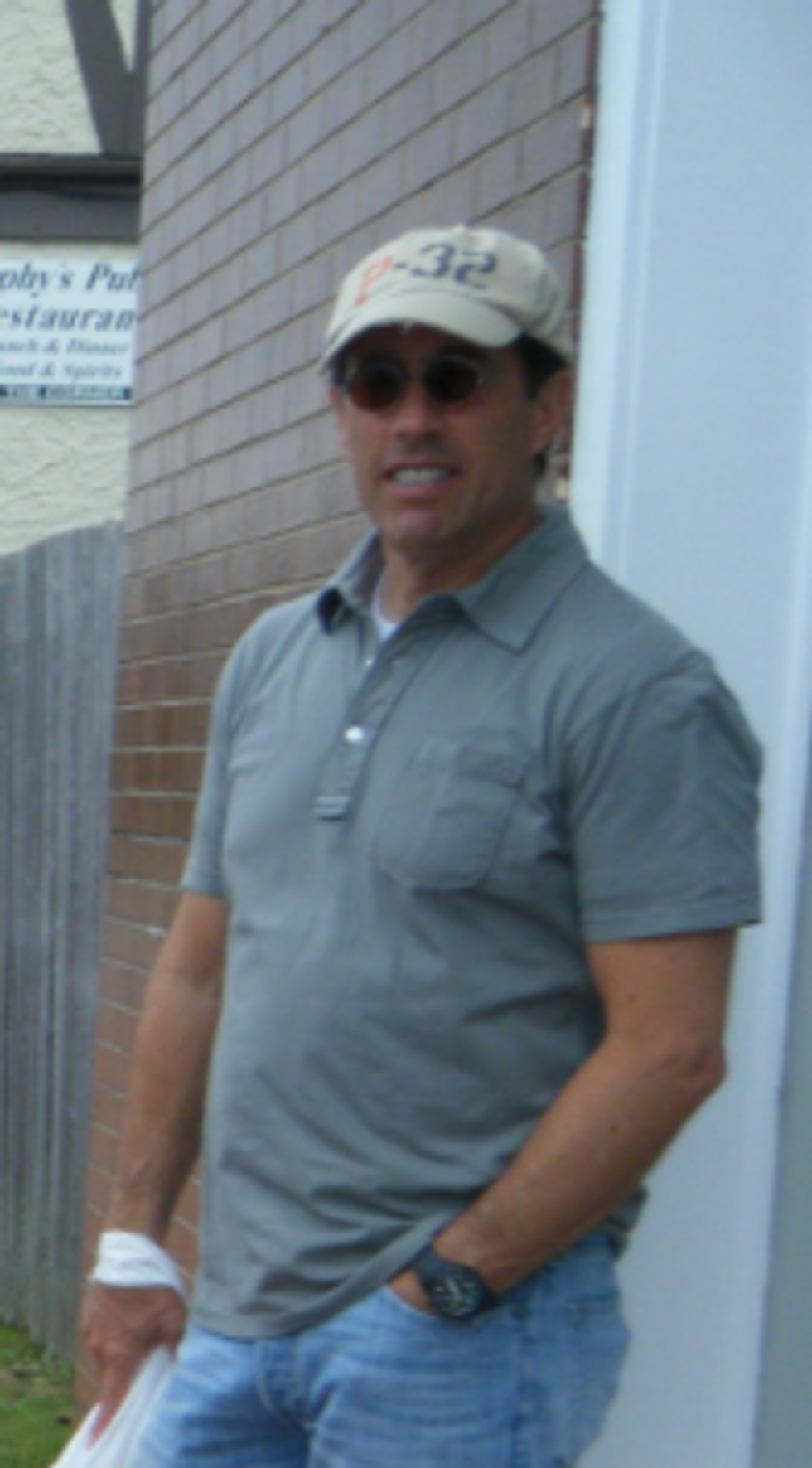 via: Twitter
This fan wanted a photo with Matthew Broderick so badly that he didn't realize that Broderick's friend was one of the most successful comedians of all time.
Jerry. Seinfeld
. He even told him to move out of the way! This is priceless.
One thing's for sure...
If you don't stop and look around once in a while, you could miss Jerry Seinfeld standing off in the background of your fan photo with Matthew Broderick. I think that's how the quote goes, anyhow. Hey, at least he didn't ask him to take the picture for him!