A student found herself in the worst position recently when a meatball from her sandwich fell onto her laptop and logged her out of an exam.
Now, this is a funny story...
Putting aside the non-stop socializing and partying...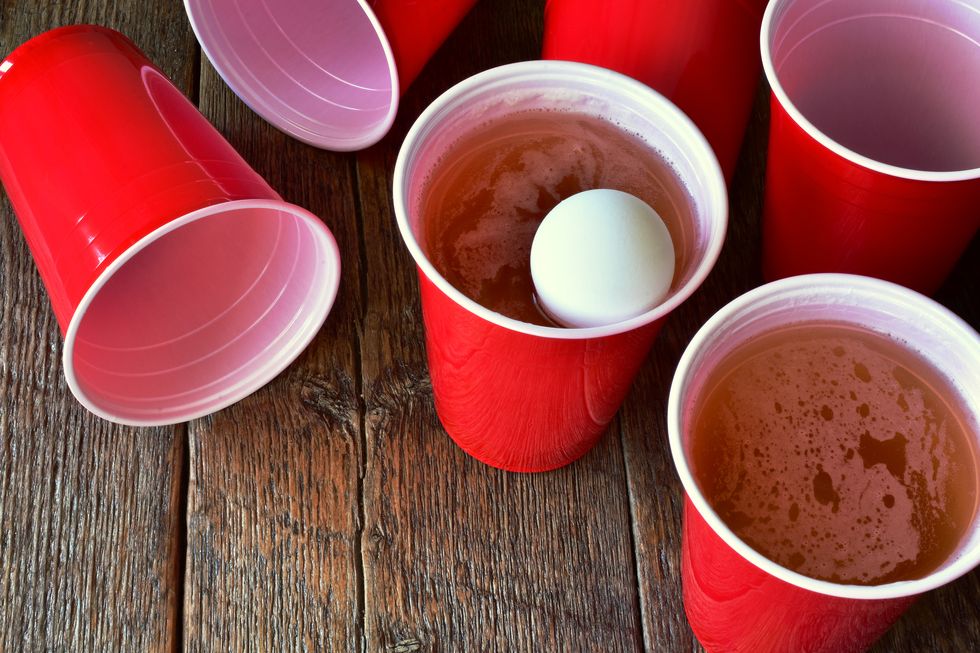 via: Getty
Attending college is
pretty
hard.
When a person actually gets down to studying for the degree...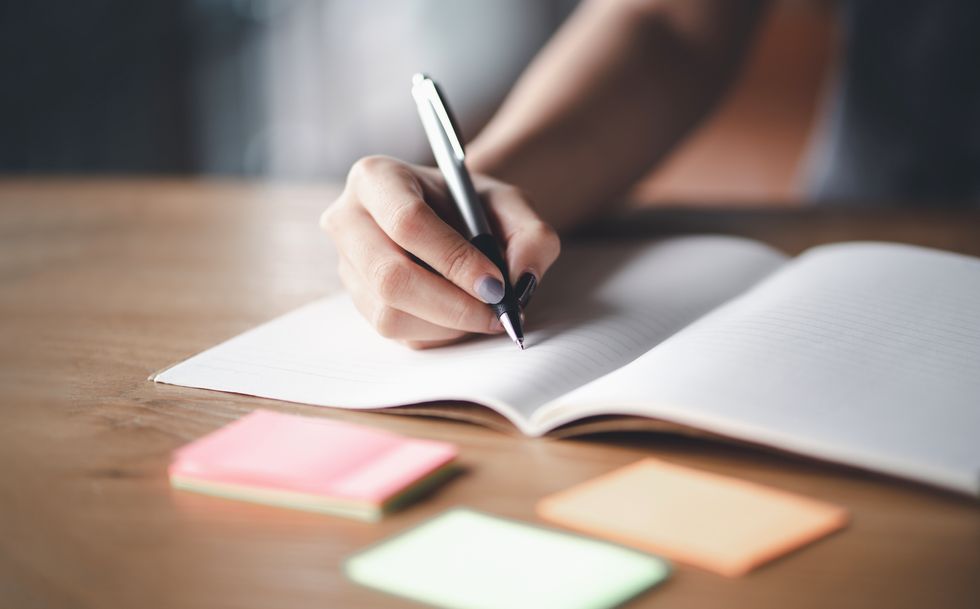 via: Getty
Many find the high workload and copious amounts of studying is rather overwhelming.
Because at the end of the day...
College is for learning and earning a qualification and not for partying until the early hours most evenings... sadly.
Many college degrees involve a final examination...
And for those who don't cope well under pressure... exams are a total disaster.
One college student recently experienced the worst situation during an exam...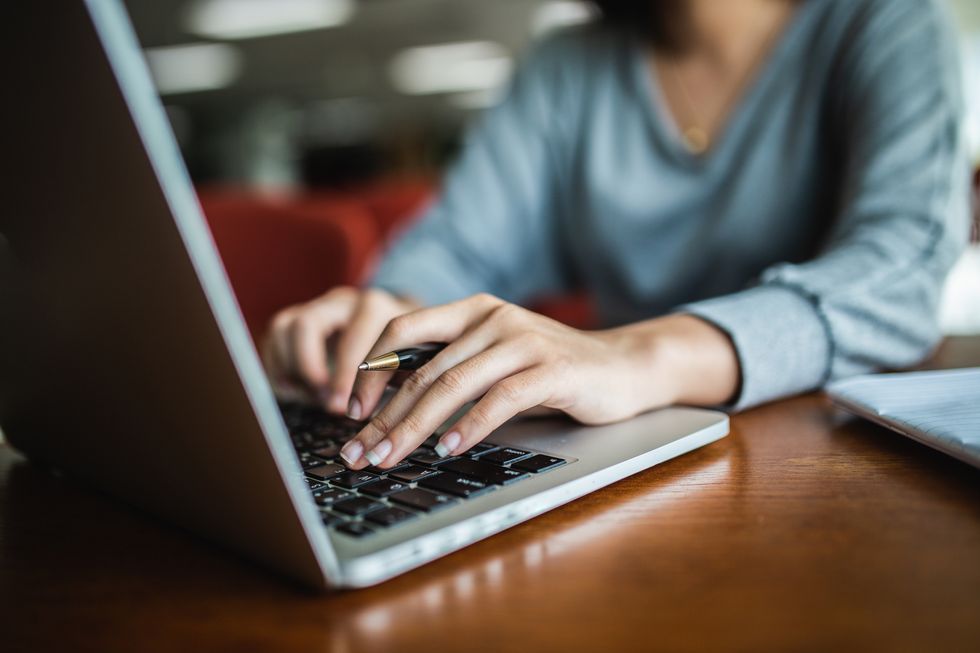 via: Getty
And her little meltdown went viral online.
A twenty-year-old student at the University of Georgia has the worst luck.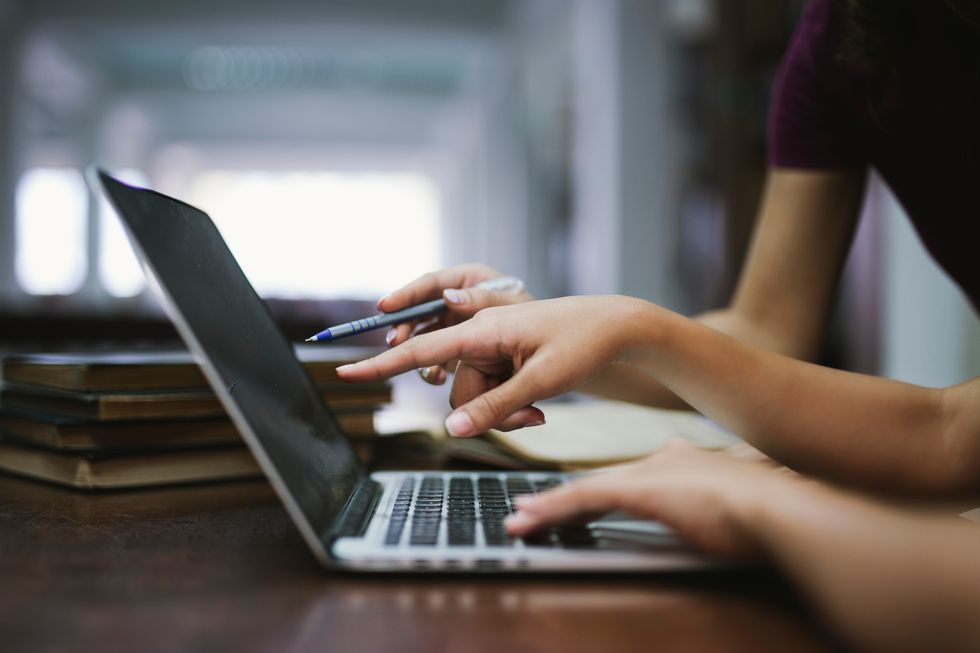 via: Getty
Sam Lee, like many other students, has been studying from home thanks to the global pandemic.
And alongside her home studying...
Sam has also been required to sit her exams from home too.
Seems easy enough, right?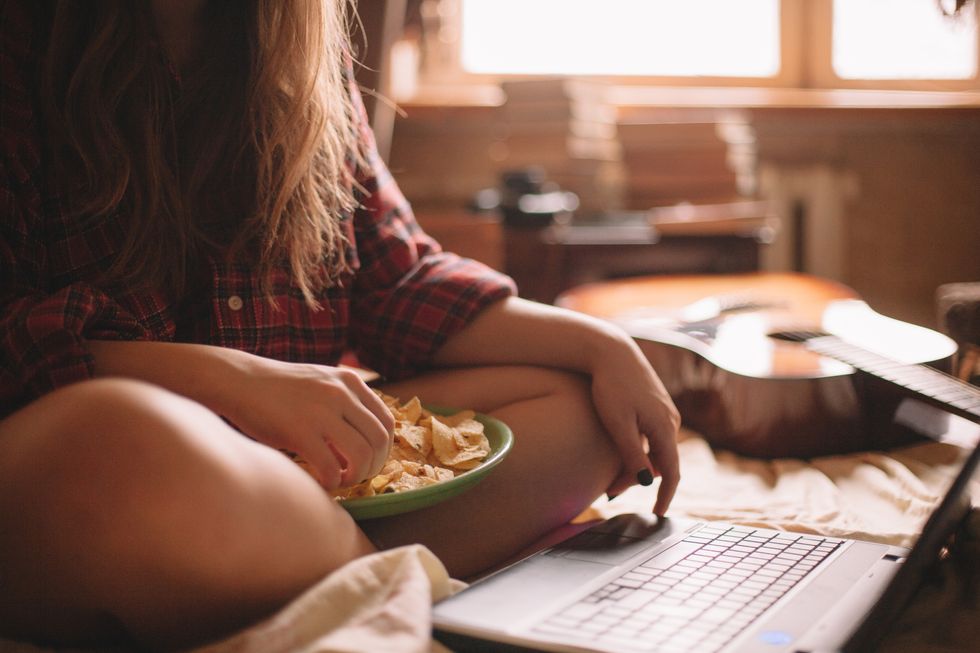 via: Getty
One of the perks from studying from home is being able to eat what you want and
when
you want, so Sam decided to indulge whilst sitting her economics exam.
And her snack of choice?
Nothing other than a meatball sub!
But as Sam took a bite of her sandwich...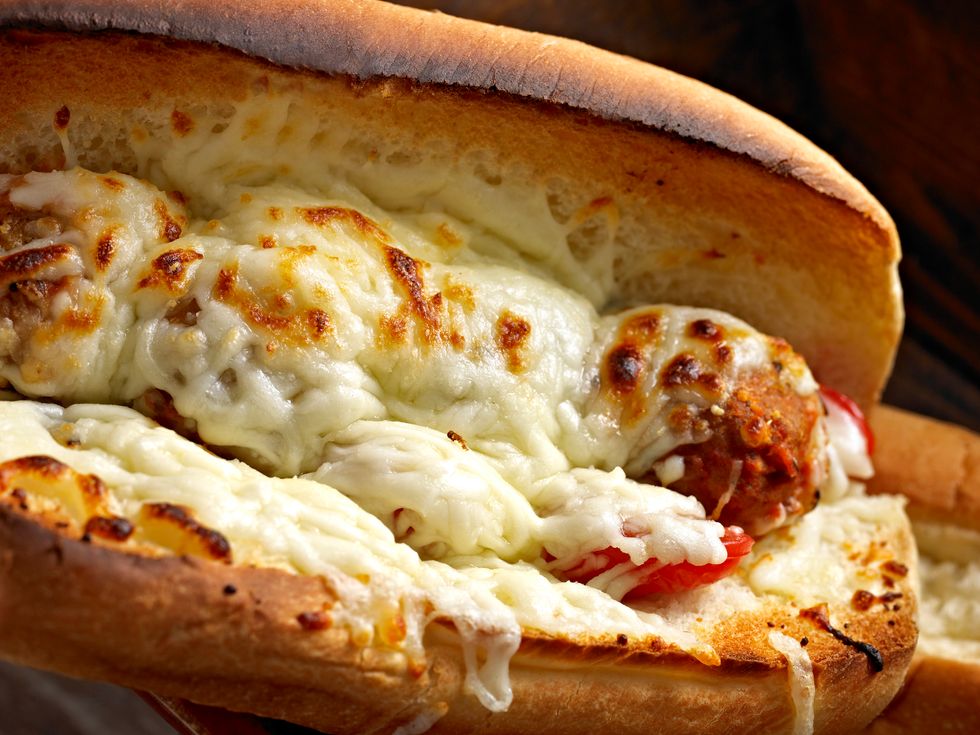 via: Getty
A meatball fell out... and landed
directly
in the middle of her laptop keyboard.
She posted the disaster on Snapchat...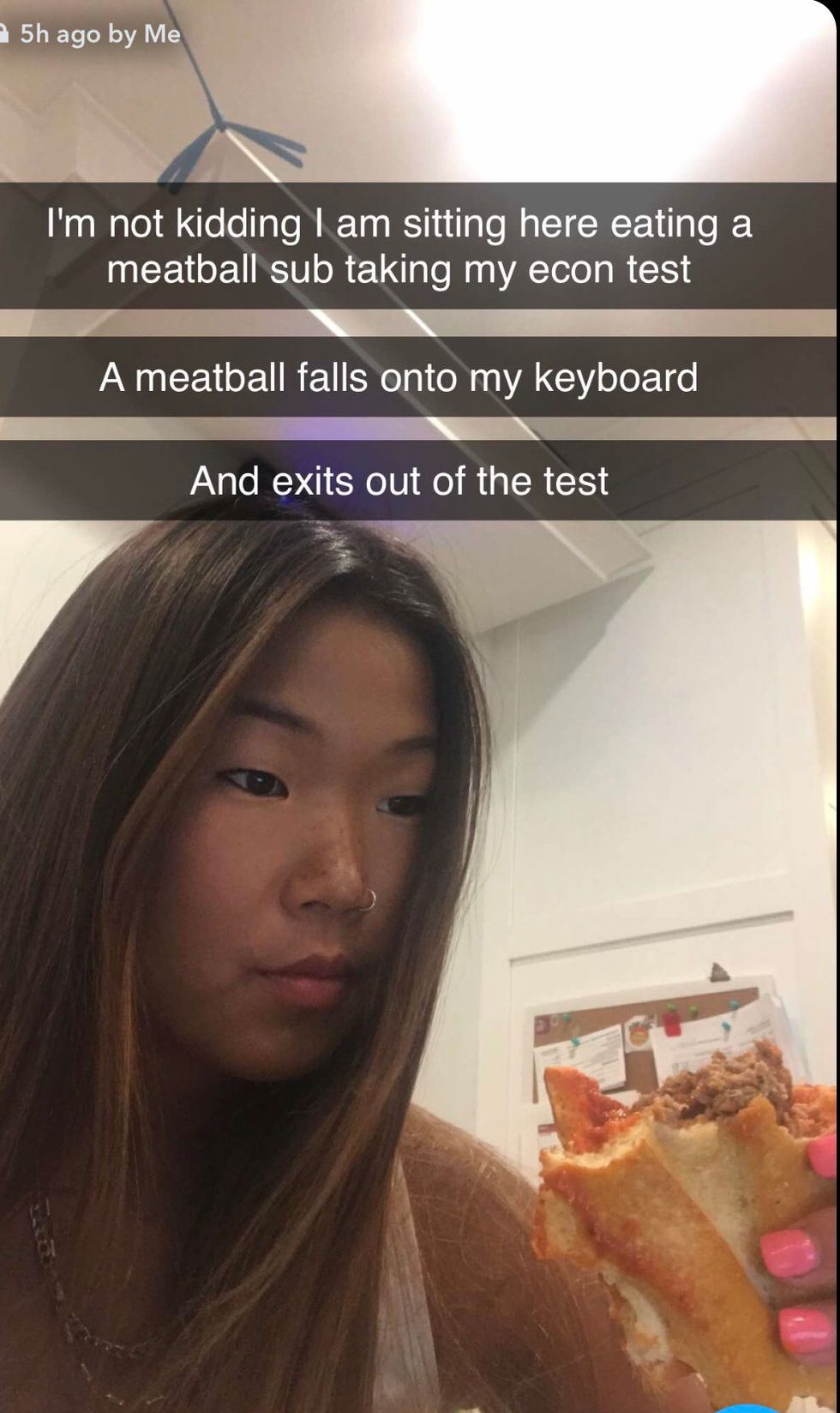 via: Twitter
And to make things even worse, the meatball hit the "escape" button and
logged her out
of her exam.
Sam spoke of her ordeal to BuzzFeed News...
She
explained:
"It hit some sort of escape button and closed the entire browser."
Sam said she was initially more worried about her sandwich than being logged out of the exam...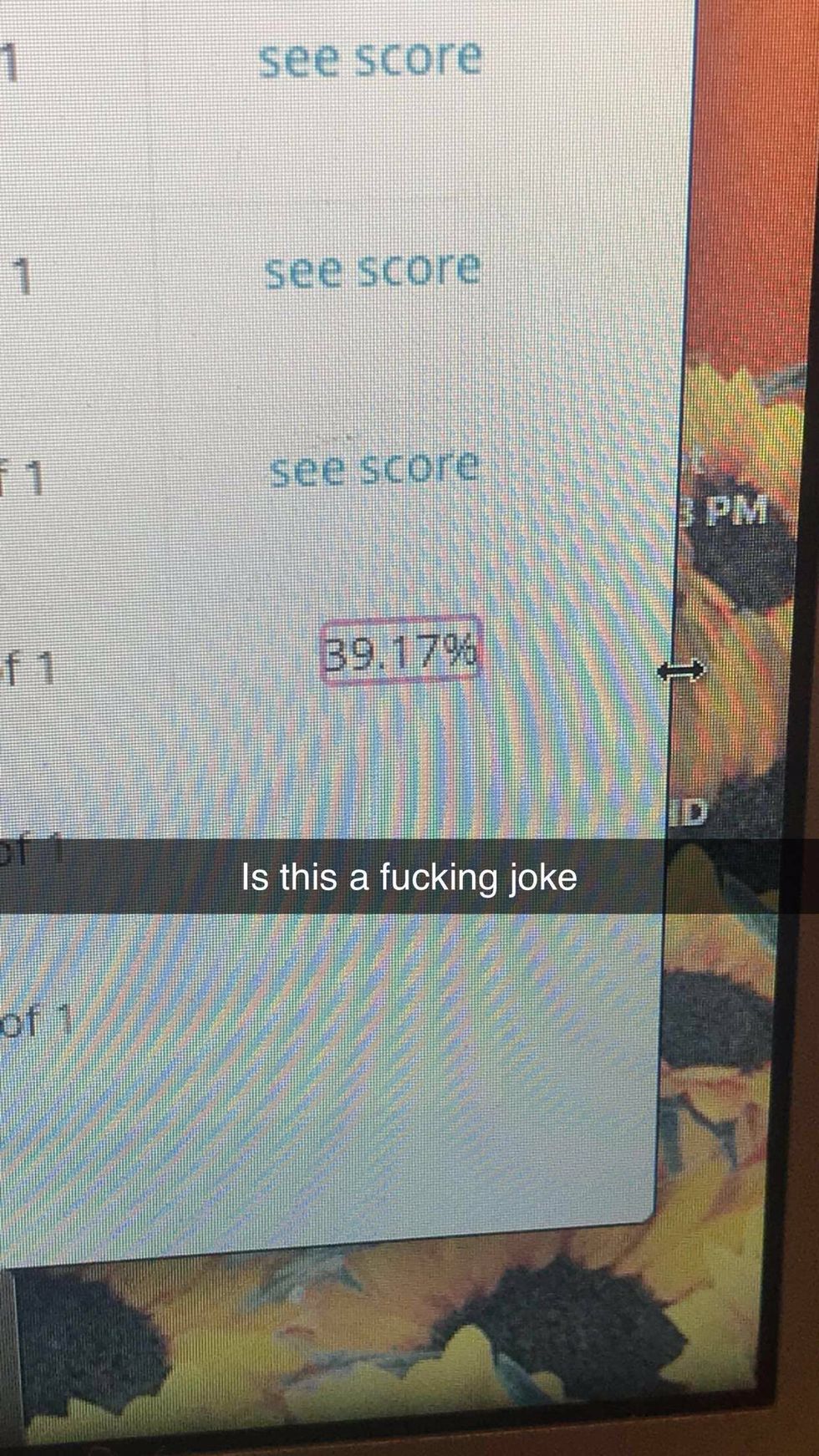 via: Twitter
But when she realized the screen she was taking the exam on was no longer there, she really began panicking...
especially
when she received an automatic fail. "I then took about 6 hours to write an email to my professor and sent it later that night," she said.
She politely asked her professor if she could re-take the test after explaining her bizarre situation...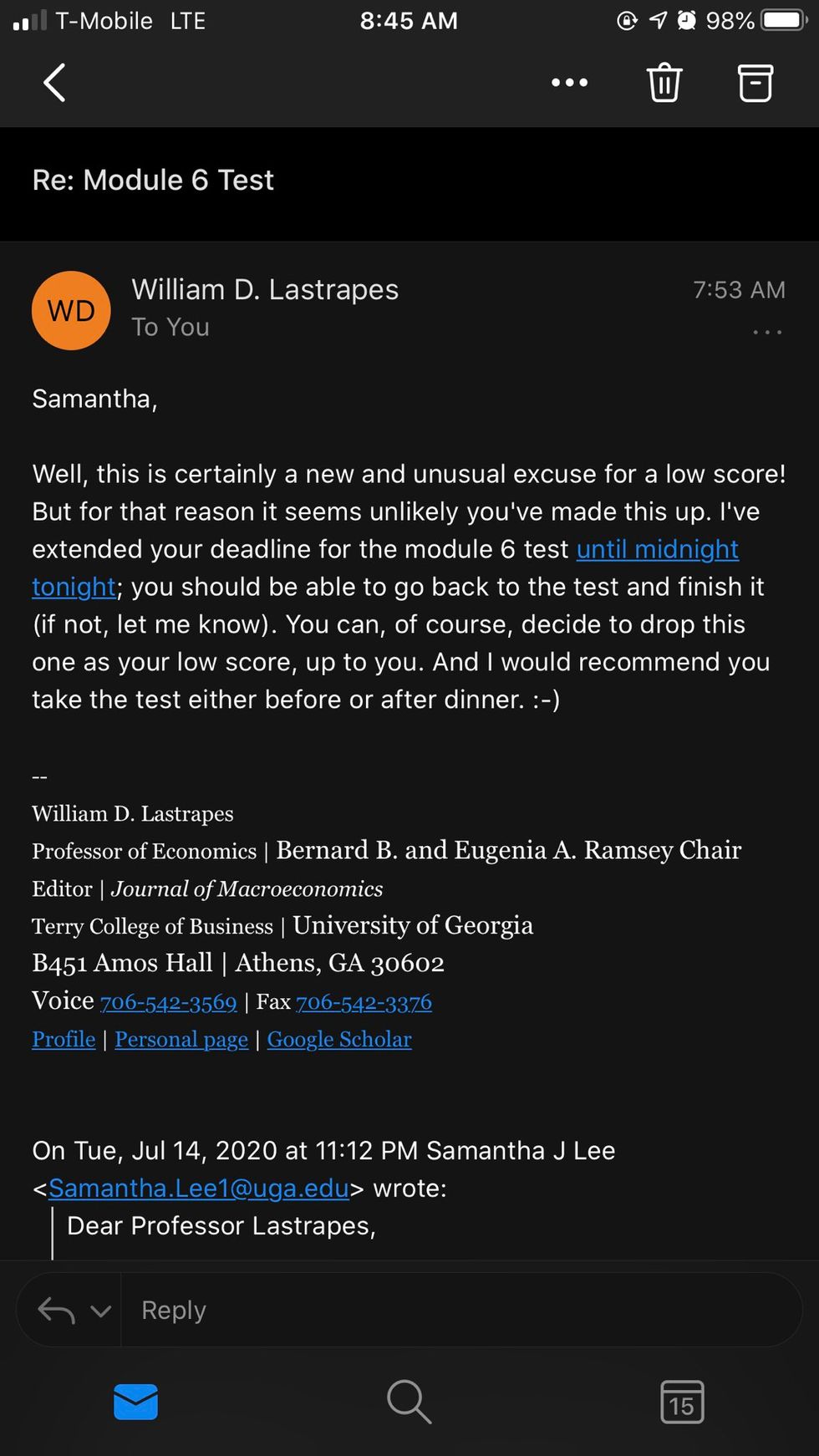 via: Twitter
And to her surprise, he responded empathetically the very next day and allowed her a new deadline.
Sam was beyond grateful.
"I was overjoyed with his response," she said, and confirmed that she did retake the exam that day, and "did slightly better."
Since posting her hilarious story on Twitter, she has gone viral...
@samanthlee16 @tonylokis HS teachers: professors wont baby you at all College professors: heres a 13 slide powerpoi… https://t.co/OwlwEQ7CRQ

— TonyBoi (@TonyBoi)1594982225.0
And people began discussing just
how great
college professors are.
Graduates began sharing stories of their own...
@samanthlee16 @mymewchowski shout out to my favorite graphic design teacher who went around at the end of the semes… https://t.co/svULAf7vJb

— kaylyn *🦊 (@kaylyn *🦊)1594988694.0
And it just goes to show the difference between high school teachers and college professors.
We're all grateful for our professors from time to time...
@samanthlee16 I sent an email to one of my professors expressing my gratitude for not overloading us w work during… https://t.co/sE1zCi3JSy

— Kristina 🌻🍂 (@Kristina 🌻🍂)1595030286.0
And it turns out that the feeling is mutual!
We all need letting off from time to time...
@samanthlee16 @aishagloryy One time I was 10% under a passing score in a required class and I emailed my prof askin… https://t.co/LicrNbtSg5

— sifu hotman (@sifu hotman)1594973561.0
And thankfully for this student, her professor was there to help.
We're just glad that Sam was able to re-sit her exam!
And if we've learned anything from this, it's to not eat meatball subs whilst sitting exams! Make sure to keep reading to read about the professor who was suspended for asking a student to change her "explicit" name...