Despite winning Best Country Album at the Grammys earlier this year, Sturgill Simpson wasn't invited to the Country Music Awards this past Wednesday night, November 8. While the CMAs claim that Sturgill wasn't banned from the show, he wasn't nominated for any awards, presumably because according to Variety, last year he criticized the Academy of Country Music Awards for "all the formulaic cannon fodder bulls*** they've been pumping down rural America's throat for the last 30 years."
Instead of sitting home like a sourpuss, Simpson decided to do what any good music star does: He busked in the streets to raise money for the ACLU.
Sturgill Simpson is a Grammy winner and a country star, but when he wasn't invited to the CMAs, he didn't just stay at home and twiddle his thumbs.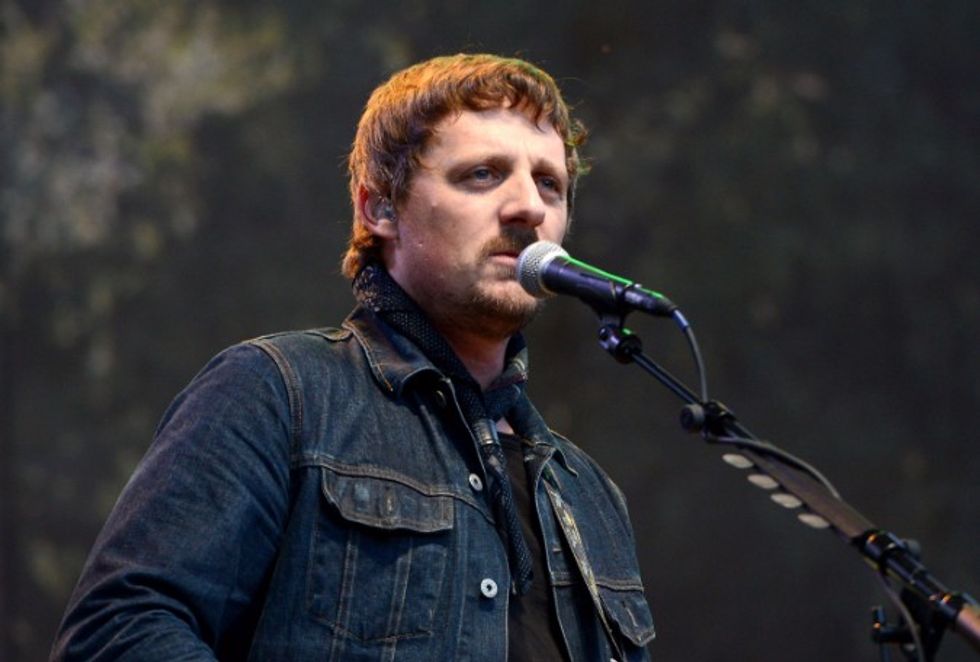 via: Getty Images
He claimed they were all out of tickets, so,
he told Variety
, "I thought I'd come down here and play some country music, since we're celebrating it this evening in Nashville, Tennessee."
People took videos of Simpson playing his acoustic sets in the streets, and he live-streamed the whole thing on Facebook:
Meanwhile, outside the #CMAawards, #SturgillSimpson played a surprise acoustic set. https://t.co/paq8Zx4DsH

— WSMradio (@WSMradio)1510196008.0
You can watch the whole video on his
Facebook account
. Along with the crowd that gathered once they realized what was happening, Simpson was surrounded by a couple hilarious (and poignant signs).
The first said "I don't take requests but I take questions about anything you want to talk about because fascism sucks."
This might be a dig at the fact that the CMAs tried to ban reporters from asking performers questions about the Las Vegas mass shooting last month, which happened at a country music festival. But it's also just a nice sentiment. Sometimes you just gotta talk it out with people, you know?
The other sign read "'Struggling' country singer...anything helps. (All donations go to the ACLU.) God bless America."
@GoldAdam @JasonIsbell God bless #sturgillsimpson. Go bless us all. These signs are great! https://t.co/f3eZGgX7bQ

— Bridget 🪕 (@Bridget 🪕)1510191405.0
Whatta guy! Simpson wasn't about to let the fact that he couldn't participate in the CMAs diminish the social impact he has with his music.
Not to mention, he delivered a mic-drop level message when someone asked him to give a mock acceptance speech. Here's what he said:
Sturgill Simpson is genuinely heroic. https://t.co/BqEBl9I5vP

— Steven Hyden (@Steven Hyden)1510200122.0
"Nobody needs a machine gun," Simpson said. "and that's comin' from a guy who owns quite a few guns. Gay people should have the right to be happy and live their life any way they want to and get married if they want to without fear of getting drug down the road behind a pickup truck. Black people are probably tired of getting shot in the streets and being enslaved by the industrial prison complex. Hegemony and fascism is alive and well in Nashville, Tennessee. Thank you very much."