The chicken wars of 2019 have been in full swing and it seems like we have our winner. Across the country, people have been going wild for Popeyes' limited edition chicken sandwich. So wild, in fact, that the chain smugly announced that they had completely sold out of the fried chicken sandwich.
The announcement has caused a viral storm, with people who have had the sandwich boasting as though they're part of some elite group, and those that are yet to try it backing away from stores with grumbling tums.
But it seems that Popeyes has some serious competition, with Taco Bell launching Chicken Tenders in a bid to be the best. Keep scrolling to learn more…
If there's one thing the restaurant chain, Popeyes, can do well, it's fried chicken. The New Orleans original recipe fried chicken chain has been feeding hungry Americans since 1972. The restaurant was originally called "Chicken on the Run" – which, considering the news that they have completely sold out of their chicken sandwiches, seems to be quite fitting.

I mean, if it's so popular, it must have something special in it, right?

According to Popeyes' website, this is exactly what a Popeyes chicken sandwich involves: "A tender all-white meat chicken breast fillet, marinated in an authentic blend of Louisiana seasonings, then hand-battered and breaded in our all-new buttermilk coating. Served with crisp barrel cured pickles and Classic or Spicy Mayonnaise, served on a warm and toasted buttery brioche bun."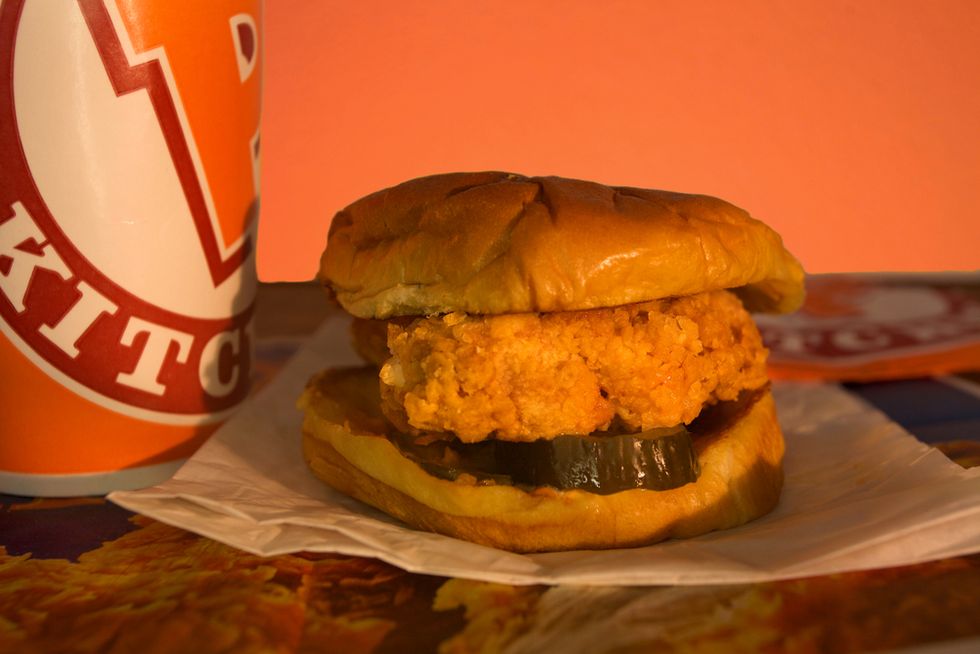 I mean, I don't know about you, but having yet to try one of these insanely good chicken sandwiches yet myself, the secrets as to why they're so good are still a mystery to me! Frankly, the sound of "crisp barrel-cured pickles" certainly caught my attention.

Beyonce has certainly made her allegiance to the fried chicken joint clear throughout the years. I wonder if she got to try one of the legendary chicken sandwiches…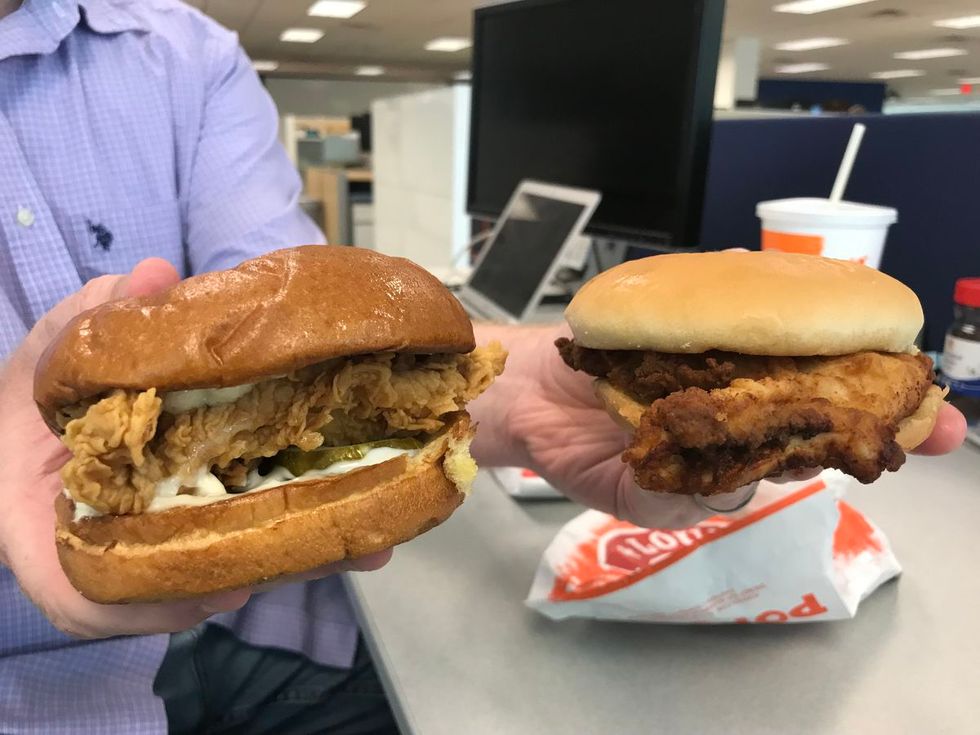 The two fried chicken chains have not exactly been quiet about their rivalry, and fans of the two restaurants have felt as though they have had to pick a side. Just like with the Cola and Pepsi wars, this year, we've been asking: who does the best fried chicken sandwich?

The chain has already displayed a level of conceitedness equivalent to Kim K publishing a book of her own selfies… Can a fried chicken restaurant chain be considered arrogant?

In response to Wendy's making the claim that they have the best chicken sandwich, Popeyes responded by accusing them of "looking thirsty…" easy tiger!

In response to Chik-fil-A's Twitter post about its original chicken burger, Popeyes wrote "Y'all good," – the smugness of the competitor oozing out of each letter.

The chicken wars have been taken out onto the streets, with the two competitors @ing each other through cryptic signposts. In this example, a Popeyes restaurant makes the point that people need to eat on Sundays. This is a direct finger up to Chick-fil-A, given that all of their signs say "closed on Sundays." In response, following Popeyes running out of chicken burgers, Chick-fil-A hit back with "FYI We don't run out of chicken sandwiches." Burn.

Who knows? Maybe the chicken sandwich wars of 2019 will go down in history… The fact that Popeyes has been cleared out does make it seems like something serious is going on.

People committed to getting themselves one of the last Popeyes chicken sandwiches, as news spread that their numbers were depleted, really did make a sacrifice. Lining for hours just for the chance of maybe getting one of these legendary chicken sandwiches sure indicates that these bad boys are hella good.

According to Twitter user, Ava Alfonso, Popeyes Chicken sandwich is certainly worth the hype. Even waiting for hours in a hot car as the drive-thru line edges ever so closer to the Popeyes ordering window? Yes. Still worth it.

Now that the sandwiches are sold out everybody wants to know what they taste like.
Sadly for Omar, he might never know what the fried chicken sandwiches taste like. His attempt to find out on Twitter was mistaken for a pick-up line. Can you imagine? "Umm, awkward but I do actually just want to know about the fried chicken…"

The chain explained that they had no idea that the sandwiches would be so popular and thus they did not prepare for the high demand. They have promised that they will try to bring the sandwiches back as soon as possible. They're even offering fans of the sandwich an app that will keep them informed on the progress of the sandwiches' return…

Having sold out of 7 weeks worth of chicken in 2 weeks means that there must have been an incredible amount of foot traffic in the restaurants this past fortnight. The public's hunger for these chicken sandwiches has certainly put a strain on the Popeyes workforce. This has been so apparent that other chains have rallied together to offer freebies to the workers. It's good to see the hospitality staff looking out for each other.

Because there's some new competition in town.

And they have a new menu item that puts it in competition with chicken chains like Chick-fil-A and Popeyes.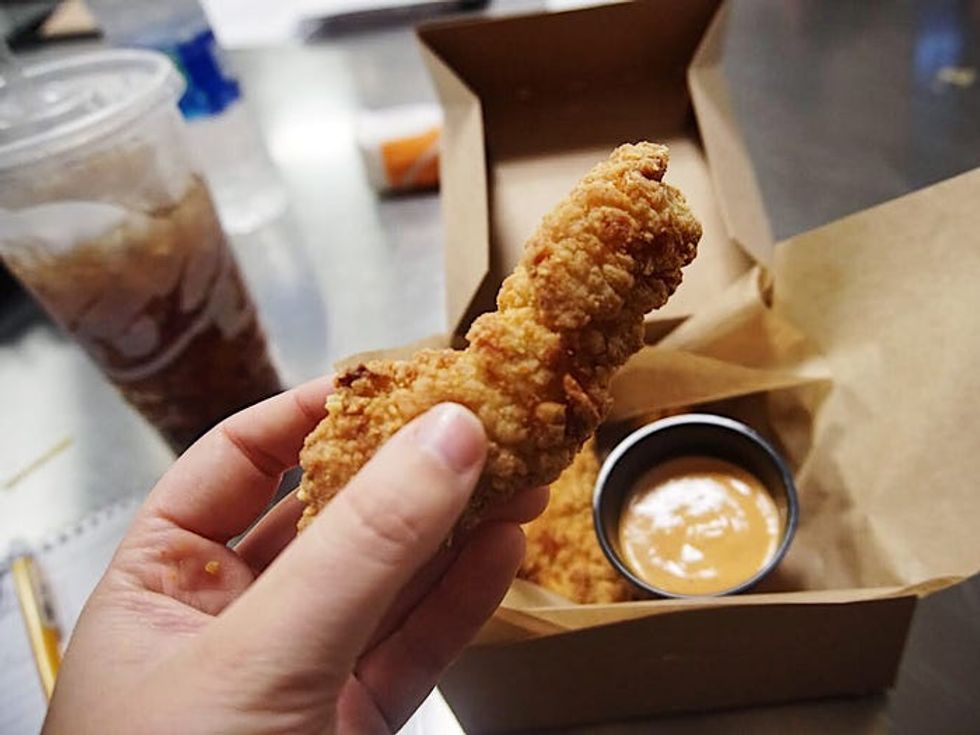 According to reports, Taco Bell said they would begin testing its new crispy tortilla chicken tenders in Houston, Texas, and Dayton, Ohio, this week before launching the menu item nationally next year.

They're a pretty good value for money…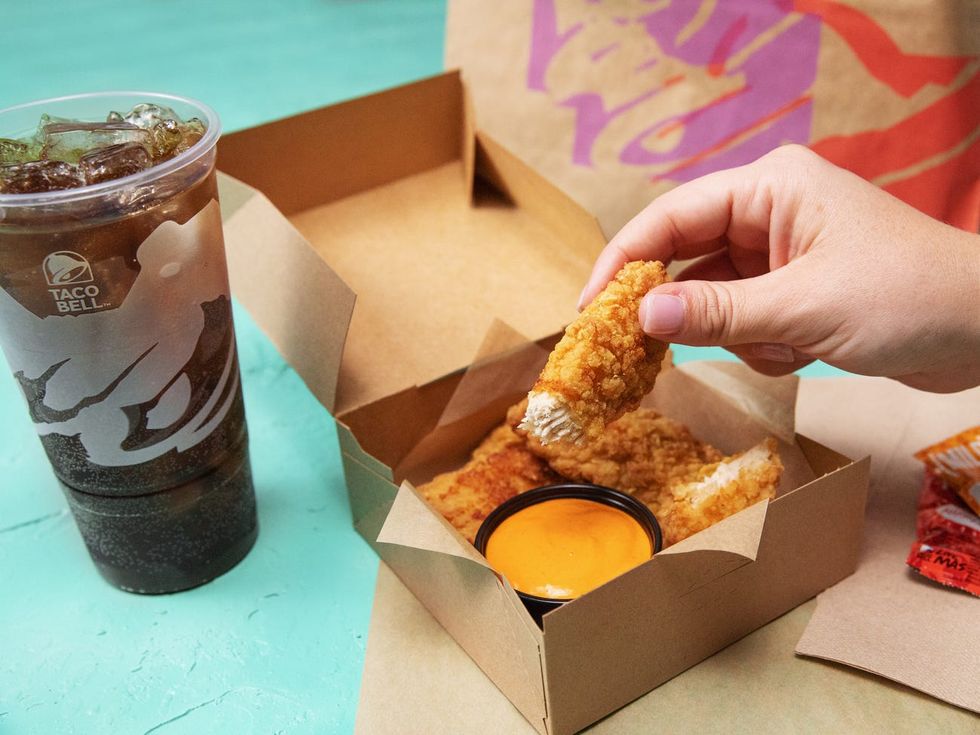 Customers can try the tenders in a taco for $2, or get 2 tenders for $3 or 3 tenders for $4. They can also get them in the chain's $5 and $7 boxes.

The new recipe is mouthwatering.
The new chicken tenders are marinated in a jalapeño buttermilk mixture, giving them a slightly spicy kick, and they're also coated in tortilla-chip crumbs and served with a new sauce.

With the addition of chicken tenders to its menu, the California-based chain is poised to compete with popular chicken chains like Chick-fil-A, Popeyes, and Raising Cane's, which have all seen growth recently.

Will Taco Bell become the best…?
Popeyes has reportedly made more waves than any other chicken chain in 2019 with its infamous chicken sandwich, so only time will tell if Taco Bell's chicken tenders will knock them out of the leader board. Keep scrolling to learn about Taco Bell's exclusive watermelon slushy with "candy" seeds…