Any expecting mom or anyone who has known a pregnant woman in the last 5 years knows a maternity photo shoot is a must. The best photos are shot on location. They feature the pregnant woman perfectly coifed and not in her daily stretchy pants, but in some fancy get up. She ought to be smiling wistfully while lovingly cradling her belly. Any woman who achieves this romantic look, fully capturing all the joy and beauty that is impending motherhood, will surely be the best mom.
Ah, the now ubiquitous maternity photo shoot.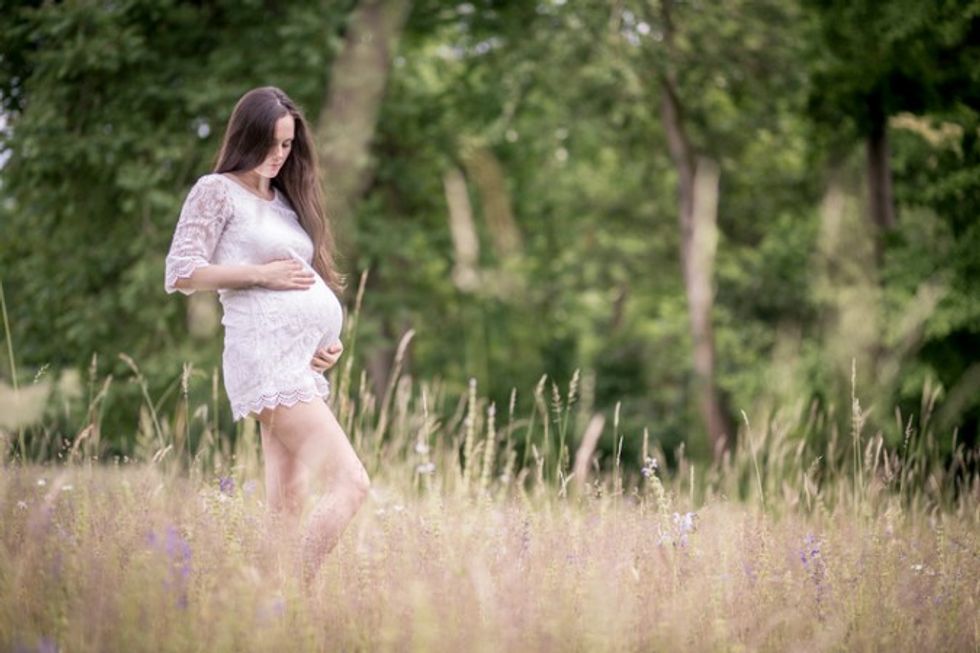 via: Getty
The message is: pregnant women are beautiful; pregnant women adore pregnancy; pregnant women day dream about their future babies while strolling in evening wear through fields of wildflowers.
While all of that may be true, pregnancy has another side to it.
Facebook user Kristin Johnston perfectly captured both sides of pregnancy in her recent, hilarious pregnancy photo session.
Evening wear? Check. Lovely mom-to-be with perfect hair and make-up? Check. Shot on location: You bet.
She took the maternity photo session to a whole new level.
Not the beach. Not a field of flowers or even the woods. No. Johnston selected Taco Bell as her location and the results are epic.
Everything about it is the stuff of a classic maternity photo shoot, except the location.
She perfectly captures the wistful, belly cradling vision of fertility and loveliness. All while waiting to get her hands on that crunchy, salty, cheesy goodness. And then, her food arrives...
Even her sauce packets are part of this love story.
"Just the beginning" + "You're my forever" little one!
Is it about the baby, or the impending heartburn? Does it matter?
Is this a celebration of her pregnancy? Hell yes it is!
When else can a woman freely give in to her basest urges at Taco Bell? This photo shoot is a love letter to this baby. It says, "Thank you, baby, for all the Taco Bell. I promise to love you and care for you the way I love this glorious hot sauce, this taco, and this giant green drink."
Seriously, what is that green drink?
It doesn't matter. She's drinking it for two. How she enjoys Taco Bell so much and still looks so great in that clingy red dress is the true miracle here.
Cravings, aversions, and food in general are huge parts of the pregnancy experience.
I wonder if her baby will crave the sauce? (Hot sauce.)