This year's Olympic Games were filled with heartwarming tales – but the latest news about wrestler Tamyra Mensah-Stock has truly given everyone the warm and fuzzies.
The twenty-eight-year-old became the first African-Amerca wrestler to ever take the Olympic gold medal during this summer's Tokyo Games. It was a truly emotional moment for the athlete, and she told fans at home, "I love representing the U.S. I freaking love living there. I love it, and I'm so happy I get to represent USA!"
Tamyra also spoke out about her parents, crediting them with her determination and patriotic spirit. "My mom raised us to be respectful, my dad was an immigrant, and he came from Ghana," she explained. "He came to America and he made a way for himself, he had a whole bunch of businesses. He made something out of nothing. I just know that if you go out and get what you want, nothing can stop you. So I guess just from those kind of parents in my life, I just have love for my country."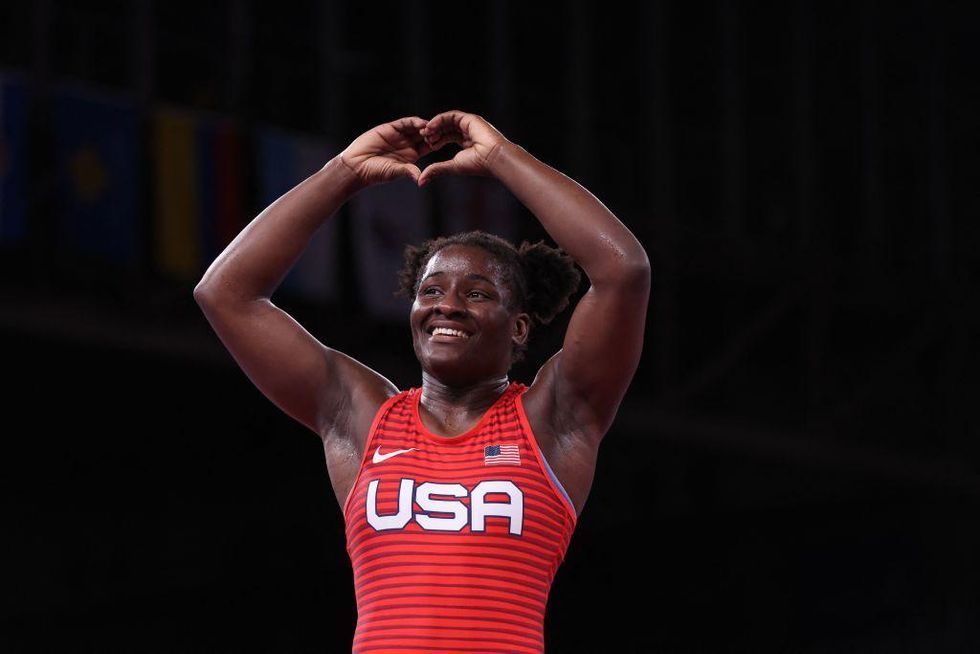 Tamyra revealed the struggles her family had faced since her father's passing in a car crash in 2009. This left her mom taking care of the family alone. "She's always doing back-breaking work and I've just seen her struggling ever since my dad died, and I don't like seeing it,'" she told People. "I made a promise to her, and she loves cooking. It's just one of her passions." So Tamyra promised to use her $37,500 gold medal winnings to buy her mother a food truck.
But upon hearing this heartwarming story, Cameron Davies, owner of Cruising Kitchens, decided to step up. "I did my research on her and fell in love with the person she was," Davies explained – so he decided to donate the food truck to Tamyra's mother.
This gesture has clearly touched Tamyra massively. "Giving all glory to God, I greatly appreciate that I'm even able to be in the position to provide my mom the food truck of her dreams," she said. "A little surprised, there was actually something that came out that surprised her on a different station. Somebody is actually buying my mom a food truck and making it from scratch. So she is about to be getting a hefty sum for her food truck, it's going to be the food truck of her dreams."

"She wants to make African food, and sweets, and barbecue. Right now it's going to be being made in San Antonio, Texas, and she loves cooking in Houston because she has little hot spots she loves to, where she had her pit on wheels. She might want to travel all over the country, who knows? She's been provided with the food truck of her dreams or she can go wherever and do whatever. I'm extremely excited for her."
Simply amazing!