That's right, Target have announced this week that they will actually be rewarding their customers for buying the stuff that they want.
What's the catch? Well, I guess the store probably thinks that they'll be able to hoodwink us into buying more. With the prospect of getting points on every purchase, the retailer probably thinks that we'll be gullible enough to buy more than we normally would. Joke's on them... I was already planning on buying more than I need!
Keep scrolling to learn all about this latest loyalty program. We'll go through the ins and outs of the new scheme and let you know when it begins!
Target are putting the "T" back into "guilt-free shopping!"
The new program is called "Target Circle." The loyalty scheme really is something to be excited about.
There are two kinds of shoppers...
First, there are those that absolutely love to shop. These people can completely transform their mood with a good purchase - whether that be a timeless accessory or an outrageously good deal on a multipack of dog food.
Then there are the shopping pessimists.
You know the kind... you'll typically find them outside the store, sitting on a bench, looking miserable. If they're inside the store, they're probably walking in exaggerated boredom behind a poor shopper. They'll make dry comments about everything that their shopping companion picks up and they'll insist that they don't need anything.
When you need serious fashion advice...
Don't invite a pessimistic shopper along. They'll be no help to you whatsoever.
You need to go with someone that's passionate about clothes.
Go shopping with someone that lives and breathes fashion. The kind of person that can spot the perfect outfit amidst a heap of drab choices.
Target's new loyalty scheme means that you can buy them all.
As Harry Potter famously said when he was showing off to young Weasley about how much dollar his dead parents had left him: "We'll take the lot!"  - that's what you'll be saying time and time again to your puzzled looking Target employee when you realize the advantage that comes with buying more.
Cashback with every purchase, you say?
You will earn 1% on every purchase. Now before you say that that's not very much at all... think about it.
Target sells everything.
You could literally do all of your shopping in Target and never shop anywhere else. They've got clothes, food, camping gear, vacation stuff, CDs (do people still listen to CDs?). They've got pet stuff, homeware stuff, gift stuff, DIY stuff... you name it... I bet you my first five "Target Circle" points that you could survive on Target products alone.
How often do you go to the store for a few things...
... and end up walking out in a daze, packing the car with a full shopping cart thinking: "when's payday?"
Top tip:
Do not go food shopping when you are hungry. Have a sandwich, a bag of potato chips, a chocolate bar, anything before hitting the store! Doing your food shop on an empty stomach will lead to an excessive amount of unnecessary purchases. Trust me.
Fortunately, Target is relatively inexpensive...
This means that when you do every so often roll up to one with red eyes and growling tum, the knock to your bank balance isn't so bad.
Target understands that sometimes we need to buy things.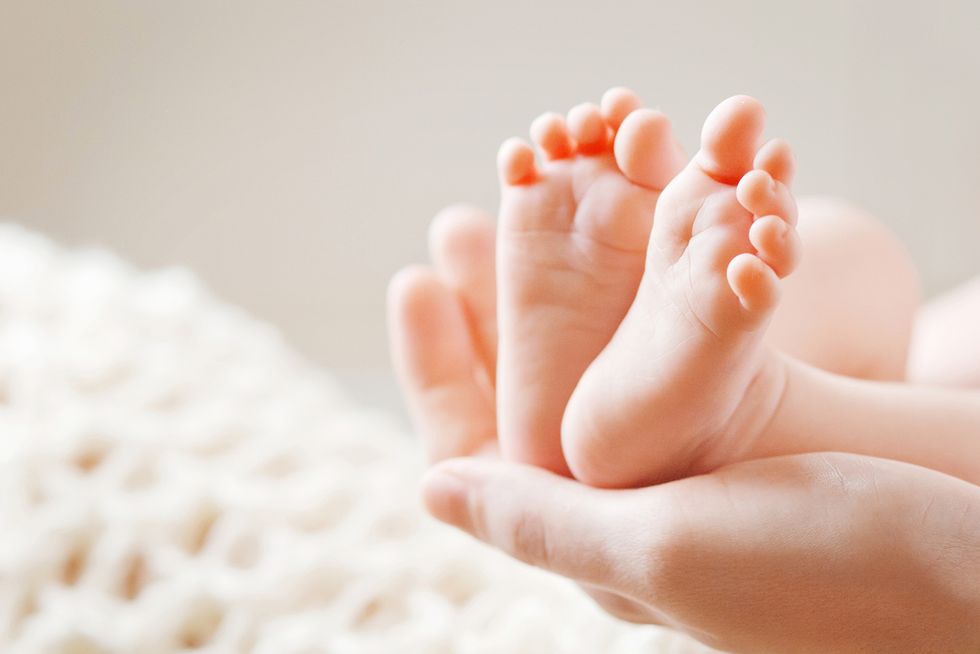 via: Shutterstock
A newborn baby can be extremely costly. These little bundles of joys come with a hefty price-tag. Thankfully, Target's here to ease the burden.
Babies go through sh*t loads of diapers.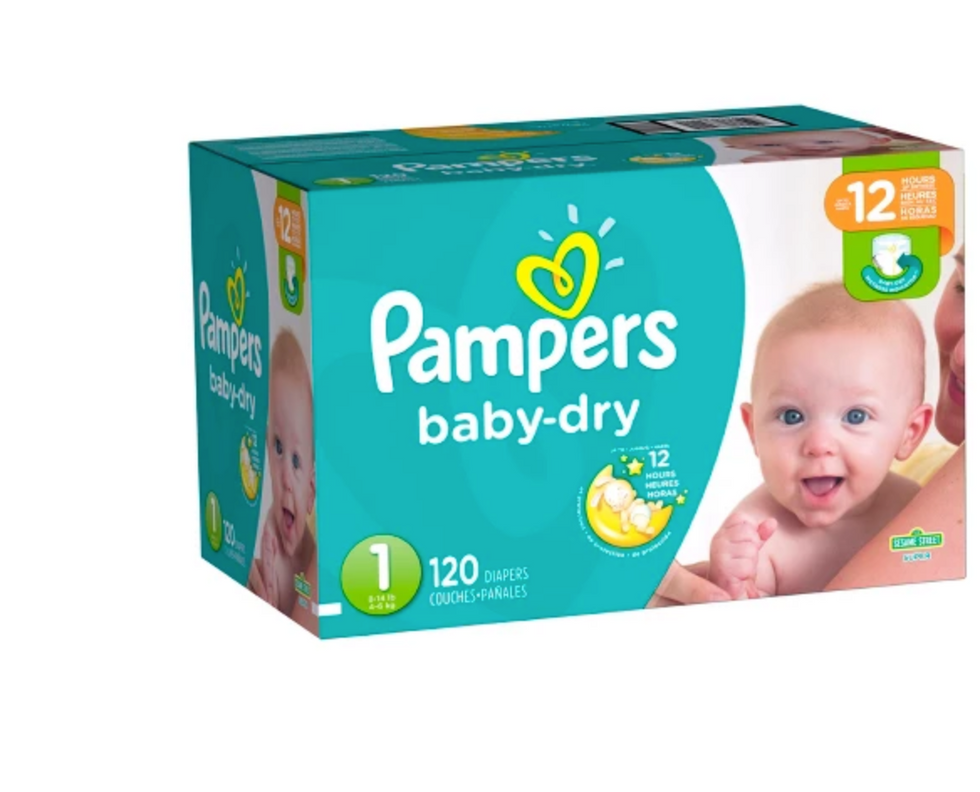 via: Target
And you'll never get a newborn baby that understands that diapers are expensive. They'll poop and they'll poop excessively. And, no, your newborn baby will not appreciate that you have
just
put that diaper on - they'll poop in it anyway. Fortunately, in Target, you can buy 120 diapers for $24.99. That's not bad, eh?
A newborn baby is scary enough...
You don't want to add money worries onto the stack of concerns that you have when becoming a new parent. It's hard enough that you might never get a restful sleep again!
My sister is about to have her first baby...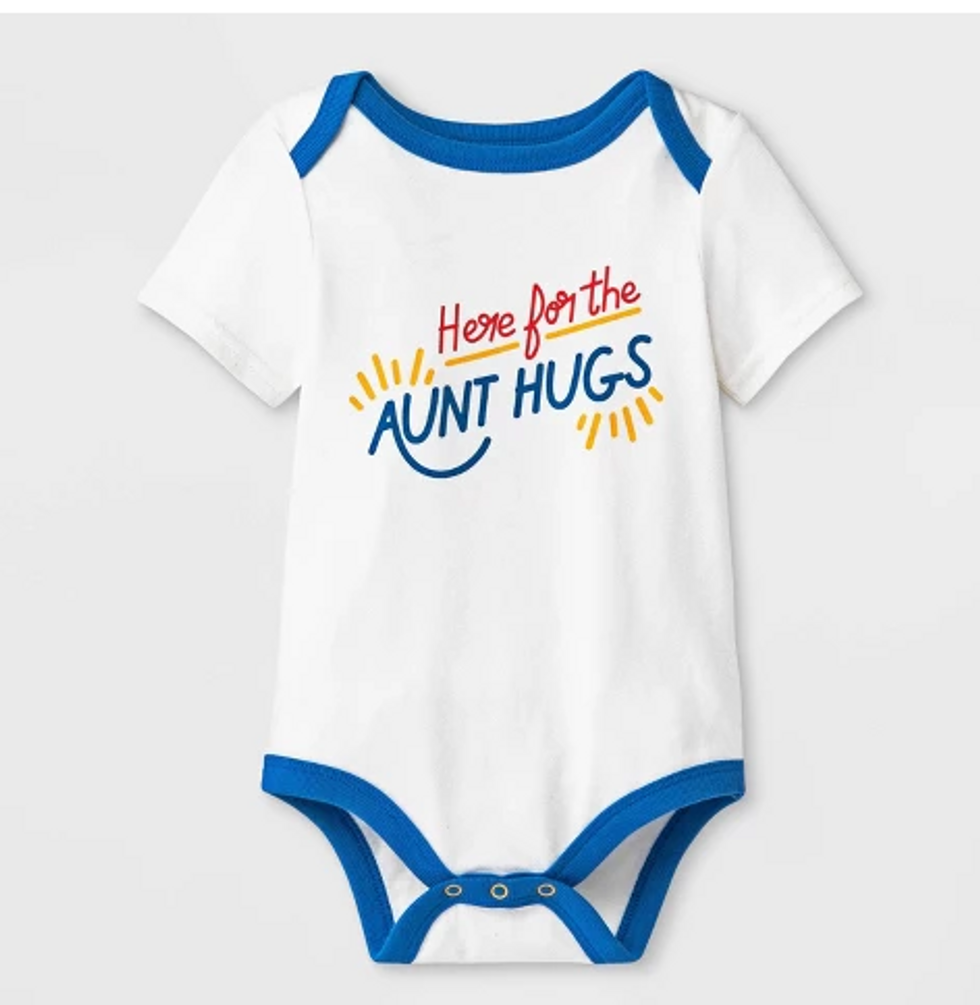 via: Target
I'm going to be an aunt! I know, amazing - or terrifying? Right? When did we all get old enough to be popping out babies? Now there's gonna be some kid around to watch how spectacularly I can mess up my life. Well, if there's one thing that I can do to prepare for its imminent arrival... it's getting down to Target to buy one of the very reasonably priced babygrows. This one is on sale for $4.99 and says "Aunt" on it! Cute! (Aaah)
I wonder if it will be a Dallas Cowboys fan.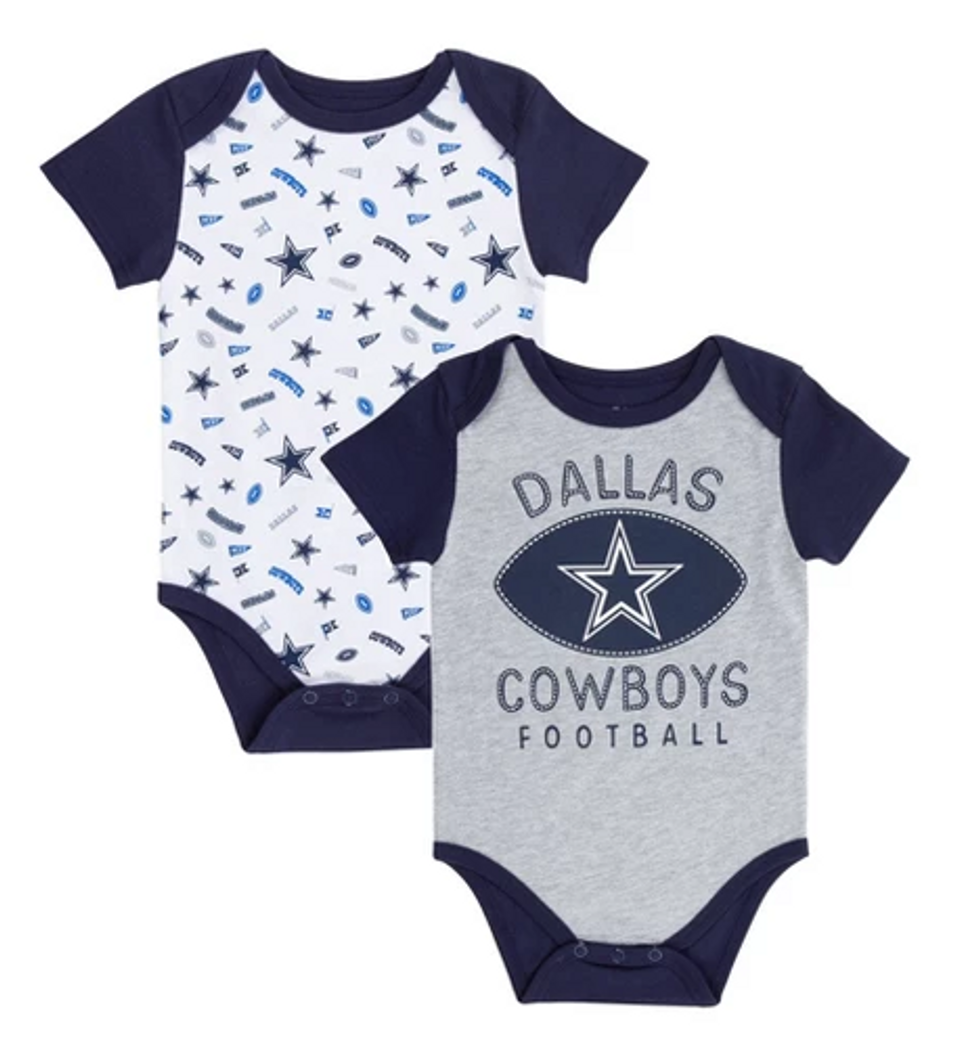 via: Target
Its dad supports the
Philadelphia Eagles
... So I will most certainly be purchasing it this. I mean, for only $8 dollars for two, it'd be criminal not to!
Holidays are also a time wherein we have to part with our hard-earned cash...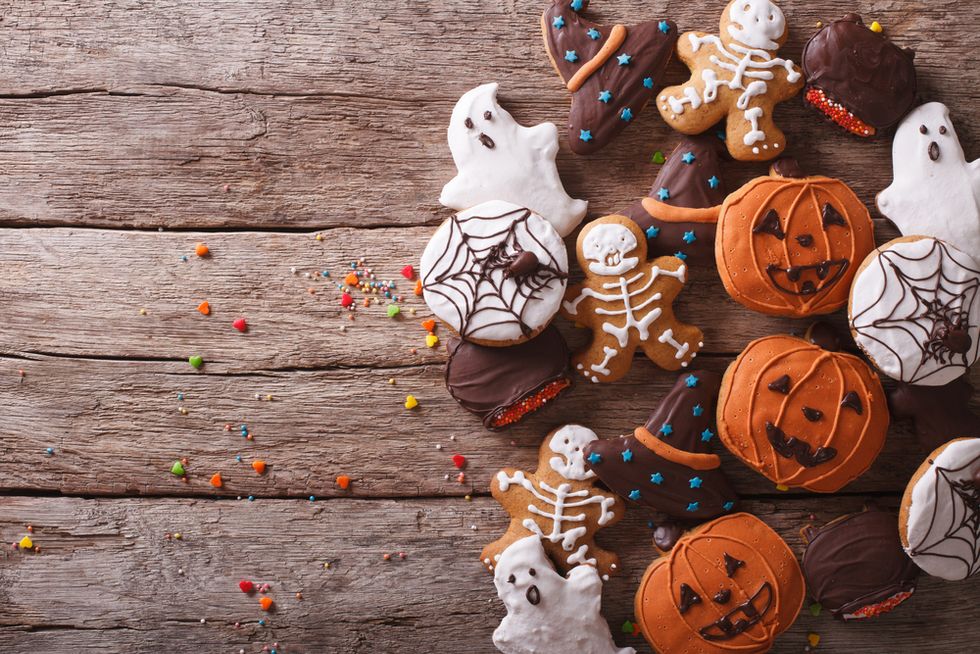 via: Shutterstock
With Halloween just around the corner, (where did the summer go?) it's about time that we got down to Target for the essentials.
If you don't get candy in for the kids...
They may very well cover your house in toilet paper. No one wants that, right? And it's so easy to forget! Then what do you do? You're at home, trying to relax, and all evening you've got kids banging on the door asking for something that you can't deliver. Nightmare.
Word of advice, though...
If you try to escape the chore of the holiday: opening the door again and again... you may fall victim to the greedy! Look how tactfully this woman tips the entire bowl of candy into her bag!
When you're a kid, Halloween is full of excitement!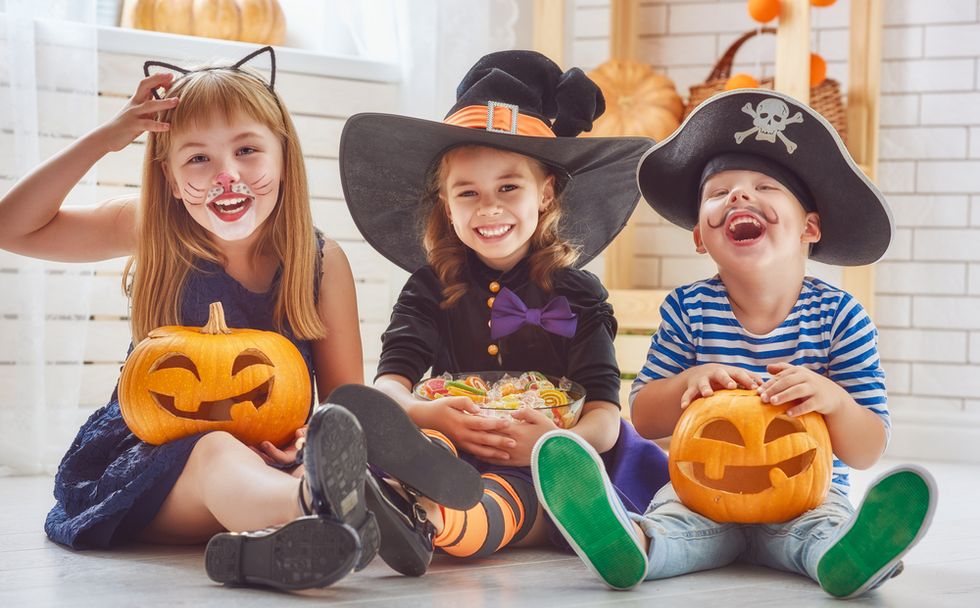 via: Shutterstock
Every parent understands that giving your kid the best Halloween is important. These are the days that they remember, right? So that means a trip to Target for decorations, costumes, and caramel apples... have they got those? Of course they do! It's Target!
Target has actually got some pretty alternative Halloween options...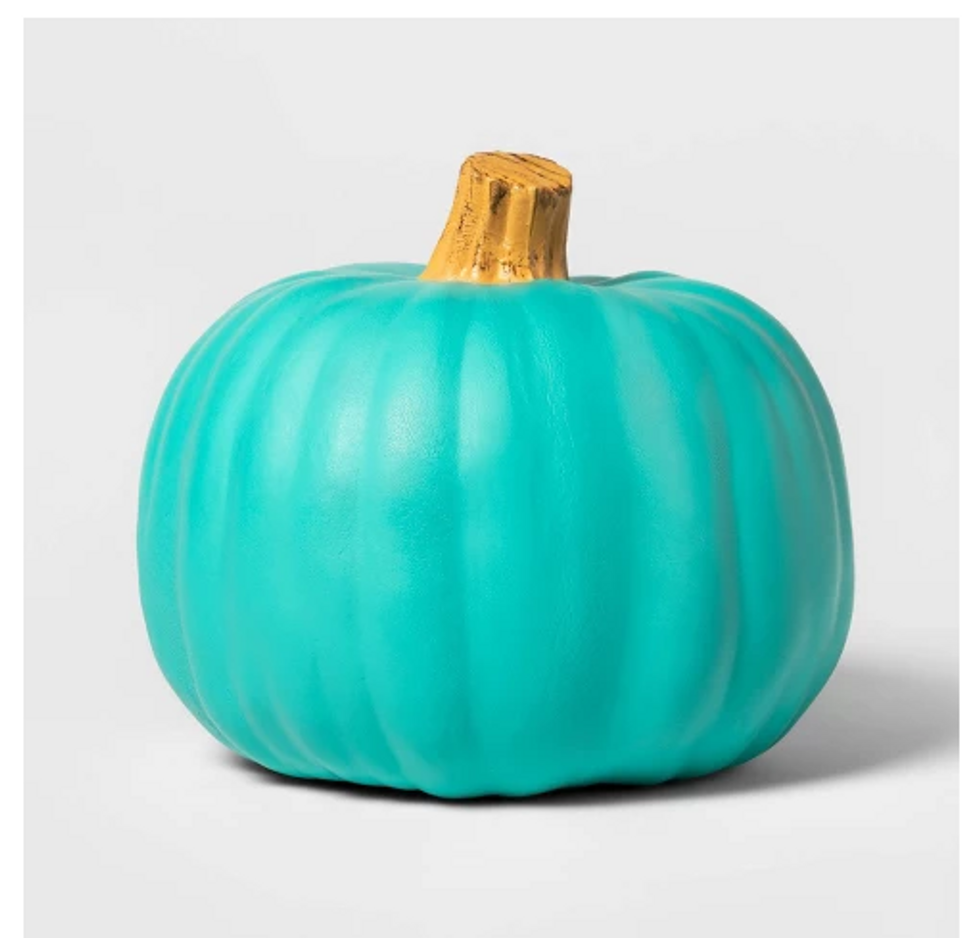 via: Target
That's right! If you wanted to have a hip and trendy Halloween that even the likes of Taylor Swift would be impressed by - get yourself down to Target. Right now, you can get yourself this quirky teal pumpkin for just $8 dollars!
You can still get a regular pumpkin...
Kids always want to carve a real pumpkin. "It's a tradition!" they'll scream - I mean, what do they know? Going to bed on time's a tradition but they never follow that one! Anyway, you can get a regular pumpkin for carving for just a dollar in Target. So while that rots away in the back, you can have your sophisticated teal one on display in the front. Everybody wins!
If you wanted to go Halloween crazy, you could get yourself one of these...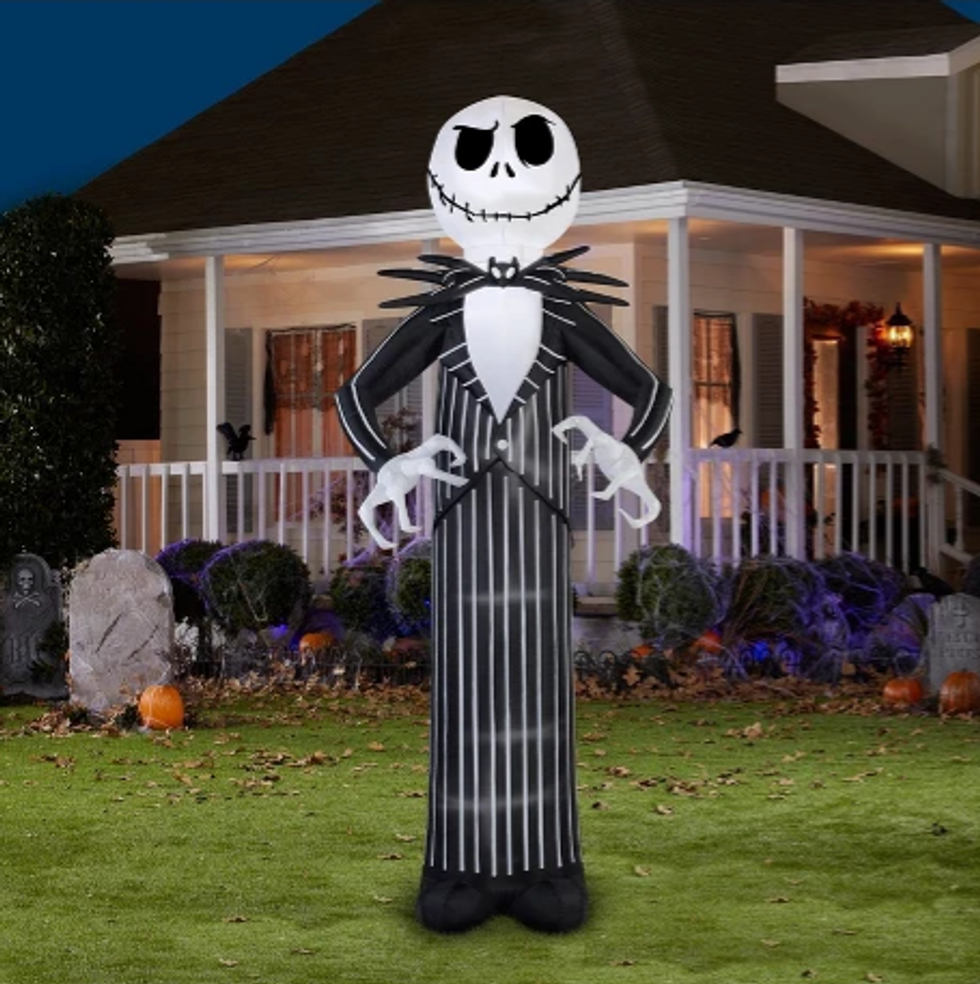 via: Target
Impress your neighbors, scare your mother-in-law! This giant
Nightmare Before Christmas 
blow-up inflatable stands at a staggering eighty-four inches in height. You'll certainly be able to spot your porch after a few too many glasses of red! This is one of Target's more expensive items and would cost you $180 dollars.
If you're looking for something a little more affordable to throw out on the front porch...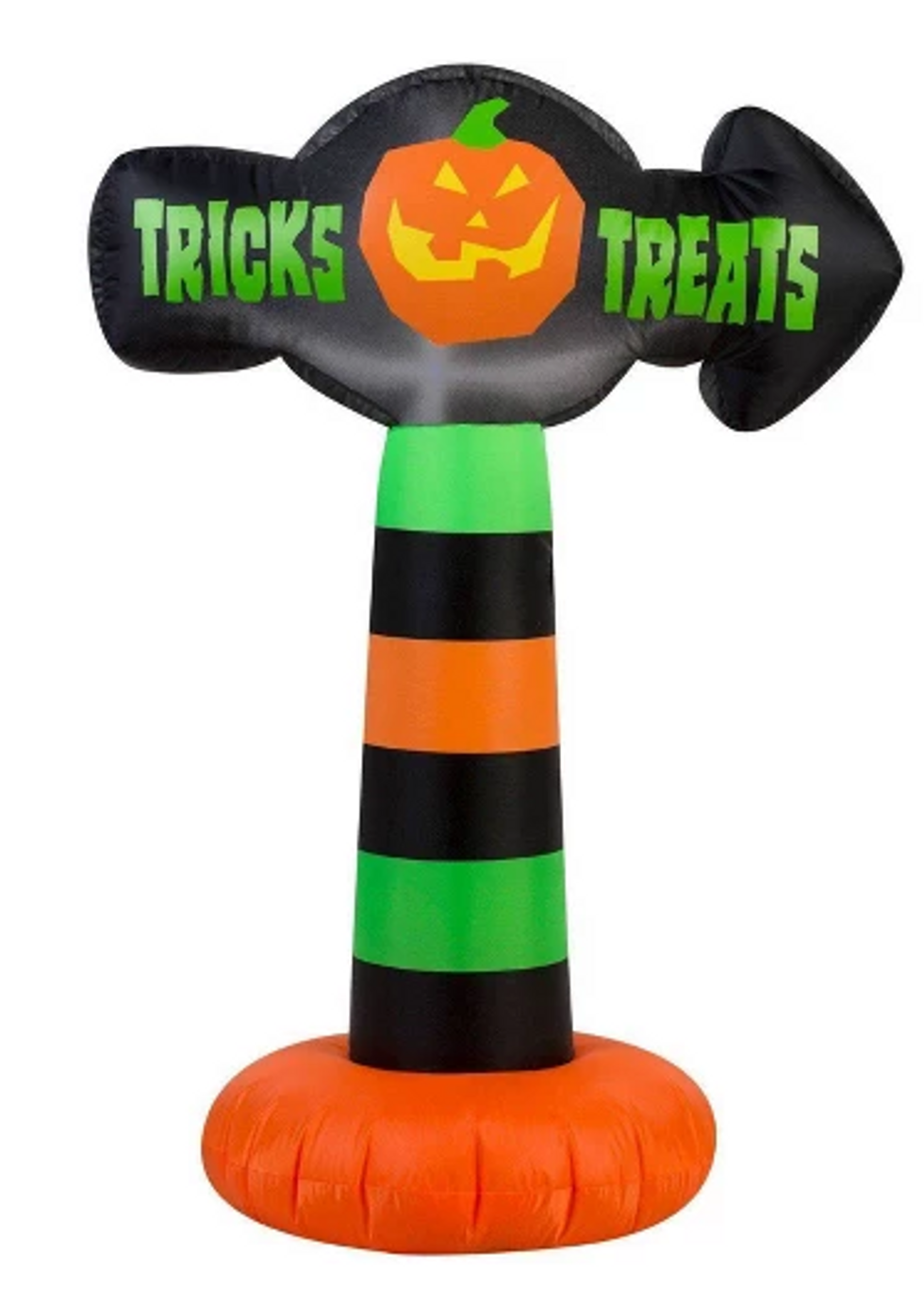 via: Target
This inoffensive inflatable trick or treat sign is only $33 dollars.
Be careful when you go to pick it up!
These inflatables are known to have a mind of their own! Spooky, no?
After Halloween's wiped us out, there's the other big holiday...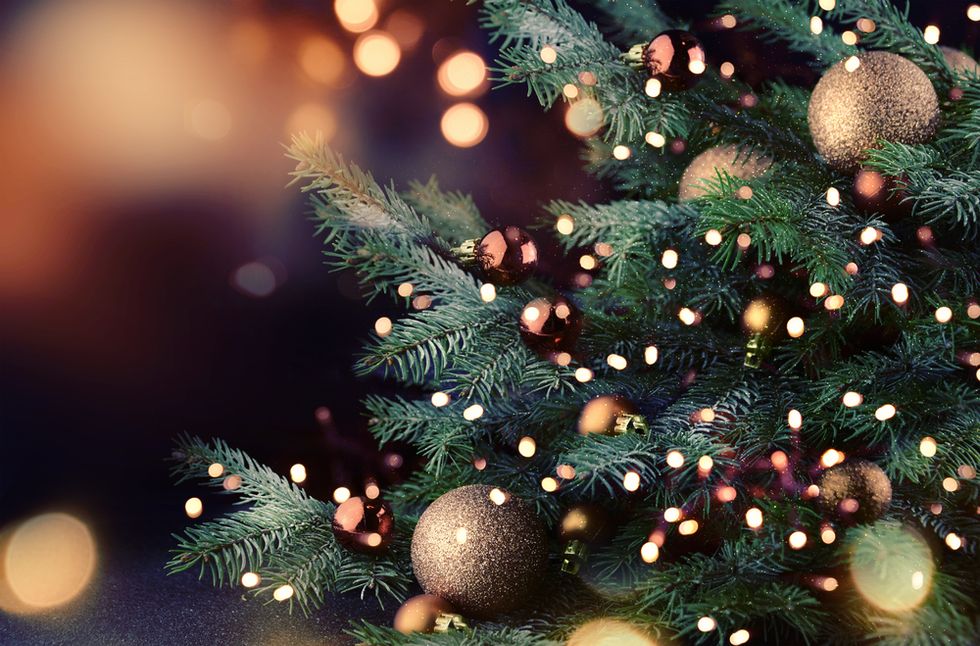 via: Shutterstock
It's Chriiiiiiistmaaaaas.
Thank god for Target's new "Target Circle" scheme, am I right? The guys down at Target appreciate that Christmas can be a difficult time for those that are strapped for cash. This means that anyone that's a member of Target Circle will be given special offers and discounts across the store during the holiday period.
Christmas is the season of giving...
Michael Scott put it perfectly in The Office. It's true that a gift can represent exactly how you feel about someone. My ex got me bike lights last Christmas and it was about a month after December 25th. Needless to say, we're no longer together.
Secret Santa...
Secret Santa can be a tough one. Especially if you're new to the office and don't know anyone that well. Which is exactly what the bargain barrel in Target is for!
Getting a gift for yourself is probably the only way to ensure that you get what you want.
There should be a holiday for treating yourself to something that you genuinely want. It could be in January and coincide with the sales. Bargains and what you wanted: a total win-win!
But getting someone the perfect gift...
That's a great way to grab their attention. If you get your crush in your office Secret Santa, it would be the perfect time to use all of your Target Circle points up and get them something truly special.
How about the new iPhone 11?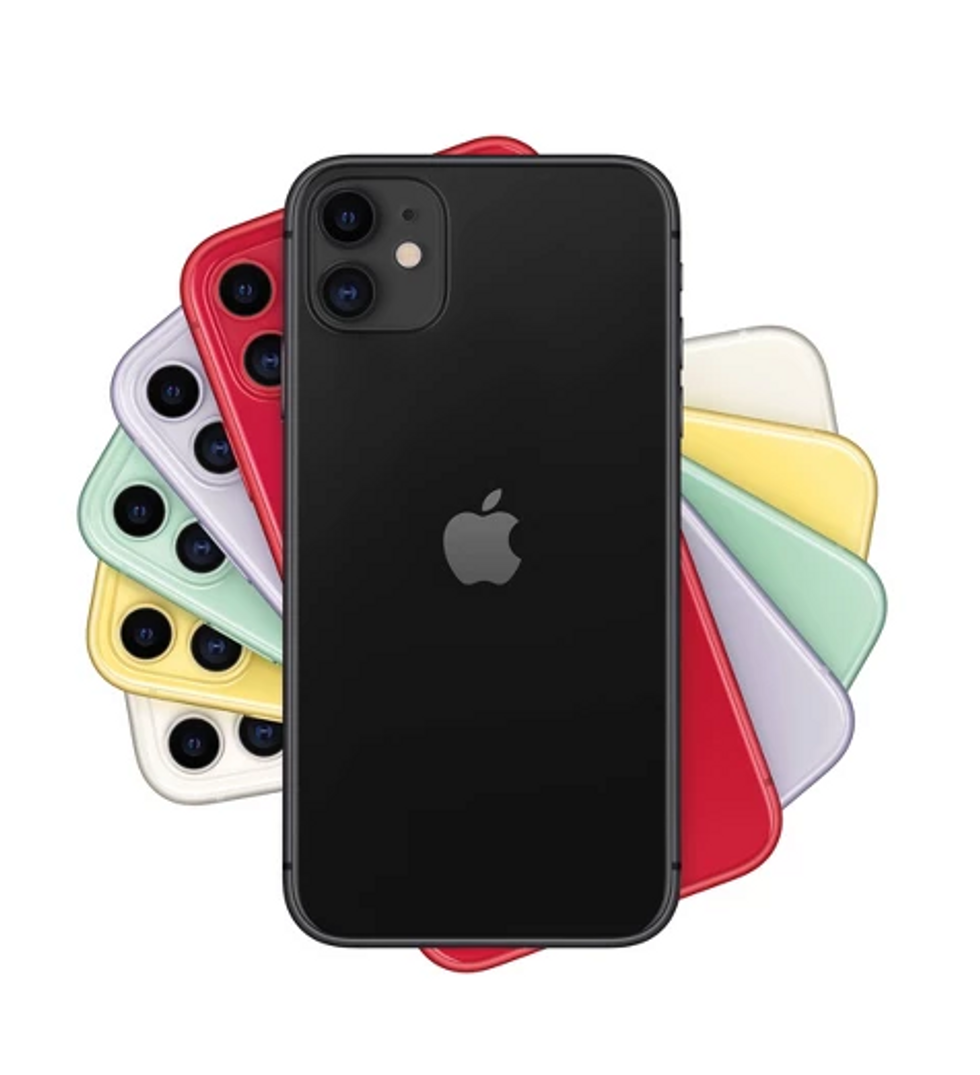 via: Target
Okay, maybe that would be a bit extreme. But it is something that you can get your hands on in Target... very soon! Big purchases like that are really when your Target Circle points will start racking up.
Christmas is also about neighborhood light wars!
Having the brightest, most excessive, illuminating Christmas lights in the neighborhood really shows everyone who's boss.
Obviously, you should think about the electricity bill...
But... but... but if next door can afford to have a million lights on every night, then so can we!
With Christmas lights so cheap in Target, you're practically saving money!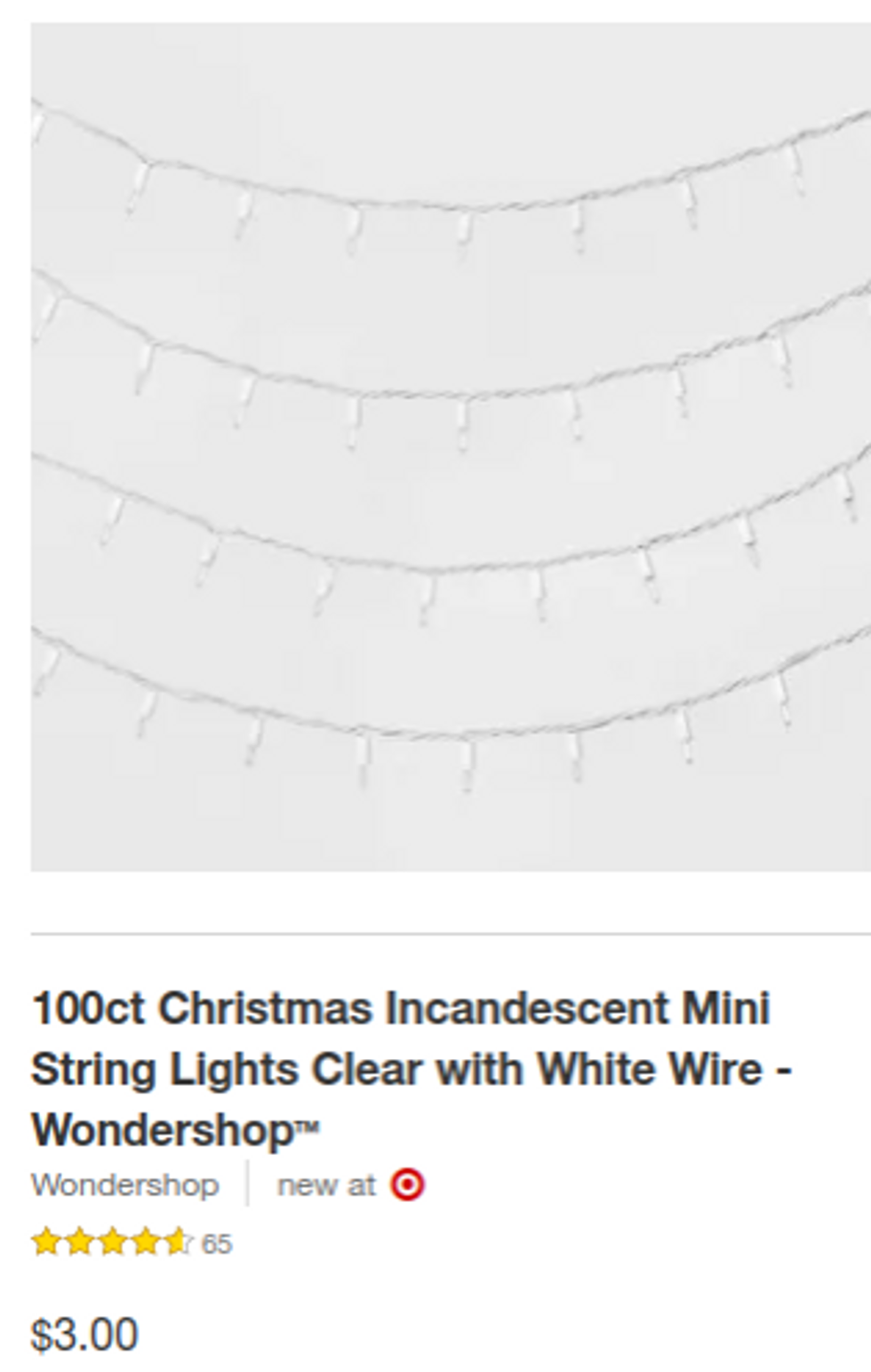 via: Target
I mean, not partaking in the Christmas holidays at all is the only real way to not spend any money, but let's be real here. If you do want to be sensible, you'll get down to Target and purchase your lights there. At Target you can get 100 bulb chrimbo lights for $3 dollars! I've never heard of lights that cheap... I know what I'm getting my Secret Santa this year!
How to have a Jessica Alba Christmas...
Target, that's where!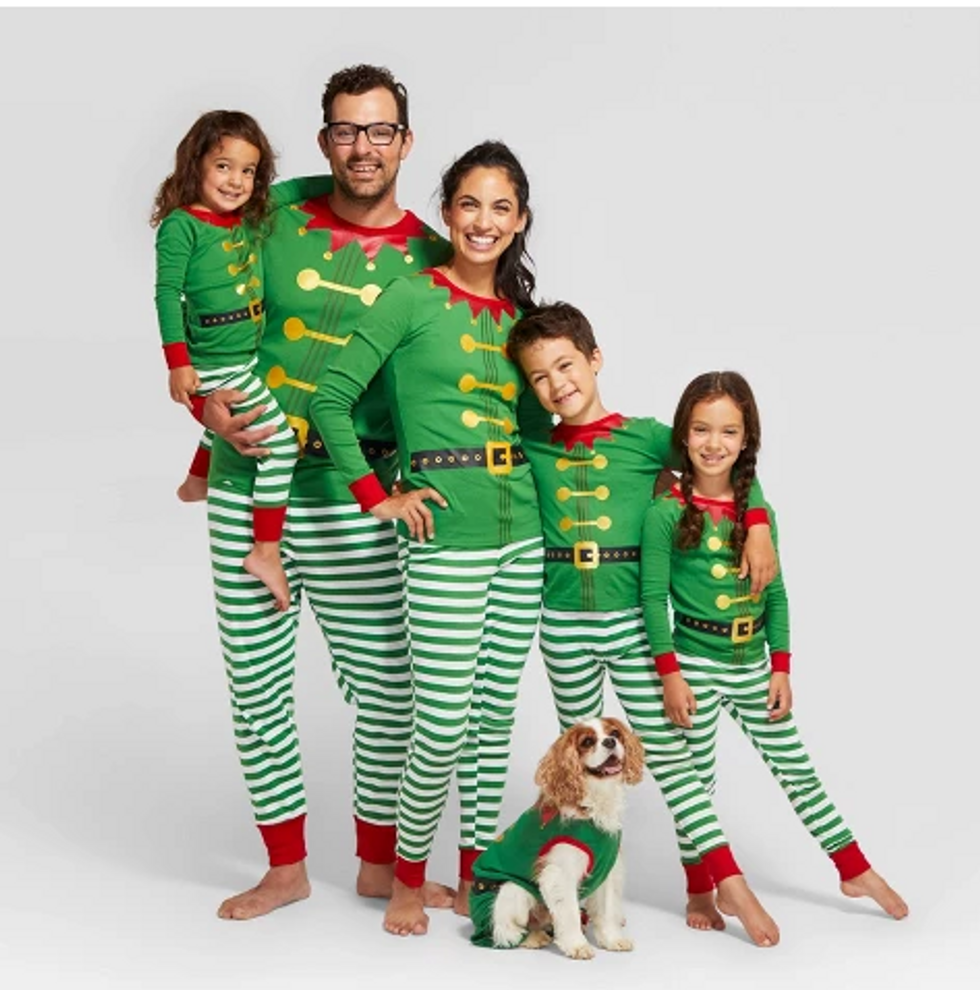 via: Target
You can kit the entire family out in matching Christmas pajamas this year at Target. Prices range depending on how big or small you are... a big daddy elf costume would cost you $24.99 dollars and little kid elf costume would cost you $11.99 dollars. If you collect points using your new Target Circle card from October 6th until December, you might even dress the whole family in matching elf pajamas for absolutely nothing! I told you that you ought to be excited! Make sure you download the app come October 6th! Target isn't only interested in ensuring that their customers get excellent savings. They are also big on ensuring equality and making sure that everyone feels welcome in their stores. The retailer has brought out a fantastic range of Halloween costumes suitable for wheelchair users this year. Keeping scrolling to find out all about it.