That's right, it's been officially confirmed: We will get to see the return of Eggsy and Harry.
We have, until this point, been left somewhat in the dark as to whether another Kingsman movie was in the works. But Taron Egerton has shone us a great big torch, announcing that the next installment is on its way.
Whether or not the Rocketman star dropped the bomb accidentally or not we're not sure.
Speaking at ACE Comic-Con Midwest, it would be no surprise if, overwhelmed by the screams of fans, Egerton gave away more than he should have.
Not that we're complaining! Here's the scoop...
Fans have been waiting patiently waiting for the third installment.
Aaaaaa excited for next year! Kingsman 3, i miss Taro and Colin 💕

— BDA (@BDA)1537607224.0
The last movie,
Kingsman: The Golden Circle, 
came out in 2017.
Fans have gone from being excited...
I could watch Kingsman a million times without getting bored, I'm so bloody excited for the next one 🙌🏻

— Christine (@Christine)1457660717.0
...to feeling impatient. I mean, how long can they really make us wait to find out what happens to Eggsy?
We all know that Taron Egerton has been busy...
Since he was last seen in Kingsman, the young actor has gone on to become a household name. Egerton's performance in Rocketman, playing the legend that is Elton John, has made him a household name around the world.
Not that Egerton has forgotten his roots.
Discussing his excitement to return to the Kingsman story, Egerton told fans at ACE Comic-Con Midwest, "It was the role that kind of started my film career so I'm always going to feel, you know, a great fondness for the part."
Egerton was twenty-five-years-old in Kingsman: Secret Service.
Just like Eggsy, Egerton's life was completely changed following his involvement in the movie...
In case you've just come here for Egerton-related content...
Let me explain a little about what the Kingsman movies are all about.
They're kind of like spy movies...
Except not really...
Glad to have cleared that up.
You really should watch them, though. They're the perfect movies for anyone who likes a good action movie that's funny too.
No, seriously, you'll be laughing out loud.
It's a movie that makes light of the secret service, but does so in quite a serious way.
You've got to appreciate an all-star cast...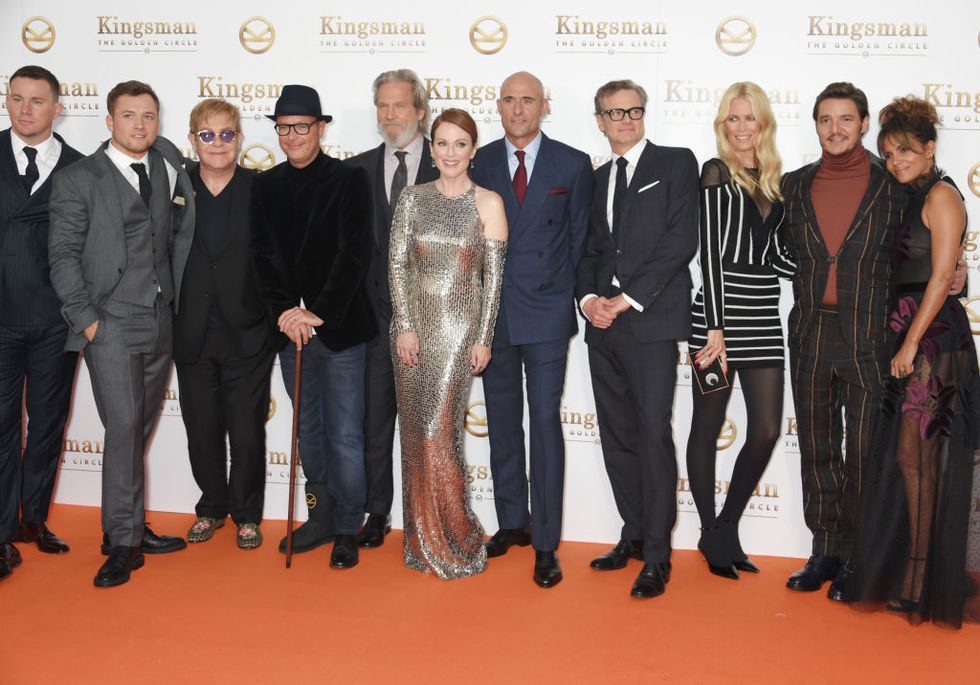 via: Getty Images
The last installment,
Kingsman: The Golden Circle,
had a really impressive cast. From Halle Berry, Julianne Moore, and Michael Gambon to Keith Allen... And, of course, Elton John went to the premiere... given that he's basically family to Taron now.
Eggsy was all grown up in Golden Circle.
Far from his early days of misbehavior, in this installment, he was quite clearly cemented into the Kingsman fold.
Harry was older too...
And gave of certain Heisenberg vibes.
See what I mean?
Totally uncanny. Never thought that Colin Firth and Bryan Cranston had much of a resemblance until now. I guess, as far as character types go, Jesse and Walter White's relationship does share a striking resemblance to that of Eggsy and Harry's.
Colin Firth and Taron Egerton get on exceptionally well in real life.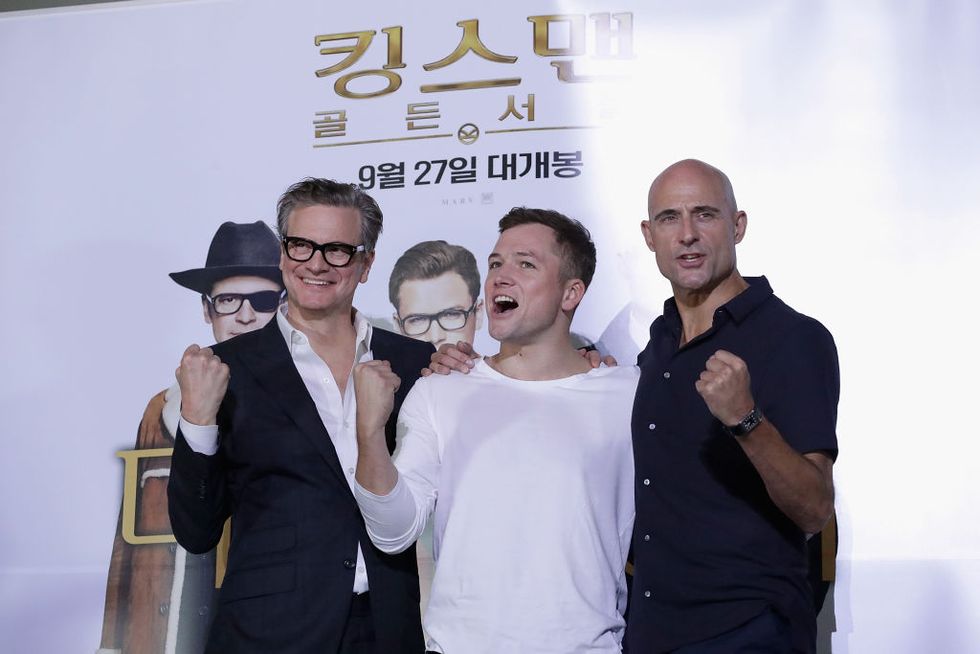 via: Getty Images
The two actors certainly bonded a great deal while making the first two movies and promoting them across the world.
They even send each other Christmas presents.
I always thought that Colin Firth came across a generous kind of guy.
Egerton might have revealed more than he was supposed to at Comic-Con.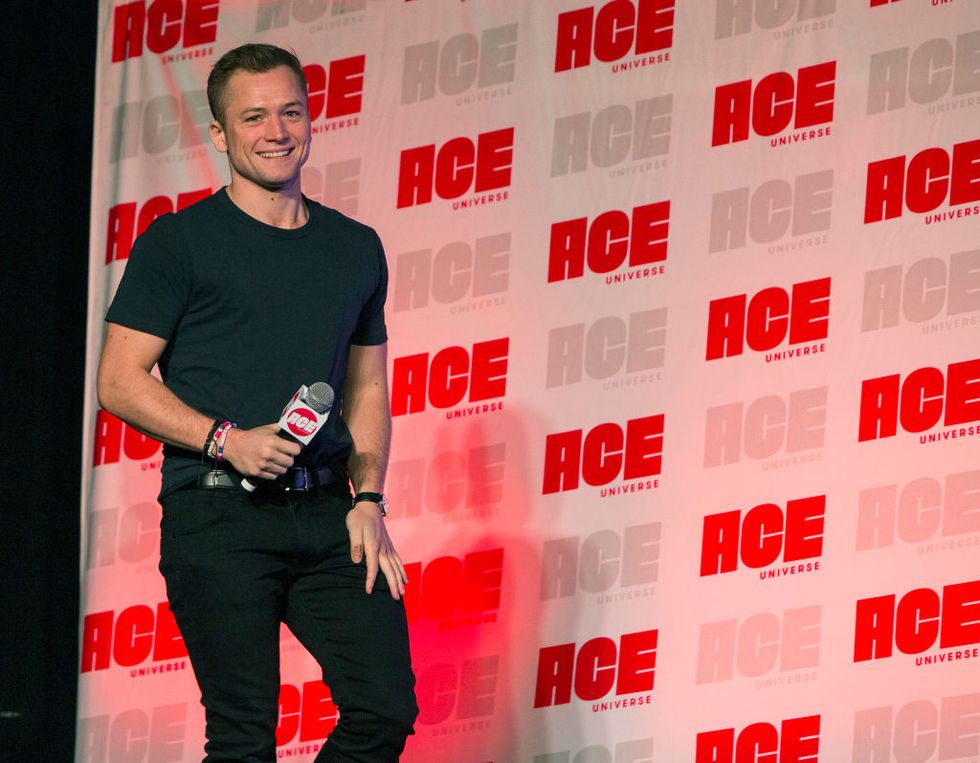 via: Getty Images
After all, we knew that there was to be a
Kingsman
prequel movie. This is set to be released in 2020, so to find out they're going to do a
third
Kingsman
movie
after 
the prequel is quite a surprise. Talking to the audience, as reported by
comicbook.com,
Egerton announced: "I'm really not allowed to say anything, but there is a script."
"It's a really neat idea."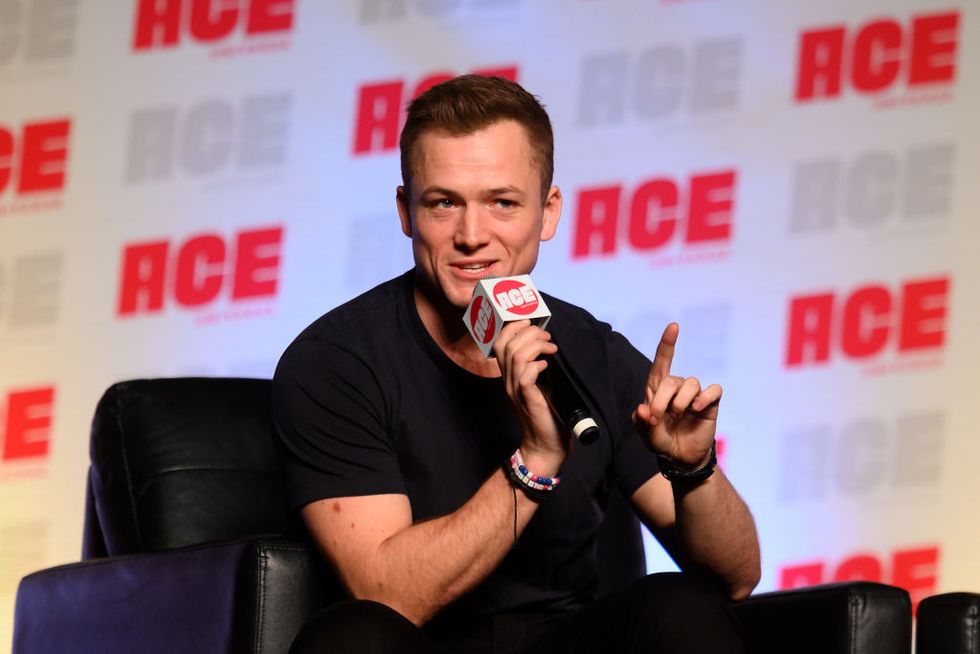 via: Getty Images.
Egerton teased fans about the new script, saying: "
It's a really neat idea. That plan, 
at the moment
, is that we'd like to do another one, one more time."
So far, here's what we know: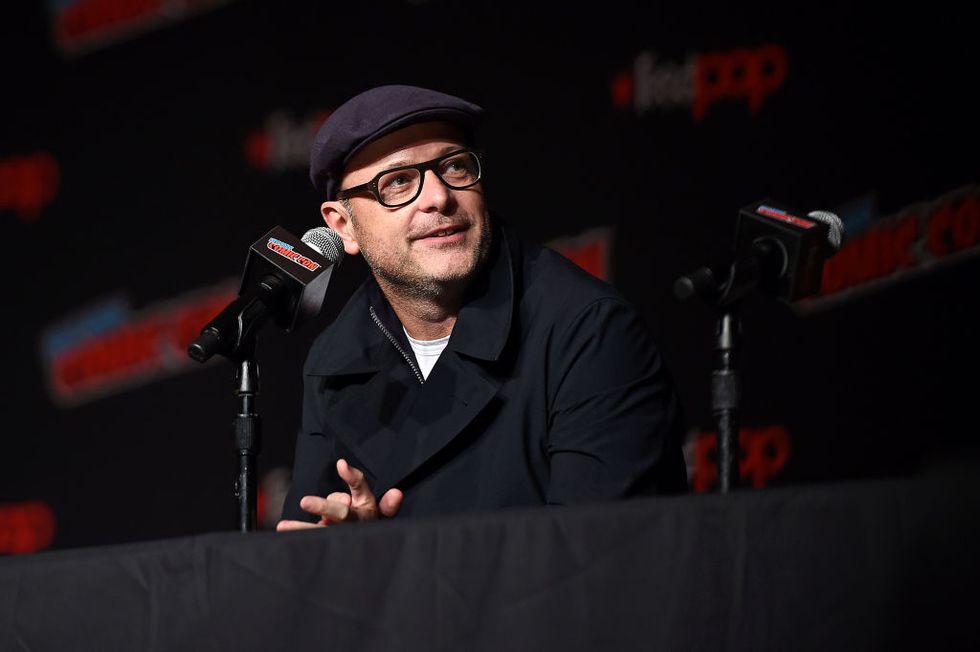 via: Getty Images.
Matthew Vaughn is set to direct again. I mean, this comes as no surprise, given that he directed the first two
and
the prequel, but at least it assures us that they won't be going in a new direction. We also know that the third installment, making it a trilogy, will give a proper ending to Harry and Eggsy's relationship. Discussing the possibility of a final movie, Vaughn spoke to
Digital Spy
in May, saying: "We've got to finish off the Eggsy and Harry relationship. The final chapter of their relationship needs to be told." And, finally, Vaughn hinted at when they might start shooting, divulging that he was "hoping to shoot that later this year or the beginning of next year."
Taron's appearance at Comic-Con made a lot of ladies very happy...
why yes... me & natalie did in fact drive 13 hours to chicago to meet taron egerton https://t.co/b6jc2EEPRX

— Kristine Berchtold (@Kristine Berchtold)1570940677.0
Not only did the actor roar some fire into the rumor mill surrounding the next
Kingsman
movie, but he also took the time to get some pictures with his fans. Some fans had traveled quite the way to meet him.
Apparently he really is that nice.
Taron Egerton has been rumored to be the next Hollywood Mr Nice Guy quite a few times. Move over Mark Ruffalo, Paul Rudd, and James Mcavoy, there's a new nice guy in town...
Who knows what's next for this dreamboat?
Me: (explains the pose) Taron: Oh right, yeah sure. WHY DON'T WE HOLD EACH OTHER THAT WAY WE WON'T FALL OVER… https://t.co/zB1GHGca1F

— Mairy (@Mairy)1570965582.0
A superhero movie? Well, that's what everyone's doing nowadays, right? Continue scrolling to read about why Jenifer Aniston thinks that there are far too many Marvel movies right now.