Love her or hate her, Taylor Swift sure knows how to court the internet's attention. Her latest video release is filled to the brim with celebrity cameos, and she's finally put her ongoing feud with Katy Perry to bed. But now she's hit headlines again, and for quite a different reason.
Swift has debuted a new tattoo in her latest music video for "You Need To Calm Down." It's pretty unmissable, taking up the majority of the space between her shoulder blades and it's a very eye-catching design. But you didn't think that it was simply a pretty picture, did you? Swift is well known for including symbolic callbacks and Easter eggs in her music, and it seems as though her body art is no different. It's packed full of metaphorical meaning, and fans can't get enough.
Taylor Swift is a veritable pop queen.
Since her first single, "Tim McGraw," was released in 2006, she's hit the charts with smash hit after smash hit.
But that's not the only thing that she's known for.
Many people have some strong opinions on Swift. Her public persona has long been subject to controversy, and, to some, she's basically public enemy number one.
There are a few reasons that people get so irritated by Swift.
One reason is the way that she appears to utilize her romantic relationships (and very public breakups) as a means to promote her music and advance her career.
Many view her as someone not to be trusted.
Swift has something of a Reputation for being sneaky and snakey. But this sort of sneaky behavior also has another facet.
Swift seems to delight in playing tricks on her fans.
And nowhere was this more apparent than in her 2017 music video for the single "Look What You Made Me Do." The epic vid was almost like an anthology of everything that Swift had been up to since the beginning of her career.
She's known for imbuing her work with secret clues.
In an interview with
Entertainment Weekly
, Swift claimed, "I love to communicate through Easter eggs. I think the best messages are cryptic ones."
And fans really enjoy unpicking these secret messages.
"easter eggs can be left on clothing..."– Taylor Swift GUYS THIS IS A HINT!!! AND SELENA'S NAME IS IN THE SAME SP… https://t.co/lHPMhgUq5a

— 𝐝𝐢𝐥𝐚𝐫𝐚 (@𝐝𝐢𝐥𝐚𝐫𝐚)1557420935.0
In the same issue of the magazine, Swift appeared on the cover wearing a jacket covered in badges - which many fans took great pleasure in "translating."
This week, Swift dropped her latest music video.
The single, entitled, "You Need To Calm Down," has a video absolutely overflowing with celebrity cameos, including many drag queens and queer icons.
Many in the LGBTQ+ community loved it.
as a gay Taylor Swift fan the fact that she, a straight woman, made a song about being pro gay &women for women mea… https://t.co/csUoVVM2Lq

— ♡ alex ♡ (@♡ alex ♡)1560707401.0
Alongside her heavily Pride-themed video, Swift has put her money where her mouth is, donating hundreds of thousands of dollars to a range of worthy causes.
However, others had this objection.
Swift has often been accused of pandering to different causes simply to sell more records, rather than through any actual desire to help instill positive social change.
However, the internet loves a conspiracy.
me on the third date explaining that taylor swift is gay https://t.co/5BGIPCirgM

— emily lipstein (@emily lipstein)1560465314.0
Many believe that this song is the latest in a long line of clues as to Swift's true sexuality. Many have long questioned whether she's as hetero as she claims.
The video also attracted attention for other reasons.
One way in which Swift managed to make her video garner a ton of internet attention is through careful use of celebrity cameos. One clever choice was going with the Fab 5 - otherwise known as the cast of Netflix's smash hit show, Queer Eye.
Generally, the video has received positive reviews.
And, as with any Swift video, there's also a ton of symbolism and Easter eggs for fans to unpack.
But there's one in particular that has attracted online attention.
At the beginning of the video, Swift briefly exposes her back, before putting on that infamous pink fur jacket. And on her back? A rather eye-catching (if temporary) tattoo.
Here's the tatt in question.
The tattoo features Swift's favorite animal.
At the base of the image is a gigantic serpent. Swift has long been associated with the reptile and has seemingly now reclaimed the label as her own.
The snake label is primarily related to her complex relationship with Kanye West.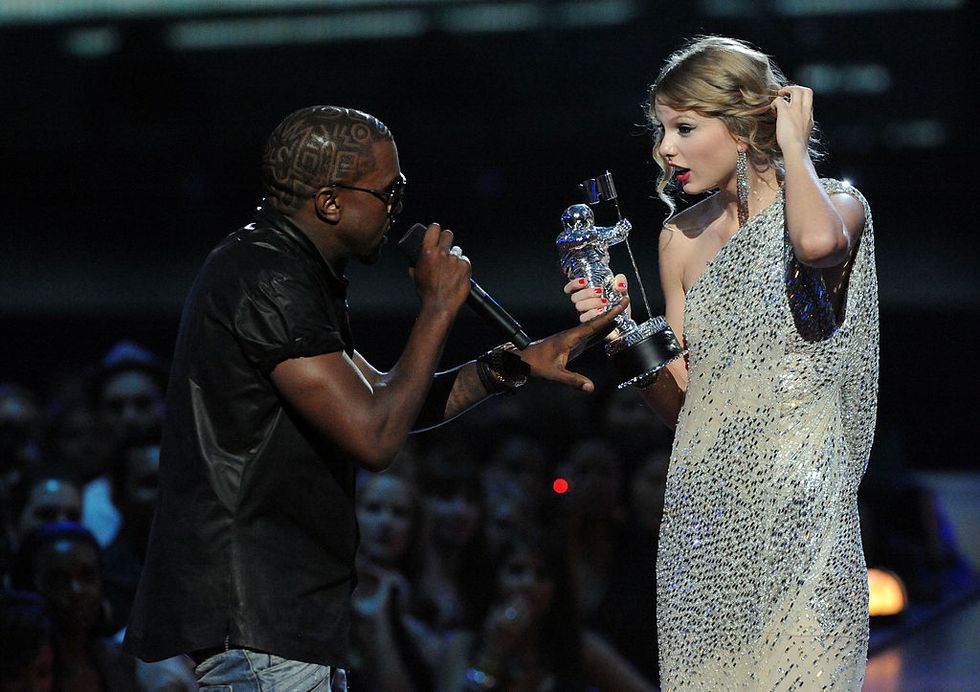 via: Getty Images
The two had an online feud after West infamously interrupted Swift's acceptance speech during the 2009 MTV Music Awards. But when West used Swift's name in his hit track "Famous," Swift claimed this was without her permission - until Kim Kardashian came to Twitter with the receipts.
Swift even references this in her song's lyrics.
Many now see the snake as representative of Swift's incredible comeback. Since the online drama, she's somehow managed to flip the narrative once more in her favor, and she's gone from success to success.
But that's not the only animal in Swift's inking.
Above the snake is a massive swarm of butterflies, which are typically symbolic of change, hope, and resurrection. Their placement above the snake (which represents Swift's drama-fueled past) is certainly significant.
What do you think of the symbolism?
Do you think that Swift's telling us something - or are fans reading too much into it? And as for tattoo related content, we've got plenty more where that came from! Have you seen white tattoos before? They're quite simply stunning.