You might know Ted Cruz as a senator from Texas, one of approximately a gazillion Republican presidential candidates from 2016, or the Zodiac Killer.
The sad human turtle has been the subject of much political mocking — the man was already a walking punching bag before September 11, 2017 (yes, 9/11), on which day someone realized Ted Cruz's official Twitter account did something so hilariously inappropriate.
The former congressman and ex-husband of top Hillary Clinton staffer, Huma Abedin, was involved in multiple sexting scandals involving younger women, his junk, and a truly ridiculous alias. (Carlos Danger, we hardly knew ye.)

No one will ever forget the sex scandal that rocked the presidency, made Monica Lewinsky a household name, and provided years and years of golden material to Saturday Night Live.

The Texas senator now joins the ranks of his predecessors in the political sex scandal oeuvre. Perpetually unlikable and lonely Ted Cruz is finally part of a club.

It has since been removed and reported to Twitter by his staff, which makes it seem like they're trying to play this off as a hacking incident. What's much more likely is that Cruz himself was cruzing Twitter, forgot he was logged in to his big boy account, and hit the heart when he really shouldn't have. So what was that tweet that's got everyone in a tizzy?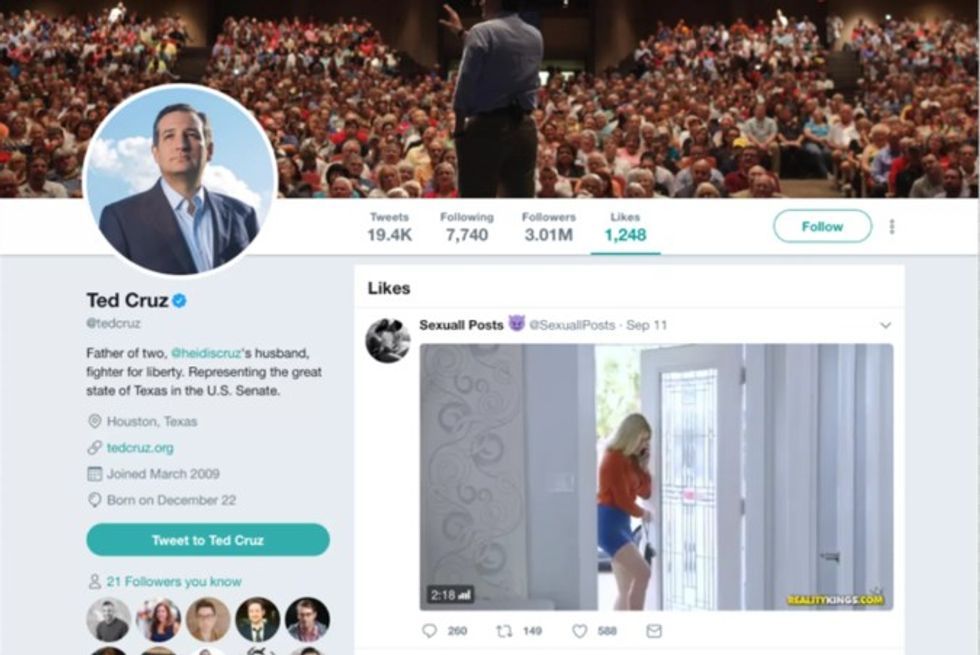 Someone discovered that Ted Cruz liked an explicit porn video from the Twitter account @SexuallPosts. It's très NSFW and depicts a woman coming home to find that a couple has broken into her house. Oh yeah, and the couple is having sex. Instead of freaking out and calling the cops, she does what any healthy young woman would do when she finds strangers in her home: She starts masturbating.

Needless to say, this discovery had Twitter acting like a kid opening a box on Christmas morning that definitely has a puppy in it.

These include the fact that Cruz actually spent a portion of time in his political career defending a ban on dildos in Texas. He argued using the phrase, "There is no substantive-due-process right to stimulate one's genitals." It wouldn't have been such a big deal that Ted Cruz faved a porn video including masturbation if he hadn't actually once said that human beings have no right to masturbate. (Still probably would have been hilarious, though).

That's quite a campaign slogan. If you compare it to his actual slogan from 2016, though, "Together we will win…" well actually, the themes are similar.

Many were quick to point this out. But of all the amazing responses, there were a few from some specific people that absolutely take the cake. Wait 'til you see who else responded…

Craig Mazin is a screenwriter known for the Hangover movies. He's also Ted Cruz's former college roommate.
Mazin has never been shy about sharing his thoughts about the Cruzinator, so you better bet he had something to say about Cruz's old bunk bed habits. And then…

You know, they're just appreciative. Any company, porn or not, probably benefits from the recognition. Cruz is just supporting capitalism. Isn't that what makes our country great? If you visit the account, like we did…for research…for this post…you'll see that they changed their bio to read, "Follow for the the Same Porn @TedCruz Watches." If that's not a ringing endorsement, what else is?

Let's never forget. Never ever forget.

This is arguably the most human thing he's ever done. Ted Cruz needs to know that it's OK to like porn and that it's OK to masturbate. It's just not OK to be a pathological hypocrite who feeds off others' pain. K, Cruzy?