The fourth Avengers movie and the twenty-second Marvel Cinematic Universe release overall, Avengers Endgame, was released last weekend. And it's safe to say that the movie is a pretty big deal, providing the epic conclusion to the decade-old story that millions had been waiting for.
Because the movie is part of such a long and complex storyline, many fans have already pointed out callbacks to prior films. But there's one that many seem to have missed.
At the movie's climax, pretty much all the surviving characters gather in one place. But eagle-eyed viewers noticed something that seemed a little out of place - a rogue teenage boy who they couldn't quite place. But now MCU fans have put the pieces together to work out this teen's identity - and it'll hit you right in the feels.
The Avengers is one of the most popular film franchises of all time.

via: Shutterstock
It takes place in the wider Marvel Cinematic Universe and focuses on a team of superheroes set on saving the world.
There have been four movies in the franchise.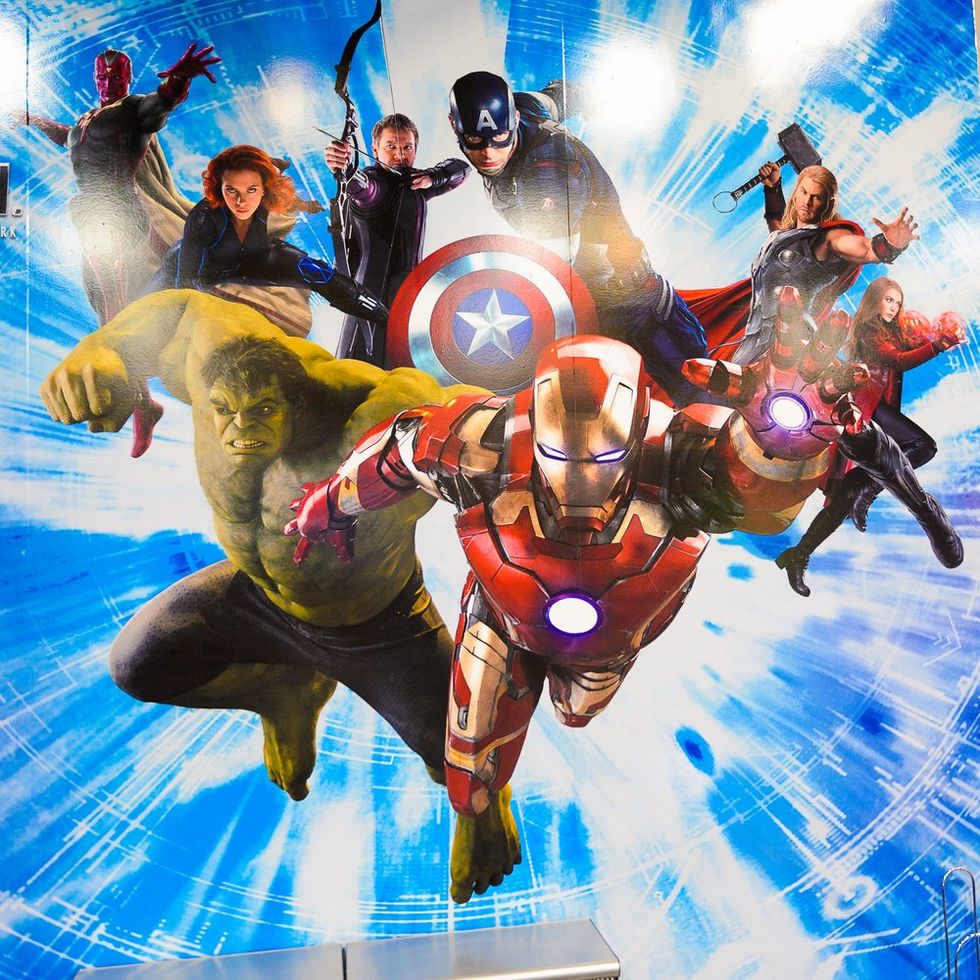 via: Shutterstock
The first was 2012's 
The Avengers, 
which was followed by 2015's 
Age of Ultron 
and 2018's 
Infinity War. 
Last weekend, the fourth film in the franchise premiered.
Titled Avengers: Endgame, it promised to be the final instalment of the Avengers story, drawing the plot to its epic conclusion.
In the movie, the team of Avengers come together for a final time.
Their goal (or "endgame") is to undo the damage caused to the universe by Thanos during the Infinity War.
It's safe to say that fans were excited.
Seeing all these excellent characters together again - and finally getting a conclusion to their storylines - meant that the film had a lot of hype surrounding it.
Since it was announced in 2014, fans have been getting excited.
And with good reason. The movie reportedly had a budget of over $300 million - making it one of the priciest movies ever made.
And fans were not disappointed.
The movie was released to massive critical and commercial acclaim and it's broken a ton of box office records. So far, having grossed $1.3 billion worldwide, it's the highest grossing movie of the year.
Which means you've probably already seen it.
But if you haven't, consider this fair warning - there are a lot of Avengers: Endgame spoilers coming up, so look away now if you don't want to know!
Fans were super into the movie.
#AvengersEndgame dir. Joe and Anthony Russo. -A slow build in the first hour that pays off wonderfully. -Plenty o… https://t.co/j87NoUVWbA

— Alex Martinez (@Alex Martinez)1556338845.0
There are many things that make it so great - in particular the amazing acting performances. However, there was one thing in particular that fans pointed out.
The movie offered a lot in the way of callbacks.
"Your dad liked cheeseburgers, too." #AvengersEndgame #Callback https://t.co/iiW68jsq4A

— shut up, josh (@shut up, josh)1556634313.0
It cleverly references not only the previous 
Avengers 
movies, but other films in the Marvel Cinematic Universe.
It seemed like the movie was made with fans in mind.
Not a Spoiler. If you were wondering what the sound in the end credits of the movie was, it was this - a callback t… https://t.co/QTpXB65K8f

— 🏴‍☠️Nasdorachi🏴‍☠️ (@🏴‍☠️Nasdorachi🏴‍☠️)1556659522.0
Every decision - from the costumes to the plot - seems to have been made incredibly thoughtfully, to make the viewing experience as layered as possible.
Some thought that even the music was a callback.
#AlanSilvestri's score to #AvengersEndgame CANNOT be talked about enough. Part callback, part experimental, all ele… https://t.co/iJ50zzLPhU

— Mike Reyes (@Mike Reyes)1556287721.0
The fact that the filmmakers deliberately made the film so entrenched in Marvel lore showed they were dedicated to making a movie 
for 
the fans.
Although not everyone was into it.
Some viewers thought that the film pandered too much to the audience, relying on fan service to carry the plot and create buzz.
But we think it's awesome!
And there's one particular callback that's going to hit you right in the feels.
It happened towards the end of the movie.
Many of the main characters from across the Marvel Cinematic Universe gathered for (sob) Tony Stark's funeral.
A funeral that some fans had issues with.
How come They made Funeral for Tony, but none for Natasha?!!🤔 #AvengersEndgame https://t.co/WfZMhjJADO

— Buona sera (@Buona sera)1556641192.0
The biggest issue that people had with the funeral was that Stark was so celebrated as a hero, while Natasha didn't get a funeral at all - in spite of the fact she sacrificed herself for the universe.
But regardless of that, something else stood out.
In the funeral scene, after the guardians, there was a young lad stood on his own.... who the feck was he?? I saw h… https://t.co/ghO9FQAhAs

— Angelo Martell🏴‍☠️ (@Angelo Martell🏴‍☠️)1556160550.0
Alongside a ton of recognizable faces from the Marvel Cinematic Universe, including all of Stark's family and friends, there was a mystery guest.
Many had serious questions.
It was such a "blink and you'll miss it" moment that fans couldn't get a close enough look to figure out what was going on.
But eagle-eyed fans figured out the mystery.
The teen was not some random funeral attendee - and had actually long been a part of the Marvel Cinematic Universe.
In fact, he'd had a starring role in Iron Man 3.
The teen was just a kid in the movie, but he played Harley Keener. Stark befriended the boy after becoming stranded in Tennessee.
And the fact that he attended Stark's funeral was pretty heartbreaking.
Once fans realized who this mystery teen was, everyone was hit right in the feels.
Harley was a seminal role in the third Iron Man movie.
He helps Stark repair his Iron Man suit - alongside helping the older man deal with his anxiety attacks.
He helps Tony get back on the tail of the Mandarin.
But it's clear that the two held a special bond, as Stark left Harley with a workshop which allowed him to keep making awesome suits.
Since Iron Man 3 we haven't heard anything of Harley.
But his appearance at Stark's funeral showed that the pair had stayed in touch and nurtured the special bond that they shared.
There's another heartbreaking element to this callback.
In Iron Man 3, Harley confides in Stark that he didn't see his dad for six years. Now, it's exactly six years since that film was released...
Harley is played by actor, Ty Simpkins.
And although he played such a pivotal role in Iron Man 3, the character hadn't reappeared in any other MCU movie - until now.
But it's clear that Simpkins kept his foot in the door.
Iron Man 3, he's been at every Marvel premiere, and he shared the pictures to prove it!
There's something else, too.
In this Marvel 10th anniversary video, the stars of the movies all pose together - and Simpkins can actually be spotted amongst them!
His attendance at the funeral has sparked some fan theories.
Many now believe that Harley will step in as the new Iron Man, in Tony Stark's tragic absence.
Although many strongly disagree, claiming that there can only be one Iron Man.
But there is one thing that everyone can agree on - Harley's attendance at Tony's funeral is the cutest of all the (many) Avengers: Endgame callbacks.