Tekashi 6ix9ine has just come out of the hospital, and it wasn't what you might think that landed him in the emergency room.
Tekashi 6ix9ine has had his fair share of run-ins with the police.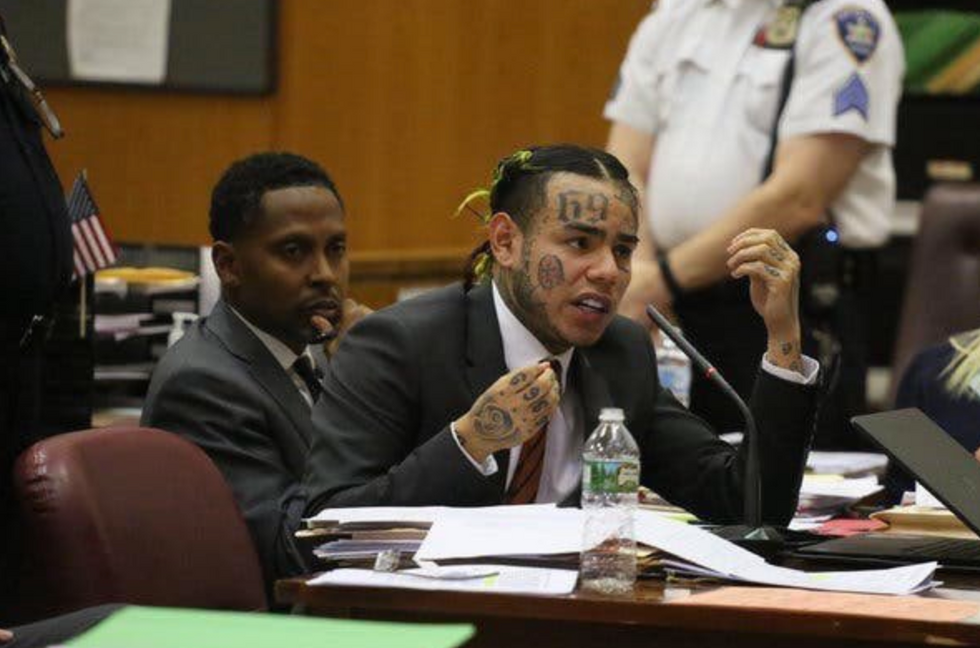 He's known worldwide for his music, but some know him just as well for his controversial snitching. And it's this that many believed would be his downfall one day, but as surprising as it is, it wasn't his past that came to bite him. Instead, something shocking landed him in the hospital...
In the last couple of years, the rapper has been dominating the headlines...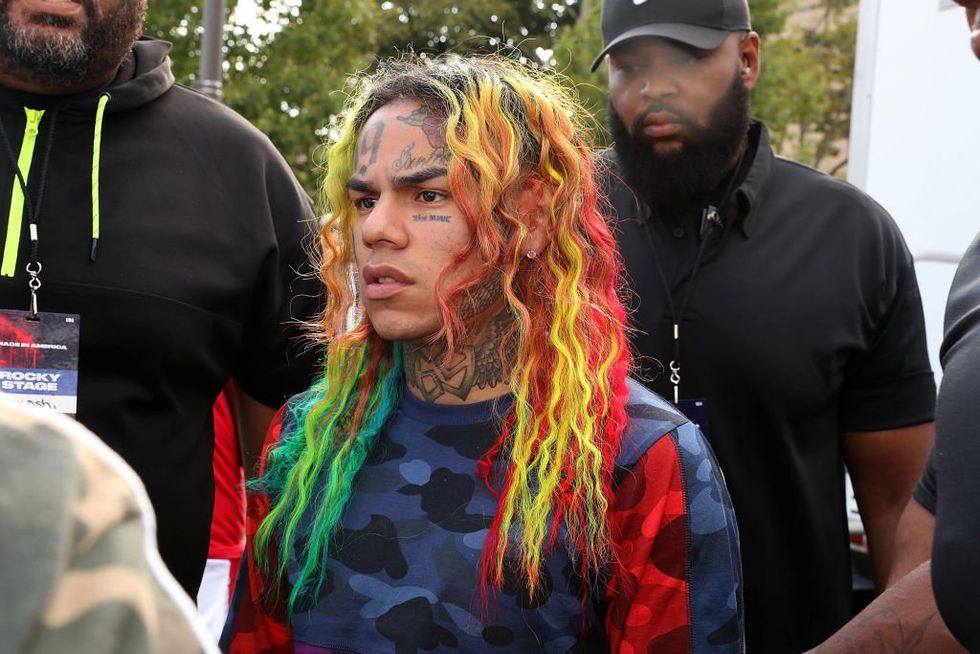 But for all the
wrong
reasons. In 2017, he developed a unique persona as a hardcore rapper, but became embroiled in the violent world of gangs.
Real name Daniel Hernandez, the musician didn't get off to the best start in life.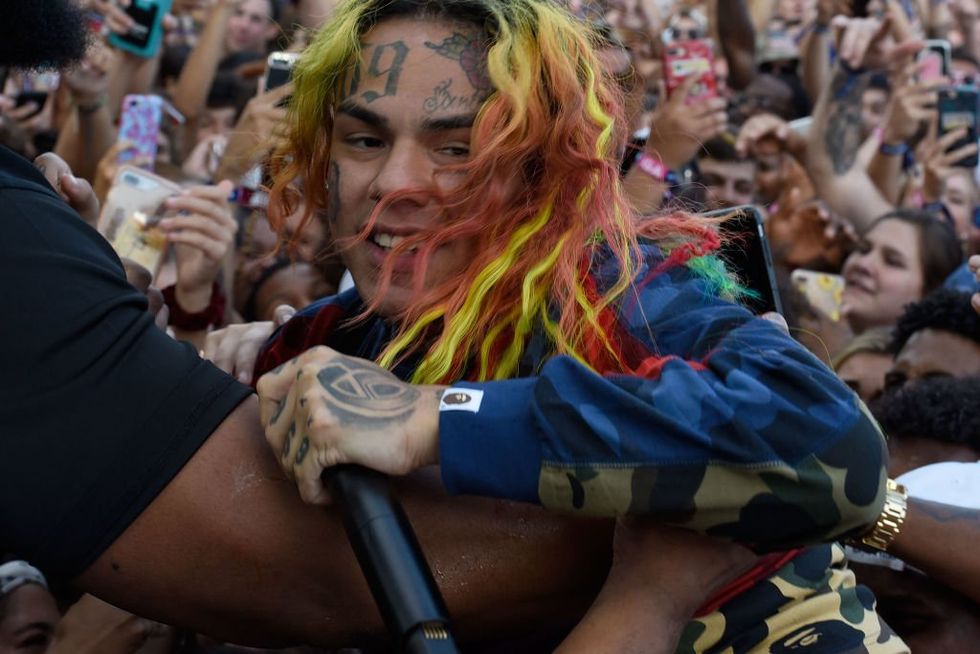 When he was thirteen, his father was murdered just one block from his family home.
The experience had a huge impact on Tekashi, and he soon dropped out of school and started working odd jobs to help his mother.
"My pops died in eighth grade, and I just started bugging in school," he told the podcast "No Jumper" in a 2017 interview, "I was thirteen. I was waiting for my pops to come back home, and he never came."
In order to make ends meet, the teenager turned to selling drugs...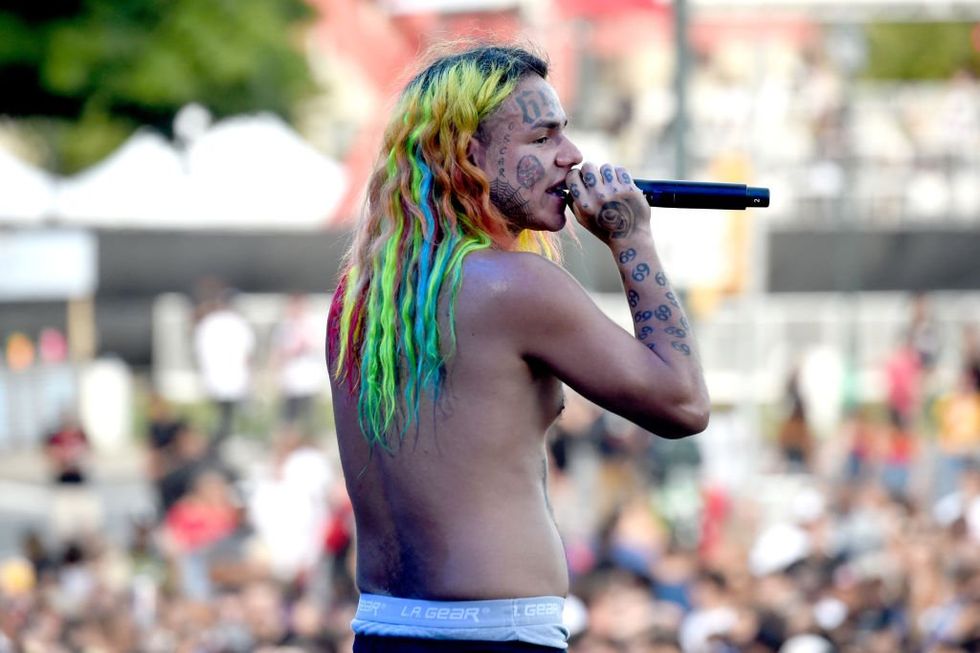 Thus marking the birth of his street persona, Tekashi 6ix9ine.
Yet, despite his rocky start to life...
And he has mingled with some big names...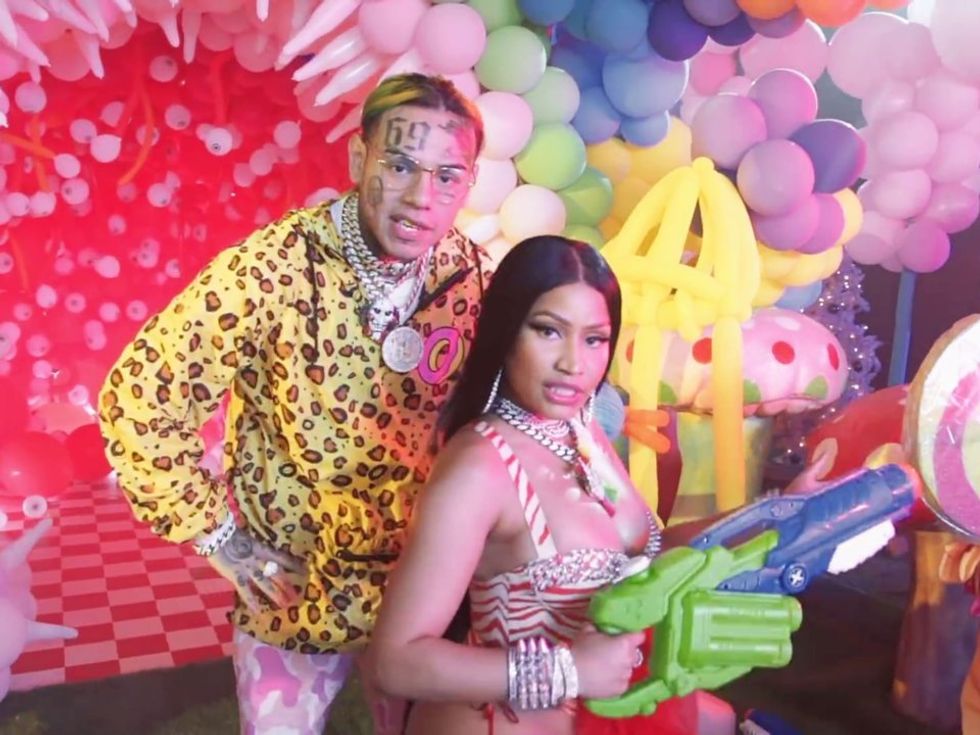 In 2018, 6ix9ine released "FEFE," a collaboration with
Nicki Minaj
, Murda Beatz, and Kanye West.
However, the rapper has consistently been in and out of trouble with the law.
But that all changed one month later...
Tekashi was allegedly a member of this gang.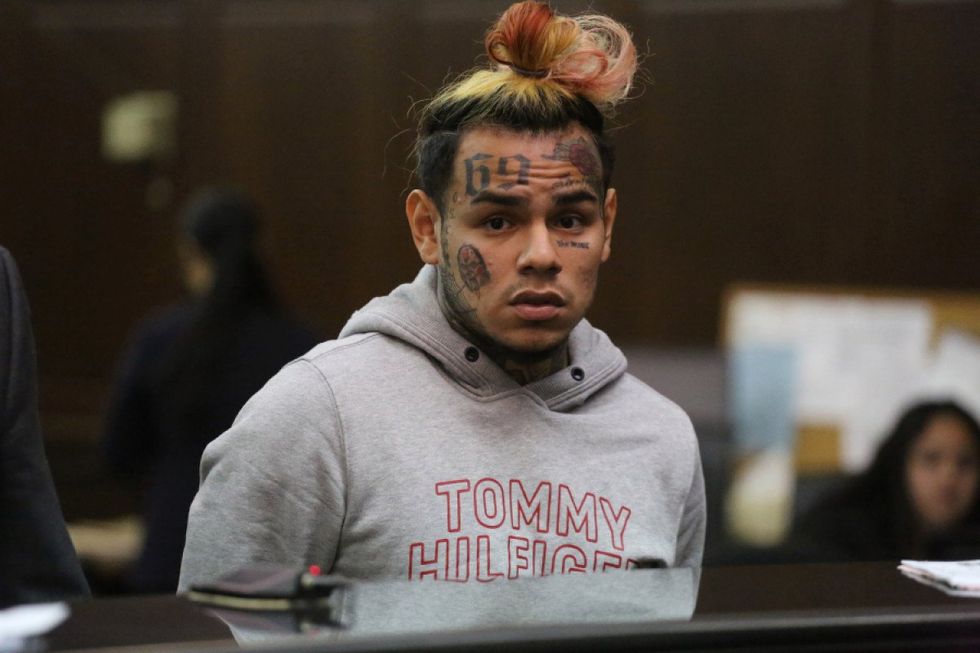 The federal lawsuit accused the rapper and the rest of the crew of running a drug-dealing ring and enforcing their activities through violence.
Tekashi was denied bail.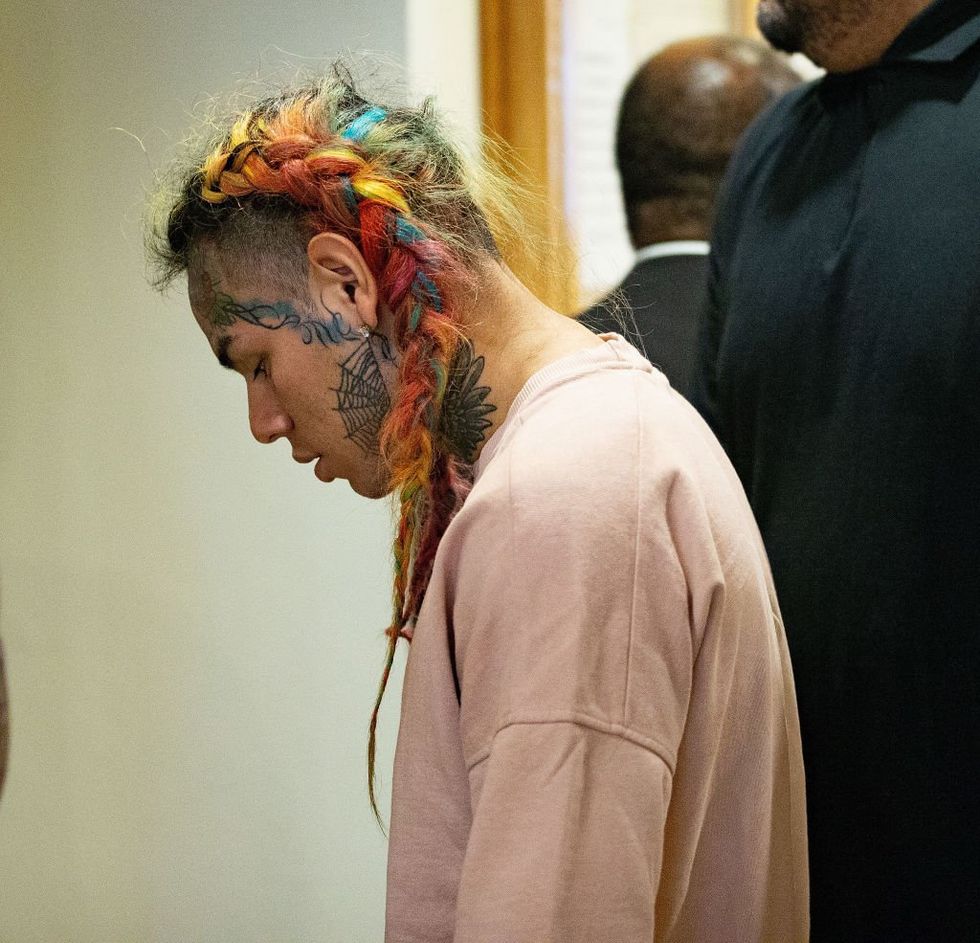 After he initially pleaded not guilty to the charges, the judge denied him bail, citing an FBI raid in September that found an AR-15 assault rifle and a stolen ID from a man robbed in Times Square.
But in January 2019, after months of the rapper being held, he suddenly changed his tune.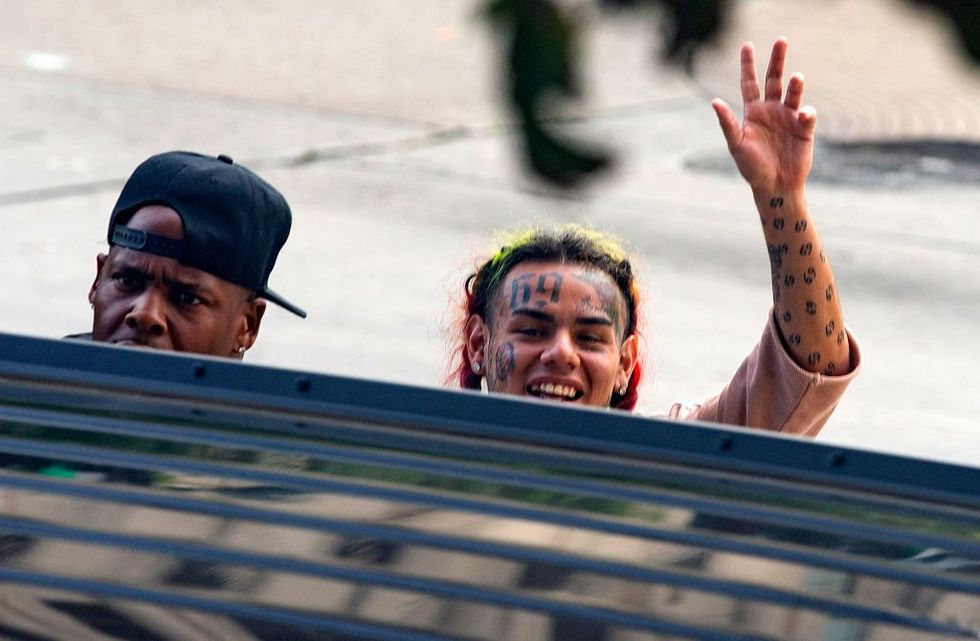 He suddenly entered a guilty plea to the charges related to his involvement with Trey Nine, according to court records reviewed by
INSIDER.
He controversially agreed to cooperate with federal prosecutors in their investigation.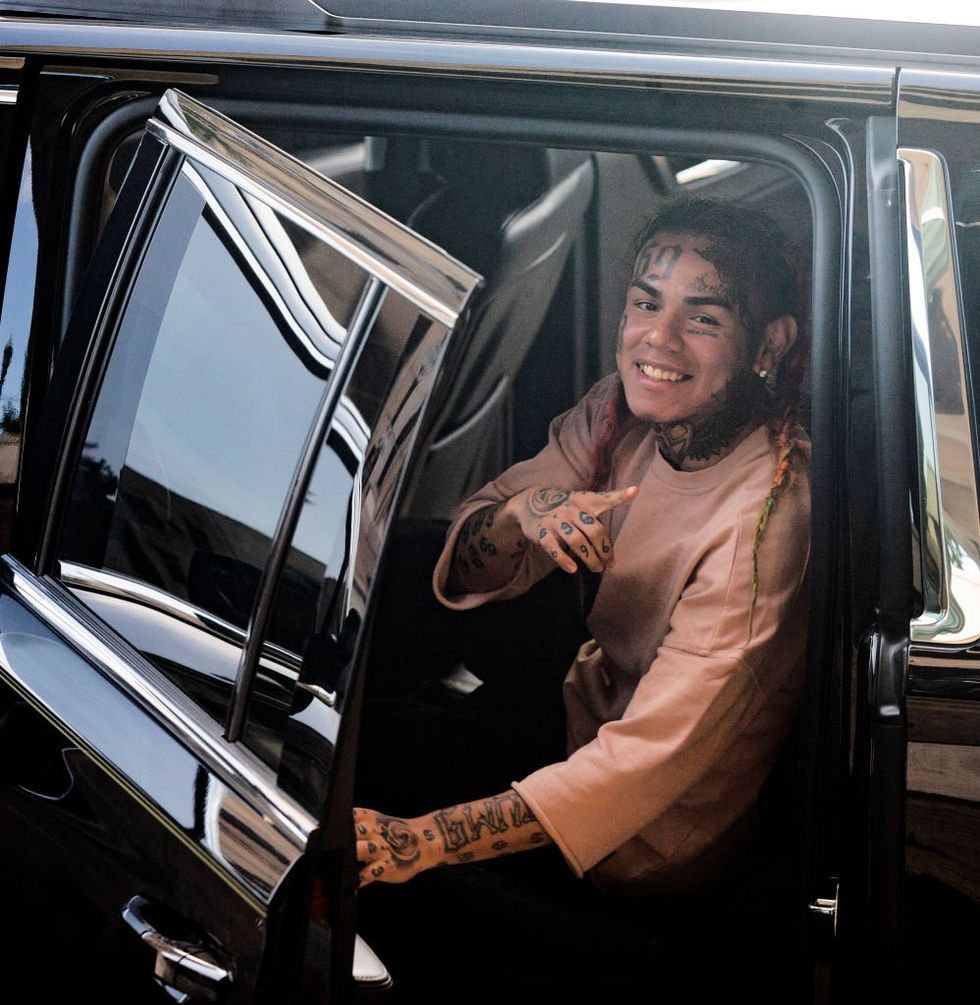 Tekashi began opening up about his doings while in the gang. "I paid a person to shoot at a rival member of Nine Trey to scare him. The shooting took place in Manhattan. I did this to maintain or increase my own standing in Nine Trey," he told the judge, according to a court transcript.
Altogether, he spent nearly 2 hours on the stand - wearing blue prison scrubs, a white undershirt, and his trademark rainbow-colored hair styled in pigtails.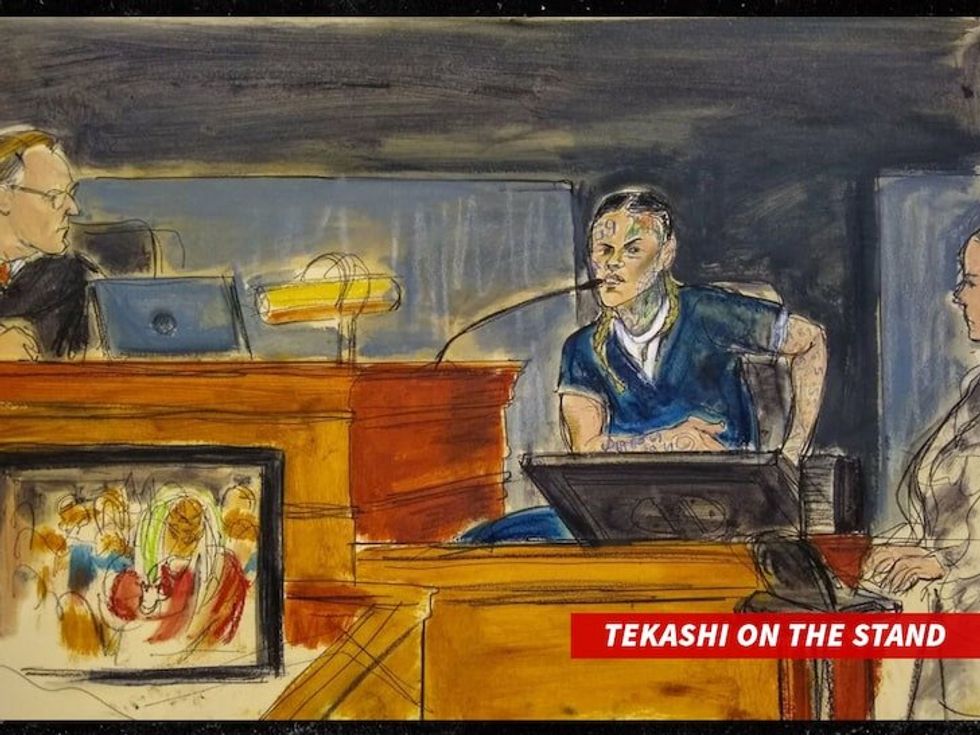 In a courtroom potentially filled with current or former Nine Trey members, he testified that he became a member in November 2017, and participated in violent crimes, including shootings, assaults, and drug trafficking.
He outed several members of the gang.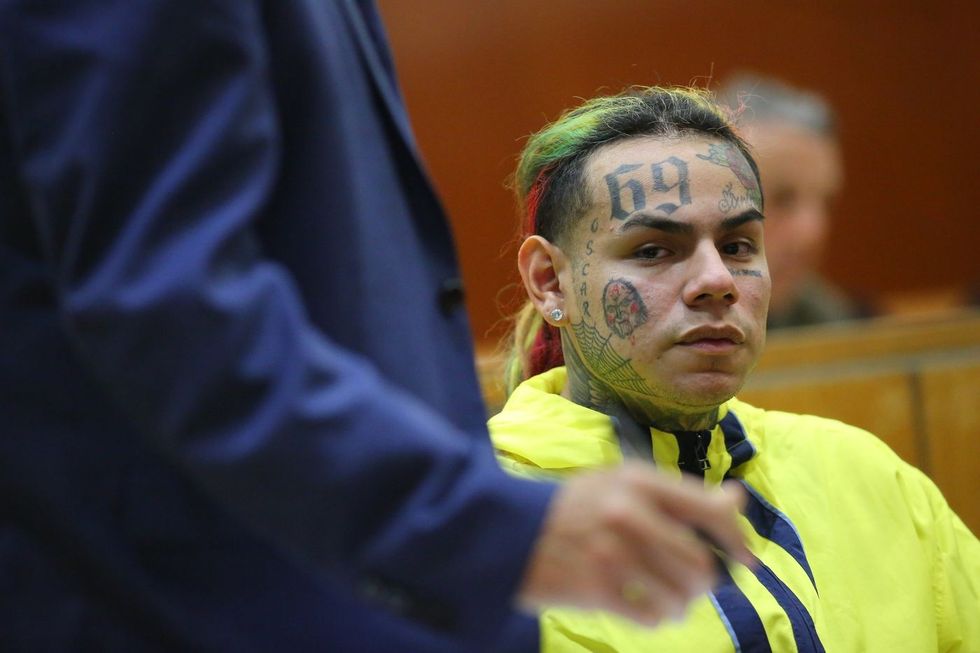 Directly in front of them.
He nervously pointed at the defendants, Aljermiah "Nuke" Mack, and Anthony "Harv" Ellison, and ID'd them as Nine Trey Gang Members.
Other musicians shared their thoughts on Hernandez's cooperation...
69 going up in s federal courthouse today kids! Message of the day don't be a Internet gangsta... be yourself!… https://t.co/5eMsqDFrUC

— Meek Mill (@Meek Mill)1568748280.0
And many publicly disapproved, both of Tekashi's actions and his snitching... Because you know what they say -
Snitches get stitches.
But all this snitching evidently paid off.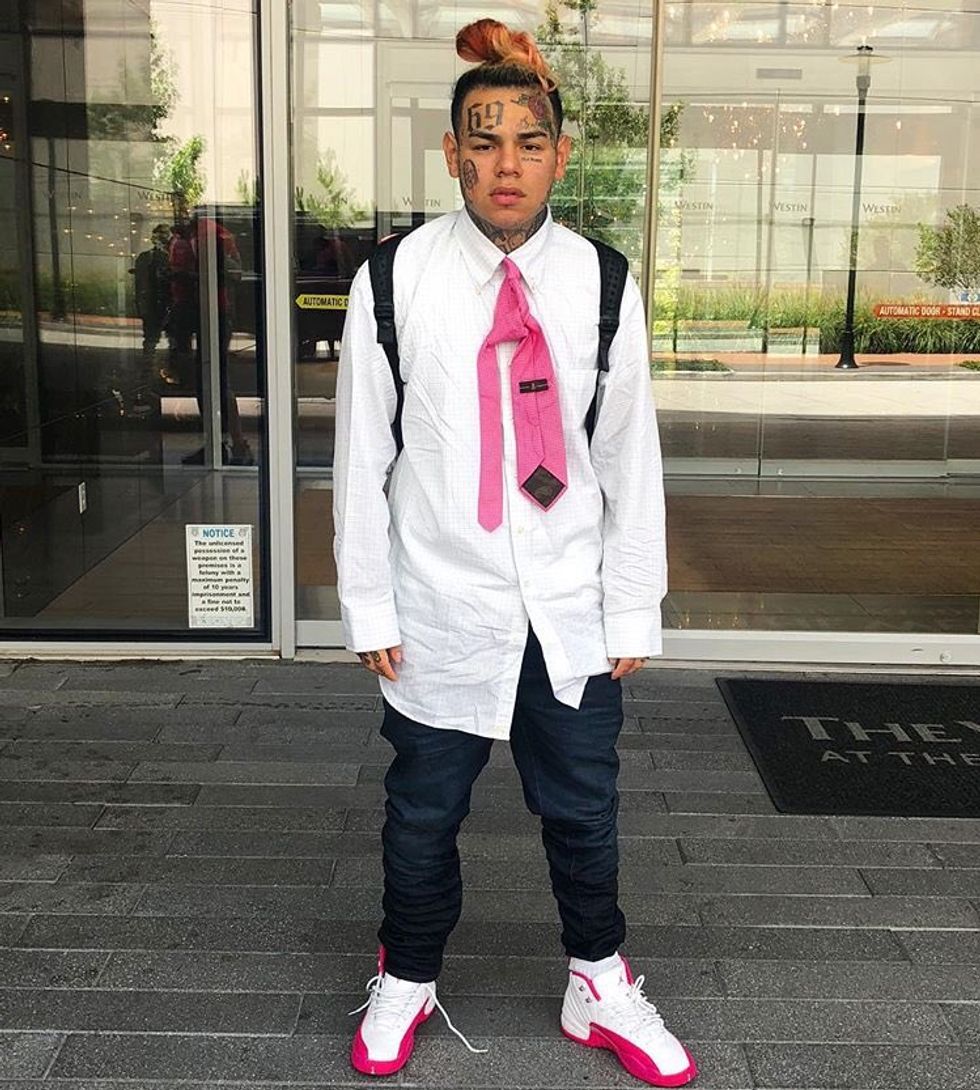 Because he was sentenced to only
2 years
in prison with 5 years of supervised release. The judge also imposed 300 hours of community service when he is released from prison and a fine of $35,000.
But, out of nowhere, the rapper was suddenly released from prison.
medical pandemic
sweeping through the world right now. The rapper apparently has severe asthma, meaning he falls into the "at-risk" group for the deadly virus.
He spent seventeen months in federal custody.
And, after several appeals to Judge Paul Engelmayer, who sentenced him, as well as the US Bureau of Prisons...
unbelievable to hear.
Since his release, Tekashi has been bombarding his social media accounts...
The rapper has wasted no time with getting himself back into the music scene...
214 million views on YouTube.
And after just 3 months out of prison, Tekashi is already living life on the dangerous side...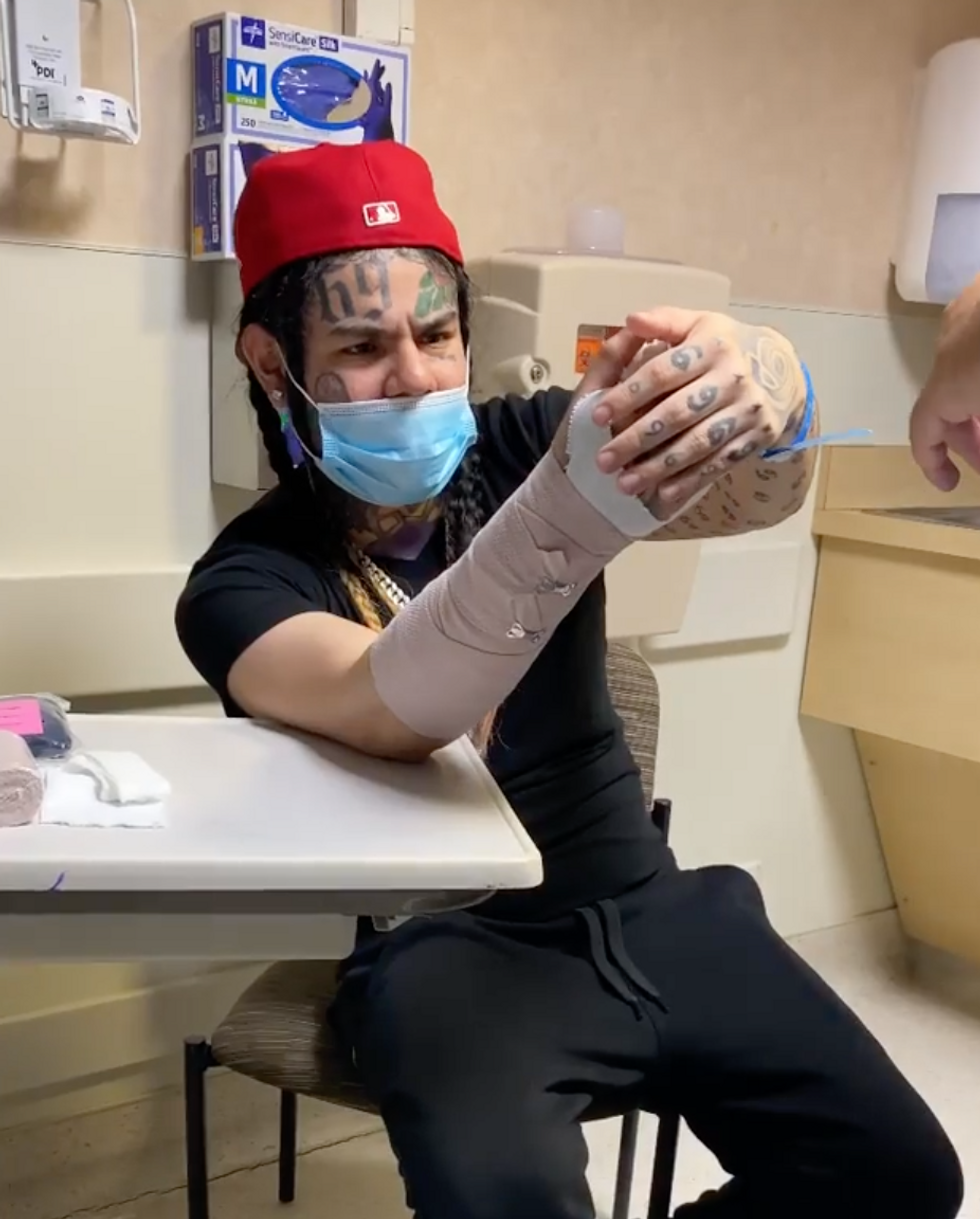 Yesterday he was treated for a broken wrist at a New York hospital, and it turns out the injury was all thanks to his bulldog, Poppy.
He put a video up on his Instagram leaving everyone questioning what happened.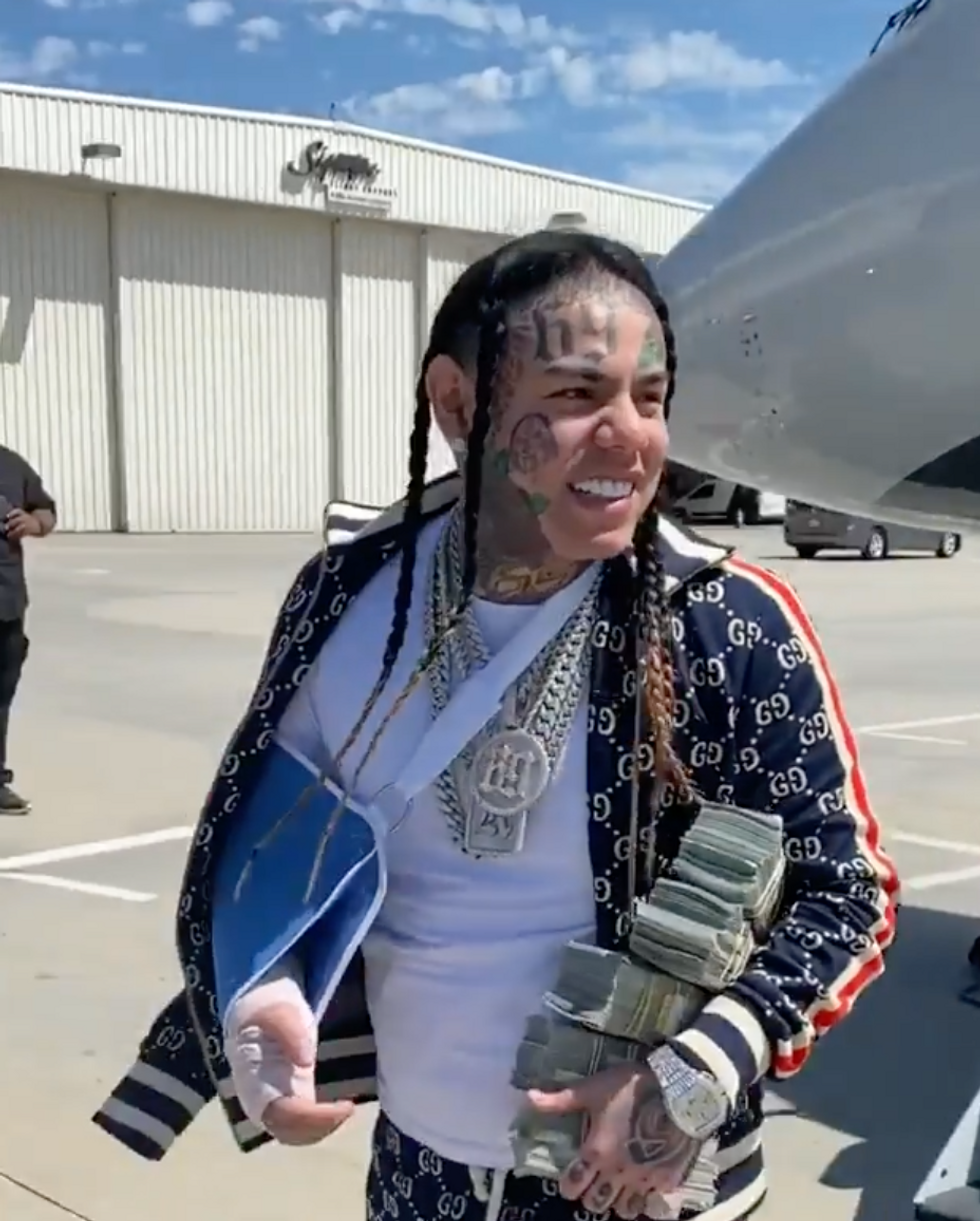 But it turns out the accident happened after the rapper tripped over his little French Bulldog.
According to reports, it happened on Tuesday morning around 3 AM.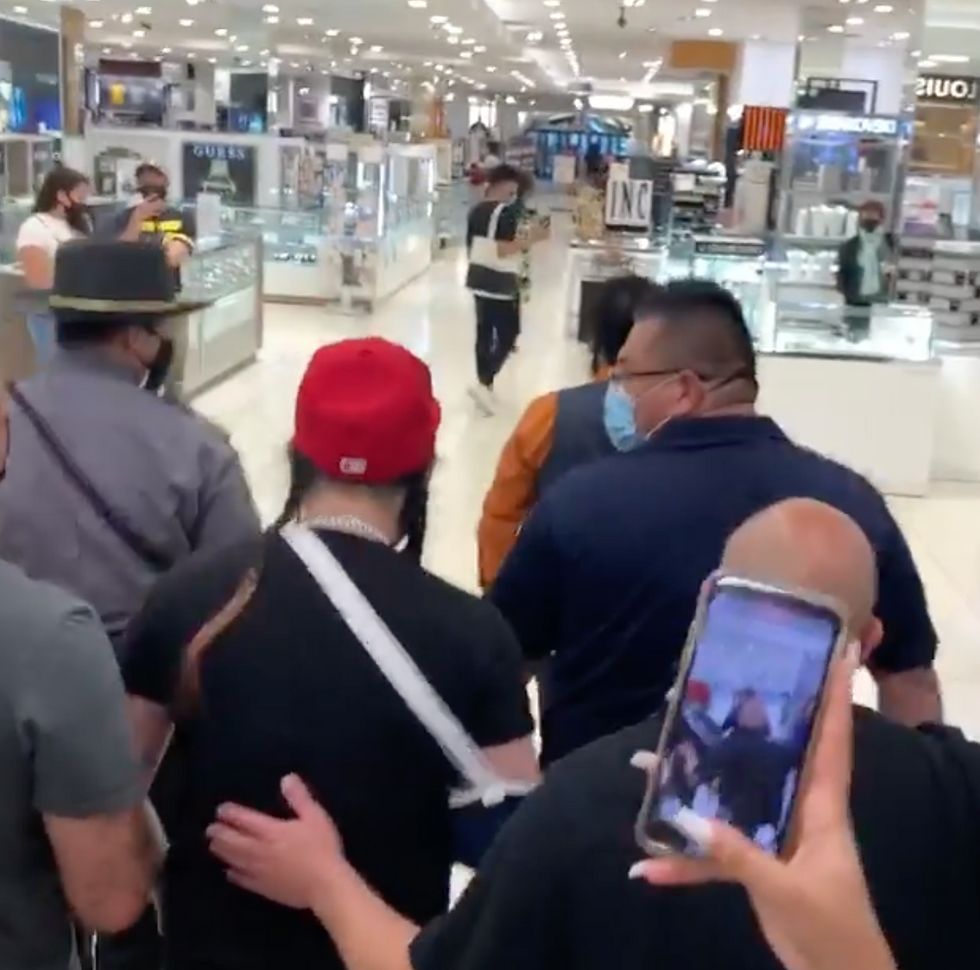 After going downstairs to get a snack, he accidentally tripped over his puppy and reached out with his right hand to break his own fall.
His hand got caught mid-fall in the stairway railing snapping the bone at the top of his wrist.

It was only the next morning that he decided to get checked out after the pain got worse.
"I got caught lacking in these streets :/" he captioned the video.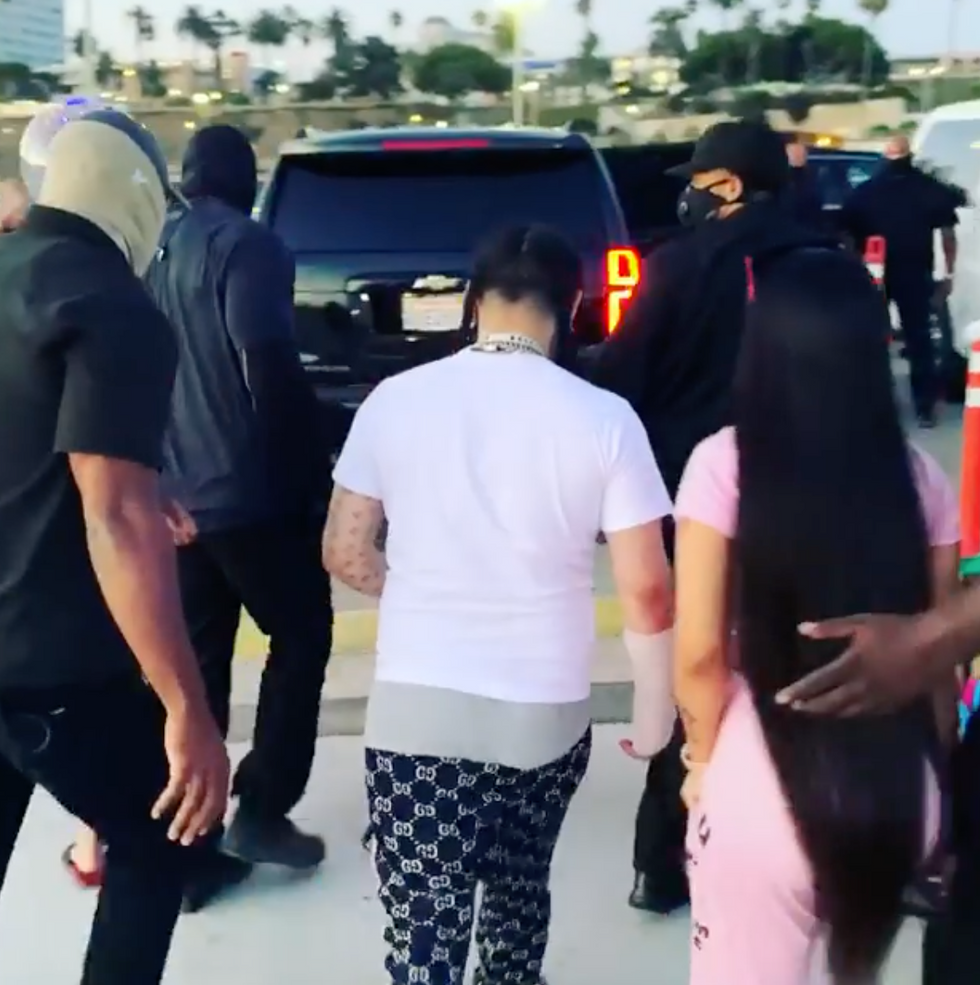 No one would have guessed that his dog would be the one to send him to hospital.
He will have to stick with the arm cast for the next 3-5 weeks, but it clearly hasn't fazed him.