Surely, anyone that follows Jim Bakker must have an extremely short memory.
Let's get one thing clear: this dude's image has as many holes in it as my holiest sock and is about as spiritually enlightened as said sock. Despite everything that has been said, and proven, against Bakker's character over the years, he is still rocking up in public places, spouting unfounded garbage, as though anyone would trust what he's got to say, despite the many reasons that they have not to.
Now, Lord knows why this guy thinks he has the right to make scaremongering comments like those that he made this week, but the worrying thing is that people do listen to him. People give this guy a platform. He's got his own goddam TV Show in Blue Eye, Missouri, and he has the backing of wealthy investors.
But you know what? I'm not scared of Jim Bakker and you shouldn't be either.
He threatened, in October 2017, that "God will punish" those who ridicule him… so, if he's right, it looks like I'm about to experience a lifetime of misery.
Here's the scoop… and just wait until you hear what he had to say about Trump *eye roll*.
Well, Jim slipped out of the public eye for a brief while after a tirade of allegations were made against him, including fraud and rape. He was charged and sentenced to forty-five years in prison.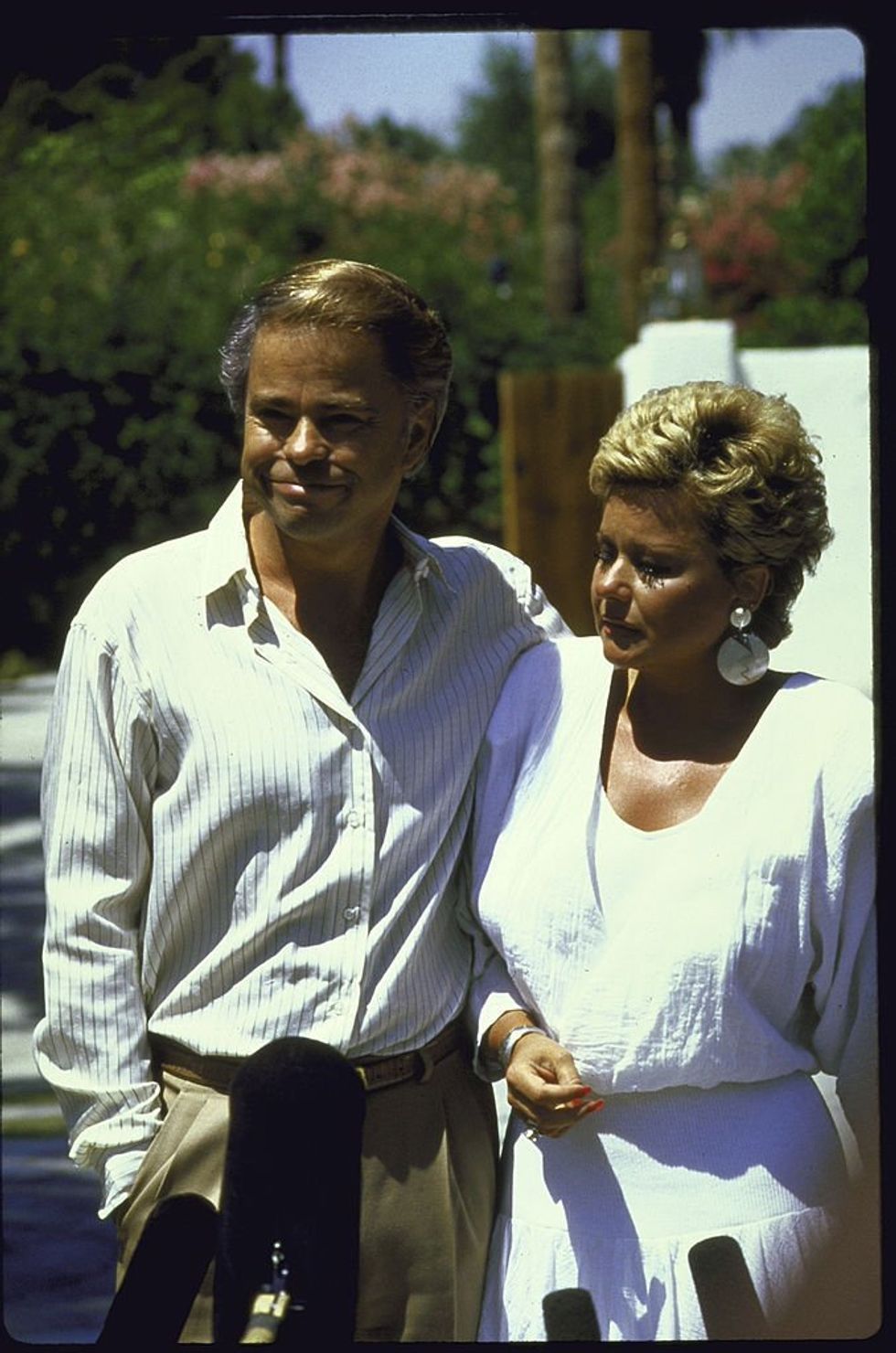 Here he is with his ex-wife, Tammy, in 1987. Back then, the pair were a well-known televangelist couple who hosted the popular PTL Club – otherwise known as The Jim and Tammy Show.

From 1974 until 1987, the Bakkers hosted PTL, but it wasn't to last.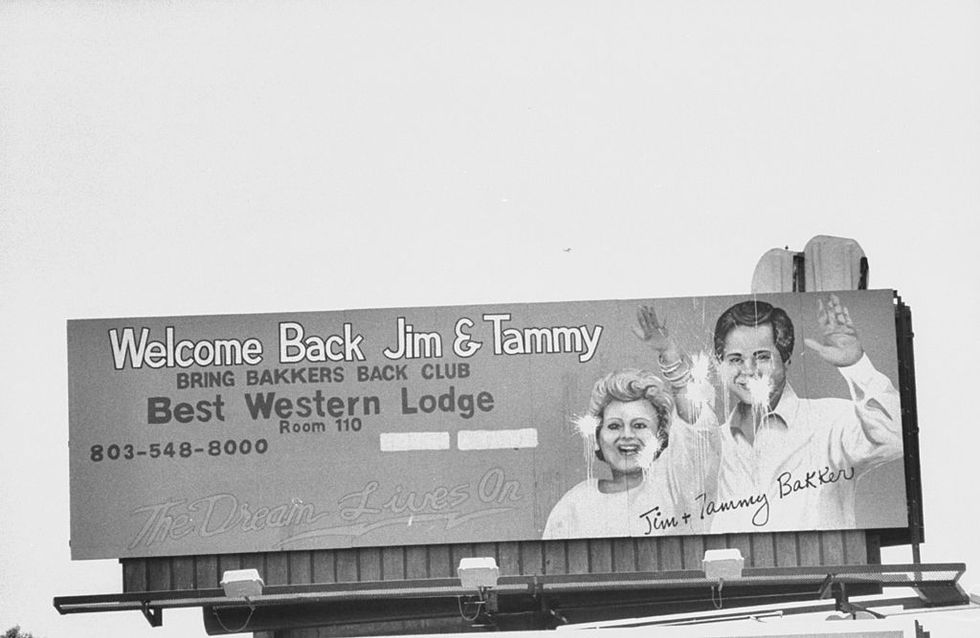 The fall of The PTL Club ("PTL" standing for "Praise The Lord" or "People That Love") didn't get canceled due to lack of interest from viewers, it was canceled due to the many misdemeanors of Jim Bakker.

Bakker's highly publicized financial and sexual scandals led to the demise of The PTL Club.
Jim Bakker was forced to resign from the show on March 17th, 1987. He turned over the cable network, Heritage TV, and all his ministry assets over to fellow televangelist, Jerry Falwell.

Not one to face his comeuppance, Bakker, reportedly, went fleeing to the mountains, quite literally. Along with wife, Tammy, he "moved from South Carolina to a mountainside home in Gatlinburg."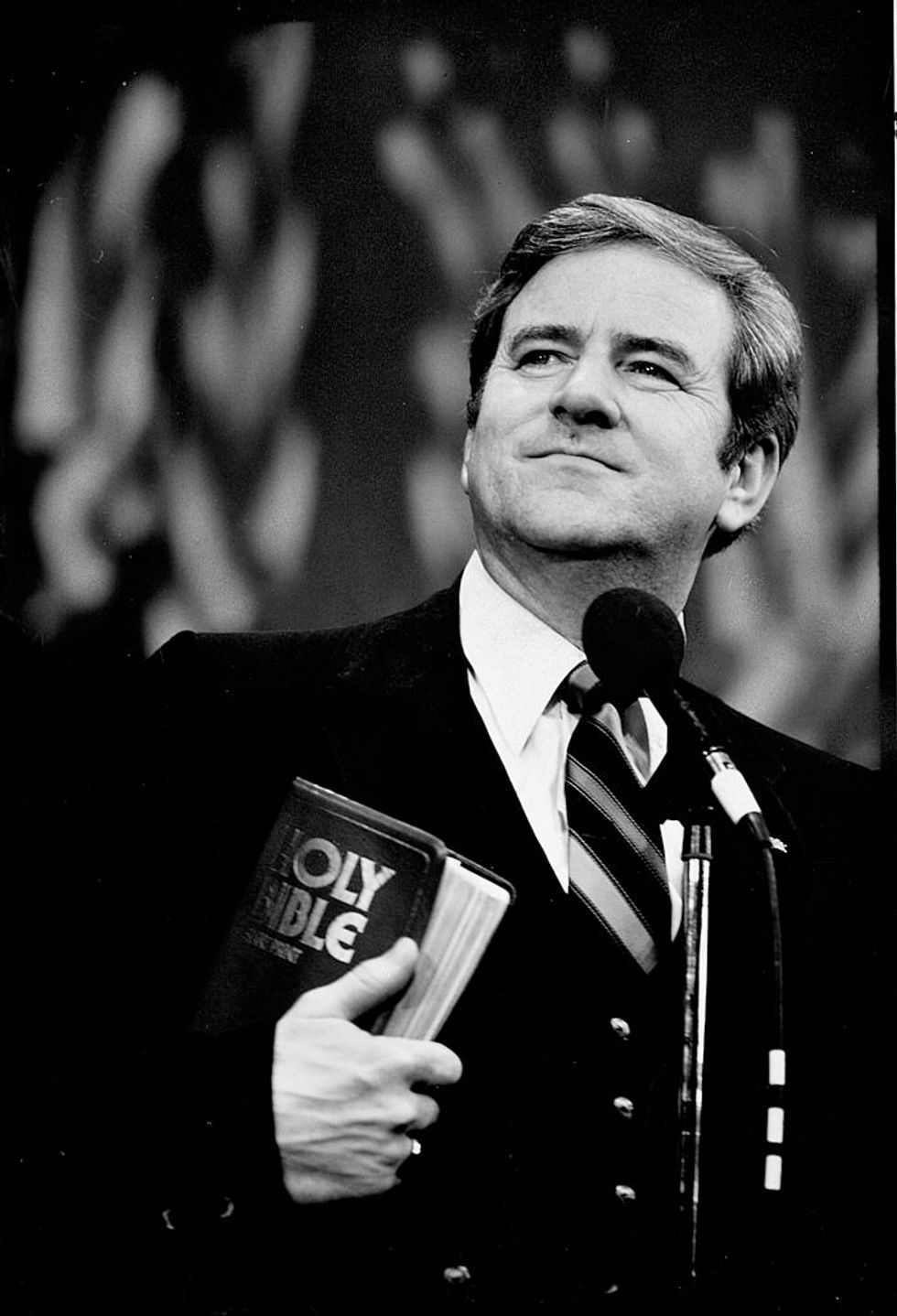 Speaking at a press conference immediately after taking over the network, he stated: "The government simply wants to root out those organizations that really are just tax scams. That really is where PTL was."

The Bakkers took full advantage of the tax-emption of their ministry by opening a 2,300-acre Christian theme park and resort that drew nearly 6 million visitors at its peak in 1986. As Jerry Falwell put it, "I think the real problem at PTL was prosperity theology…that God is a holy slot machine. You put in $10, you get out $20… especially if you give it to the person who's doing the preaching."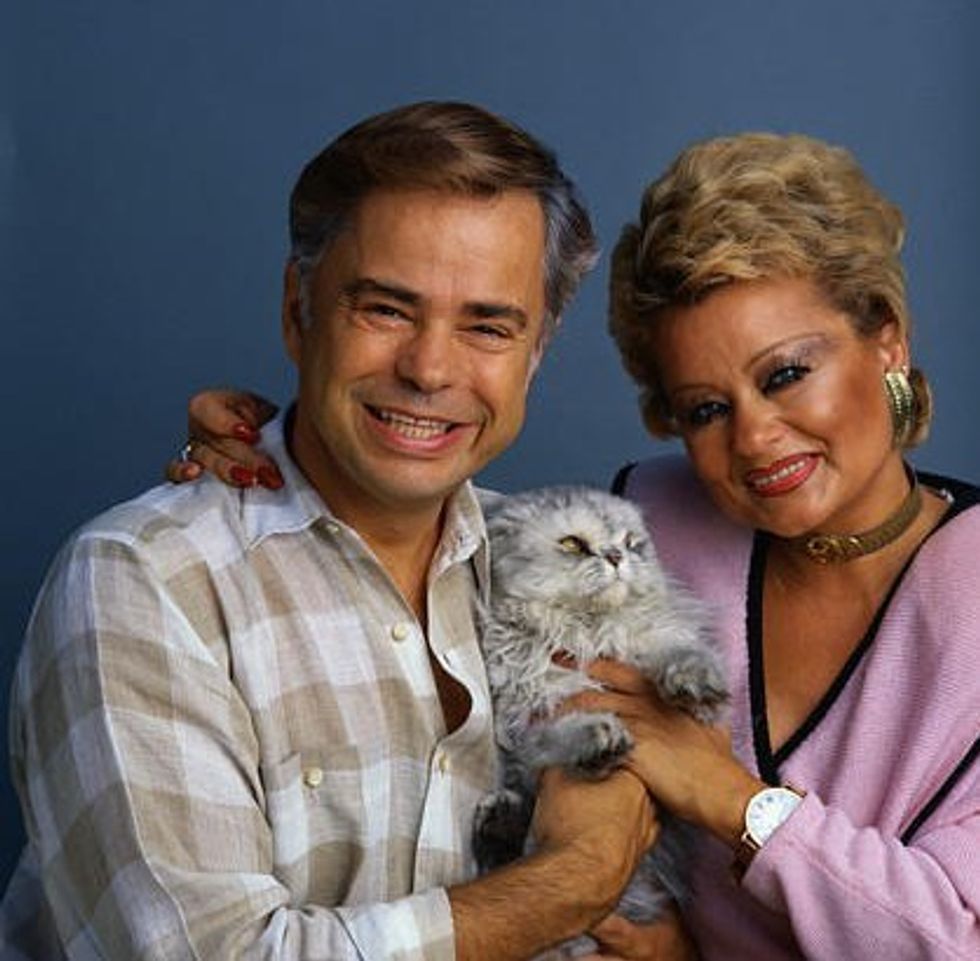 With luxury vacation homes, flashy cars, and even air conditioning for their dog houses, the Bakkers were not discreet about how extravagant their lifestyle was thanks to ministry donations while refusing to pay tax under the guise that their organization was a religious-non profit.

In this clip, you can see the once-Christian-favorites awkwardly try to defend the allegations made against them. It's a stylized report that attempts to show the duo in the best light, but it's ludicrous to think that they thought that it would all get swept under the carpet. All of the alleged charitable donations made by Bakker's ministry quite clearly were going right into his pockets.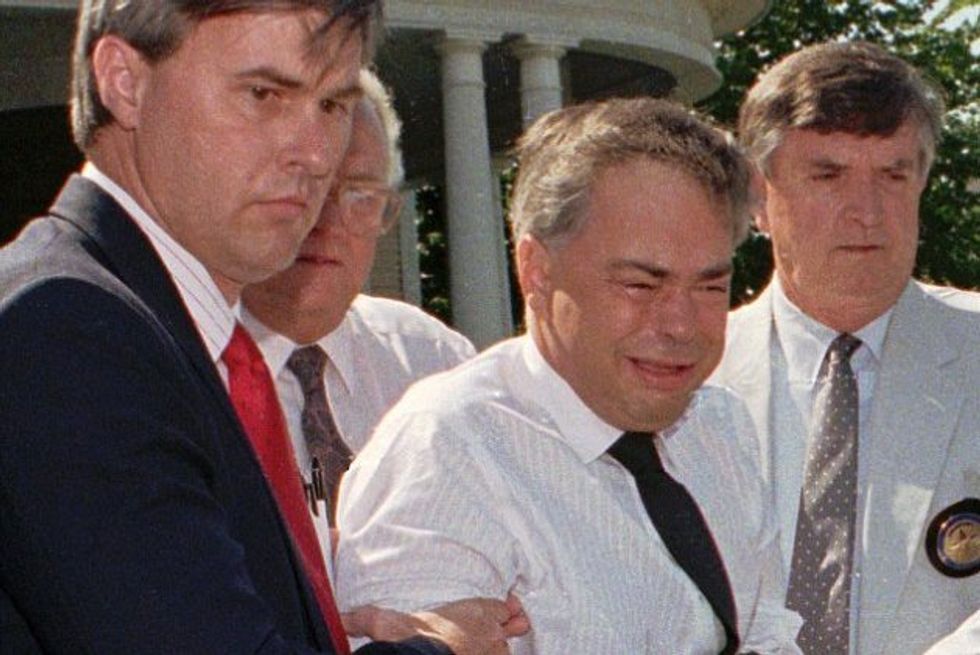 The televangelist might very well want to put "the ordeal" behind him, but admitting to sexual assault doesn't release you from the responsibility of your actions.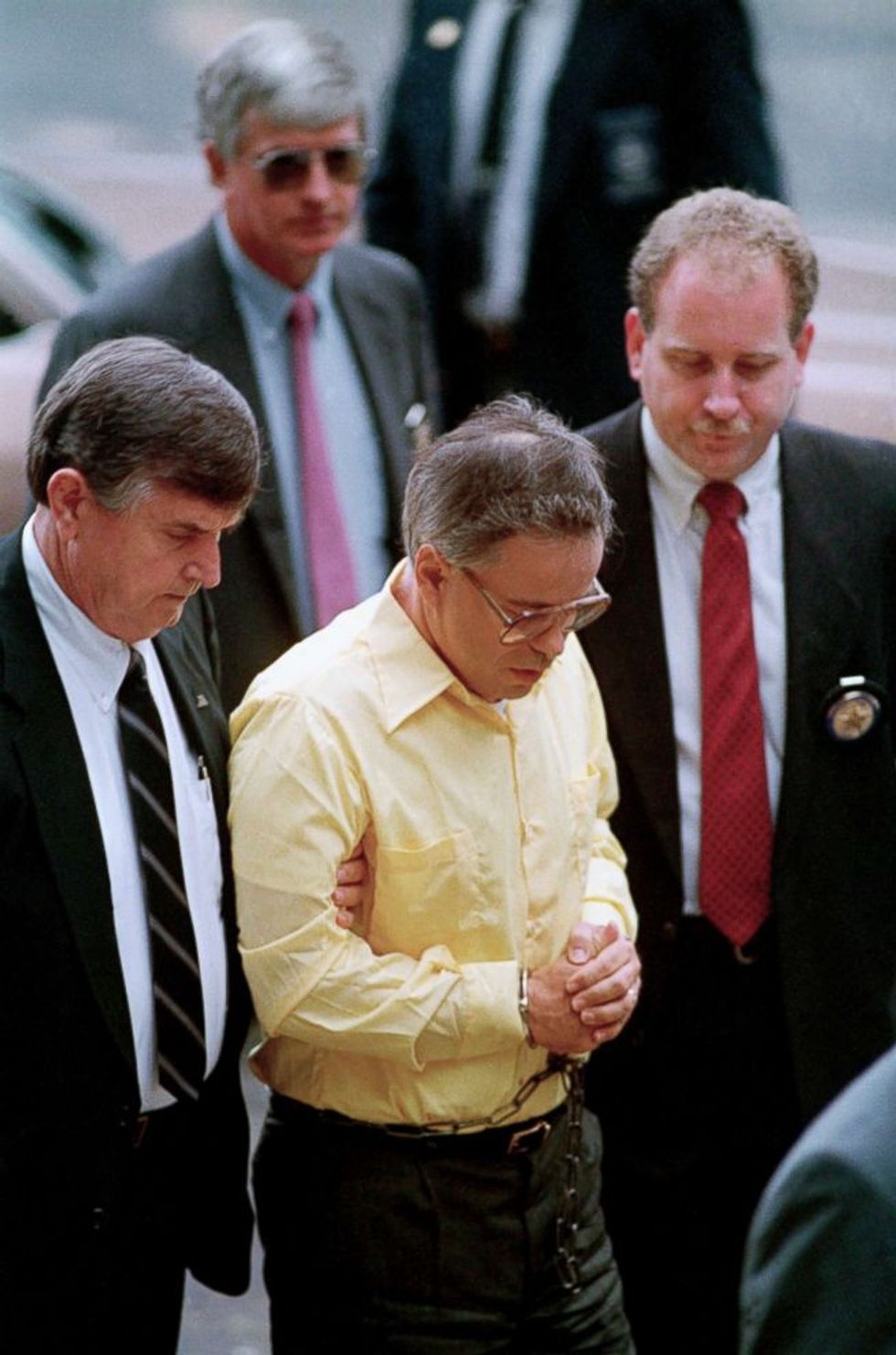 Jessica Hahn revealed that when she was twenty-one-years-old and working as a church secretary, Bakker, along with another preacher, John Wesley Fletcher, drugged and raped her. Following the ordeal, Hahn received $279,000 from PTL funds which attempted to buy her silence.

Now there's absolutely nothing wrong with being gay, but, to an anti-gay televangelist Christian like Jim Bakker, suggestions that he had intimate relationships with men were not something that he wanted to come to light. During the rape allegation period, Bakker was also accused of bisexual and homosexual tendencies with John Wesley Fletcher and PTL director, Jay Babcock. He denied both the men's claims under oath. According to a report from 1988, Babcock was questioned about the federal court's line of questioning outside the courthouse: "Bakker had denied ever having a homosexual relationship with anyone, Babcock replied: 'I'm saying he's a liar.'" The report goes on to say, that "the grand jury apparently designed to determine whether PTL money was paid for sexual favors. Babcock was the first man to publicly acknowledge telling the grand jury of a sexual encounter with Bakker." Yet another incident brushed under the carpet!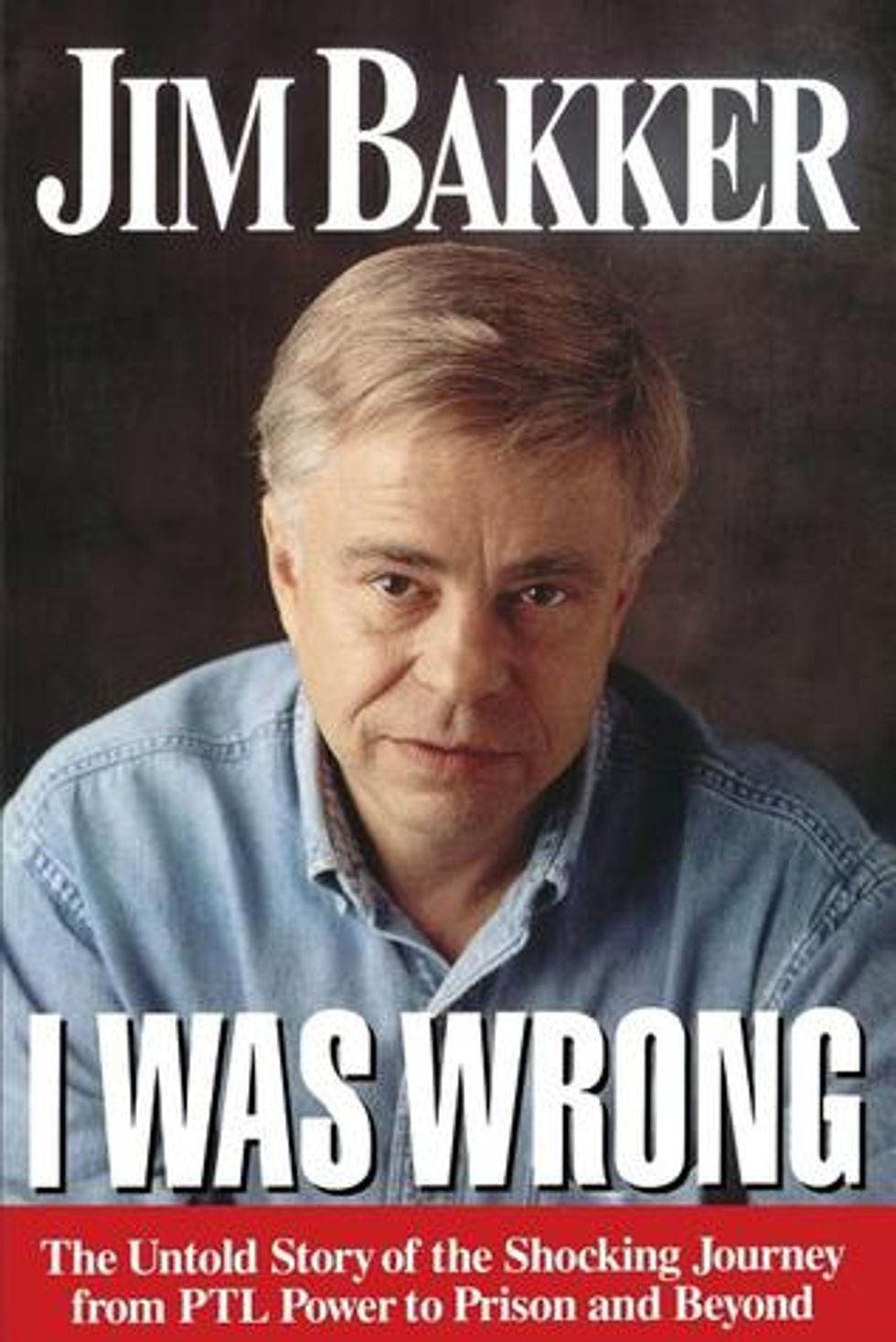 Despite Bakker claiming in his 1997 book, I Was Wrong, that the sexual encounter was consensual, he sure did his best to cover-up the incident. When PTL's finances were looked into during the fraud investigation, which started in 1898, it was revealed that Bakker kept two sets of account books to hide his irregular spending.

Following a sixteen month federal trial, Bakker was finally charged in 1988 with eight counts of mail fraud, fifteen counts of wire fraud, and one count of conspiracy. He was sentenced to forty-five years and given a half a million-dollar fine.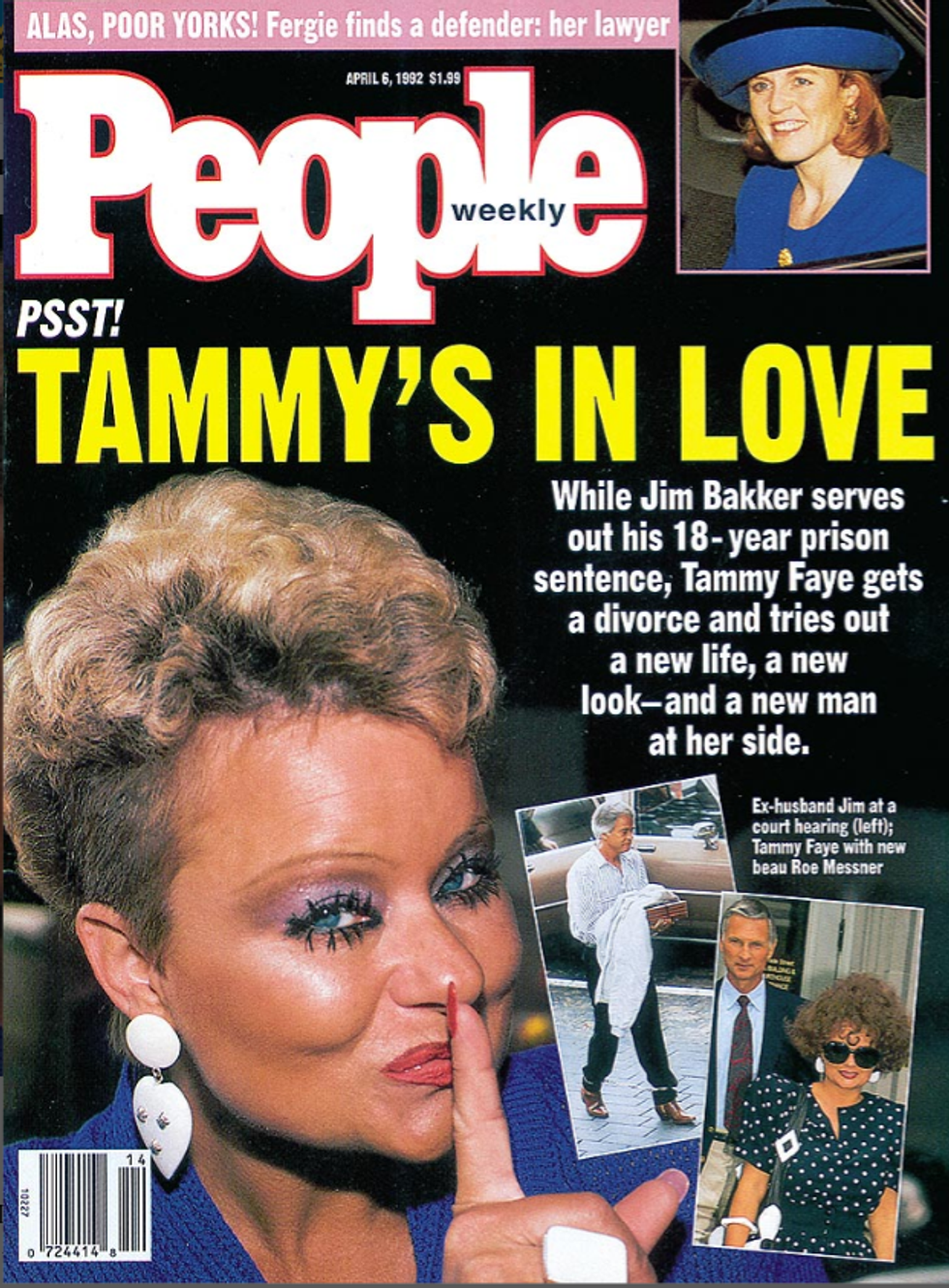 Following the sex scandal, it's a surprise that Tammy stuck around as long as she did. Really though, it seems like this lady went wherever the money and power was – and it was certainly not with Jim at this time. The newly divorced Tammy Faye hooked up with Roe Messner, who, according to People had "been a personal friend and business associate of Jim and Tammy's for years." Messner, who had become intensely religious after meeting the couple, left his wife and sailed off into the sunset with Tammy.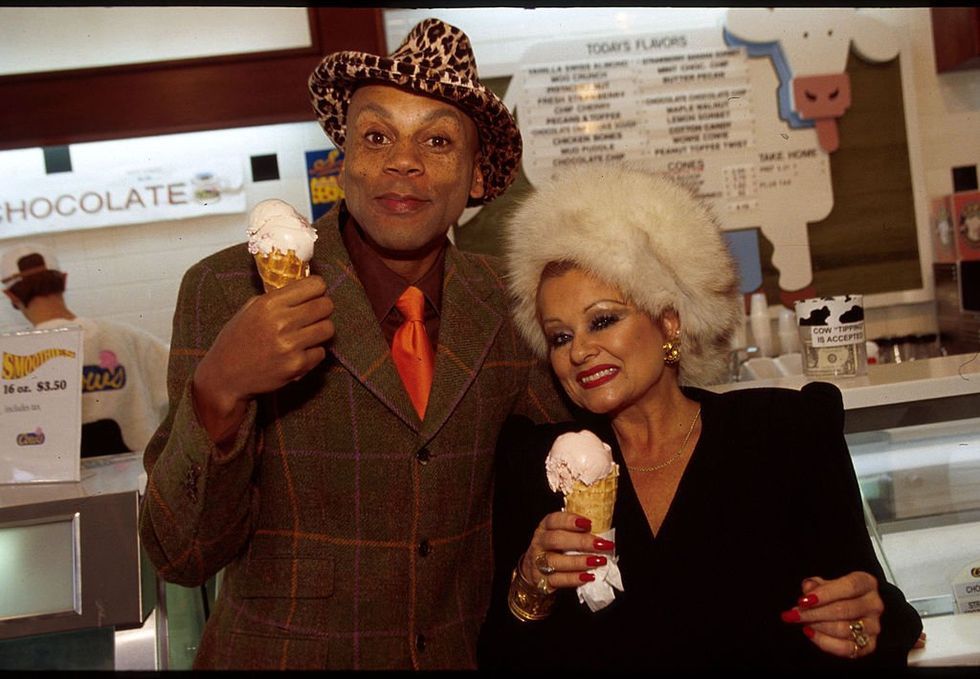 Released from the shackles of her marriage to Jim and determined to continue her television career, Mrs. Tammy Faye Messner became a bit of an icon for the gay community. With a new platform, The Jim J. and Tammy Faye Show, in 1966, newly open-minded Tammy was told by her co-host, Jim J, that he was gay, an encounter that she remembered fondly in her book, Telling It My Way. She said she replied to Jim J by saying: "Jim J., when I look at people, I do not see gay or straight; all I see is the person. And I see a person that God loves, and that His son Jesus died on the cross for. So who am I to judge? I do not judge anyone anymore. I have been misjudged so many times — by people who either didn't understand or didn't want to understand the things that happened in my life. I know how it hurts to be judged. I don't want to be a courtroom. I want to be a hospital." Tammy continued her support for the LGBTQ community by appearing on The Ru Paul Show and hatching a friendship with the TV personality. But this new lease of life was prematurely cut short, as Tammy died of cancer in 2007.

Despite being sentenced to forty-five years behind bars, it seems like having the most expensive celebrity lawyers fighting your corner sure does change things. After serving two years, Bakker's lawyers got his sentenced reduced to eight, claiming that Judge Robert Daniel Potter's sentencing statement, in which he said that "those of us who do have a religion are sick of being saps for money-grubbing preachers and priests," was suitable proof that the judge had been swayed by his own religious beliefs when sentencing Jim. Bakker was released with good behavior and was paroled in 1995, after serving almost five years.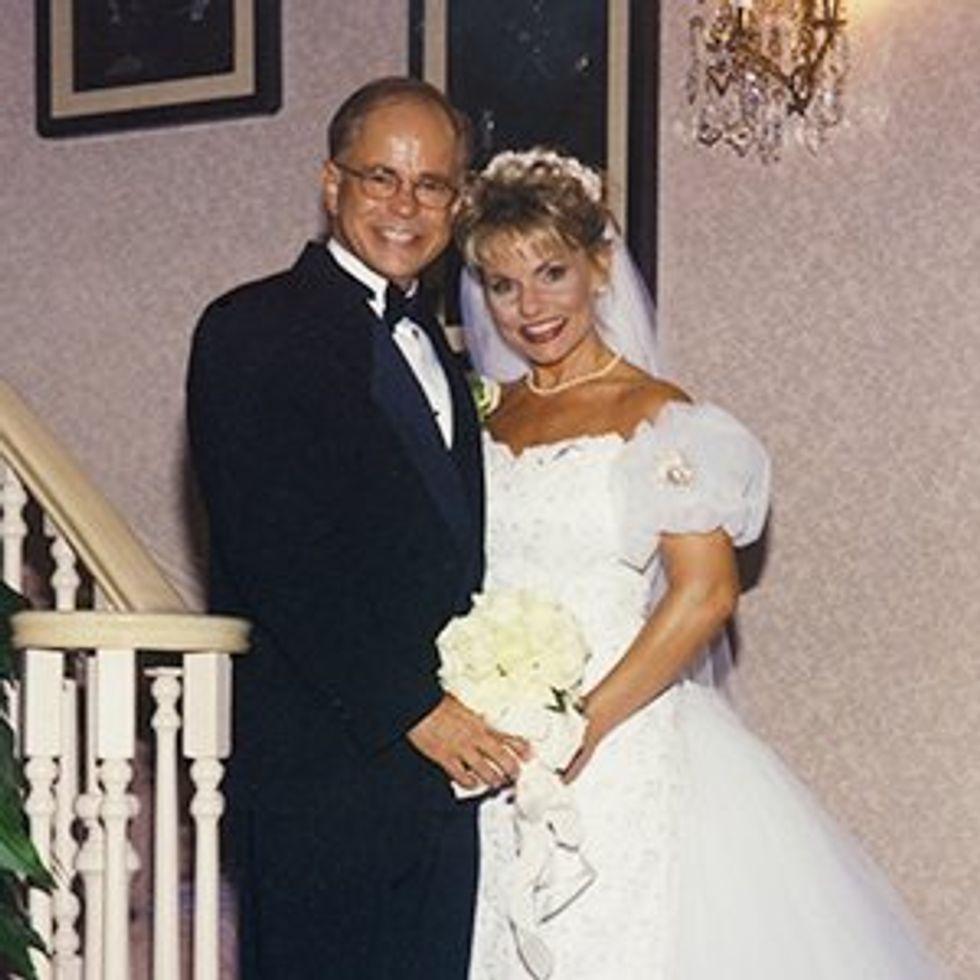 After leaving prison, Jim found a new wife, Lori, and began to rebuild his life. But it doesn't seem like Jim's future plans fell far from his old playground – getting money from people through the shroud of religious preaching.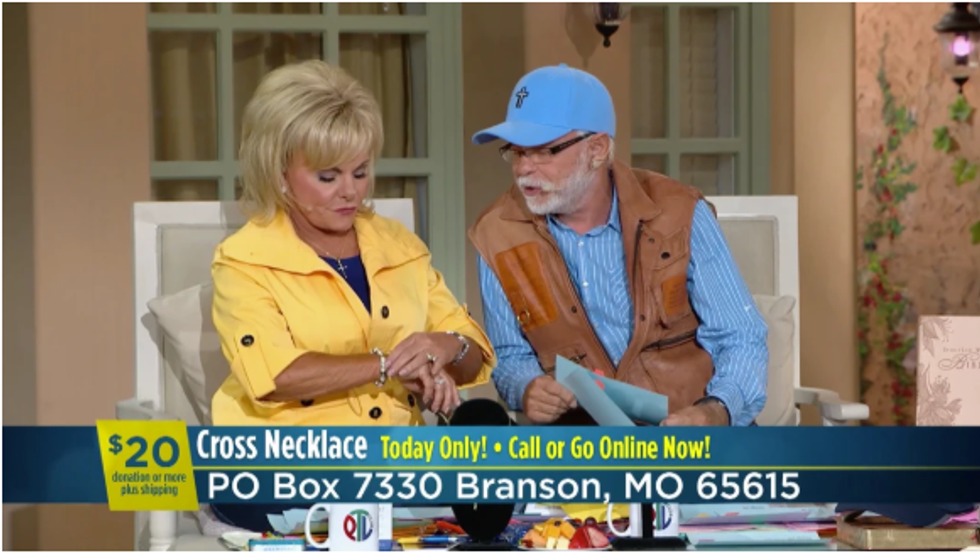 If you ever wanted to know how to make a pretty penny by exploiting those with people with religious beliefs, take a leaf out of Jim Bakker's book. Since his release from prison, the pastor, along with new wife, Lori, has bagged another Christian talk show gig. Interspersed with his fearmongering ramblings, the duo sells anything from religious jewelry, islamophobic DVDs, and overprized survivalist food buckets ready for doomsday. Not sure where to vacation this year? Why not stay in one of Bakker's Morningside cabins – according to him, it's "the safest place to live." So where isn't safe, Bakker? Oh, I don't know, anywhere that you can't make a quick buck, I imagine. Bakker still owes the federal government $5.5 million dollars, and what's a neater way to settle his debts than to scare vulnerable Americans into stocking up with expensive food sources for the end of the world? *slow clap*

This week, Bakker got political. And, by that, I mean that he threw his scaremongering techniques at the political race, intertwining his religious beliefs with his devotion to Donald Trump (of course). See for yourself in this clip how Bakker warns that, if President Trump is not re-elected, Christian leaders and politicians will be murdered. Great. Thanks for the heads up, Bakker. Feeding on people's beliefs and fears for financial gain is an age-old game and I guess the same goes for gaining political power. Hopefully, the next election isn't won through feeding the public lies and inciting fear, but, from the looks of it, this is exactly the game plan that our president has drafted. People wake up and smell the fossilized dog sh*t.