At 8 am on Monday morning, Stacey Farley got ready to leave the house to smoke - she had no idea what she was about to witness on her very doorstep.
Her neighbors, a father and son, who, by all reports, are good people, no trouble to anyone, had been trapped by Immigration and Customs Enforcement (ICE) agents. The unmarked white van that the agents used to block in the father and son gave no indication to their authority, the two men were not in uniform, and they could not produce a warrant.
We've heard the stories about children in cages on the border, whispers about people being taken and thrown into the back of vans with no explanation, seen reports about families being ripped apart by this atrocious manhunt ordered by President Trump, but what do you do when you witness it happening right in front of you?
This neighborhood in Tennesse did what I hope all decent Americans would do; they looked after their own, they protected their neighbors, their community. They forced the ICE agents to leave.
Here's the story...
President Trump taunted the public on Twitter about the imminent ICE raids.
On July 17th, the president tweeted a warning about his proposed operation to remove "millions" of "illegal aliens" from the United States.
So far, ICE has managed to detain thirty-five individuals.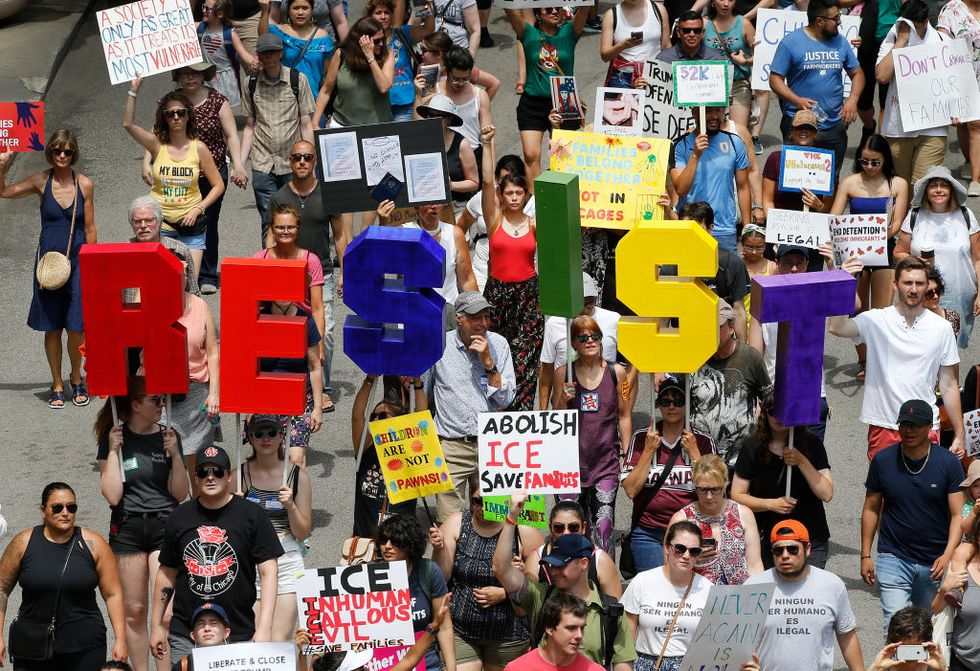 via: Getty Images
What President Trump called a "major operation" has fallen fairly flat of its aim to detain 2000 immigrants in the first few days of raids. The ICE raids are expected to continue, but the public are expected to fight this latest breach of the first amendment.
In March 2018, Trump slammed Mayor Libby Schaaf for warning residents of the then-expected ICE raids.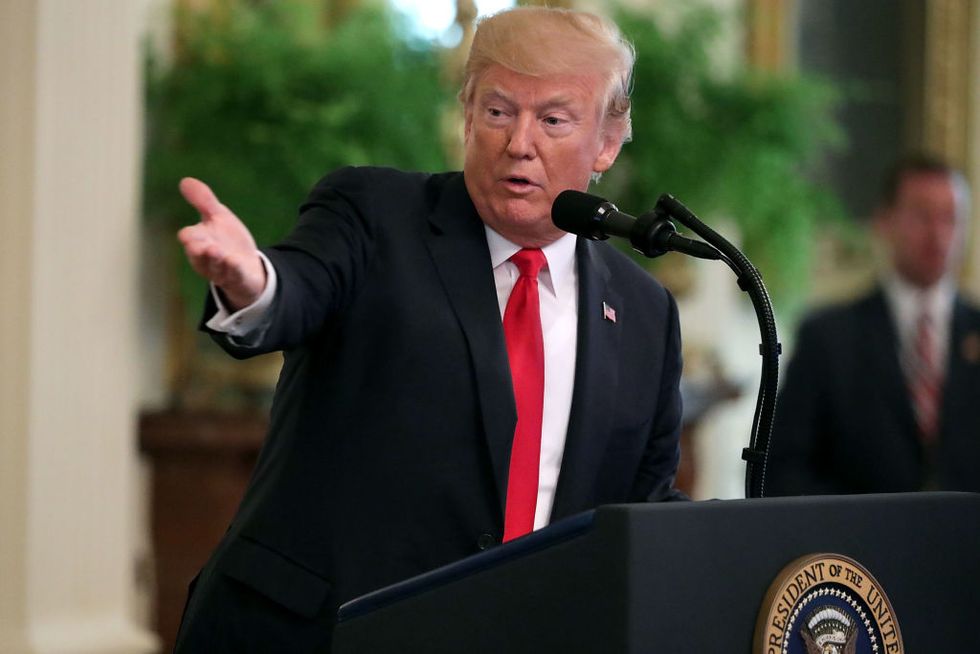 via: Getty Images
He said: "Here's my message to Mayor Schaaf — how dare you, how dare you needlessly endanger the lives of our law enforcement officers to promote a radical open borders agenda."
Mayor Schaaf was well within her rights to make her community aware of what was happening.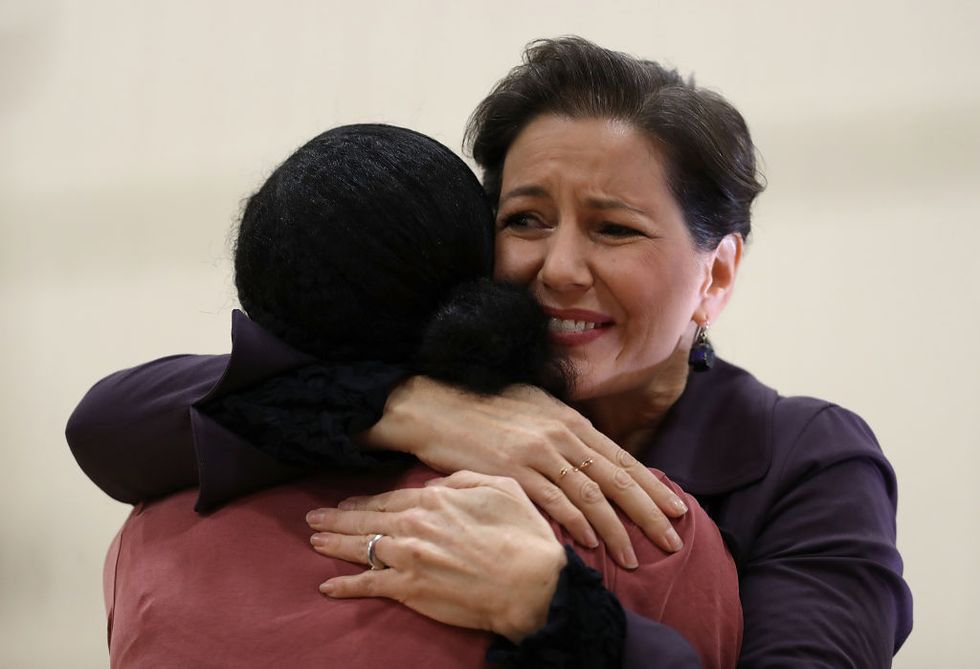 via: Getty Images
But the president also claimed that the mayor could face prosecution for her actions. Schaaf, fortunately, had already made sure of her rights. Before making the announcement, she had spoken with a legal counsel to make sure that she wasn't in danger of federal prosecution.
I wonder how different things would be if Trump did the slightest bit of fact-checking...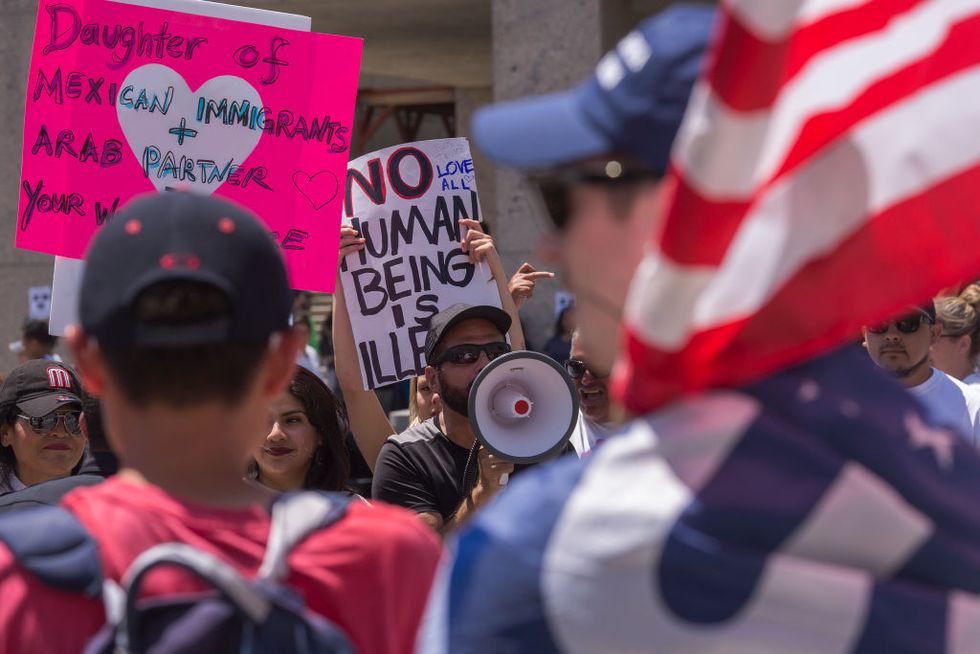 via: Getty Image
After slamming Mayor Schaaf, he claimed that she had "told undocumented immigrants to 'scatter' and 'get out of here.'" Actually, Schaaf had
not
encouraged undocumented immigrants to flee - rather, in her February 24th announcement, she said that she wished to "encourage community awareness" of what was happening and shared contact information for an Oakland nonprofit group that would provide legal aid to those facing deportation.
Why should Mayor Schaaf want to help undocumented immigrants?
. @realDonaldTrump If you continue to threaten, target and terrorize families in my community... and if we receive… https://t.co/MUU7yQCm7F

— Libby Schaaf (@Libby Schaaf)1560825523.0
Oh, I don't know, maybe because, unlike President Trump, she does not see people as "illegal aliens" and actually wants to support the people living in her community. Following the announcement of raids, Schaaf once again spoke up for her community, warning the president that she would continue to stand up for the values of the people of Oaklands - values that clearly do not align with arresting and detaining members of the community for an undetermined amount of time.
One rule for Trump, another rule for everyone else.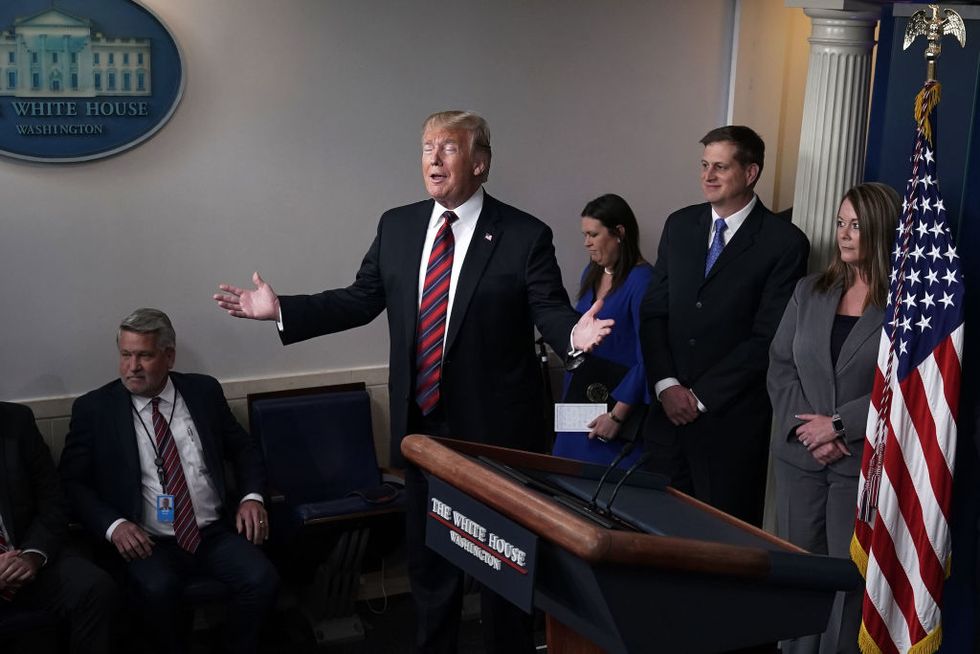 via: Getty Images
So Trump was furious that Mayor Shaaf warned her community of the expected raids last year, but, flash forward a year, we have President Trump
tweeting
to the
entire world
that he is going to carry out raids that following week. Great power play, Mr. President.
While the president taunted immigrants, others used social media to remind them of their rights.
Twitter user, @rachel_maria65, replied to the president's taunt with a poster made by the non-profit American Civil Rights Union (ACLU), which outlines the rights of anyone questioned by ICE agents. Another twitter user, @godinez_genesis, found a Spanish translation of the poster and shared that, too. This exchange demonstrated that, even amongst all of the hate, people are rallying around to demonstrate love and support for one another.
Community spirit is alive and well in Nashville, Tennesse.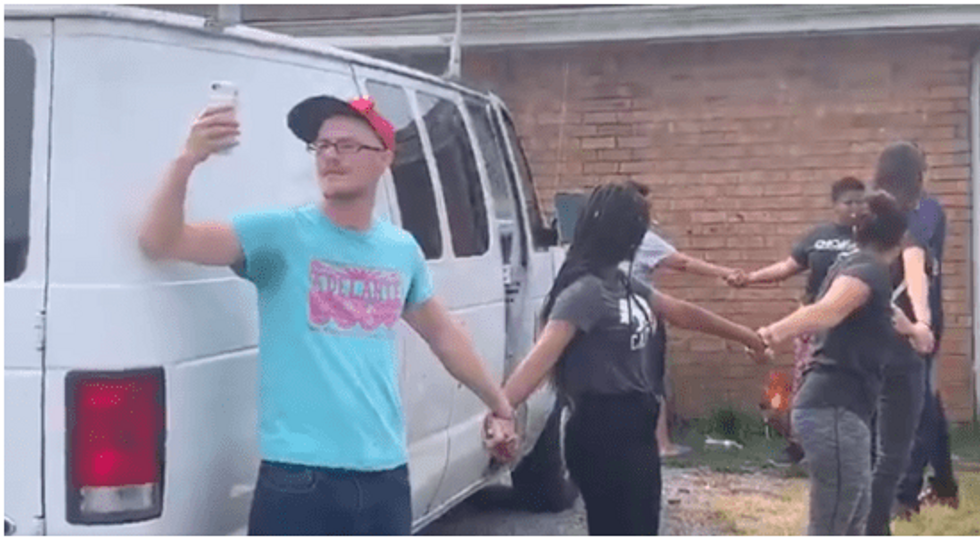 Here's
a community that hasn't been brainwashed into thinking that their next-door neighbors are dangerous aliens...
So what happened on Monday?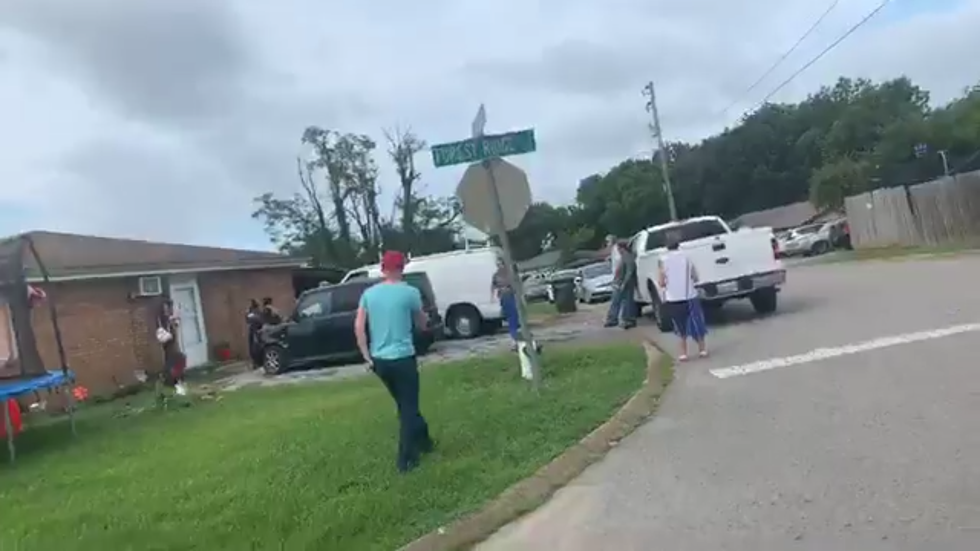 On Monday morning, the working-class neighborhood of Hermitage, in Nashville, were subject to the invasion of two ununiformed ICE agents who made attempts to pull over a man while he was in his car with his twelve-year-old son. At 7:19 am, the Metro Nashville Police Department (MNPD) received a call from the ICE agents requesting back-up as they were unable to force the man to leave his vehicle.
Neighbors that were witness to the commotion came out in support of the man and his son.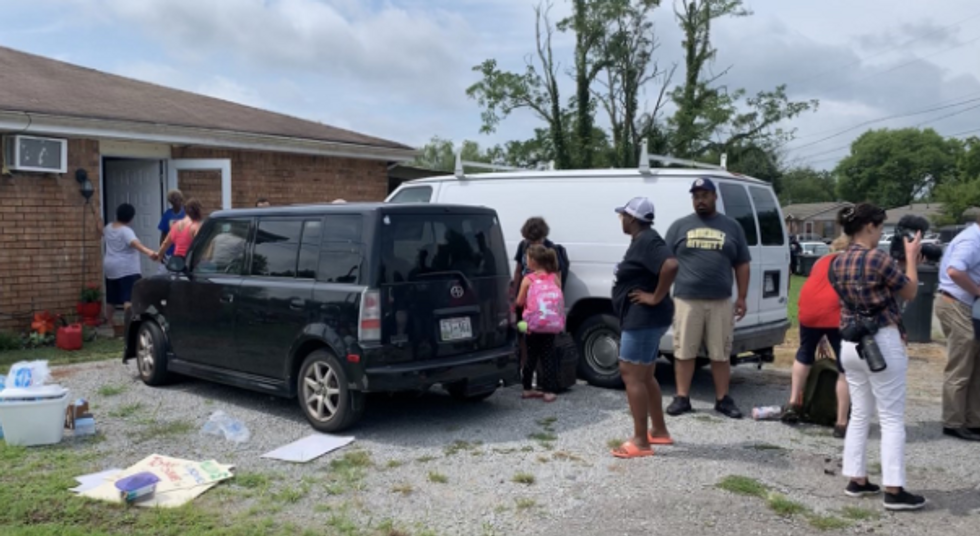 via: abcactionnews.com
Alerting local activist groups about what was happening, the neighbors came out in force to protect the two men from being arrested. Tristan Call, who volunteers with "Movements Including X" (MIX), a collective of young activists who organize events for social causes, arrived at the scene along with Nashville At Large Councilman, Bob Mendes, Nashville City Councilman, Fabian Bedne, and other activists.
"I mean, if I was driving and one of them tried to stop me, I wouldn't stop."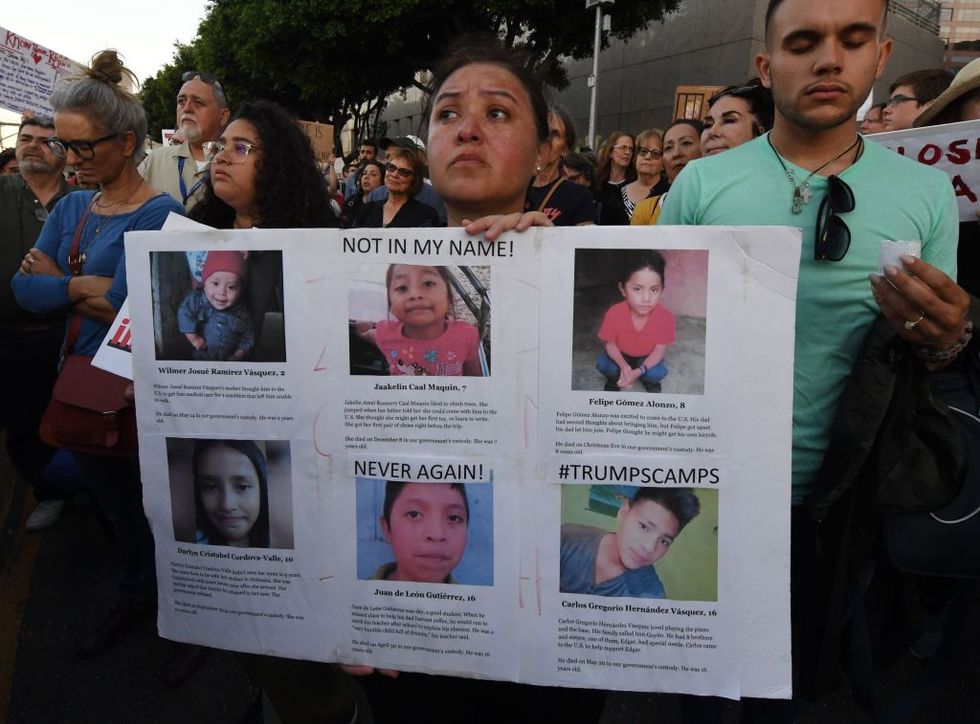 via: Getty Images
Speaking to
Time
, Call, explained: "I would have never ever guessed that the people in those cars were government agents. They looked like your neighbors, anybody. That makes me uncomfortable. I mean if I was driving and one of them tried to stop me, I wouldn't stop. From a policy perspective, from a safety perspective, it seems extremely inappropriate and dangerous."
Neighbors who were witness to the entrapment were shocked by the ICE agents' tactics.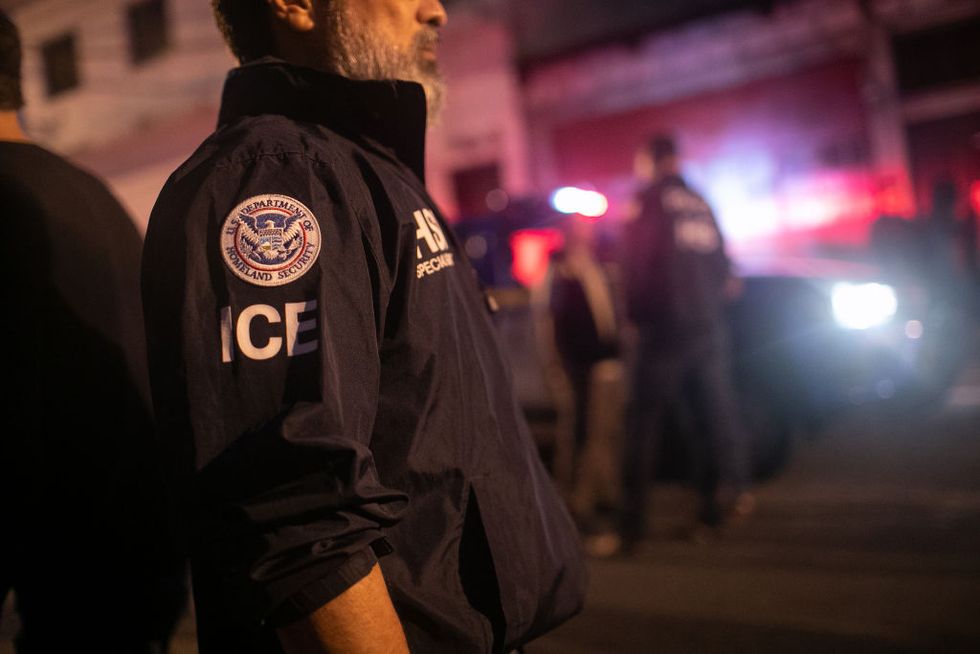 via: Getty Images
Neighbors that were that at the scene told local paper,
The Tennessean
, that "the ICE officers were encouraging the two individuals to exit their van, offering cash rewards and saying things like 'you'll have to exit eventually.'"
The father and son were trapped in their vehicle for over four hours.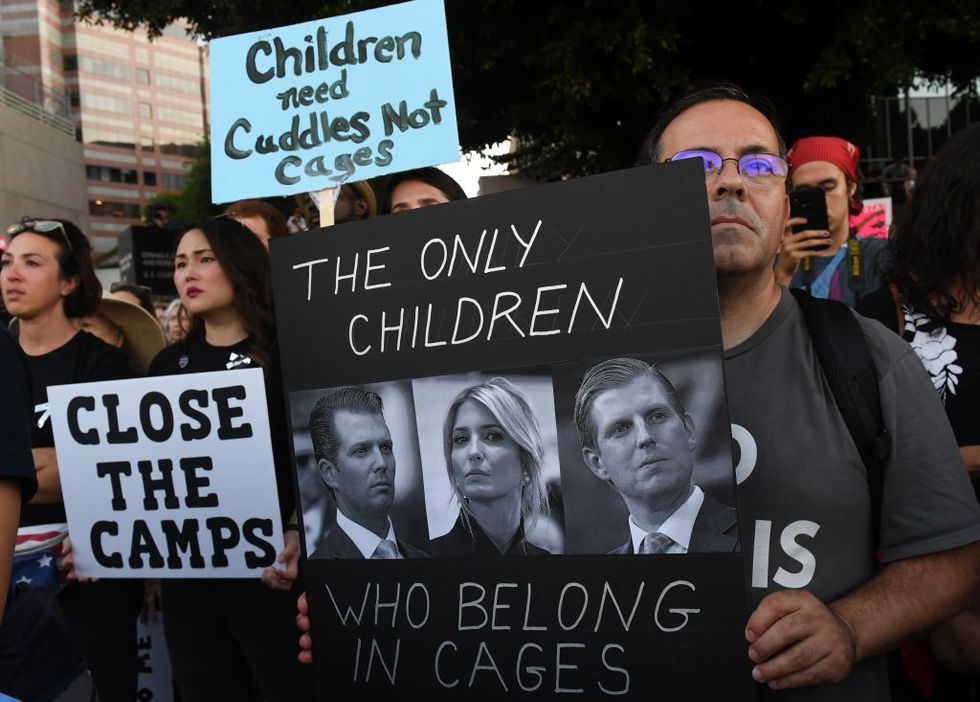 via: Getty Images
The neighbors rallied round to support the duo, they provided their neighbors with water, and filled up the gas tank so that their car would still have air-conditioning.
"Really, the difference was the neighbors stood with it."
Tristan Call was humbled by the tireless efforts made by the community. The neighbors eventually created a human-chain around the man's vehicle so that he could get into his house with his son without the ICE agents getting to them. Call stated: "Really the difference was the neighbors stood with it. None of this would have happened if 15 neighbors hadn't come out to support [the family] immediately."
Tristan Call live-streamed the attempted arrest and it has been viewed over 100,000 times.
The live stream lasts for around fifty minutes and shows the ICE agents blocking in the man's car - the video really captures the distress of the neighbors who didn't want the man and his son to be taken away. Watch it down below!
The Metro Nashville Police Department did not want to target the man or his son.
During the live-stream, Call asks MNPD Officer, identified as Sgt. Noah Smith, whether the man has a criminal record. Smith replies that the man "had no warrants on file in Davidson County, Tenn and was not a target for MNPD."
What will happen to the man and his son?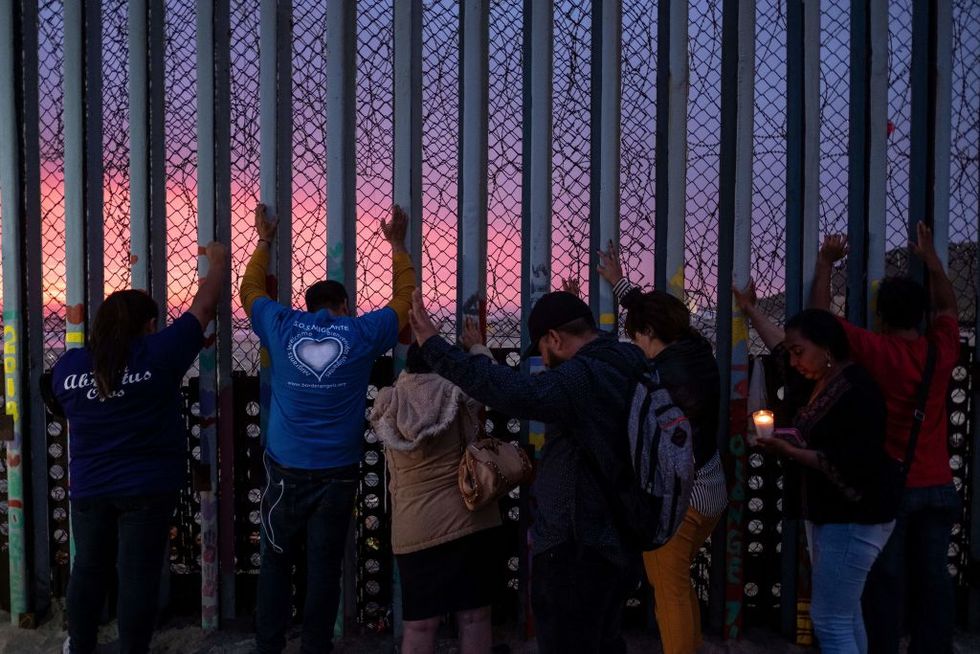 via: Getty images.
Call explained that, following the ICE agents' departure, the man and his son were taken to a safe-house, along with a local advocacy organization to plan their next steps. Speaking to Time, Call said: "The family has some decisions to make. Luckily we have a strong support network of lawyers and churches and synagogues and mosques, and different people here in Nashville where there's support… So I think they have to figure out what they're gonna do and they have the backing of thousands of people around the city that have been organizing to be available in moments like this."
The father and son have the city on their side.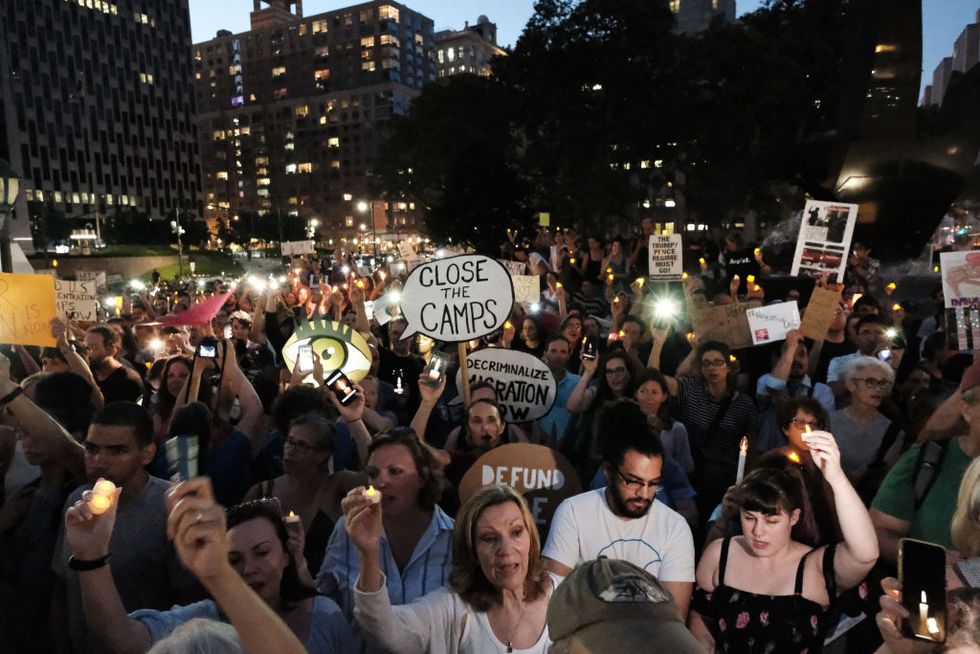 Nashville City Councilman, Fabian Bedne, spoke out about the incident, saying, "Hopefully this will help people running for office to understand that they need to take a stand about protecting our neighbors. Nashville is a welcoming city, we care about our neighbors."
The practice of the ICE agents is immoral and unlawful.
There have been countless reports of ICE agents detaining people for weeks, months, even
years,
without proper grounds. Even this week, it was
reported
that an eighteen-year-old man from Houston, who was, in fact, a U.S. citizen, was detained for over three weeks simply as a consequence of racial profiling. Since the release of the eighteen-year-old, named Francisco Erwin Galicia, questions are being asked about why he was detained by the Border Patrol for well above the seventy-two hours that Border Control states that it is allowed to hold detainees. The situation illuminated a completely illegal situation wherein the Border Patrol is holding hundreds of men and women that have been accused of entering the country illegally for longer than seventy-two hours. If ICE agents and Border Control are not going to follow the procedure put in place to protect the human rights of those that they detain, it's up to the people of America, the communities that we live in, to protect their neighbors. We can't let the most horrendous atrocities in modern history be repeated.