Daniel Hernandez, or Tekashi 6ix9ine, as we more commonly know him, has now completed his second day on the stand in federal court for gang-related crimes.
In January, the twenty-three-year-old rapper pleaded guilty to charges involving racketeering, illegal firearms possession, and aiding in attempted murder as part of the violent Trey Nine gang.
But Hernandez, who is facing at least forty years behind bars, has been quick to ditch his hardened gang persona by cooperating with the federal authorities.
And now, the terrifying footage of the mass brawl and shoot out between him and rival rapper, Casanova, that led to his arrest has finally been revealed…
Tekashi 6ix9ine has made one hell of a name for himself… but for all the wrong reasons. He developed a unique persona as a hardcore rapper in 2017 and became well known for his excessively tattooed face and rainbow-dyed hair.

When he was thirteen, his father has murdered just one block from his family home.
The experience had a huge impact on Hernandez, and he soon dropped out of school and started working odd jobs to help his mother.
undefined
"My pops died in eighth grade, and I just started bugging in school," he told the podcast "No Jumper" in a 2017 interview. "I was thirteen. I was waiting for my pops to come back home, and he never came."


And this was ultimately when Hernandez's Tekashi 6ix9ine persona was born.

The young rapper found quite large success with his music. Hernandez's first proper single was "Gummo." Released in November 2017, it hit the Billboard charts and was remixed by the likes of Offset and Lil Wayne.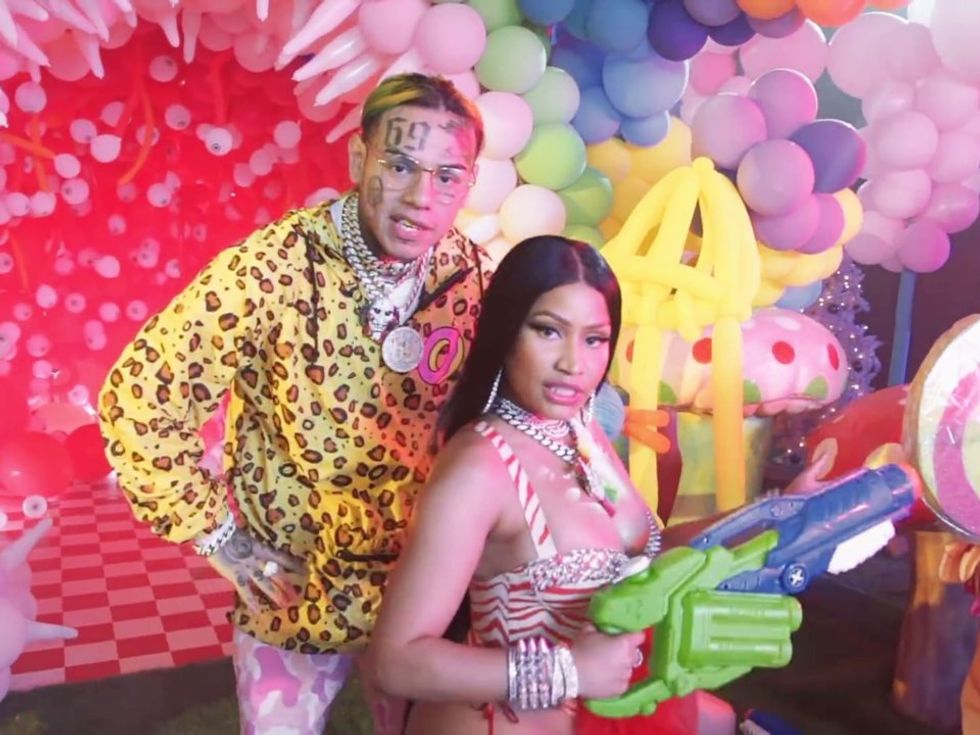 In 2018, 6ix9ine released "FEFE," a collaboration with Nicki Minaj, Murda Beatz, and Kanye West.

When Hernandez was nineteen and still rising through the ranks of internet fame and notoriety, he attended a party on February 22, 2015, where he performed several sexual acts with a thirteen-year-old girl.

And Hernandez later told police he thought the girl was nineteen. He's also contradicted his plea statement in several interviews, insisting that he didn't engage with the girl sexually and thought she was older.

After a number of procedural delays and appeals, Hernandez was sentenced in October last year to 4 years of probation and 1,000 hours of community service. Miraculously, he managed to avoid any prison time.

In November last year, the federal authorities announced a series of indictments against Hernandez, his manager, Kifano Jordan, and others they said were members of the notorious Nine Trey Gangsters.

The United Blood Nation street gang was established in 1993 at the Rikers Island jail complex in New York City and operates on the East Coast of the United States. The gang has allegedly been engaged in the sex trafficking of women and racketeering in Virginia, New York, and other areas. The gang was also allegedly involved in the distribution of illegal drugs, including heroin, cocaine, and marijuana.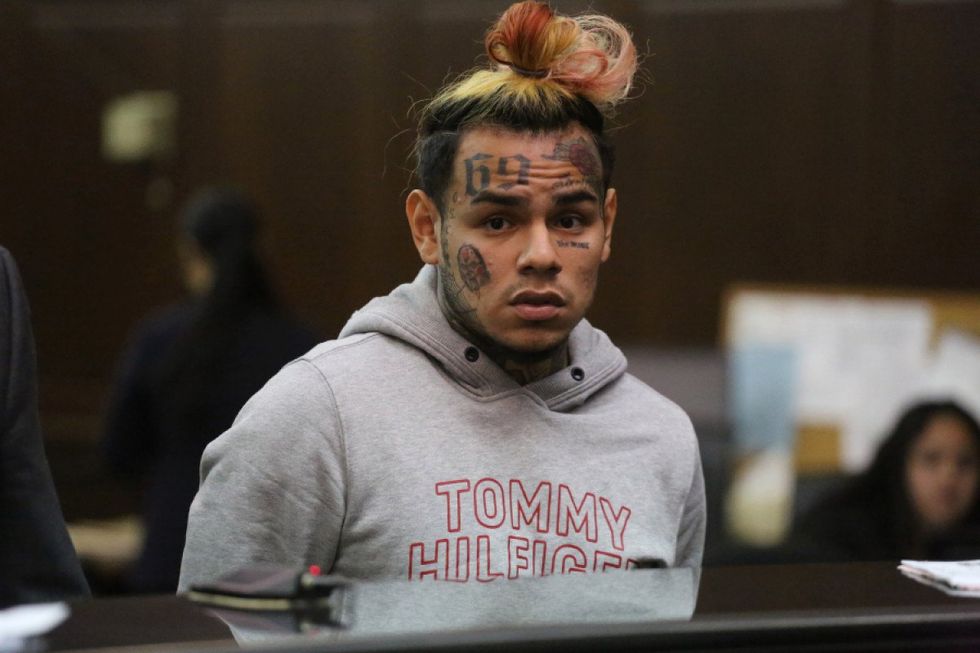 The federal lawsuit accuses the rapper and the rest of the crew of running a drug-dealing ring and enforcing their activities through violence.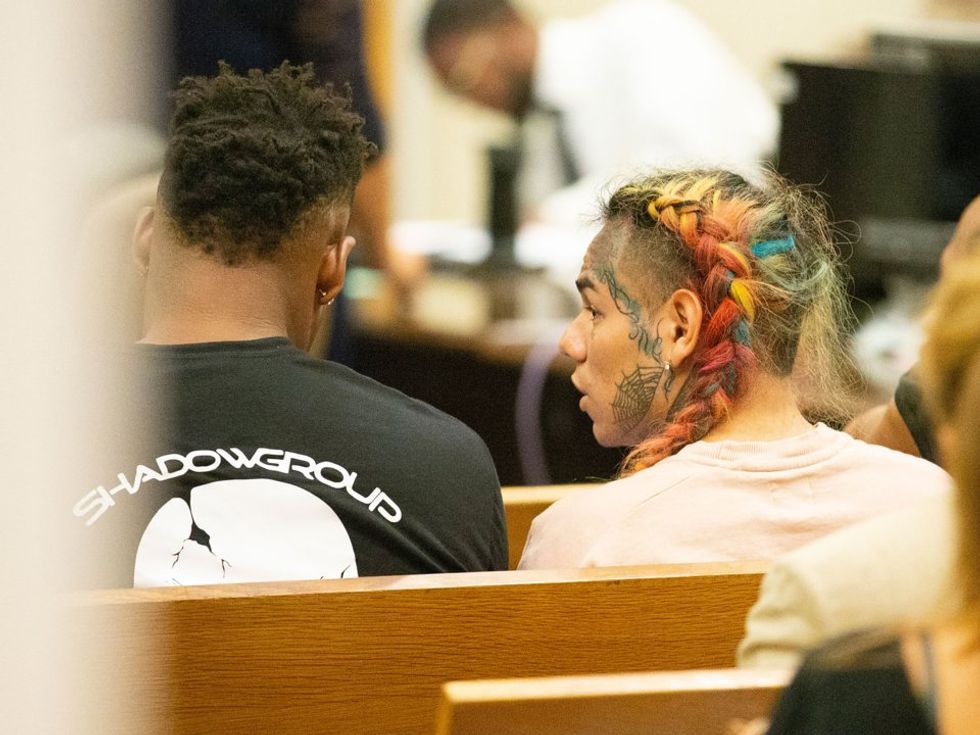 And the federal authorities have also said the group conspired to commit murder.
undefined
If convicted, Hernandez and everyone else charged could face life in prison.


After he initially pleaded not guilty to the charges, the judge denied him bail, citing an FBI raid in September that found an AR-15 assault rifle and a stolen ID from a man robbed in Times Square.

Hernandez suddenly entered a guilty plea to the charges related to his involvement with Trey Nine, according to court records reviewed by INSIDER.

Hernandez has been opening up about his doings while in the gang. "I paid a person to shoot at a rival member of Nine Trey to scare him. The shooting took place in Manhattan. I did this to maintain or increase my own standing in Nine Trey," Hernandez told the judge, according to a court transcript.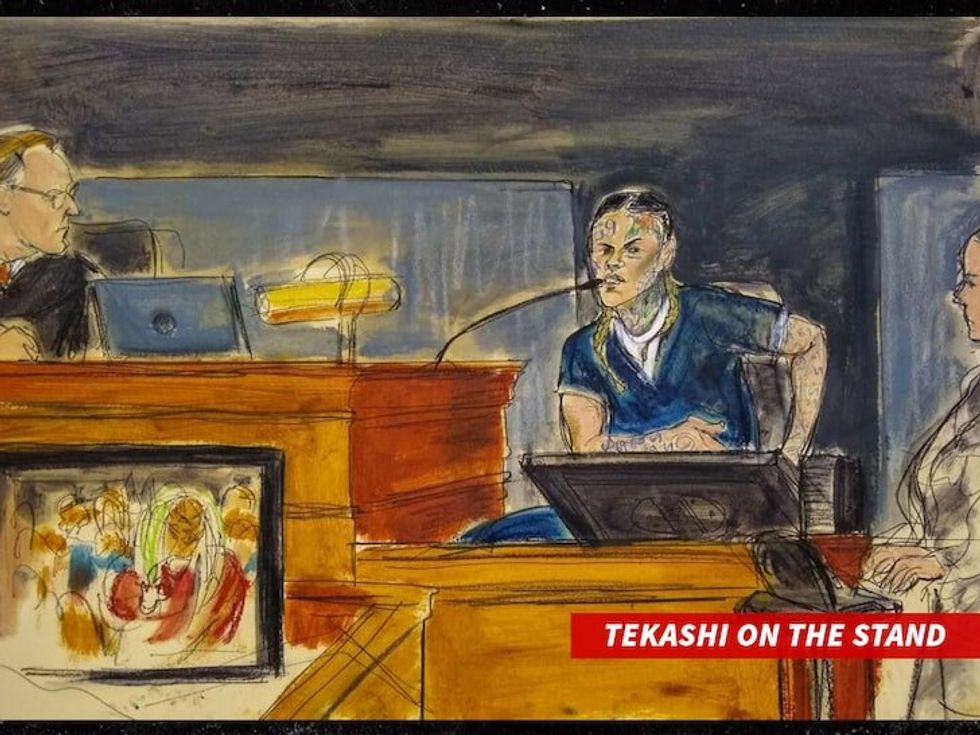 Altogether, he spent nearly 2 hours on the stand — wearing blue prison scrubs, a white undershirt and still rocking his rainbow-colored hair, styled in pigtails. In a courtroom potentially filled with current or former Nine Trey members, he testified that he became a member on November 2017, and participated in violent crimes … including shootings, assaults, and drug trafficking.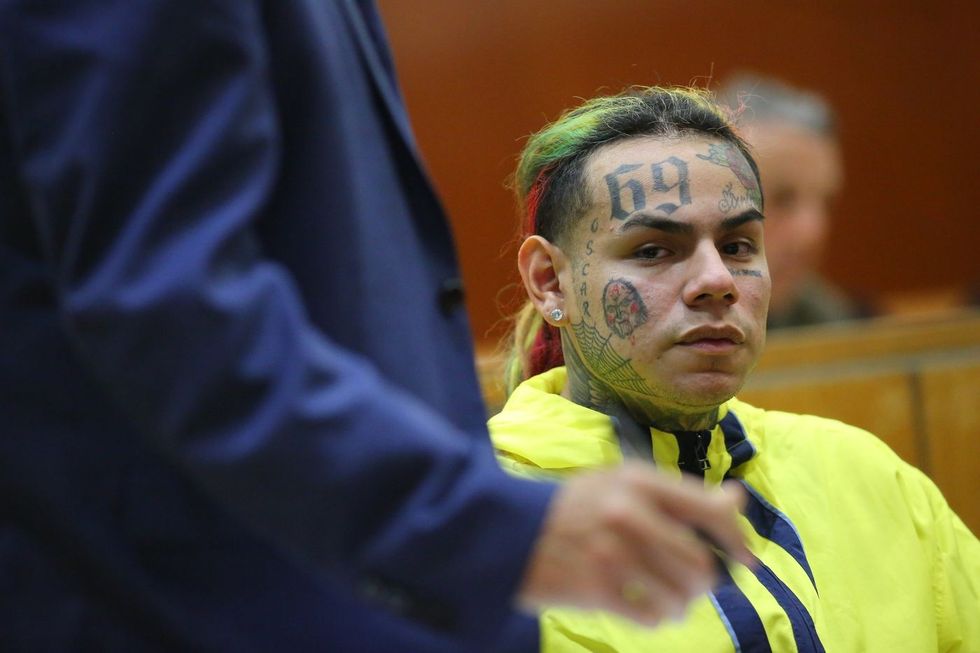 Directly in front of them. He nervously pointed at the defendants, Aljermiah "Nuke" Mack, and Anthony "Harv" Ellison, and ID'd them as Nine Trey Gang Members. That's not going to go down well…

And they have publicly disapproved, both of Tekashi's actions and his snitching… Because you know what they say! Snitches get stitches.

By simply sharing this picture of 6ix9ine with the header, "Tekashi 6ix9ine is safe & secured in jail unit with other snitches" with rat, police officer, and police car emojis. You know it'd bad when even Snoop disagrees…

And, while his future remains uncertain, Tekashi cooperating with the federal authorities will certainly cause some issues out on the streets.

The twenty-three-year-old rapper must be getting even more worried about whether he will be let off for his crimes, because he even landed fellow rapper, Cardi B in it.

The lyrics in her song, "Bodak Yellow," which she released in the summer of 2017, made people question whether Cardi B had a past in gang culture. In the song, she raps: "these is bloody shoes." When asked what this was in reference to, Cardi B told GQ: "When I was sixteen years old, I used to hang out with a lot of" – agonizing, cliff-diver pause – "Bloods. I used to pop off with my homies. And they'd say, 'Yo, you really get it poppin'. You should come home. You should turn Blood.' And I did. Yes, I did."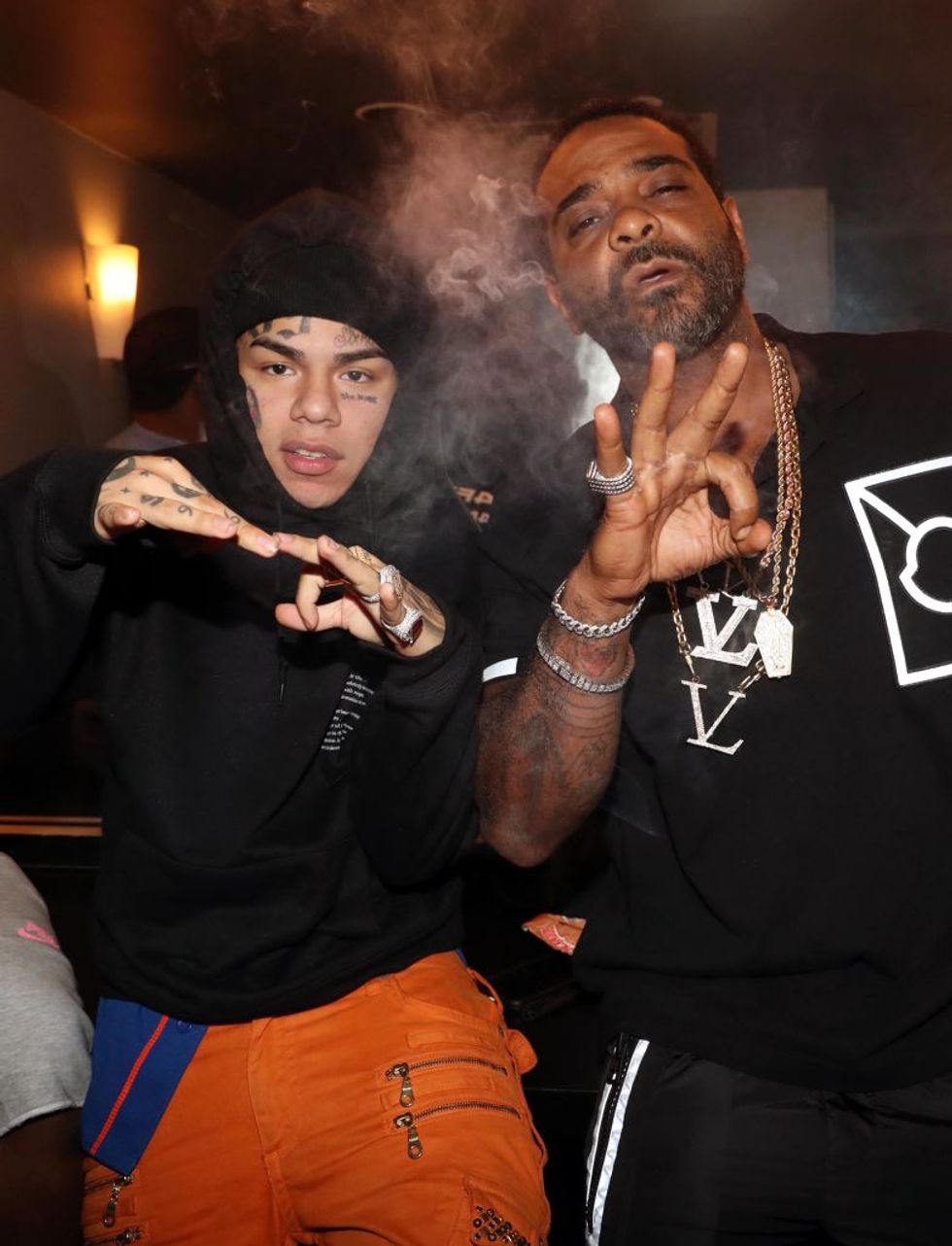 The twenty-three-year-old rapper also claimed that Jim Jones was a member of Nine Trey. The prosecutors played a recording in the court of a phone conversation between Jones and two others. During the conversation, the three men talk about getting revenge on Takeshi for snitching. After the recording, he identified Jones as one of the gang's members.

Jones became aggravated in an interview on The Cruz Show at the mention of Takeshi 6ix9ine.
A couple of months ago, the rapper was being interviewed on The Cruz Show. When one of the radio presenters mentioned that they liked a few of 6ix9ine's tracks, Jones became uncomfortable. The rapper expressed that he did not want to discuss the younger rapper. He said "there are certain things you cannot come back from, you know?" before saying, "there's no fixing that… you a rat, you a rat forever." So, I'm guessing the old friends are no longer on good terms…

Who knows who Takeshi 6ix9ine will claim was part of the Trey Nine Bloods Gang next?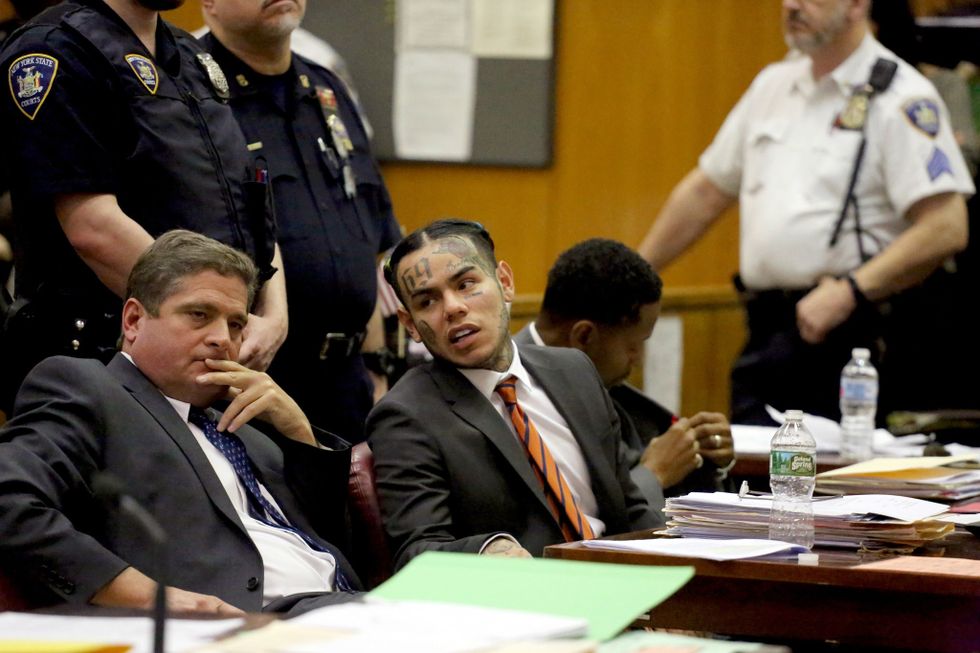 It has been reported that Hernandez may be offered witness protection if he avoids jail, which isn't really surprising given that he has already been dubbed 'Tekashi Snitch 9ine" by many in the rap game.

The New York Police Department released the CCTV footage from the night of a violent brawl and shoot out between the Nine Trey gang and their rival, Casanova.

And Tekashi (in the bottom left corner of the frame) and his fellow gang members can be seen walking down a deserted corridor.

And tensions quickly escalate, with the crowd suddenly turning into a brawl.

Because you can see some gang members fall to the floor, while others scramble away in evident panic. You can watch the full footage here. Thankfully, nobody was hit by the bullet, but Tekashi 6ix9ine was subsequently arrested, and now faces up to forty-seven years behind bars. Moral of the story? Don't join gangs, kids.