Ever since Rihanna's makeup line came out earlier this month, people have been praising the huge range of shades that the foundation comes in. So much of that emphasis has been put on the darker end of the skin tone spectrum — and don't get us wrong; those shades are absolutely needed and should be a part of every makeup line! But we haven't heard as much about the colors on the lighter side of the spectrum. That's where Krystal Robertson comes in.
Earlier this month, Rihanna launched the Fenty Beauty collection...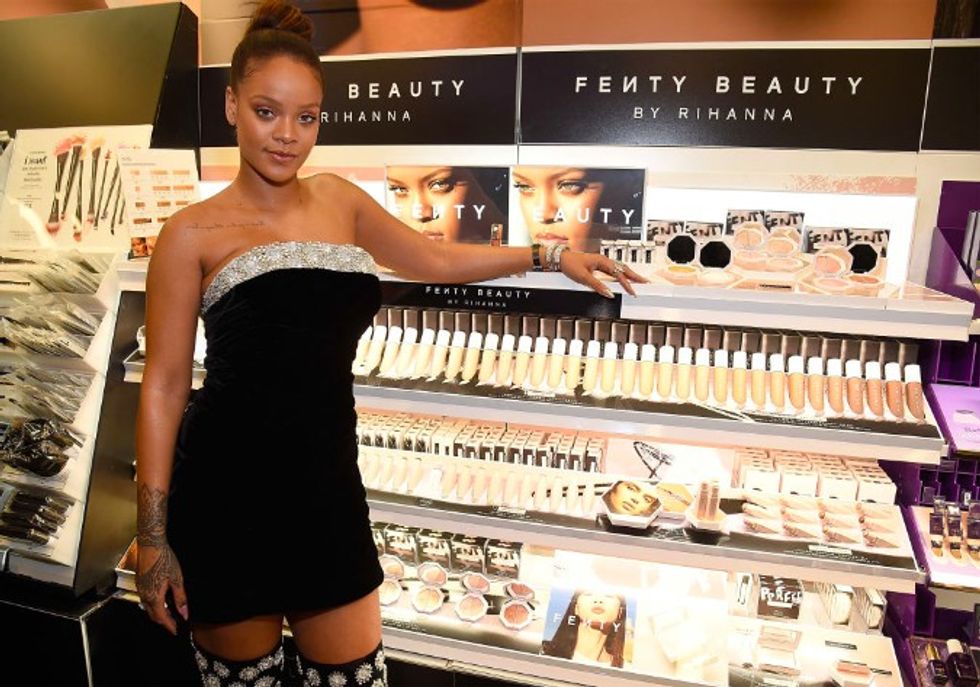 via: Getty
...And the Internet went nuts for it. The hype for Fenty Beauty was real.
Fenty Beauty was released in 1,600 stores in 17 different countries.
Every fan of makeup — and of Rihanna! — rushed to the nearest Sephora to get their hands on the new line. Aside from being designed by a famous musician, there are a few things about the Fenty Beauty collection that truly set it apart.
Although the line also includes face primer, highlighter, and lipgloss, it's the foundation that's been getting the most attention from makeup fans.
The
Pro
Filt'r Soft Matte Longwear Foundation comes in
40 shades.
That's basically double the number of shades available from most other beauty lines. Fenty also makes solid strides toward solving the problem of carrying the correct shade for women with dark skin. In most luxury makeup brands, you're lucky if there's a handful of darker foundation shades. That's not the case with Fenty Beauty, though. And people are noticing —the deeper shades are already completely selling out both online and in stores.
Fenty Beauty products are also 100% cruelty-free.
That's seriously cool. It's so awesome to see a brand that cares about the same issues as the people who use it.
People all around the world have been praising Fenty Beauty (and Rihanna specifically) for creating such an inclusive line.
Rihanna has even already said that she plans to roll out additional shades of foundation, making it even more inclusive. Everyone loves Rihanna and her makeup line. But there's one woman whose Fenty Beauty experience was even more remarkable than most...
This is Krystal Robertson.
As you might imagine, Robertson has had a hard time finding foundations that match her pale skin.
Once the Fenty Beauty foundation was released, Robertson immediately ordered shade #110 and hoped it might finally be her perfect match.
Obviously, Robertson has nothing but praise for Rihanna and her makeup line.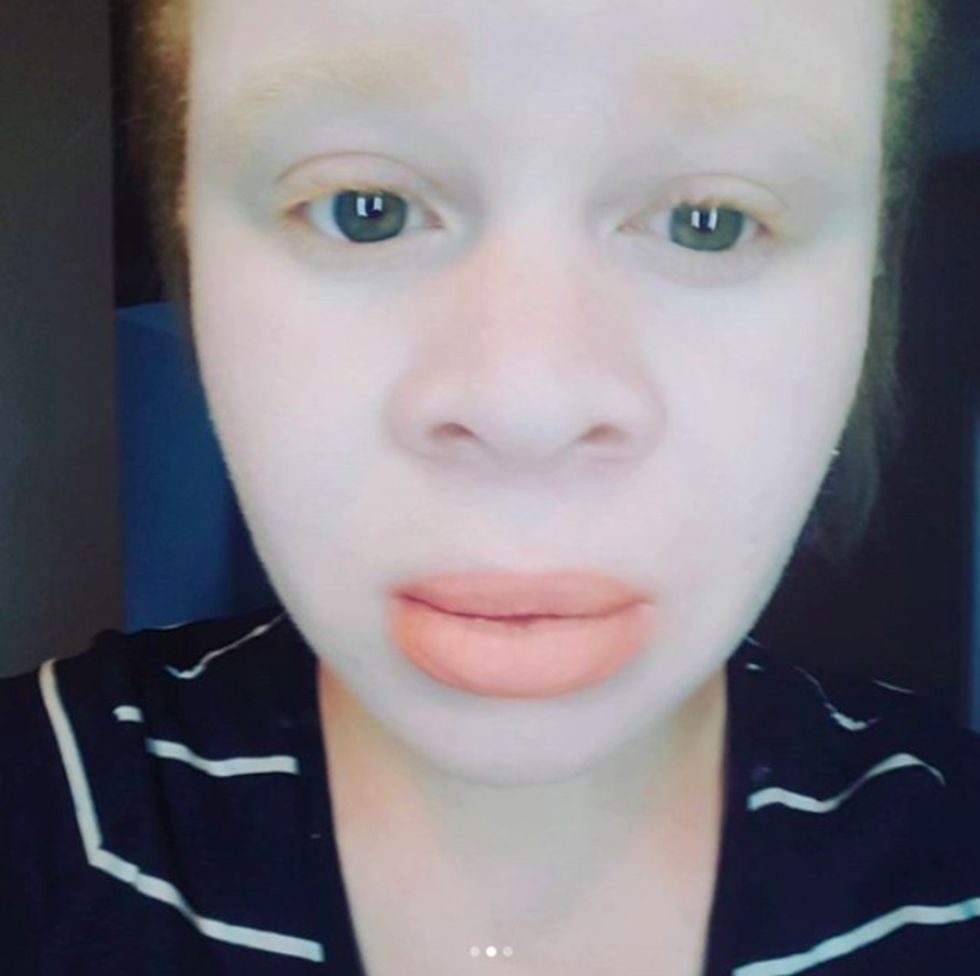 via: Instagram
"It actually means the world that [Rihanna] not only made diverse shades for all women of color but she brought us all together," she said. "When I was in Sephora all the women were doing their swatches and complimenting each other — all skin tones — and giving advice."
People are so impressed with the fact that Fenty has included shades for people on both ends of the skin tone spectrum.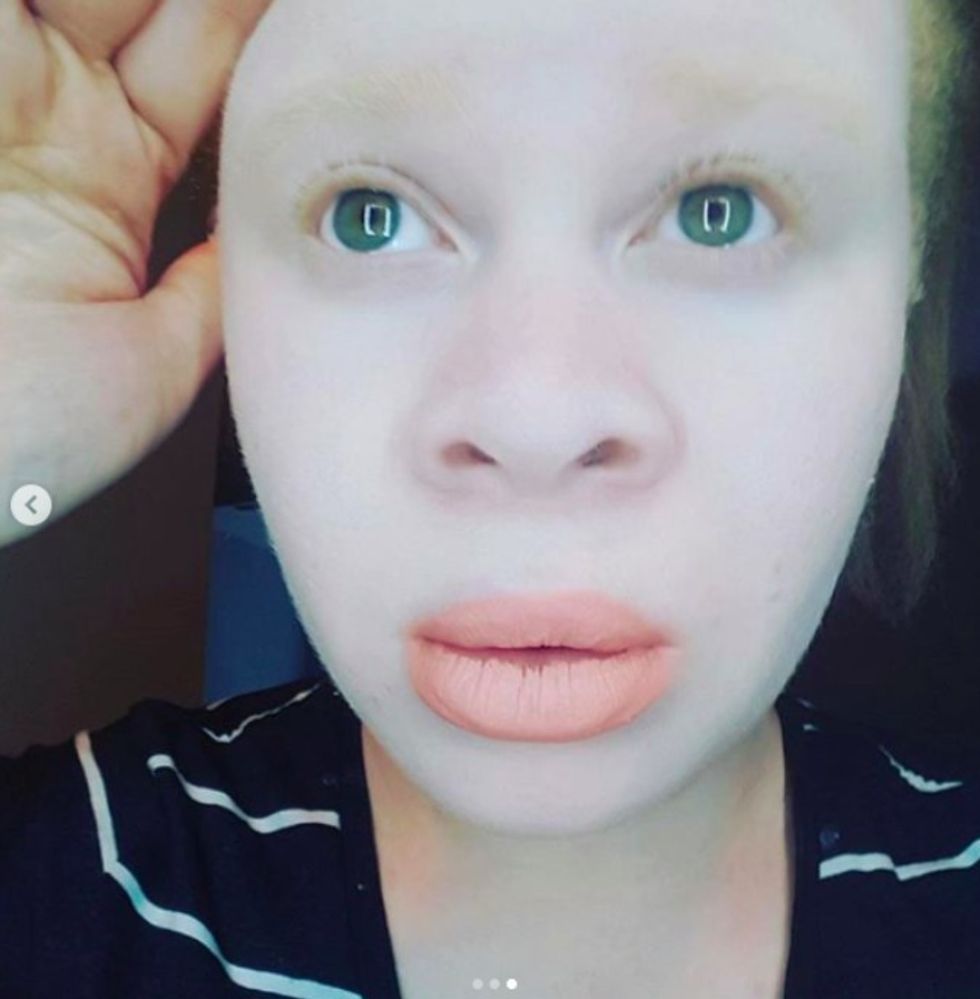 via: Instagram
Robertson's post on Instagram quickly went viral, as did a review she posted on the closed Facebook group BeautyBook. But the ultimate response came from Rihanna herself...
Rihanna shared Robertson's review on her own Instagram Story!
There's only one thing that Robertson would change about her time in the spotlight...
As Robertson put it, Fentything is possible!