Looking to brighten up your space? Lucky for you, Amazon is home to the best beautiful table lamps, available in hundreds of different shapes, styles, and colors.
There's no denying that a new lamp is a perfect addition to spruce up a room, whether it be a bedroom, living room, office, or study. So, if you're wondering why you should purchase a new table lamp, tell yourself this: There's no reason not to! Table lamps allow you to express your personal style while adding more functionality into a room by, quite literally, adding more light. And trust us, there's no such thing as too much light for a home.
Need help finding the best table lamp for you? Check out our favorite picks on Amazon right now.
You will love our editor's curated product picks! FYI: We are an Amazon affiliate partner and may get a share of the sale of your purchase (at no cost to you).
Featured deals
The best deals selected by the 22 Words team for you.
Add a hint of elegance to your home with the OK Lighting Moiselle Table Lamp. This faux crystal-embellished table lamp will illuminate your space in a beautiful and stylish way. It features a unique design, metal base, hanging crystals, spiral glass stem, and double drum shade. Basically, this table lamp has it all.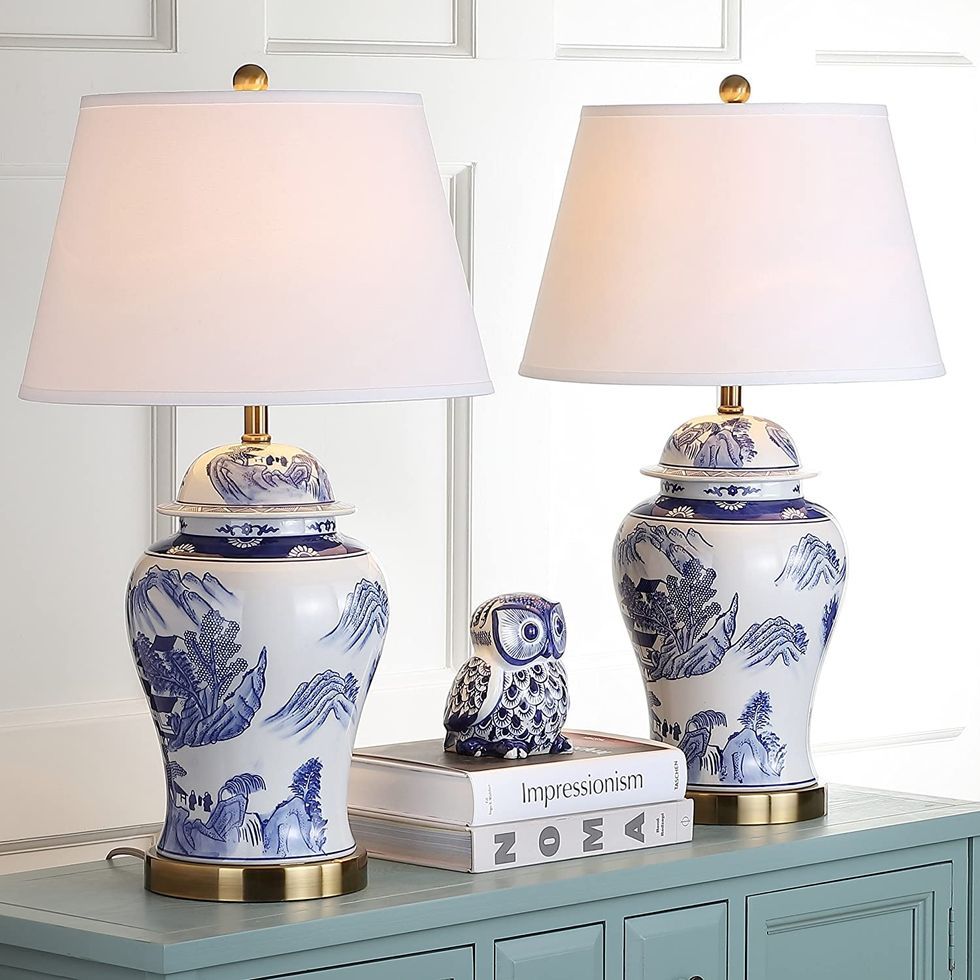 If you don't have at least one blue-and-white accent piece in your home, what are you doing?! All jokes aside, the Safavieh Lighting Collection Shanghai Ginger Jar Blue and White Table Lamp is a classic and chic table lamp option that is sure to spice up your home's interior. Available as a set of two, this ceramic lamp is perfect for the living room, bedroom, study, or office.

If you fancy modern, industrial decor, the Amazon Brand – Stone & Beam Henley Arc Desk Lamp is for you. This gorgeous table lamp features a dual-toned finish in black and brass with a bird-cage-like glass fixture. Even cooler, the clear glass shade showcases the decorative LED bulb.

What's not to absolutely love about the Safavieh Lighting Collection Deco Table Lamp? As one of the best table lamps, this option is perfect for a bedroom, living room, or office. Featuring a trendy PVC look, this table lamp will no doubt add a serious touch of style to your interior decor.

Featured deals
The best deals selected by the 22 Words team for you.
Featured deals
The best deals selected by the 22 Words team for you.
Another great industrial chic option, the Signature Design by Ashley – Samiya Metal Table Lamp features a unique vintage look with a structural metal base and a light top shade. The lamp's base is designed in antiqued black and silver with a distressed finish. As for the lighting, this lamp provides a soft, illuminating hue, making it perfect for a bedroom or study area.

The Ren-Wil Alba Table Lamp is one of our favorite contemporary table lamp options. With a stainless steel-finished, teardrop-shaped body, this table lamp also features a clear cord to help blend in with your furniture. Fun fact! Every original Ren-Wil design is uniquely crafted by hand and is exclusive to the company.

Modern, chic, and stylish: the nuLOOM Home Mcfarlane Table Lamp is an all-around showstopper. Brighten any room with this contemporary table lamp. With a clear base finish, this lamp is sure to become a focal point no matter where you place it. Plus, it'll add ample light.

The JONATHAN Y Alvord LED Glass Lamp is modern, finished with high-end details, and includes a soft-white LED illumination. Designed to brighten your home with warm light, this lamp makes a stylish addition to any area. Even better, the lamp includes bulbs that use 90 percent less energy than traditional options.