If low-carb, high-fat is your jam, you may think you can't indulge in sweets, pastries, or you know, actual jam. But what if we told you that wasn't actually the case? Whether or not you're a pro baker, you can easily turn fat into fuel while eating cake, so long as you have the best keto baking kitchen essentials of 2020 on-hand at all times.
How to bake keto desserts and pastries? Simple: With these 10 keto kitchen essentials (and a few great keto baking recipes), you'll be ready to start cooking. Whip up a delicious selection of keto baked goods like brownies, cookies, cake, and doughnuts – all without breaking your diet.
Before you get started, you have to create the ultimate keto kitchen. Lucky for you, Amazon is prime with every kitchen essential you'll need for your favorite keto-friendly recipes. Here's what should be on your must-have list.
You will love our editor's curated product picks! FYI: We are an Amazon affiliate partner and may get a share of the sale of your purchase (at no cost to you).
Featured deals
The best deals selected by the 22 Words team for you.
First thing's first: Equip your keto kitchen with The Ultimate Guide to Keto Baking: Master All the Best Tricks for Low-Carb Baking Success. It's one of the most comprehensive keto baking cookbooks on Amazon right now. With over 800 positive ratings, create every keto pastry imaginable – including (but not limited to!) marble cheesecake, key like pie bars, maple-glazed doughnuts, and even chewy keto-friendly bagels. All 150 recipes are free of sugar, wheat flour, and other high-carb ingredients.

Craving pancakes for brunch? Us too. We high-key love HighKey Snacks Keto Food Pancake Mix. With only three grams of carbs, this chocolate pancake keto baking mix is diet-friendly and cooks in minutes. Beloved by keto devotees, consider this sugar-free pancake alternative your new weekend go-to.


Unbelievably rich and full of sweet fudge, we can't get enough of this Keto Fudge Brownie Mix by Keto and Co. Keto or not, this keto baking powder is worth having in your kitchen pantry. The best part? It's quick and easy to make. Stir in eggs with butter or oil, bake, and you'll be ready to eat!
undefined


Worried your keto diet will get in-between your love affair with bread? Don't be. The Keto Bread Bakers Cookbook: Keto Bread Bakers Cookbook makes it easy to enjoy your favorite treat, minus the carbs, gluten, and wheat. Packed with keto-friendly recipes, learn every secret behind making the perfect grain-free, low-carb bread with this easy read. Plus, no bread machine required (!!!).


Even the best keto baking recipes need a little extra love. Consider spreading a few scoops of Organic Hazelnut Spread with Cocoa by Pyure on a keto-friendly slice of cake or doughnut. Made with 90 percent less sugar than other leading brands, this naturally gluten-free garnish is smooth, creamy, and oh so tasty. (Pro tip: Layer this spread on your keto-friendly pancakes.)
undefined


Featured deals
The best deals selected by the 22 Words team for you.
Featured deals
The best deals selected by the 22 Words team for you.

Ready to make all of your keto friends jealous? Say hello to SWEET LOGIC Keto Dessert Mug Cake Mixes. Equal parts adorable and yummy, these personal-sized cake mixes are a perfect keto-friendly diet treat for those who are hungry for cupcakes and brownies without the sugar.
undefined



Fact: Not all delicious keto pastries are sweet. So we would be remiss not to mention the Diabetic Kitchen's Gluten Free Cheesy Bread Mix on your must-have list of keto baking essentials. Enjoy this treat morning, afternoon, and night by adding milk, butter, eggs, and cheese. Yep, you just won the keto baking game with this one.
undefined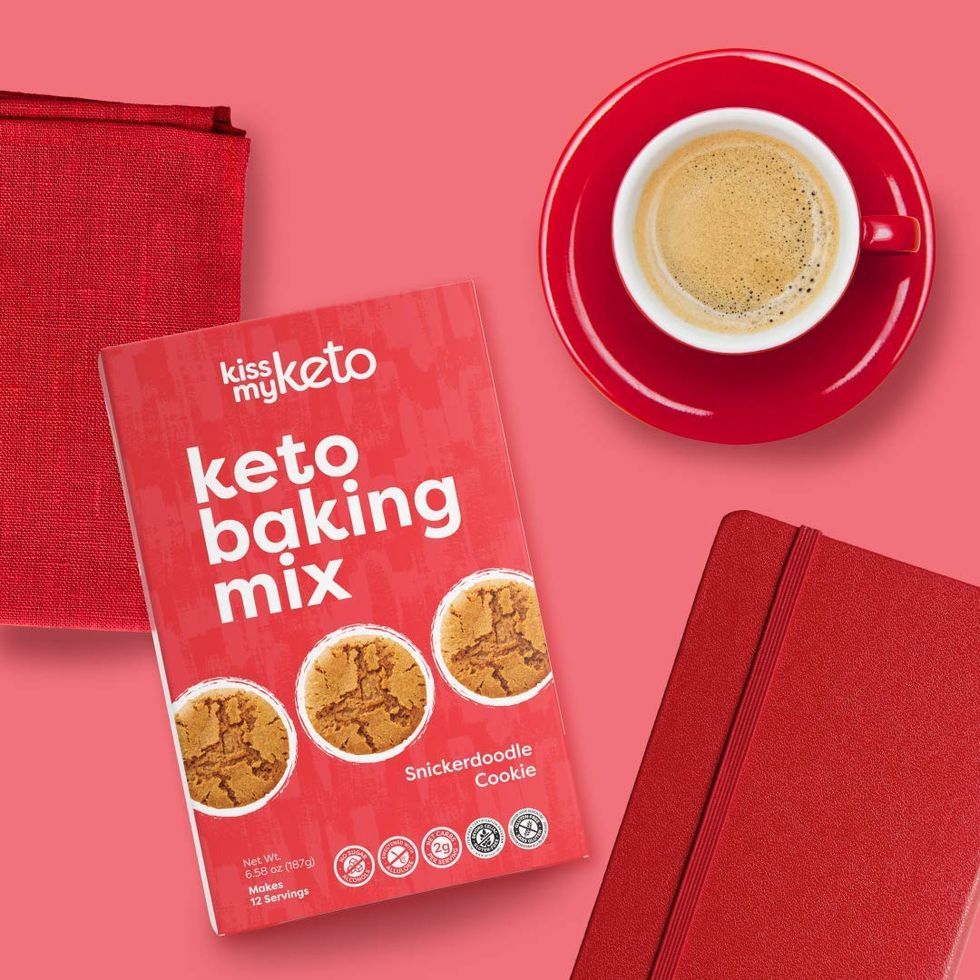 Calling all snickerdoodle lovers! The Kiss My Keto Cookie Mix is an absolute must for your keto kitchen. Each keto cookie contains just two grabs of carbs with no added sugar. That means you can still enjoy your favorite dessert without risking your diet. It's a win-win.
undefined



Low carb and dairy free, Good Dee's Sugar Free Rainbow Sprinkles are the perfect addition to a fresh-baked keto pastry. What sets this sprinkle mix apart is the fact that every bag is made without toxic dyes and chemicals. Hey, maybe sticking with a keto diet isn't that hard after all.
undefined


No keto kitchen is truly complete without a doughnut baking mix. That's where the Diabetic Kitchen Cinnamon Keto Donut Mix comes in. Get the same great taste of bakery-style doughnuts without the sugar and carbs. Add butter, eggs, and whole milk greek yogurt to create the keto dough, and garnish each one with your choice of sugar-free topping. *Orders five boxes ASAP.*