Well, folks, it's official. After months of speculation and Internet sleuthing, Kylie Jenner released a video confirming all of those pregnancy rumors. Not only that, but she's already given birth to her daughter!
As you can imagine, the Internet went wild with the news.
Kylie posted the following message on Instagram explaining why she chose to keep her pregnancy on the DL:
Kylie also posted this video documenting the past nine months:
The video currently has 24 million views. That's especially impressive considering how many comments we get saying "Nobody cares about this family" every time we post a video about the Kardashians on
22 Words
. Looks like some of you care after all, eh? Anyway, here are some of the funniest reactions to Kylie Jenner's big news about her little bundle of joy:
Me: I literally don't care if #kylie is pregnant. Me watching kylie's 11 minuets baby video: https://t.co/UmySG9ZsnI

— 𝓜𝓪𝓻𝓲𝓪𝓶 (@𝓜𝓪𝓻𝓲𝓪𝓶)1517781696.0
Yep, this is way too accurate. If you had asked me on Saturday if I'd spend 11 minutes watching a video about Kylie Jenner, I would have said no. But there I was on Sunday, oohing and ahhing like a real sucker.
January was so long that Kylie Jenner gave birth to the child nobody was even sure she was having https://t.co/LStarbrhBV

— Charlotte Warwick (@Charlotte Warwick)1517777871.0
For real, though.
January has probably been the longest month of all time
. But we made it out the other side, and Kylie Jenner's baby was there to greet us. Worth it? Maybe!

via: Twitter
So many people were impressed at how well Kylie was able to hide her pregnancy. Just last week we were poring over the
latest photos
and wondering, "Is she? She must be. Right? BUT IS SHE?!" Then, as soon as her pregnancy was officially 100 percent confirmed, we changed our tune...
us all pretending to be shocked at Kylie Jenner giving birth even though we been knew. https://t.co/iGLuR6sgla

— pablo escambar (@pablo escambar)1517778665.0
Like, we knew, but we didn't 
know
we knew. But then after it was announced, we were surprised...but not really? Look, it's been a confusing time for all of us.

via: Twitter
The fact that Kylie — one of the most in-the-spotlight humans of all time — was able to hide the fact that she was carrying another human life for the past nine months means that we could be fooled into believing pretty much anything.

via: Twitter
Here's something I never thought I'd be saying: Maybe more people should be like Kylie Jenner. (But if she names this baby "Lip Kit," please forget I ever said that.)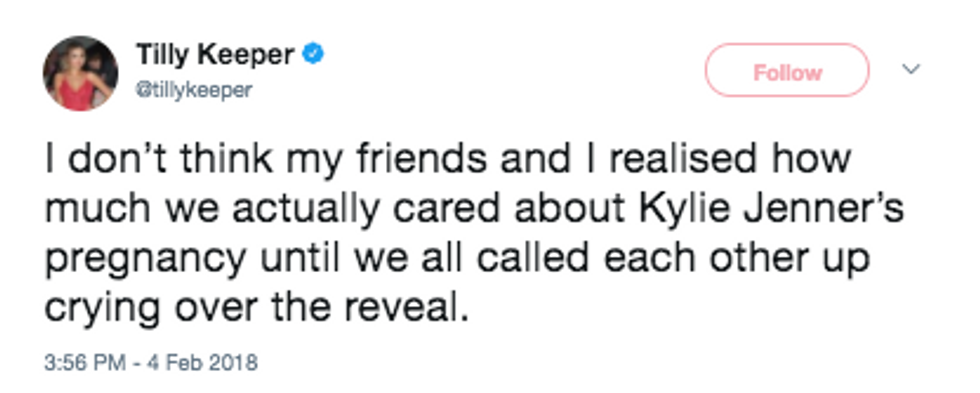 via: Twitter
Say what you will about the Kardashian family, but welcoming new babies to the world is a happy occasion. It's OK if you care about this a little bit. No judgment here.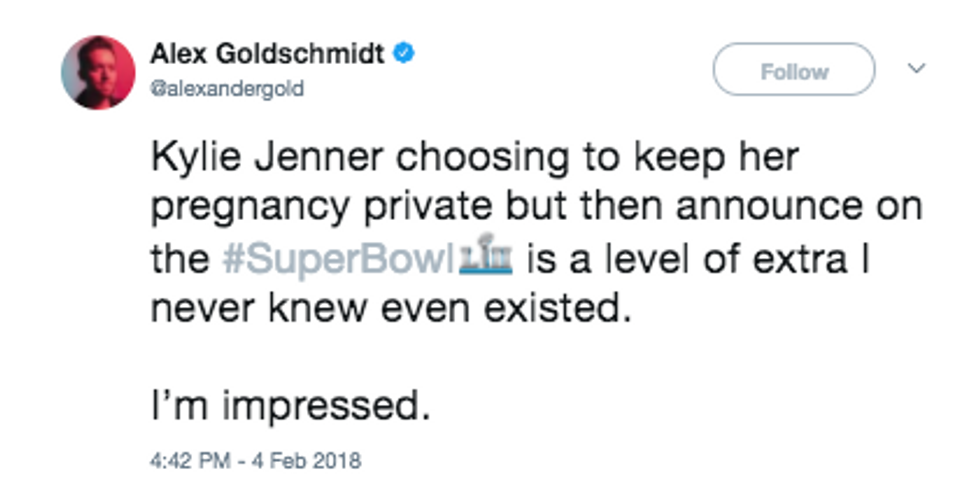 via: Twitter
Honestly, the best part of this whole thing is the fact that Kylie chose (or was told by her mother) to announce her baby's arrival on the day of the Super Bowl. People were quick to point out what a masterclass move that was...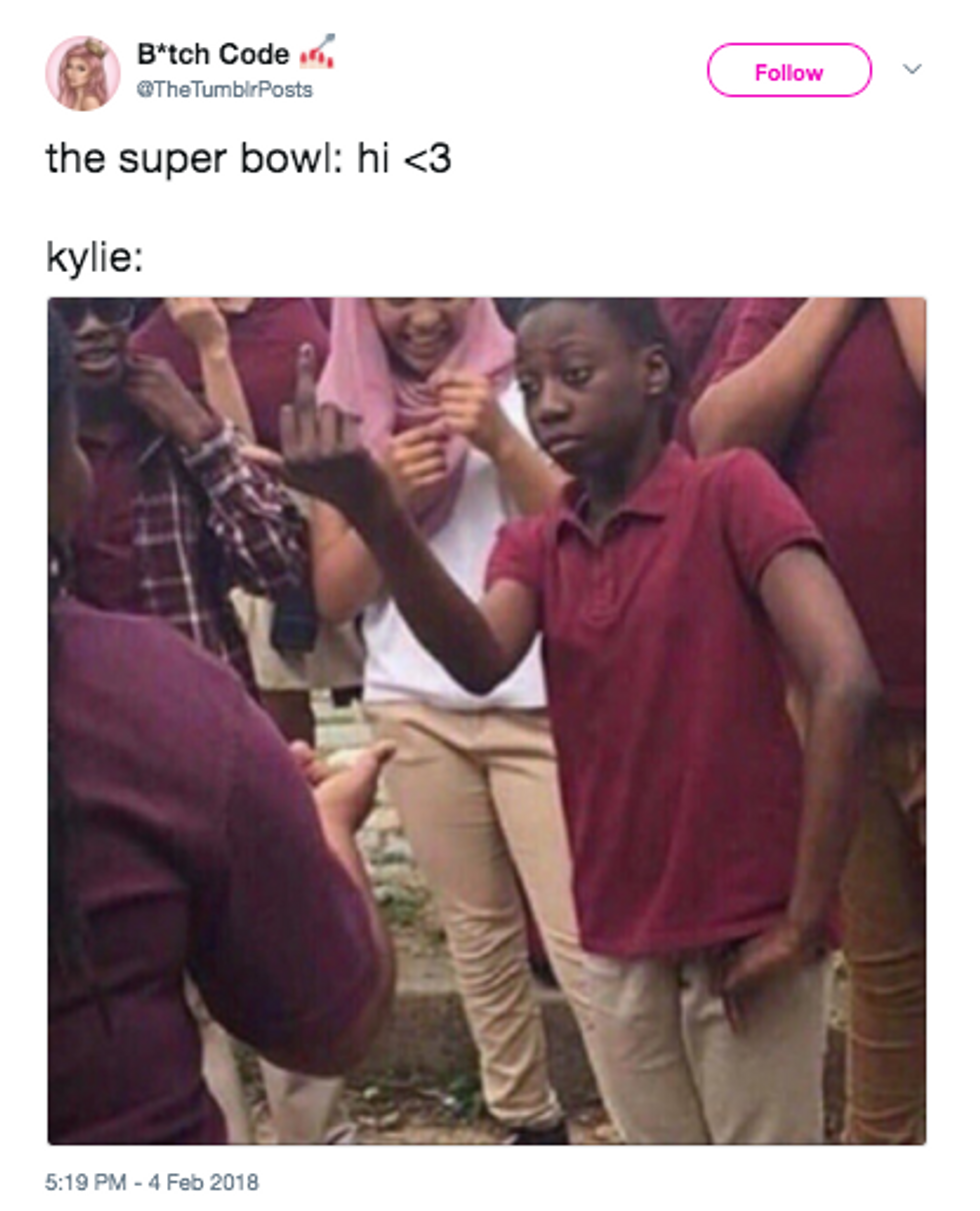 via: Twitter
Looks like Kylie took a page out of Kanye's book. "Hey Super Bowl, Imma let you finish, but I am Kylie Jenner and I just made the greatest pregnancy announcement of all time!"

via: Twitter
As someone who doesn't personally care about football even a little bit, Kylie Jenner's announcement video was one of the day's three highlights. The other two were watching 
The Cloverfield Paradox
and seeing the Patriots lose. (I might not care about football, but, like, I have a heart.)

via: Twitter
It's pretty impressive that a 3-day-old baby whose name we don't even know yet was able to win the Super Bowl, but here we are.

via: Twitter
A lot of us are still reeling from the news. And that's OK. Yesterday really did a number on all of us.
The important thing to remember is this:
That baby is richer than you will ever be. So are all of the Super Bowl football players, for that matter. But let's not think about that. Let's guess what Kylie named her baby instead.