This weekend, American skater Mirai Nagasu made Olympic history when she became the third woman ever to land a triple axel in an Olympic competition. To understand how hard this is, Holly Yan of CNN explains, that though "the axel jump was first invented in 1882... it took more than 90 years for the first man to land a triple Axel. And it wasn't until 1991 that the first American woman landed a triple Axel."
So basically, Nagasu did the impossible.
In celebration of Nagasu's stunning and rare feat, here are seven of the rarest Olympic feats ever.
1. Montreal 1976 - Nadia Comaneci scores a perfect 10
Romanian gymnast Nadia Comaneci was just 14 years old when she did something no one else had ever done before. She scored perfect 10 performances on the uneven bars and balance beams.

The feat was so stunning, the scoreboard couldn't register it because it simply wasn't technically equipped to handle such a feat.
2. Beijing 2008 - Usain Bolt slows down
Has there ever been a more aptly named Olympian than Usain St Leo Bolt? The Jamaican sprinter smashed world records when he dashed to victory in the 100 meters at 9.6 seconds.

Bolt was so fast, he actually slowed down and began celebrating while his competitors huffed and puffed to keep up.
3. Berlin 1936 - American diver Marjorie Gestring becomes the youngest gold medalist ever
In the summer of 1936, American diver Marjorie Gestring was just 13 years and 268 days old when she blasted past her competition to secure the gold in the 3-meter springboard diving event.

Gestring might have repeated her feat again, had it not been for Adolph Hitler. The German fuhrer's machinations led to World War II, which meant both the 1940 and 1944 games were canceled.
4. Berlin 1936 - Inge Sørensen becomes the youngest Olympic medalist ever
At the very same Olympic Games as Marjorie Gestring was Danish swimmer Inge Sørensen, who became the youngest Olympian ever to win a medal when she scored the bronze in the  200 m breaststroke at the age of 12 years and 24 days.

Sadly, neither Gestring nor Sorenson's feat is likely to be repeated in the foreseeable future – the current minimum age of eligibility to compete in Olympic diving is 14.
5. Rome 1960 - Abebe Bikila runs barefoot... and wins
When you've got it, you've got it. At least, that was the case of Ethiopian runner Abebe Bikila, who ran barefoot in the 1960 marathon, and won against all the other hordes of well-heeled competitors.

Bikila wasn't done, however. In the 1964 Tokyo games, he became the first athlete in history to defend a marathon title... and he broke his own record in the process, establishing a new world record of 2:12:11.2.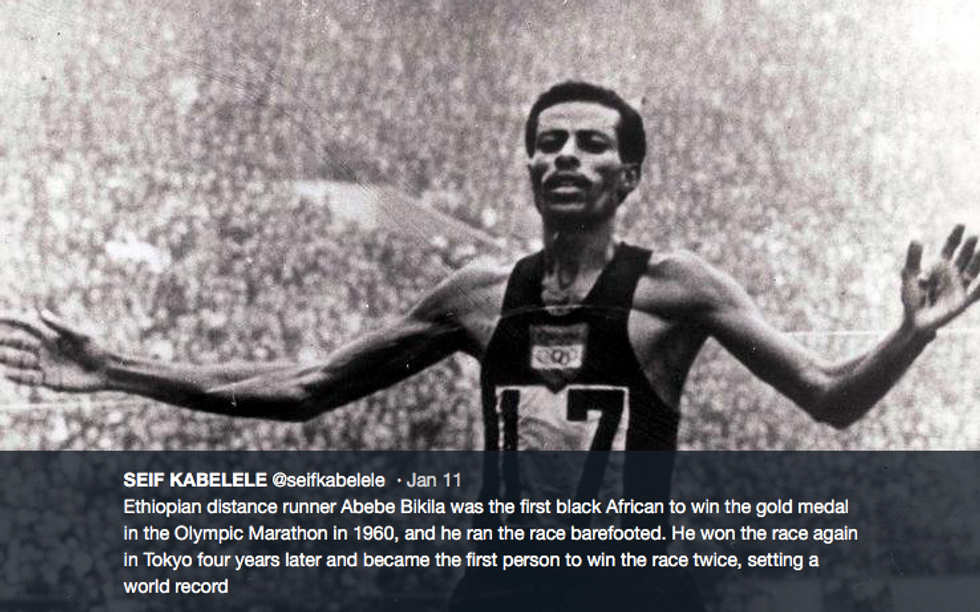 Even cooler, he
told reporters
he wasn't tired, and that he could have "run another 10 kilometres easily." Oh, and this time, he did so in Puma shoes.
6. Beijing 2008 - Micheal Phelps out-swims literally everybody ever
In the summer of 2008, all eyes were on one Olympian – the lanky swimmer Michael Phelps, who floored the Olympic community when he took a record-breaking eight gold medals in one game.

Phelps had already taken eight different medals at Athens 2004, so he was an American star by the time he came back in 2008 to obliterate the previous number of gold medals in a single Games, which had been held by swimmer Mark Spitz.

There's a reason Michael Phelps is known as the "Flying Fish," and the Olympic community lost one of the greats when he retired after the 2016 Rio Games.
7. Mexico City 1968 - Bob Beamon jumps so high the other jumpers give up
American long jumper Bob Beamon broke the records when he jumped a record 29 feet, 2.5 inches at the 1968 Mexico City Games. For comparison, this was nearly two feet higher than the previous world record.

The jump was so astounding, it completely demoralized Beamon's competition, including reigning Olympic champion Lynn Davis, who
said
, "I can't go on. What's the point?"
cataplectic seizure
. No one has ever been able to repeat his feat to date. It's the oldest Olympic record that has yet to be broken.