The Devil Wears Prada is one of those films that just never gets old. With its bleak insight into the harsh world of the fashion industry, its star-studded ensemble, Emily Blunt's widely, well, blunt, lines, and of course, Miranda freaking Priestly, which is without a doubt one of Meryl Streep's most memorable roles, there's no denying the movie's cult classic status.
Though it's based on the book by the same name, many believe, in this rare case, the movie actually topped its printed counterpart, with fans across the globe still reveling in all the movie's fashion-forward glory.
Now, over a decade after its release, there's some exciting news…
The beloved movie is getting the musical treatment and it's set to be everything we've ever wanted.
Keep scrolling to get all the details...
The Devil Wears Prada is without a doubt a cult classic.
The movie, released in 2006, resonated with so many people. Whether you're in the fashion or media industry or even just have an all-out brutal boss, the fashion-focused film won over fans across the globe.
The movie chronicles the harsh reality of the fashion journalism industry.
via: imdb
Big-dreamer, Andrea Sachs (Andy), who's a recent college graduate, manages to land herself a job at a prestigious glossy magazine, edited by the one and only Miranda Priestly, who's
pretty
unbearable and
completely
unreasonable.
As Miranda's assistant, Andy questions if she can survive in the tough world of fashion...
via: imdb
Granted, some of the scenes are a product of
slight
exaggeration, but watching Andy question her own survival, and sanity, as Miranda's whipping girl has made for some pretty iconic viewing.
The movie is based on the best-selling novel by the same name.
via: imdb
Written by Lauren Weisberger, the novel spurred on the production of the film, which many argue actually
tops
the printed version.
One thing that makes the movie so iconic is its star-studded cast.
via: imdb
Starring the fabulous trio of Meryl Streep (how could we forget,) Anne Hathaway, and Emily Blunt (who plays Miranda's way-too dedicated assistant,) the cast is unquestionably iconic.
And it's served us some of the most memorable lines in fashion...
There's no doubt that it's one of the most quotable fashion movies. "Florals? For Spring? Groundbreaking."
Emily Blunt stole the show...
Her fashion-obsessed character who was so desperately dedicated to Miranda served us some brilliant and well, blunt, lines throughout the movie.
Who can forget this moment...
Iconic.
Over a decade after its release, fans are in store for some very exciting news...
In the years since it debuted, there have been countless rumors swirling around about a sequel of some sorts, but this announcement may be even better...
The Devil Wears Prada is officially getting the musical treatment.
Yep, you read that right. We'll finally get to see our favorite fashion film enter the broadway scene.
The musical will give the popular film a "fresh makeover."
via: imdb
According to
Elle
, the official description of the upcoming musical reads: "Andy, an ambitious young writer in New York City, lands a job at a prestigious magazine. Trying to survive under her stylish yet terrifying boss, she finds herself caught between the dreams she thought she wanted, and the cost of what that reality brings. A joyous, funny, and - of course - ultraglamorous story about navigating life's runway to discover where you're meant to be."
"The Devil Wears Prada
 is a new musical that gives the hit film a fabulously fresh makeover. Sometimes the best fashion statements are sung."
It'll be making its debut in Chicago.
via: imdb
The show will kick off its out-of-town engagement by heading to Chicago's James M. Nederlander Theatre on July 14, 2020, followed by a string of shows running until August 16.
The musical will then presumably kick start its Broadway stint in New York City.
There's currently no word on the cast, including who'll be taking over the famed roles of Miranda and Andy. What we do know is that is will be directed by Tony winner, Anna D. Shapiro, with a book written by Paul Rudinick.
But there's another exciting part of the announcement...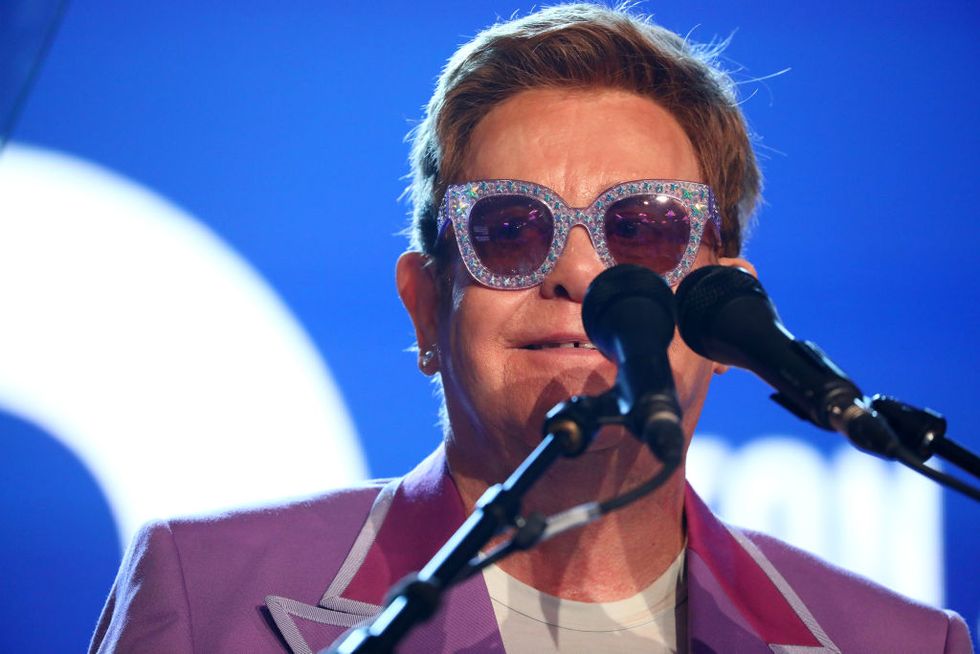 via: Getty Images
Singing legend, Elton John, is
confirmed
to have signed on to create the music for the show, which is a
whole
other reason in itself to grab tickets (if you even needed another one.)
We can't wait to see which of the many iconic quotes will turn into sing-a-long versions.
The thought of hearing "that's all" in a musical sense is possibly the best thing ever.
Tickets go on sale very soon.
Tickets for the Chicago run will go on sale 
October 6
. In the meantime, keep scrolling to learn about another exciting musical that'll be hitting broadway. Hint: it
somehow
involved pop princess, Britney Spears...