Time's Up and #MeToo were the themes of the night for the attendants of the 75th Golden Globe Awards, but that wasn't exactly the case for the people running the show behind the scenes.
Actresses in black spoke up for abuse victims at every juncture of the broadcast from the red carpet to the last speeches of the evening. But there were several moments from the show that just reiterated that while this was a step, it was only a step — the beginning of a movement that still has a lot of work to do.
The women of Hollywood showed up as a united front to the Golden Globes on Sunday evening, and it was definitely a sight to behold.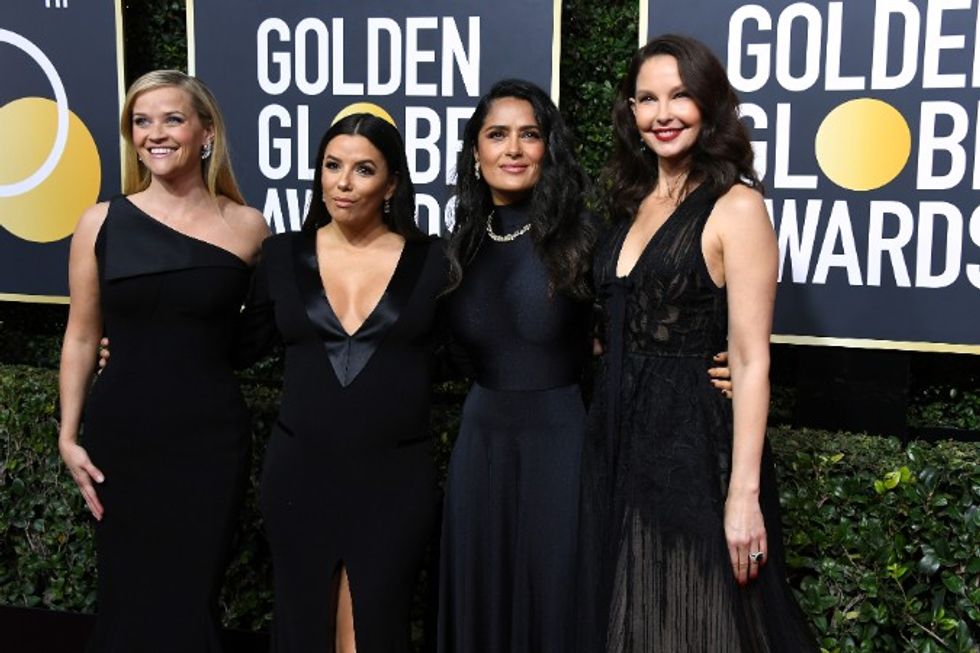 via: Getty Images
Many actresses took along women's rights activists as their dates. Laura Dern was accompanied by Mónica Ramírez, an activist and advocate for Latina farmworkers and immigrant women. Michelle Willams brought along Tarana Burke — founder of the #MeToo movement.
Many men also wore all black and sported Time's Up pins in solidarity.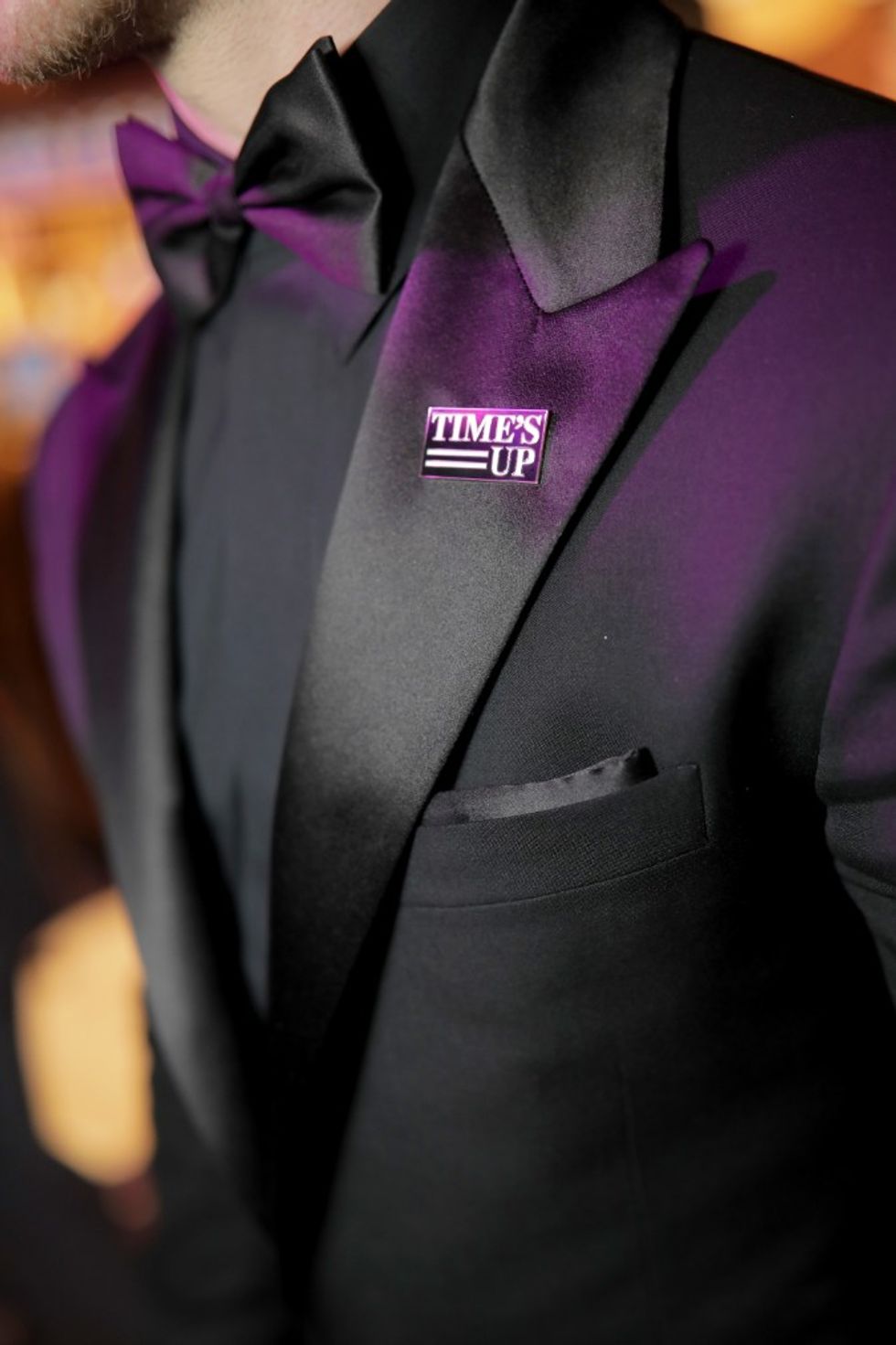 via: Getty Images
While the general mood of the evening was one of empowerment and triumph, there were several moments looking back that left a sour taste in our mouths.

For example, while many men wore the pin,
very few actually used their voices
to speak out and lend their support for the movement. This movement isn't about only women standing up for what's right. It's about men acknowledging that the systems that have put them in positions of power were designed to keep women out. It's about men 
and 
women knowing — and expressing publicly — that it's time for change.
In many ways, the Golden Globe Awards proved that we still have a long way to go.
It's bonkers that Aziz Ansari is one of the only Asian American actors to win a Golden Globe in television in the last three decades. It's unacceptable that 2018 was the first year a black man —
Sterling K. Brown
— took home the Golden Globe for Best Actor in a TV drama.
It is a sad, ironic twist that on a night where women were so celebrated, the woman who directed the Best Picture of the year wasn't even nominated for Best Director.
Let this sink in: Greta Gerwig directed her lead actor to a Golden Globe win Greta Gerwig directed the film that w… https://t.co/rWZOUnf53J

— Andrea Chalupa 🇺🇲 (@Andrea Chalupa 🇺🇲)1515384092.0
Barbra Streisand, as she said on the Golden Globes stage, was the last woman to win the award for Best Director, and that was 34 years ago, in 1984, for 
Yentl.
But perhaps the most shockingly hypocritical moment of the evening was when Kirk Douglas received a standing ovation for his life's work...
Catherine Zeta-Jones, wearing black, led 101-year-old Kirk Douglas on stage during the Golden Globes.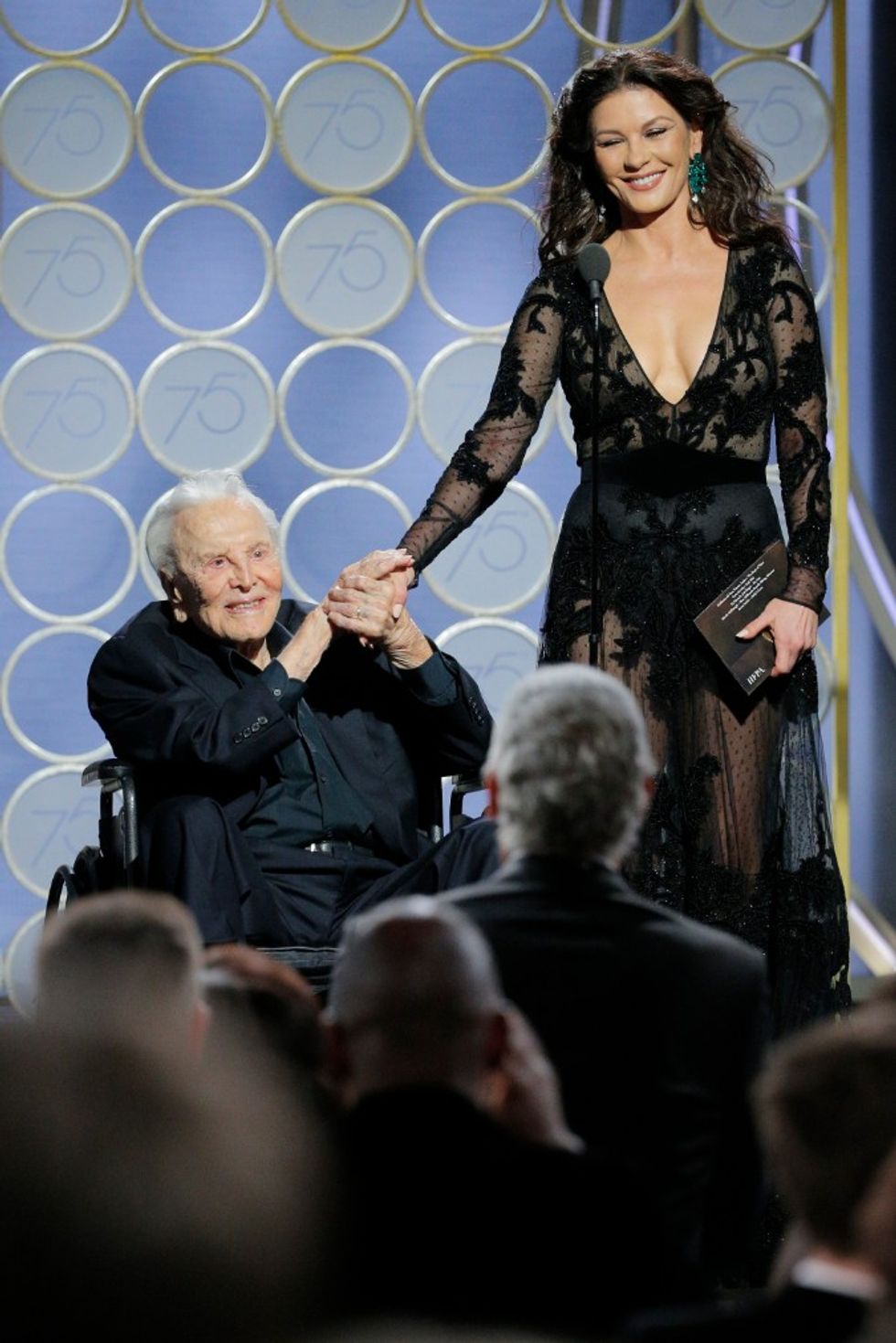 via: Getty Images
She spoke about his extraordinarily long-lived career in the movie industry. He then received a standing ovation and a special honorary award. There's only one problem with that...
Kirk Douglas has long been rumored to have raped Natalie Wood when she was 16 years old.
It's one of those
long-talked about incidents
. A relic of the pre-Harvey Weinstein reality that women in Hollywood had to endure for decades upon decades.
On a night where the prevailing attitude was, "Time's Up!" they gave time to an alleged rapist.
The rumor that Kirk Douglas repeatedly raped Natalie Wood is one of those Hollywood open secrets, the kind that everyone knew about but never mentioned for fear of retribution.
It's possible, probable even that not everyone in the room at the Golden Globes was aware of this rumor when they stood to honor Douglas.
Kirk Douglas is a well known sexist, who brags about groping women in his memoir. He brags about sexual assault and… https://t.co/BihP5ojNMf

— scorsexy (@scorsexy)1515379002.0
But the Hollywood Foreign Press, the people who organized the show, must have. And they didn't feel like women standing up against sexual predators was a worthy enough cause to remove alleged rapists from the schedule.

This is just indicative of what women are up against. The culture of harassment and assault are so ingrained in the industry that even on a night where women expressly showed up to make the statement that they will not be silenced, the systems in place didn't take them seriously. This disregard for women isn't new though, and it isn't going to stop the strong women we saw last night, nor the many that we didn't see, from fighting for their rights.