Today marks sixteen years since Friends was officially brought to an end.
But, despite the show ending all those years ago, Friends still stands today as one of the most-watched and most-loved TV shows of all time. However, people remain divided as to which moment from the series is the best...
Keep scrolling to relive some of the very best, and to decide which of these iconic Friends moments should come out on top.
May 6th, 2004, was a sad day for the world.
via: IMDB
Sixteen years ago on this date, the final episode of
Friends
aired, and our lives just haven't been the same since.
We watched tearfully as Monica and Chandler welcomed the birth of their twins...
via: IMDB
As Phoebe and Mike became set to live happily ever after and,
of course,
as Rachel got off the plane to declare her love for Ross.
It had been a whirlwind ten years for both the cast and die-hard fans of the show.
via: IMDB
Over ten seasons and over 200 episodes, the world had grown to fall in love with the
Friends
gang, and we were
not
ready to see them leave.
Friends still remains as one of the most binge-able series of all time...
via: IMDB
And we are
far
from growing bored of it.
But, over the years, one debate has raged on...
Which is the best, and most iconic Friends moment of all time?
Now, there are many strong contenders...
But there are just too many to pick only one. So I have put together a list of, what most of us believe to be, the most iconic moments out of the entire ten seasons. Keep scrolling to see if your favorite moment made the cut...
Ahh, unagi.
Let's start with an undeniable classic. In season 6, Ross decides to give Rachel and Phoebe a little lesson in the art of "total awareness", unagi... Or a salmon skin roll.
Seven.
In season 4, Monica teaches Chandler how to properly satisfy a woman...
By drawing a diagram of all seven erogenous zones on a woman's body. This scene has been the source of much speculation over the years... What exactly is "seven"?!
When Ross and Rachel were on a break.
Any veteran Friends fan will have had long, drawn-out arguments about this one... Where Ross and Rachel really on a break? Disclaimer: They definitely weren't.
When Ross says "Rachel."
Chandler's on-off girlfriend, Janice.
Now, Janice is an icon in herself... As is her cackling laugh and dramatic "Oh. My. God!"
Paper! Snow! A ghost!
In season ten, Joey enters a game show in which he is asked to answer the riddle, "can be put in a coffee or on your sandwich"... Queue this legendary response.
When a co-worker ate Ross' sandwich.
"You ate my sandwich?" It's season 5, and Ross is enduring his second divorce. Things are rough, and the only light in his life is Monica's special turkey sandwich... Which a colleague eats, thus sending Ross into a highly publicized (and quite hilarious) meltdown.
Ross' leather pants.
At the end of season 5, Ross attempts to get his life back together by going on a date with a gorgeous woman... And wearing leather pants, which shrink in the heat, get stuck around his ankles, and get covered in talc. An iconic moment in the disastrous love life of Ross Geller. g
When Rachel put beef in the trifle.
In season 6, Rachel took it upon herself to make an English trifle for Thanksgiving. But, little did she know that she had accidentally made a disgusting hybrid between a trifle and a cottage pie... The gang still forced the ghastly desert down anyway.
Whoo-pah!
In season 4, Chandler attempts to make fun of Ross being "whipped" by his fiance, Emily, by mimicking the whipping noise rather badly... Whoo-pah!
Smelly Cat.
A song that occurs through all ten seasons, "Smelly Cat" is a Phoebe Buffay classic.
Phoebe's lobster theory.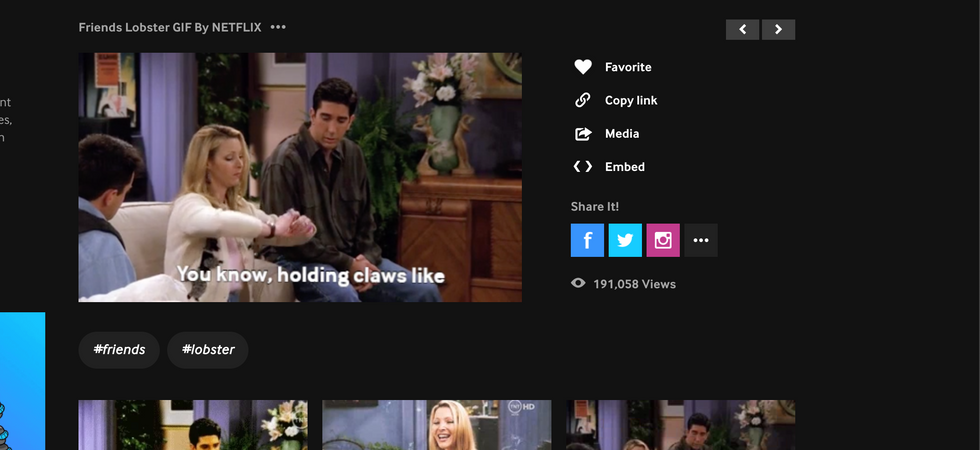 When urging Ross to pursue Rachel, Phoebe compares him to a lobster, a sea creature which "falls in love and mates for life." Apparently, Ross is "Rachel's lobster."
When Chandler and Joey win the apartment.
For me, this is a winner. In season 4, Chandler and Joey challenge Rachel and Monica to a quiz to test which couple knows the other better... And, of course, they bet that whoever wins can live in the best apartment. Spoiler: The guys win.
When Chandler and Joey move into the apartment.
Upon beating the girls in the quiz, the guys proceed to move their stuff in with much glee... Including this rather hideous ceramic white dog statue. Did I mention that this is the greatest Friends episode of all time?
All of the flashback episodes.
No matter which episode it is, every single flashback moment to the gang's teenage years is priceless.
Fat Monica.
I know this comes as a part of the flashbacks, but fat Monica deserves her own recognition. Monica famously lost a load of weight in her teenage years, but fans revel at the sight of the plumper, teenage Monica from time to time.
When Chandler and Monica start their secret affair.
At Ross and Emily's disastrous wedding, a drunken relative mistakes Monica for her mother, so she does what any reasonable person would do... Gets drunk and falls into bed with Chandler Bing. But this drunken one-night-stand develops into a very secretive relationship, which they hilariously hide from the rest of the gang for the full season.
When the girls find out about Monica and Chandler.
This is a god-tier episode... Rachel and Phoebe eventually find out about Monica and Chandler's secret affair, thus making the "messers become the messees."
The Chandler Bing dance.
After Chandler finds out that he is "better in bed than Richard", he jumps on the table and performs this eye-opening dance. It's a truly dreadful dance move, but has proven to be a classic on the dancefloor over the years.
"The routine."
On the topic of amazing dance moves, in season 6, the Gellers make it onto Dick Clark's New Year's Rockin' Eve TV show where they resurrect their high school dance, "the routine."
Pivot!
Who can forget this moment in season 5 when Ross attempts to move his new couch into his apartment? Of course, several flights of stairs got in the way.
When Will comes to Thanksgiving.
Brad Pitt makes a guest appearance as Ross' high school friend and fellow dinosaur geek, Will, in season 8. But, like Monica, Will was overweight in high school, and was picked on by Rachel, who he has developed quite the vendetta for over the years.
Bamboozled.
In season 8, Joey auditioned to host a game show called "Bamboozled", and no one could understand the rules. To this day, we're still scratching our heads.
When Ross became an 8.
In the tenth season, Ross treats himself to a little spray tanning session... Only to accidentally get sprayed a couple of shades too dark, resulting in the famous phrase, "I'm an 8!"
When Danny Devito was a stripper.
In season ten, Danny Devito stars as "Officer Good-Body", Phoebe's last-minute bachelorette stripper. No words are needed - His performance is nothing short of iconic.
And, last but not least...
When Rachel got off the plane. Did your favorite moment make the cut? However, not all comments on Friends are so positive these days. Millennials have been watching the series, and they have some serious issues with it...