Every state has beauty and splendor that natives are ready to boast to others about.
That's not what we're talking about here today.
No, Mandatory picked out the most "What the heck?!?" things from each and every state, so today we're talking about a building that looks like the male anatomy, nuns, and a giant toilet you can throw your family into.
What more could you ask for?
Alabama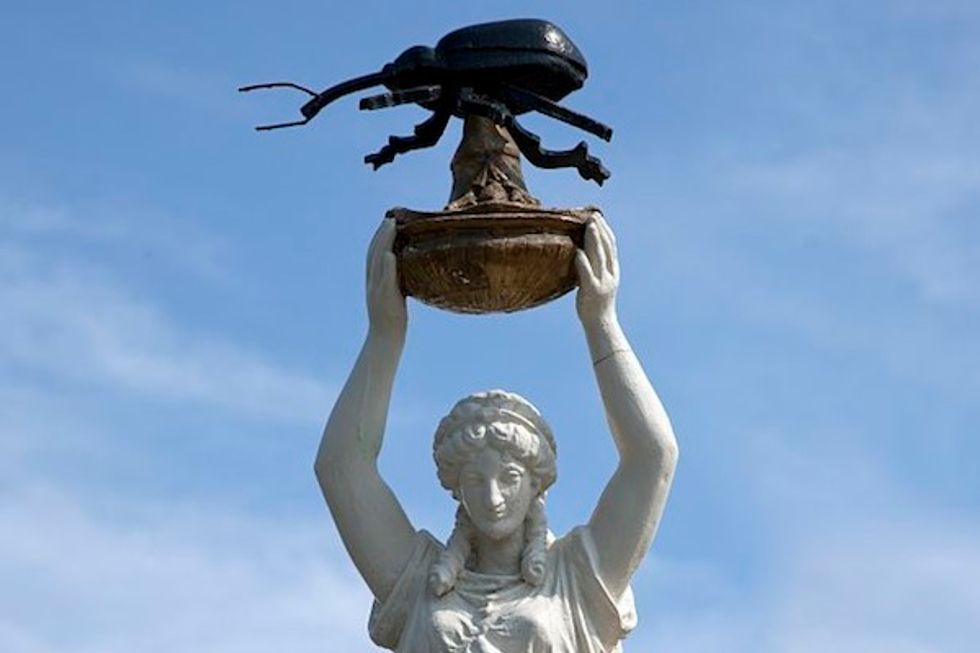 Boll Weevil Monument (Enterprise)
Hailing the beetle as a "herald of prosperity," it stands as the world's first monument built to honor an agricultural pest.
Alaska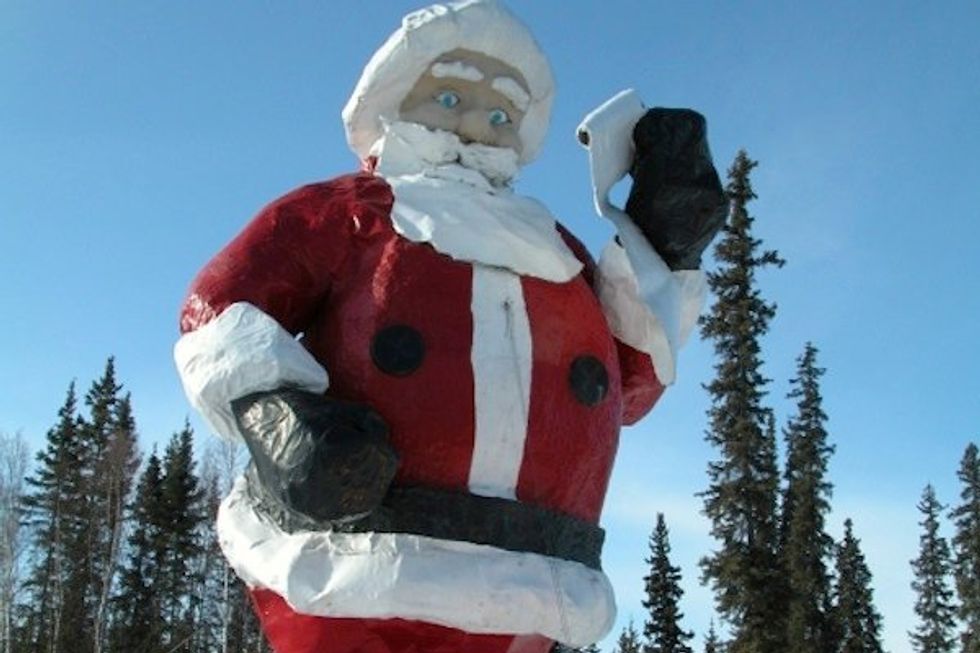 The World's Largest Santa (North Pole)
He's 42-feet tall, and while it's not the North Pole you're thinking of, that doesn't mean Alaska won't try to cash in.
Arizona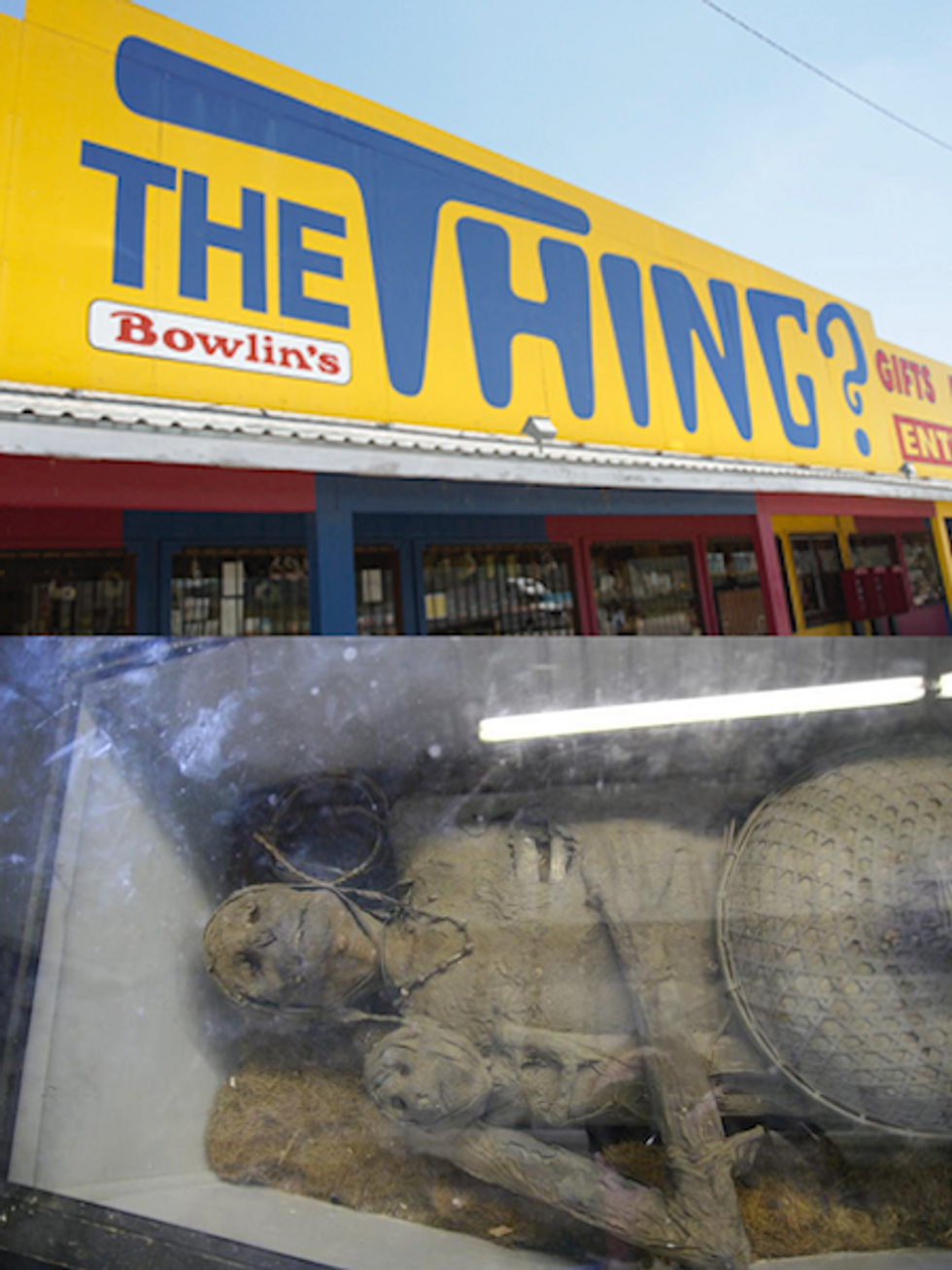 The Thing (Benson)
The object, supposedly a mummified mother and child, is believed to have been made by exhibit creator Homer Tate for sideshows.
Arkansas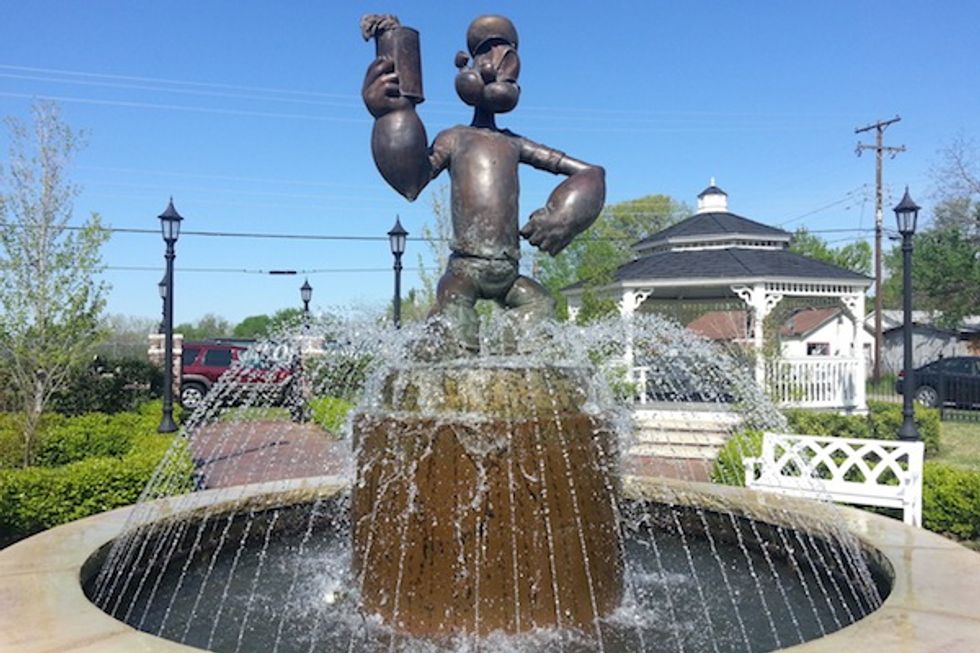 Popeye (Alma)
Alma has proclaimed itself "Spinach Capital of the World," so it's no wonder they have a thing for the big guy.
California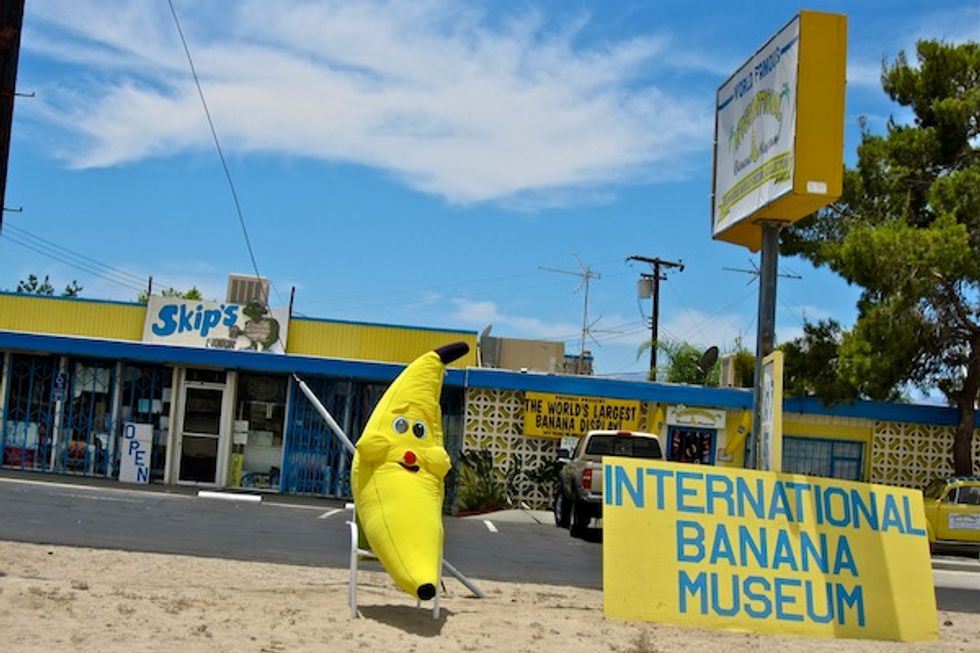 International Banana Museum (Mecca)
If this a-peels to you, they have over 20,000 banana related items to marvel at.
Colorado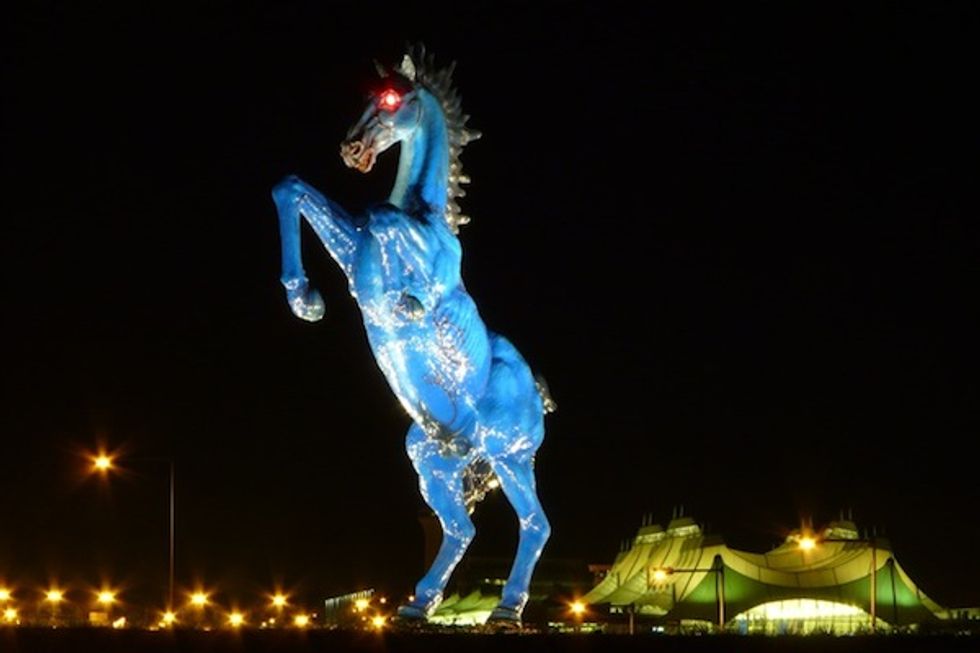 Blucifer, The Creepiest Horse in the World (Denver)
Behold a 32-foot, 9,000-pound, electric blue, anatomically correct fiberglass sculpture of a rearing horse situated along Peña Boulevard, the main road to the airport.
Connecticut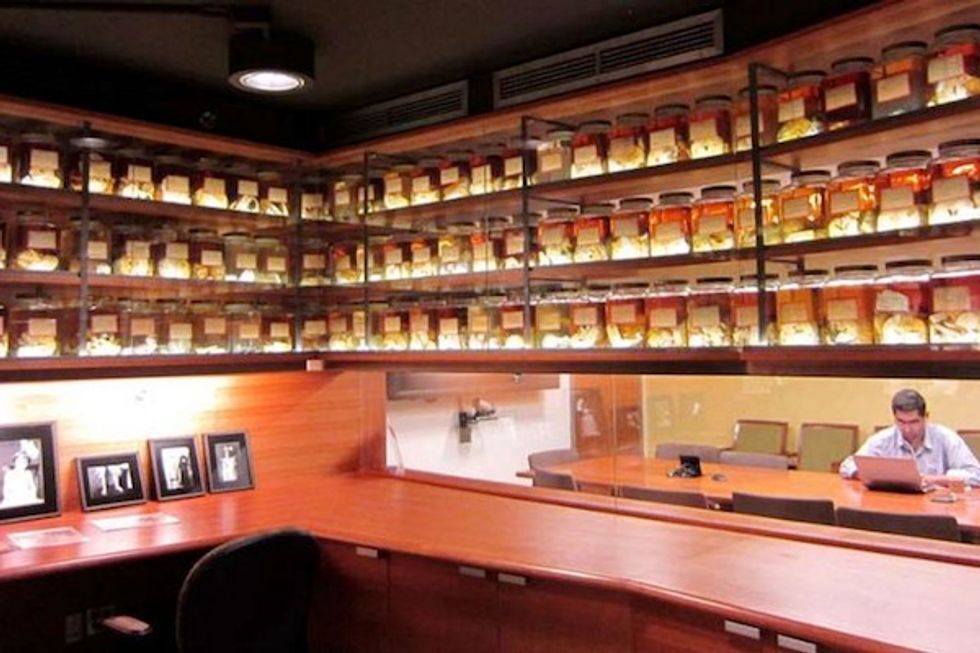 Cushing Brain Collection (New Haven)
Hundreds of gently lit jars holding tumor-ridden brains line the walls of the Cushing Brain Collection, assembled by the pioneering neurosurgeon Harvey Cushing in the early 20th century.
Delaware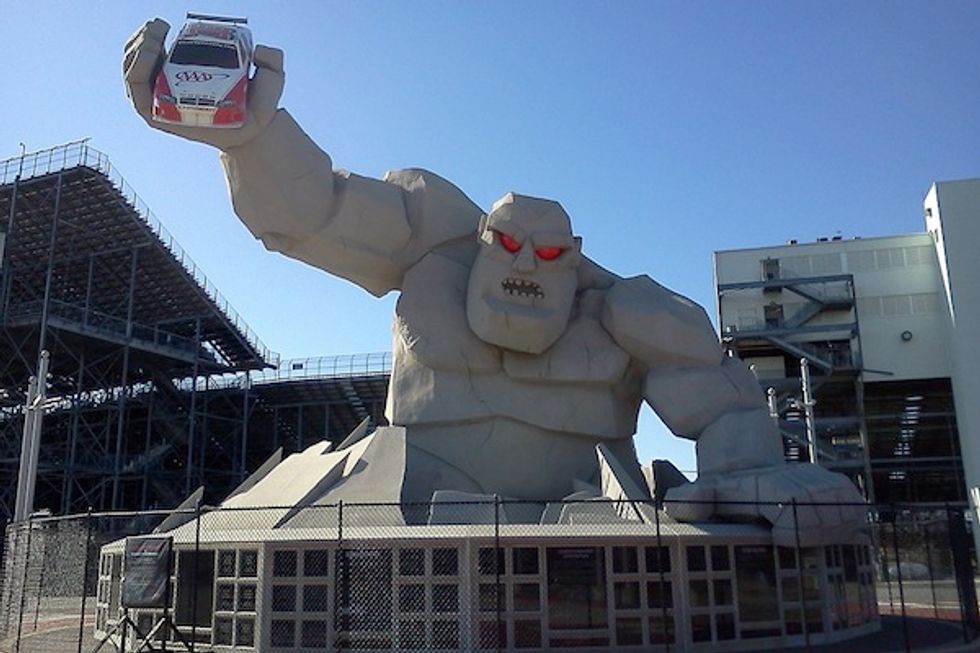 Miles the Monster (Dover)
The high-banked concrete oval at Dover International Speedway is known as "The Monster Mile," so it make sense that its management would build a giant monster as its mascot.
Florida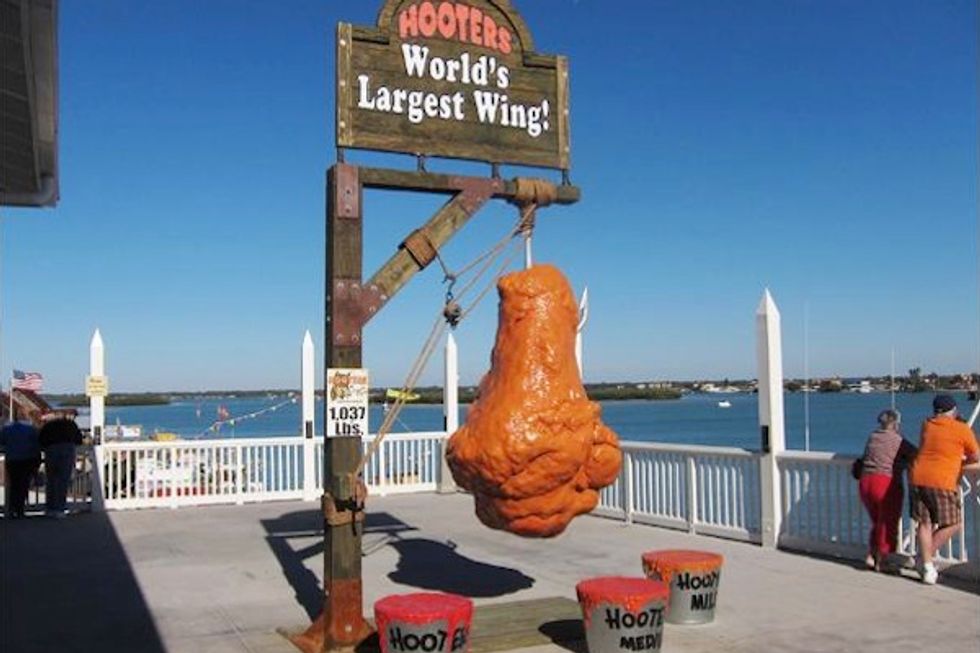 World's Largest Chicken Wing (Madeira Beach)
A half-ton chicken wing hangs from a fishing hook on a 14-foot-tall crossbeam, over buckets of mild, medium, and hot sauces.
Georgia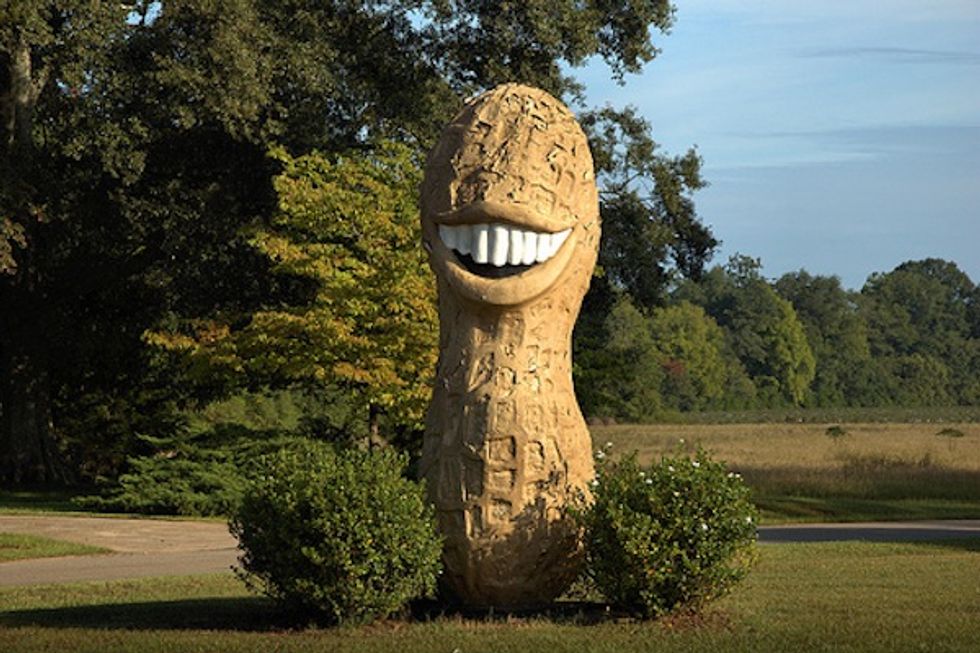 Jimmy Carter Peanut Statue (Plains)
At thirteen feet tall, it was made by three Indiana residents for a 1976 political visit to Evanston by Jimmy Carter. The hollow sculpture's framework is a series of wooden hoops covered with chicken wire, polyurethane and aluminum foil.
Hawaii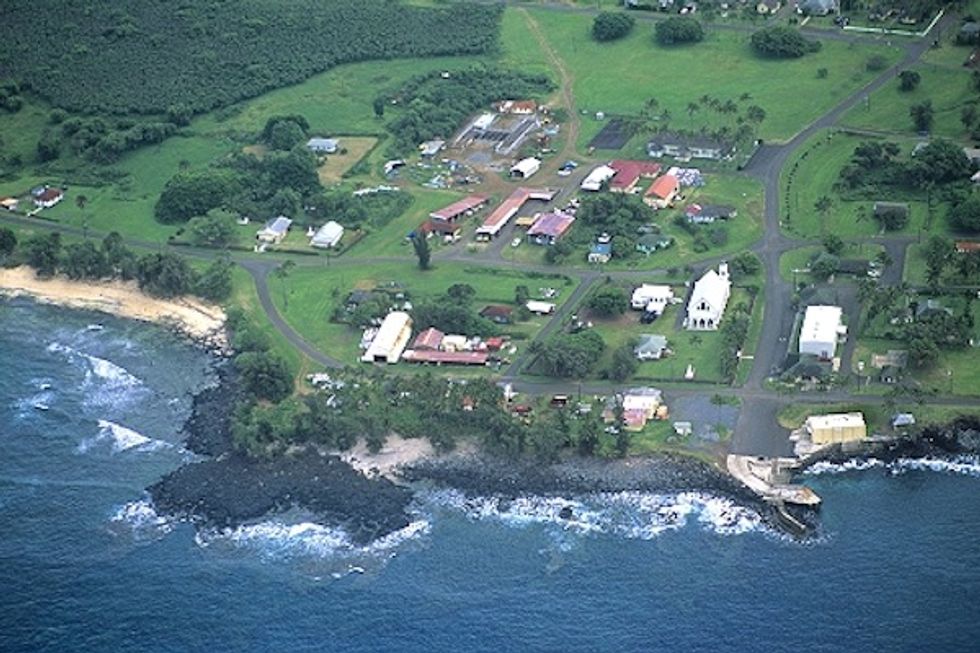 Kalaupapa Leper Colony (Kalaupapa)
Just 16 leprosy patients remain at Kalaupapa, a remote community on the Hawaiian island of Moloka'i that has housed thousands of lepers since the 19th century.
Idaho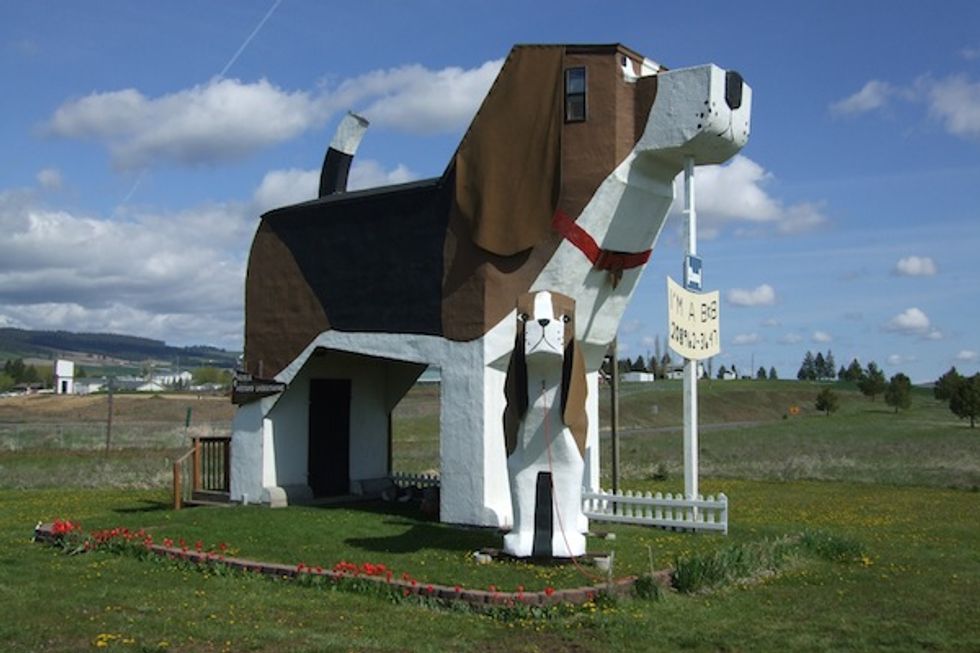 Dog Bark Inn (Cottonwood)
The hotel, which is located in north central Idaho, is a two-bedroom B&B which also features dog-themed contents.
Illinois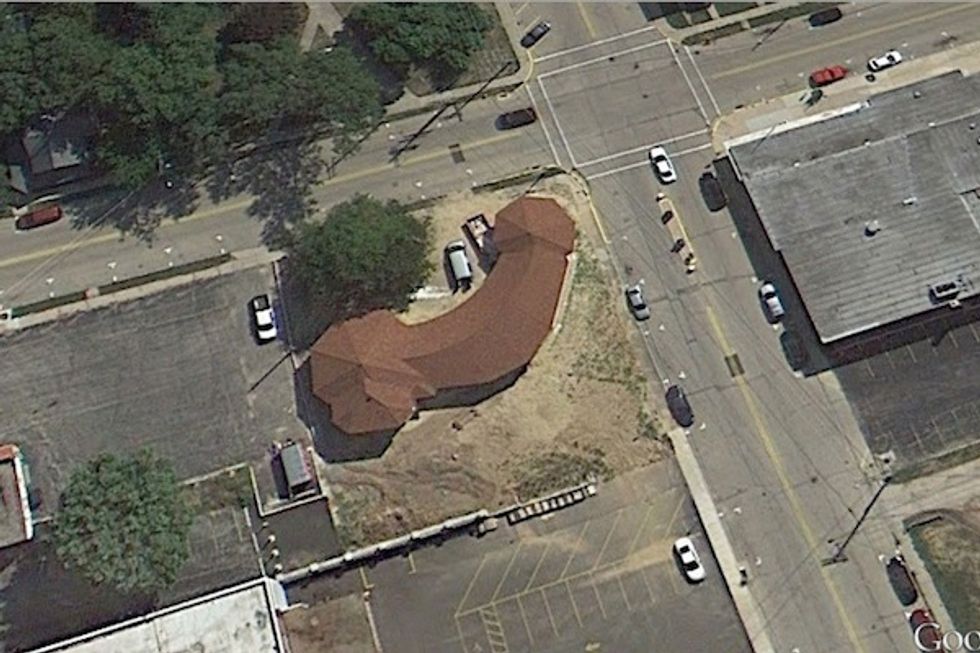 Christian Science Society (Dixon)
If you couldn't tell, this is a church that looks like penis from the sky. Let's move on.
Indiana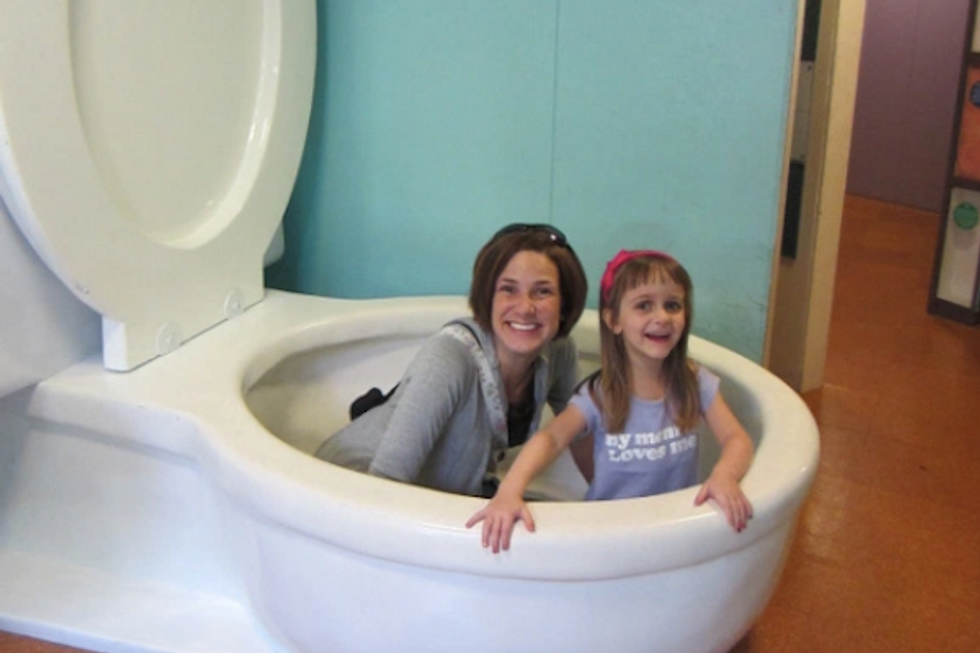 World's Biggest Crapper (Columbus)
It's actually housed in a children's museum, and guests can well, take a load off...and take a few quirky pictures.
Iowa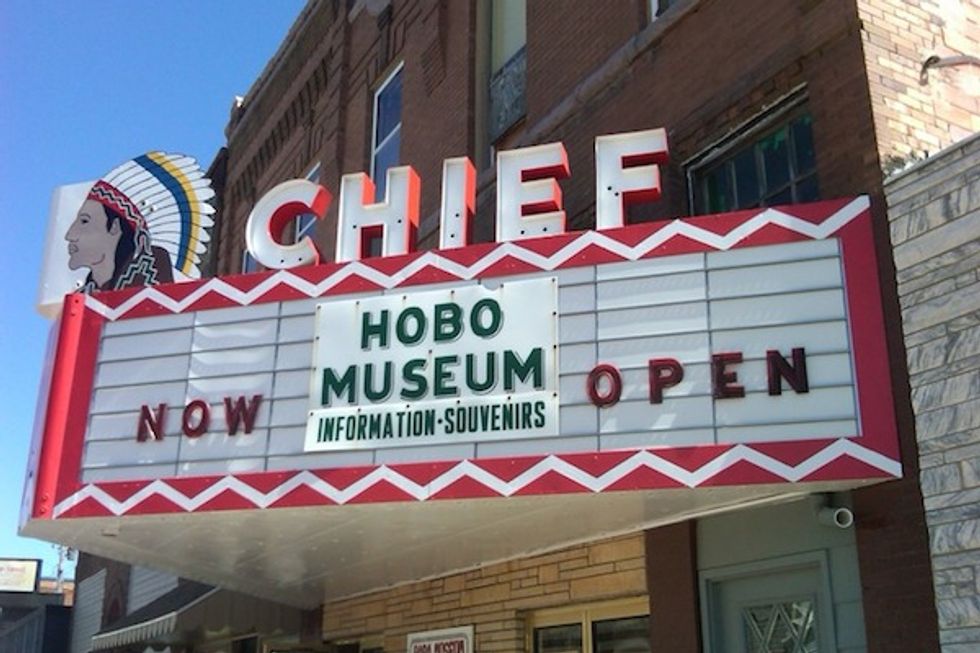 Hobo Museum (Britt)
A museum dedicated to the hobo life and the National Hobo Convention held in Britt each year. I imagine the dress code is casual.
Kansas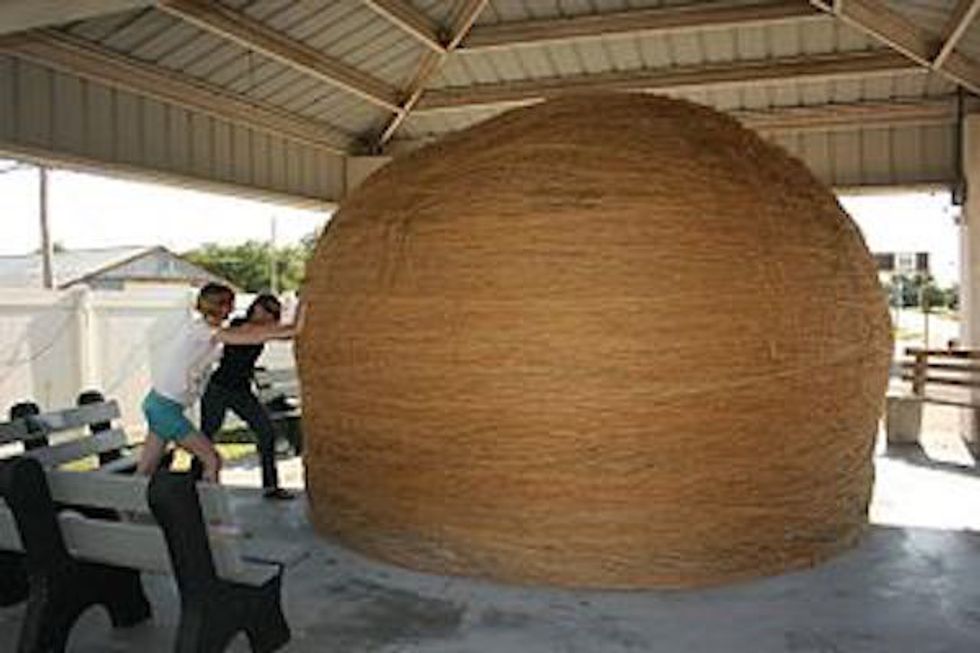 World's Largest Ball of Twine (Cawker City)
At last check, the Giant Ball weighed more than 20,000 pounds.
Kentucky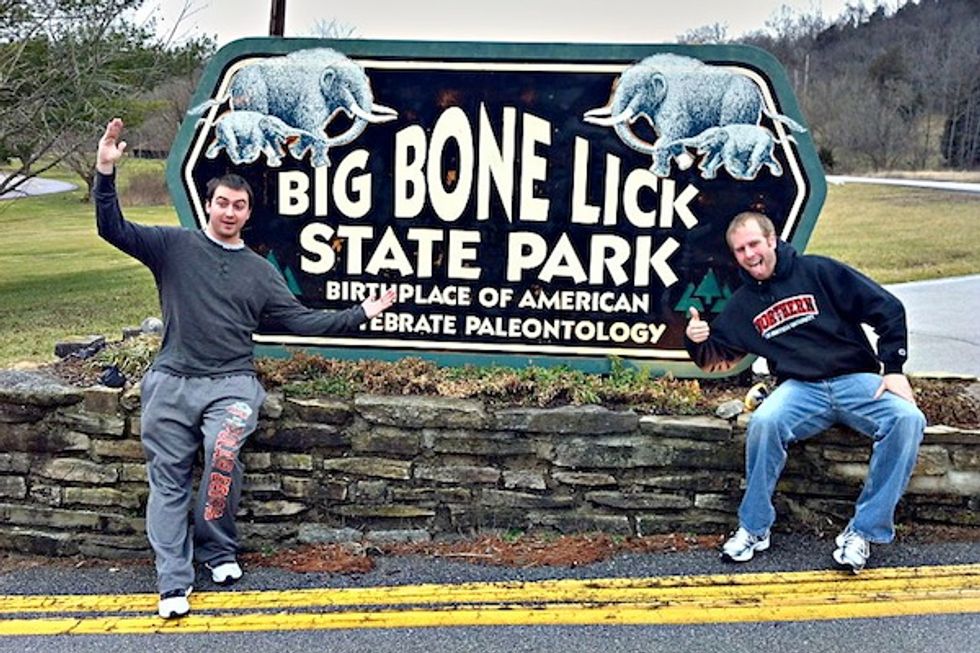 Big Bone Lick State Park (Big Bone)
I think the name speaks for itself.
Louisiana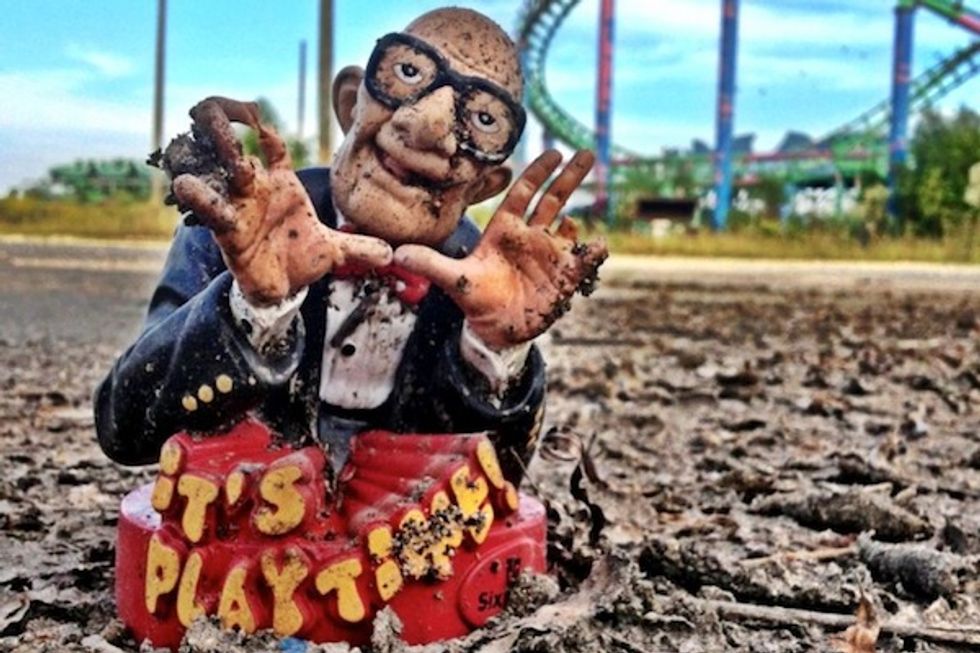 Abandoned Six Flags (New Orleans)
Because there's nothing creepier than an abandoned amusement park, and this one suffered massive flooding during Hurricane Katrina.
Maine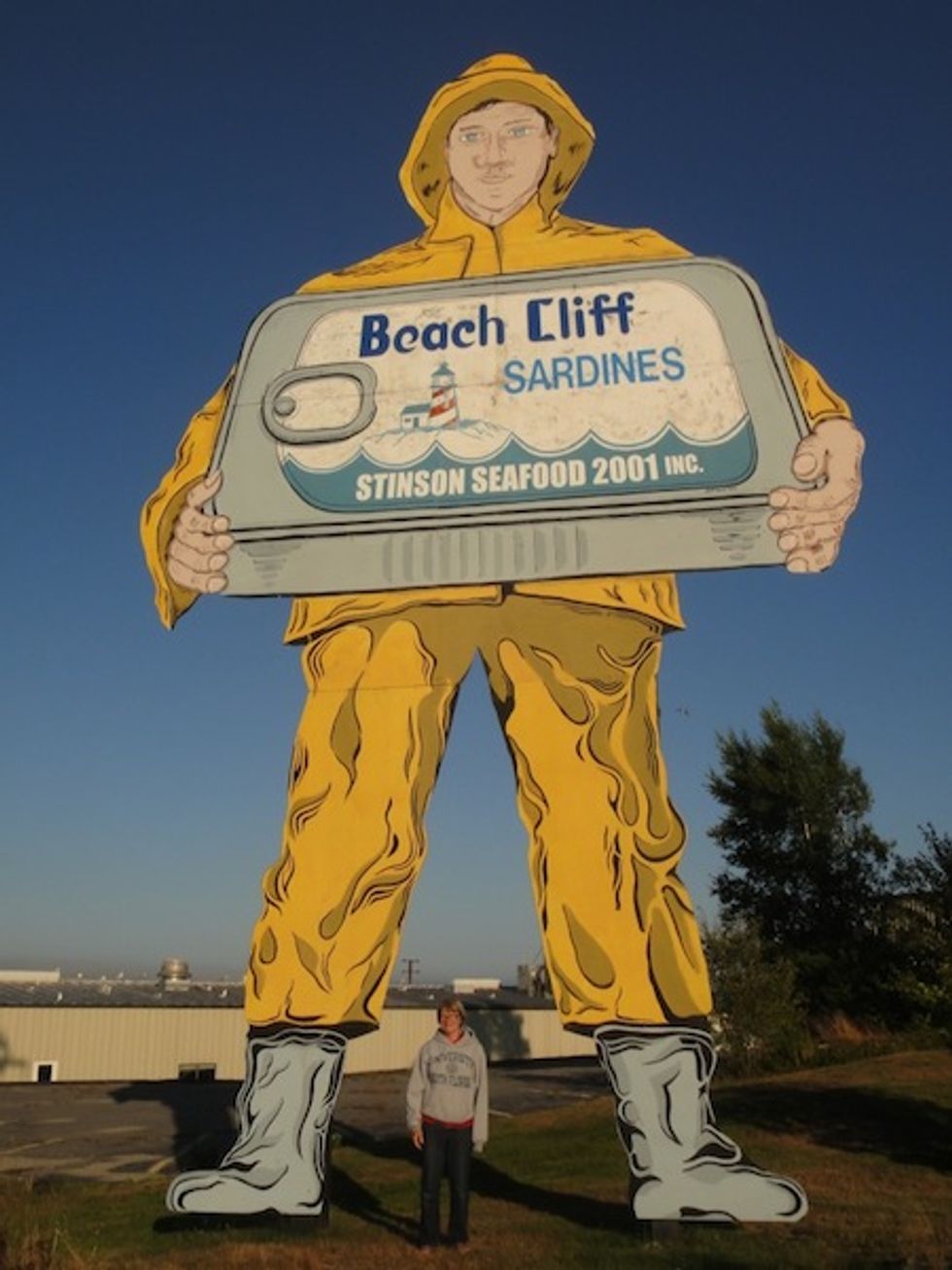 Big Jim the Fisherman (Prospect Harbor)
Meet Jim. Big Jim is a 40-foot-tall metal cutout of a New England fisherman in a yellow slicker.
Maryland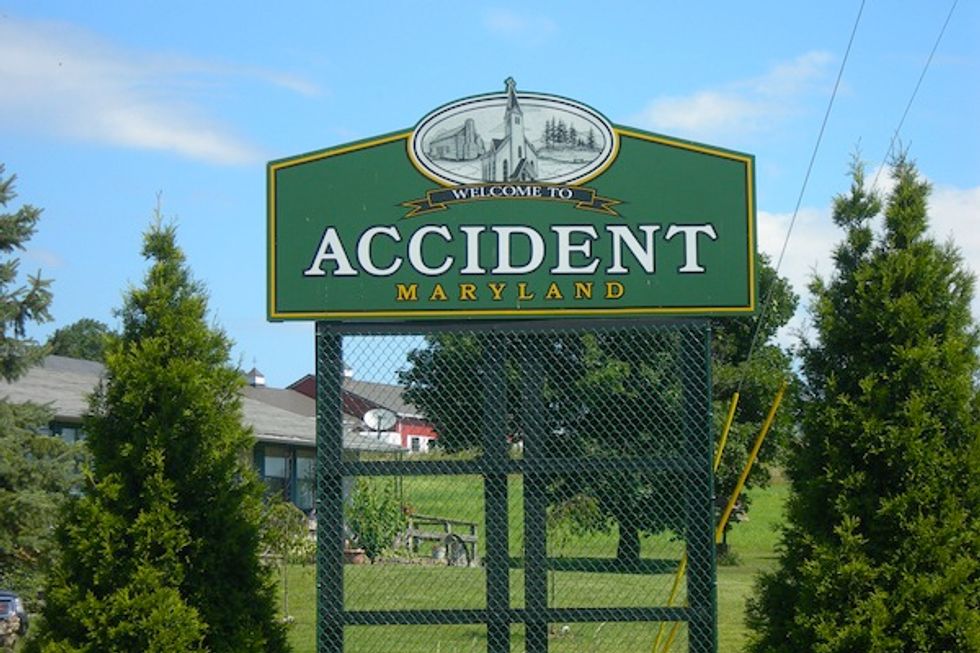 Accident (a town in Garrett County)
Hey, we got here by accident! I bet they never hear that one...
Massachusetts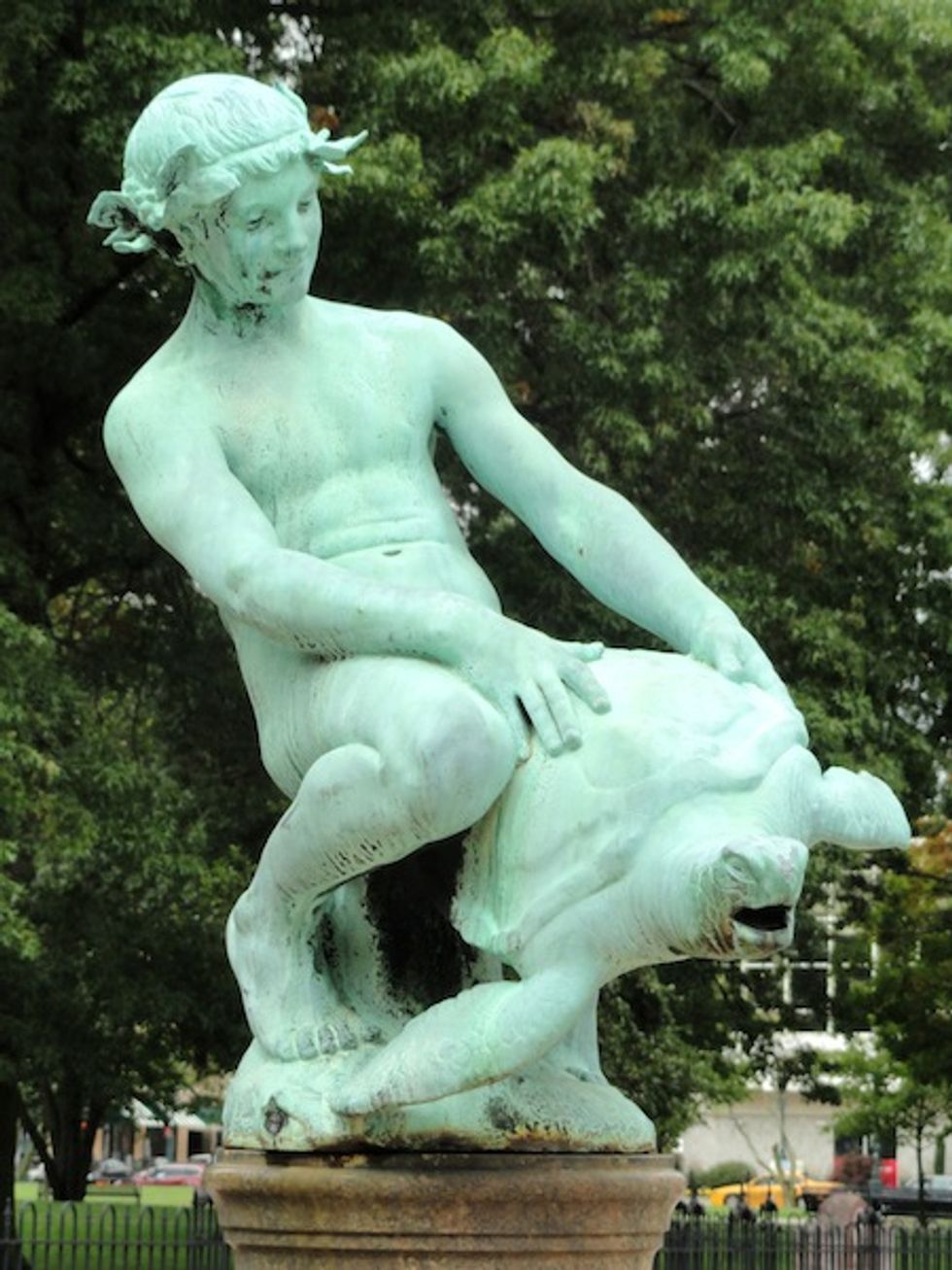 Turtle Boy (Worcester)
This is a bronze statue of a young boy riding a sea turtle, but its popularity is mostly due to people thing the two are doing something a little bit different...
Michigan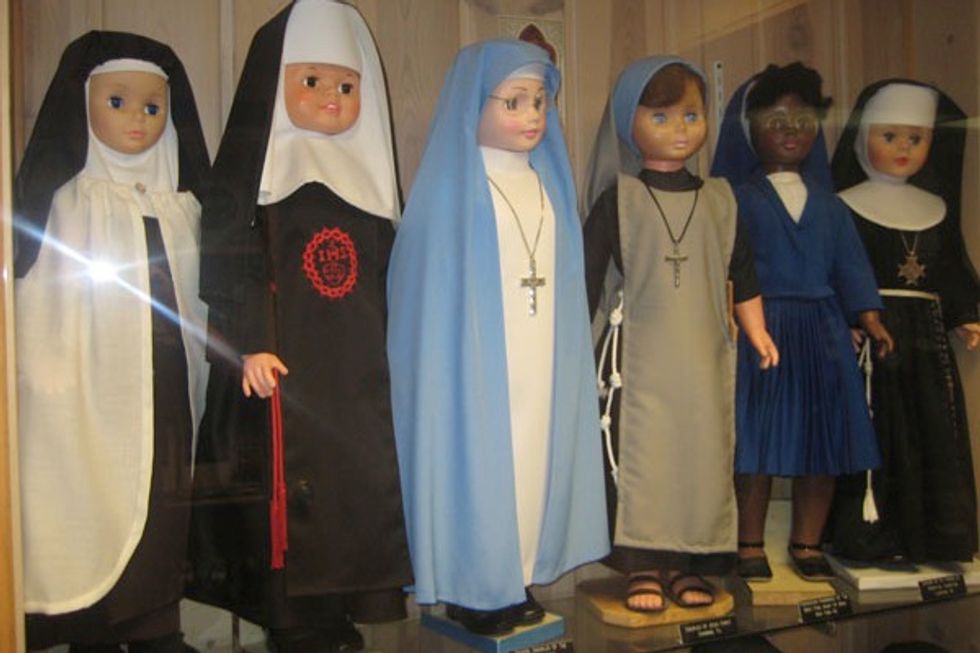 Nun Doll Museum (Indian River)
This is the largest collection of dolls dressed in traditional attire of men and women religious communities in the United States with 525 dolls and 20 mannequins that represent the Diocesan clergy and more than 217 religious orders. Amen.
Minnesota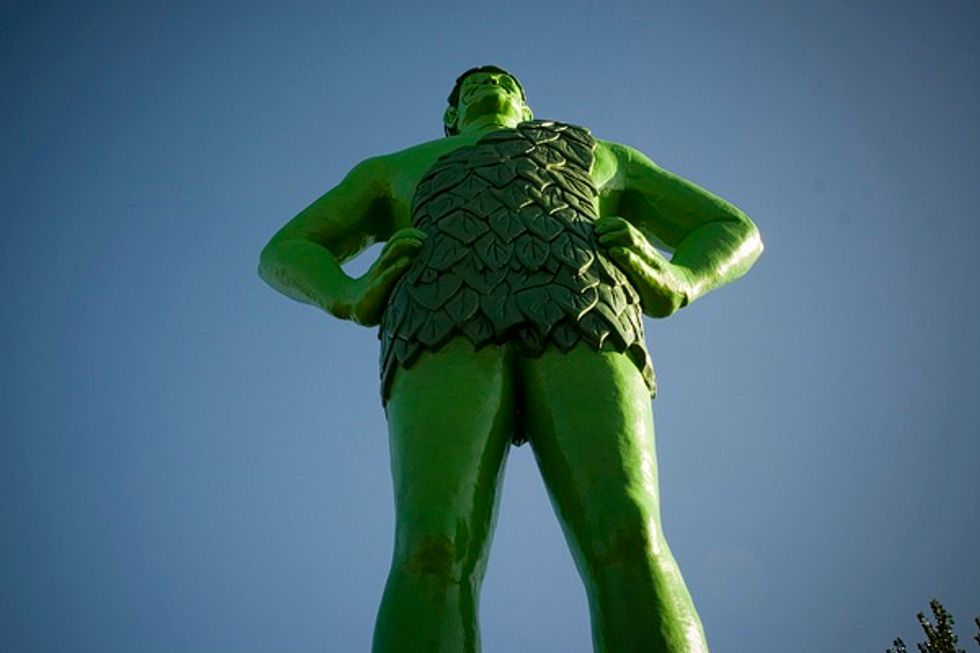 Jolly Green Giant (Blue Earth)
At 55.5 feet tall, his six-foot-long feet fill size 78 shoes. If he tells you to eat your vegetables, you'll eat your vegetables.
Mississippi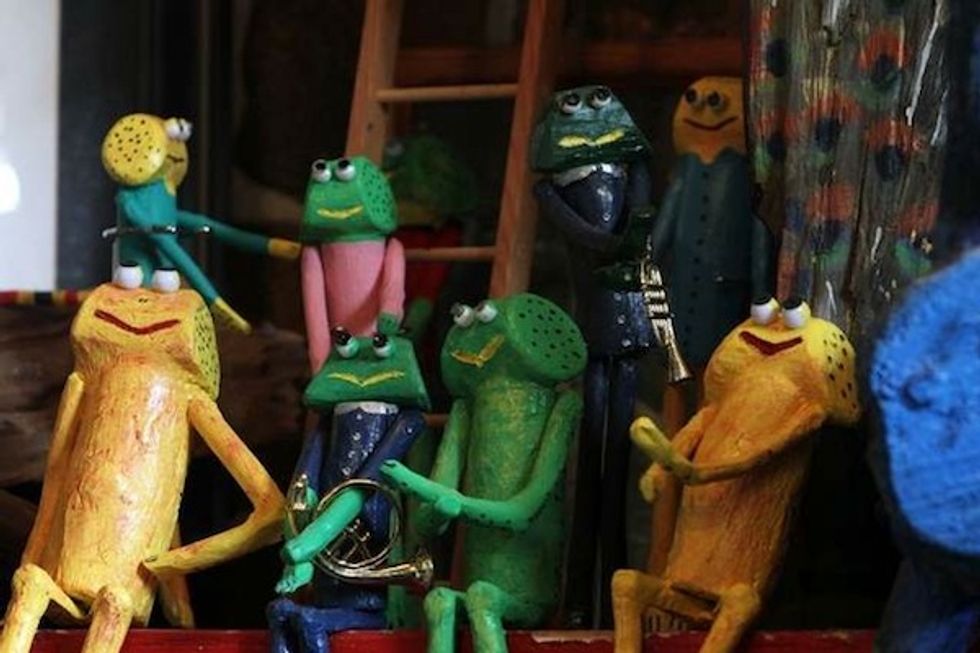 Frog Ant Farm (Fayetteville)
A folk artist named Louise Cadney Coleman has named her property The Frog Farm and dotted it with wood carvings of humanlike frogs in humanlike settings.
Missouri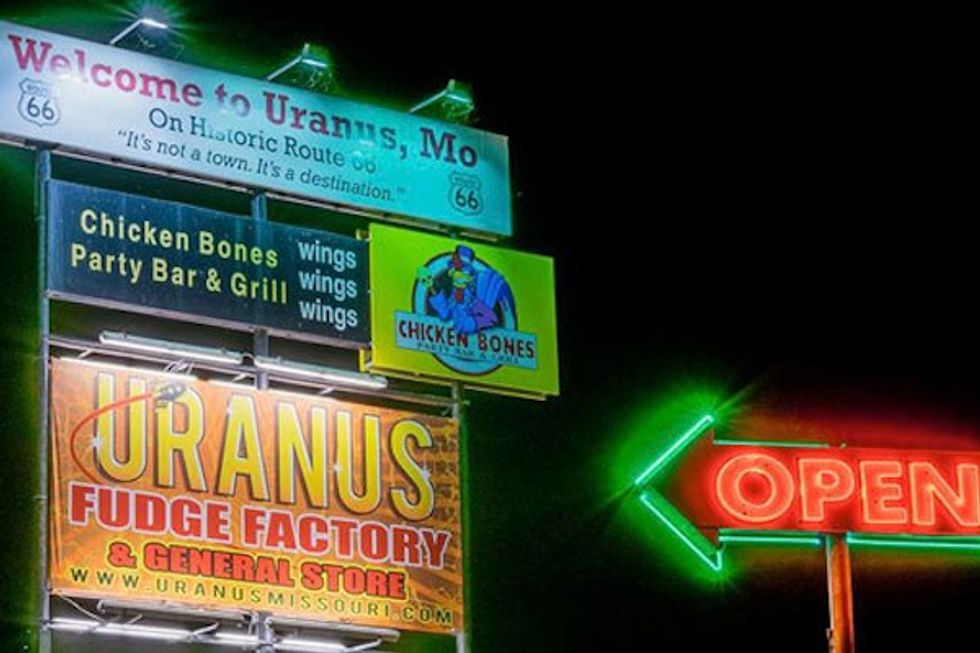 Uranus Fudge Factory (Uranus)
In the town of Uranus, a fudge shop named Uranus Fudge Factory provides a memorable photo-op.
Montana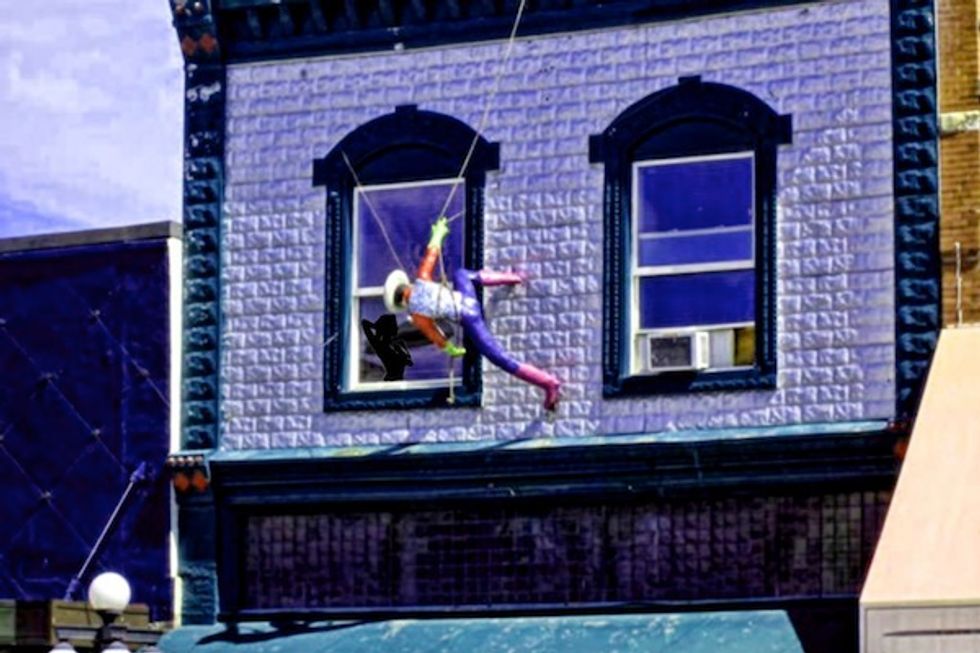 Peeping Tom Cowboy (Kalispell)
A cowboy, hanging from a rope, appears to peep into a window as he hangs off of a building on Main St. Nearby is a rock climber ascending another building. Sleep tight!
Nebraska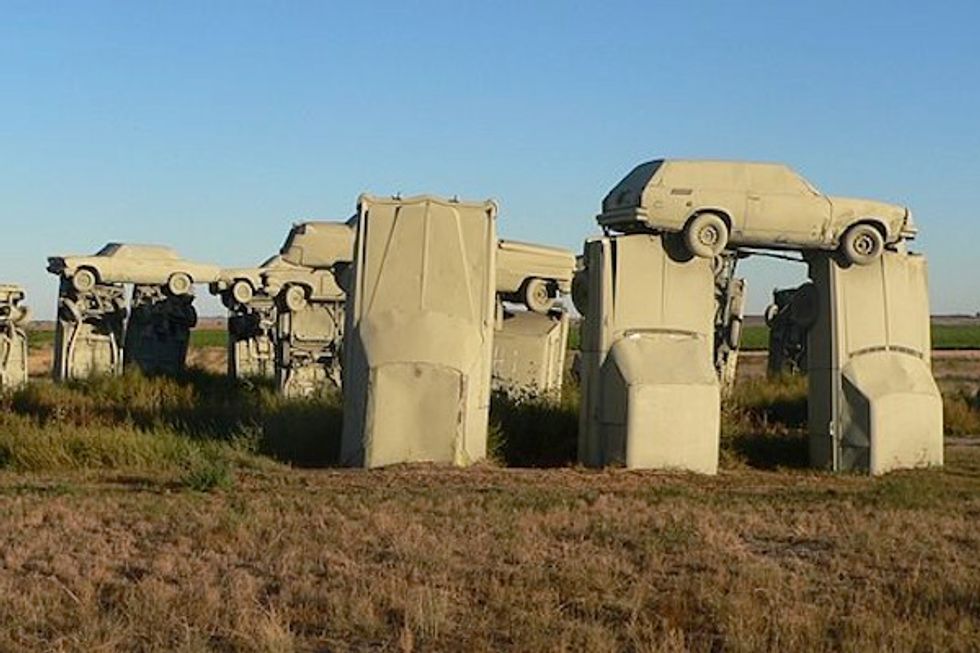 Carhenge (Alliance)
Just think of it as a quirky Stonehenge, made of cars, 38 of them, rescued from nearby farms and dumps.
Nevada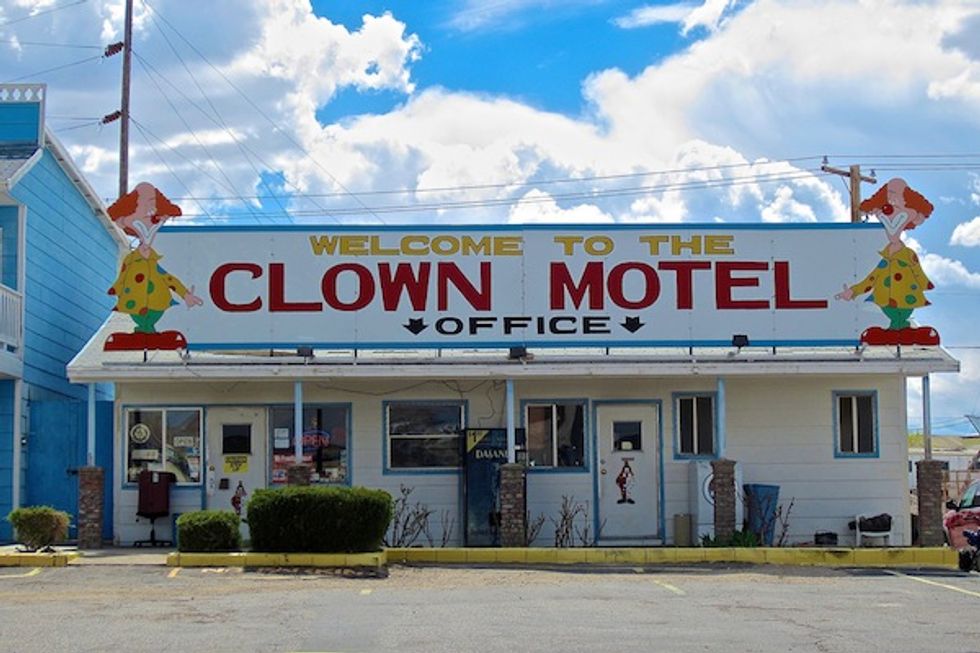 The Clown Motel (Tonopah)
Oh, just a motel on the edge of the desert decorated with thousands of clowns conveniently located next to an abandoned graveyard.
New Hampshire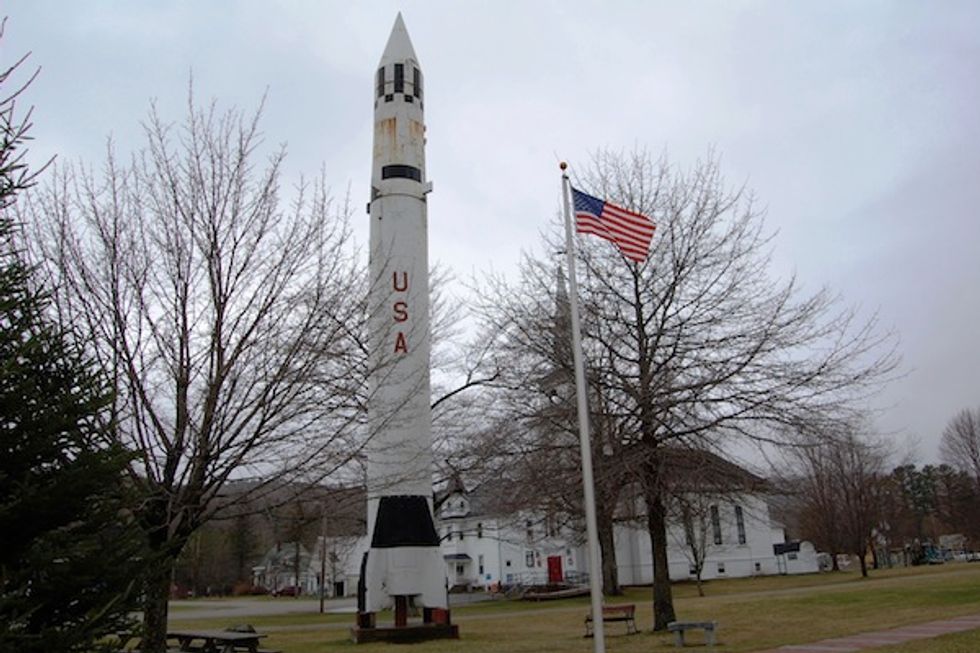 Redstone Rocket (Warren)
The same kind of rocket that hurled New Hampshire native Alan Shepard into space was brought here in 1971.
New Jersey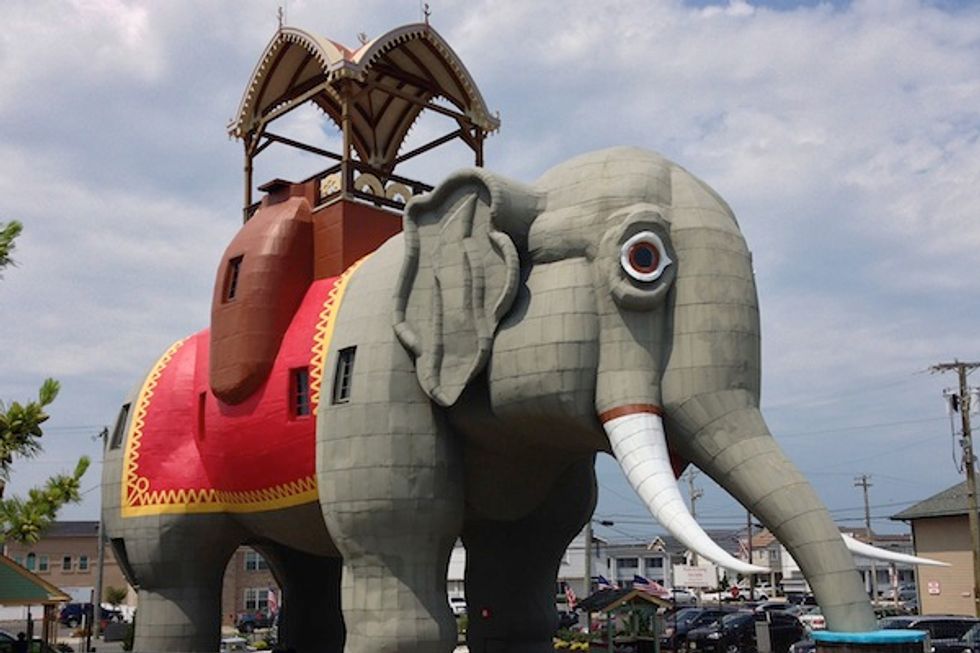 Lucy the Elephant (Margate City)
Lucy is the world's largest elephant, and the only one in America designated as a National Historic Landmark, and stands six stories tall, weighs 90 tons, and is covered with 12,000 square feet of sheet tin.
New Mexico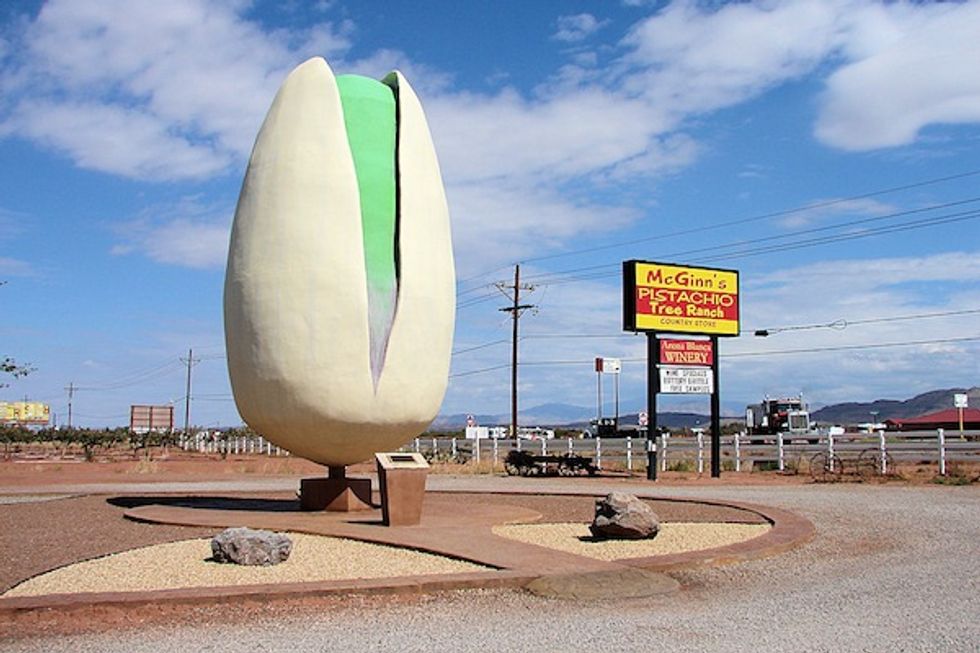 The World's Largest Pistachio (Alamogordo)
It stands 30 feet tall. Good luck cracking that nut.
New York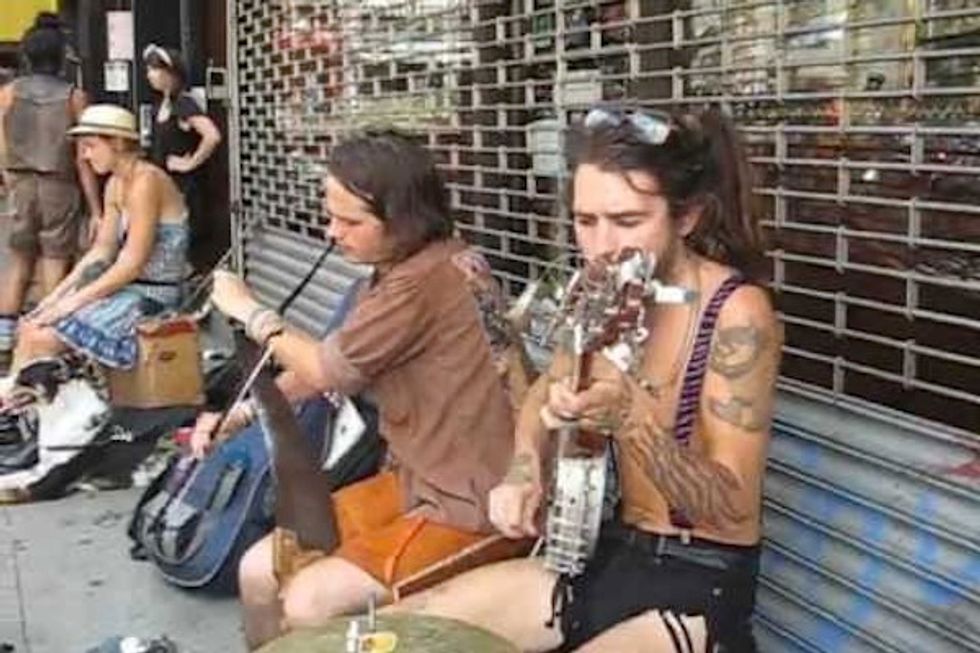 Hipster Williamsburg (Williamsburg)
A neighborhood in the New York City borough of Brooklyn, it's basically a town full of hipsters.
North Carolina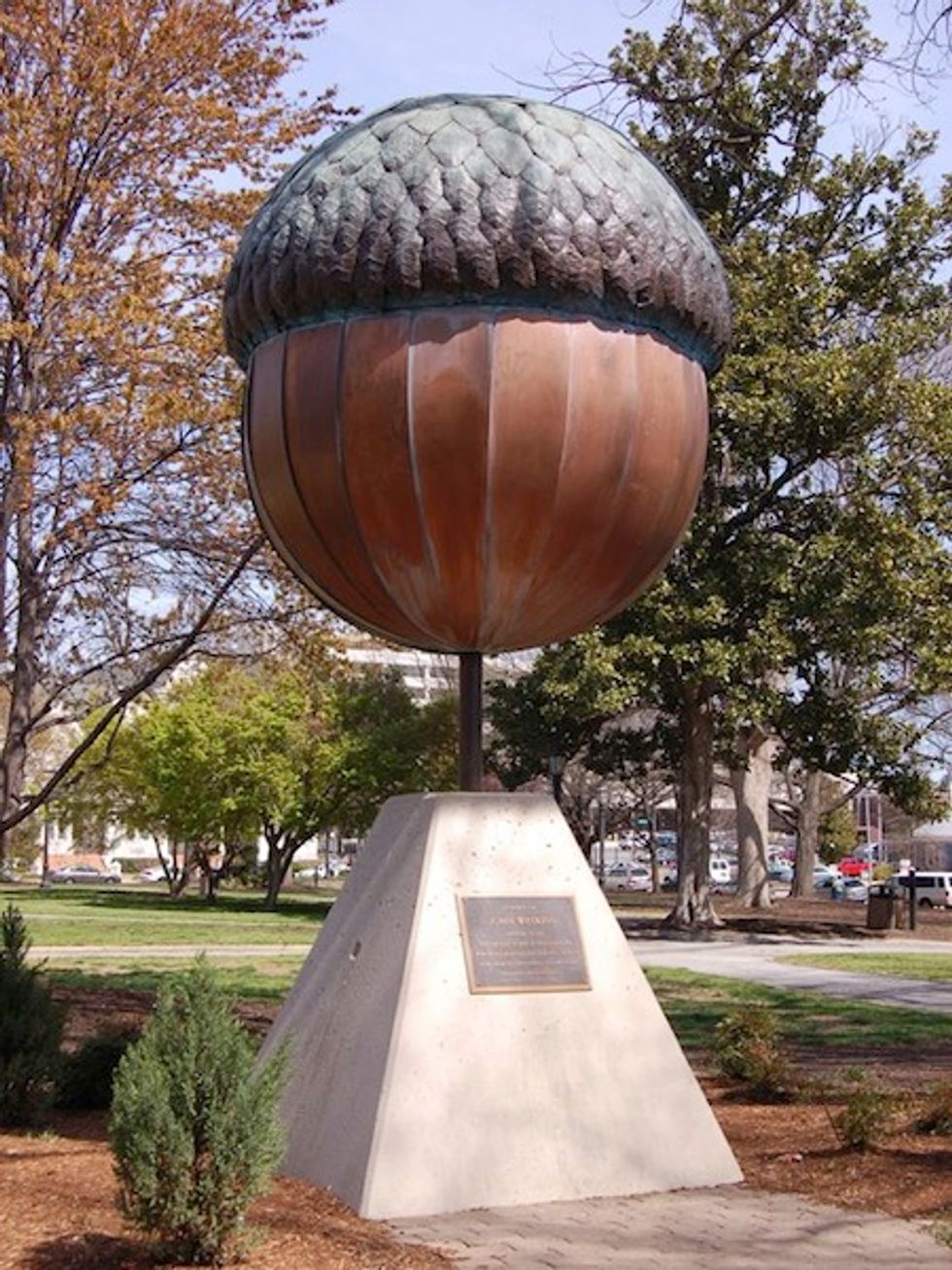 Giant Acorn (Raleigh)
"Nutzilla" is a mega-squirrel size tribute to Raleigh, "City of Oaks" and weighs 1,250 pounds, and is 10 feet high by 8 feet in diameter. Squirrels must go, well, nuts.
North Dakota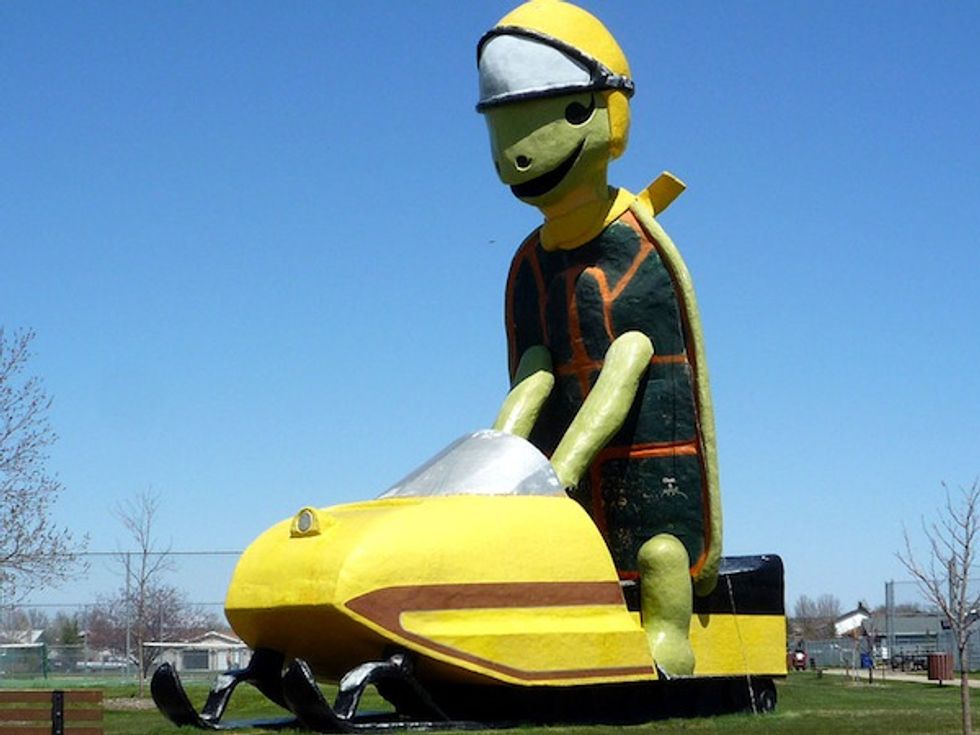 Tommy Turtle (Bottineau)
Tommy Turtle is the Largest Turtle in the World at 30 feet tall and weighing three tons, and he straddles the Largest Snowmobile in the World, which is even larger -- 34 feet long. He guards the entrance to Bottineau's municipal tennis courts because apparently people are intimidated by a giant turtle on a snowmobile.
Ohio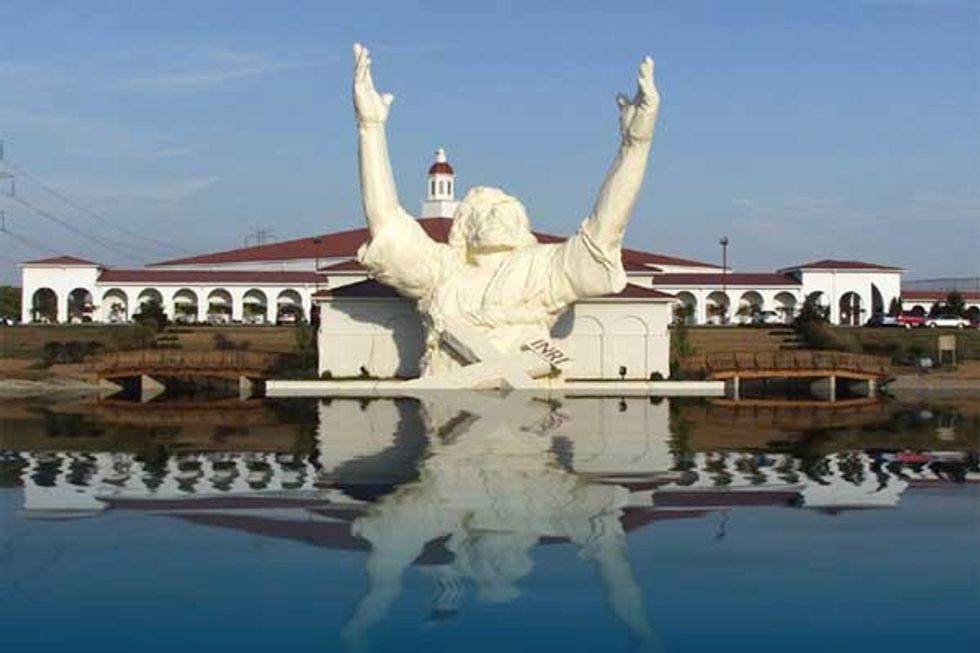 Touchdown Jesus (Monroe)
Jesus has risen near the interstate north of Cincinnati in the form of a 62-ft. high sculpture of Christ that appears to explode from the dirt behind the amphitheater at Monroe's Solid Rock Church. It was struck by lightning in 2010 and has yet to be repaired.
Oklahoma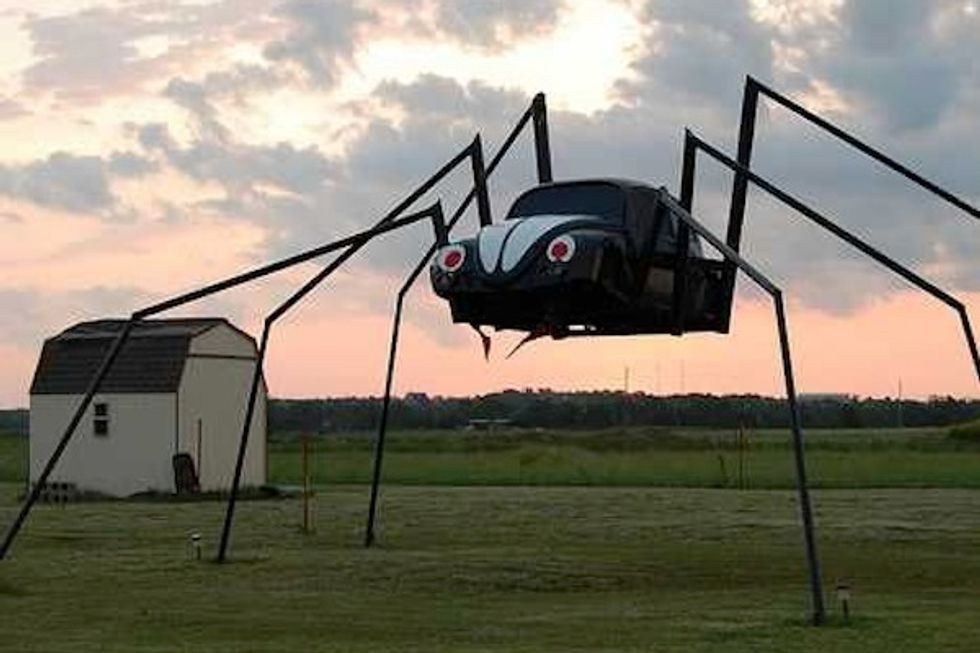 Spiderbug (Lexington)
If you're not so into bugs, you might be a little creeped out by a 15-foot car made to look like a giant bug. Slug bug!
Oregon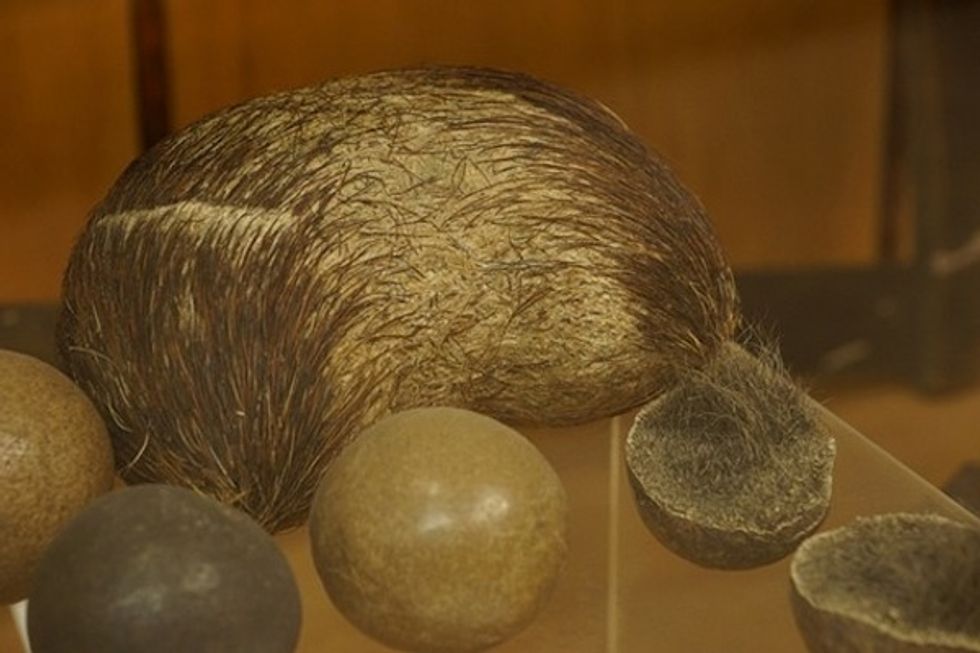 The World's Largest Pig Hairball (St. Benedict)
Yes, a giant pig hairball, surrounded by four smaller hairballs so you can get an idea of the size. One of the balls has been cut in half to show "a sort of rubbery substance that forms around the hair, thus forming the ball," according to an accompanying sign.
Pennsylvania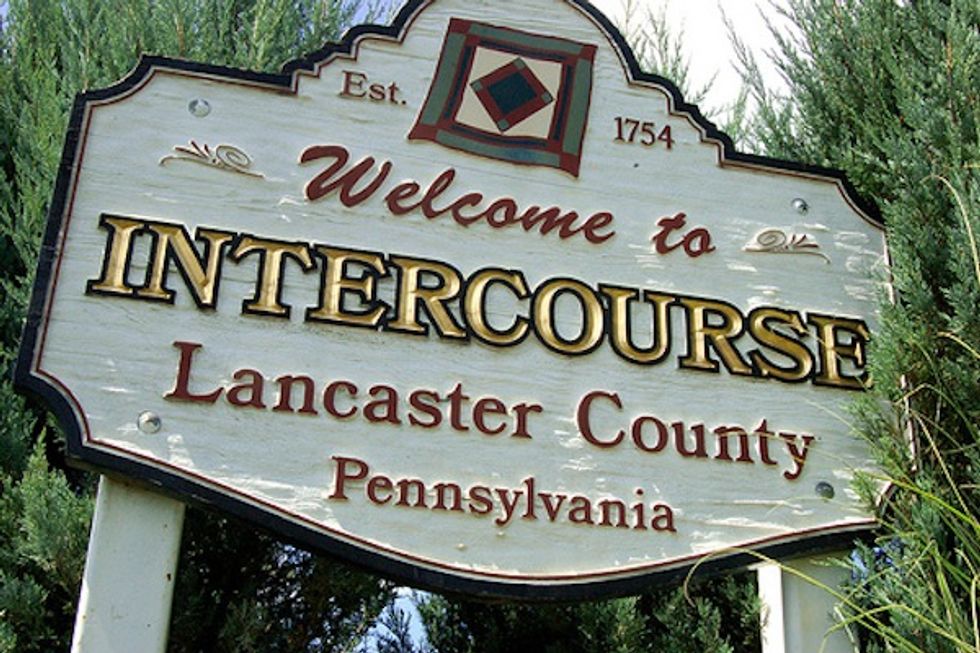 Intercourse (Intercourse)
We are in you Intercourse! You
know
you would stop for a picture.
Rhode Island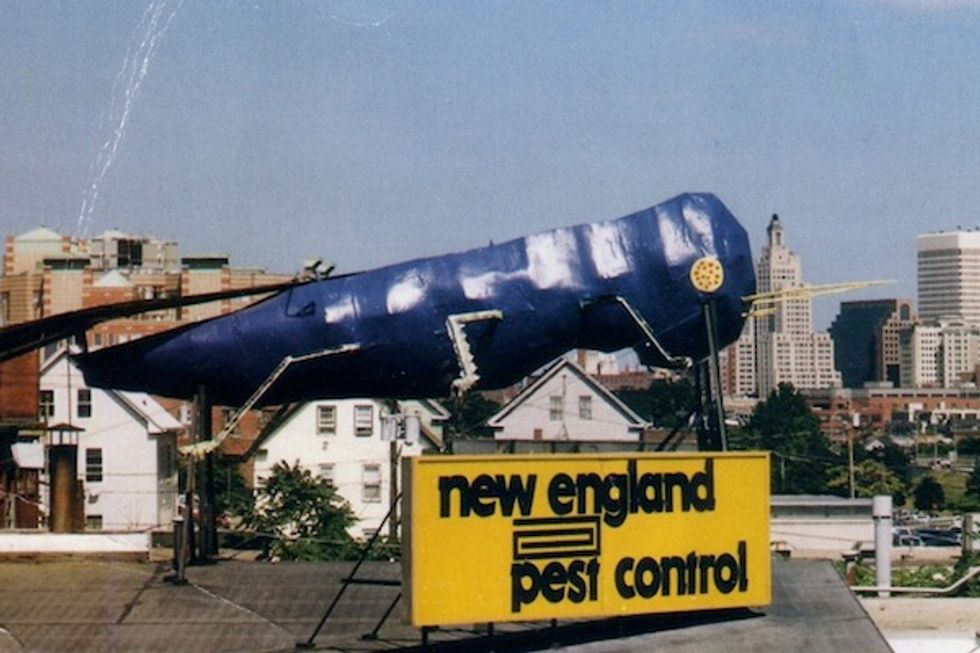 Big Blue Bug (Providence)
The "Big Blue Bug" of Providence is a termite, 58 feet long, which is 928 times actual termite size, and weight two tons. It was built at a cost of $20,000.
South Carolina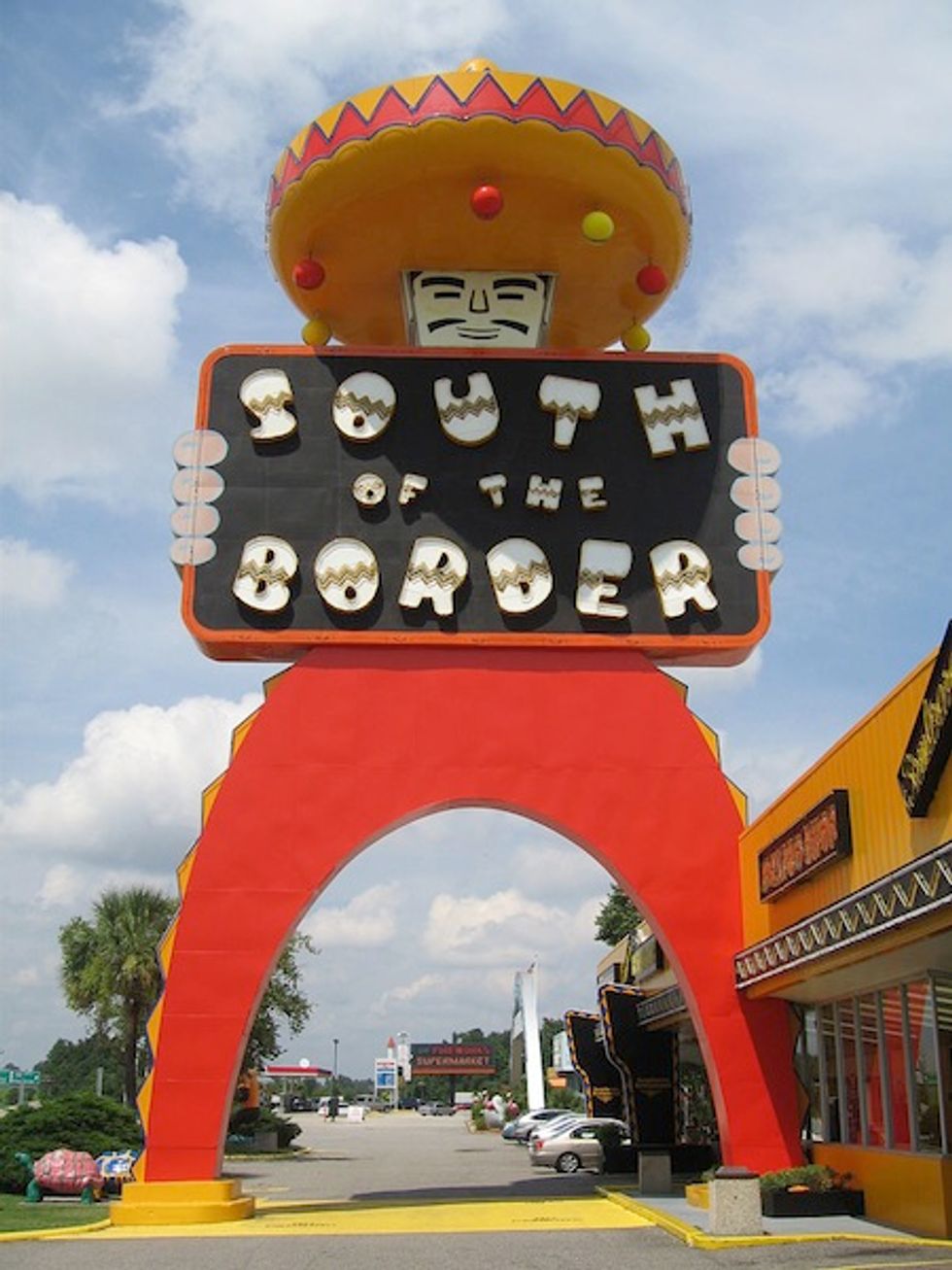 Pedro (Dillon)
This dude is the mascot for South of the Border, an attraction so named because it is just south of the border between North Carolina and South Carolina. The rest area contains restaurants, gas stations, and a motel, and truck stop as well as a small dilapidated amusement park. Ole!
South Dakota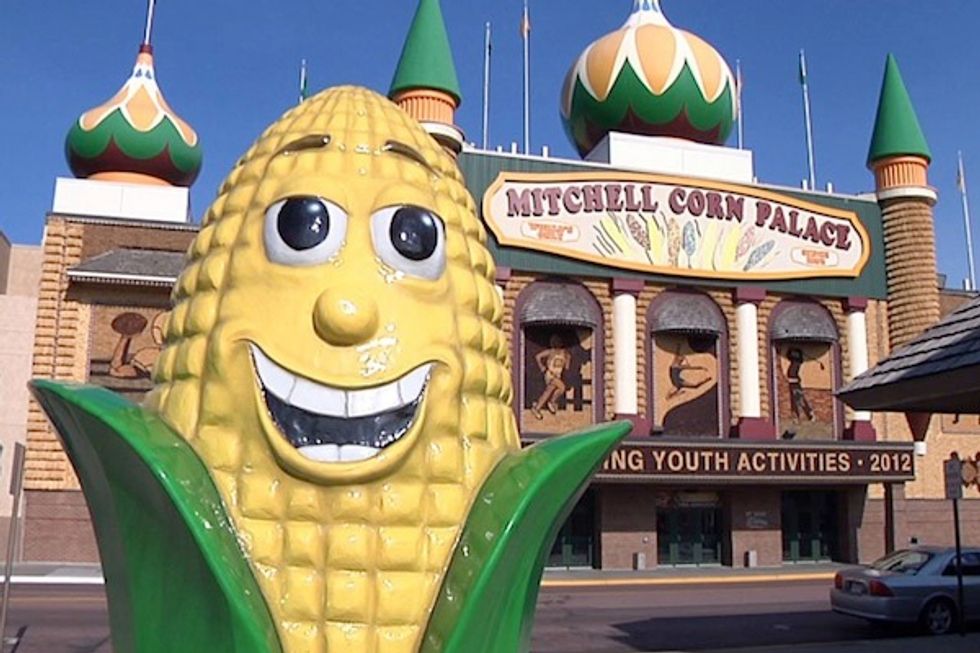 Corn Palace (Mitchell)
Known as the "agricultural showplace of the world," the Mitchell Corn Palace isn't actually made of corn, but rather honors all things corn. However, every spring its exterior is completely covered with thousands of bushels of native South Dakota corn, grain and grasses that are arranged into large murals.
Tennessee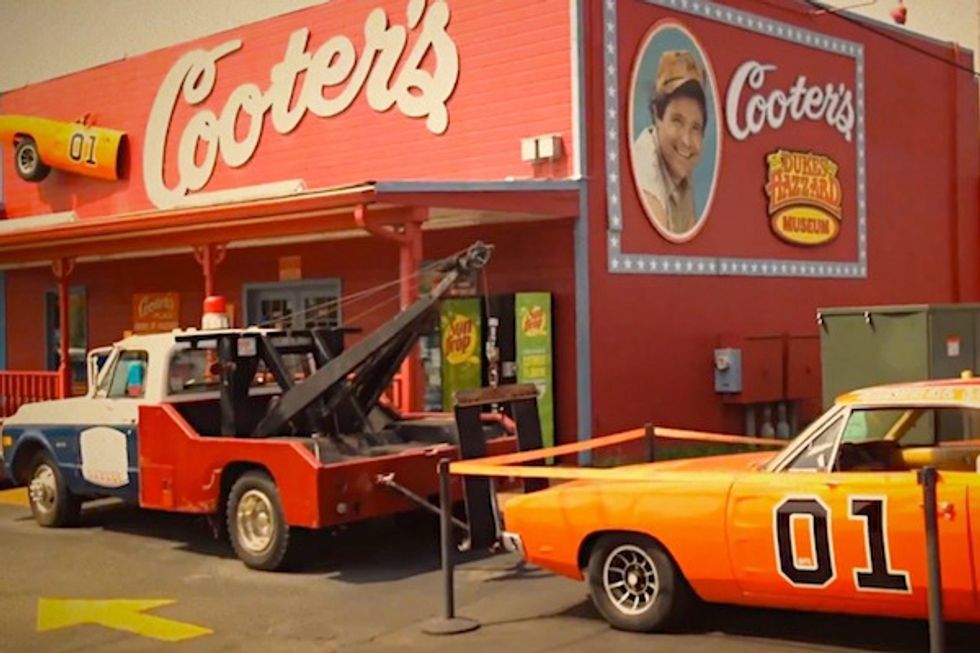 Cooter's Place (Gatlinburg)
This is actually the Dukes of Hazard Mini-Museum operated by
Dukes
actor Ben Jones (Cooter) and features the original General Lee car from the TV series.
Texas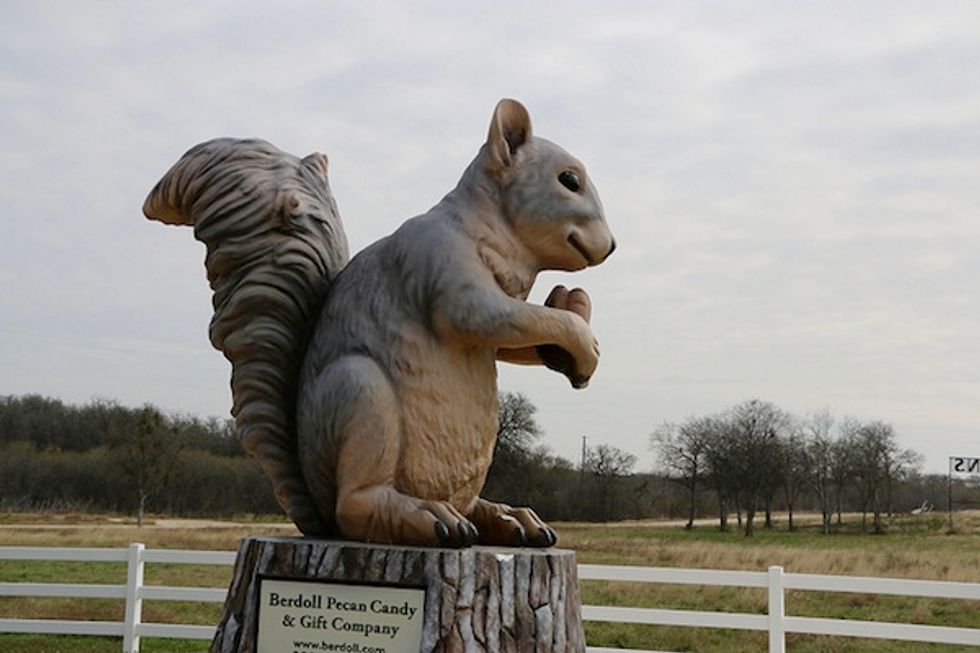 The World's Largest Squirrel (Cedar Creek)
First we had the acorn, and now we have the squirrel. More specifically, a 14.5-ft. tall statue of Ms. Pearl the Squirrel on a stump and clutching a giant nut. She's the official mascot of Berdoll Pecan Candy.
Utah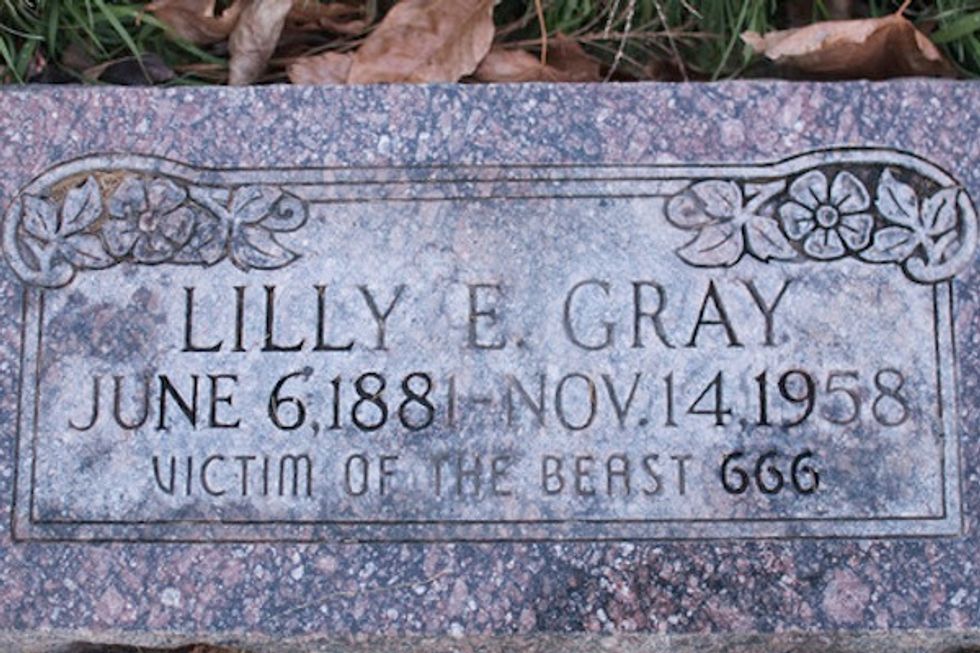 Victim of the Beast 666 Gravesite (Salt Lake City)
What makes this spot so intriguing is that nobody knows exactly what is meant by the inscription. There are theories, but no definitive proof. Theory? Discuss.
Vermont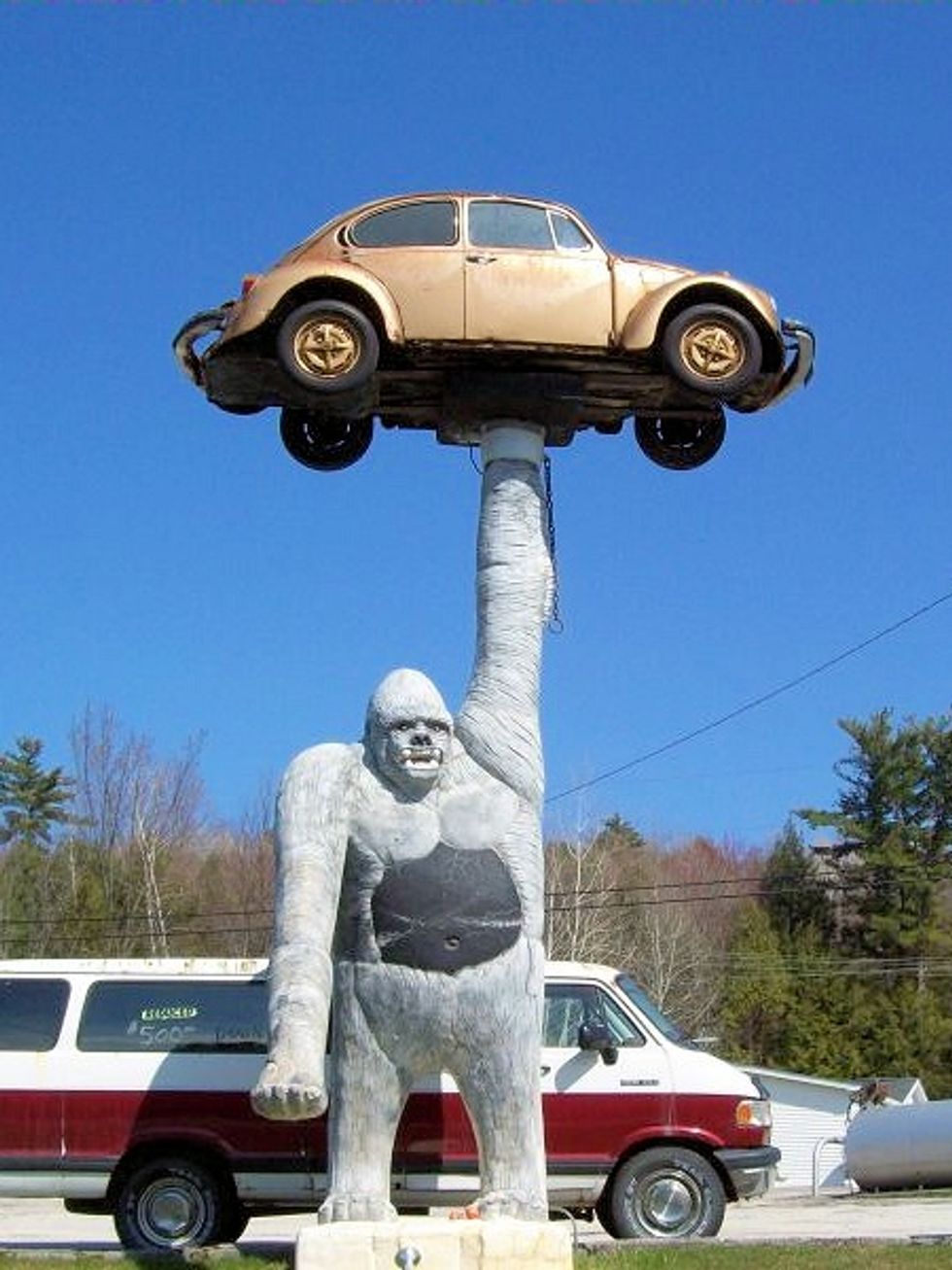 Queen Connie (Leicester)
This is a giant gorilla holding up a car in a car lot and there's really no real reason for it other than the owner had a friend doing sculpture and he said, "How about a gorilla holding up a car?" If you fancy a seat you can sit in the other outstretched hand.
Virginia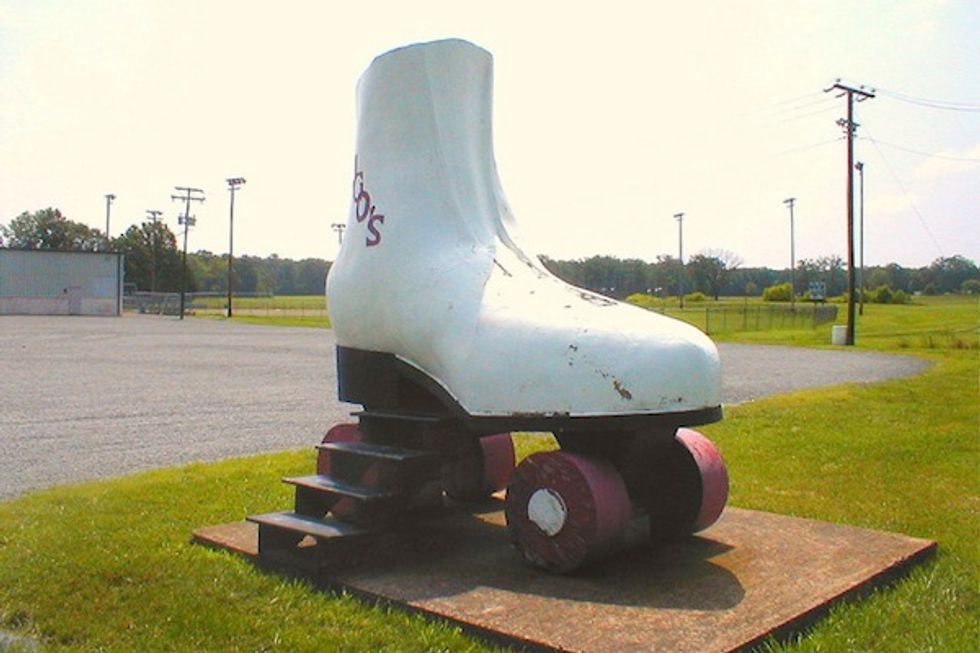 A 10-Foot-Tall Roller Skate (Bealeton
) Remember roller skates? This one is made out of wood and is somewhere between 7 and 9 feet tall and is painted white with red wheels and "Hugo's" logo. Grab a partner for couple's skate!
Washington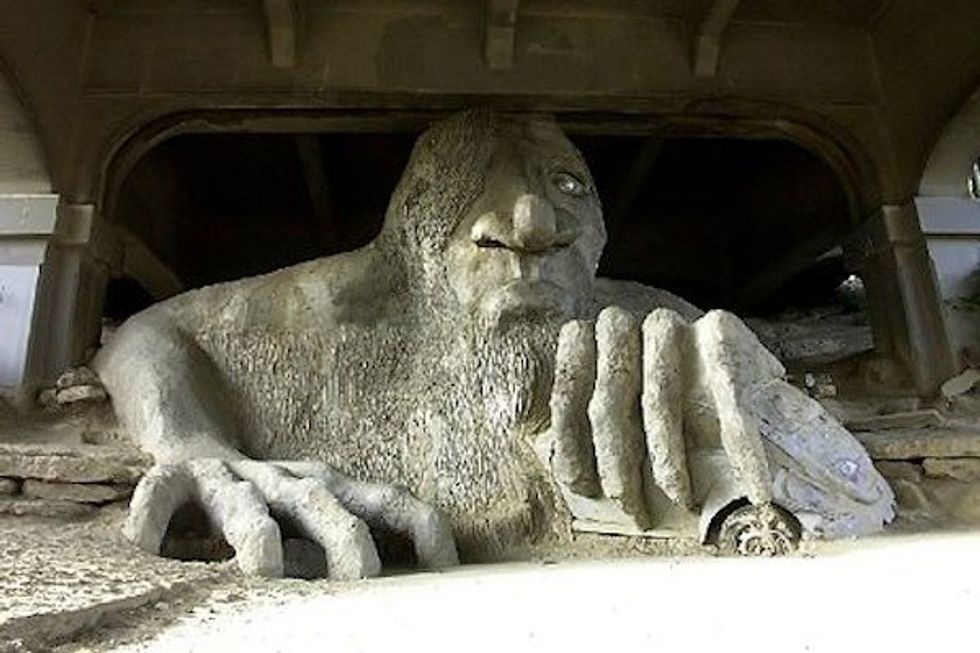 Fremont Troll (Seattle)
This creepy sculpture was put out for Halloween 1990 and is about 18 feet tall and has a hubcap eye. The community pays tribute to the troll every October 31st with a mobile "Troll-o-ween" party, starting under the bridge and wandering to other funky art sites and events in Fremont.
West Virginia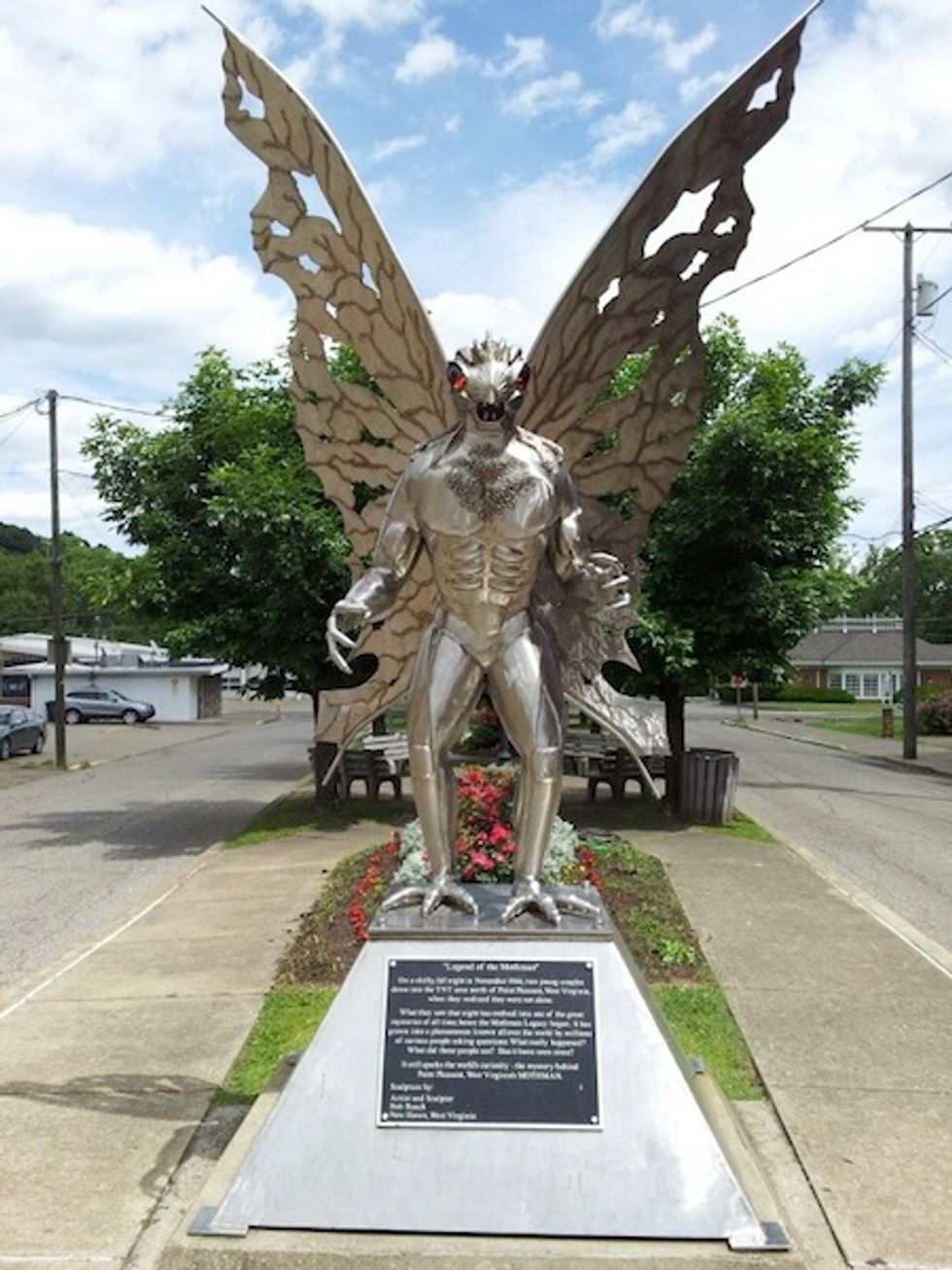 Mothman (Point Pleasant)
This is basically a replica of the creature who was made into a movie in 2001, scaring couples in parked cars and eating farmers' dogs. He was described as seven feet tall with a barrel chest and a piercing shriek.
Wisconsin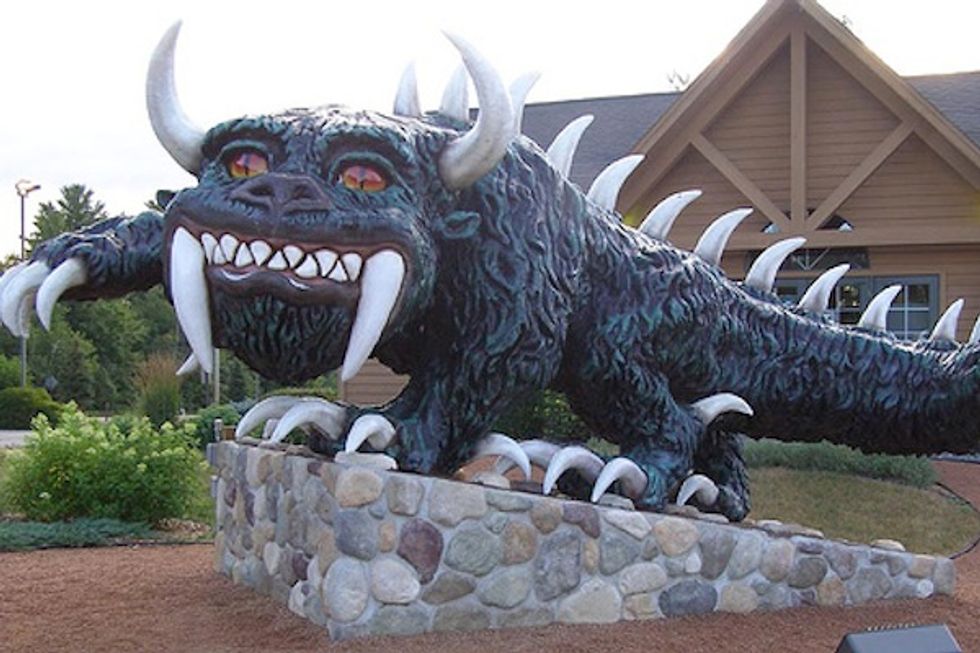 Giant Hodag (Rhinelander)
A hodag is a folklore animal with "the head of a frog, the grinning face of a giant elephant, thick short legs set off by huge claws, the back of a dinosaur, and a long tail with spears at the end". This is just a giant one, I guess.
Wyoming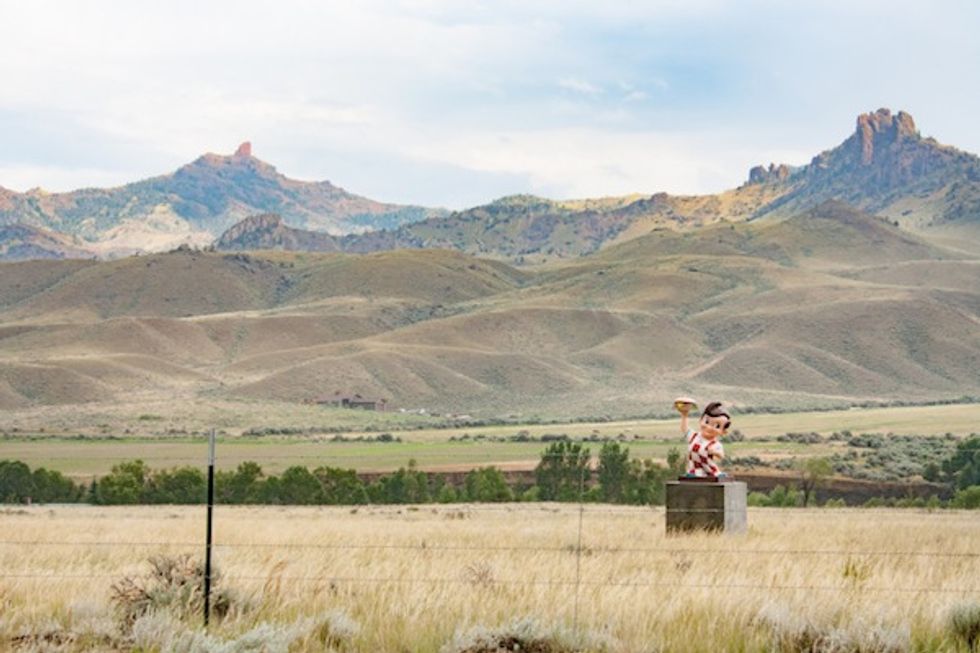 Big Boy Statue (Wapiti)
A Bob's Big Boy statue mysteriously appeared atop a concrete pedestal on Wyoming rangeland in the summer of 2013. Care for fries with that?