How many of the jaw-dropping fashion moments in this list do you remember?
50. Liu Wen, Met Gala, 2014.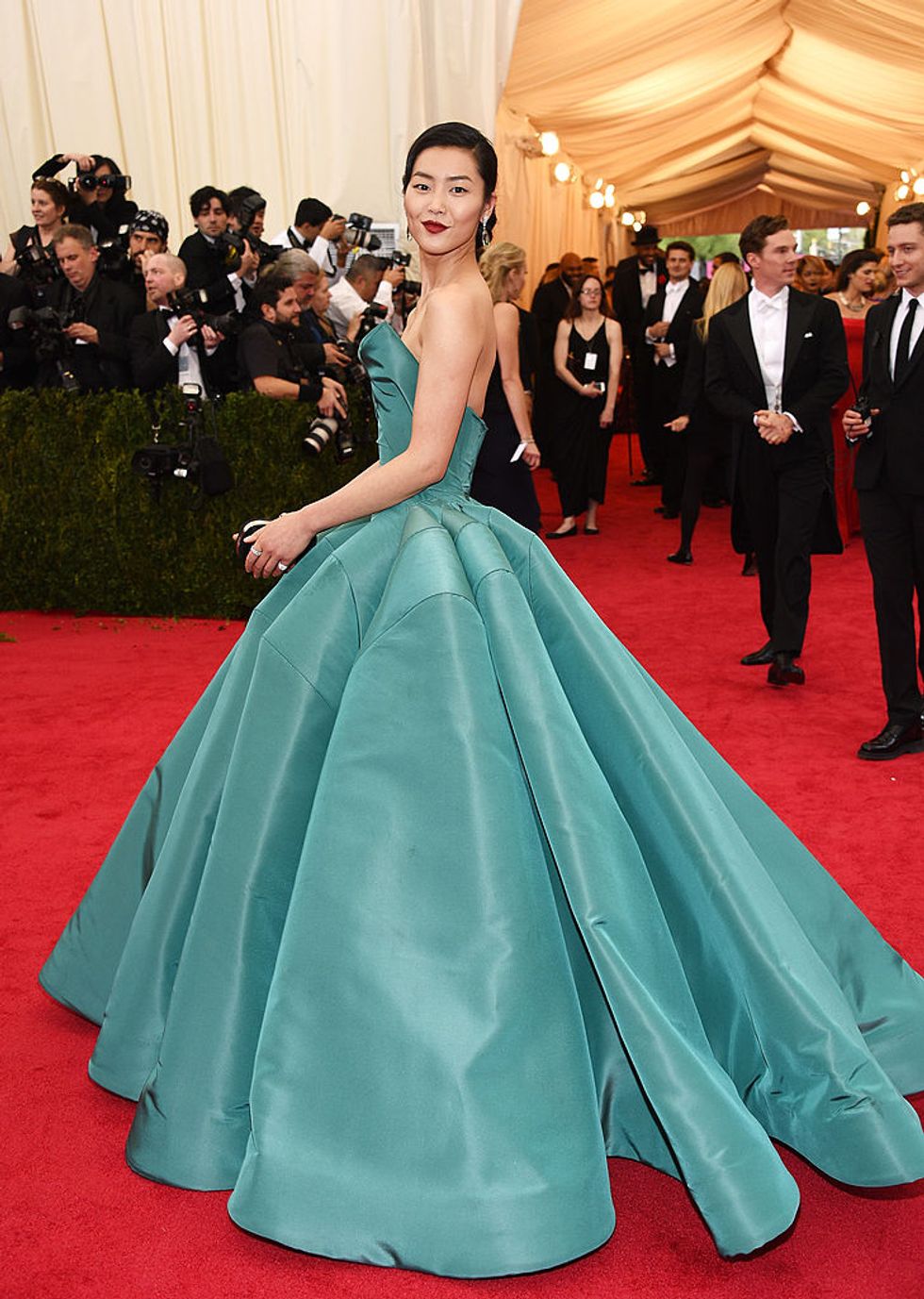 The Met Gala is one of the biggest dates in every fashion mogul's calendar - the place where we see the cream of the crop of the world of fashion and some of the best-dressed stars in the world take to the red carpet. Kicking off the countdown is Liu Wen with her Zac Posen gown which looked like it'd been plucked straight out of a fairytale.
49. Jennifer Lopez, New York premiere of Second Act, 2018.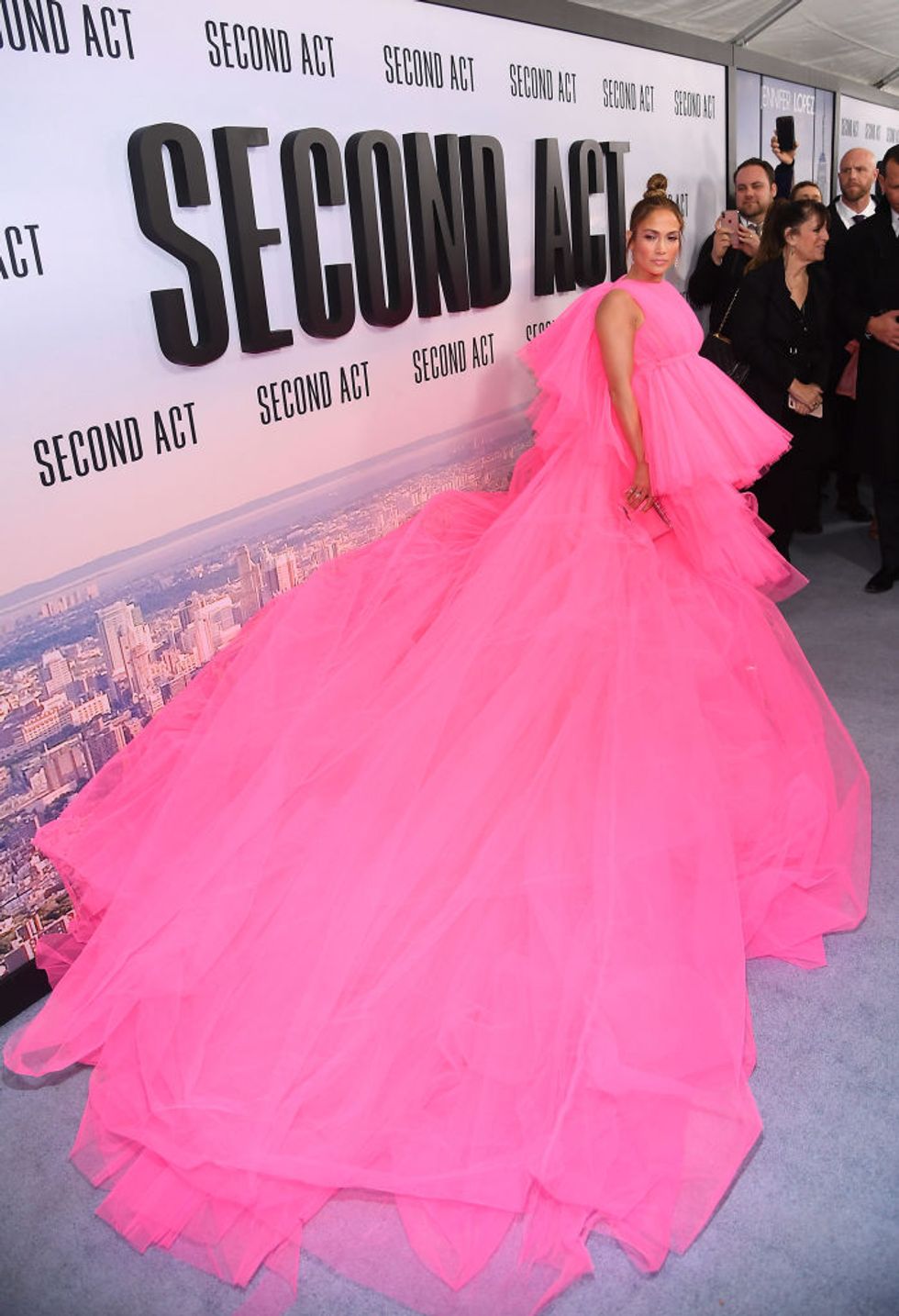 JLo stepped out onto the red carpet encased in tulle, and we have to admit, the fashion risk truly paid off. It was also a huge trendsetter, with tulle becoming a red carpet go-to throughout the decade. This next one will make you look at your sweatshirts in a WHOLE new light!
48. Anne Hathaway, Met Gala, 2015.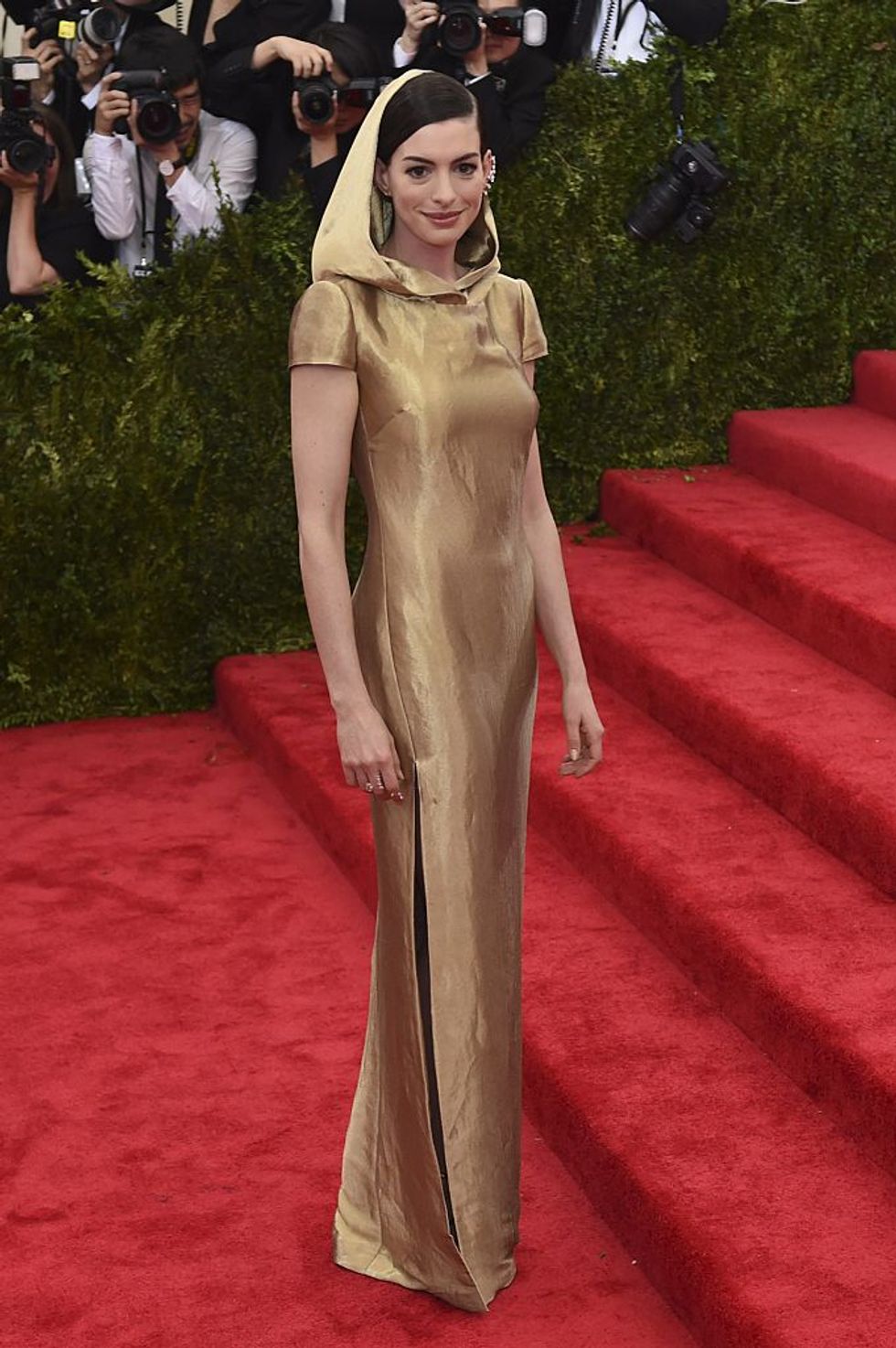 The actress literally stepped out donning what looked like a gold hoodie and we were
here
for it.
47. Lupita Nyong'o, Cannes Film Festival, 2015.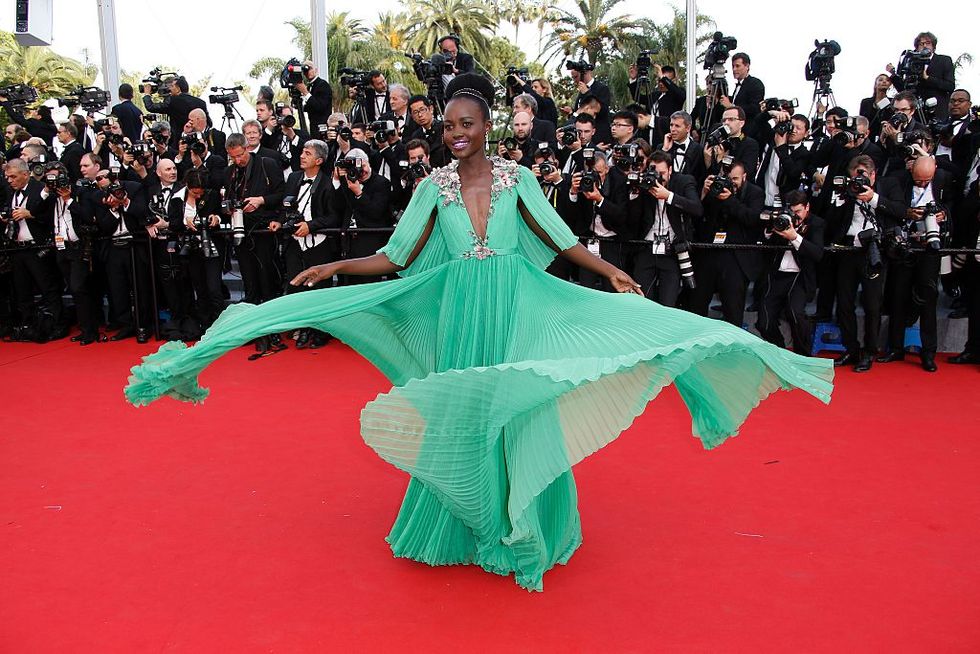 Nyong'o turned heads as she descended onto the red carpet in this Gucci ensemble. Only one word describes the next fashion moment: ICONIC.
46. Kate Middleton, Royal Wedding, 2011.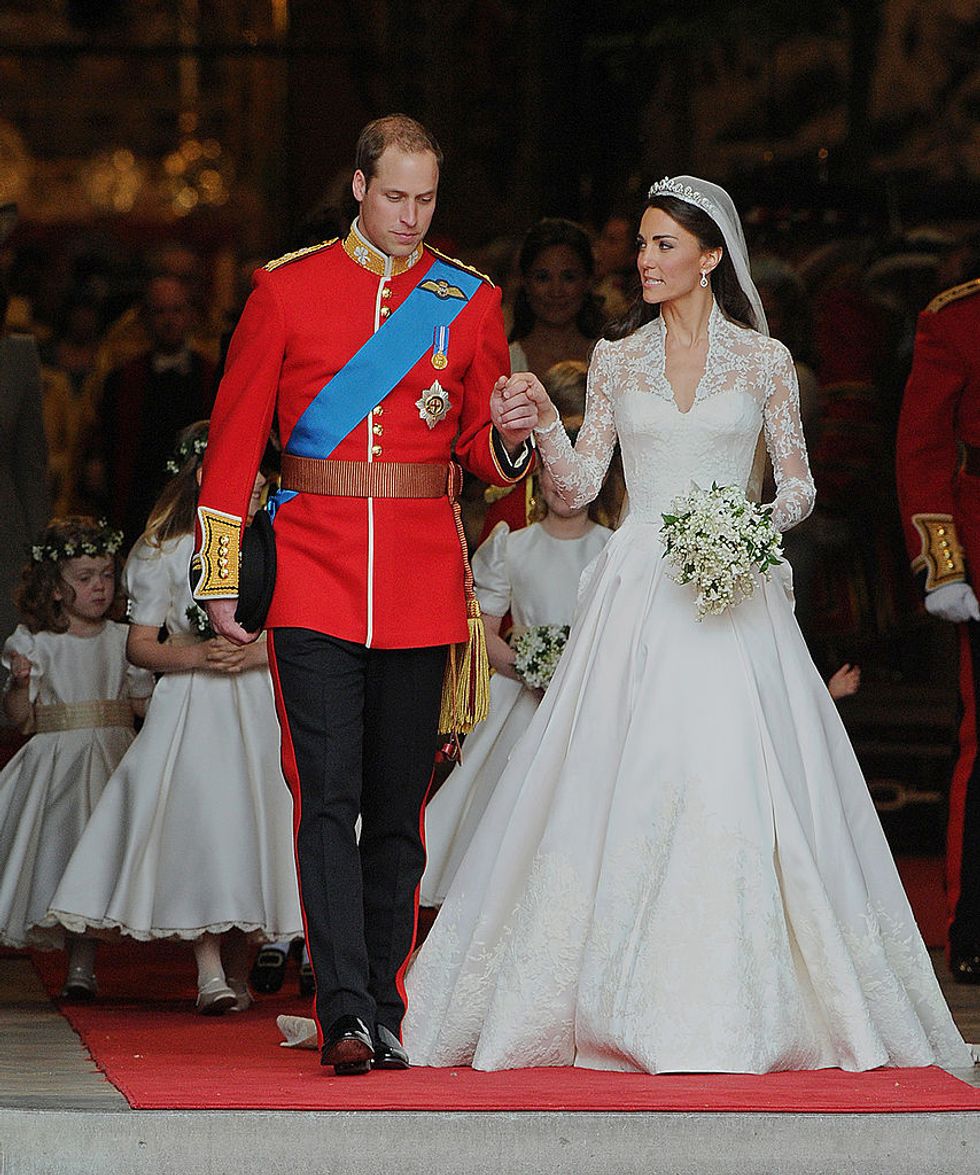 We couldn't create a fashion list without giving the royals a mention. Designed by Sarah Burton, creative director of Alexander McQueen, Kate's elegant wedding gown truly was a showstopper.
45. Angelina Jolie (and her leg), Academy Awards, 2012.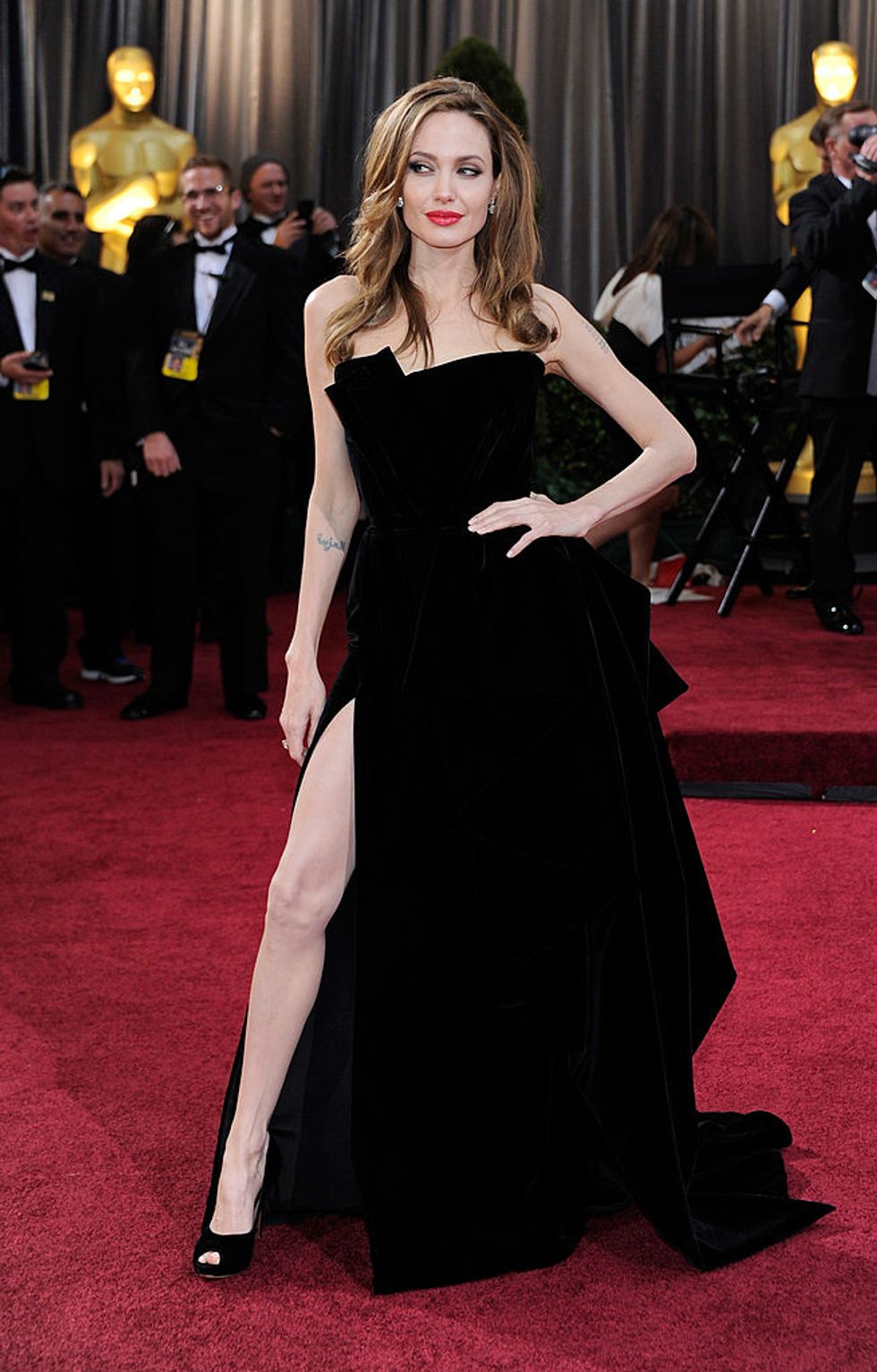 We may have been a mere 2 years into the decade at this point, but Angelina Jolie well and truly bulldozed onto the fashion scene with this black Versace dress, adorning a slit so iconic that it ended up making Oscar (and meme) history.
This next look caused quite the stir on the red carpet...
44. Timothee Chalamet, Beautiful Boy premiere, 2018.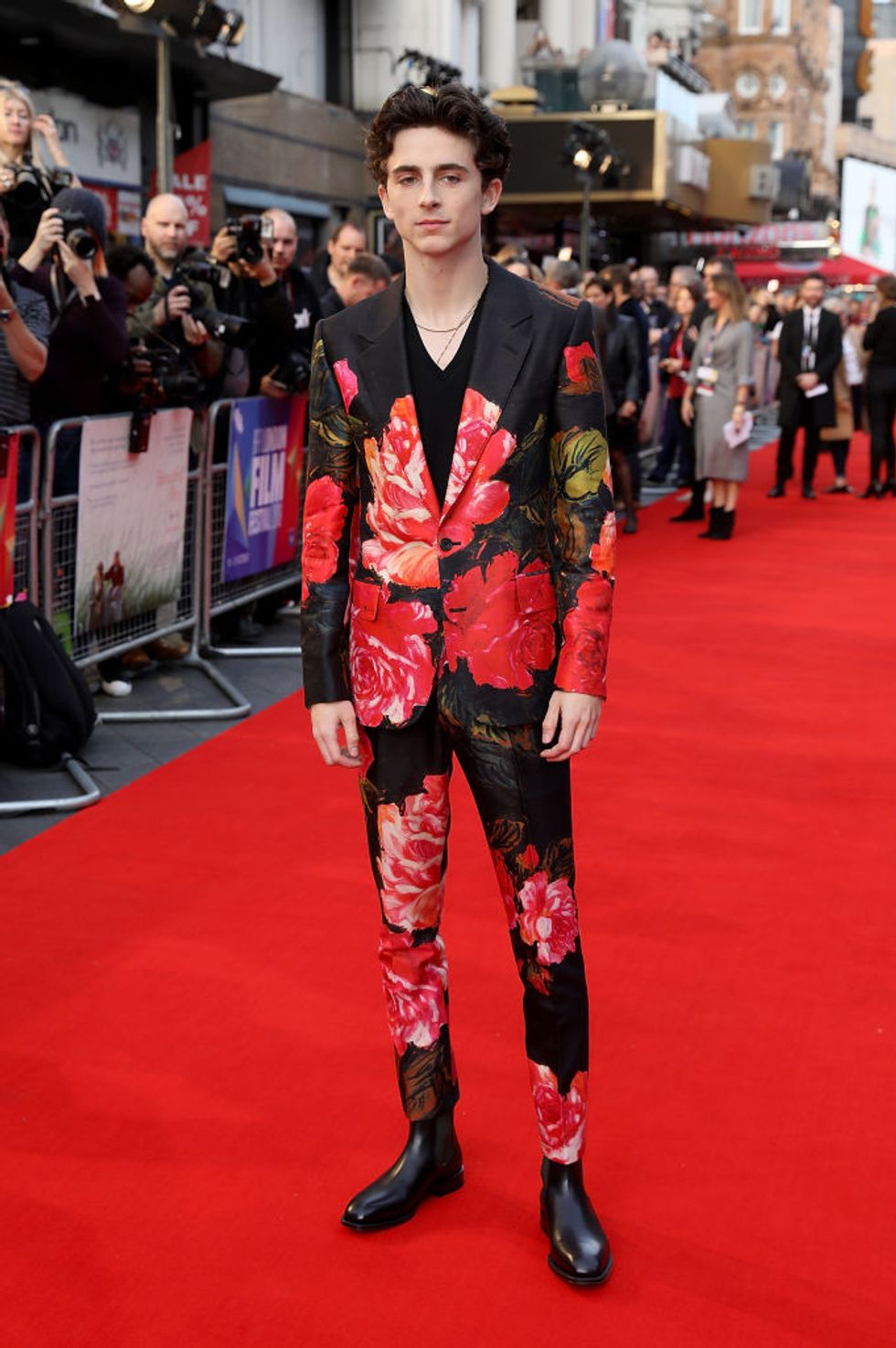 The actor put a floral twist on the classic suit during last year's
Beautiful Boy
premiere and fashion fanatics
lapped it up. 
43. Beyonce, Met Gala, 2015.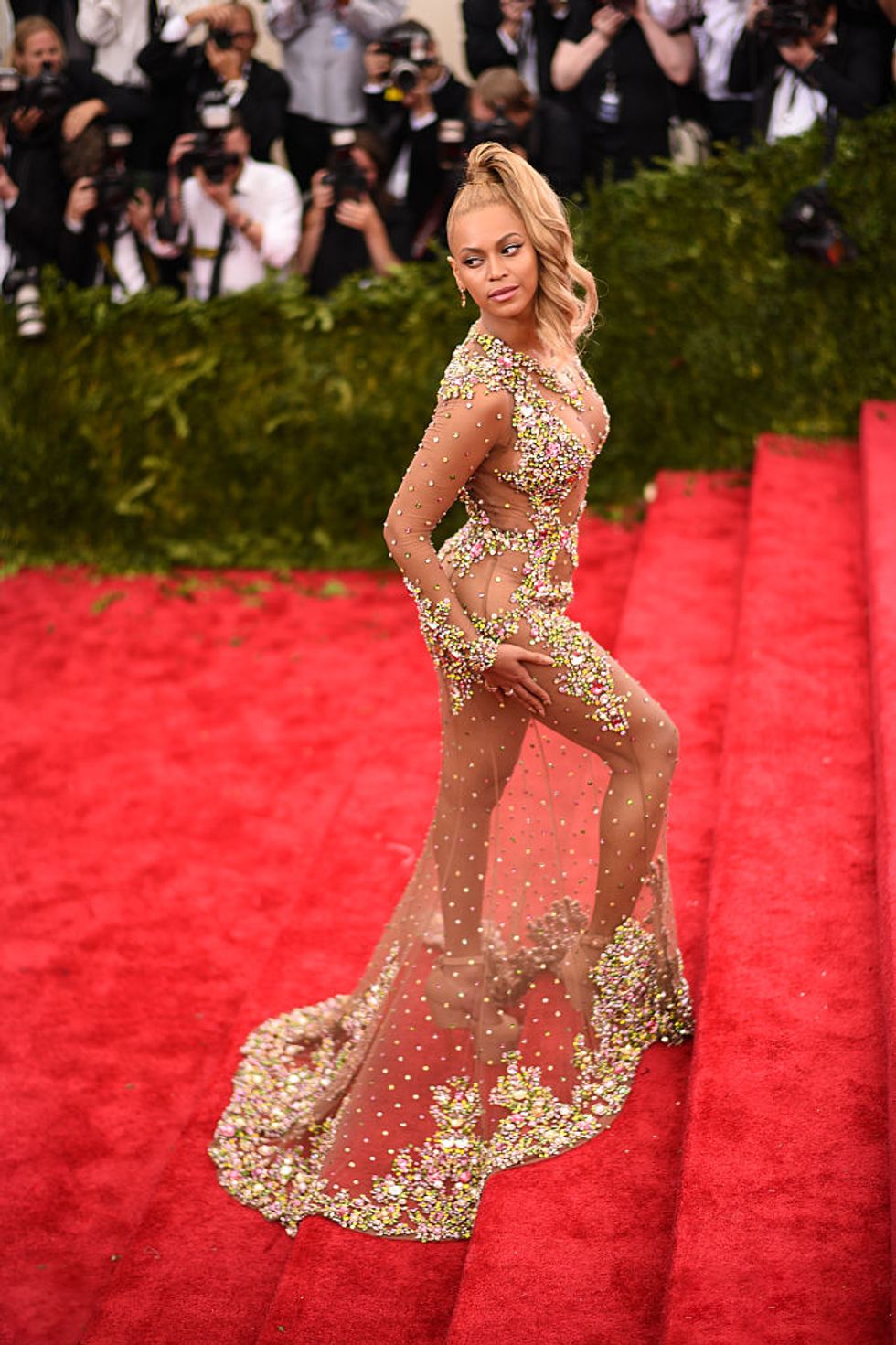 She may have taken to the red carpet 2 hours late, but the singing powerhouse's sheer Givenchy gown complete Lorraine Schwartz jewels still managed to steal the show. This (Thank U) Next look was seriously shocking!
42. Ariana Grande, Met Gala, 2018.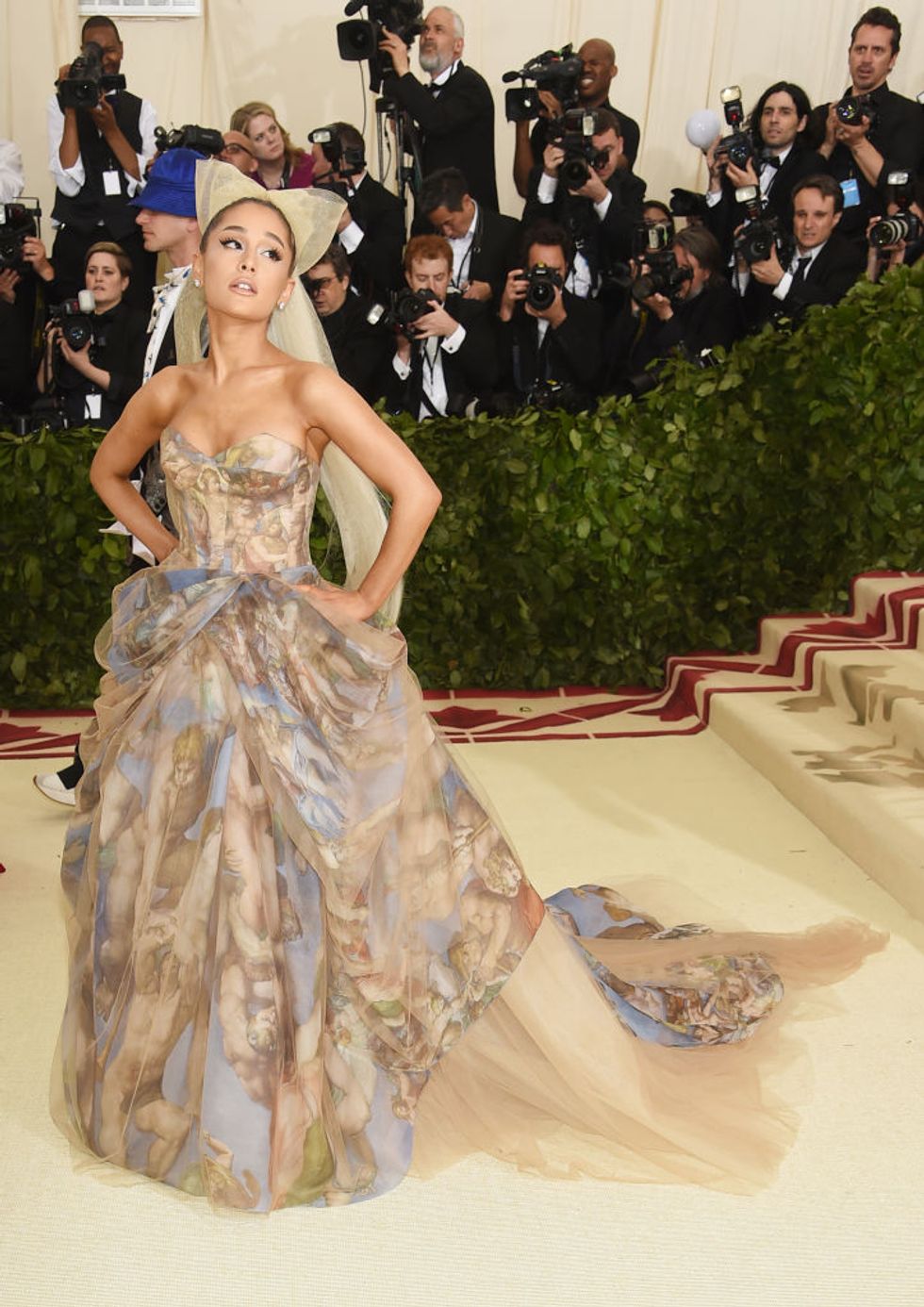 The "Thank U, Next" hitmaker stunned in this Vera Wang artwork-inspired piece.
41. Taylor Swift, Grammys, 2016.
This is another one of those looks that we
probably
won't forget. Taylor Swift gets a lot of bad press, but you have to give it to her, she really did grab our attention sporting this Atelier Versace creation. Try not to squeal when you see this next look.
40. Adam Rippon, Oscars, 2018.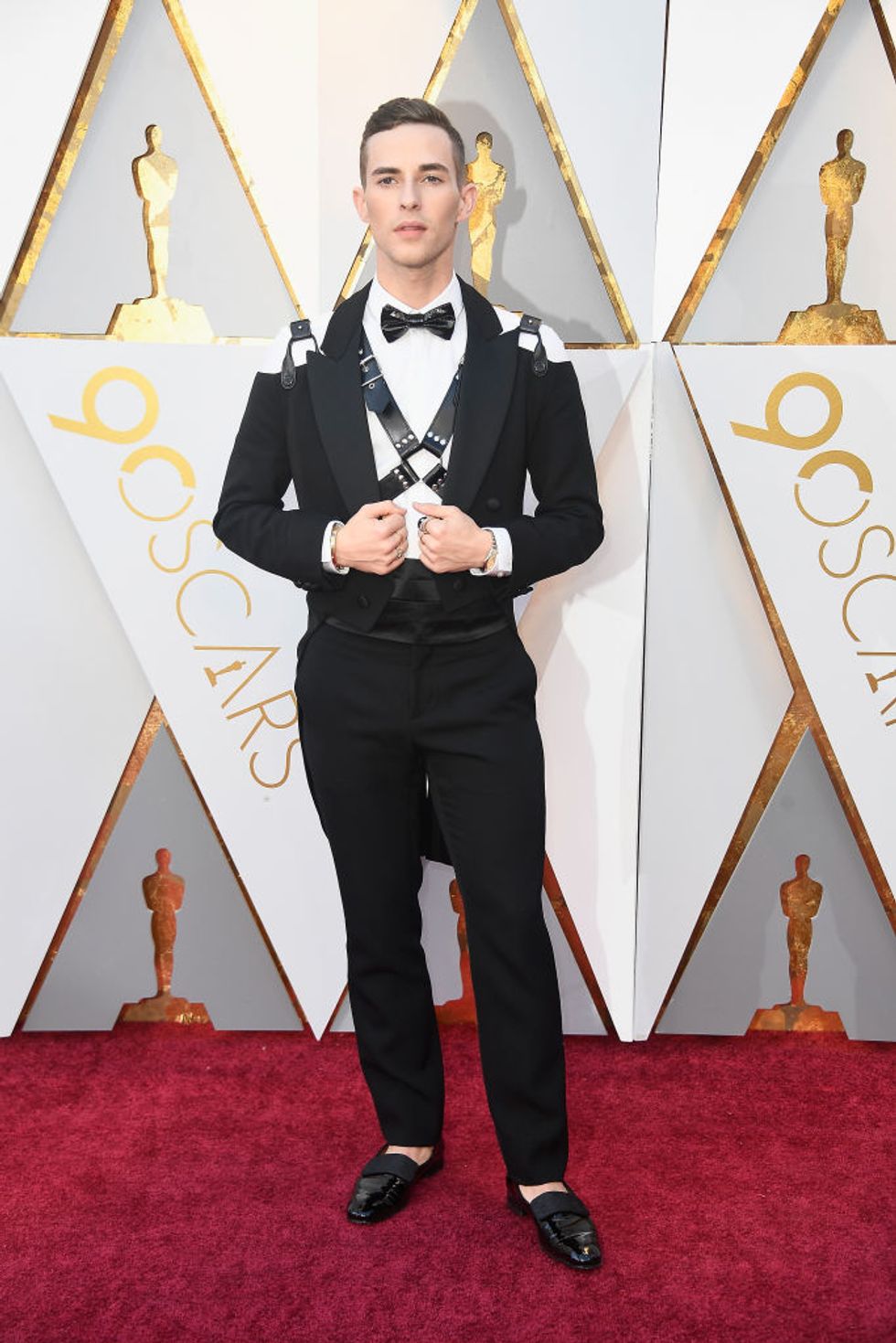 Men tend to get a bad rep when it comes to the red carpet, with many critics calling them out for lack of creativity. But, U.S. figure skater, Adam Rippon, truly blew it out of the water by spicing up the staple black suit with a leather harness.
39. Gwendoline Christie, New York premiere of Game of Thrones, 2019.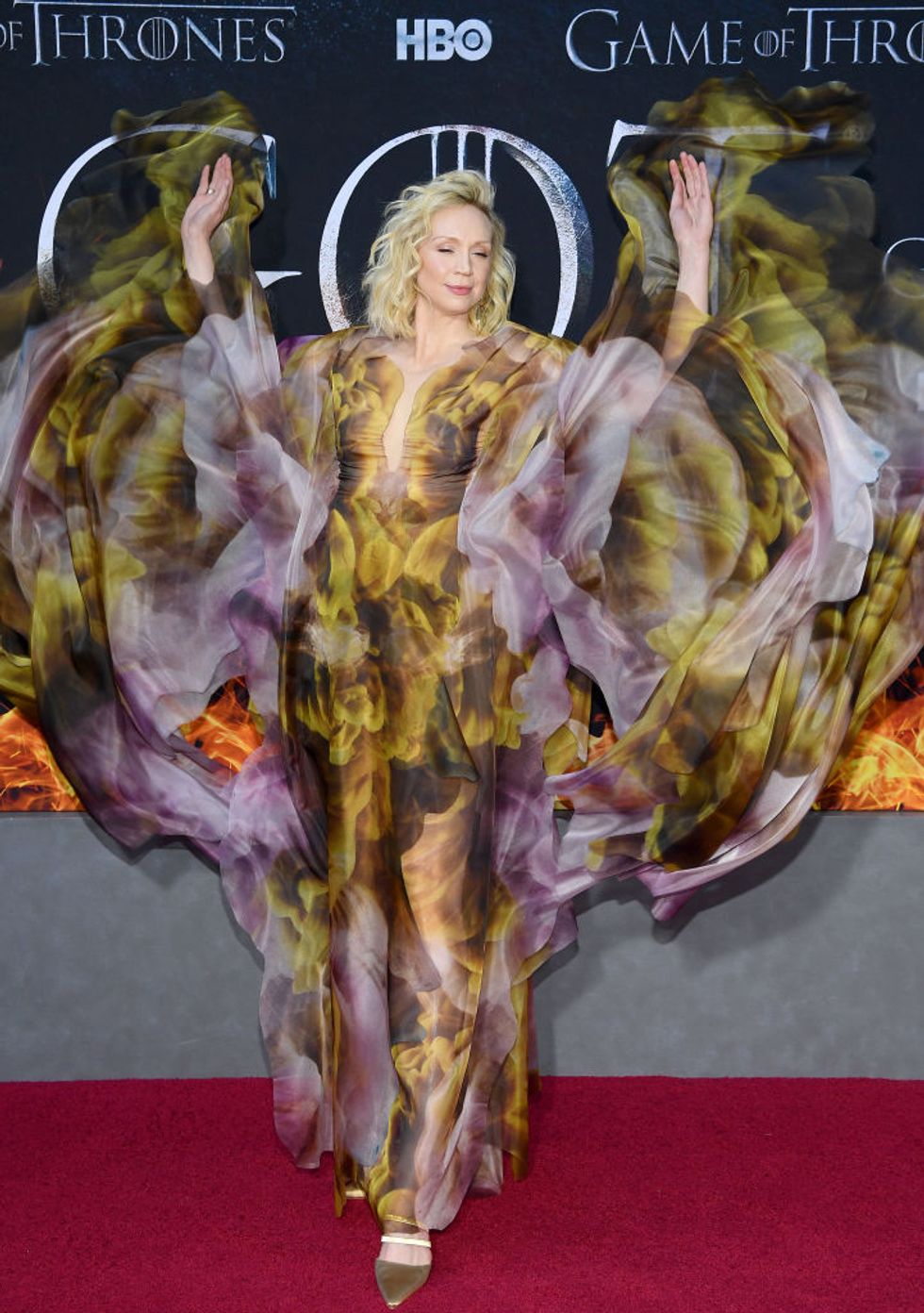 The
Game of Thrones
actress commanded the red carpet in this dreamy Iris van Herpen piece. That pose though... You really can't get more straight-up stunning than this next fashion moment.
38. Amy Adams, Academy Awards, 2013.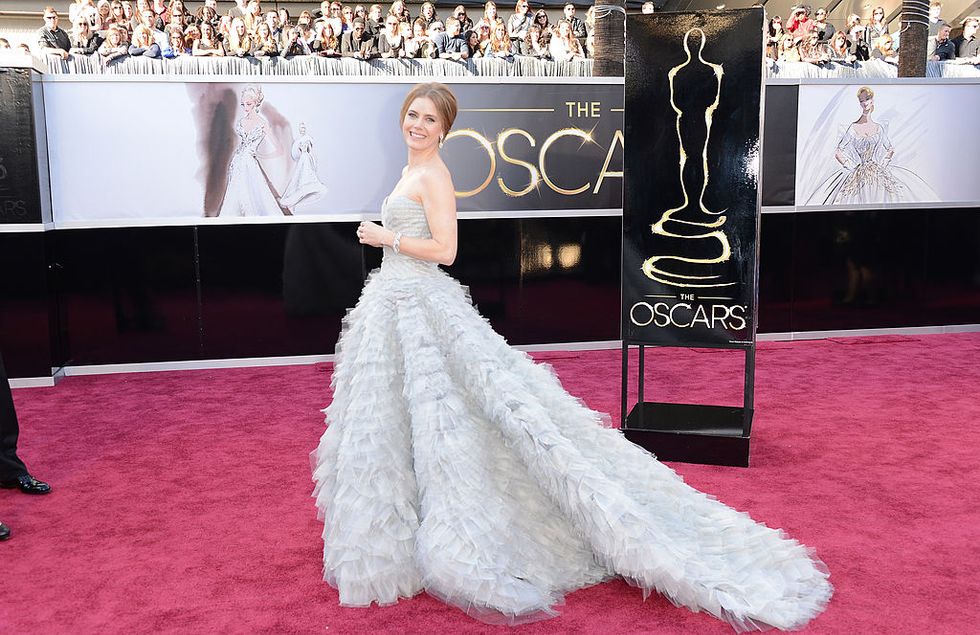 Amy Adams proved she was an absolute red carpet pro when she stepped out in an exquisite Oscar de la Renta gown.
37. Lizzo (and her tiny bag), AMAs, 2019.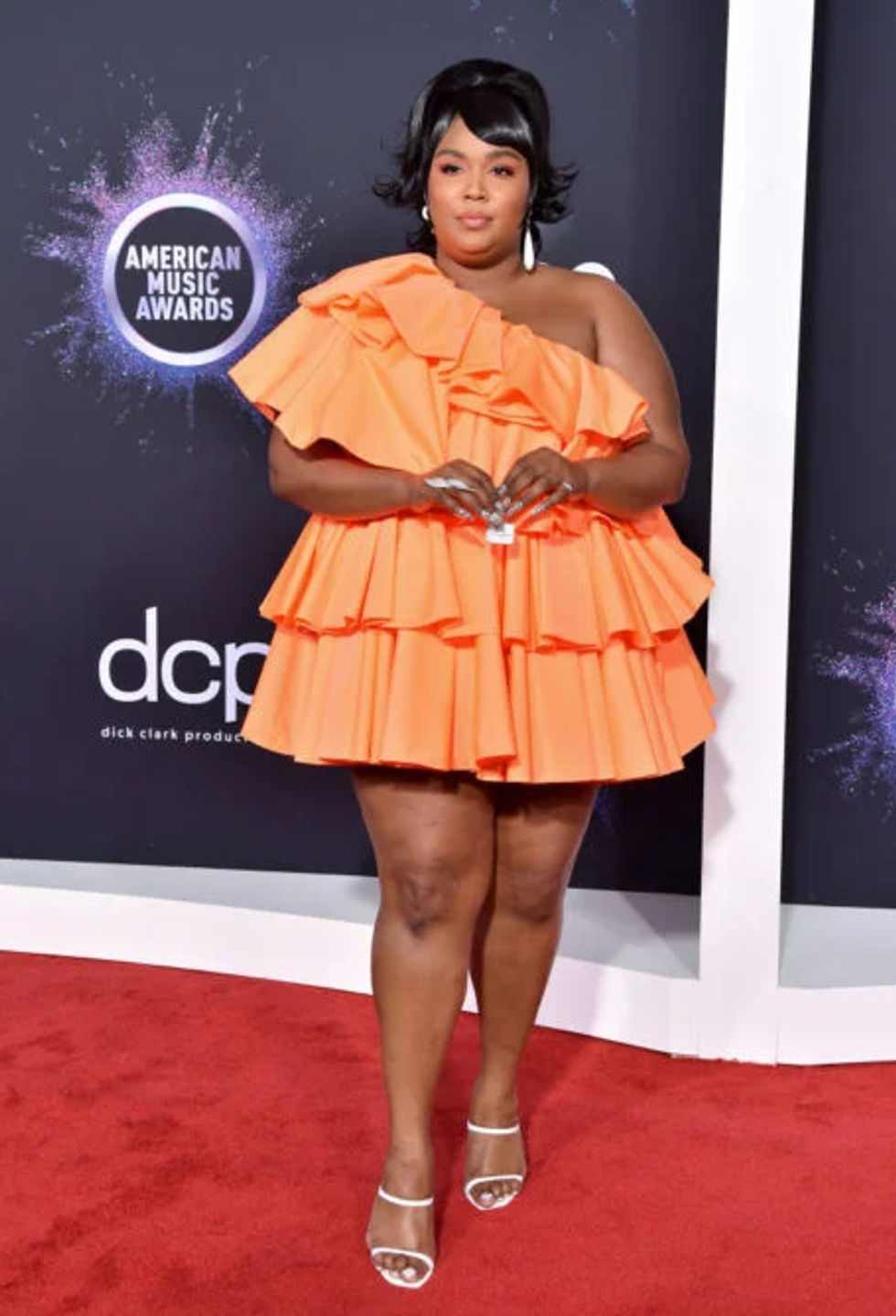 The sweetheart of the 2019 music industry looked absolutely stunning in a ruffled orange minidress. But the
true
showstopper was that tiny Valentino bag. This next look proves that men's wear can be anything but boring!
36. Tan France, Emmys, 2019.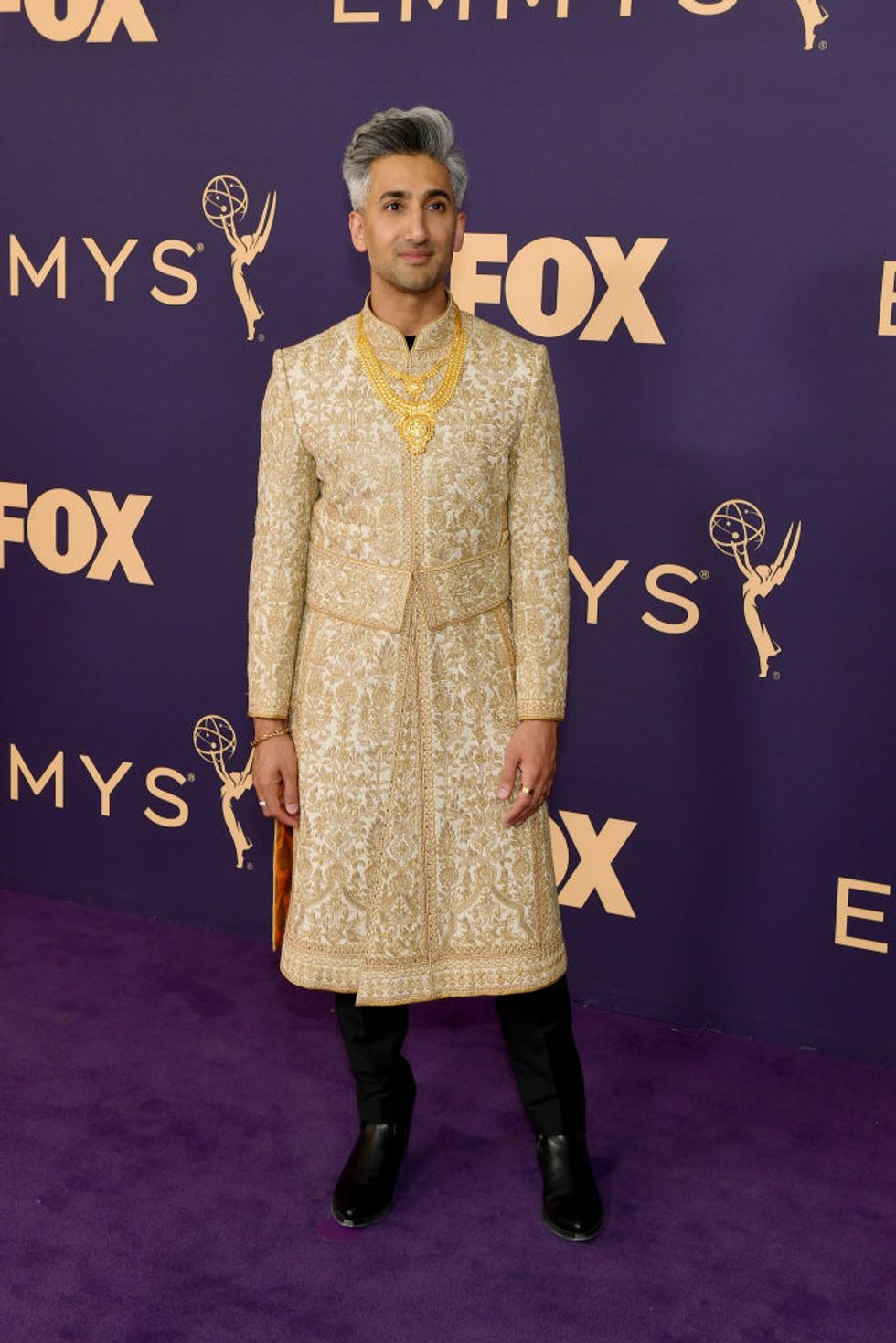 The
Queer Eye
fashion mogul himself has some high expectations to live up to, and when it came to the Emmy's this year, he
certainly
delivered. His head-turning kurta was a true feast for the eyes.
35. Chrissy Teigen, AMA's, 2016.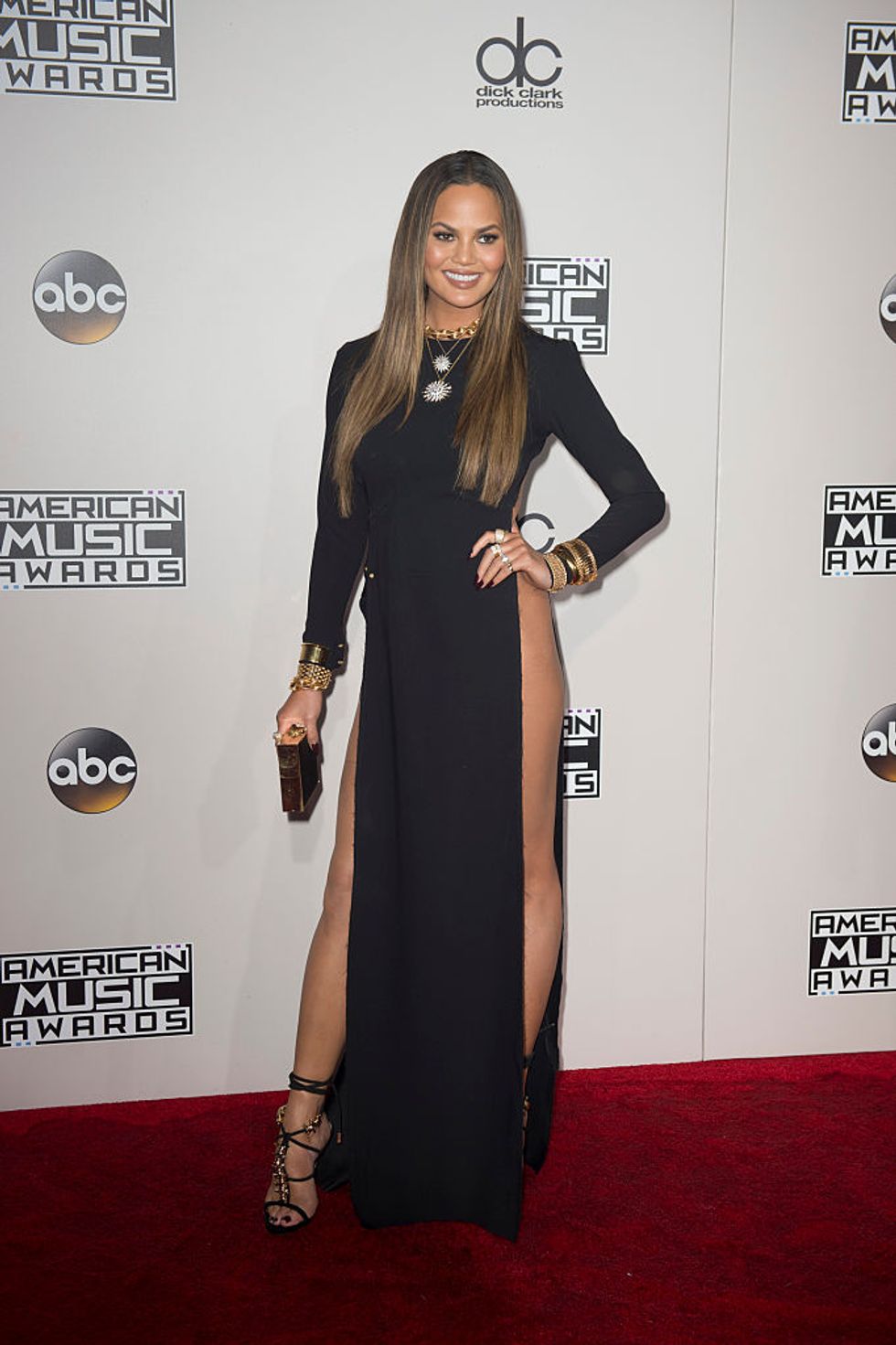 The Queen of Twitter herself donned probably the
biggest
slit we've
ever
seen in this attention-grabbing number. Keep clicking for a moment that totally took the red carpet by storm.
34. Zendaya, Met Gala, 2015.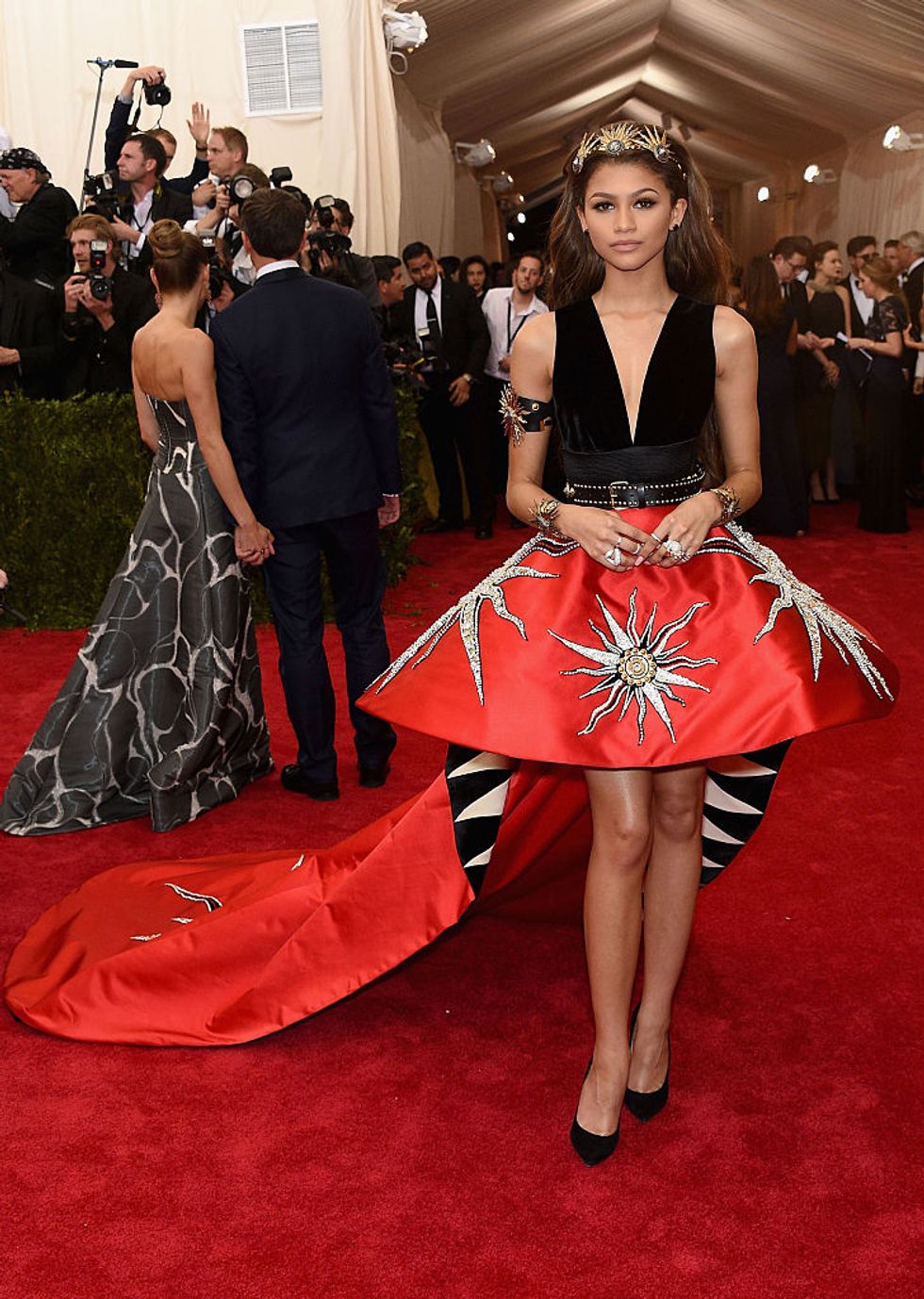 Zendaya's Fausto Puglisi number was truly captivating. Featuring a bold sun motif, the gown really did beautifully play on the evening's Chinese-inspired theme.
33. Donald Glover, Black Panther premiere, 2018.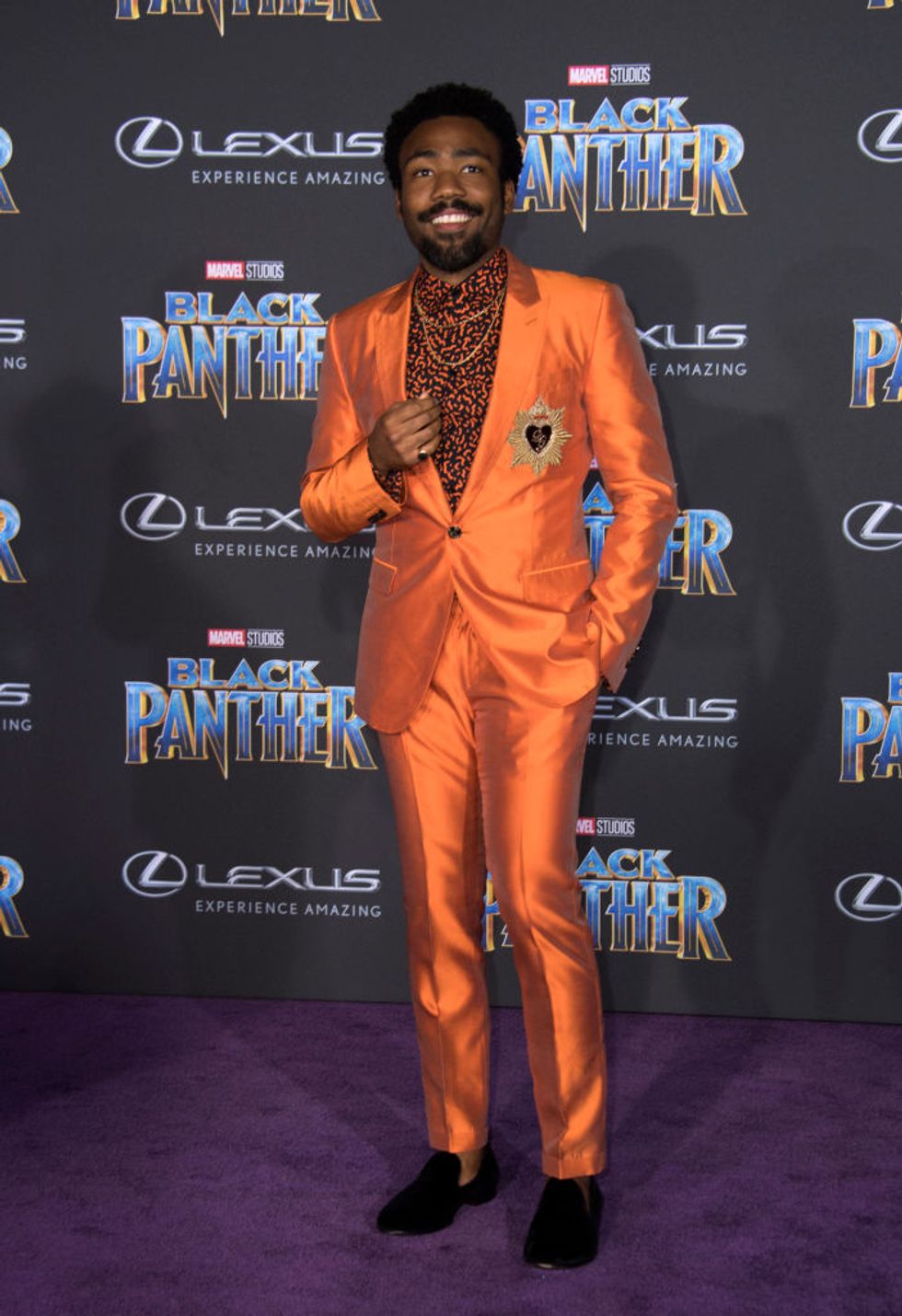 Black Panther's
leading man knew it was his time to shine and
boy
did he shine.  The star absolutely killed it this '90s inspired orange Dolce & Gabbana suit. The next look has a surprisingly high-tech surprise...
32. Claire Danes, Met Gala, 2016.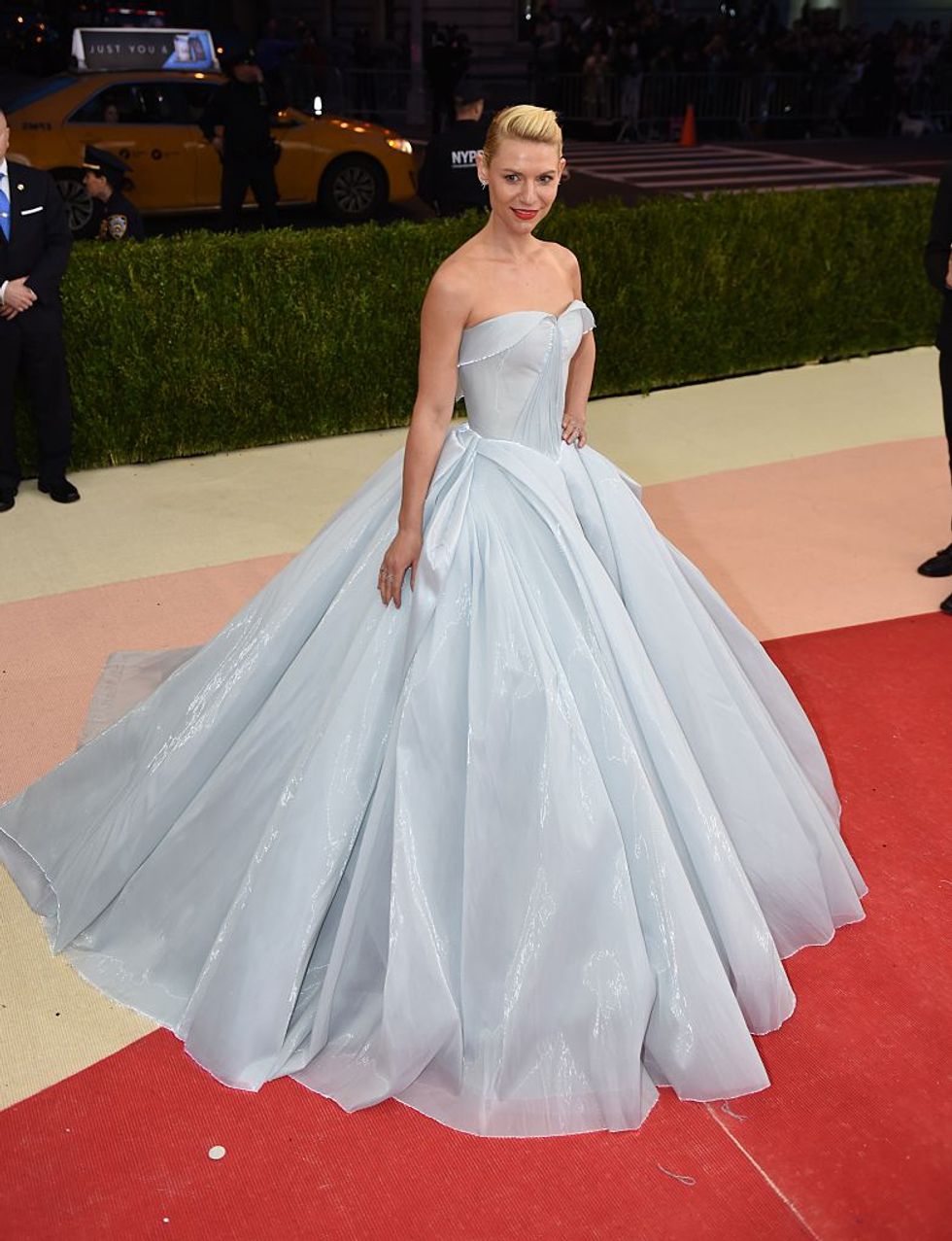 Claire Dane's gave us full-blown princess vibes in her Zac Posen sky blue ballgown. But her showstopping entrance didn't end there - a social media picture later revealed that the dress
glowed in the dark. 
Nobody will be able to forget
this
ensemble.
31. Harry Styles, iHeartRadio Music Festival, 2017.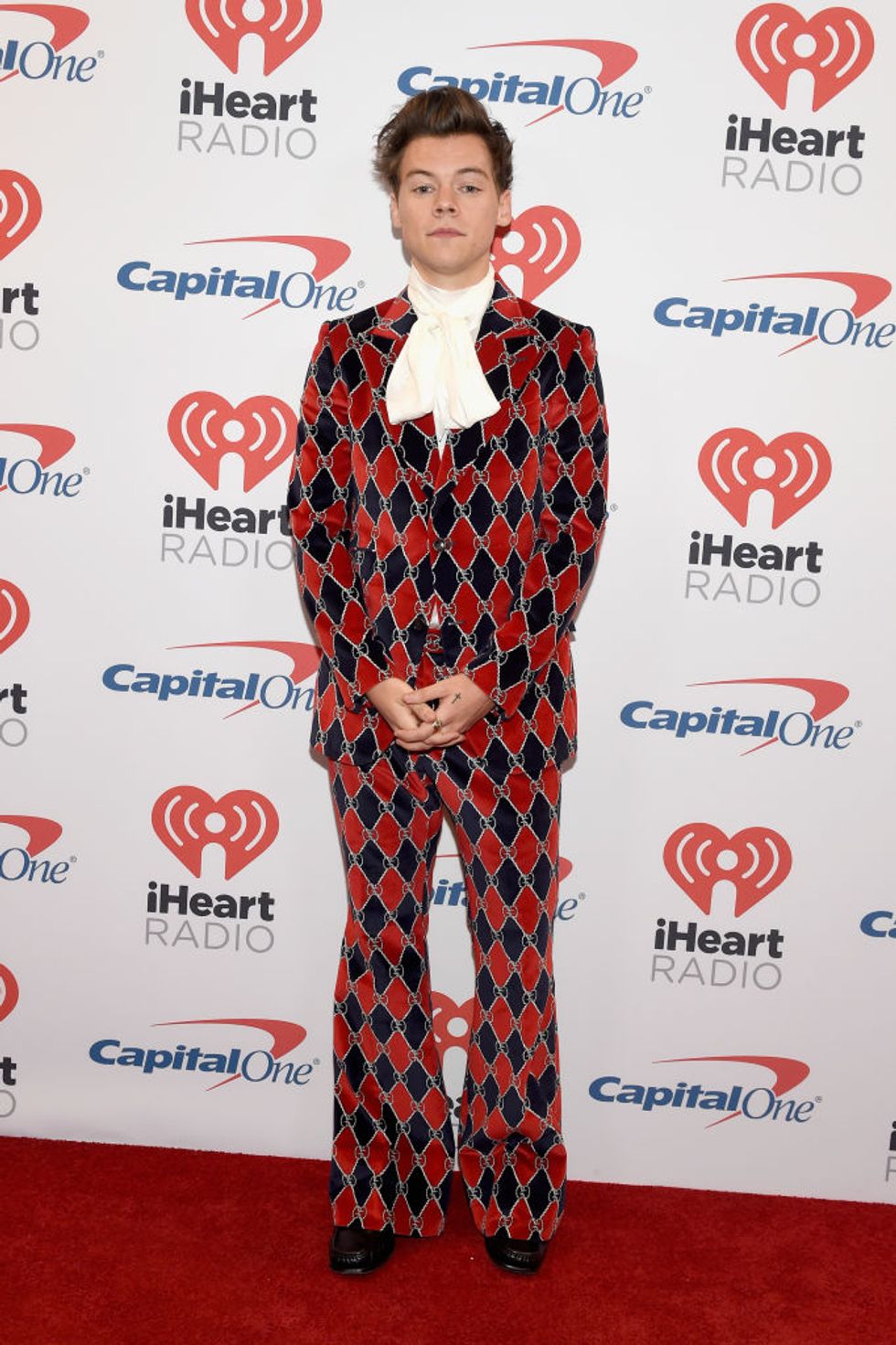 Harry Styles is no stranger to pushing the fashion boundaries, and this Gucci flared suit is certainly no exception. There's no doubt that throughout the decade, he's really found his feet in the world of fashion. Seriously, how did this next celeb even walk in that thing?!
30. Rihanna, Grammys, 2016.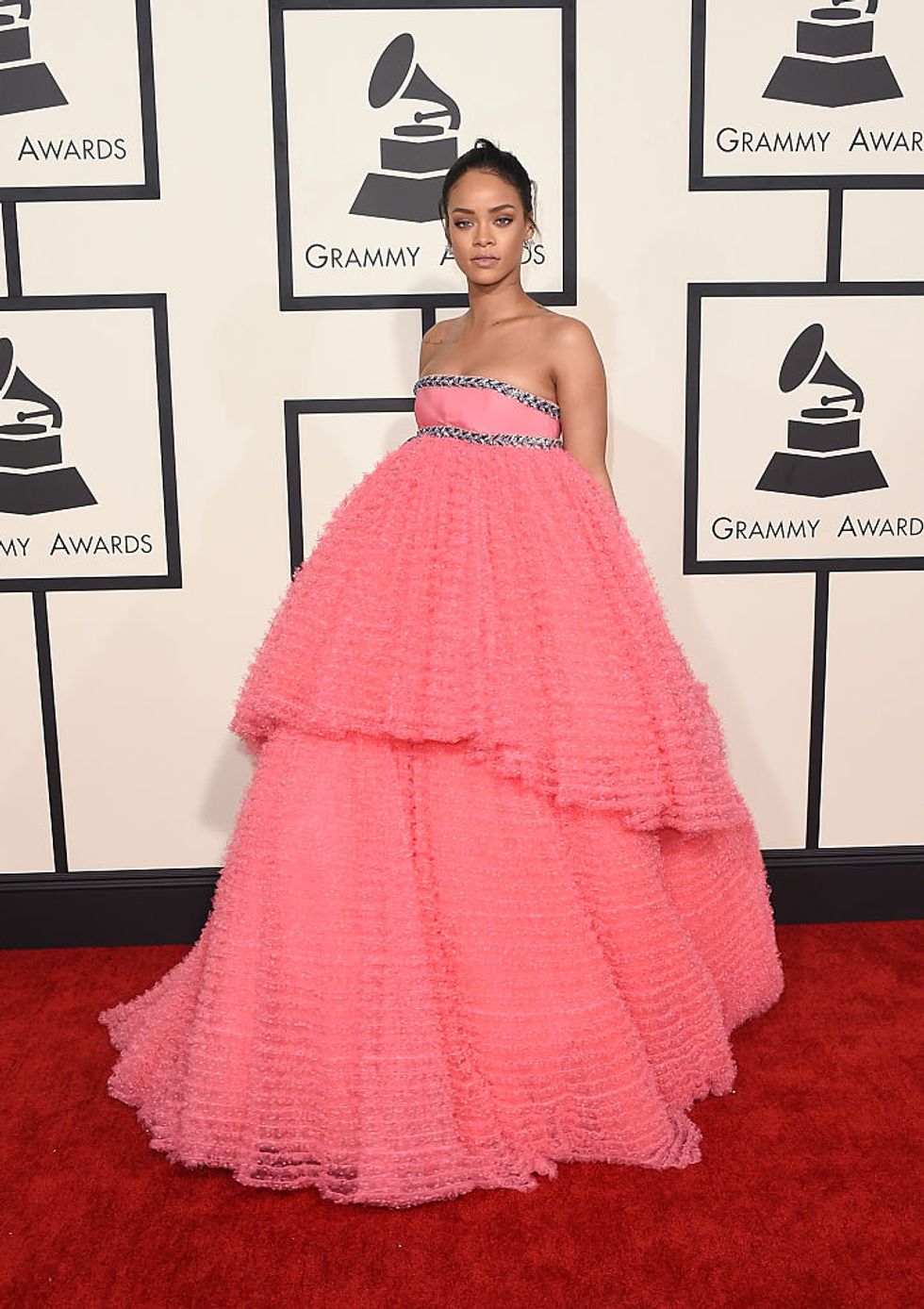 The beauty mogul's pink-tiered Giambattista Valli gown truly won over critics, and we can certainly see why!
29. Meghan Markle, Royal Wedding, 2018.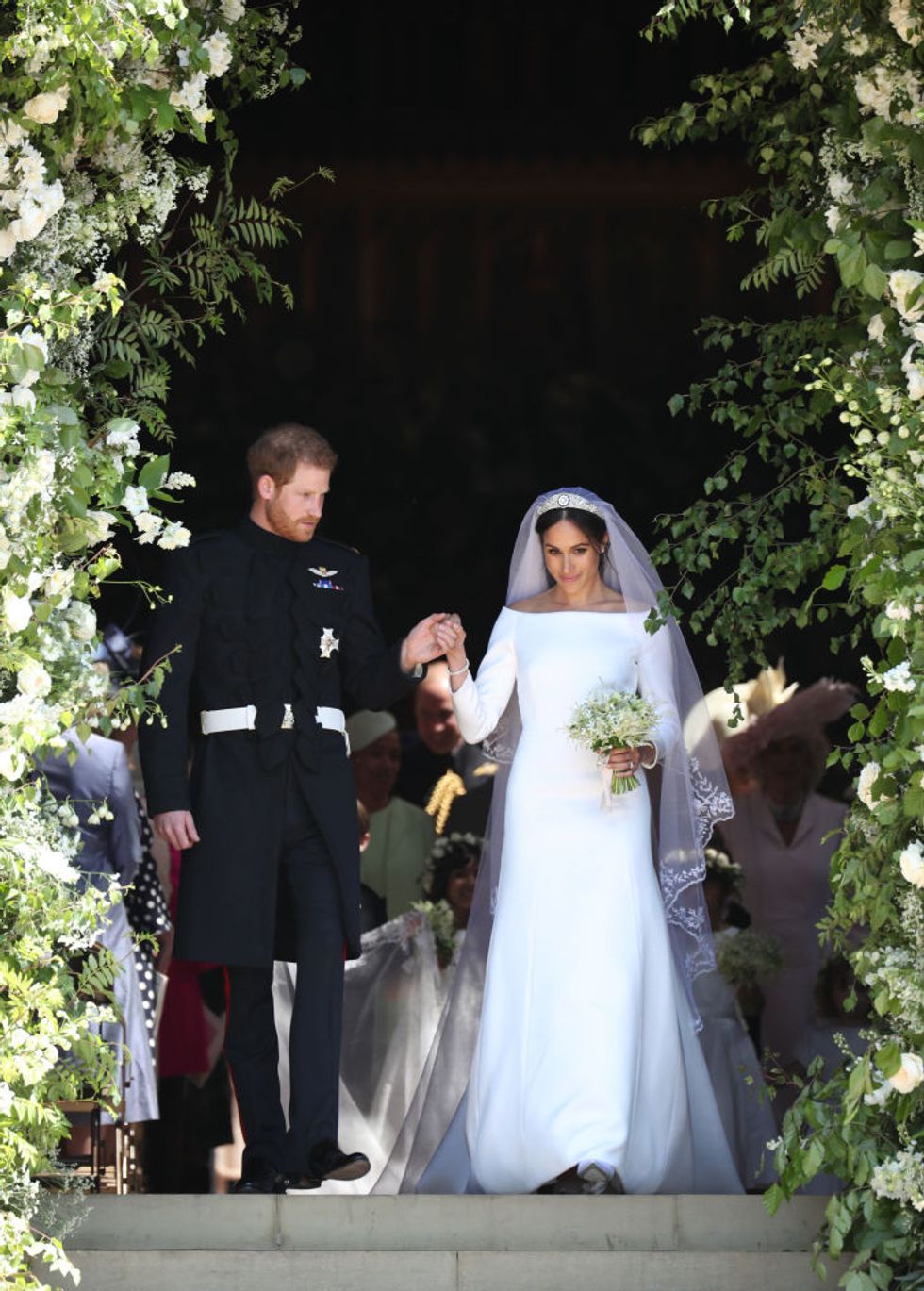 Of course, Meghan Markle's stunning Givenchy wedding dress also couldn't go unmentioned. The minimalist dress boasted a statement boat neck along with a 5 meter-long white silk veil that truly stole the show. This next look was clearly inspired by this celeb's most iconic character.
28. Sarah Jessica Parker, Sex in the City premiere, 2010.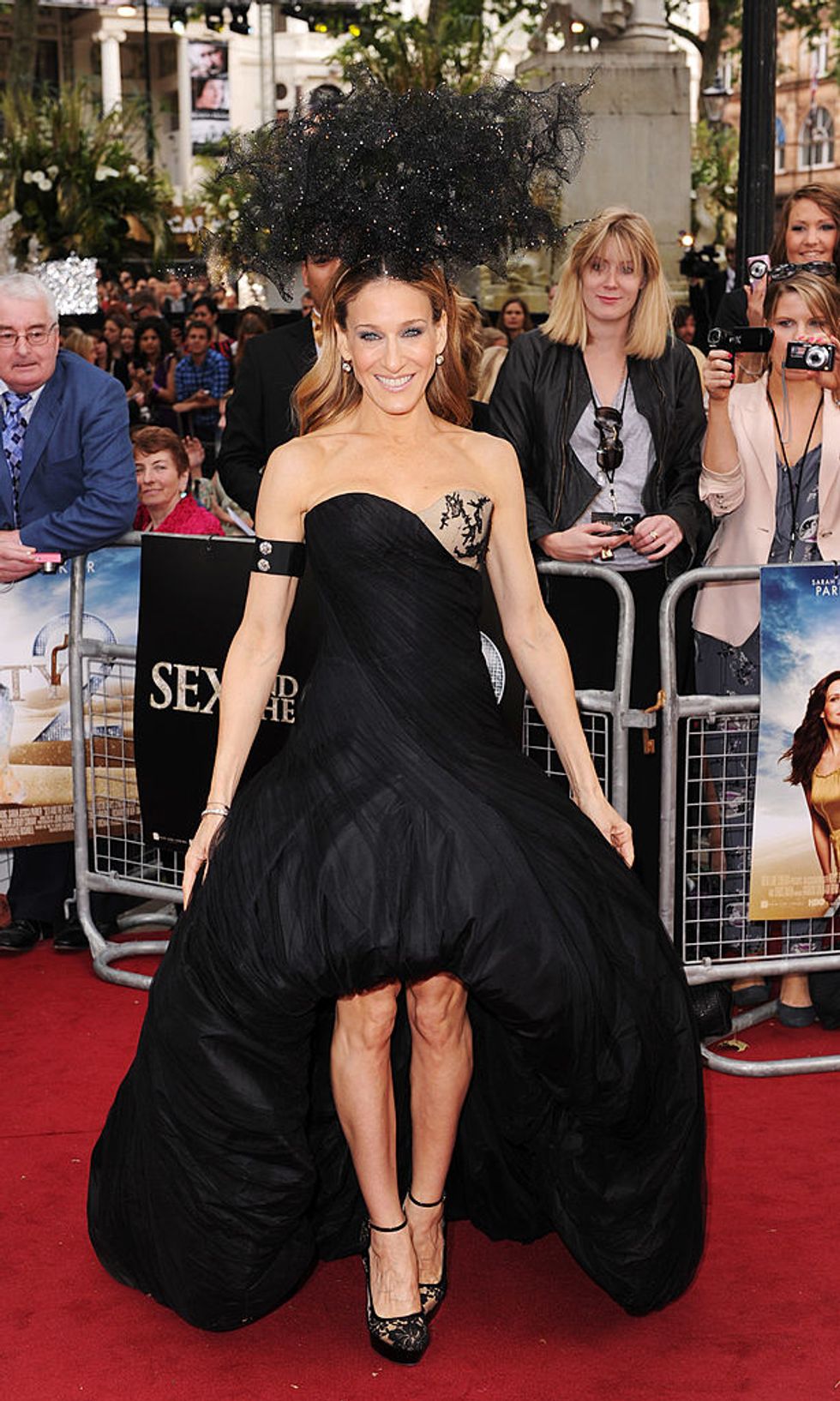 Sarah Jessica Parker descended onto the red carpet in one of the most extravagant headpieces we think we've seen.
27. Lupita Nyong'o, Academy Awards, 2014.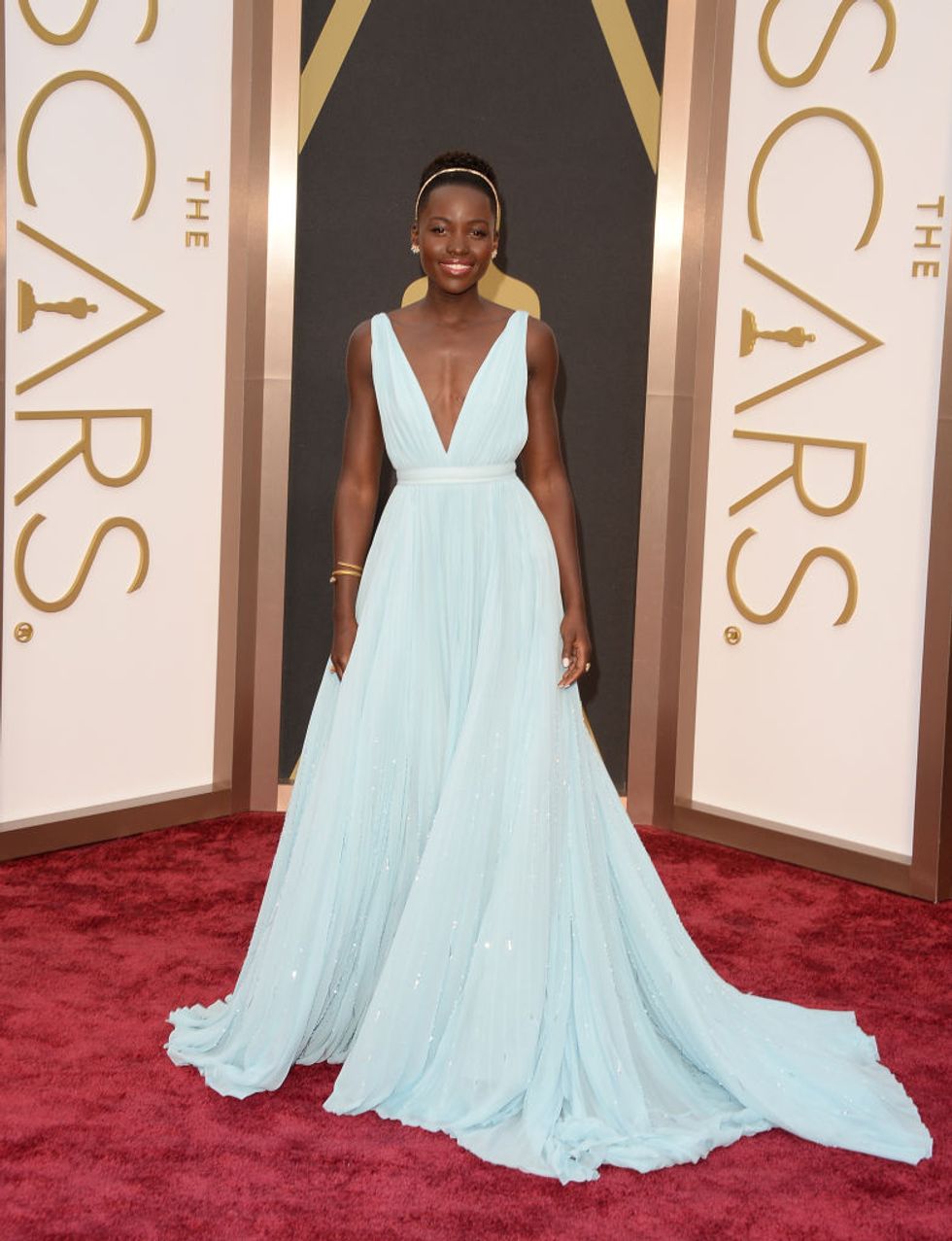 The actress well and truly stole the show in this baby blue Prada gown. This next fashion look makes us incredibly uncomfortable...
26. Kim Kardashian, Met Gala, 2013.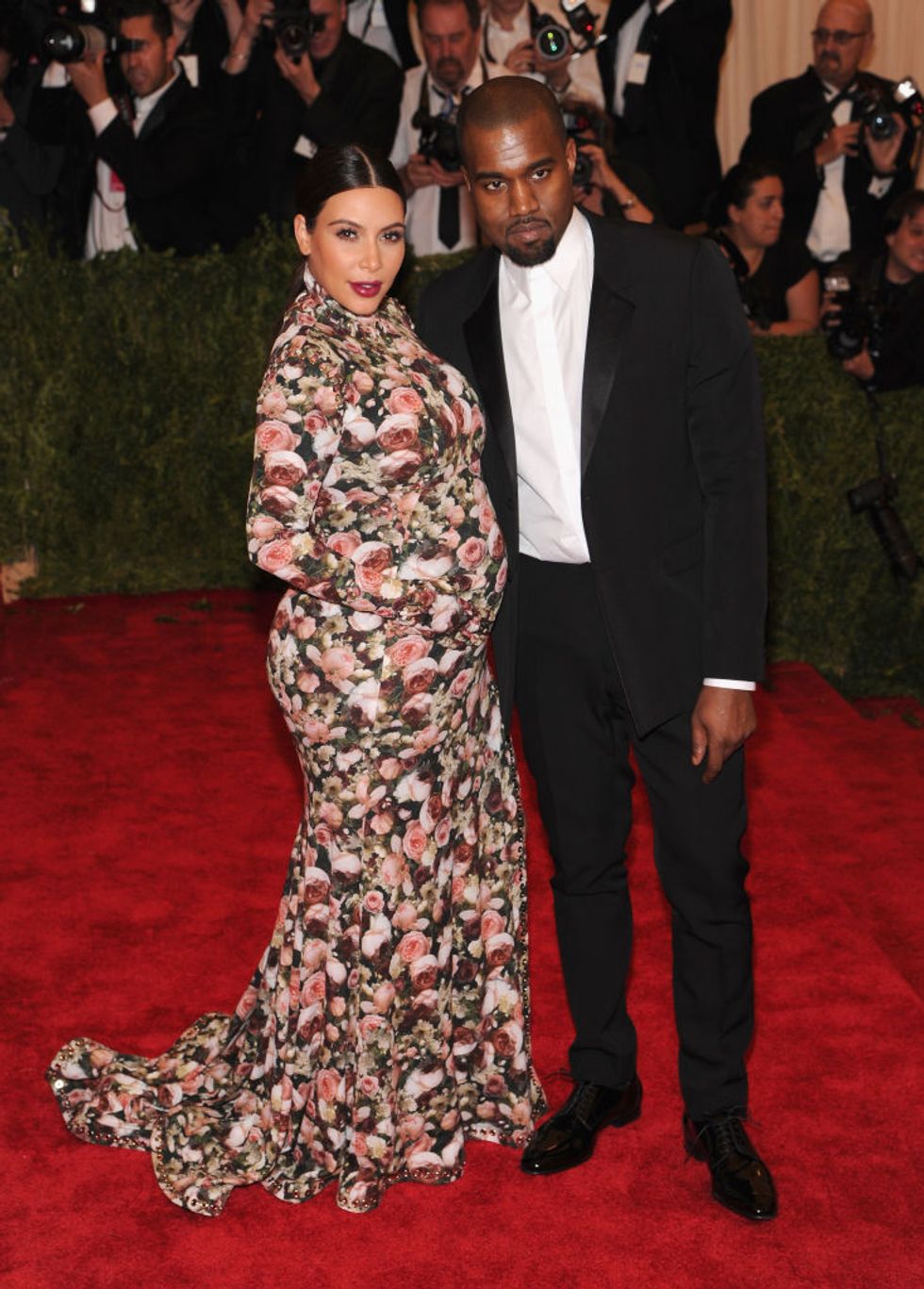 We
still
haven't forgotten this floral ensemble courtesy of Miss Kim Kardashian West, and we kind of wish we could. The heavily pregnant star donned a Givenchy floral gown and matching gloves, with the beauty mogul welcoming her daughter, North, just weeks later.
25. Sarah Jessica Parker, Met Gala, 2014.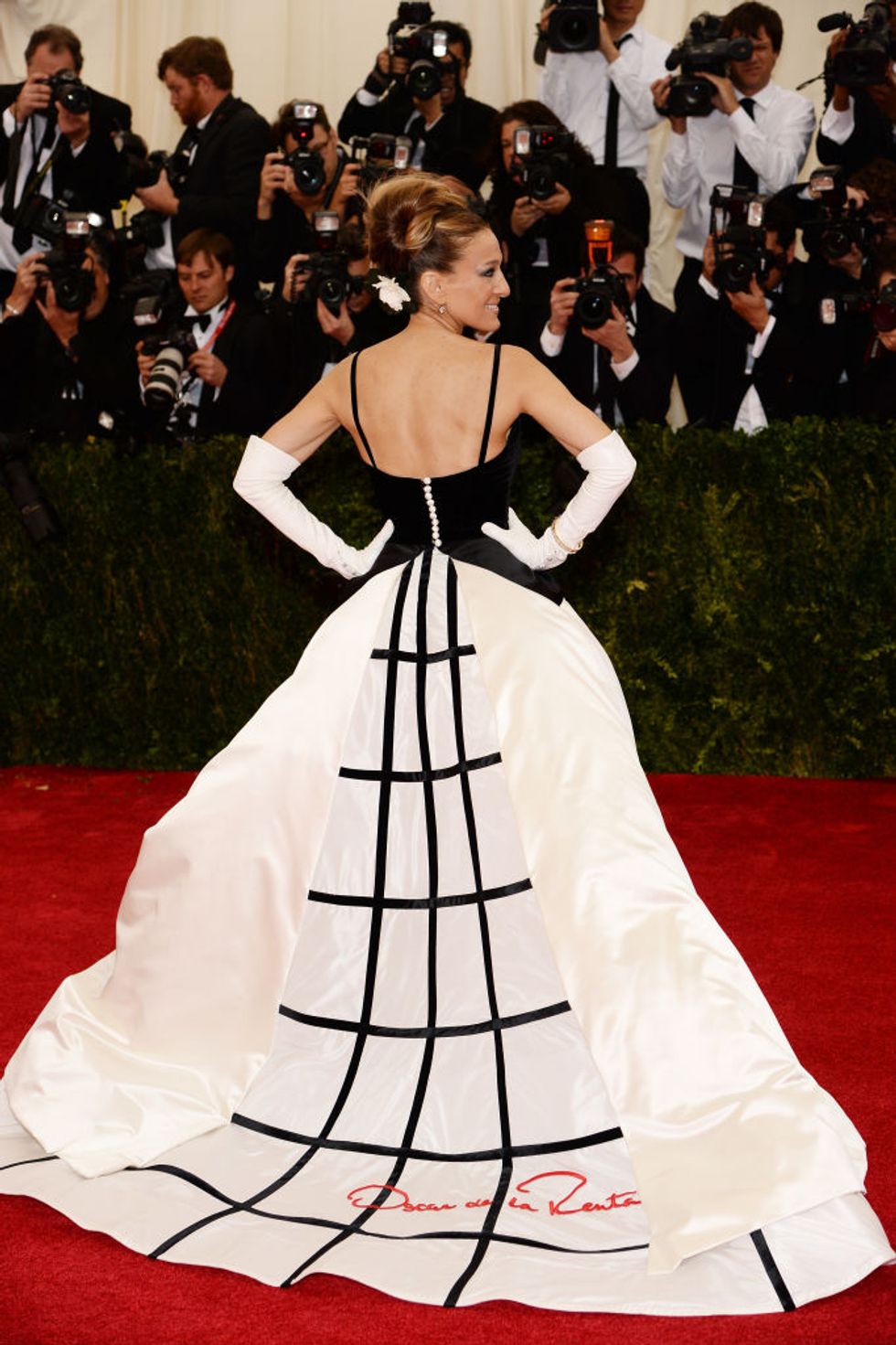 It's clearly been a great decade for Sarah Jessica Parker's stylist. The star wore a custom Duchesse satin Oscar de la Renta gown that completely commanded our attention at the 2014 Met Gala. The next red carpet moment still gives us chills!
24. Priyanka Chopra, Met Gala, 2017.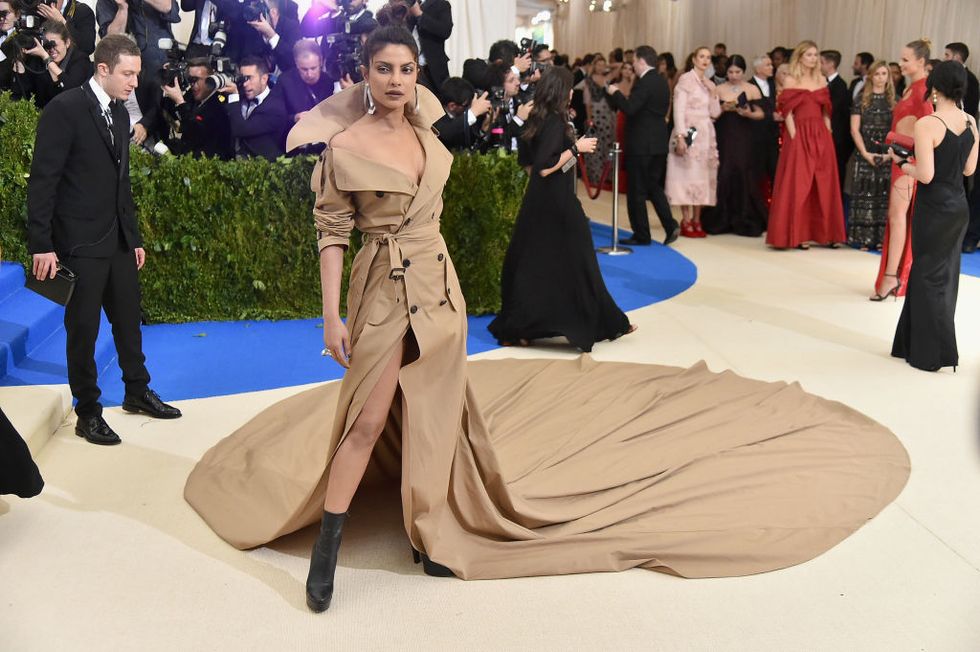 Trench coat? On the red carpet? Well, it seems Priyanka Chopra has made it work. Her full-length Ralph Lauren coat-dress hybrid could have easily won an award of its own.
23. Solange, Met Gala, 2015.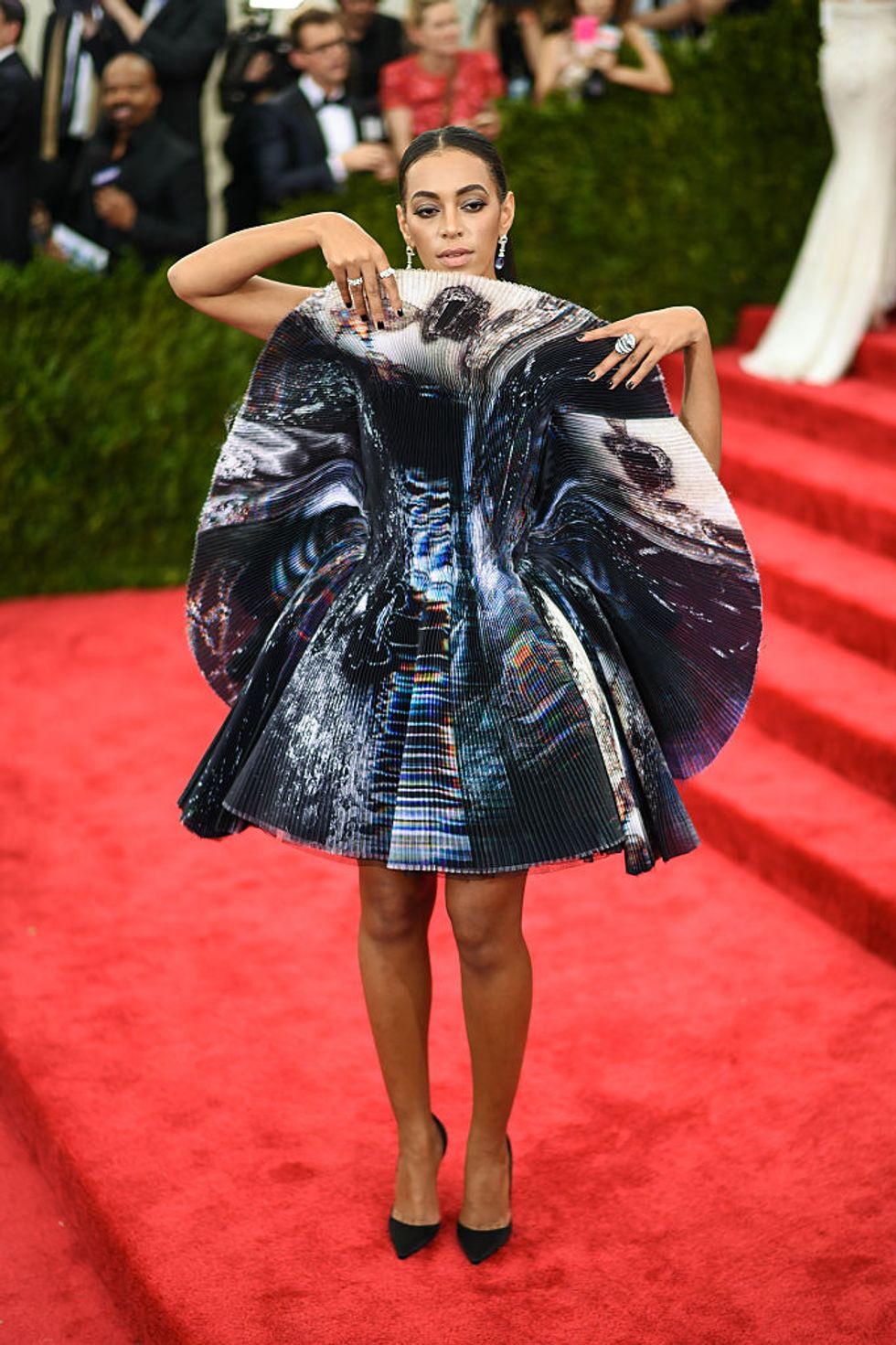 The singer's Giles Deacon ensemble was certainly a statement if not slightly bizarre. Although, there are no rules in fashion,
right
? The garment has also been interpreted as a symbolic defense from the paparazzi, after a highly publicized incident between the singer and her brother-in-law,
Jay-Z
, was captured and went viral online following the previous year's gala. We have no idea how this next celeb got through doorways in this getup!
22. Katy Perry, Met Gala, 2018.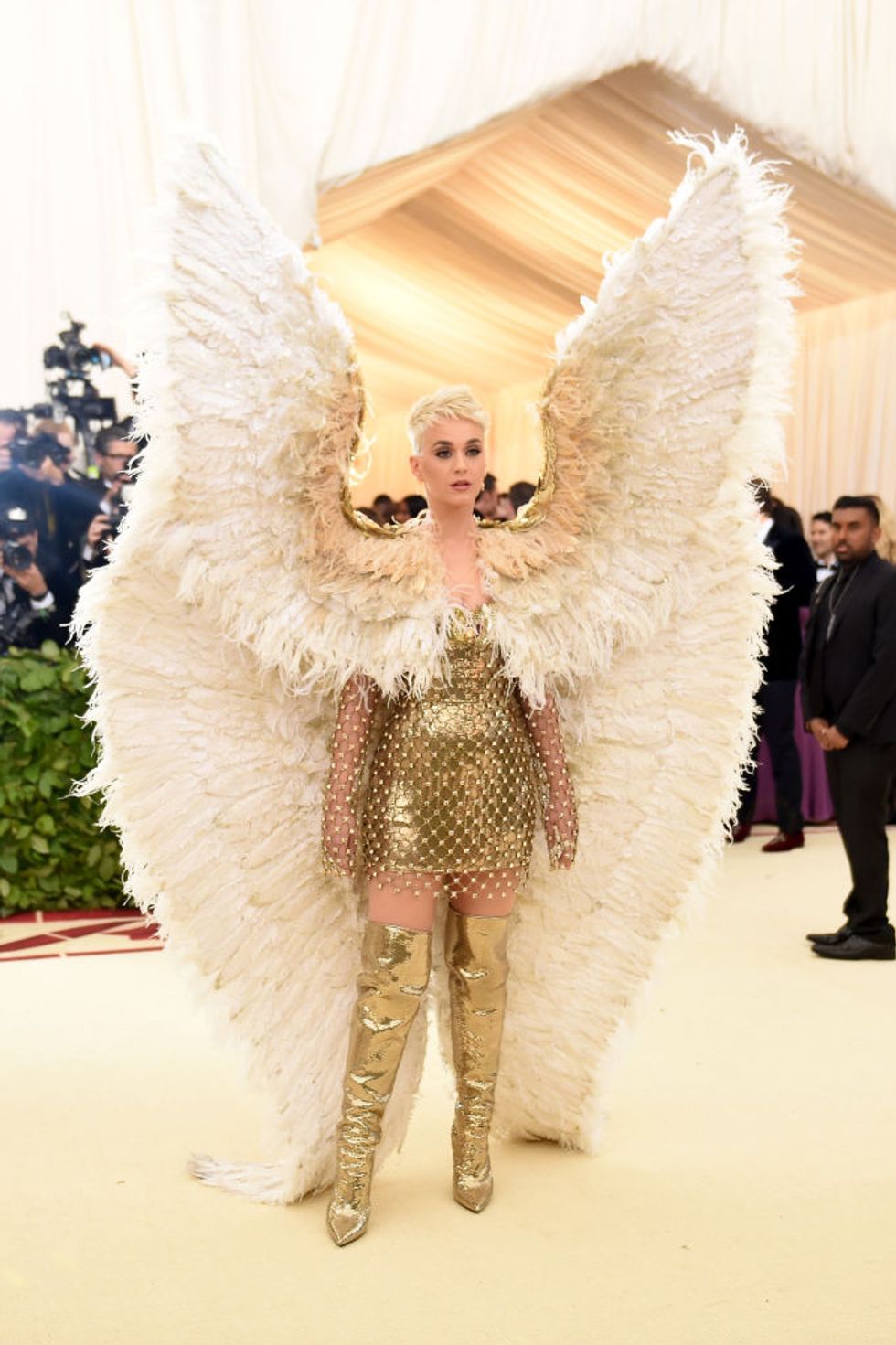 Remember this look from the pop powerhouse? The star dominated the 2018 Met Gala
in this show-stopping Versace ensemble complete with oversized wings.
21. Lady Gaga, Met Gala, 2019.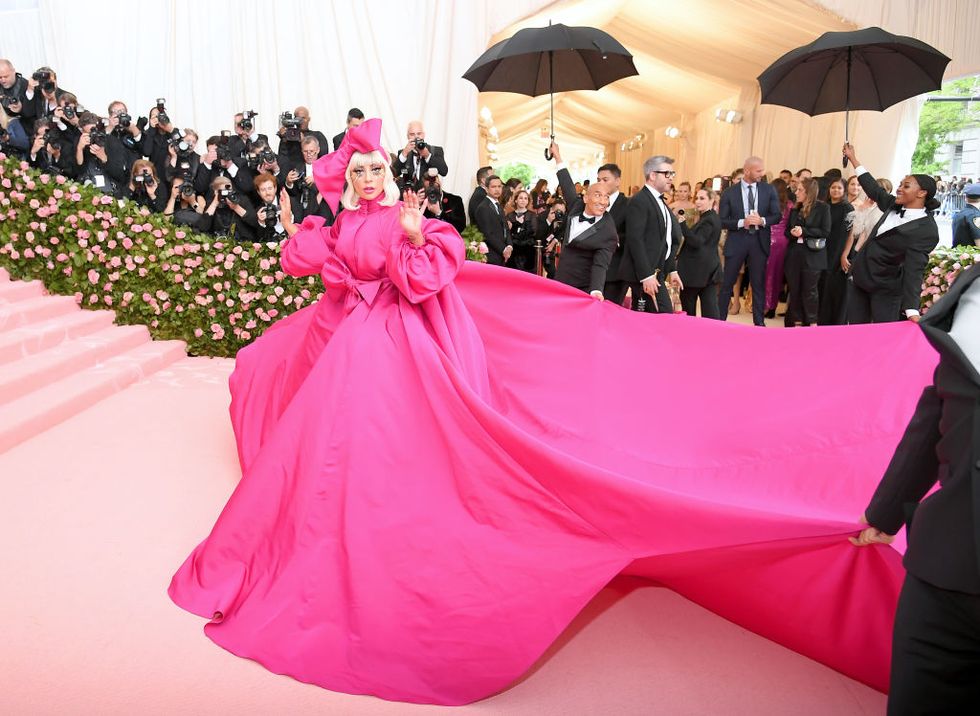 Lady Gaga completely won the Met Gala this year with not one, not two, but 4 camp-themed looks straight from the mind of Brandon Maxwell.  
This next fashion moment made a powerful statement on the red carpet that definitely had people talking.
20. Lena Waithe, Met Gala, 2018.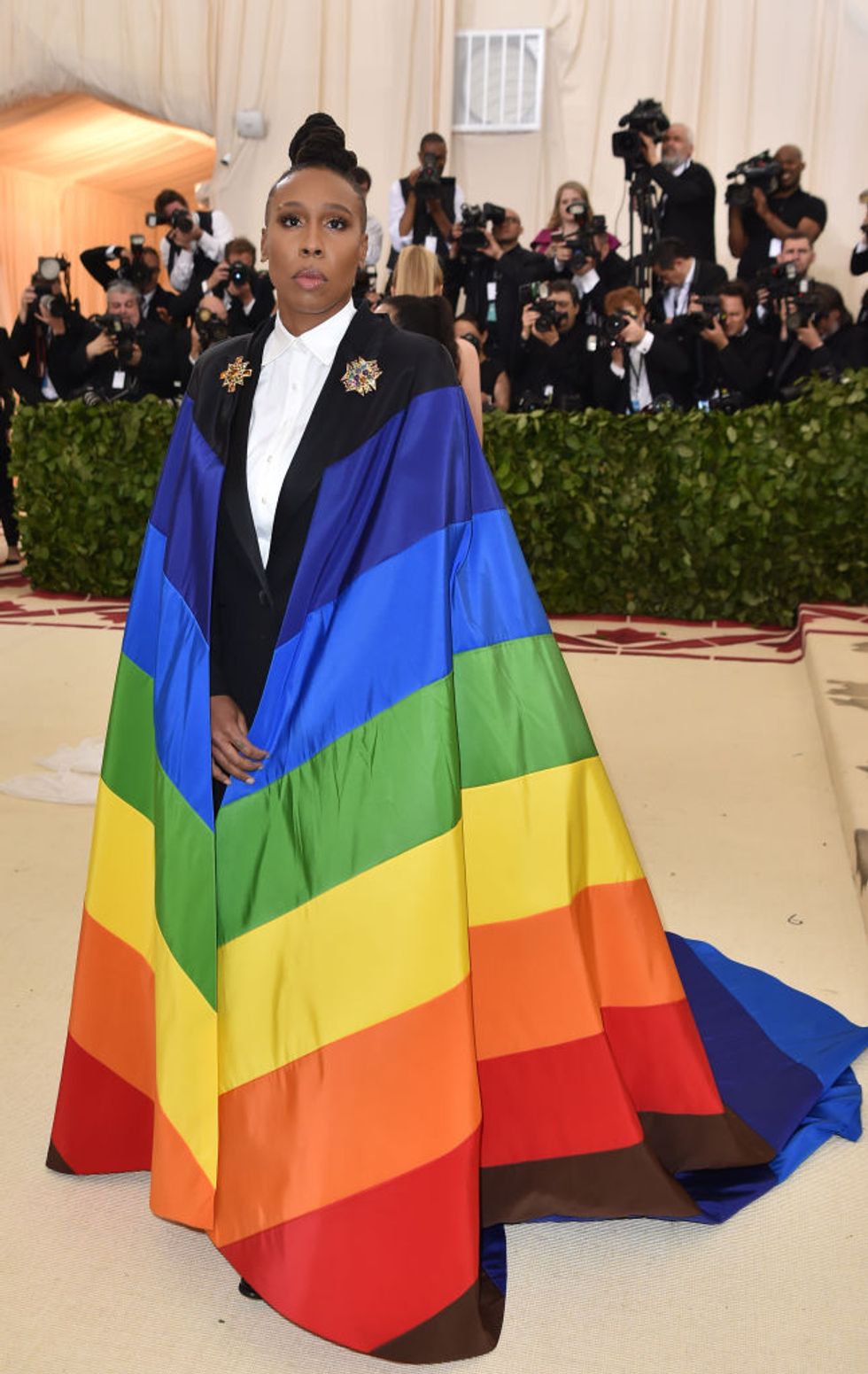 Most celebs dressed in religion-inspired ensembles for the "Heavenly Bodies: Fashion and the Catholic Imagination," themed Met Gala, but Lena Waithe had other ideas on what the theme meant - donning a huge Carolina Herrera pride flag. "You talk about church and Catholicism, it's about—you were made in God's image...The theme to me is be yourself," she explained to Complex.
19. Rihanna, CFDA Awards, 2014.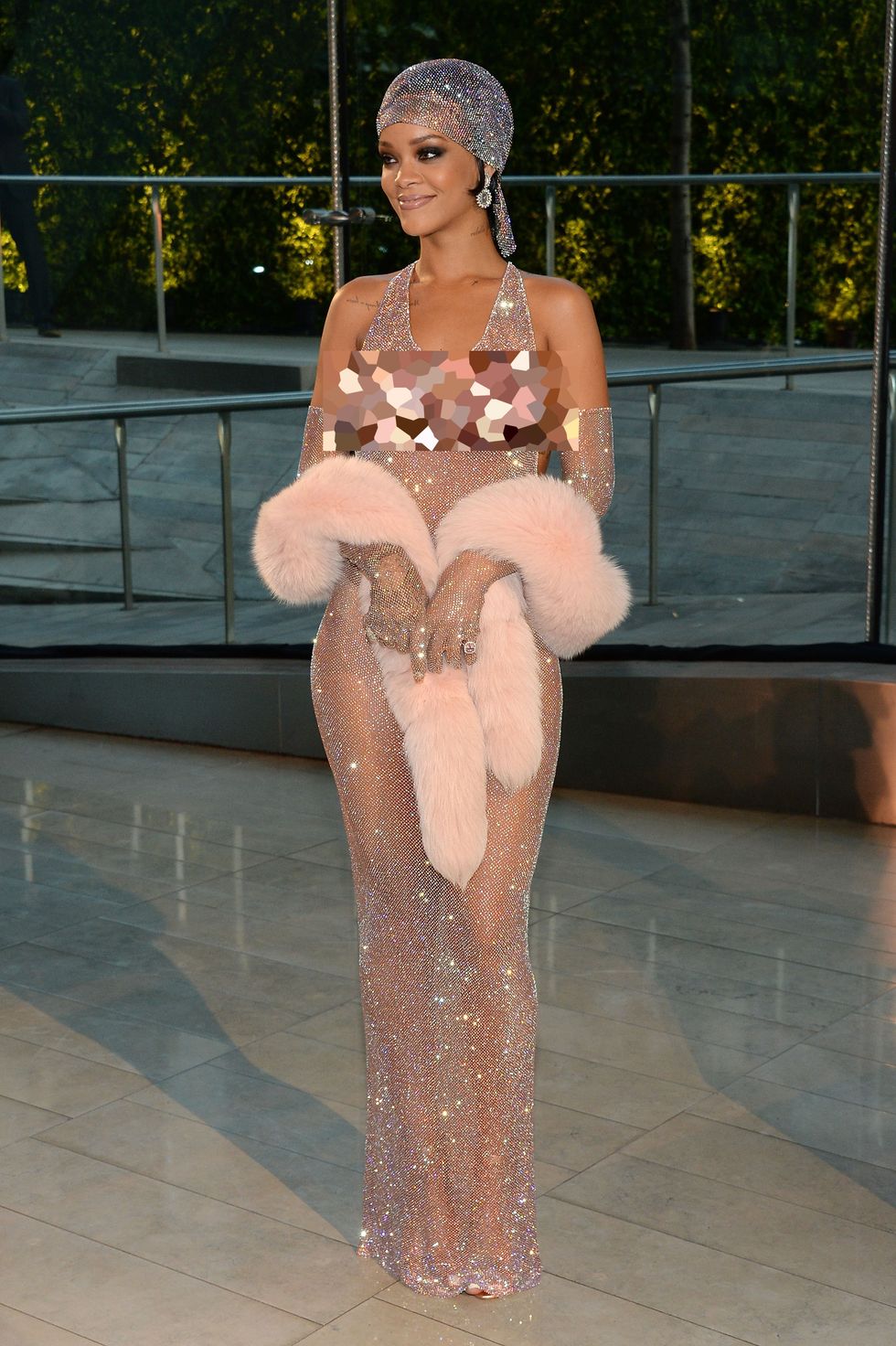 We're pretty sure we all remember
this
one. Rihanna's Swarovski crystal blazoned Adam Selman gown (which took a whooping twenty people to put together) is yet another example of a sheer dress that's been done right. In this next fashion moment, a boy band member slayed in a shocking look that people are still talking about.
18. Harry Styles, Met Gala, 2019.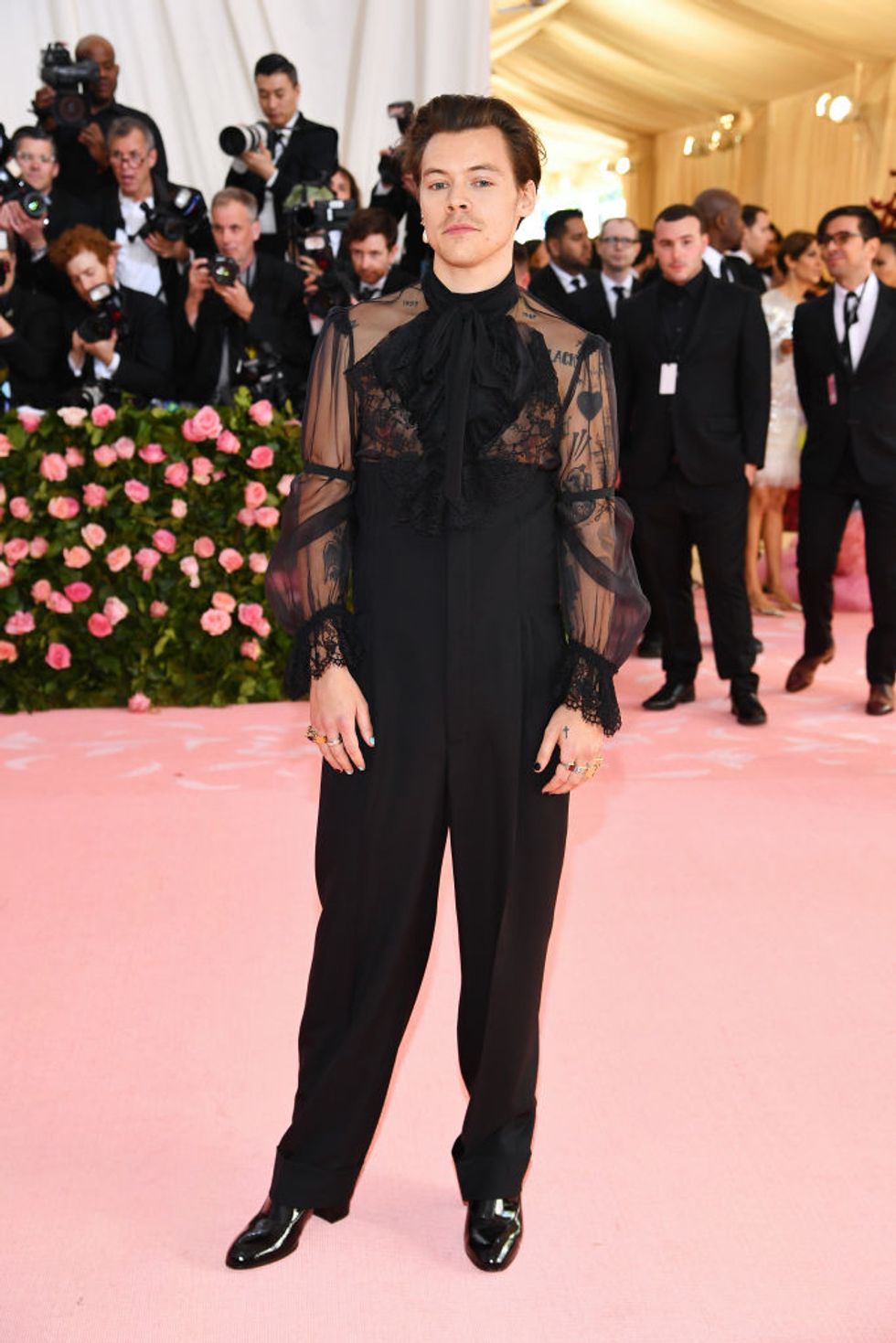 Harry Styles and a Camp Met Gala theme? A match made in
heaven
. For the singer's
first-ever
Met Gala, he graced the red carpet in an all-Gucci sheer ensemble that proved that the star was well on his fashion A-game.
17. Cardi B, Grammys, 2018.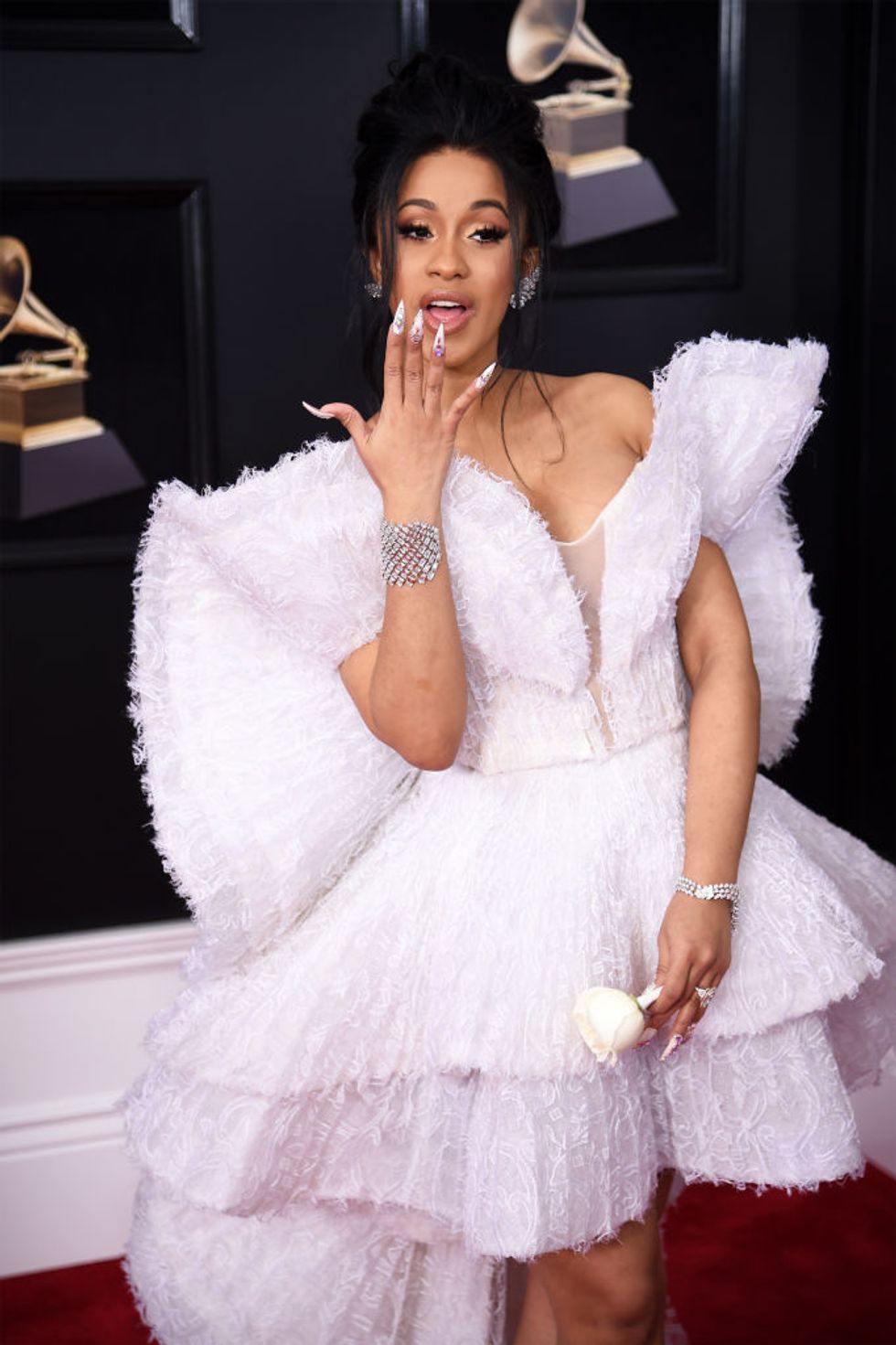 The rapper's angelic gown, designed by Ashi Studio, made her one to watch not only on the music scene but on the fashion scene too. The
drama
of this next red carpet look is almost too much to handle.
16. Gemma Chan, Oscars, 2019.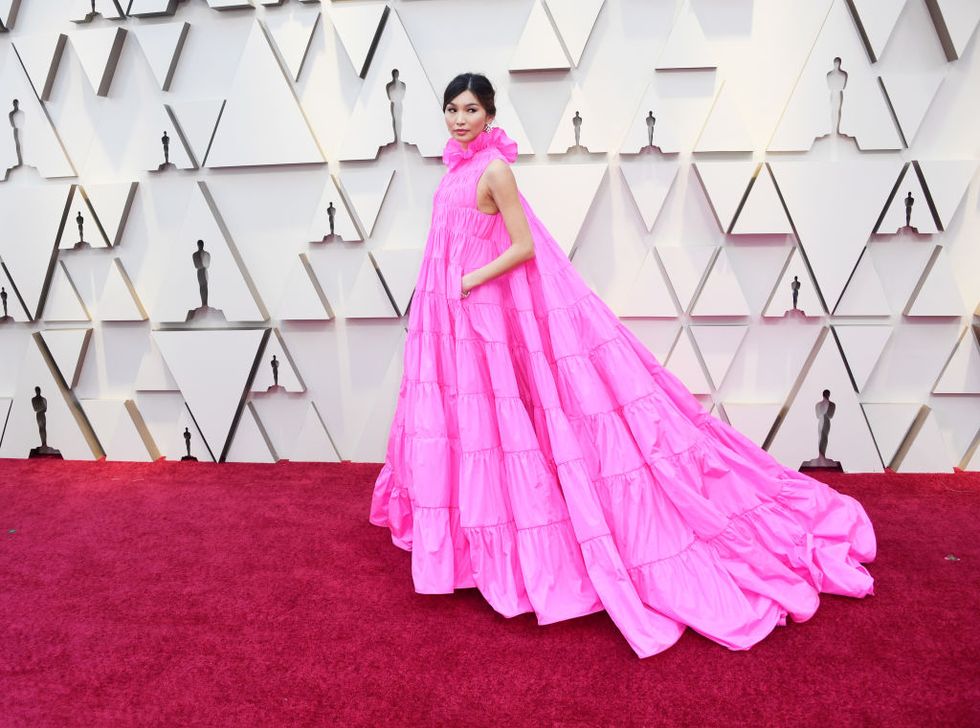 The Crazy Rich Asian star's pink Valentino dress was a clear frontrunner of the night. 
But the best part? It had pockets!
15. Red carpet blackout, Golden Globes, 2018.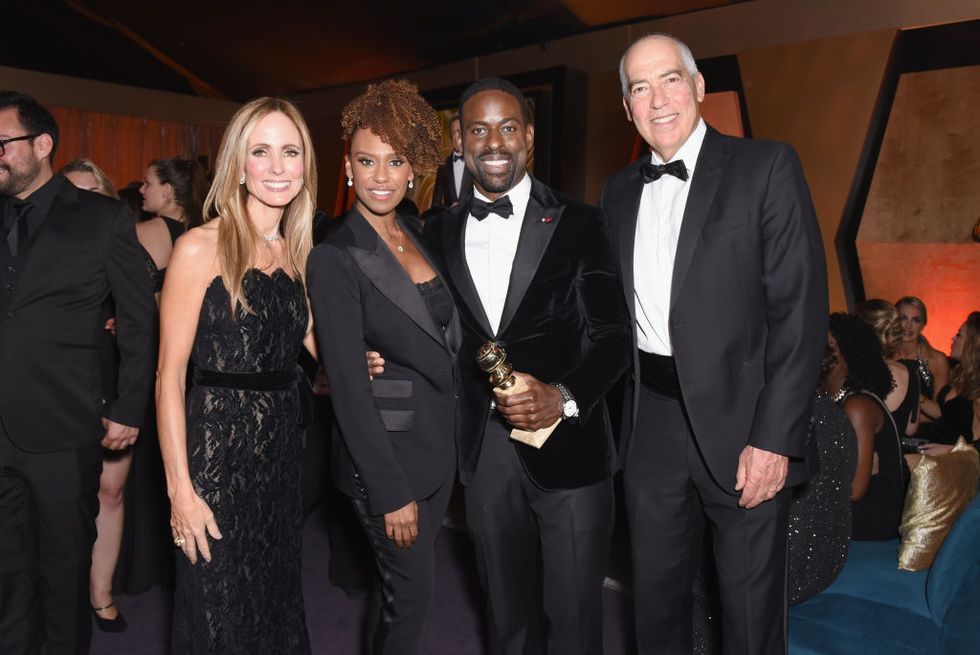 History was made at the now-iconic 2018 Golden Globe ceremony in which all attendees wore black in solidarity with the #MeToo movement. 
The next fashion moment almost broke the entire internet.
14. Villanelle/Jodie Comer, Killing Eve, 2018.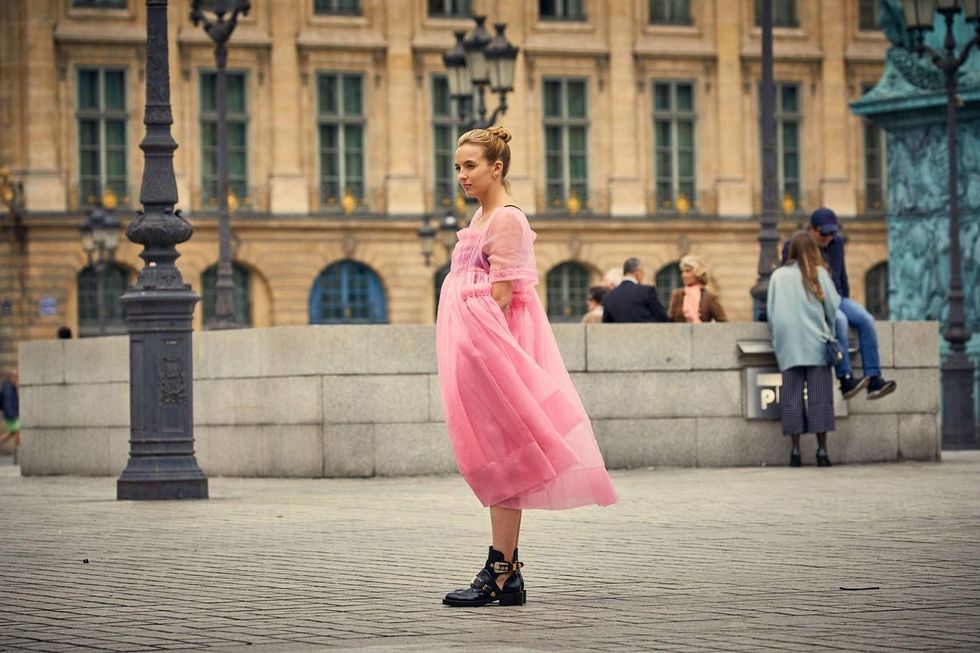 Everyone's favorite psychopath, Villanelle, aka the wonderful Jodie Comer, is probably one of the most fashionable characters on TV right now. So much so, that her pink Molly Goddard gown from season 1 has become something of an icon and catapulted the designer to household name status.
13. Blake Lively, Met Gala, 2018.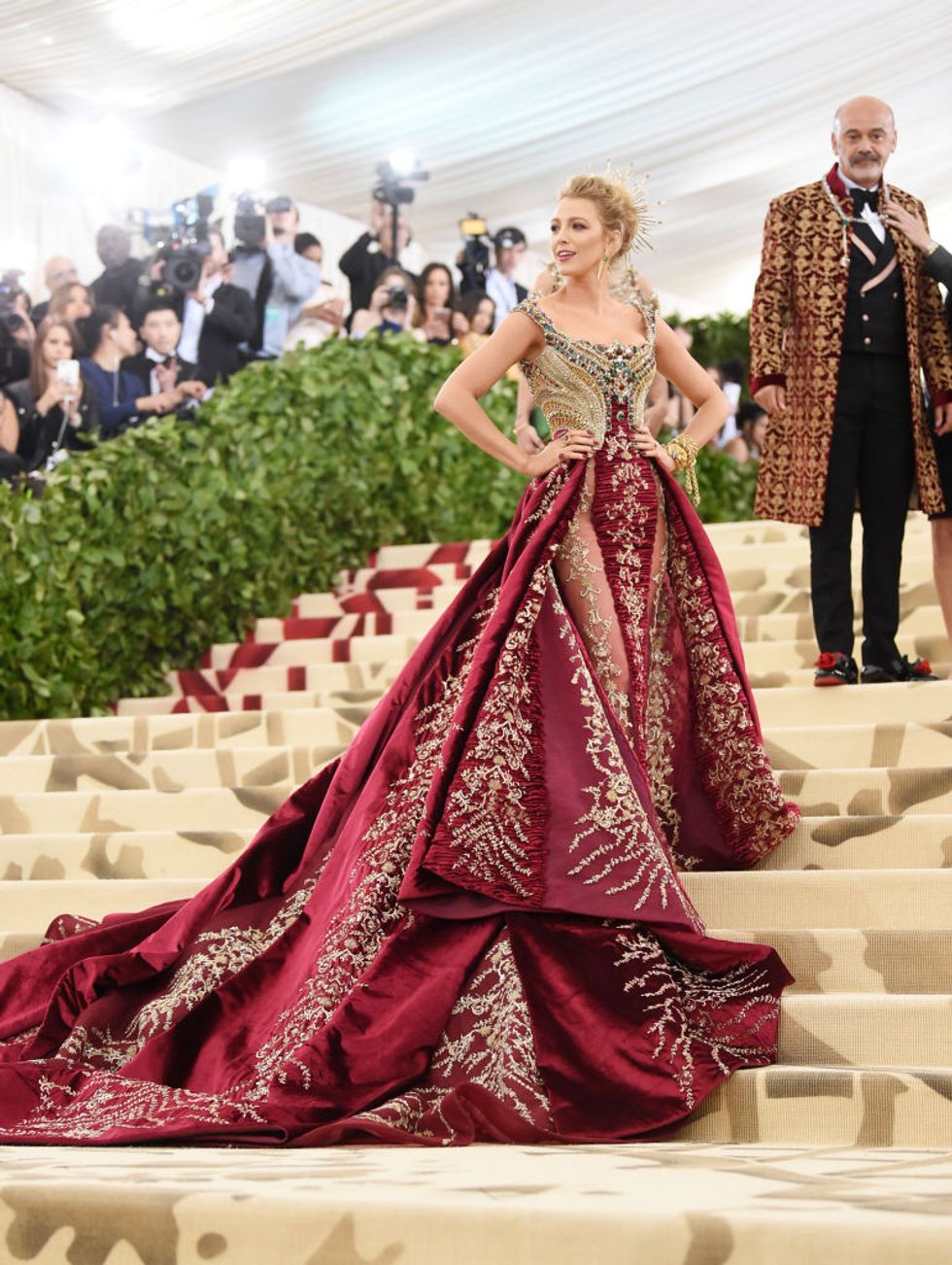 There's a reason why Blake Lively topped pretty much every best-dressed list for the Met Gala 2018. Her dramatic regal infused Versace gown, which reportedly took over
six-hundred hours
to create, left us all speechless. This next celeb is prone to outrageous looks, but this dress takes the cake!
12. Lady Gaga, Grammys, 2010.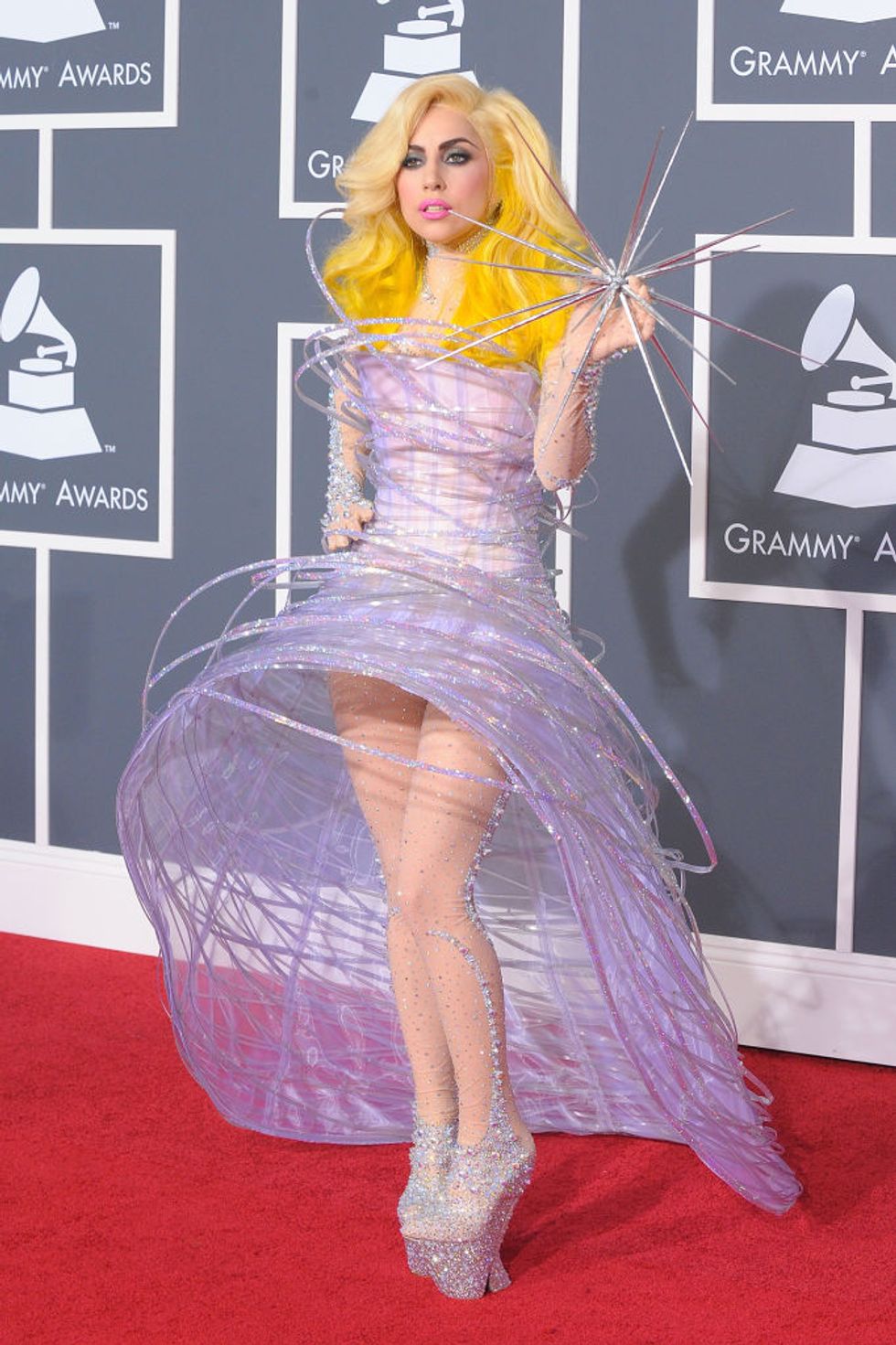 When it comes to crazy fashion - Lady Gaga has done it all. Whether it's being carried onto the red carpet in a giant egg or on a horse, the "Born This Way" hitmaker is no stranger to the wacky side of fashion, so this Armani Privé look was just another to add to the catalog.
11. Miley Cyrus, MTV VMAs, 2013.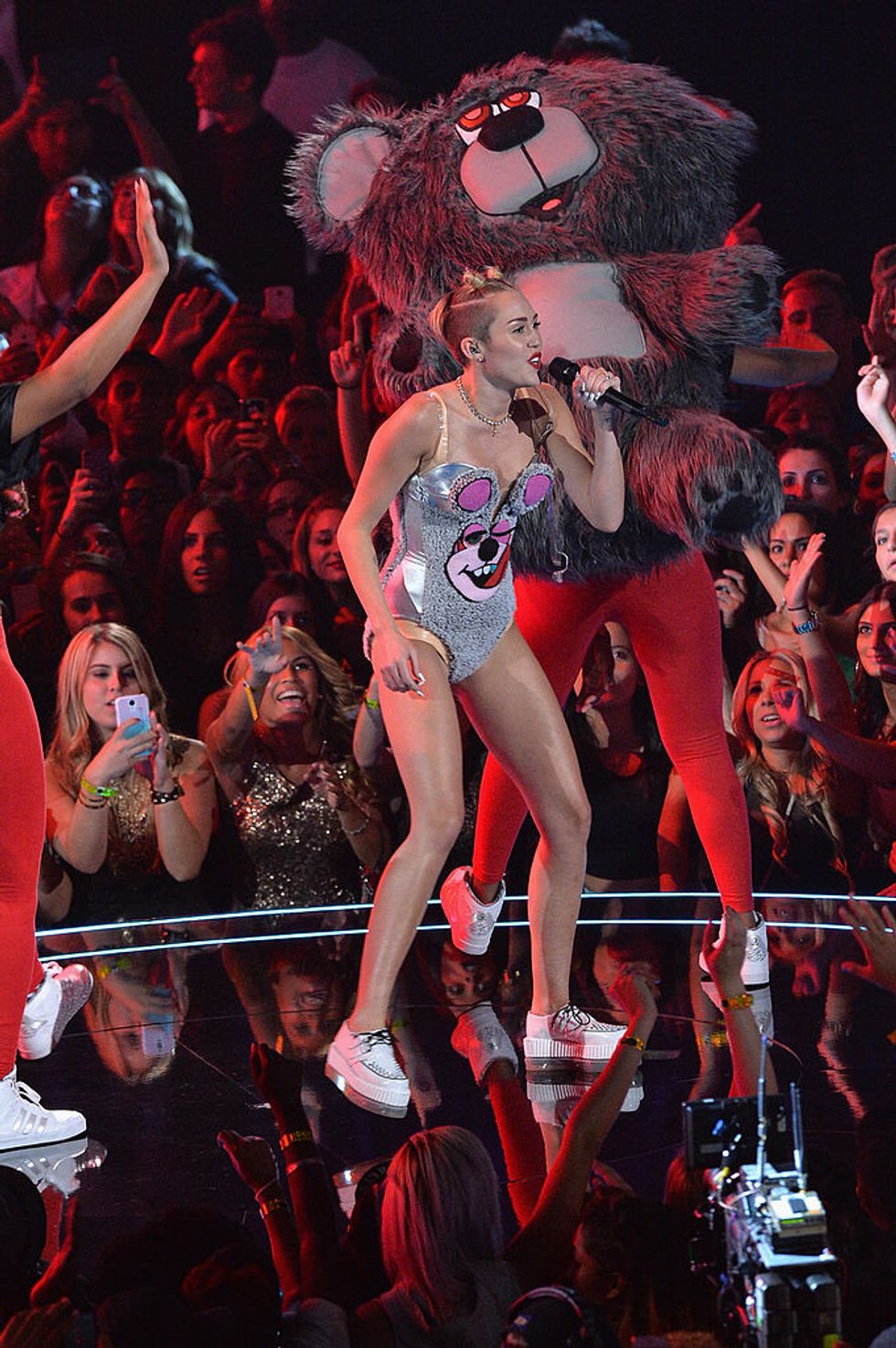 Ah, Miley. Throughout the decade, she's really been through it in all aspects of her life - including fashion. Let's be honest, we can
all
recall this eyebrow-raising performance with Robin Thicke. Need we say more? Keep clicking to see an outrageous fashion line that made several (bizarre) statements.
10. Viktor & Rolf's slogan dresses, Viktor & Rolf, 2019
9. Cardi B, Grammys, 2019.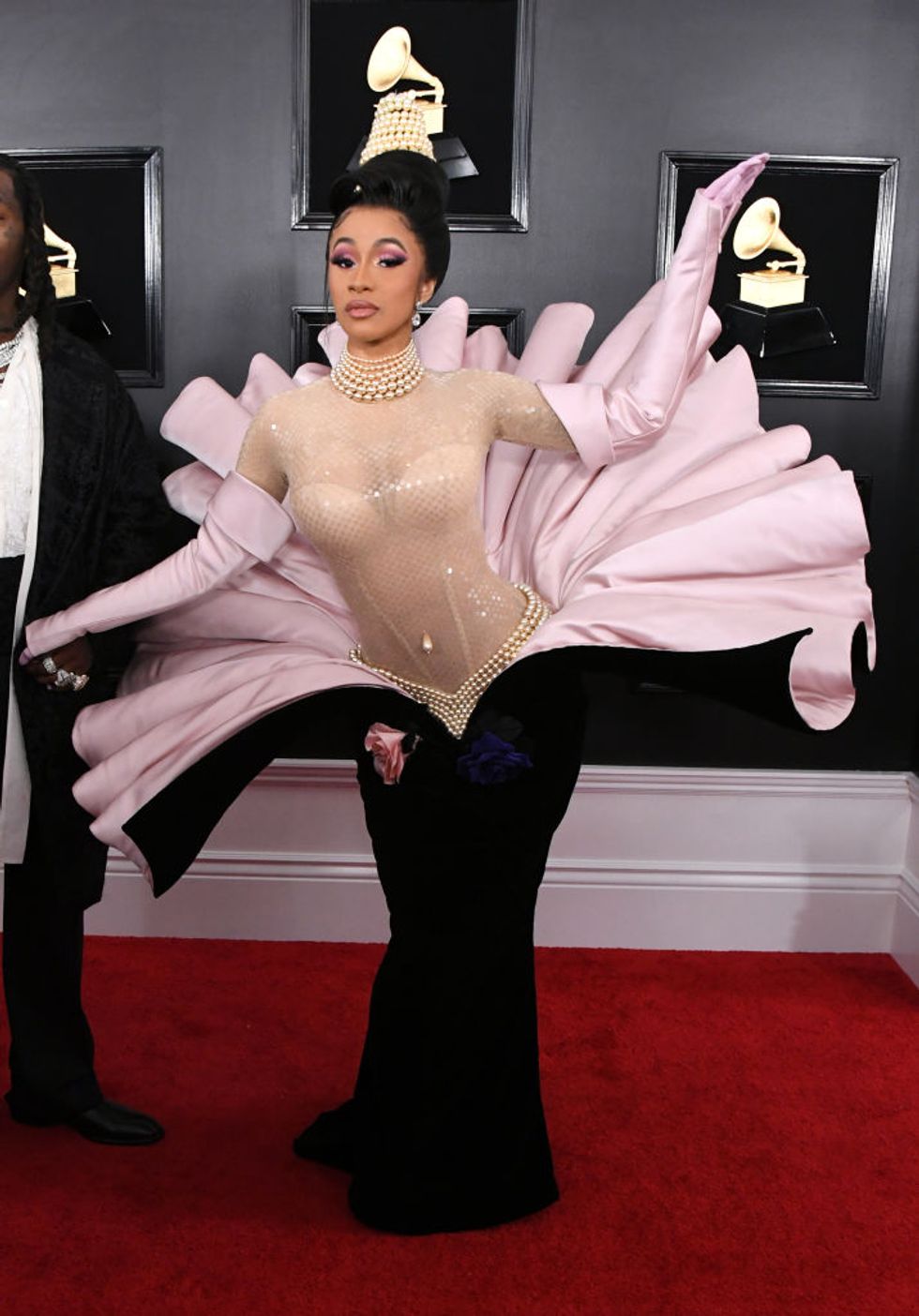 Cardi B has been turning heads recently with her out-there ensembles, and the Grammys this year were
clearly
no exception. The rapper dug into Thierry Mugler's archives for this attention-grabbing garment, and while it's not exactly something you would wear every day, it
certainly
got people talking. You won't believe this next ridiculous fashion moment!
8. Rihanna, Met Gala, 2015.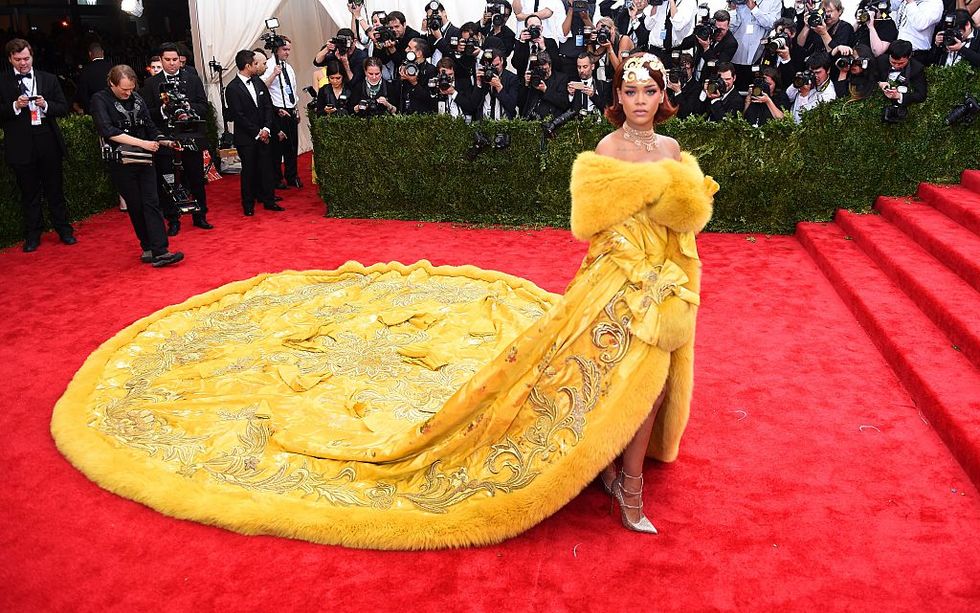 The singer's canary-yellow
Guo Pei gown was iconic in so many ways. Not only did it bring all the regal drama to the Met Gala red carpet, but it also birthed a whole new set of memes. Remember when someone photoshopped an omelet onto the dress?
7. Lady Gaga, Brit Awards, 2010.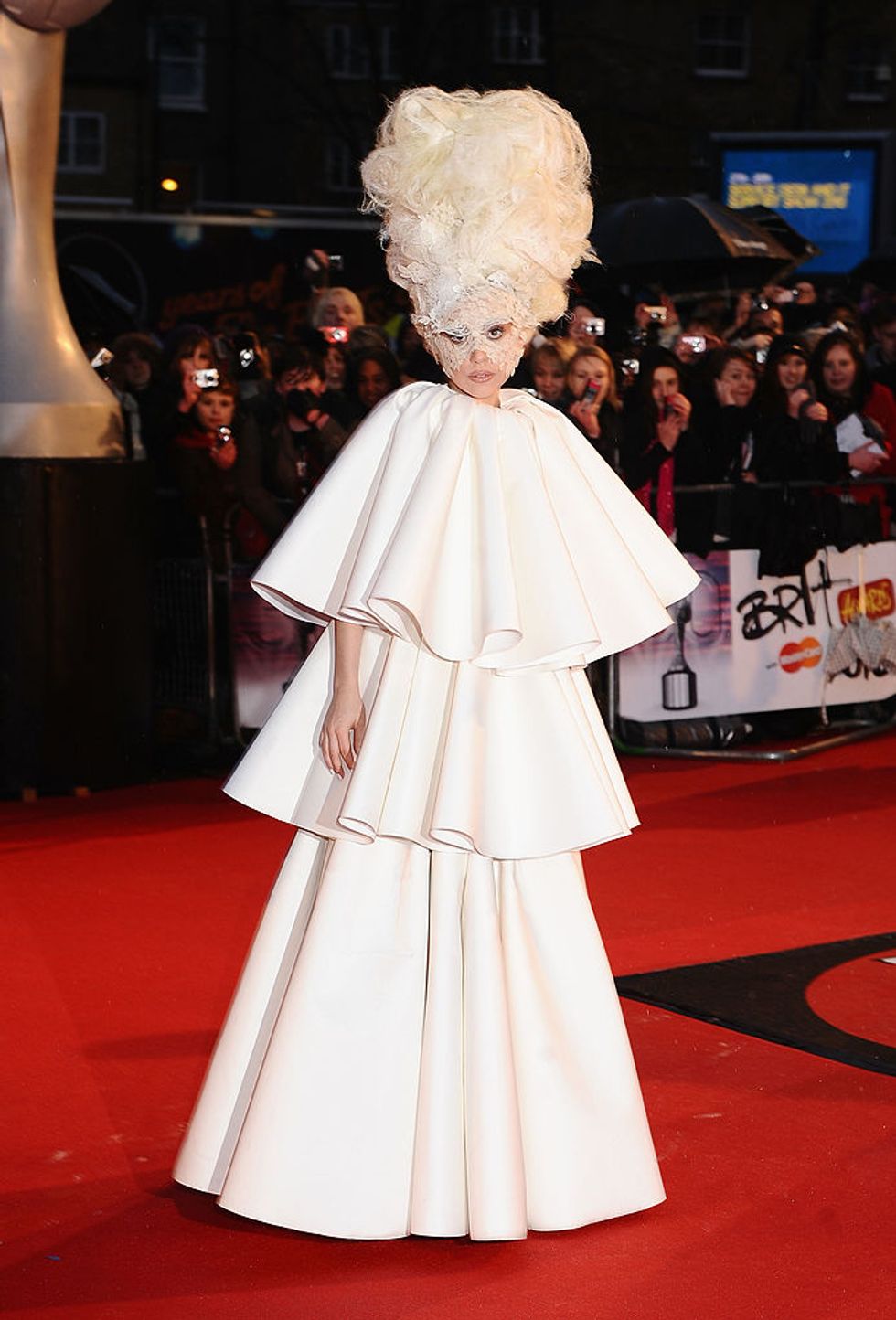 There was no doubt that Mother Monster was the winner of the
entire
Brit Awards the night she wore a Francesco Scognamiglio cape with a Philip Treacy headpiece down the red carpet. Not to mention picking up Brits for Best International Breakthrough Act, Best International Female Solo Artist,
and
Best International Album for
The Fame
. All in a night's work. This next star can rock a dress better than most ladies!
6. Jonathan Van Ness, Emmy Awards, 2019.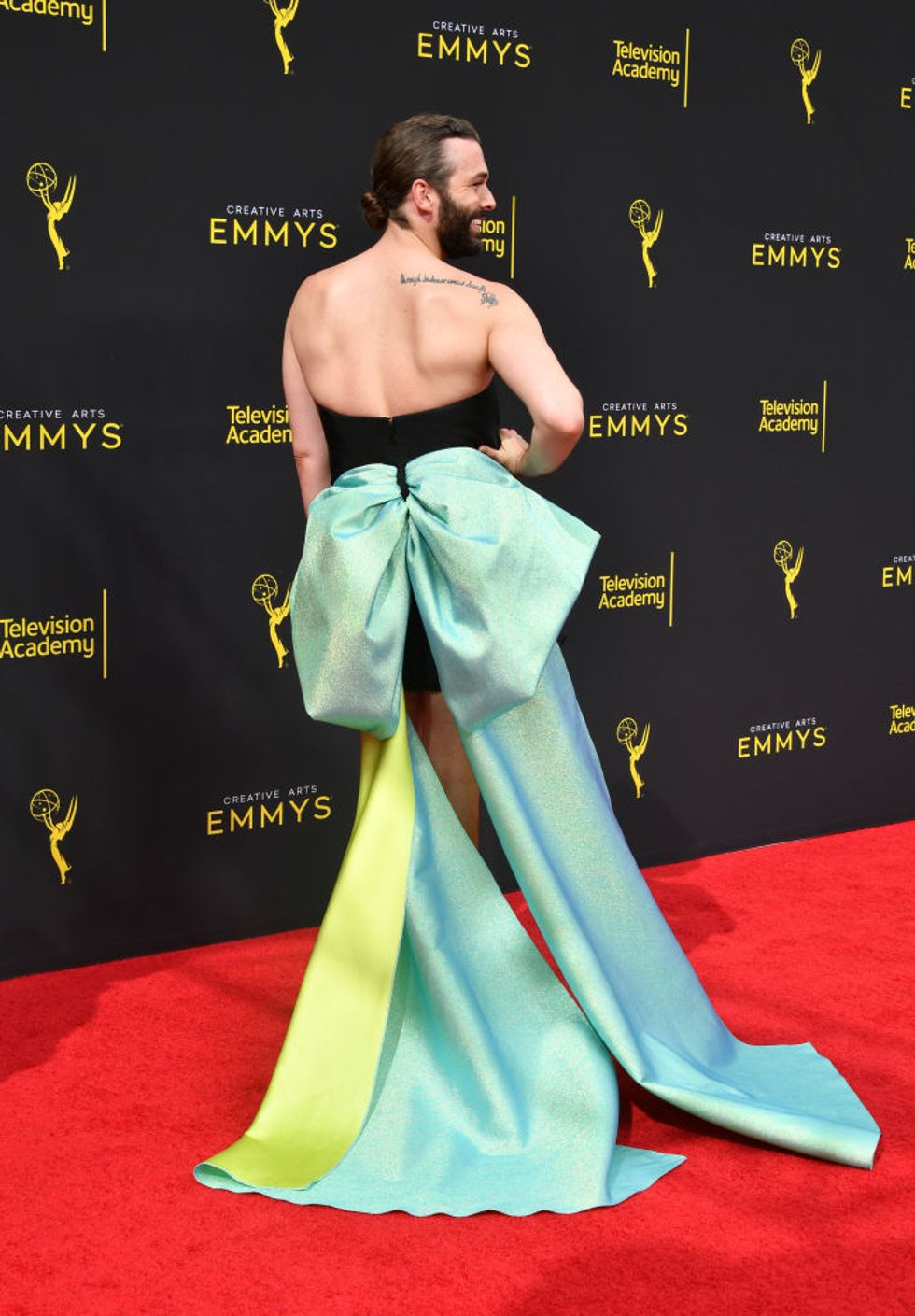 The 2010s truly were a turning point when it came to gender fluidity in fashion.
Queer Eye's
resident grooming expert,
Jonathan Van Ness,
strutted down the carpet in a Christian Siriano featuring a showstopping mint green satin bow... and critics couldn't get enough.
5. Jennifer Lopez, Milan Fashion Week, 2019.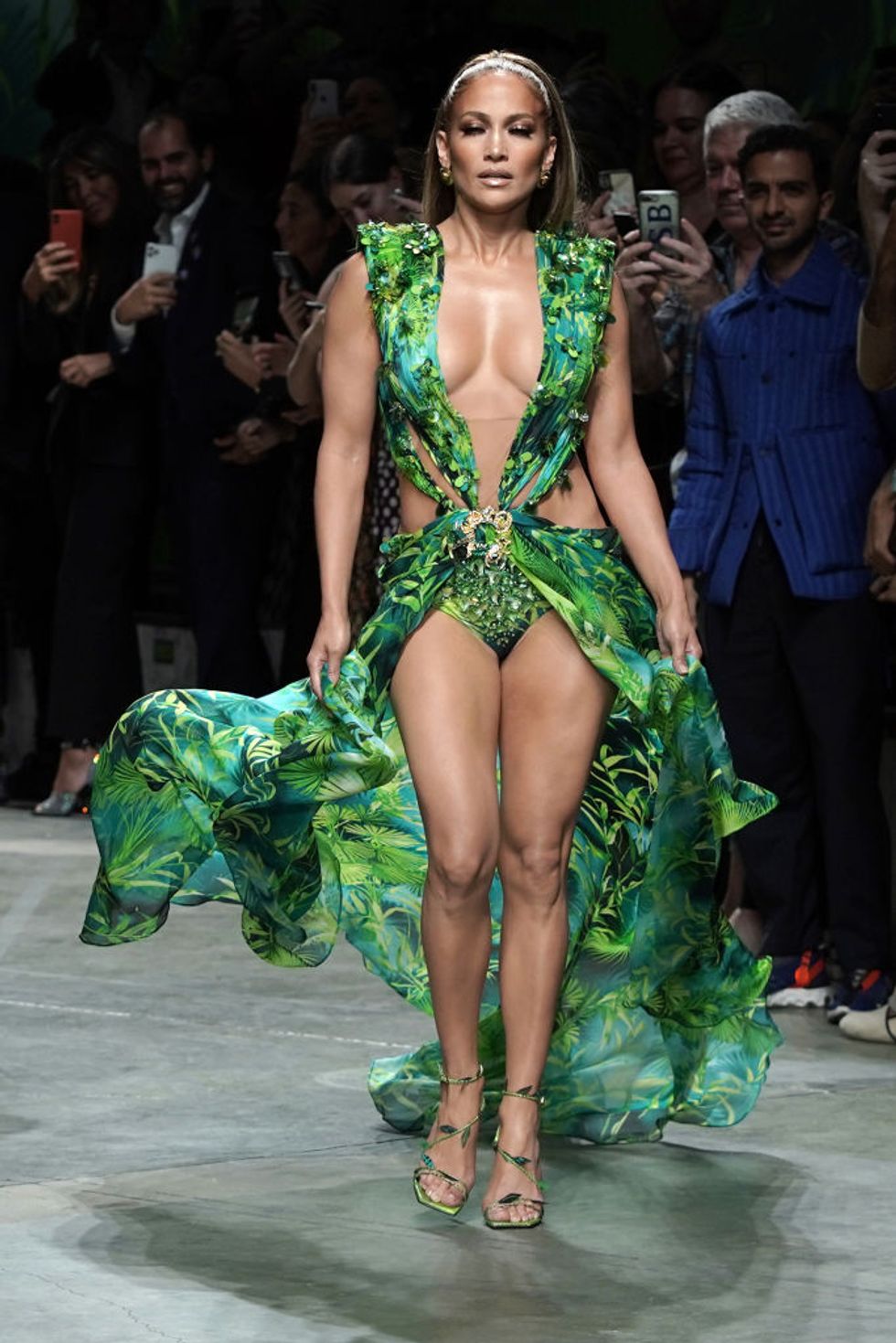 JLo's recreation of her infamous Versace gown was truly an unforgettable fashion moment. This next red carpet look is definitely not for the squeamish.
4. Jared Leto, Met Gala, 2019.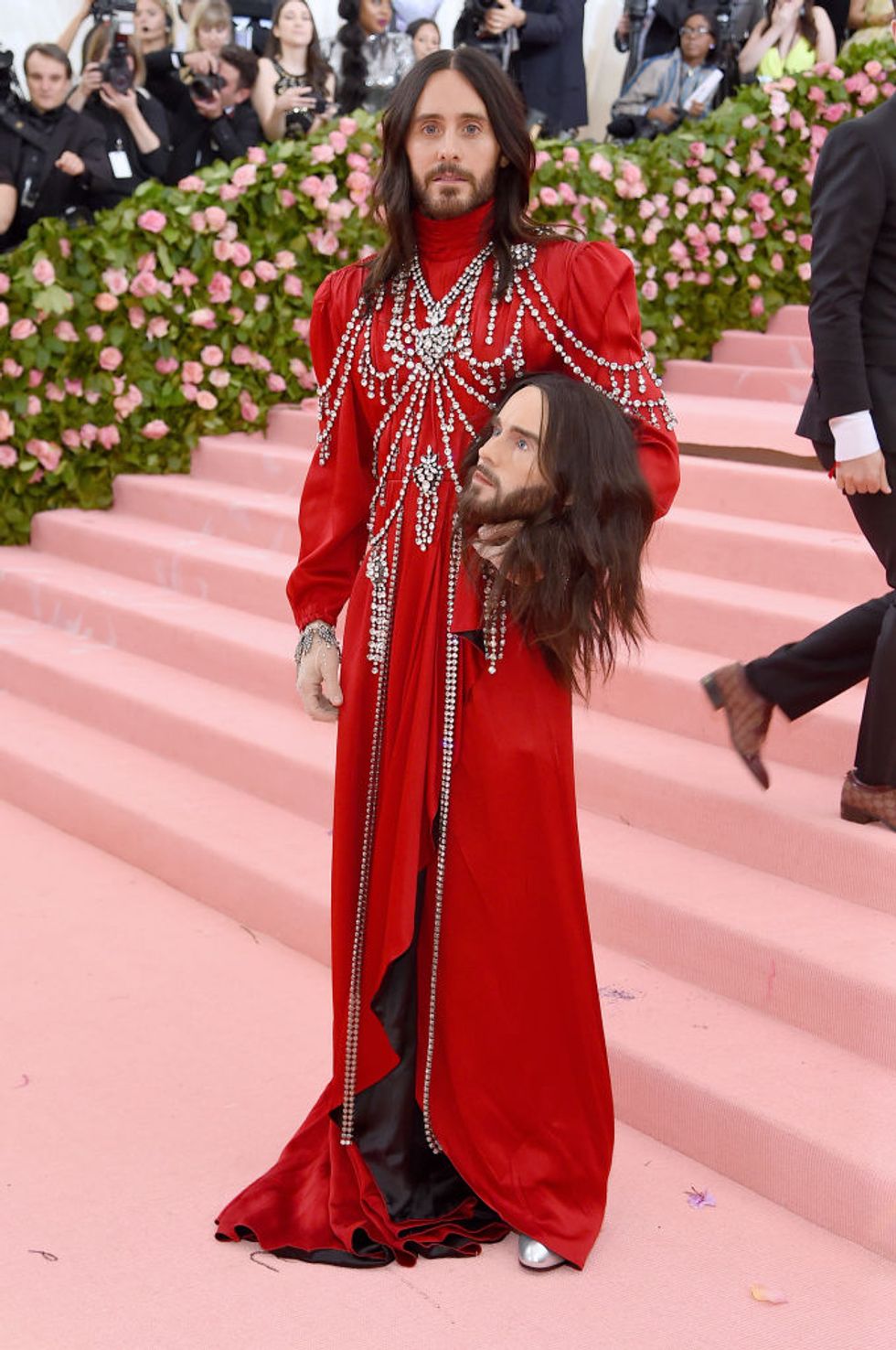 Jared Leto knows how to absolutely smash a Met Gala theme. The actor made his mark on the pink carpet of this year's Met Gala by carrying his
own
head creating one of the biggest jaw-dropping moments of the decade. His Gucci ensemble complete with shoulder pads and a jewel-encrusted body chain left little to be desired.
3. Billy Porter, Oscars, 2019.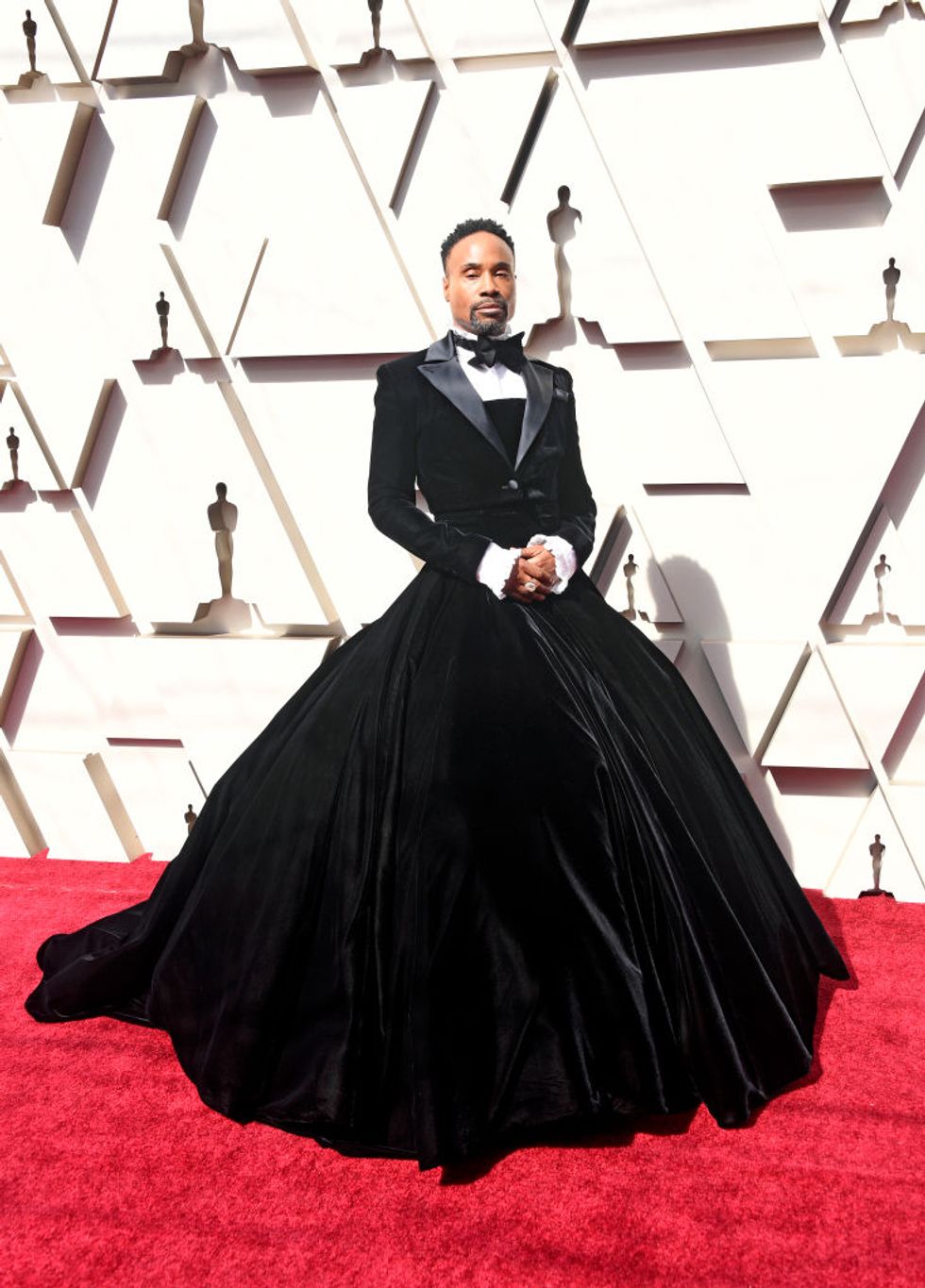 If you can rely on anyone to make a statement on the red carpet, it's Billy Poter. The
Pose
star is nothing short of a red-carpet master - leaving many of us speechless when he stepped out in this gender-defying
Christian Siriano velvet tux gown. 
Take a deep breath before you check out this next fashion moment...
2. Billy Porter, Met Gala, 2019.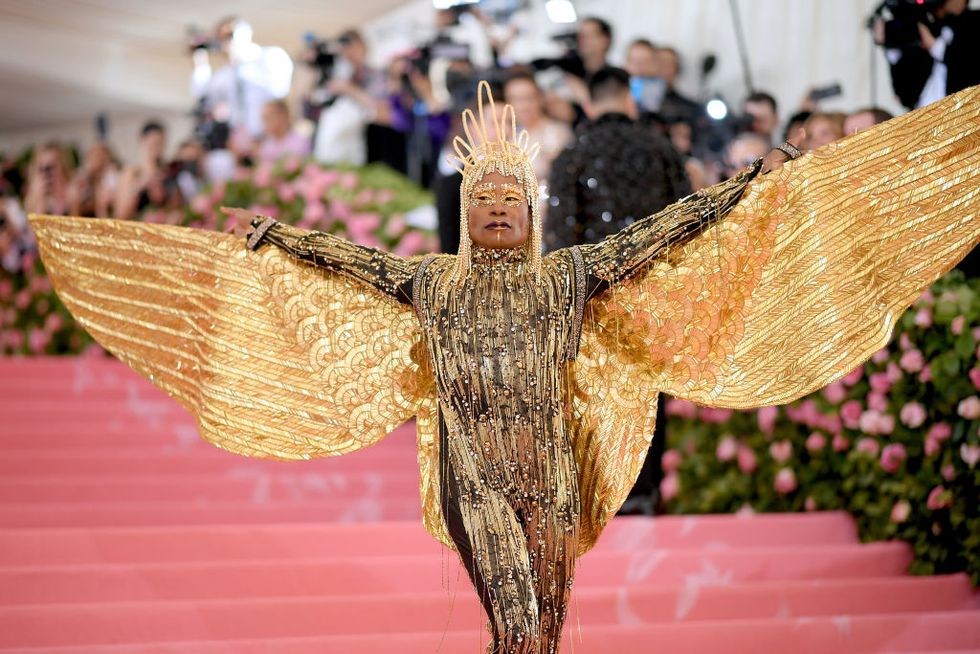 Of course, it wasn't hard to give Billy Porter another mention. He may have set the bar high with his Oscars tuxedo gown, but he completely knocked it out of the park with his mic-drop entrance to the Met Gala this year. Dubbed  "Sun God," the custom ensemble created by The Blonds, boasted a bejeweled catsuit complete with 10-foot wings, a 24-karat gold headpiece, as well as custom gold-leaf Giuseppe Zanotti shoes, and jewels by Andreoli, John Hardy, and Oscar Heyman.
1. Lady Gaga, MTV VMA's, 2010.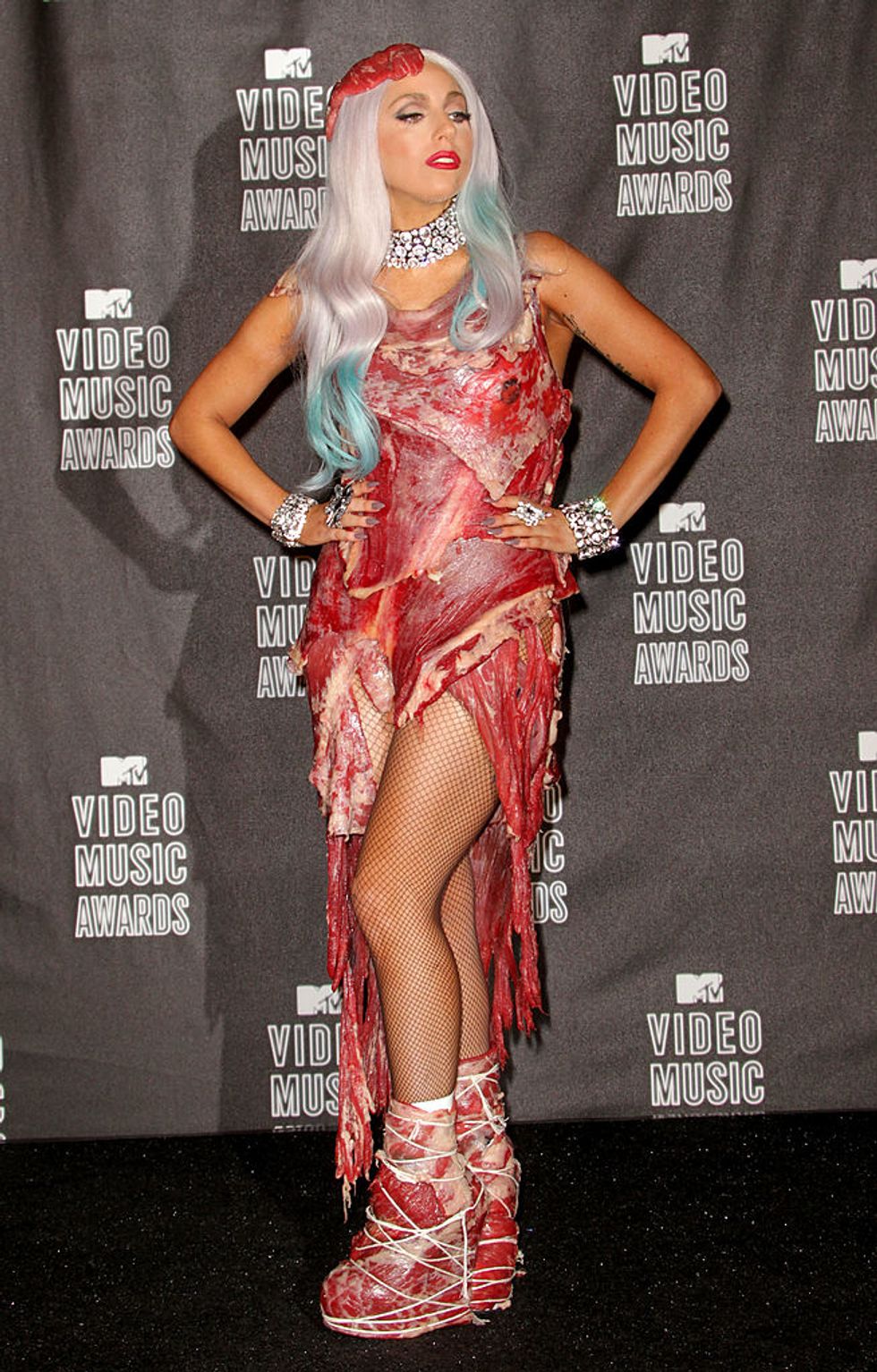 Of course, there was no competition when it came to the top spot.
Her Franc Fernandez-designed meat dress wasn't just the highlight of the VMA's, but the highlight of the entire decade - becoming one of the most-talked out fashion moments of our time. 
"I used to try to wrap my brain as heavy as I could around what I could do to...Instead of being shocking (I used to say "shock art" or "performance art"), I would use the word "bemuse," which is basically putting the audience in a state of confusion where they can't look away. I used to just go, 'What am I going to do next to get people's attention?'," the singer
explained
to Oprah. "The meat dress, quite frankly, I didn't think it was going to be as shocking to everyone as it was. But that's just me. I have a sort of eccentric brain, so for me, I was like, 'Of course this makes sense.' I'm showing up to make a statement about 'Don't ask, don't tell.' "I went to the event with soldiers who were discharged from the army because they were out, or they were found out, and to me, if you're willing to give up your life for your country, does it matter what your sexual orientation is or what your gender identity is? For me, it was like, 'Flesh is flesh,' so that was the intention of the meat dress. For me, that wasn't shocking; it was shocking to the world."