Front bangs: one of my biggest regrets of all time. Especially when my grandmother tried to trim them on a sloped sidewalk and end up cutting them diagonally. My childhood pictures still haunt me.


Looking back at old hairstyles is always hilarious and awkward, but mostly a great reminder change is possible and some hair trends really never made sense.


Let's go back to the good old days and see how the times have changed, from butterfly clips to bobs, we're going to cover it all.


1950s
Audrey Hepburn introduced the short bangs, a look that many women were drawn to and imitated during the 50s and 60s. This was a timeless look for Audrey, something that set her apart from other actresses and models.
1960s
If you've ever watched America's Next Top Model, you know who Twiggy is. She coined the clean pixie cut, which was a bold move for a model in her time. Women were cutting off their long locks to rock this mod hairstyle.
1970
Ahh, the 70s. A lot of things didn't make sense, but this hairstyle sure did. The main hairdo was pin straight with a middle part. The longer the better. Cher made this iconic look so recognizable and trendy. It was kind of a Cleopatra style; sleek, shiny and sexy.
1972
Many saw this as a hairstyle trend, but it actually sprouted as a part of the black pride movement of the 60s. African American celebrities embraced this hairstyle and caused a worldwide love attraction for this beautiful look that was so much more than just a cool hairstyle.
1974
Two words: Beverly Johnson. A historic beauty icon; she was the first African American woman to be a cover girl for Vogue. Her hairstyle, shoulder-length with large, controlled curls, swept salons all over. That woman could have done anything with her hair and everyone would have loved it. Truly a historical fashion icon.
1976
The feathered flippy hairstyle, brought to you by Farrah Fawcett. The Charlies Angel star introduced this look that many still try to imitate. I think she rocked that hairstyle better than anyone ever has or ever will be able to. Her hair is probably so big because it's full of secrets.
1978
Bobs. But, the cool kind of bob, like a punk rock bob, not a scary bob that your mom made you get. It looked messy and careless, which was the goal. We can credit Debbie Harry, singer in the band Blondie, for this bad ass hair do. Debbie made bobs hot, which seemed like an impossible task at the time.
1980s
Big, frizzy curls. The bigger the curls, the more style you had. I always associate these curls with Carrie Bradshaw from Sex and The City. Her giant curls embraced their frizz and wildness. Women who had naturally straight hair bought the biggest curlers they could find and even got perms to maintain the look.
1982
Curls died down a tad and waves were the new thing. Big, wavy hair took over and so did hairspray. Lots and lots of hairspray.
1984
Here it is...the mullet. Not many words can describe it and thankfully a picture does it justice. Men and women were attempting this hairstyle to the disappointment of parents all over the world. But the almighty Cher pulled it off better than most men and women. She actually made the mullet look...cool. Seems impossible but if anyone could do it, it would be Cher.
1986
Aqua Net. Mall Bangs. #1980sIn4Words http://t.co/XsVRMgzsaw

— Paula (@Paula)1445133682.0
Hairspray sales just kept going through the roof. Meet "The Aqua Net Bangs." The famous Aqua Net hairspray was the only weapon strong enough to hold up bangs of these heights.
1988
Perms are back and better than ever. You might have been considered a total loser if you didn't have a perm. All of your allowance money would have for sure been spent on hair salons appointments.
1990
The high pony. The big scrunchies. This might be my favorite combination ever, one that, to me, is always in style. Full House and Saved By The Bell ladies really made this look popular. The girls rocked big hair and colorful scrunchies, a new accessory that defined the decade.
1992
Rachel Green really defined this look. Short, sleek, a few layers and just the right amount of highlights. Those face-framing cuts really did women justice. It also tamed those perms and brought those sky high pony tails down a few notches.
1995
The butterfly clip. I think I still have some from my childhood. If Sabrina The Teenage Witch was wearing them, so was I.
1996
The wild streak. Thick, bright highlights stained the hairstyles of many women. Ginger Spice from The Spice Girls was the perfect example of this bold look. I remember so many girls in my school rocking the hot pink and bright blue streaks
1997
The spiky pixie cut. Legendary. Thank you Halle Berry and Winona Ryder for breaking boundaries and looking amazing while doing it.
1998
Braided pigtails; a look only Britney Spears could bring back and make it look sexy. And she was only 16! A young trendsetter. She just gets better and better.
2001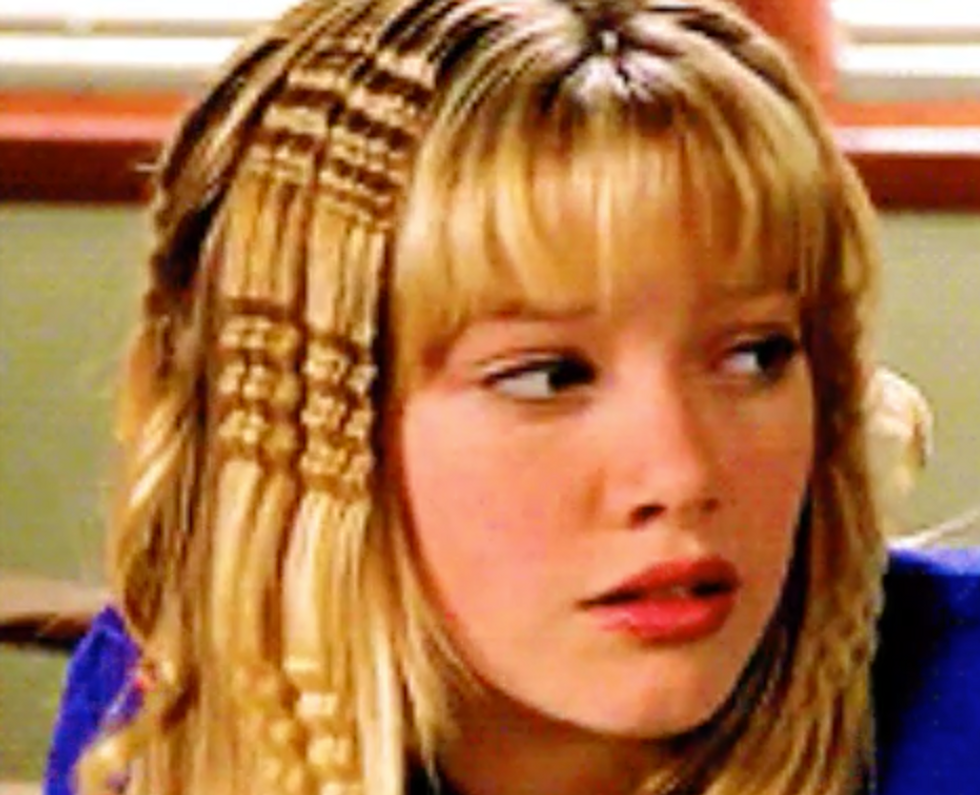 The crimped look. Do crimpers even exist anymore? That was one of the coolest hairstyle tools of all time. But you couldn't 
just
crimp. You had to straighten also and curl some other pieces. Front bangs were also a good match with this look.
2004
Side bangs. Swept across the face, hiding your angsty feels and major forehead pimples. Constantly flipping them out of your eyes. What a statement.