It's the news we've all been waiting for... Orange Is The New Black is back, baby.
The hit prison drama, which is now in it's 7th and final season, oozes girl power and has had the world hooked right from its debut. The series, which is based on a true account of prison life logged into a diary by Piper Kerman (who, believe it or not, is the real-life version of the main character, Piper Chapman), follows the lives of female inmates in a women's jail.
Let's be real - It isn't the most glamorous of shows, is it? One of the things that we love about the series is the sheer grittiness of it. There's certainly no glamorization of prison life and the cast are made up to a point that they are pretty much unrecognizable in the real world.
Keep scrolling to see what our favorite Lichfield inmates look like outside of jail... They look completely different and you won't believe what Skinhead Helen looks like in real life, there's no way we'd recognize her...
Tyler Schilling.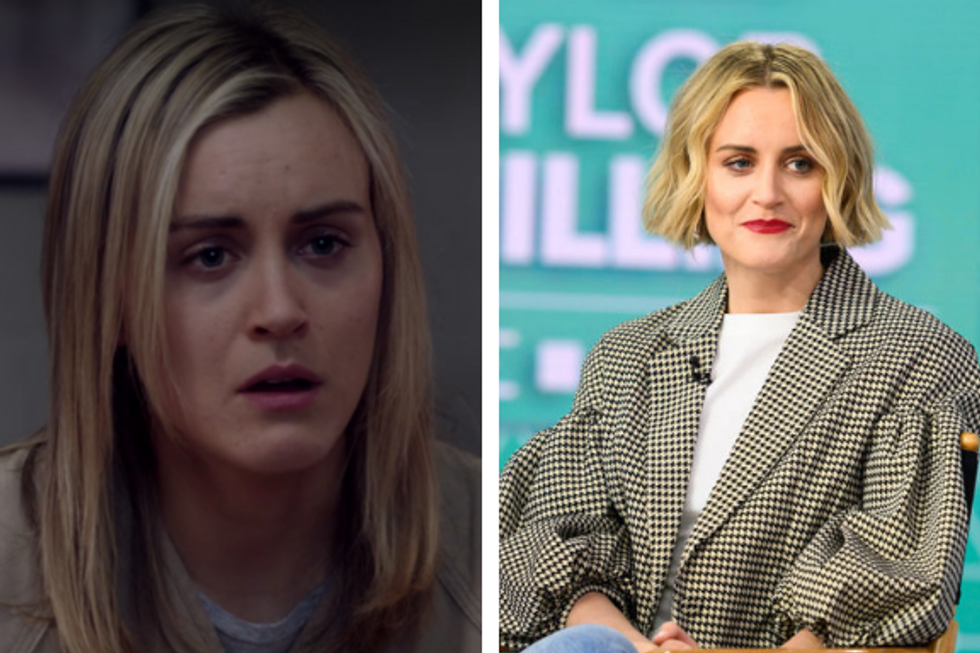 The leading lady of the show, Tyler, the portrays the good-girl-gone-bad character of Piper, who gets sent to prison for a small bout of drug smuggling for her ex-girlfriend (turned wife...), Alex.
Laura Prepon.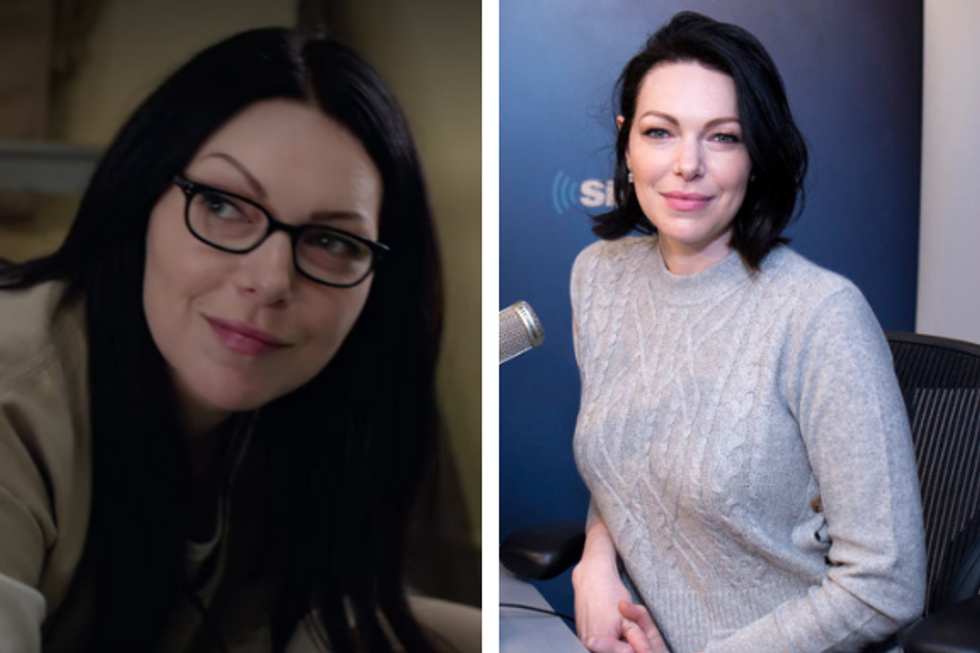 She's everyone's favorite bad girl, isn't she? Laura portrays Piper's bad-ass ex, Alex Vaus. Though Piper understandably couldn't go for too long without Alex, as they end up hooking up and getting back together while in prison. So cute.
Taryn Manning.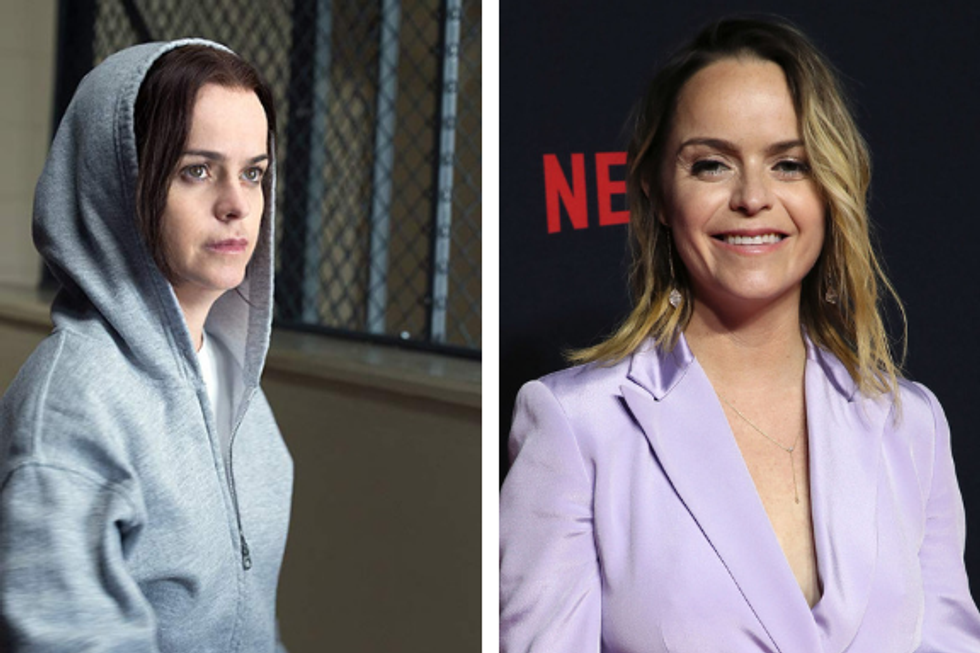 Taryn plays the role of found-again Christian and meth-head, Tiffany "Pennsatucky" Doggett. We have to admit, her smile is much whiter in real life than it is in the show...
Uzo Aduba.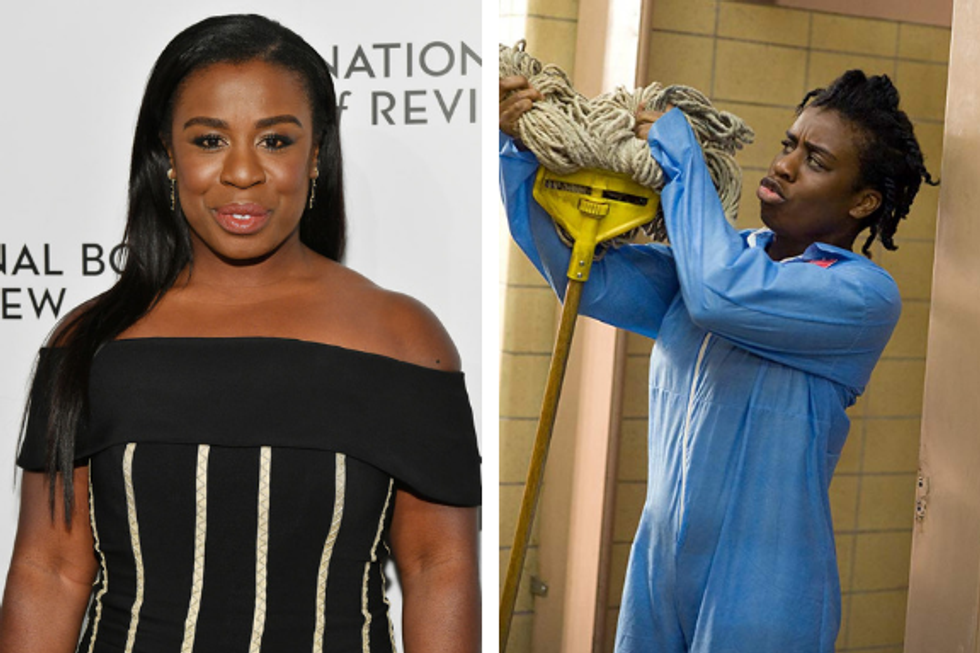 Aduba portrays Suzanne "Crazy Eyes" Warren. What a transformation this is! Though Suzanne is initially seen as an unstable and violent inmate, she gradually became to be one of the most loved characters. Uzo went on to win Emmy Awards for Outstanding Guest Actress in a Comedy Series 
and
 Outstanding Supporting Actress in a Drama Series.
Dascha Polanco.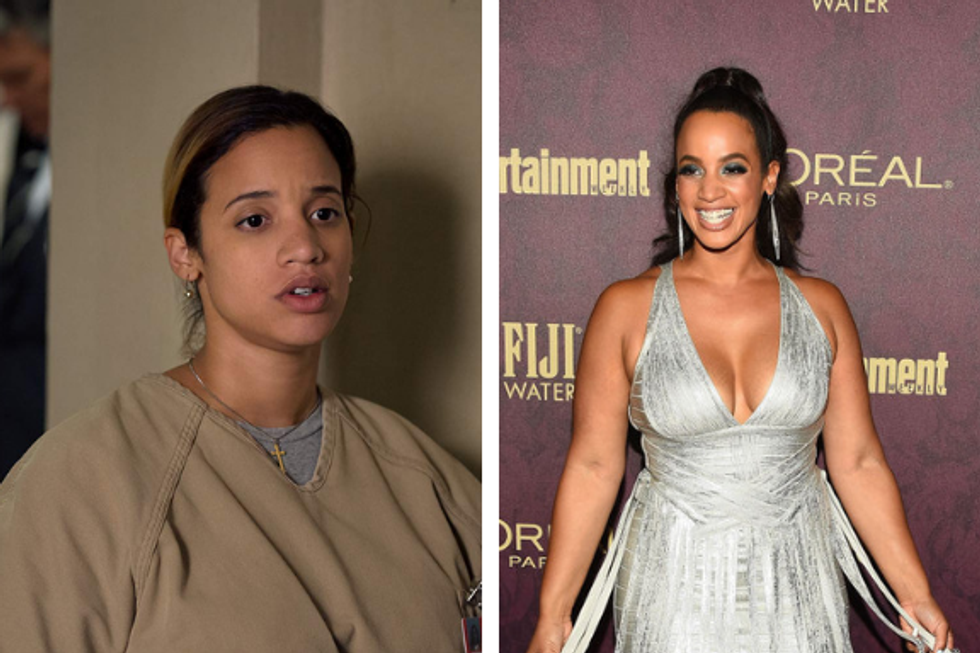 Polanco portrays Dayanara Diaz, who joins her mom in jail. Diaz has a rough time in Litchfield, and our hearts ached for the character when she fell pregnant to a cop (who left her
and
their baby) and had to give up her baby to social services. Oh, and she also gets moved to Maximum Security. Not fun.
Elizabeth Rodriguez.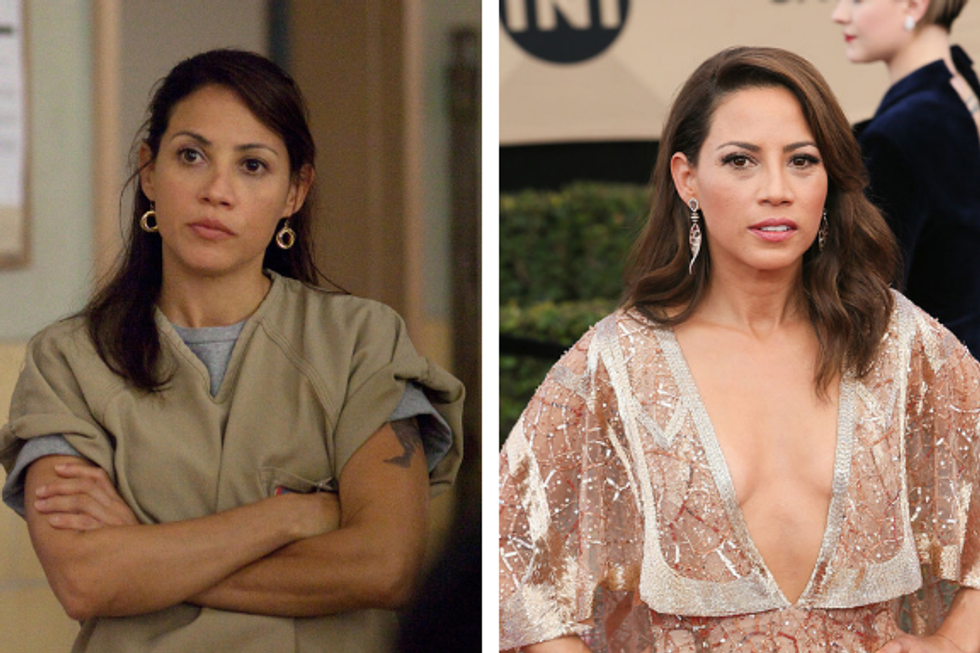 Rodreguez plays Dayanara's formidable mom, Aleida Diaz. Though she initially comes across as selfish and narcissistic, we grow to see a softer side to the woman after she gets released from Litchfield and attempts to rebuild a life for herself and her many kids.
Laverne Cox.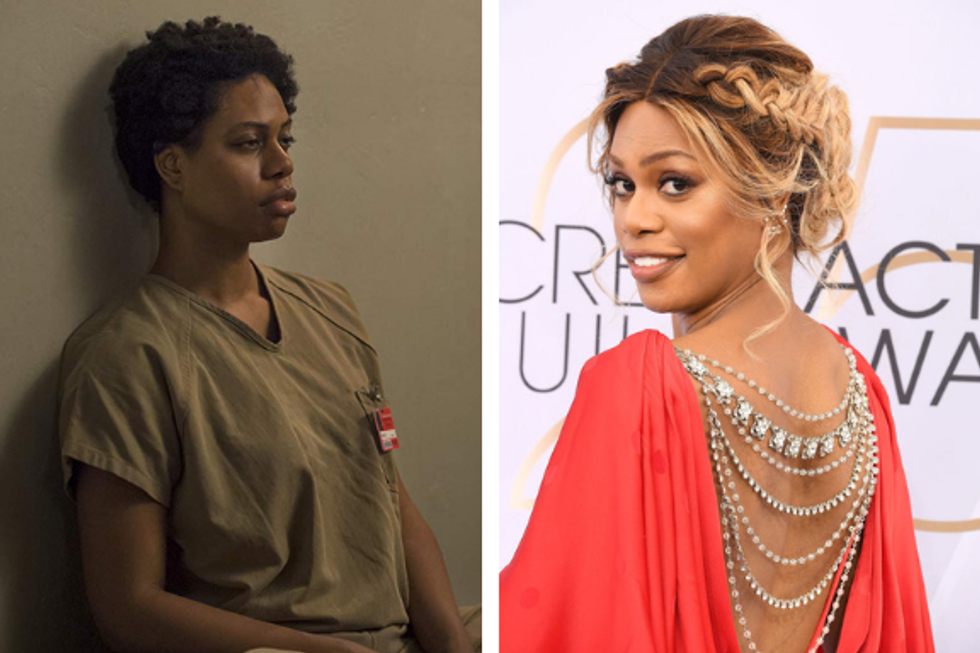 Laverne Cox plays the role of transgender inmate, Sophia Burset. This character spends most of her time playing hairdresser to the other inmates, and we see how she regularly faces discrimination from the other women. Cox herself is transgender in real life and has become a prominent face of the LGBTQ+ community. And, following her success in
OITNB
, Laverne has since become the only transgender actress to be nominated for Primetime Emmy Award.
Natasha Lyonne.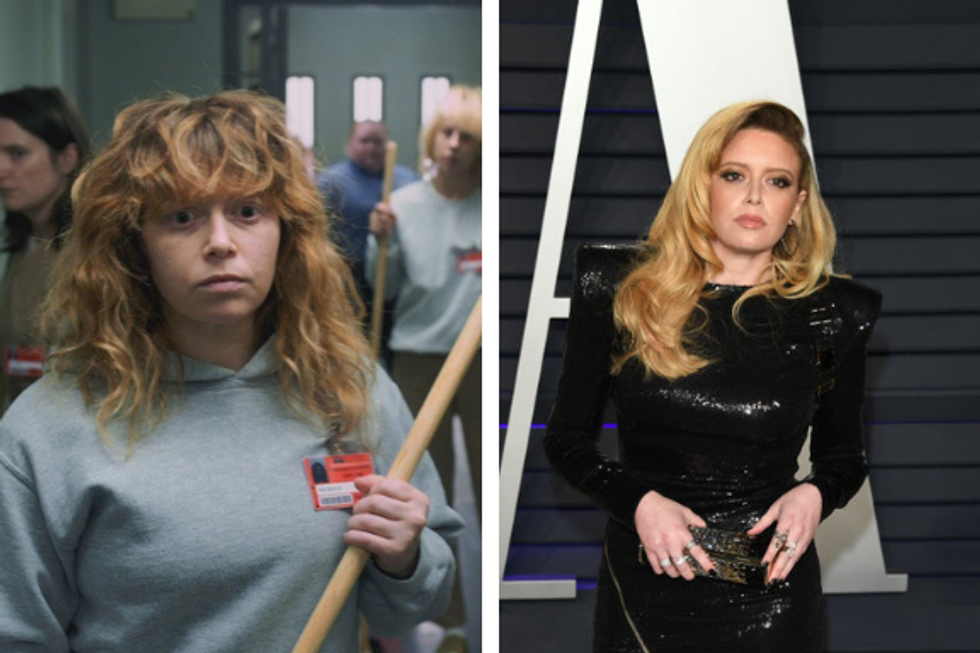 Natasha, who is already an extremely well-known actress from her success in films such as 
American Pie
, plays feisty former drug addict, Nicky Nichols, who spends most of her time getting in trouble with the guards and seducing the other inmates.
Adrienne C. Moore.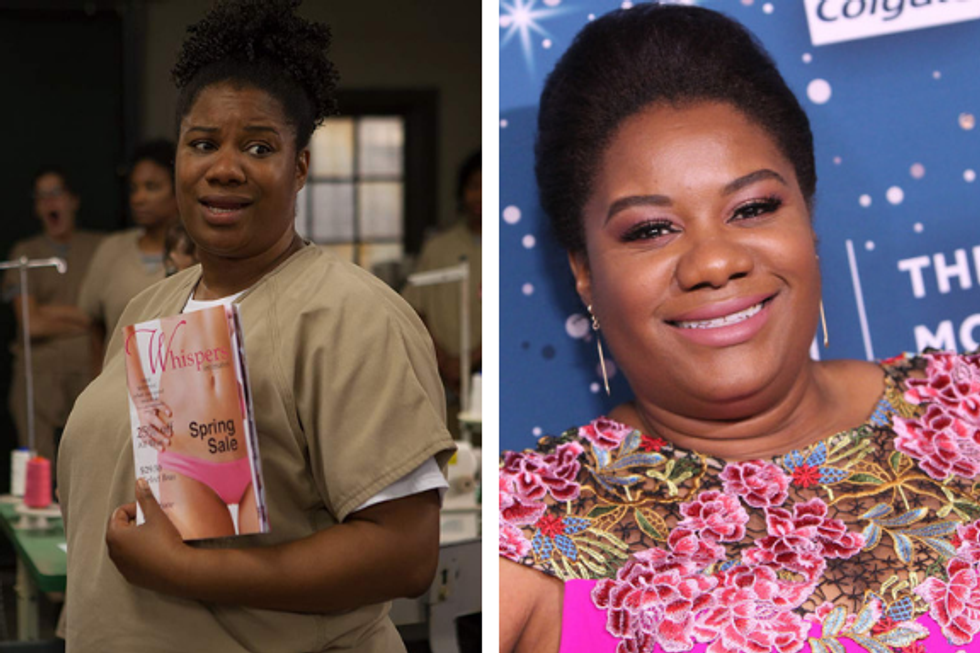 Cindy "Black Cindy" Hayes is portrayed by Adrienne C. Moore, who brings to life one of the series' most lovable characters.
Emma Myles.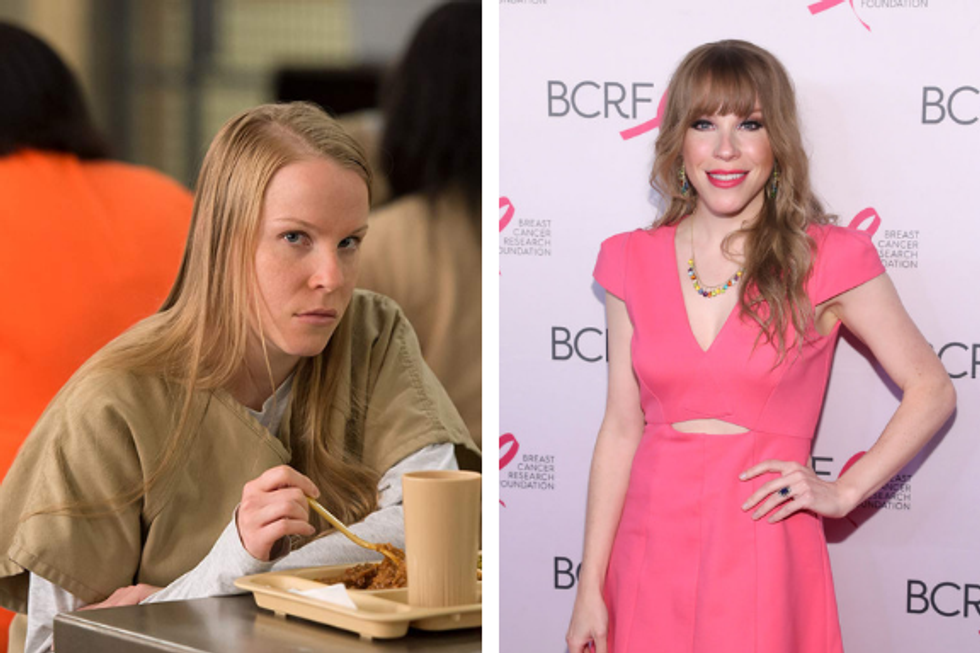 Emma's character, Leanne Taylor, is a former drug addict who grew up in a bizarre Amish community. Leanne flits between good and bad throughout the show and is best remembered for her devotion to Pennsatucky's (quite ridiculous) religious group.
Yael Stone.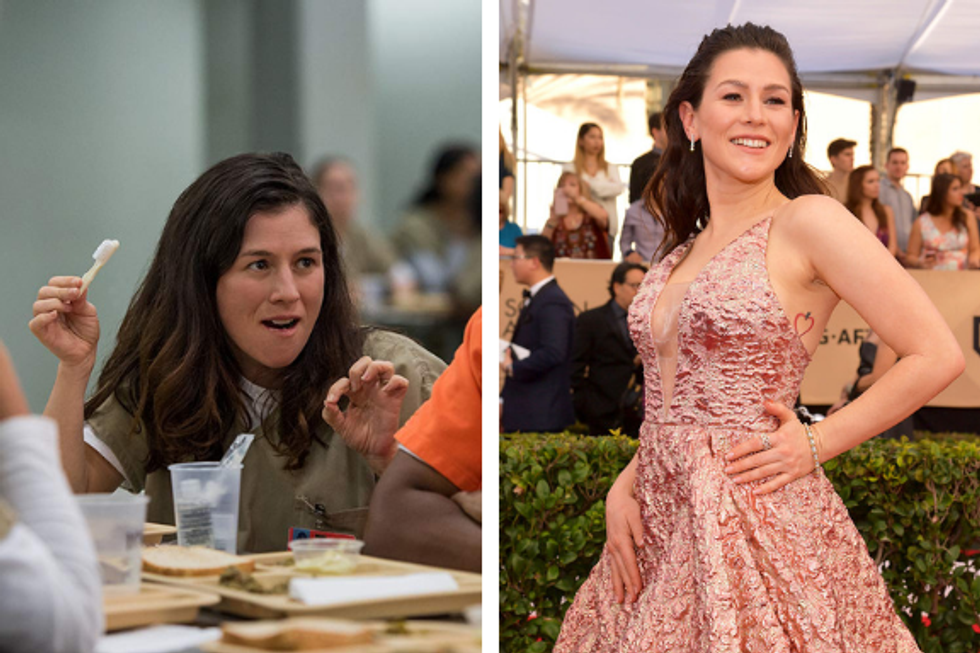 Yael's character may be slightly obsessive/completely crazy, but she sure means well. She portrays the role of Lorna Morello, a hopeless romantic whose fantasies sometimes get the better of her (and sometimes land her in jail...). Yael is also Australian in real life, so she completely nails that accent.
Jessica Pimentel.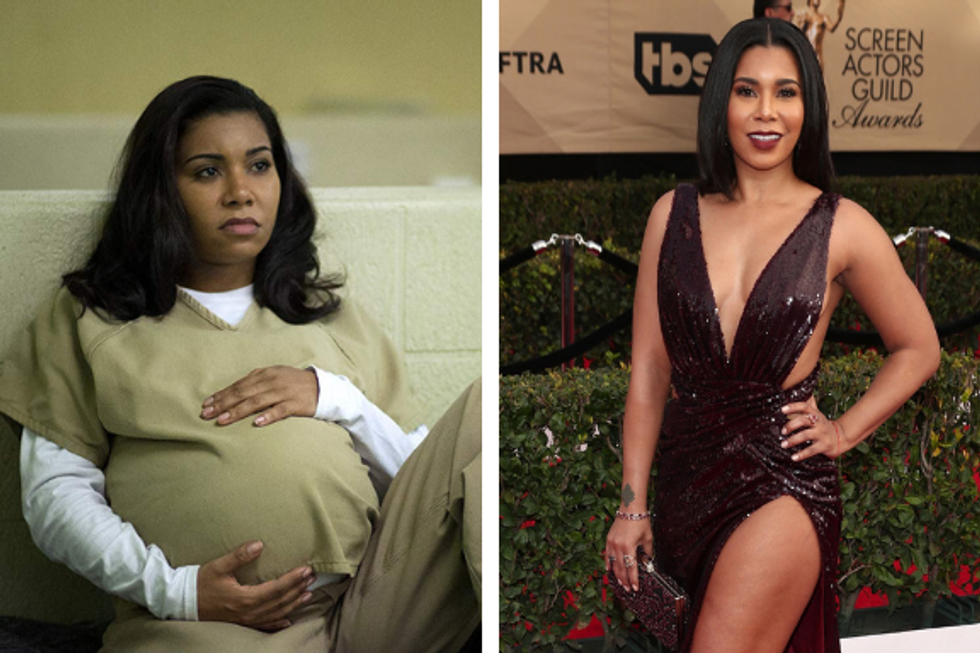 The character of Maria Ruiz is portrayed by Jessica Pimentel, who is actually the lead singer in a heavy metal band in real life (I know, I didn't see that one coming either...). We can't help but feel sorry for the character, Maria, when her baby is taken away from her.
Jackie Cruz.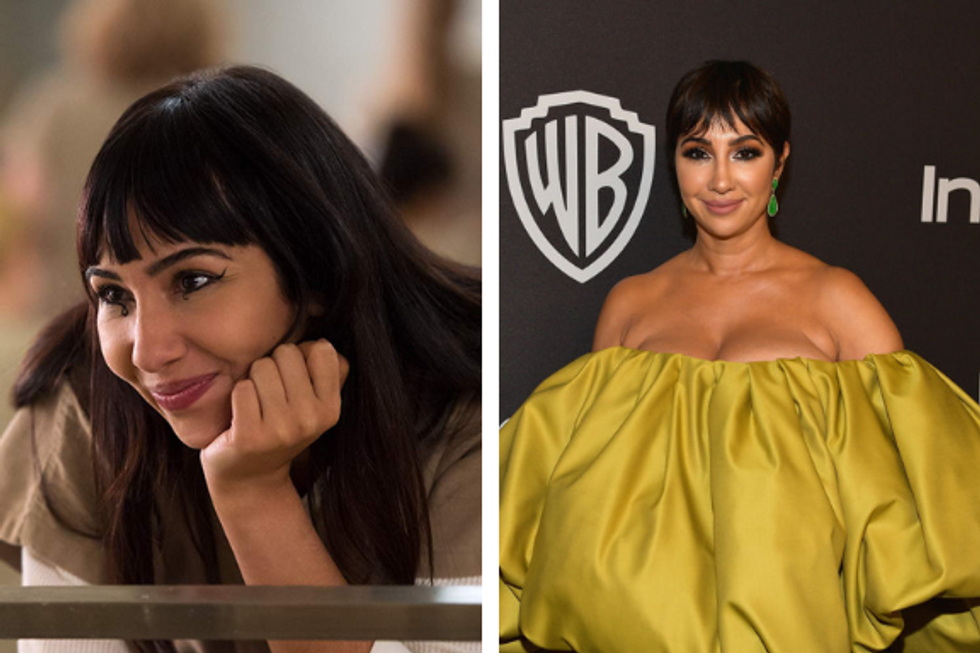 Okay, I
love
this queen. Jackie Cruz portrays the role of young and naive, Flaca Gonzales. Gonzales is bubbly and fun-loving and enjoys improvising her makeup with random objects like tea bags and sharpie pens.
Diane Guerrero.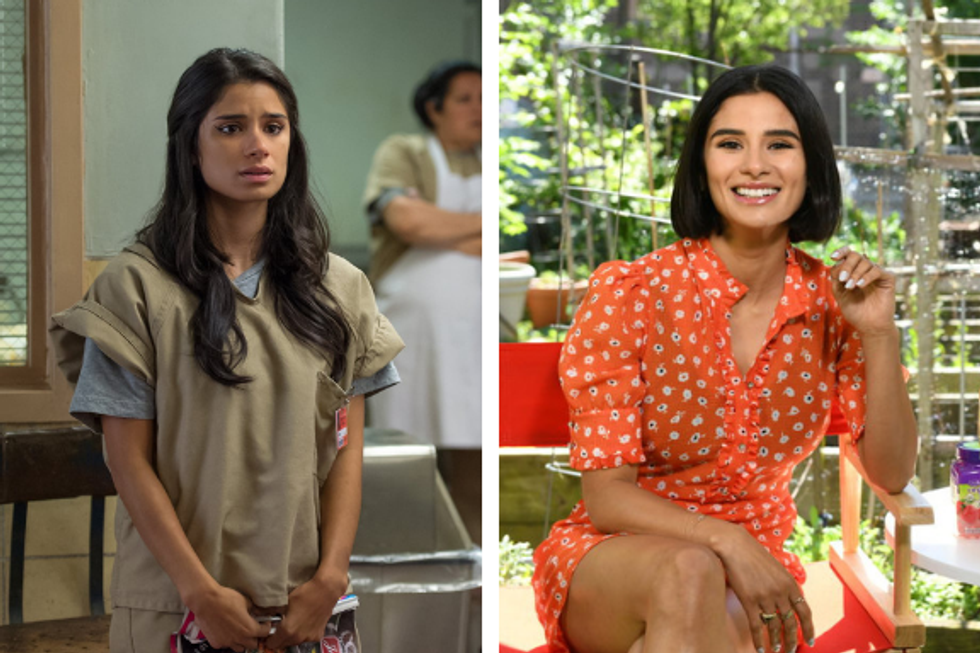 Diane plays the role of Maritza Ramos, who is best friends with Gonzales. The pair do everything together, making them the cutest jail-bird pair. Diane is also known for her role in
Jane The Virgin
 and is the author of a book, which tells the story of her family being deported back to Colombia, which left her alone in the States at just fourteen-years-old.
Selenis Leyva.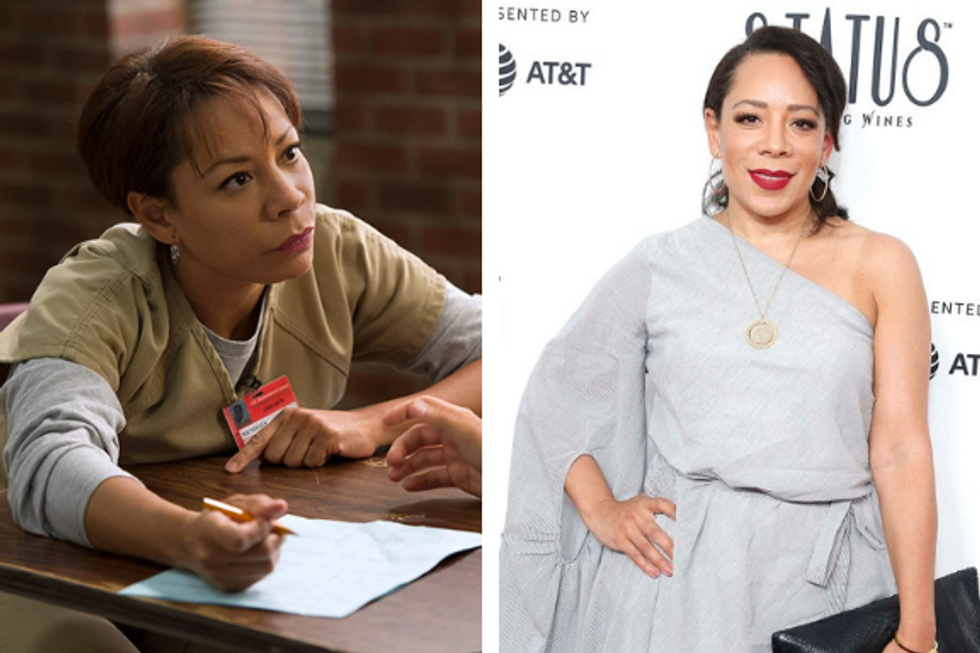 Selenis plays the role of Gloria Mendoza, who is the head (and sometimes mother figure) of the Latina and Hispanic community in the prison. The Cuban-born actress became one of the prominent faces of the show.
Pablo Schreiber.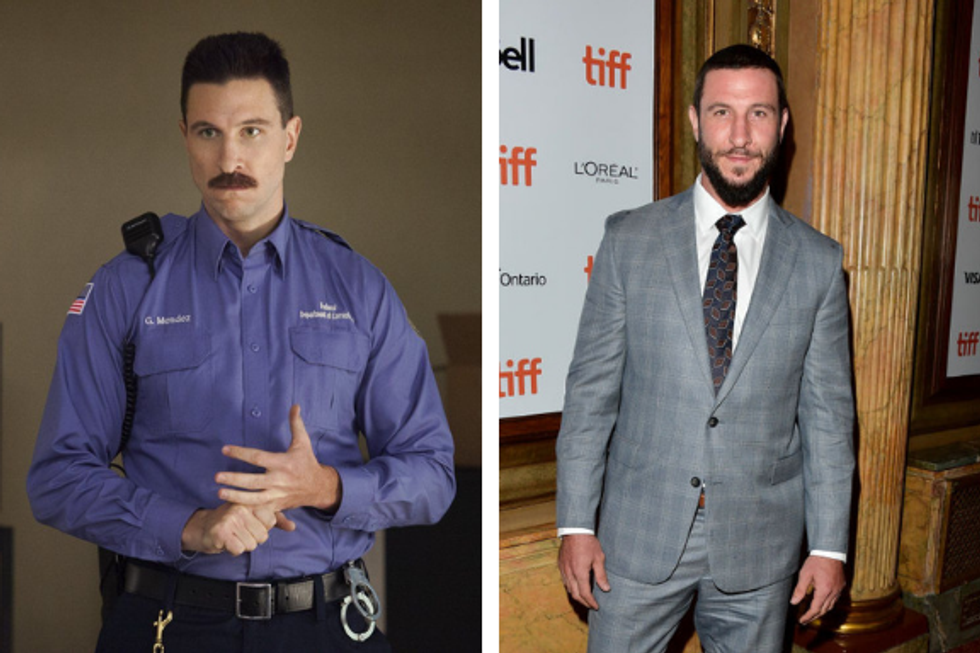 His character is more commonly known as George "Pornstar Moustache" Mendez, and I (and probably the rest of the female world)
couldn't stand
 the guy. His character would regularly degrade and abuse the inmates, and fans were glad to finally see the back of him in season 2. But, hey, I suppose he looks a lot more lovable in real life.
Laura Gomez.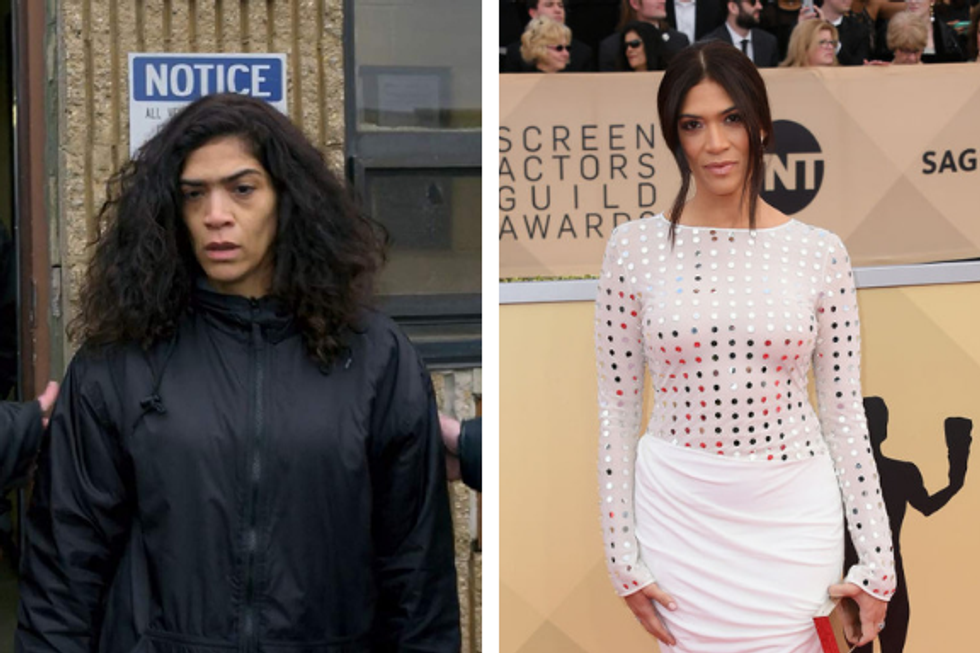 Gomez portrays the seemingly-mad Blanca Flores, who only speaks erratically in Spanish for the first few seasons. However, her character really opens up, as the audience learns about her life as an illegal immigrant on the outside.
Kate Mulgrew.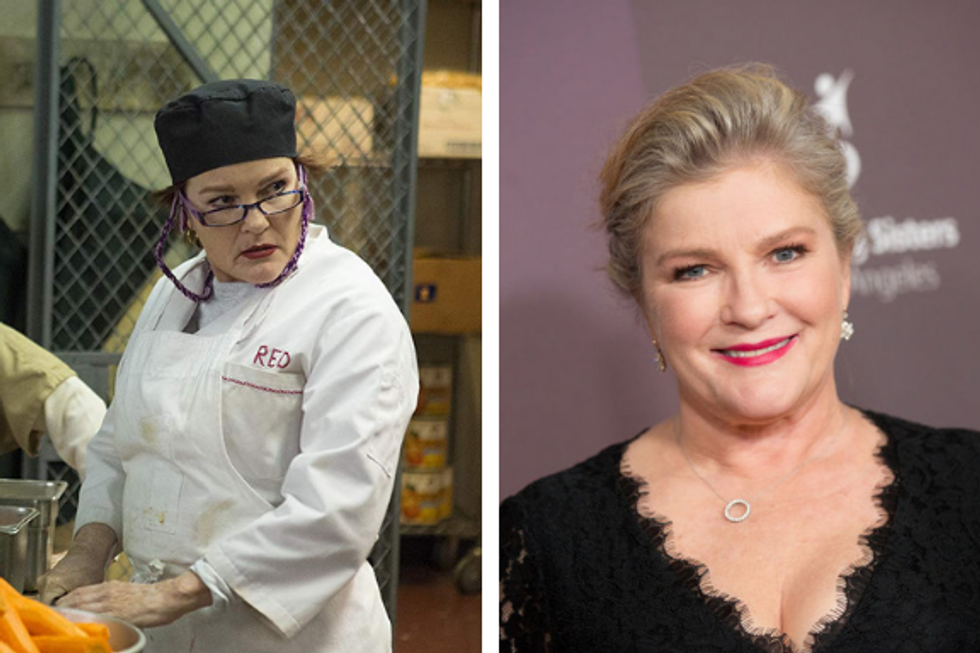 There's something really special about Kate's character, Galina "Red" Reznikov. Though formidable at times, Red is the original prison chef and is a mother figure to most of the white inmates. Though her hair isn't as red in real life...
Vicky Jeudy.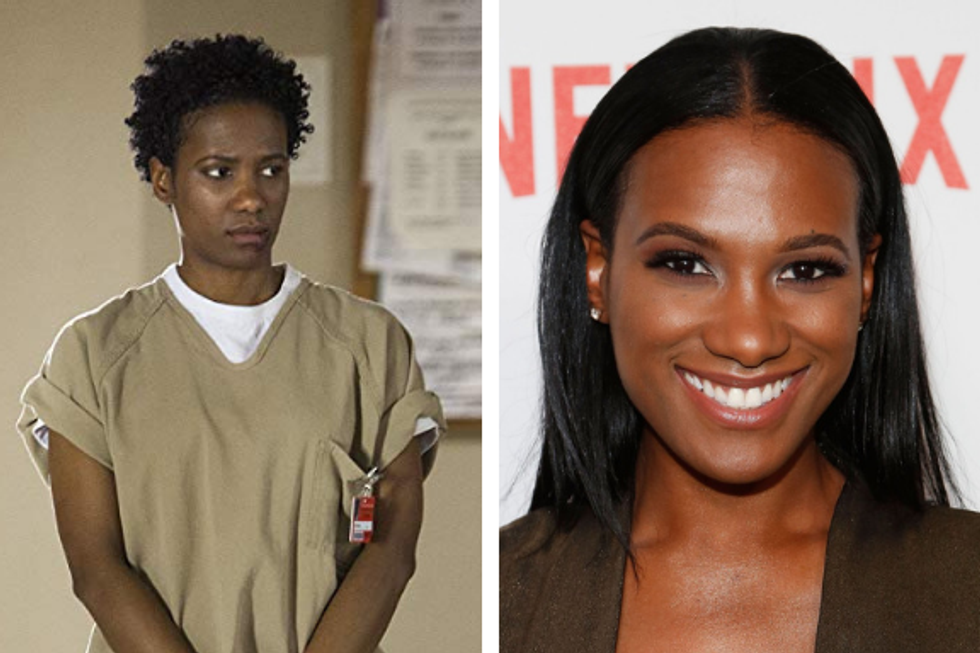 Vicky Jeudy portrays the character of Janae Watson, who is a former-track athlete. The character initially has a lot of anger and hostility, but she gradually warms up and audiences are able to see a softer side to her. In real life, Jeudy is an avid holistic health activist and is a certified kickboxing and aerobics instructor.
Kimiko Glenn.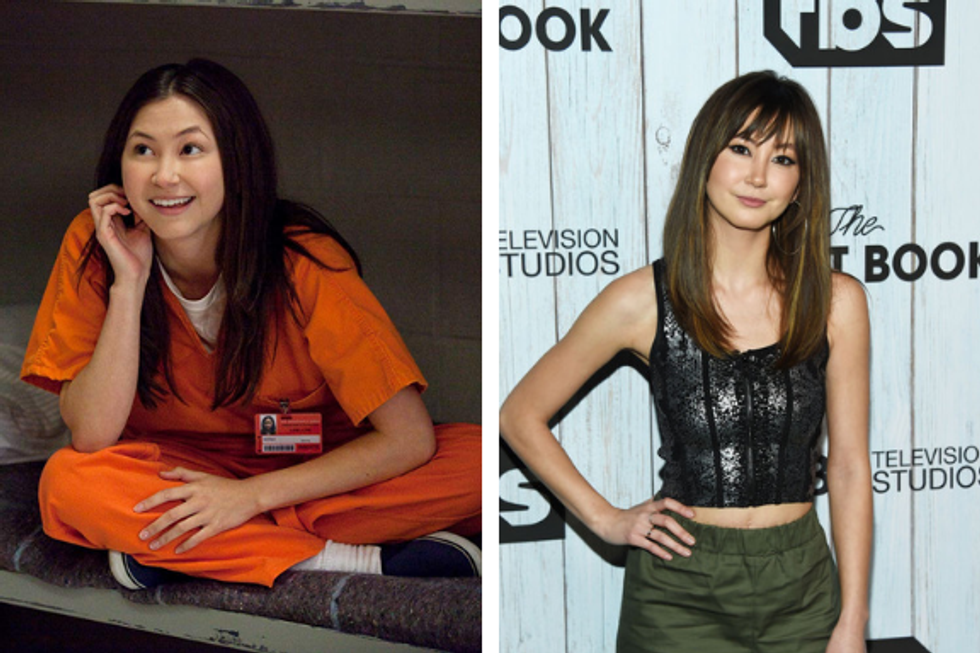 Kimiko portrays the role of Brooke Soso, the slightly annoying, hippie-dippie protestor who has been sent to jail for her activism. Oh, and her character never showers. Ever.
Lea DeLaria.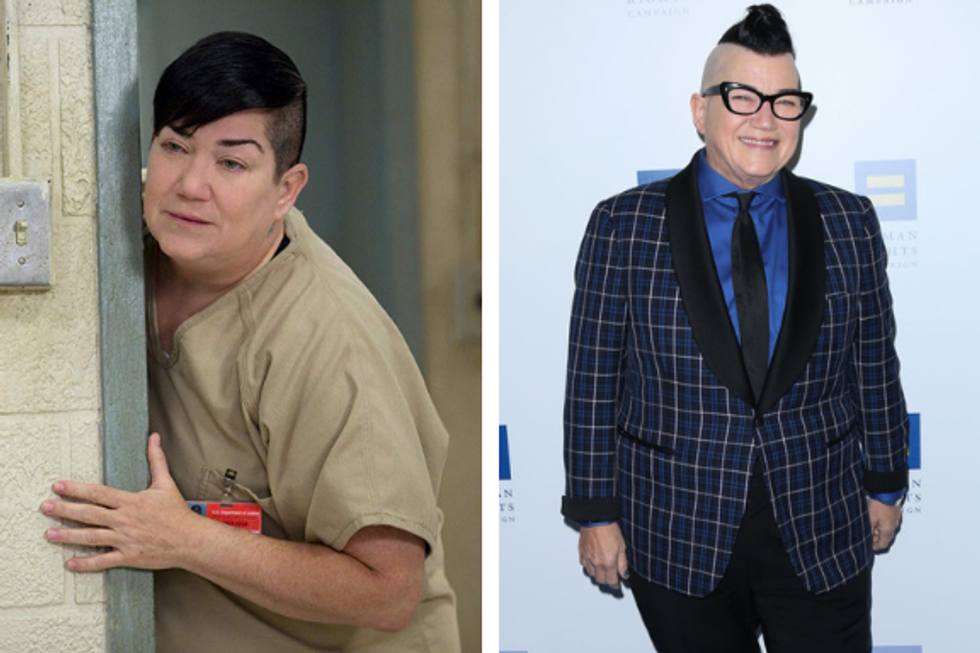 Big Boo is one of the most iconic and hilarious
OITNB
characters, isn't she? In real life, Lea is just as funny and works as a comedian and a jazz musician.
Annie Golden.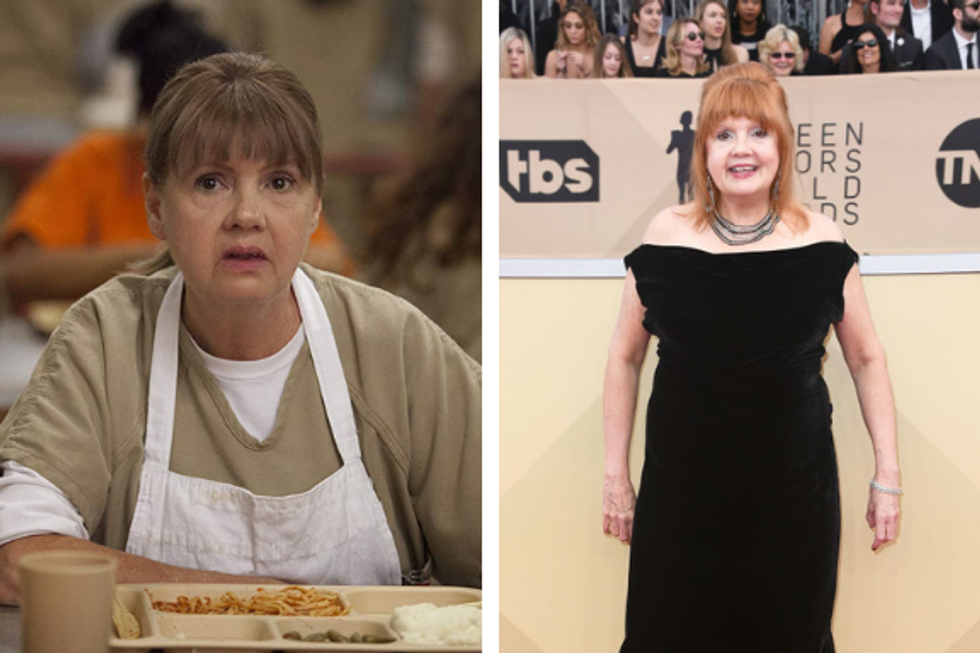 Norma Romano is by far the sweetest inmate at Litchfield. Portrayed by Annie Golden, Norma is mute with a slightly sinister past. In real life, Annie is actually a singer, which is demonstrated when Norma sings in season 3.
Jolene Purdy.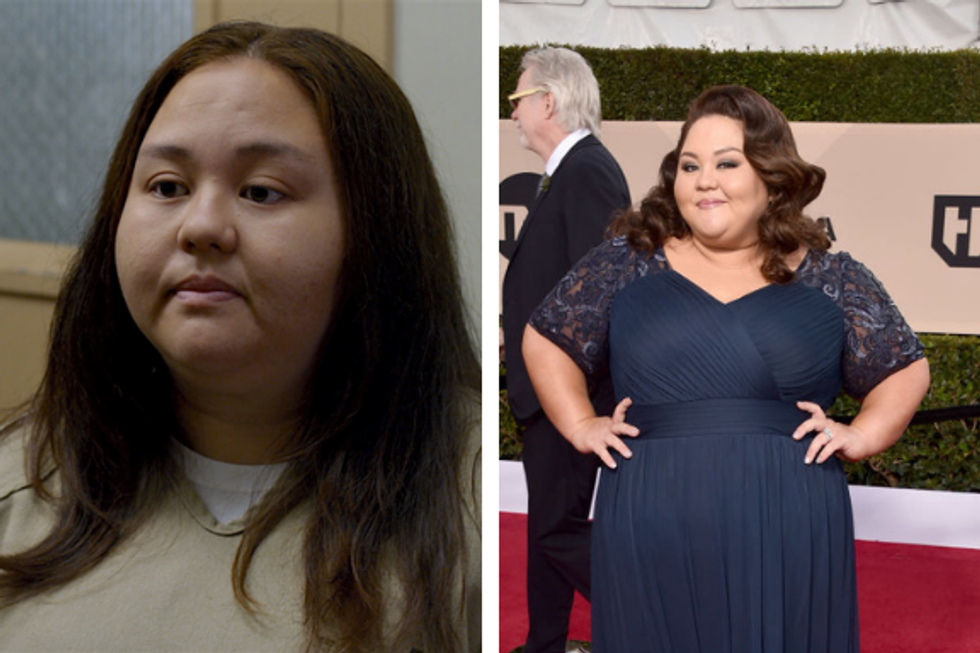 Portrayed by Jolene, Stephanie Hapakuka is transferred to Litchfield in season 4. She is quite a spiritual and peaceful character, though she does get into some beef with Piper (though, let's be real, who didn't?). Jolene is also known for her role as Cherita Chen in
Donnie Darko. 
Kelly Karbacz.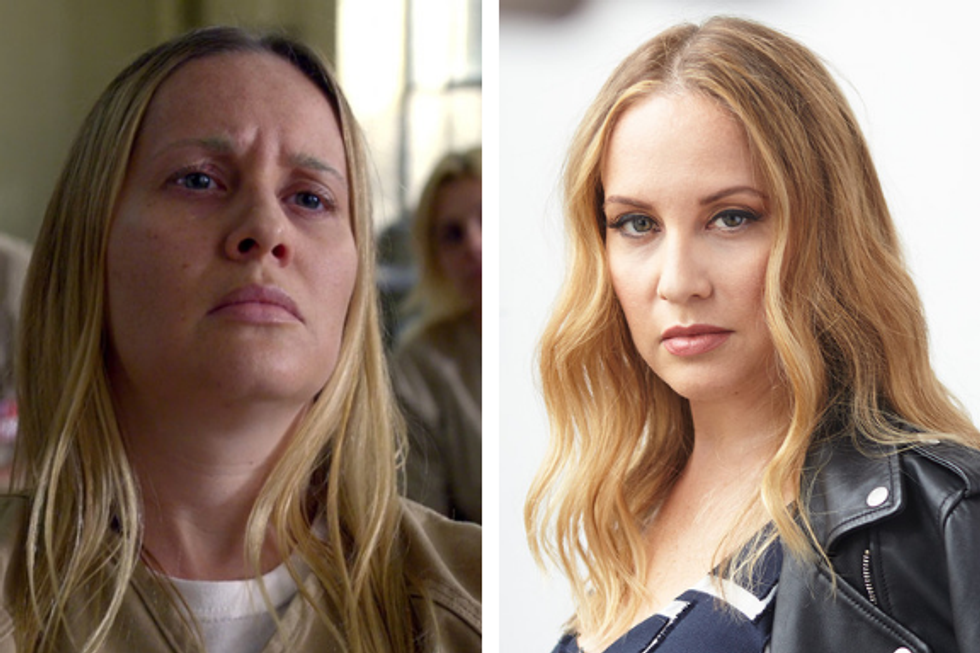 Kelly portrays the role of Kasey Sankey, another member of the white supremacist group operating in Litchfield. Kelly is also recognized in titles such as
Get Smart
and
Law and Order
.
Nick Sandow.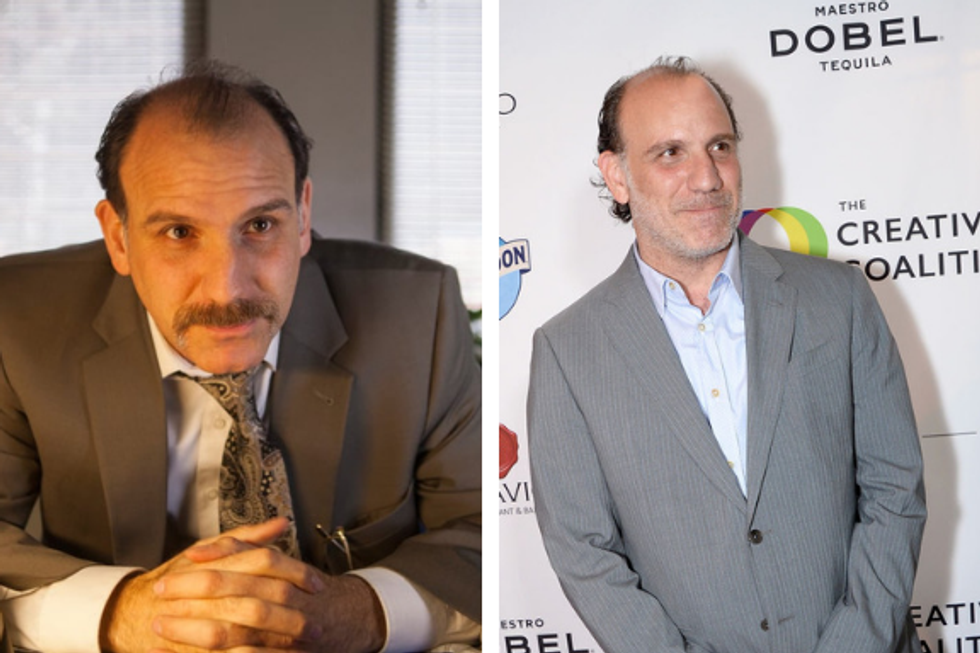 Nick plays the role of Joe Caputo, who is the prison warden for Litchfield. Though he is a bit aloof and scatter-brained, Joe means well and genuinely cares about the inmates.
Rosal Colon.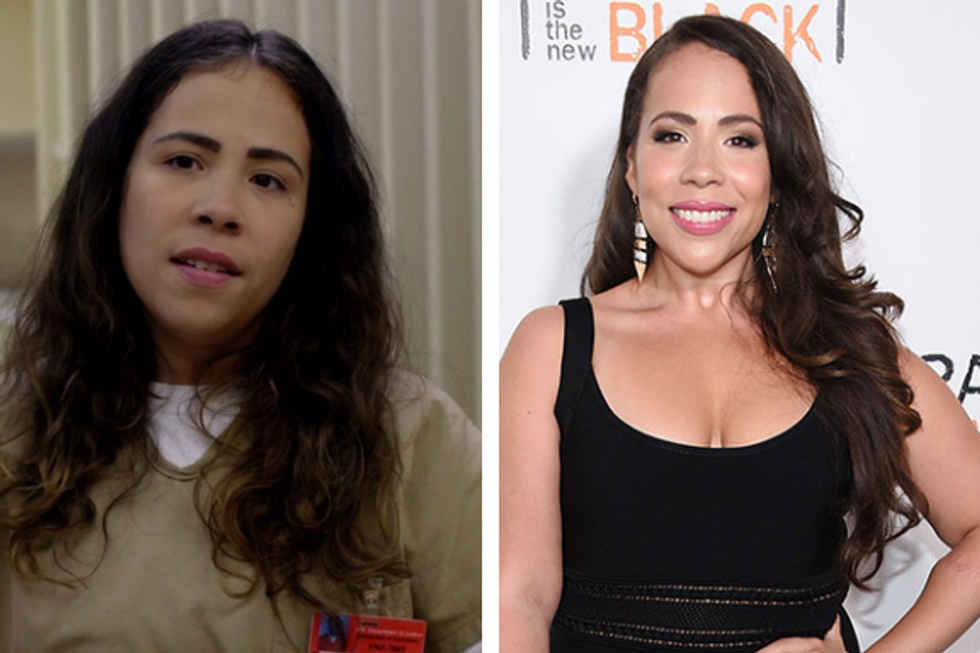 Rosal plays the role of Ouija Aziza, a member of the Spanish Harlem at Litchfield.
Dale Soules.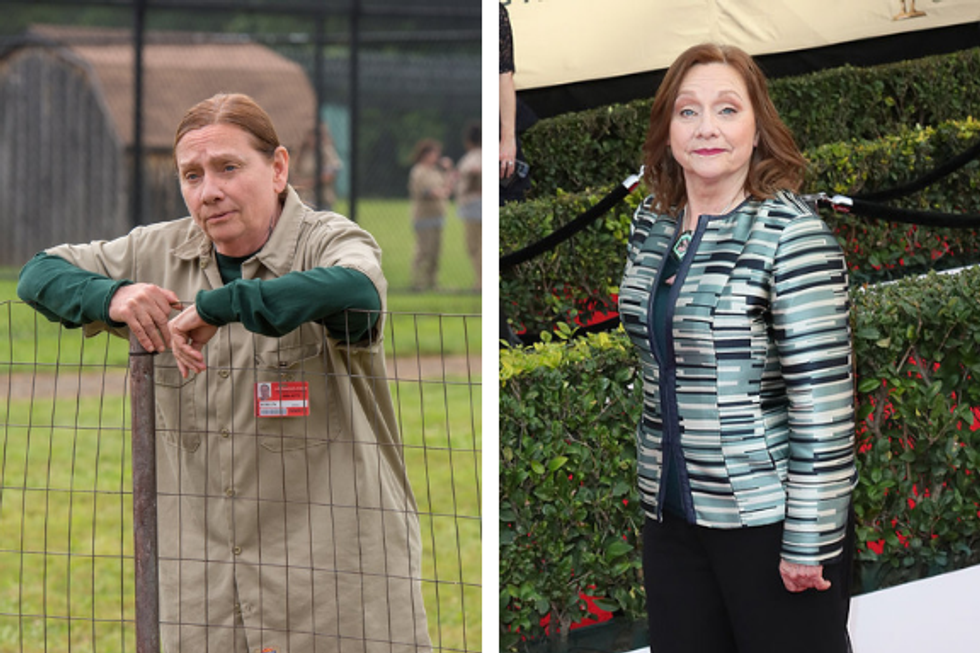 Freida Berlin is a true Litchfield veteran and has a real "bad grandma" vibe going on. The character is serving a life sentence for apparently killing her husband... Though I think she's done a lot more than that.
Blair Brown.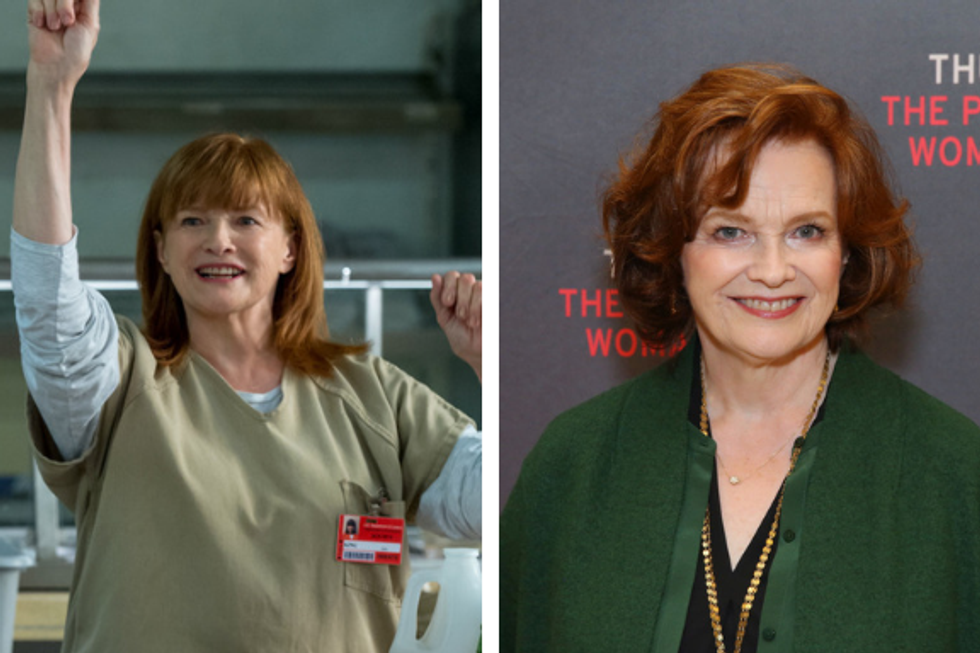 Blair portrays the celebrity chef inmate, Judy King. Her arrival into Litchfield is untimely tough, as the guards have just walked out and the prisoners are rioting - Not ideal for a celebrity, is it? You will also recognize Blair from her role as Nina in
Fringe.
Danielle Brooks.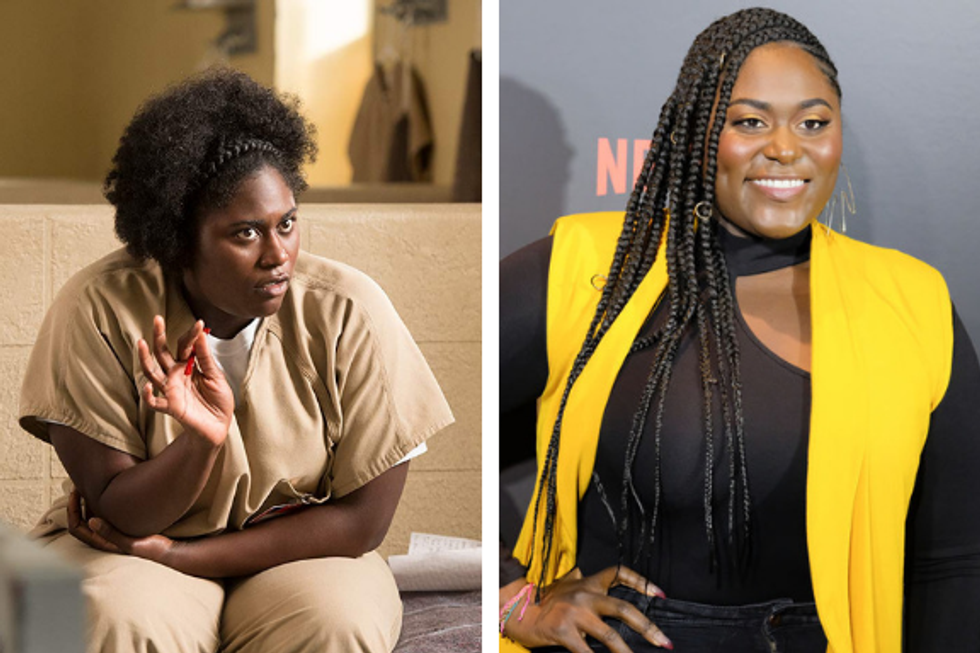 Danielle plays the lovable role of Tasha "Taystee" Jefferson. Taystee really develops as a character throughout the seasons, and you learn about her difficult childhood which leads to a life of petty theft. In real life, Danielle has actually starred in, and won awards for, several Broadway musicals.
Lori Petty.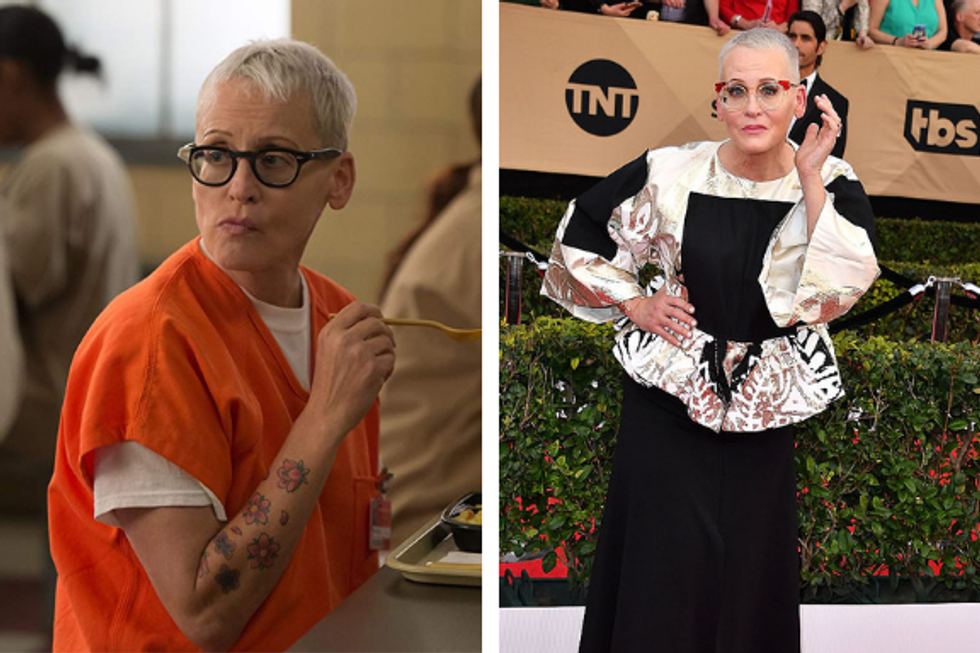 On the show, Lori plays the role of Lolly, Piper's eccentric cellmate. She plays a huge role in season 4 and shines a heartbreaking story about the issues of mental health in prisons.
Constance Shulman.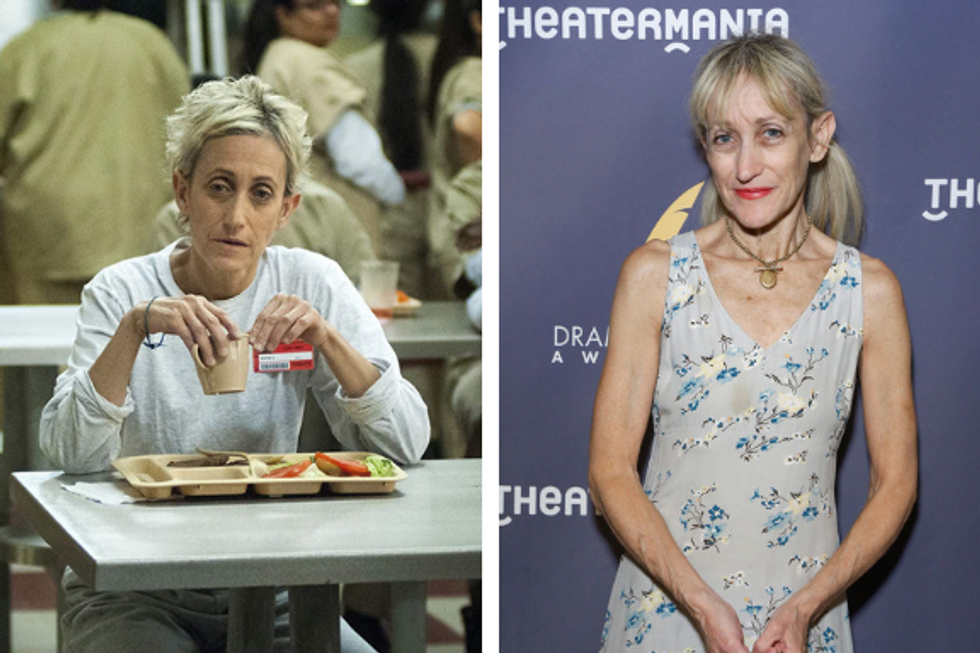 Constance portrays Erica "Yoga" Jones, a found-again Buddhist who does an awful lot of yoga... Obviously. Her character grows with the seasons as we learn about her past with alcohol and drug abuse, and her accidental killing of an 8-year-old boy.
Samira Wiley.
Samira plays Poussey Washington, who became one of the most-loved characters of the show. However, fans hearts were broken when she was tragically killed during a riot in season 4. In real life, Samira is actually in a relationship with
OITNB
writer, Lauren Morelli. They say it's all about who you know...
Lorraine Toussaint.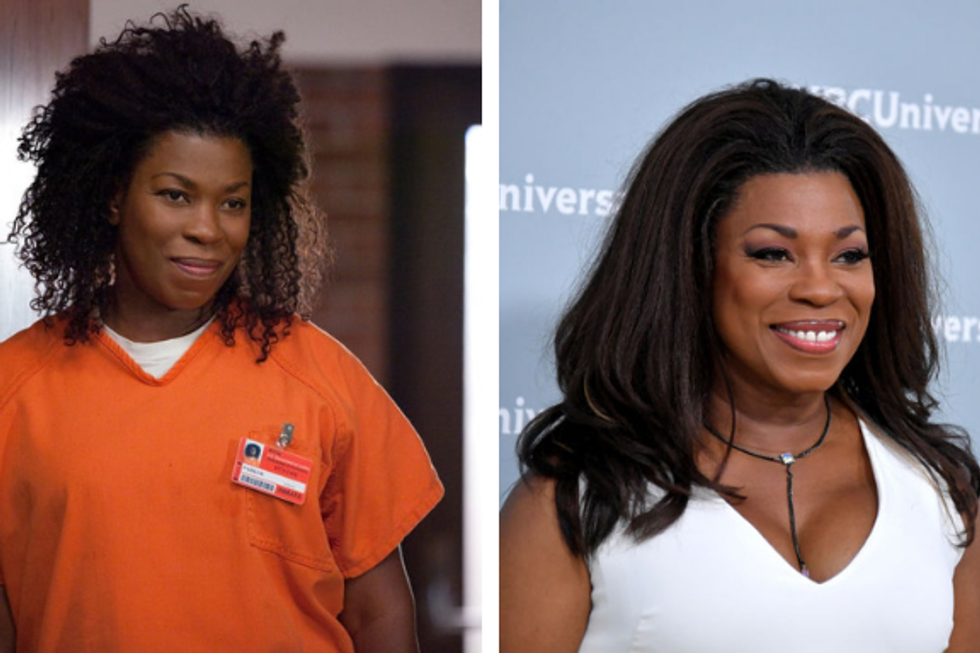 Lorraine's character, Yvonne "Vee" Parker, made her debut in season 2, and was an extremely powerful and formidable figure amongst the other inmates. She was also Taystee's adoptive mother but had been the one to turn her to a life of crime.
Ruby Rose.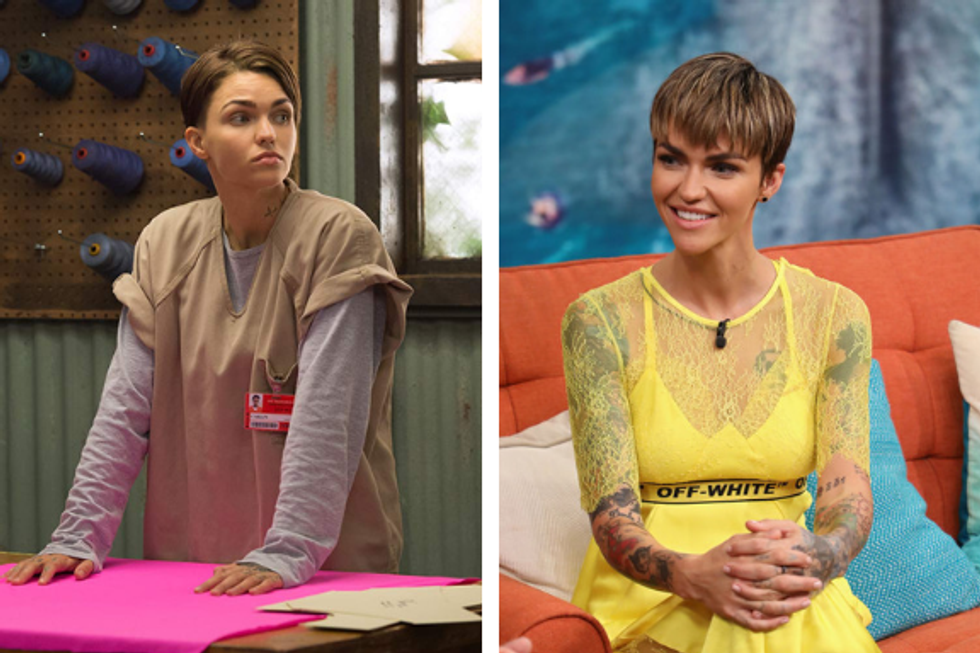 Yep, everyone was very excited when they found out that Ruby Rose would be making an appearance as Stella Carlin. Stella kicks up a storm in Litchfield as she ultimately breaks up Alex and Piper, and takes Piper for herself (I'm firmly team Alex...). In real life, Ruby Rose is an Australian model, presenter, and actress, and is well known for presenting on MTV.
Brad William Henke.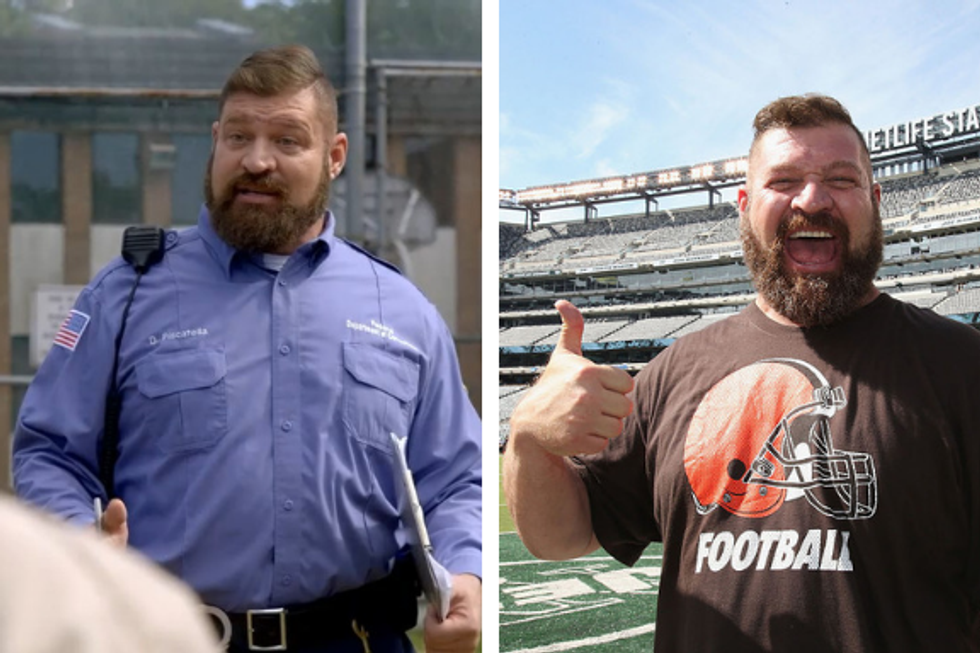 Brad plays prison guard, Desi Piscatella on the show and he seems to be very proud of the fact - his
Instagram
profile pic is one of himself in character and  his bio reads: "I play Desi Piscatella on Orange is the New Black ??." Piscatella is the somewhat sociopathic Captain of the Guards at Litchfield Penitentiary and the ultimate bad guy of seasons 5 and 6 of the show.
Lori Tan Chinn.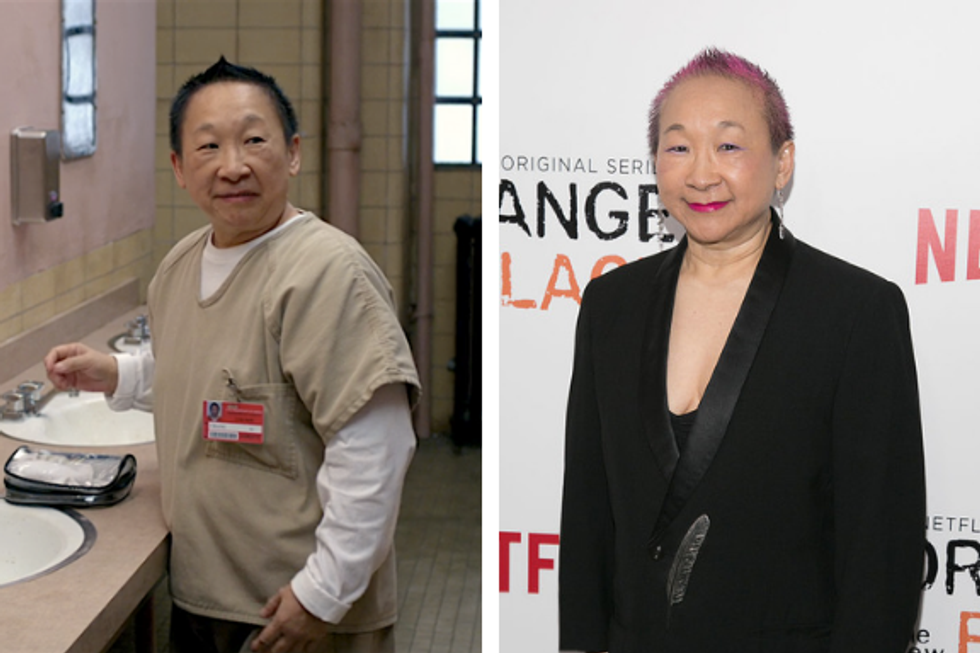 Lori plays the quiet, and actually pretty hilarious, Mei Chang on 
Orange Is the New Black. 
Chang is a well-loved member of Litchfield, despite the fact that she seems to isolate herself from the others.
Abigail Savage.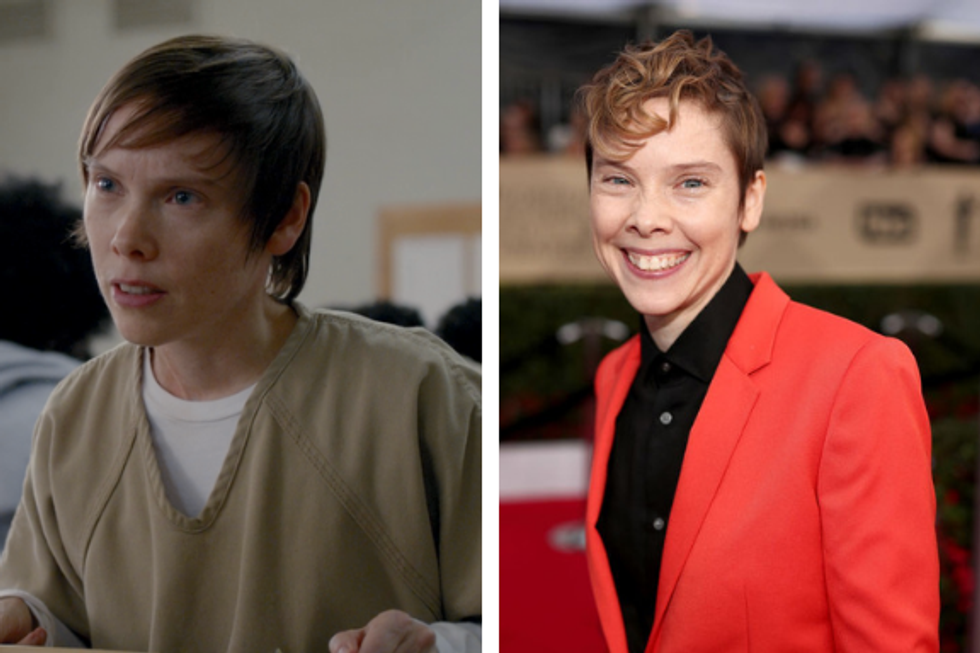 Abigail portrays Gina Murphy on the show, a character best known for being a great friend, particularly to Nicky.
Beth Fowler.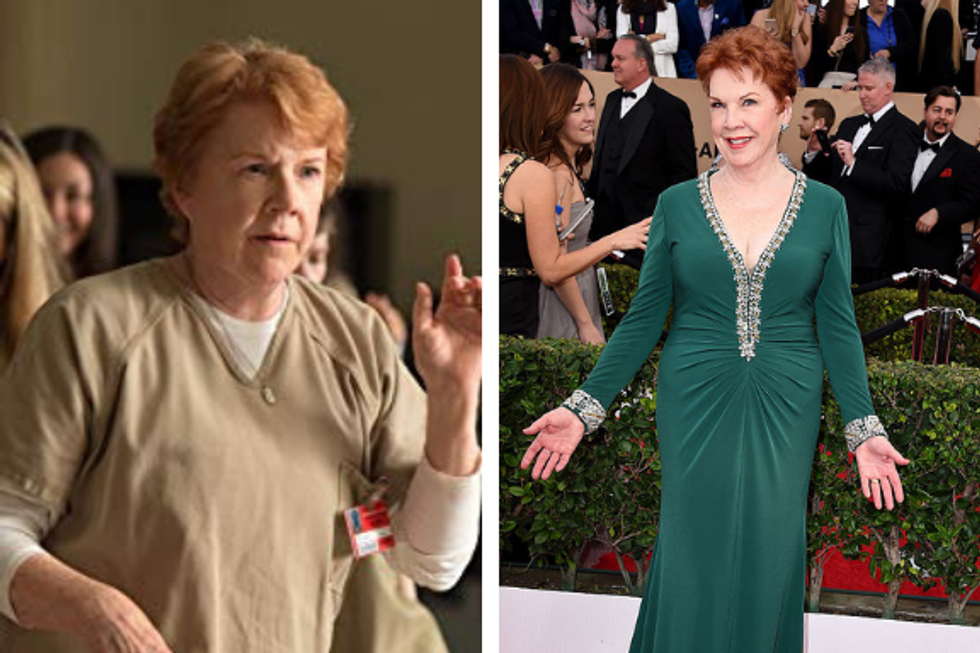 Beth Fowler portrays Sister Jane Ingalls, who was arrested for her activism after she handcuffed herself to a nuclear testing facility as a form of protest. Poor Jane.
Julie Lake.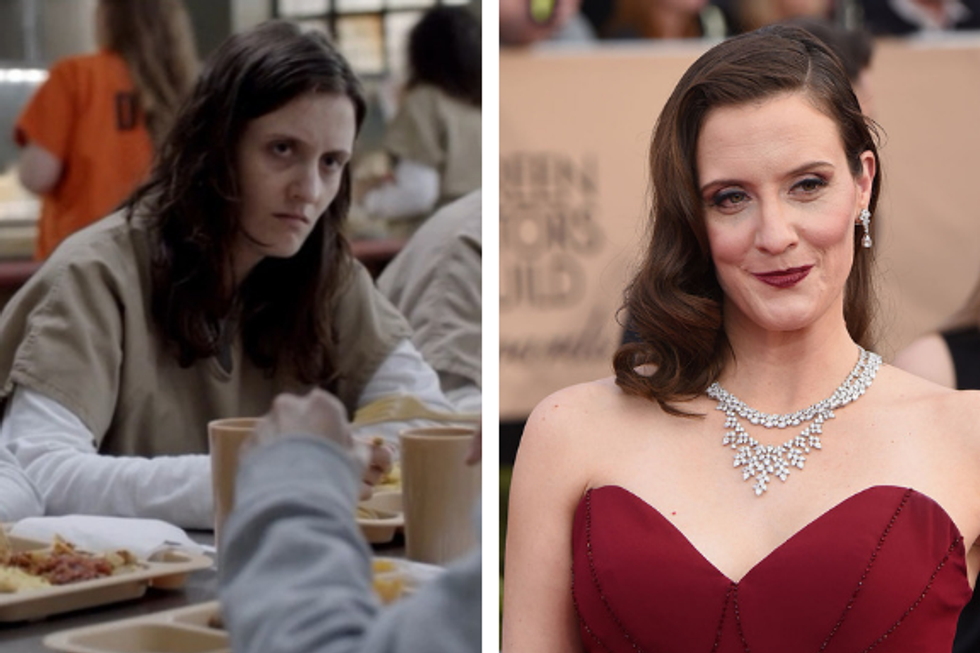 Julie Lake portrays the role of Angie Rice, who is part of the meth-head/Christian cult combo with Pennsatucky. Fun fact: Julie admitted that it only takes twenty minutes to get
Angie'd
up. I think I'd be a bit worried...
Francesca Curran.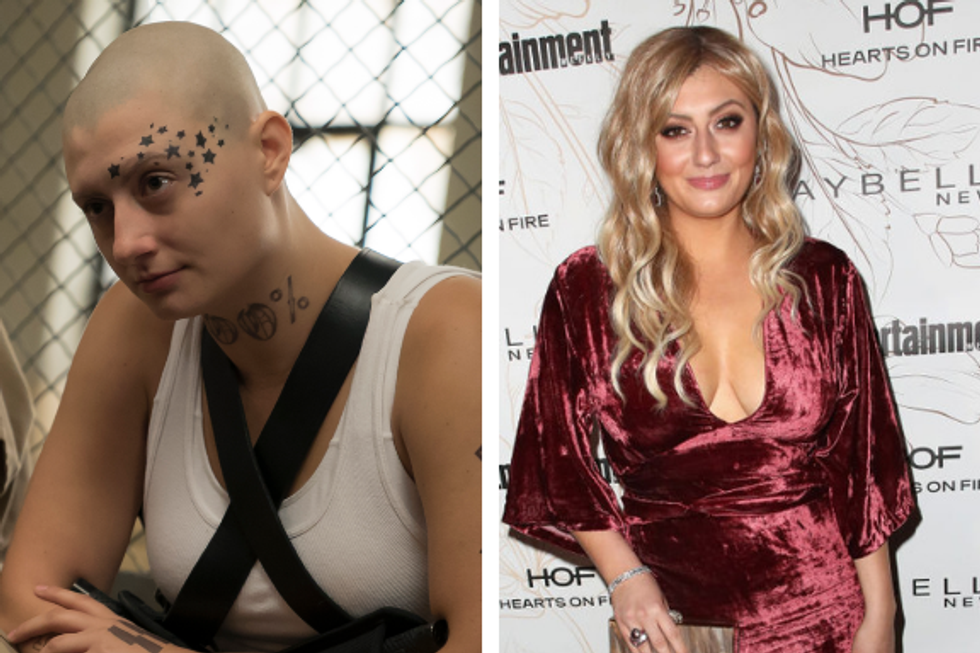 Okay, this is by
far
the most extreme transformation. Francesca plays hard-as-nails Helen Van Maele (often known as "Skinhead Helen"). Introduced in season 4, Francesca's character is a racist, white supremacist. And, believe it or not, Francesca actually shaved her head for the role. Talk about dedication.