People criticize the Trump family for nearly everything they do. And you know what? Most of it is warranted. They're messing up a bunch of stuff about this country. But one thing we thought they couldn't possibly get wrong is their family Christmas photo. How hard could it be?! You get the family together, you take a photo, and that's literally it. But they managed to screw it up. The second Melania shared it with the world, the Internet piled on and pointed out that there is a glaring omission in the Trump family Christmas photo. Can you spot it?
Christmas has been a fraught time for the Trumps. First, Donald Trump declared that he would save America from the war on Christmas and start saying, "Merry Christmas!" again.
The National Tree Lighting ceremony was beautiful this evening - but hard not to notice the empty seats. #Christmas… https://t.co/hecXTTq7cS

— Steve Rudin ABC7 (@Steve Rudin ABC7)1512082859.0
But that's pretty hard to do when
no one shows up to your Christmas tree lighting ceremony
. Oh, and there's also the thing about how there is no war on Christmas and the Obamas said "Merry Christmas!" every year and Trump is just trying to manufacture division and controversy.
Then, Melania's White House Christmas decorations were revealed, and we were given a small peek into the depths of her soul.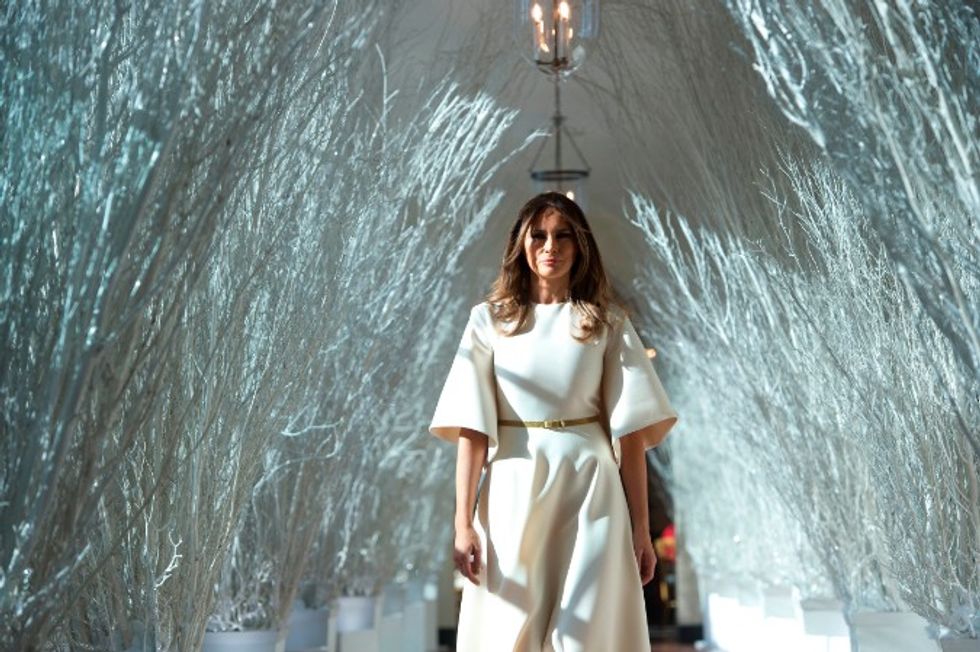 via: Getty Images
And people, it is dark and dank and sad in there.
Donald Trump tried to claim that Melania loves her job
, but it's clear from the stark white, shadowy display she planned for the White House that she is currently battling some demons.
Like, look at it.
honestly in awe of the scope and intensity of melania's cries for help https://t.co/VdKSTmwYBQ

— 𝘋𝘈𝘙𝘊𝘐𝘌 𝘞𝘐𝘓𝘋𝘌𝘙 (@𝘋𝘈𝘙𝘊𝘐𝘌 𝘞𝘐𝘓𝘋𝘌𝘙)1511819115.0
Melania is a Shakespearean tragic heroine trapped in the body of the First Lady of the United States. She clearly wants out of this situation, and we don't blame her.
There's nothing like Christmas time and ballerinas to make you question every life choice you've made up until this point.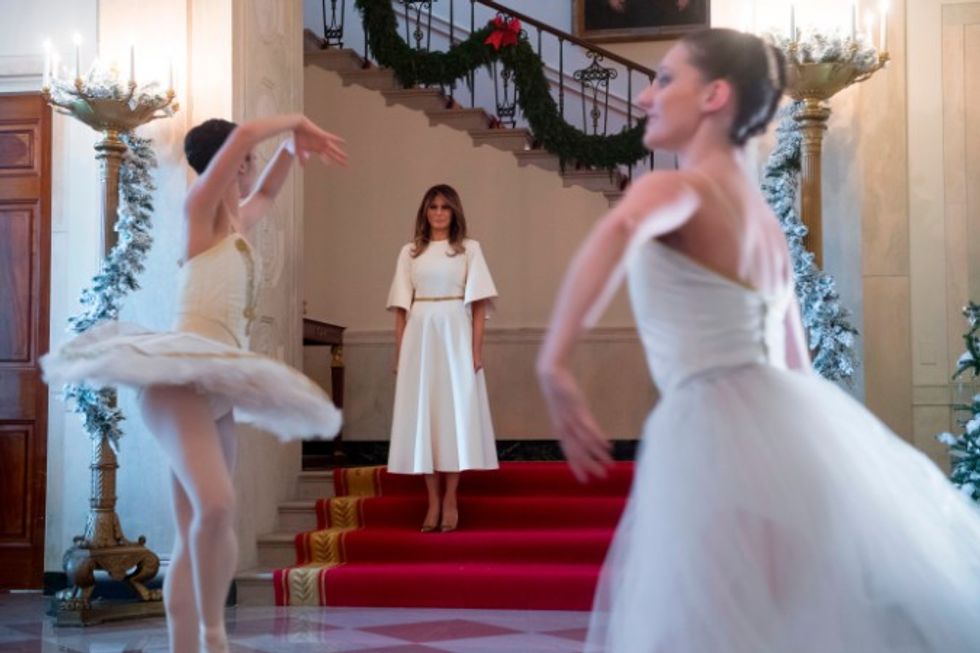 via: Getty Images
Melania and Donald Trump have both proven that no matter how hard they try to make it seem like they're "winning" Christmas, they can't convince us. And their recently released Christmas family photo is more of the same.
Here it is, folks, the official Trump family Christmas portrait.
Merry Christmas from President Donald J. Trump and First Lady Melania Trump. @POTUS & @FLOTUS are seen Tuesday, De… https://t.co/qSVwpYoMas

— Melania Trump (@Melania Trump)1513283095.0
On the surface, it might seem like they nailed it. But pretty much the entire Internet noticed that there's actually something super wrong with the picture. Something very important is missing. Can you spot it?
The thing missing from the official White House family Christmas portrait? It's Barron, of course.
In case you forgot about him, (and clearly, you're not the only one), Barron is the 11-year-old son of Donald and Melania Trump. He's the first kid, and he wasn't included in the Christmas family photo!
Yes, there is a chance that he didn't want to be in the picture because who would?
"This Christmas...Barron Trump is HOME ALONE!" https://t.co/6Koq0c2cBY

— Jason Avant (@Jason Avant)1513284149.0
But there's also a chance his parents totally forgot about him and left him home alone and now he's battling burglars (like in the Christmas classic, 
Home Alone
).
Barron wasn't included in the portrait and neither were Trump's older children, so this skilled Photoshop expert added a few people to make up for it:
Here's the White House's Christmas card with the entire Trump family. https://t.co/Akuv2jNTSh

— Keaton Patti (@Keaton Patti)1513292411.0
Yes, those are the mucus people from the Mucinex commercials. And honestly, that's a pretty generous depiction of the Trump family.
This Twitter user pointed out that Donald and Melania are so very tiny in this giant photo.
And it's hilarious. They really seem dwarfed by those snowy trees and those giant flags. As you'll recall from that hand-size debacle, Trump really doesn't take kindly to people calling him small.
Let's all take a moment to compare the Trump Christmas photo to the Obama one:
Interesting to compare the Trumps' very formal style, and deliberate use of "Christmas" with the Obamas' much more… https://t.co/v4XsftjMFC

— Christina Wilkie (@Christina Wilkie)1513283718.0
RIP our innocence, our hopes and dreams, and the feeling of being proud of the first family. What a time to be alive. Happy Holidays. Merry Christmas. Happy Chanukah. Happy Kwanzaa. And Happy New Year. Hopefully. Fingers crossed.