Did you hear? Prince William and Meghan Markle are getting married.
It's a match made in aristocratic heaven – the groom is a prince, and the bride is a Hollywood actress. Now it's time to countdown to the dress reveal. As royal dress-watchers adjust their binoculars and fashion designers sharpen their needles, let's take a look at the most memorable dresses of the past few decades.
14. Queen Jetsun Pema and King Jigme Khesar Namgyel Wangchuck
Happy 4th wedding anniversary of the King of Bhutan. Have a long life. http://t.co/hLYd6EKxif

— Dorji Wangchuk (@Dorji Wangchuk)1444683522.0
When 22-year-old student Jetsun Pena wed the 31-year-old King of Bhutan, she did so in style wearing traditional embroidered silk robes and a multi-colored crown.
13. Princess Salwa Aga Khan and Prince Rahim Aga Khan
American supermodel, 24, wears stunning ivory sari s she marries the eldest son of the Aga Khan in fairytale wedding http://t.co/hPjeEB69BA

— Kamal Faridi (@Kamal Faridi)1378113363.0
In 2013, American model Kendra Spears wore a traditional white and gold sari when she married Prince Rahim Aga Khan, son of the spiritual leader of the world's Shia Ismaili Muslim denomination.
12. Princess Hajah Hafizah Sururul Bolkiah and Pengiran Haji Muhammad Ruzaini of Brunei.
Princess Hajah Hafizah Sururul Bolkiah dressed in #BernardChandran Couture for her wedding. #Brunei #RoyalWedding http://t.co/k1VVxWny

— FY Bernard Chandran (@FY Bernard Chandran )1348753896.0
In 2012, Princess Hajah, the daughter of the uberwealthy Sultan of Brunei, wore a crystal-beaded beige and silver gown to her wedding — where the Sultan bestowed the groom with the title "Yang Amat Mulia Pengiran Anak," which roughly translates as "Son of His Highness". Now that's lavish.
11. Princess Caroline And Philippe Junot Of Monaco
Can we take a moment to appreciate how much Princess Caroline of Monaco looked like Princess Leia @ her 1978 wedding? http://t.co/xGhbvW201A

— zzgator 🐊 (@zzgator 🐊)1434139343.0
When Grace Kelly's daughter married, she did so just as stylishly as her mother by opting for a flower crown and a soft dress with billowing sleeves instead of heavy jewelry and more traditional garb.
10. Princess Anne Marie of Denmark and King Constantine II of Greece
"Mariages Royaux": On September 18, 1964 Princess Anne-Marie of Denmark wed King Constantine II of #Greece. #wedding https://t.co/pQ2sbN8oMR

— La Fête Chic (@La Fête Chic)1474220910.0
In 1964, a princess got married to a king, and the dress was absolutely gorgeous. Would you look at the length of that train? Stunner.
9. Queen Soraya and Shah Mohamed Reza Pahlevi of Iran
@Dior atelier had all hands on deck to create Queen Soraya's couture gown for her 1951 wedding to the Shah of Persia http://t.co/k5wGXcR75h

— Ephemeral Elegance (@Ephemeral Elegance)1437092090.0
When the Shah and Empress of Iran married in 1951, the word of the day was opulence. The bride wore a custom Christian Dior gown in addition to a crown and numerous gems.
8. Queen Felicia Ortiz and King Felipe of Spain
Smart, sleek, sexy – those are the words that come to mind when describing the nuptial gown of Princess Letizia in her wedding to her prince in 2004.
7. Mabel Wisse Smit and Prince Johan Friso of Norway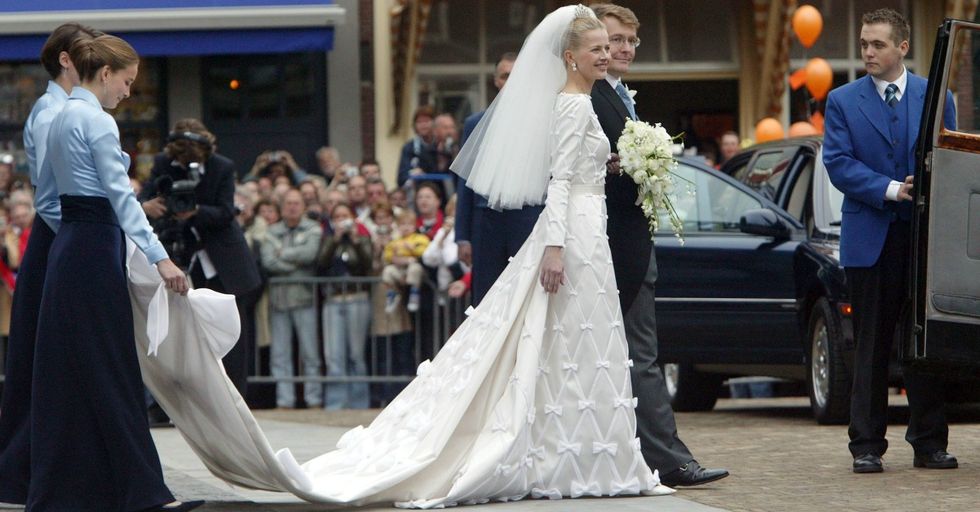 When Mabel Wisse Smit wed the prince of Norway in 2004, her gown was bedecked in bows, and she wore a short, stylish train to match.
6. Crown Princess Masako and Crown Prince Naruhito of Japan
Happy 22nd wedding anniversary for Crown Prince Naruhito and Crown Princess Masako of Japan. http://t.co/D7ncB15k7H

— Tesouras&Tiaras (@Tesouras&Tiaras)1433851785.0
When Crown Princess Masako of Japan wed the Crown Prince, she wore two wedding gowns – one was a Western ivory-colored gown, and the other was a traditional gown that weighed 30 pounds and was topped off with a white wig.
5. Queen Rania of Jordan and Prince Abdullah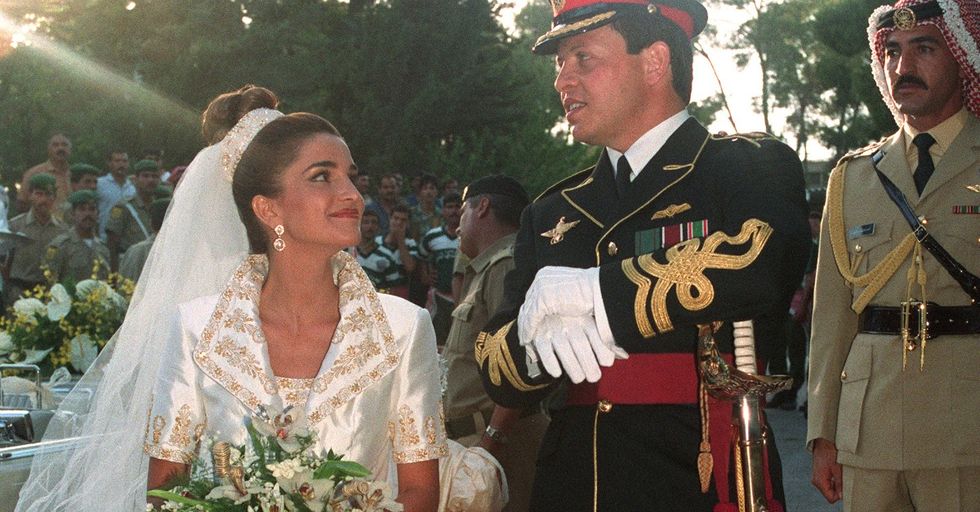 In 1993, 22-year-old Rania married Prince Abdullah in 1993 after less than a year of courtship. She wore a gold-trimmed gown that is the stuff of every girl's dreams.
4. Catherine, Duchess of Cambridge and Prince William
30 Things You Didn't Know About Prince William and Kate Middleton's Wedding https://t.co/U19OEreYXx https://t.co/aQjCpZRh5E

— Women Who Trade (@Women Who Trade)1512944883.0
The British royals certainly know how to create an iconic wedding look. Kate Middleton wore a custom-made Alexander McQueen dress, which she topped off with one of the Queen's diamond tiaras.
3. Prince Rainier and Grace Kelly of Monaco
Did You Know About Grace Kelly's Second (Pink!) Wedding Dress? https://t.co/COQD8dDKbc https://t.co/NumO1rYrHh

— Marie Claire (@Marie Claire)1507212628.0
It was the wedding straight out of a Hollywood fantasy. Prince Rainier married Grace Kelly, a Hollywood actress renowned for her beauty, and the dress became an instant classic for its chic, elegant lines.
2. Princess Stephanie and Grand Duke Guillaum of Luxembourg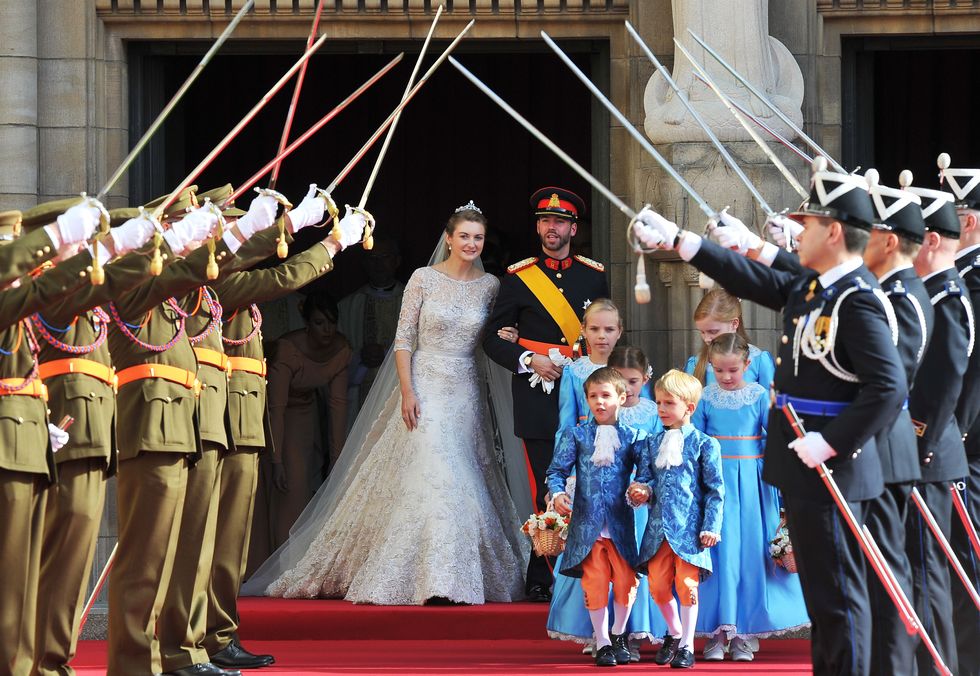 In 2012, the Hereditary Grand Duke Guillaume married the Countess, who wore a custom Elie Saab dress that had a 13-foot-long train and 50,000 pearls.
1. Princess Diana and Prince Charles of England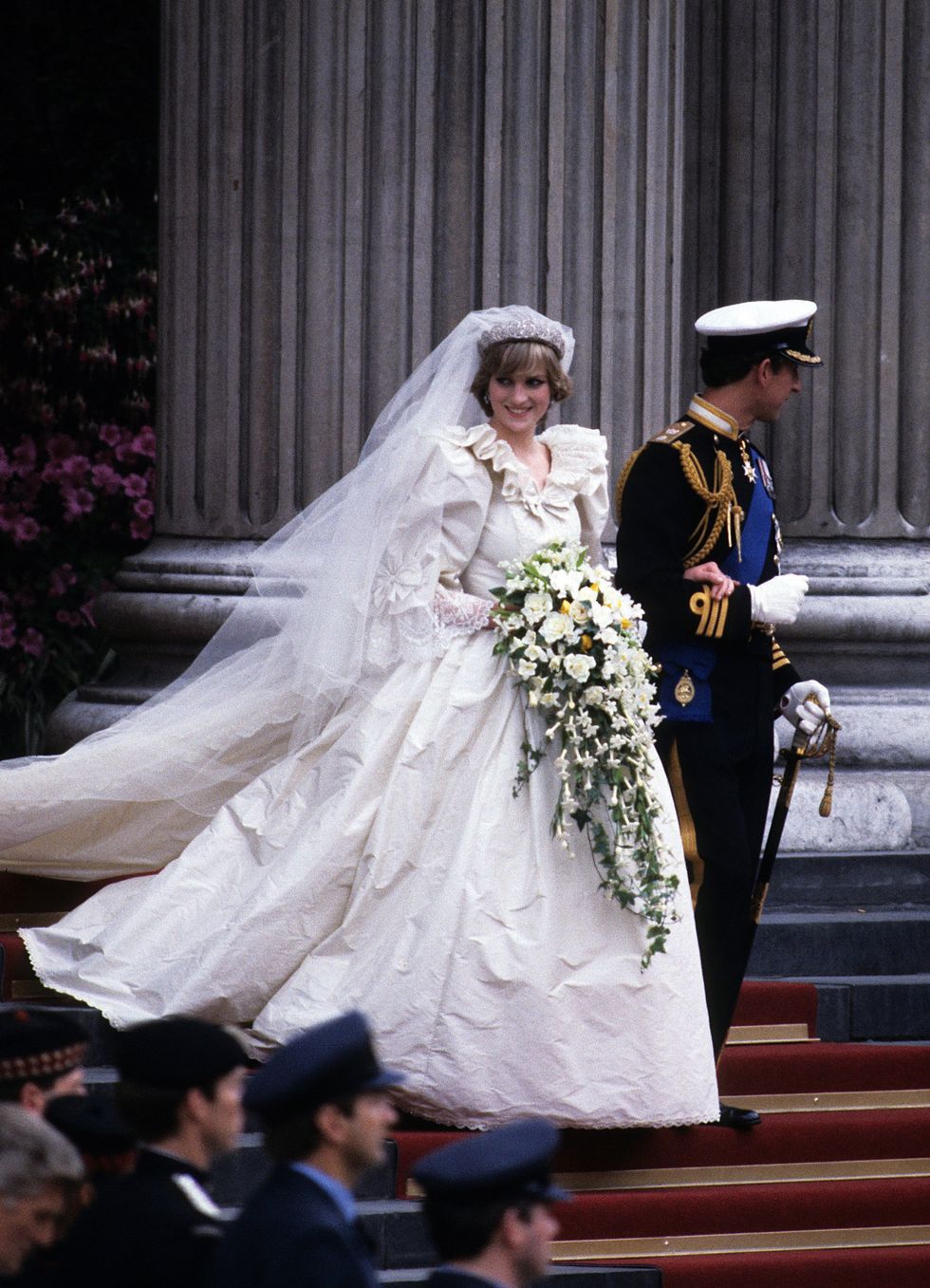 Who can forget the iconic wedding dress that launched a thousand pictures? Princess Diana and Prince Charles' wedding was a sight to behold. That dress became a part of many preteen girls' dream wedding boards.