Mr.Rogers is a television legend. The iconic red cardigan-wearing, Mr. Nice Guy entertained America's youth from 1968 to 2001.
Fred Rogers delivered a simple message to the kids of America during his daily half-hour educational program, Mr. Rogers' Neighborhood. 
His message was this: be kind to each other.
This ideology of neighborly kindness is something that still captures the imagination of us Americans. As made clear by the folks down at Pittsburgh's UPMC Magee-Women's Hospital...
Just wait until you get a load of these adorable costumes!
Keep scrolling to see ultimate cuteness, and learn more about the Mr. Rogers movie hitting our screens very soon...
Mister Rogers' look was iconic.
The knitted cardigan, shirt, and tie... that was Mr. Rogers alright.
How to be kind...
Mr. Rogers tuned in with Americans with his half an hour broadcast every weekday for thirty-three years.
Fred Rogers saw the good in life.
He captured audiences and guests alike with his positivity and lust for life. Every day you could tune in to watch him singing songs, playing with puppets, painting pictures and meeting new people.
Mr. Rogers' message of kindness was simple.
Well said, Mr. Rogers...
Fred really did have a way with words.
Mr. Rogers believed in the power of kindness...
He wasn't wrong. If everyone was more kind, the word really would be a better place.
Won't you jump on the Neighbourhood trolley?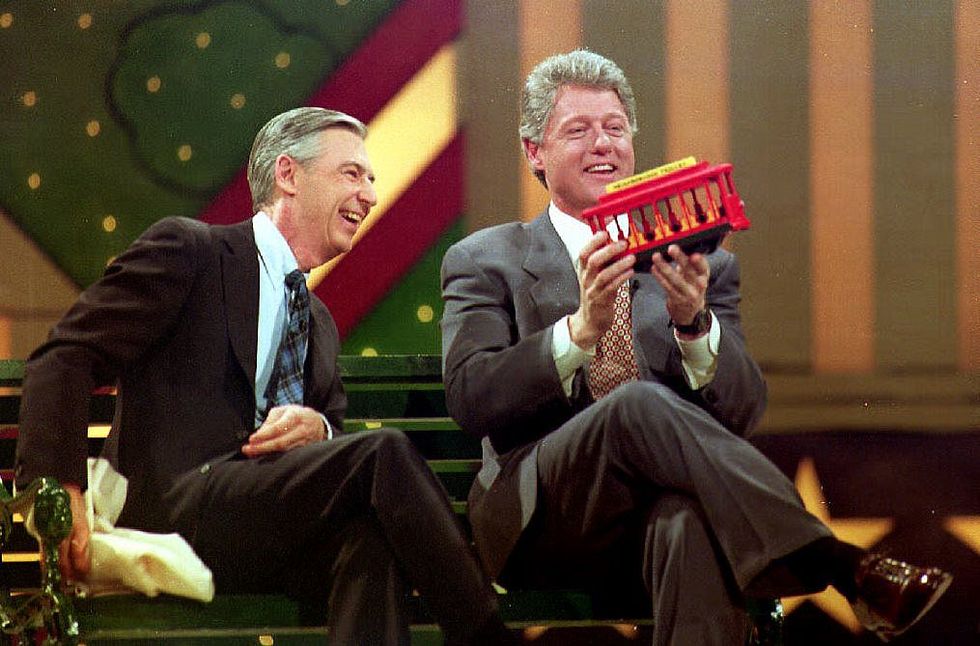 All kinds of people were influenced by Fred, and those that grew up watching him carried their love of him, and his show, into adulthood.
Fred taught us about the simple joys in life.
Everyone's neighbor.
Mr. Rogers had a famous saying, "Won't you be my neighbor?" By this, he hoped to break down the idea of social, racial and religious differences. He made the point that we are all neighbors and should be kind to all.
Tom Hanks is set to star as Mr. Rogers.
The movie inspired by Frank Rogers' life, A Beautiful Day in the Neighbourhood is expected to be released very soon.
But Mr. Rogers hasn't just inspired Hollywood...
People across the country are embracing the red cardigan...
Pittsburgh's UPMC Magee-Women's Hospital outdid themselves.
Aren't they adorable?
It must have taken Caitlin Pechin forever to knit all the outfits.
ABC news
 she said: "I really enjoy making things for all the babies because they look so cute in them."
Well said...
Since the photos of the "Mr. Rogers" babies went viral, praise has flooded in for the initiative to spread the message of kindness and goodwill to all neighbors.
Mr. Rogers' wife came to visit the babies.
The hospital staff also serenaded Mrs. Rogers.
What a beautiful serenade to Mrs. Rogers at UPMC Magee this morning celebrating the legacy of #MisterRogers univers… https://t.co/GRmff6uZm1

— UPMC (@UPMC)1573687576.0
What a wonderful way to celebrate World Kindness Day and to celebrate the late Fred Rogers' legacy.
A Beautiful Day in the Neighbourhood will be in theatres very soon.
The highly anticipated Tom Hanks, Mr. Rogers' movie will be released across the U.S. as of November 22nd.
Don't forget your cardigan next World Kindness Day!
Do you have your #MisterRogers cardigan for #WorldKindnessDay? https://t.co/sMmycHy5a0

— Anne Davis wrote a poetry book! (@Anne Davis wrote a poetry book!)1573645807.0
Let's keep the kind spirit of Mr. Rogers alive! Continue scrolling to read the Mr. Rogers moment that made Tom Hanks bawl his eyes out...