Do you remember what you wanted to be when you were a kid? We all had dreams of growing up to be something cool; maybe a scientist, or a sports star, or even a President. Well, Alex Jacquot is no different. He's 10 years old and has ambitions to start his own airline one day, so he decided to consult an expert.
That's why Alex went straight to the source, writing to an airline CEO for advice. And surely many kids do this for things that interest them, but Alex's case is special. Because his letter got a reply as rare as it is adorable!
Check out Alex's grand plans for an airline of his own, and the thoughtful advice he got from Qantas Airlines CEO Alan Joyce!
When we're kids, it's nice to think we can be whatever we want when we grow up.
And it's even better to have adults in our lives who encourage us on those dreams.
That's why the internet is so enamored of one exchange between a boy and a CEO.
Or rather, one experienced CEO to a younger, up-and-coming CEO!
You see, Alex Jacquot is going to start his own airline.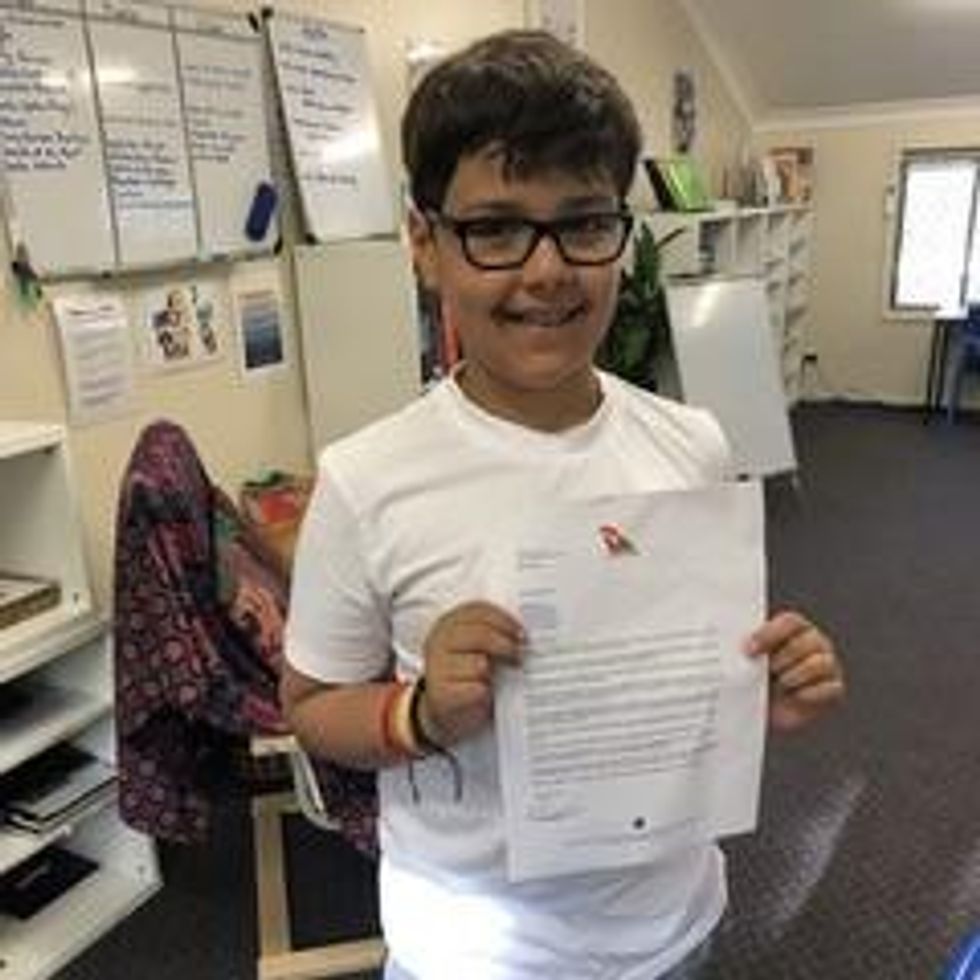 via: Twitter
He's a 10-year-old from Australia with big dreams, and he's already done lots of research on how to make the 'Oceania Express' airline a reality.
But more information never hurts.
So, during a holiday from school, the prospective CEO consulted a voice of experience.
He sent a letter to Qantas Airways CEO Alan Joyce.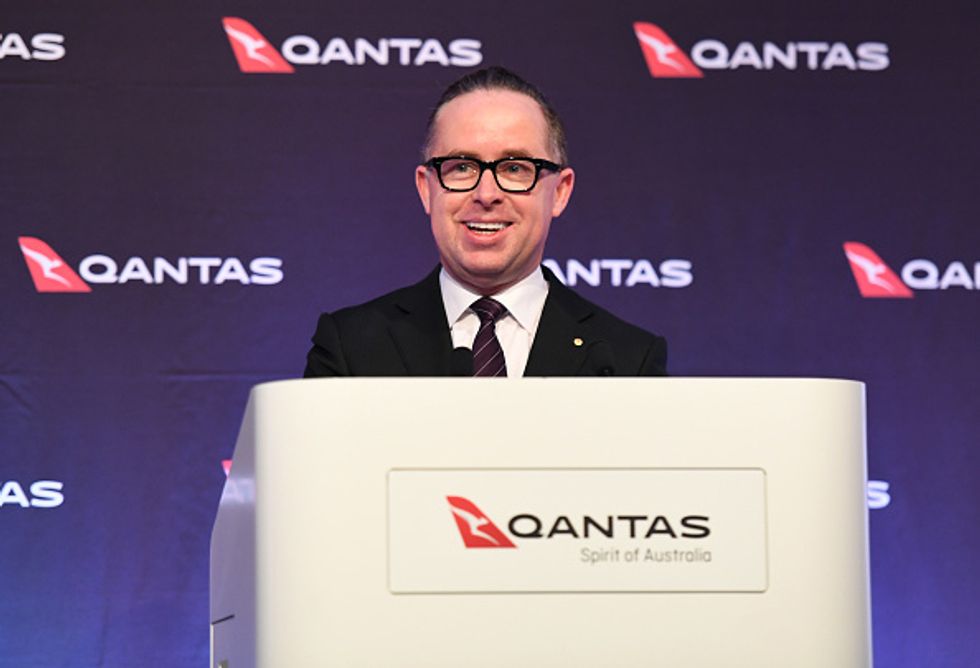 via: Getty
Qantas is based in Australia; it's the country's oldest airline!
So it's obviously a great example for Alex to study.
And Qantas CEO Alan Joyce seems to agree because he personally wrote back to Alex and gave the boy a lovely reply!
Qantas' Twitter account shared the letter Alex sent.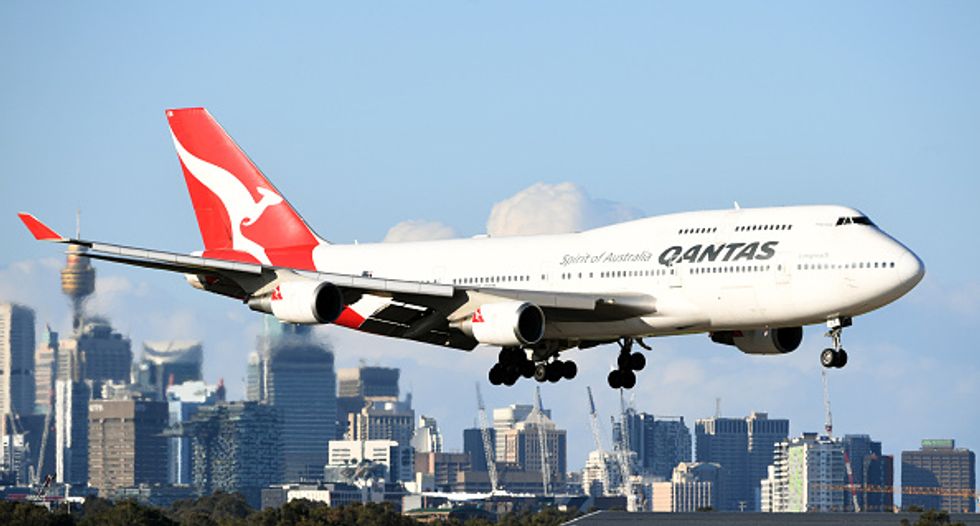 via: Getty
"I'm Alex Jacquot, a 10-year-old boy (please take me seriously) and I want to start an airline," the letter reads. "I have already started some stuff like what type of planes I'll need, flight numbers, catering and more."
And Alex clarified that he was writing as one CEO to another.
"I'm the CEO of the airline, which by the way is called Oceania Express. I've also hired a CFO, a Head of IT, a Head of Maintenance, a Head of Board Services, and a Head of Legal," his letter continued.
Alex also has a trusty business associate to back him yp.
He's starting the airline "along with my friend Wolf (Vice-CEO). We are both co-founders," according to the letter.
And Alex had some thoughtful questions for Mr. Joyce.
"I wanted to write you because I wanted to ask you three things," Alex wrote. "Number one: I like working on my airline. Seeing as it is the school holidays, I have more time to work. But I don't have anything to do (that I can think of). Do you have any ideas of what I can do? Seeing as you are the CEO of Qantas I thought I'd ask you." How cute is this letter?!
Consulting an experienced CEO is a wise move!
"Number two: do you have any tips on starting an airline? I'd be very grateful to know what you'd have to say," Alex wrote.
He even had a technical question.
"Number three: I'm thinking about, as you are, about an A350 for Sydney/Melbourne to London flights. Seeing as it is a 25-hour flight, we are having a lot of trouble thinking about sleep. Do you have any advice?" Someone is doing his research!
That's a pretty thoughtful letter, right?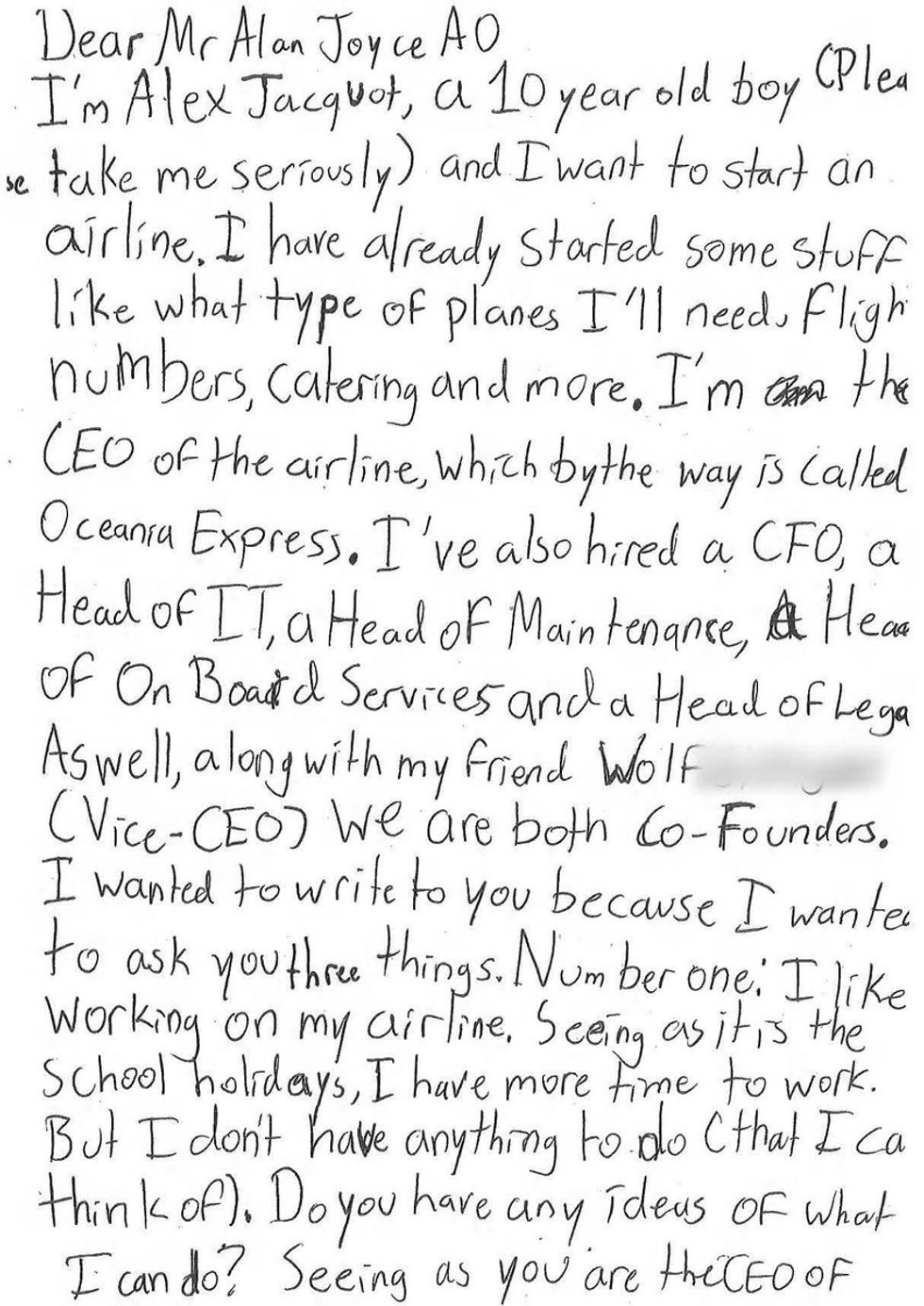 via: Twitter
I can't think of many kids who put that much research and effort into conceptualizing a company--before they even reach out to an expert!
And Alan Joyce evidently agreed.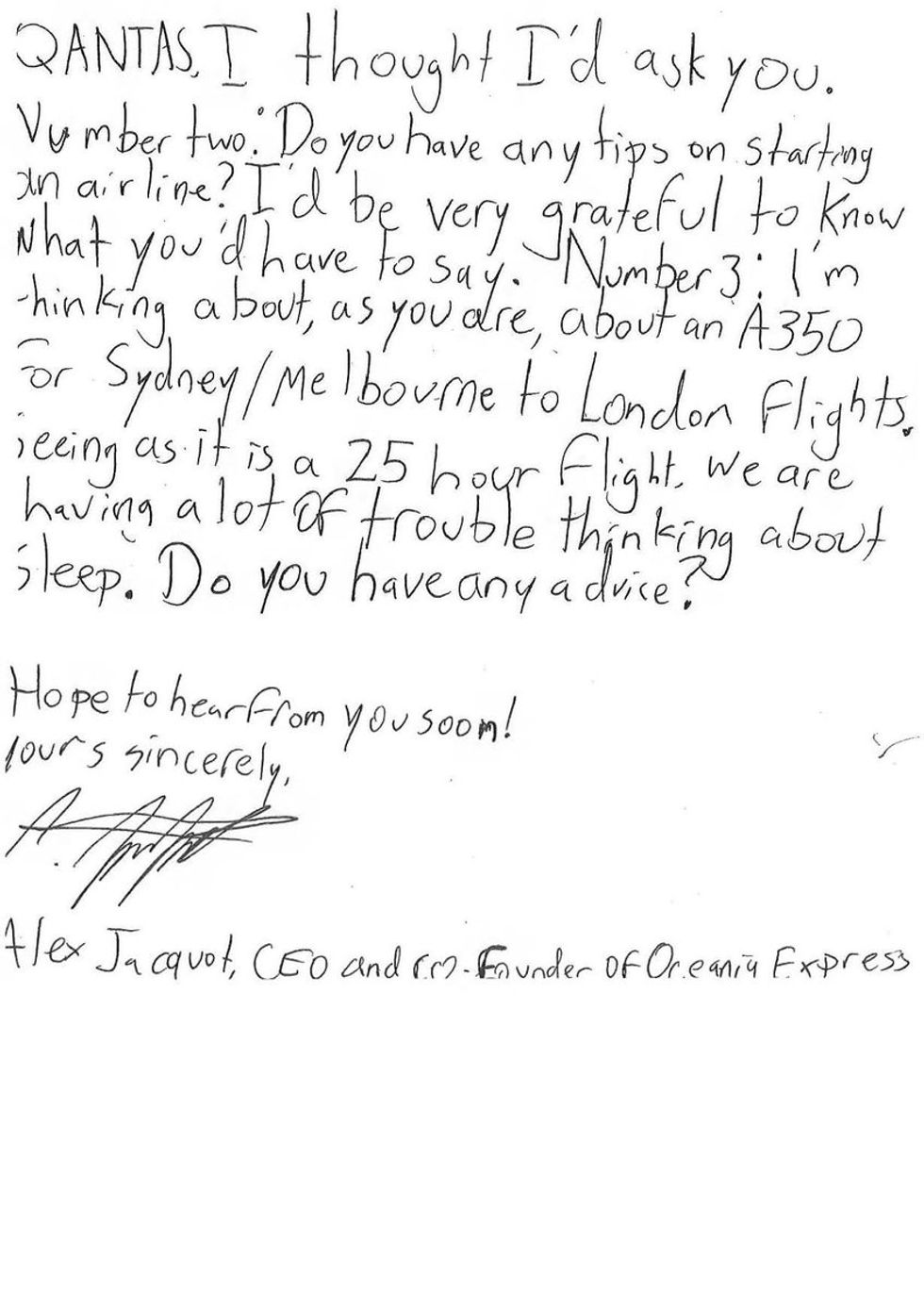 via: Twitter
Because he took the time to personally reply to Alex, and it's a reply that Alex no doubt loved.
Joyce accepted the friendly 'competition.'
"Dear Mr. Jacquot, thank you for letting me know about your new airline. I had heard some rumors of another entrant in the market, so I appreciate you taking the time to write," Joyce began in a letter that he sent to Alex.
Most businesses don't really compare notes with competition.
"First, I should say that I'm not typically in the business of giving advice to competitors," Joyce wrote. "Your newly-appointed Head of Legal might have something to say about that, too."
Joyce had his reasons, though.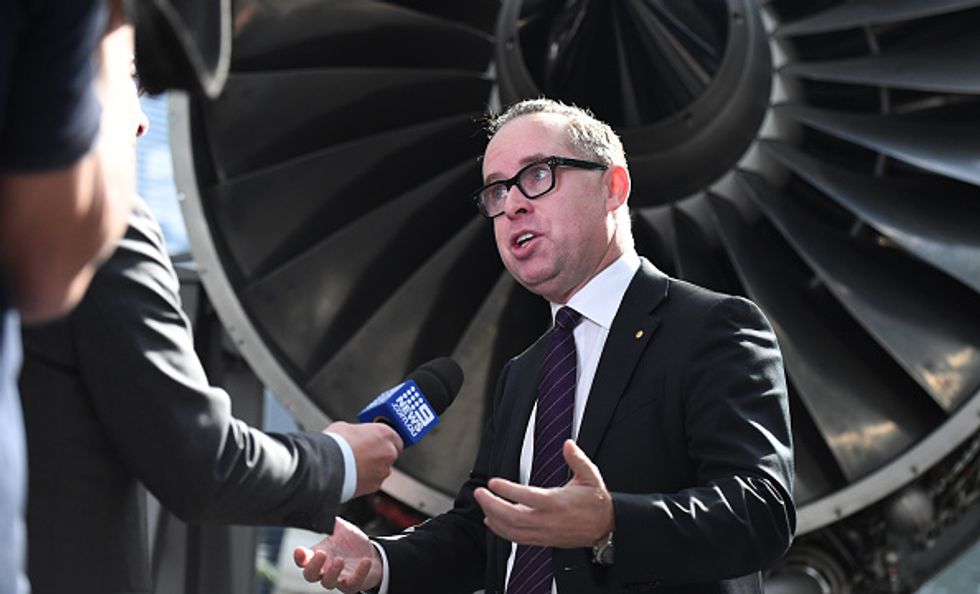 via: Getty
"But I'm going to make an exception on this occasion, because I too was once a young boy who was so curious about flight and all its possibilities," Joyce continued.
And he gave Alex some genuinely thoughtful advice.
"My number one tip for starting an airline is to put safety front and centre. And do everything you can to make travel as comfortable and affordable as possible for your passengers. That's been the Qantas way for almost 100 years, and it's worked for us," Joyce wrote.
He even addressed the sleep problem.
"Now, to your troubles thinking about sleep on 21-hour flights," Joyce began, "This is something we are grappling with too, as we embark on Project Sunrise (which is our plan to fly passengers non-stop between the east coast of Australia and London). To help with sleep, we're looking at different cabin designs that give people spaces to stretch out and exercise. We want to think up as many ideas as possible to make the journey more comfortable for all."
The letter gets even better from here:
"For this reason, I would like to invite you to a Project Sunrise meeting between myself, as the CEO of Australia's oldest airline, and you, as the CEO of Australia's newest airline," Joyce wrote, giving Alex some super exciting insight into the business he dreams of entering!
This meeting will hopefully answer all of Alex's questions.
"At this meeting we can compare notes on what it's like to run an airline. And I'd like to offer you a tour of our Operations Centre (where we keep an eye on every Qantas flight, wherever they are in the world)," Joyce offered.
And the meeting is actually happening!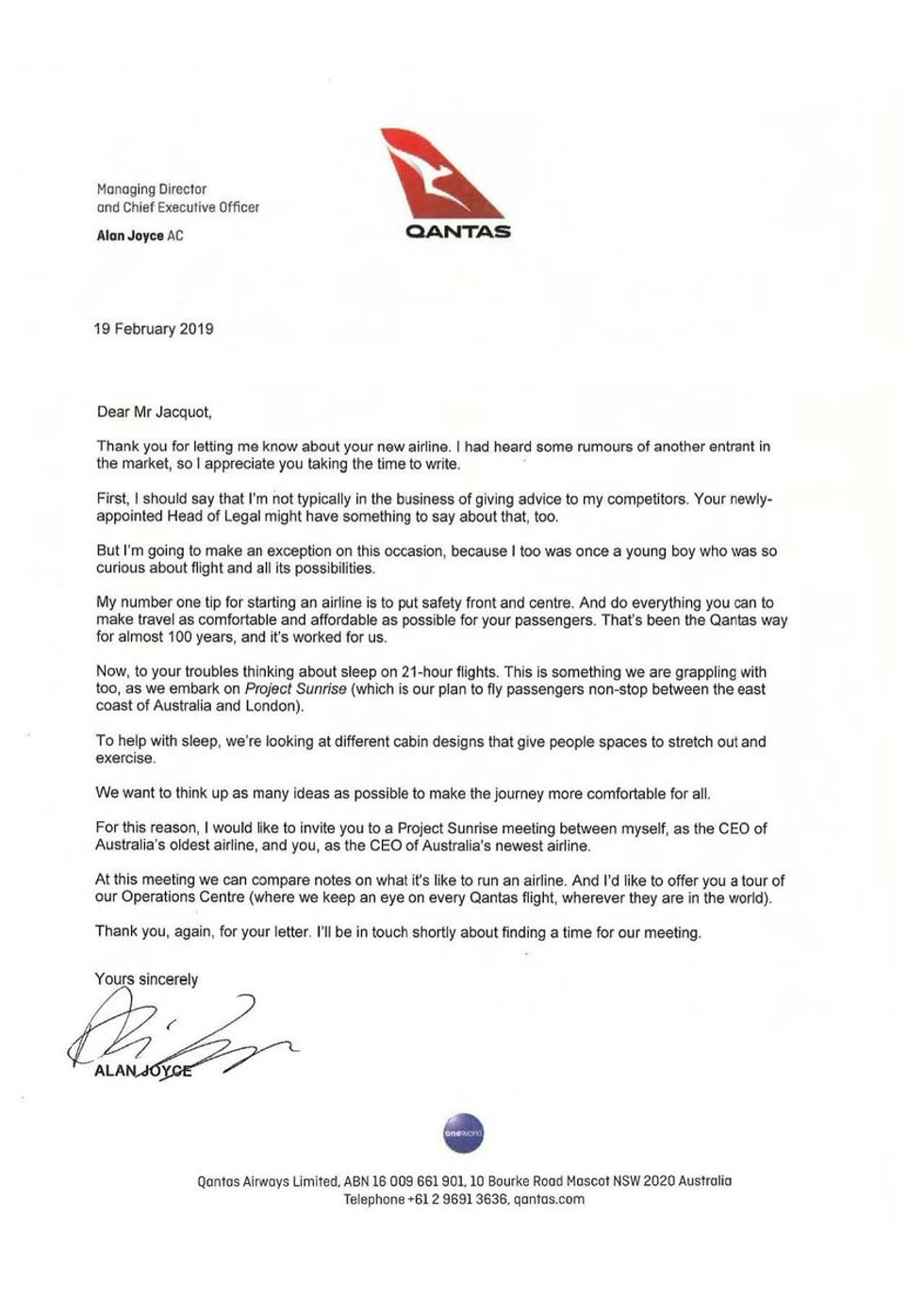 via: Twitter
Take a look at the full letter above; Joyce promised he'd "be in touch shortly" about scheduling the meeting, and they are indeed working on it!
Qantas posted the full exchange on Twitter.
Our competitors don't normally ask us for advice, but when an airline leader reached out, we couldn't ignore it. Na… https://t.co/Q8TTULi8Bu

— Qantas (@Qantas)1552269546.0
And the wholesome story is catching everyone's attention!
Including both current and former Qantas employees.
It's true that this really isn't the kind of sweet gesture we'd expect when thinking of a typical 'CEO.'
I wonder how many letters like Alex's are sent?
@Qantas Top marks to Alan Joyce for replying this young man in a positive way. So many other CEOs would just bin th… https://t.co/idhYQiRUKm

— Gerry Gannon (@Gerry Gannon)1552292293.0
And how many actually make it to the industry leaders that they're intended for?
It's also great that Joyce did as Alex asked.
@Qantas @kelly2277 This is so beautiful and heartwarming. Thank you 🙏 to @Qantas CEO for taking the time and reply… https://t.co/0JhxCBz8at

— Busiswa G.🛡🕊🥰💗💃🏿🌺💐 (@Busiswa G.🛡🕊🥰💗💃🏿🌺💐)1552282388.0
At the beginning of his letter, if you recall, Alex asked to please be taken seriously. And now he's seriously being invited to tour the business he wants to be part of one day!
Here's why this kind of this is especially important:
@Qantas @Qantas - impressed by your leadership in this one act. Reaching out to this young man will change the worl… https://t.co/FRcBagnA8H

— Wolverine (@Wolverine)1552280797.0
Just keep passing on the favor, and the good karma. It's great when people in a position to help others both do so, and reinforce the idea that it's a normal (and valuable) thing to do.
It's making everyone's day.
Happy kid, cute story...it's hard not to get the warm fuzzies.
Maybe it'll be a whole board meeting next?
@Qantas I think it's only fair that the entire management team from Oceania Express get an invite as well

— Bielsa Ball FC (@Bielsa Ball FC)1552286983.0
I'm intrigued to know who all of Alex's department heads are, too!
Hopefully, the story will continue.
We hope Qantas will tweet again when the clandestine meeting between CEOs does happen! We're sure it'll be adorable. Share this heartwarming story with your friends!